Tasmania must be one of our favourite states to visit in Australia!!  Whilst there are loads of gorgeous places to explore in Tasmania; and you could probably easily spend a whole month here; one of our favourites regions to visit happens to be the East Coast of Tasmania!
The East Coast is brilliant!  And honestly it is best explored by car!  There are so many places next to road where you can stop and snap some incredible photos!  The white sand, the colour of the water, the views …. it will all impress you!!
It happens to be one of the best places to visit in Tasmania and for good reason!  If you need more convincing, why not check out 50 Shades of Age's post on '10 Reasons to Visit Tassie'.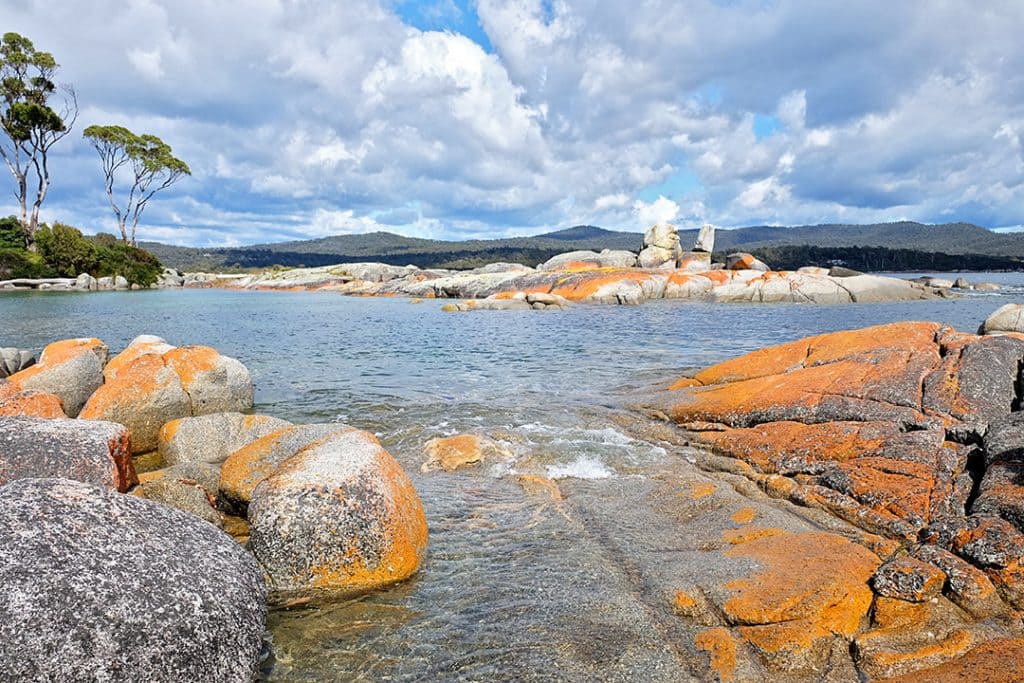 The best way to experience a holiday is by making sure that the experience is a relaxing one, don't you think?  Thankfully, there are websites out there that can look after all the planning and organising so that you can get back to simply just enjoying the experience!  I absolutely love that idea!
Just recently I came across a website that that will happily whip up a tailor-made itinerary for you!  I like what they do as I love to be in 'control' of my own holidays!  So if you are keen, why not get a company such as  Wexas Travel to organise your flights, accommodation and car hire! Ask them to include our top recommended spots along the East Coast of Tasmania on your itinerary!!  And wha-lah, you are ready to go have an adventure!
–
The Absolute Best Places to Visit on the Sensational East Coast of Tasmania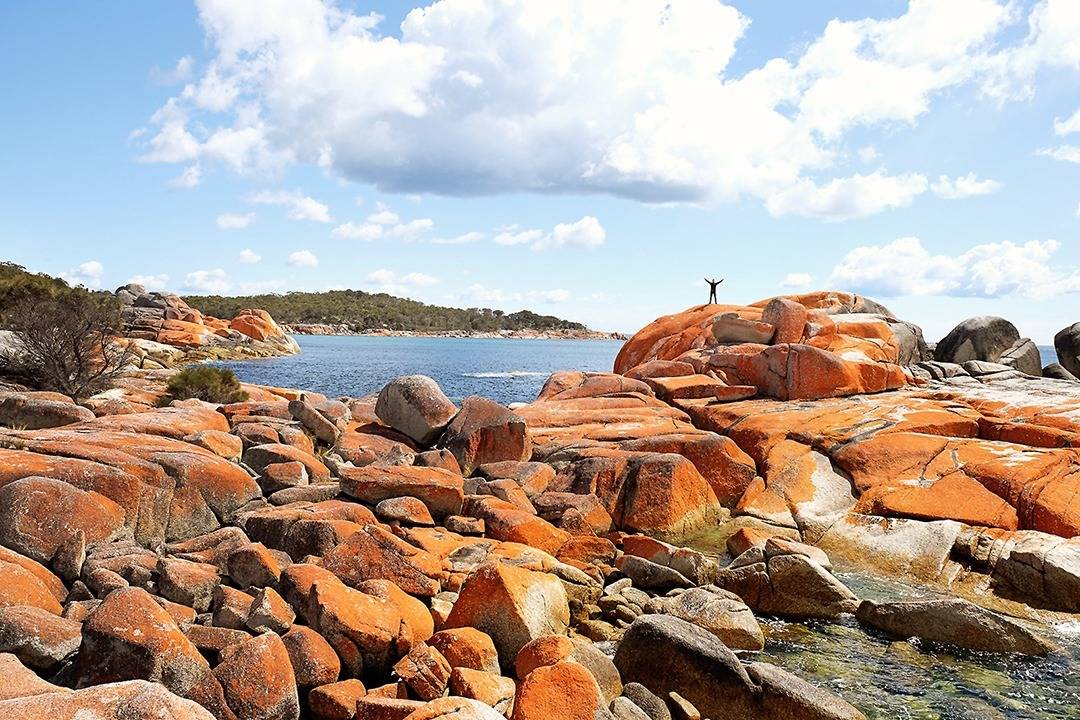 –
Freycinet Peninsula in Coles Bay
|  Enjoy Picturesque Walks & Views in the Freycinet National Park |
The Freycinet Peninsula is located 167km from Hobart.  It will take you just over 2 hours to get there by car.  The park is brilliant as it is home to a variety of wildlife; from Tasmanian pademelons, white-breasted sea eagles, red-necked wallabies & many more!  There's a range of walks in the park to enjoy as well as numerous picturesque spots to explore!   We recommend you base yourself in Coles Bay for a few nights and make sure to explore these highlights of the park below!
1.  Wineglass Bay Walk to the Wineglass Bay Lookout
This gorgeous little beach is rated as one of the ten best beaches in the world.   It will take a little bit of effort to get to the Wine Glass Bay Lookout.  The walk is around 3km return and we spent around 1.5 hours walking to get there!  (Mind you I was pregnant and we did stop heaps to take photos!).   Our best suggestion here is to wait until the sun beams down on the bay – you will understand why when you see it!
2. Honeymoon Bay Beach
Honeymoon Bay, as the name suggests, is one for the romantics for sure.  It is a bay within the larger Coles Bay.  This little cosy beach is a perfect spot for a bit of relaxation or perhaps a picnic with a significant other.  It is a popular spot for swimming, snorkelling and birdwatching.
3.  Cape Tourville Lookout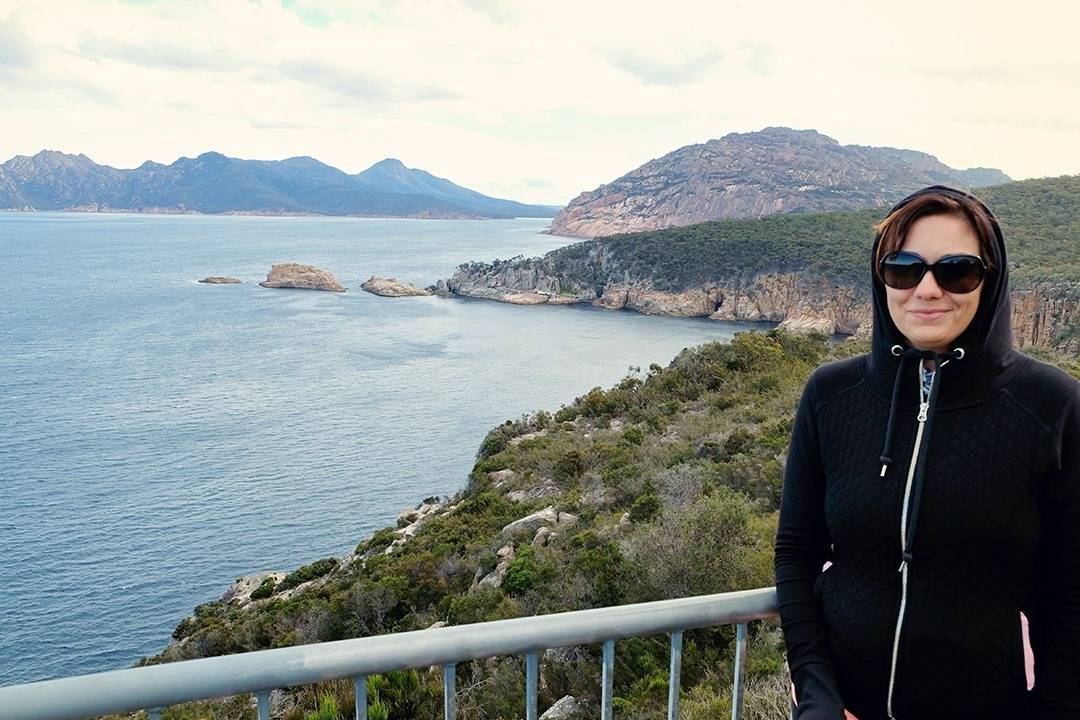 The lighthouse is positioned at the best vantage point with picturesque panoramic 360 degree views. This 20 minute Freycinet walk will take you to the Cape Tourville lighthouse and back.  An easy walk and a must-do!
–
4. Sleepy Bay and Gravelly Beach
We absolutely loved our short little walk at Sleepy Bay and Gravelly Beach.  The walk will take you around 20-30 min and will take you past some great East-Coast lookouts for some perfect picture opportunities!  The walk is steep, but it is so worth it!
5. The Hazards
The dramatic pink granite peaks of The Hazards stand high above the peninsula and the iconic Wineglass Bay.  These peaks are one of the most photographed spots in the Freycinet National Park and the best time to capture the perfect photo is at sunset.  When the afternoon sun rays kiss the mountain range, the pink granite illuminates thus creating a beautiful spectacle for the viewers.
READ MORE on the Freycinet National Park in our post here!
–
Visit the White Sands of the Friendly Beaches!!
|  One of Best of the Tasmanian Beaches |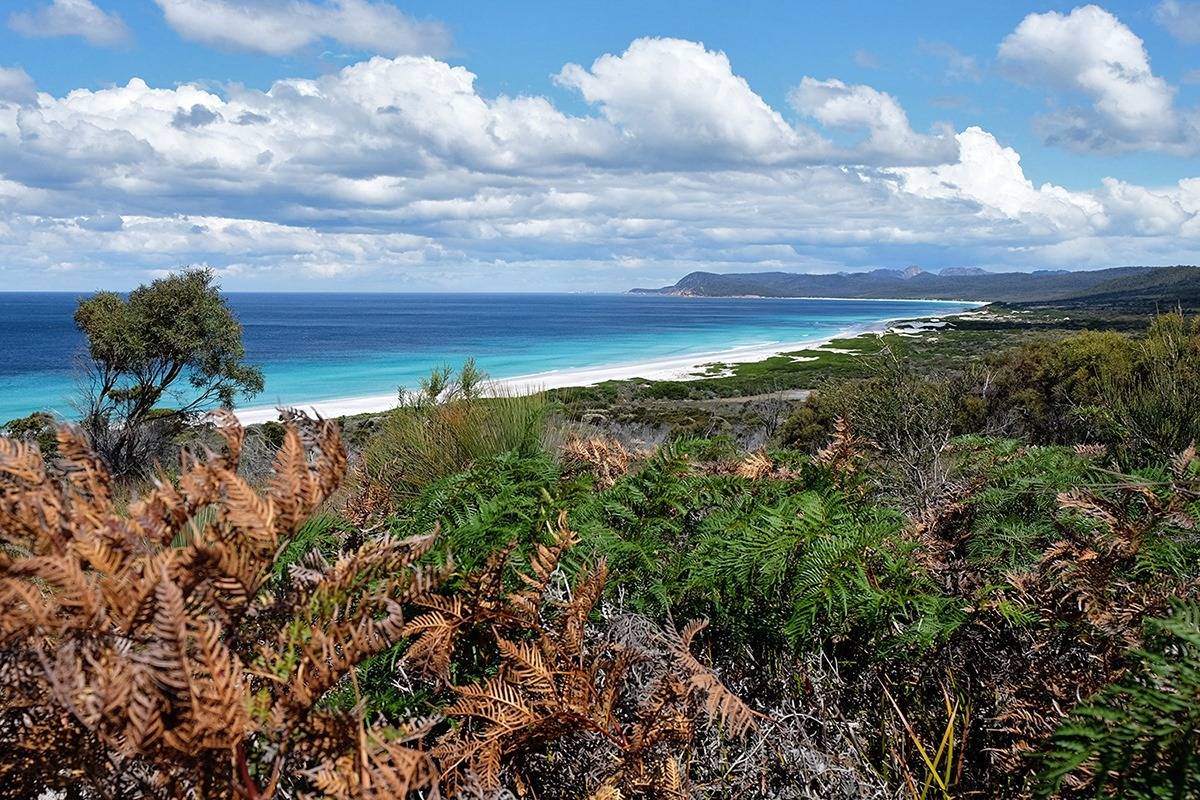 Whilst the Friendly Beaches are in actual fact situated within the Freycinet National Park, we have popped it under a separate pit stop due to the fact that is around a 15 min drive away from Coles Bay.
Our top tip if you are time limited is to park the car at Isaacs Point in order to get this gorgeous view over the Friendly Beaches from up high!  White sandy beach together with the turquoise ocean is always a great play of colours for the wanderlusters' eyes!
Bicheno
| Wait for the Bicheno Blowhole to Explode!! |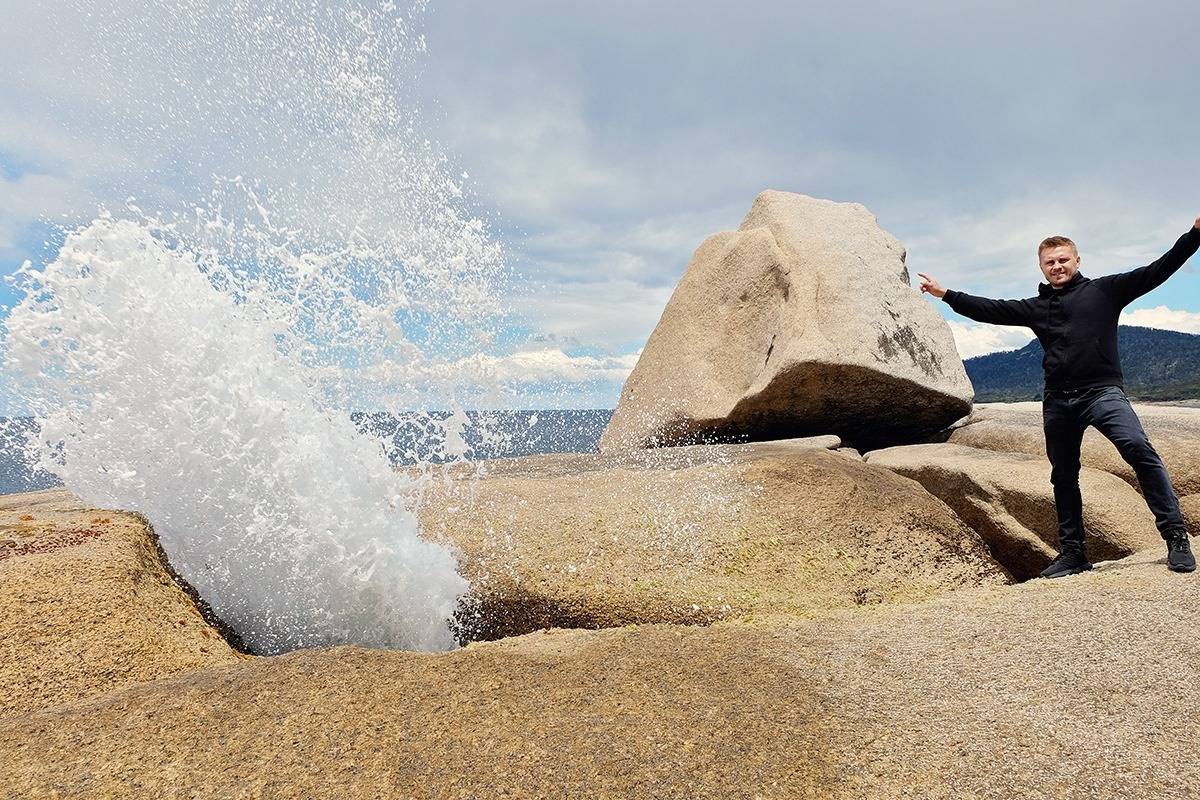 Bicheno happens to be a very popular holiday destination within Tasmania.  It is a gorgeous tiny little seaside town!   You can explore the water on various Glass Bottom Boat tours, or why not venture out to see the gorgeous little penguins!!
We didn't stay in Bicheno for very long as we had two main purposes for our pit stop here!  First and foremost we needed to fill our bellies with food and Bicheno is known for some delicious little cafe's and restaurants!
Our second activity was to go and check out the Bicheno Blowhole!!  We had to wait around for a while for the blowhole to perform for us on the day; so do make sure that you allow yourself enough time in Bicheno before driving on to the next destination.
Further Reading: Bicheno Tasmania – Freycinet's Most Affordable Town by Flights to Fancy
 –
Bay of Fires
| One of the Most Beautiful Places in Tasmania! |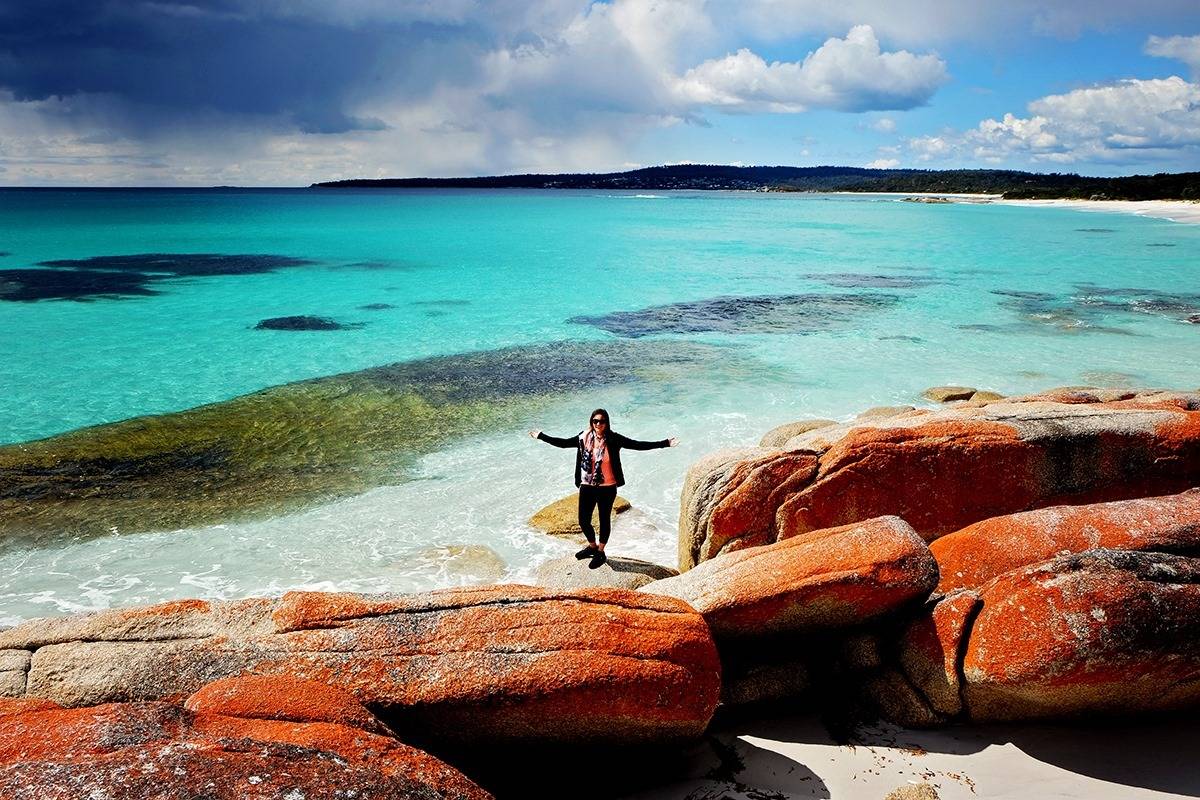 Lonely Planet has named this magical place the hottest travel destination in the world.
The Bay of Fires stretches about 50km; starting from Binalong Bay in the South to Eddystone Point in the North. Many of the rocks are covered with the bright orange lichen, which in the bright daylight creates the most spectacular visual magic.  Throw in the contrast of these orange rocks against the clearest, most beautiful turquoise ocean water and you have found paradise!!
Make sure to spend a few nights in Binalong Bay so that you can enjoy our favourite areas along the Bay of Fires:
Binalong Bay
Sloop Reef
Cosy Corner
If you love ocean scenery and Australian wildlife, then this is the trip for you!!  If you would love to expand on this itinerary, we highly recommend you also include a trip to Cradle Mountain in your itinerary!   Tasmania is incredible!  In actual fact, we loved it so much that we thought about moving there!  Just a pity that the weather is a bit too cold for our liking!!
Over to You:
Is the East Coast of Tasmania on your Itinerary?

If you have been to Tasmania, which destinations would you add to the 'best places to visit in Tasmania' list?