Are you looking for the best things to do in Cradle Mountain?
In this post, you will find everything you need to know. This is a complete guide to what to do in Cradle Mountain.
Cradle Mountain took my breath away!
Despite the pretty chilly weather and the downpours of heavy rain, we could not resist but to simply immerse ourselves into this incredible and unique alpine landscape with its majestic rugged peaks.
I had truly never seen vegetation and landscape like this before, and it kept amazing me with its beauty around every bend!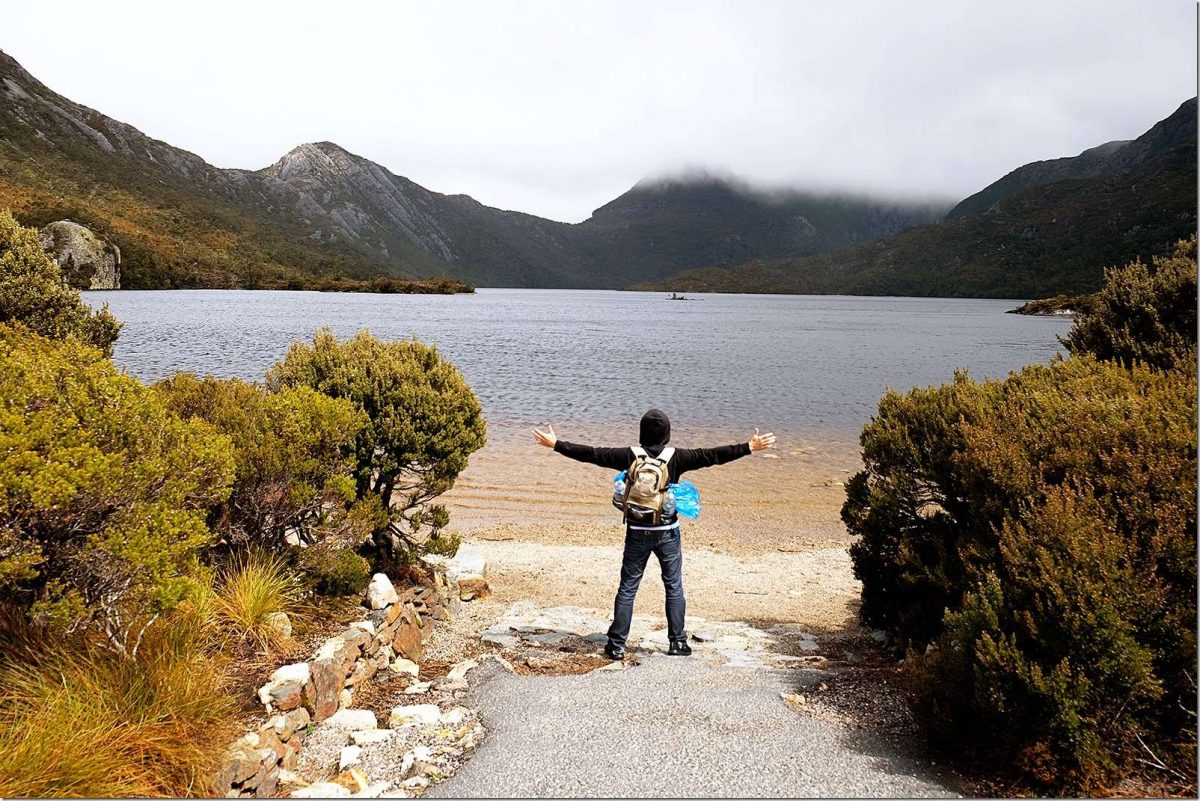 There are plenty of options of what to do at Cradle Mountain, however, it was the hiking tracks and the meeting the wildlife that stole our hearts!
Cradle Mountain Walks Video
Check out our Cradle Mountain Hike video.
This is what really happens around the Dove Lake. Footage of us doing the Cradle Mountain Walk (one of the best things to do in Cradle Mountain), including amazing sights, extraordinary vegetation, and the ever-changing Tasmanian weather.
––
Things to do in Cradle Mountain
Cradle Mountain-Lake St Clair happens to be one of the most visited national parks in Tasmania and there is no surprise as to why this Wilderness World Heritage Area can be seen on the front of magazines, books, postcards and tourism pamphlets about Tasmania.
You will find plenty of things to do at Cradle Mountain, from over 20 different self-guided walks; to beautiful and unique vegetation and you will get to see an abundance of Australian wildlife.
It is no wonder that Cradle Mt. happens to be one of the most popular places of what to do in Tasmania.
Cradle Mountain Self Guided Walks:
On our trip, we found ourselves a bit unprepared for the inconsistent Cradle Mt weather you find here in this alpine region, and as a result, whilst we had plans of completing a multitude of tracks, we ended up sticking to two of the most popular trails.
Finishing our day by drying off in front of our fireplace at our little hut where we were staying appealed to us a bit more than a full day of walking in our wet clothes.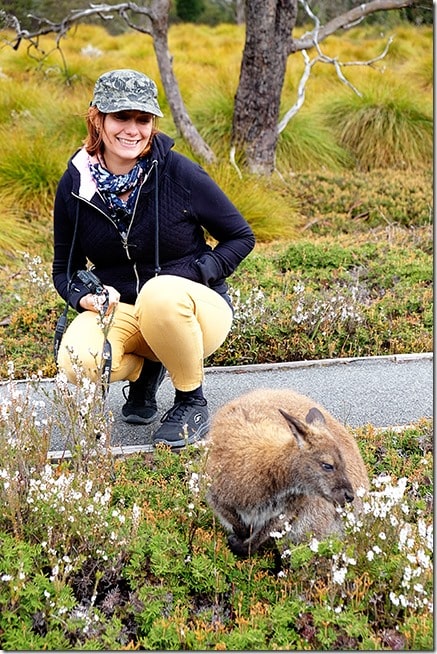 We decided to tackle the two of the best Cradle Mountain walks: Dove Lake Circuit and the shorter but beautiful Enchanted Walk, both of which are listed as one of Tasmania's 60 Great Short Walks.
And here is a bit about our experience:
–
Dove Lake Circuit Walk
Dove Lake Circuit Walk is by far the most popular Cradle Mountain walk and our top choice of the best Cradle Mountain walks for sure!
Where it is and Duration:
The Dove Lake Circuit (around 6km) is a fairly easy 2-3 hour circuit that starts from the Dove Lake car park. Here at this car park, you will also find some toilets, together with a walker log book where you should record your trip intentions.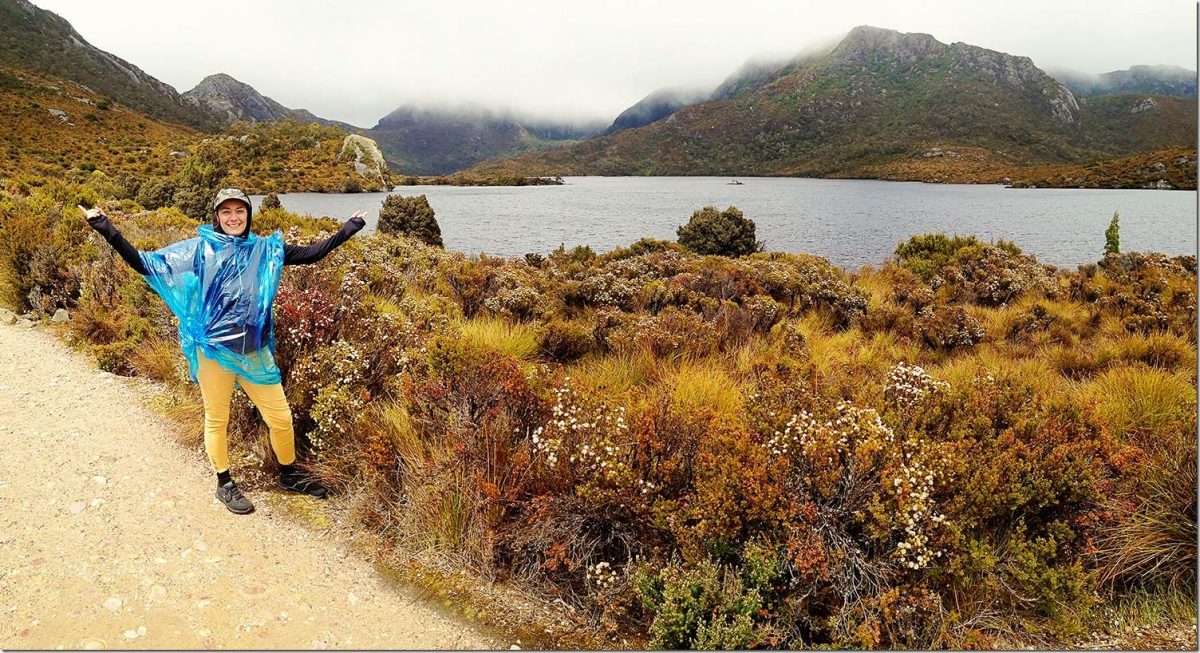 Our No.1 choice of the best Cradle Mountain walks!
Overview and Suitability: 
The walk itself is for the major part fairly easy and flat. The walk will take you through varied vegetation from subalpine plant communities to moss covered temperate rainforests.
There are some pretty incredible viewpoints along the walk and a large section of the walk has been board-walked and covered with a metal mesh for anti-slip purposes.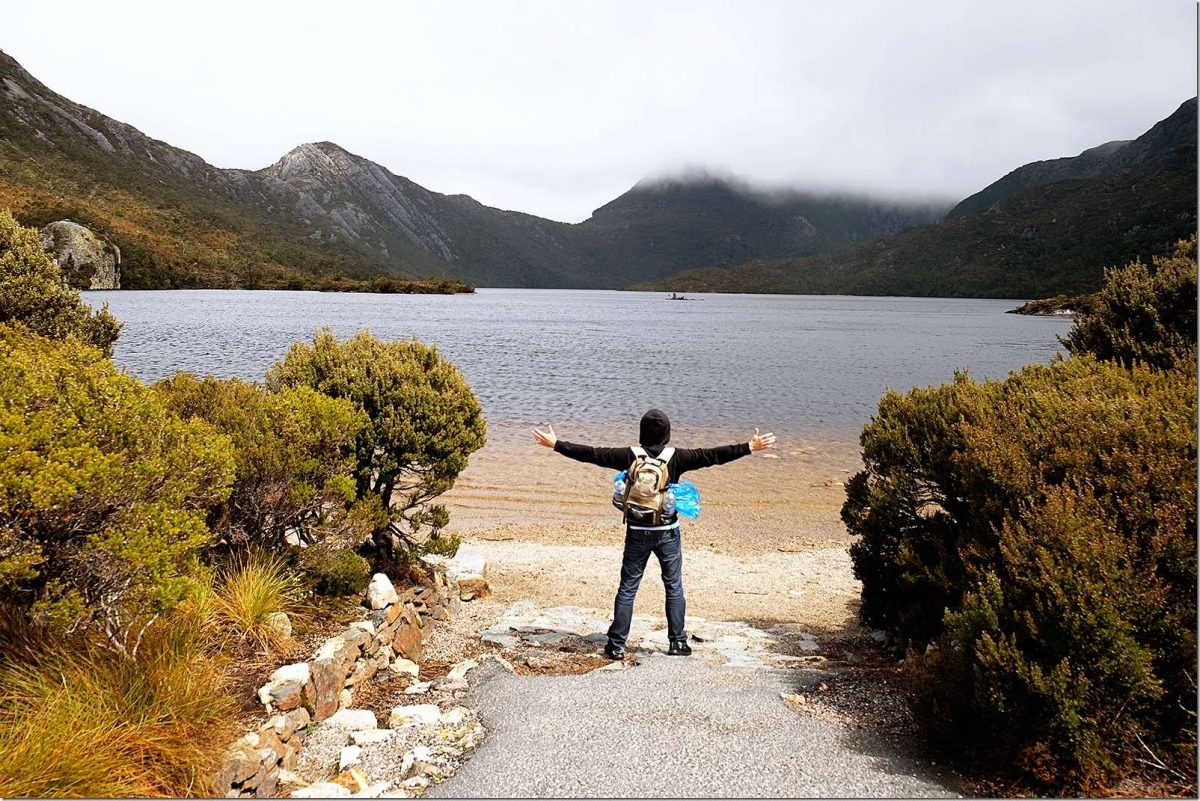 The Dove Lake circuit walk is therefore suitable for all fitness levels and would be perfect for those wishing to bring their kids along as well. We started the walk from the left pathway and made our way clockwise around Dove Lake.
Our Experience:
When we arrived at the car park, we had an absolute downpour of heavy rain.
Pair that with a really strong blustering wind and you will find yourself in an environment that begs you to stay in your warm car.
People were braving the weather and we watched them from the safety of our rental car; watching as their raincoats were blown about crazily, and while people were holding on to various bits and pieces to keep it from blowing away into nature.
Most of these people had a super quick peek at Dove Lake itself, which is fairly close to the car park and then made a run back towards their car. Understandably we were having second thoughts of our own regarding this walk.
We had purchased some paper thin plastic ponchos from the Discovery Hut (forgot our own quality ones at home!), but we could see that they would provide us with little to no protection with the combination of the rain and wind outside.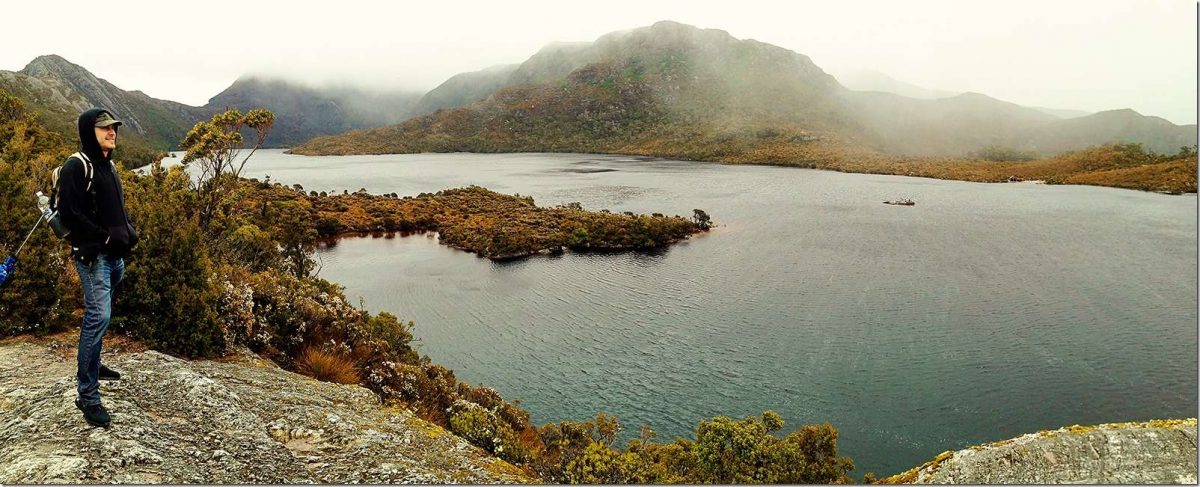 Being brave, we decided to give the Dove Lake circuit walk a go. We could always turn back when we had had enough. So off we went, tackling a walk that within a few minutes had us shivering in our wet cold clothes.
Point to note, jeans like to hold onto water really well!  Don't wear jeans!! But regardless we kept walking and within about 15 min, the weather started clearing up, the wind settled down a notch and we started to enjoy ourselves.
You see that is the thing about alpine regions. The weather in this Tasmanian wilderness is incredibly unpredictable, it changes rapidly and frequently.
So be prepared for a 2-3 hour hike here, to contain an all-sorts box full of different weather patterns and make sure to go walking regardless!
I guess we should be thankful for our dodgy weather as we had the hike around the lake to ourselves, only spotting a few other brave hikers along the way.
I've read online that during peak season this lake can receive up to 9,000 visits per day! Yikes!
Now I know our hike would have had a different feel if we had to 'compete' with that many other people! I think the misty covered peaks of Cradle Mountain created its own mystique and dramatic elegance.
The silence and isolated walkways allowed you to breathe out years of pent-up stress and anxieties. I truly fell in love with this region and plan on one day going back to complete the 6 day Overlander Track!
I simply want more and more!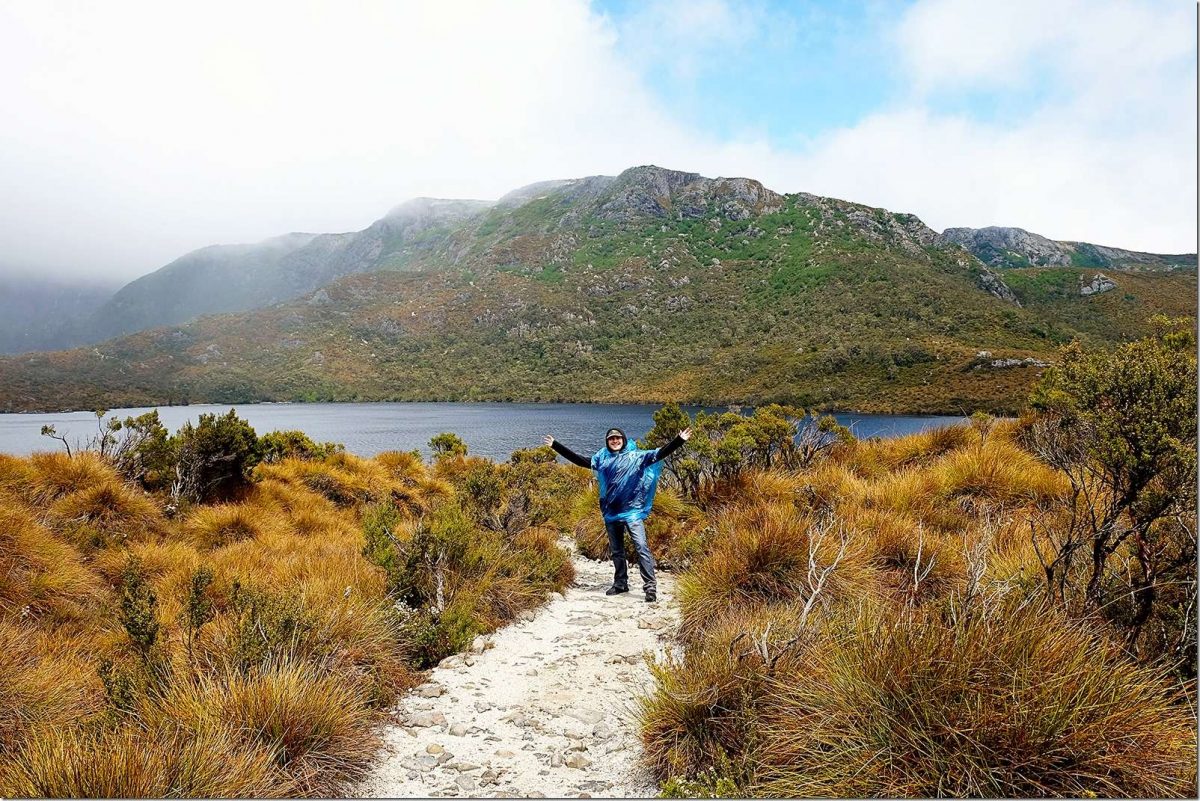 We love nature and we spent longer on this track than most as we had to keep stopping to observe some of the miracles of the natural world around us.
I loved the moss-covered trees and railings so much that Andrzej promised to make me one at home.
Now trust me when I say that attempting that in Queensland climate might be an impossible task and I guess that is why 2 months later I am still waiting for my moss covered tree.
Regardless we stopped to take more photos than we could ever possibly share with you and recorded some video trying to capture the magic we found here.
From every angle, the scenery here will truly astonish you! Every way a photo opportunity. From the mountains, we could spot waterfalls cascading from the distant heights, from the 'beach' areas surrounding the lake you can simply enjoy some peace and serenity.
Every moment, one to scribe on your mind and on your soul.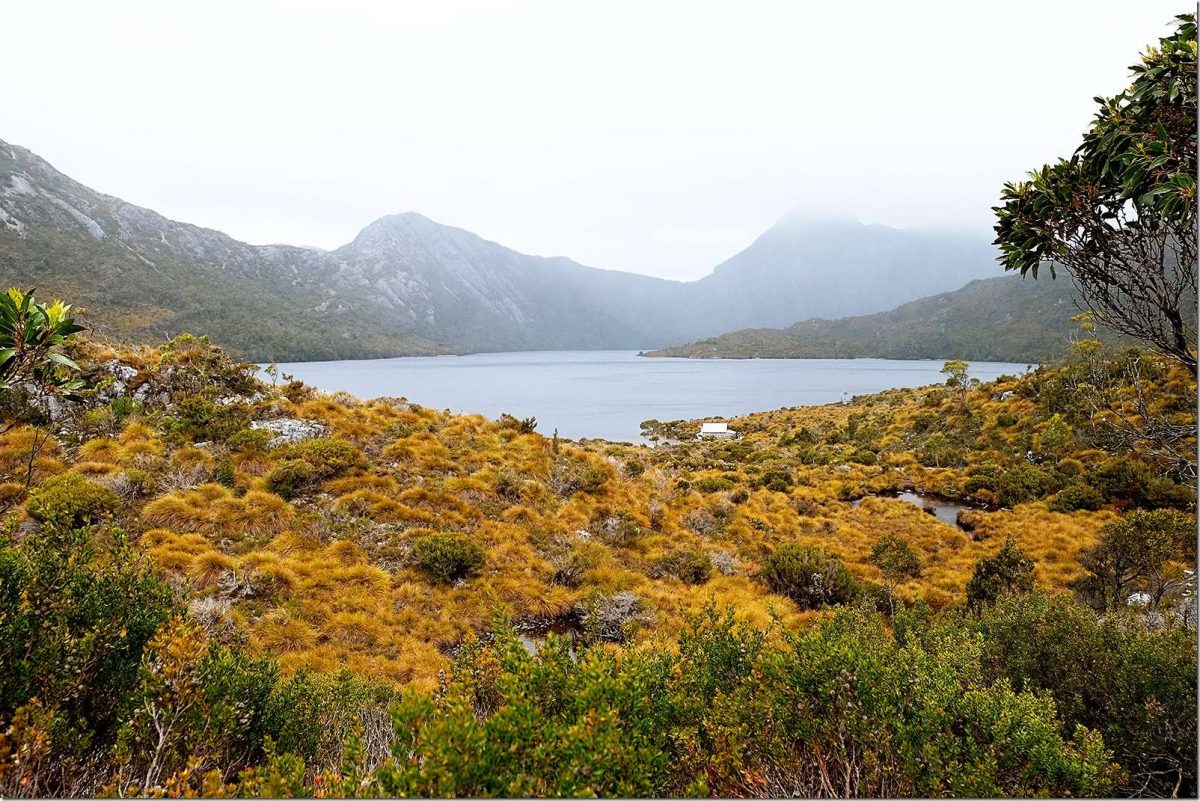 There are also plenty of spots to enjoy a picnic. We had our lunch packed and ready to go. Unfortunately, all the picnic tables were soaking wet from the rain, so we simply enjoyed a stand-up meal whilst observing our location!
The incredibly popular Boat Shed on the north-western shore is another great spot to plonk yourself down for a breather and to enjoy the views from one of the most photographed areas at Cradle Mountain.
Despite the fact that we had to keep layering up and down and popping on raincoats during our walk; with the weather constantly changing; we had an incredibly delightful hike.
One which I will remember and treasure forever after.
And one I hope you will be able to enjoy one day soon as well!
The Enchanted Walk
The enchanted walk was easiest of the walks and our top choice of the best Cradle Mountain short walks options. We loved it and I know that you will love it too!
Where it is and Duration:
The walk starts from Cradle Mountain Lodge and will only take you around 15-20 minutes to complete. There is a car park at Cradle Mountain Lodge and signs around the main building will point you in the right direction for this walk.
As this area is home to a large variety of Tasmanian wildlife, you may want to have your camera handy here and spend a bit more time here too.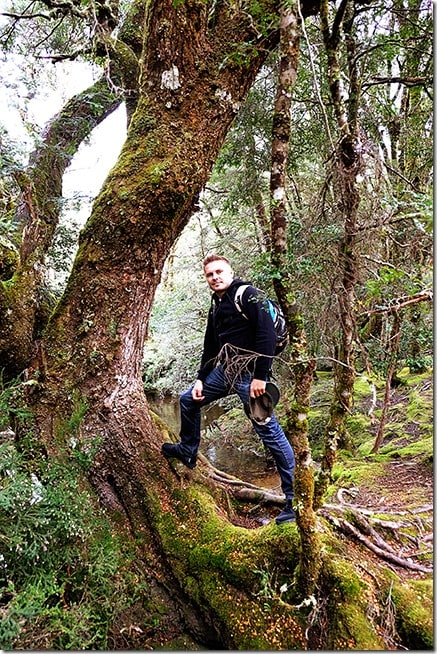 Overview and Suitability: 
The second walk we chose for the day was the delightfully sweet and short Enchanted Walk (only 1km). This walk is really easy and perfect for families with young children.
This trail bends and weaves along the Pencil Pine River and takes you through a large variety of vegetation typical of the area; from Buttongrass plains to Teatree thickets, Eucalypt woodlands and mossy myrtle forests.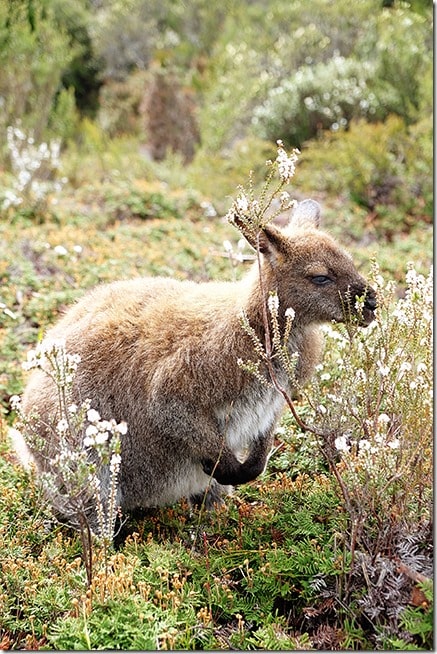 Our Experience:
My favorite memory from this walk was the wildlife we got to see, as they were having their late afternoon feeding session! Remember, that the best time to see the animals here is at dawn or dusk, so make sure to pop outside around those times to observe a delightful scene of wildlife moving about!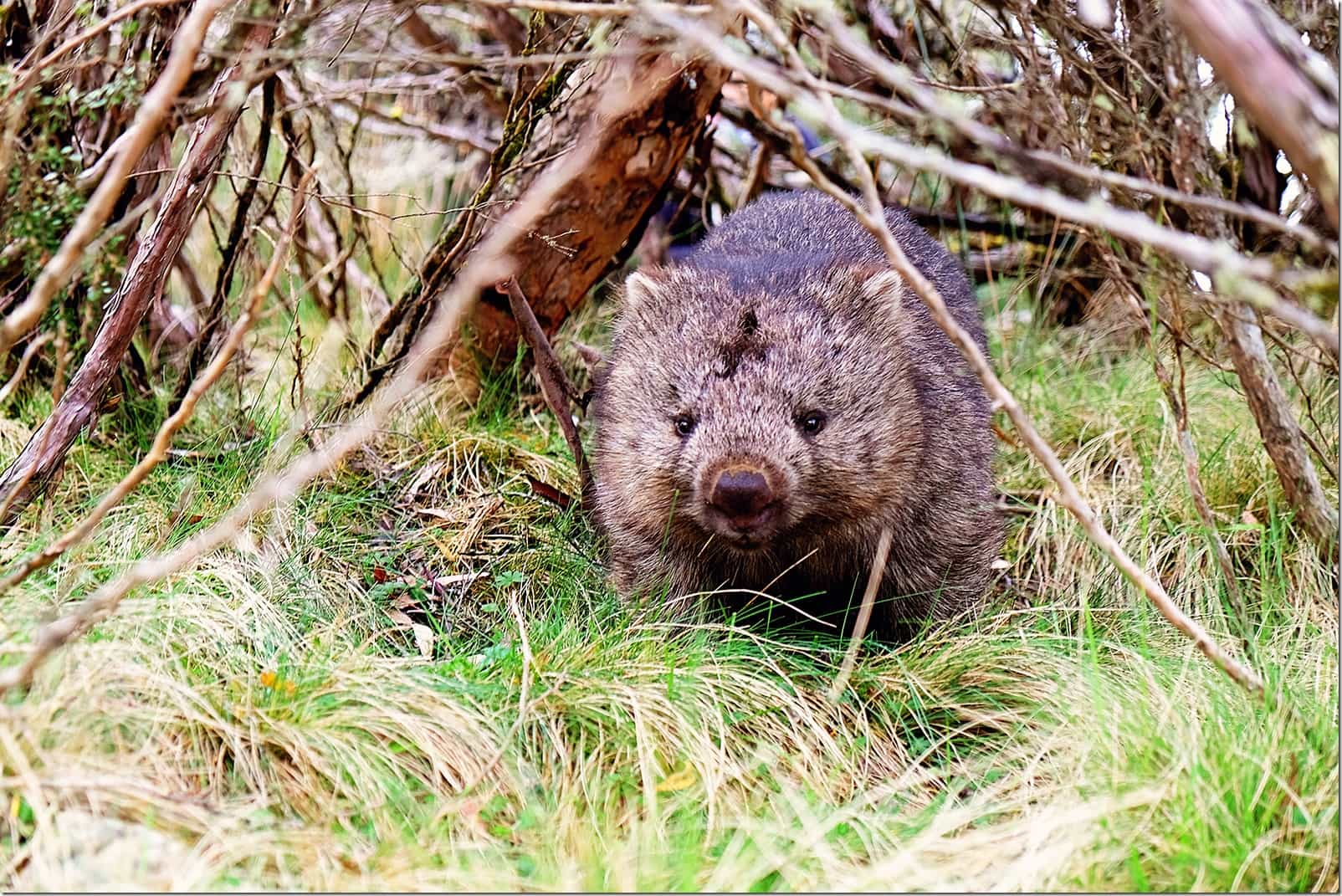 This walk, although short, it will be one of the most memorable ones too.
This is also one of the easiest Cradle Mountain self-guided walks and definitely, one of the best Cradle Mountain walks too!
Tip: There are also some nocturnal tours you can take, perfect for the kids to try and spot them at night time.
–
Other Cradle Mountain walks:
As our weather was really inconsistent, we only completed the Enchanted and Dove Lake Circuit walks (two of the best Cradle Mountain walks).
Below you can find a list of the other walks in Cradle Mountain, together with approx timeframes to help you with your planning! Check out the best Cradle Mountain hikes, the best Cradle Mountain trails and the best walks Cradle Mountain has to offer:
Enchanted Walk (from Cradle Mountain Lodge) – Allow approx 20 min
King Billy Walk (from Cradle Mountain Lodge) – Allow approx 30 min
Knyvet Falls (opposite Cradle Mountain Lodge) – Allow Approx 45 min
Dove Canyon Circuit (via Knyvet Falls) – (opposite Cradle Mountain Lodge) – Allow Approx 2-3 hours
Pencil Pine Falls and Rainforest Walk – (from Interpretation Centre) – Allow approx 10 min.
Cradle Valley Boardwalk – (from Interpretation Centre) – Allow approx 2 hours one way to Ronny Creek or 3 hours one way to Dove Lake
Weindorfers Forest Walk – (from Waldheim Chalet) – Allow approx 20 min
Ronny Creek to Dove Lake (via Lake Lilla) – (from Ronny Creek Carpark) – Allow approx 1 hour one way
Ronny Creek to Dove Lake (via Crater Lake, Wombat Pool, and Lake Lilla) – (from Ronny Creek Carpark) – Allow approx 1.5-2 hours one way
Dove Lake Circuit – (from Dove Lake Carpark) – Allow approx 2-3 hours
Marions Lookout (via Crater Lake) – (From Ronny Carpark or Dover Lake Carpark) – Allow approx 3 hours Cradle Mountain hike
Tip: This is also the starting point for the world-famous Tasmanian walking track: the Overlander Track. This track will take 6 days to complete and will take you across some incredibly beautiful and unique Tasmania wilderness terrain!
–
Before you go to Cradle Mountain
Before you find the best things to do in Cradle Mountain and things to do around Cradle Mountain, there are a number of things that you should consider. Here are some of the helpful hints and tips that will make your adventure easier.
Purchase a Tasmania National Park Pass:
When you venture out on your Cradle Mountain hike, you will be required to pay a National Park entry fee for all National Parks in Tasmania. The National Park passes can be purchased at the Visitor Centre.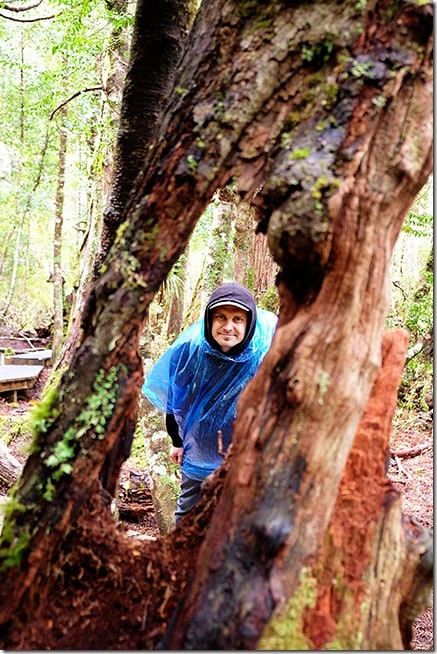 If you plan on only visiting the Cradle Mountain Lake St.Clair National Park, entry tickets are:
$16.50 adult (18+)
$8.25 child (5-17, under 5 no charge)
$41.25 family (2 adults, 3 children)
However, if you are planning on visiting more Tasmanian National Parks, such as Freycinet where Wineglass Bay is located, it might be more cost-effective to invest in a Holiday Pass.
Please note: This Pass allows entry into all the parks within Tasmania (Within a 2-month period). This one costs $60 (Per Vehicle, max 8 people) or $30 Per Person.
You can find more information on National Park Passes here.
–
How to get to Cradle Mountain walks:
There are three ways to get to the Cradle Mountain Walks. The easiest, of course, is the choice of the private car or a shuttle bus. Alternatively, for those adventure seekers, you can tackle the whole area on foot.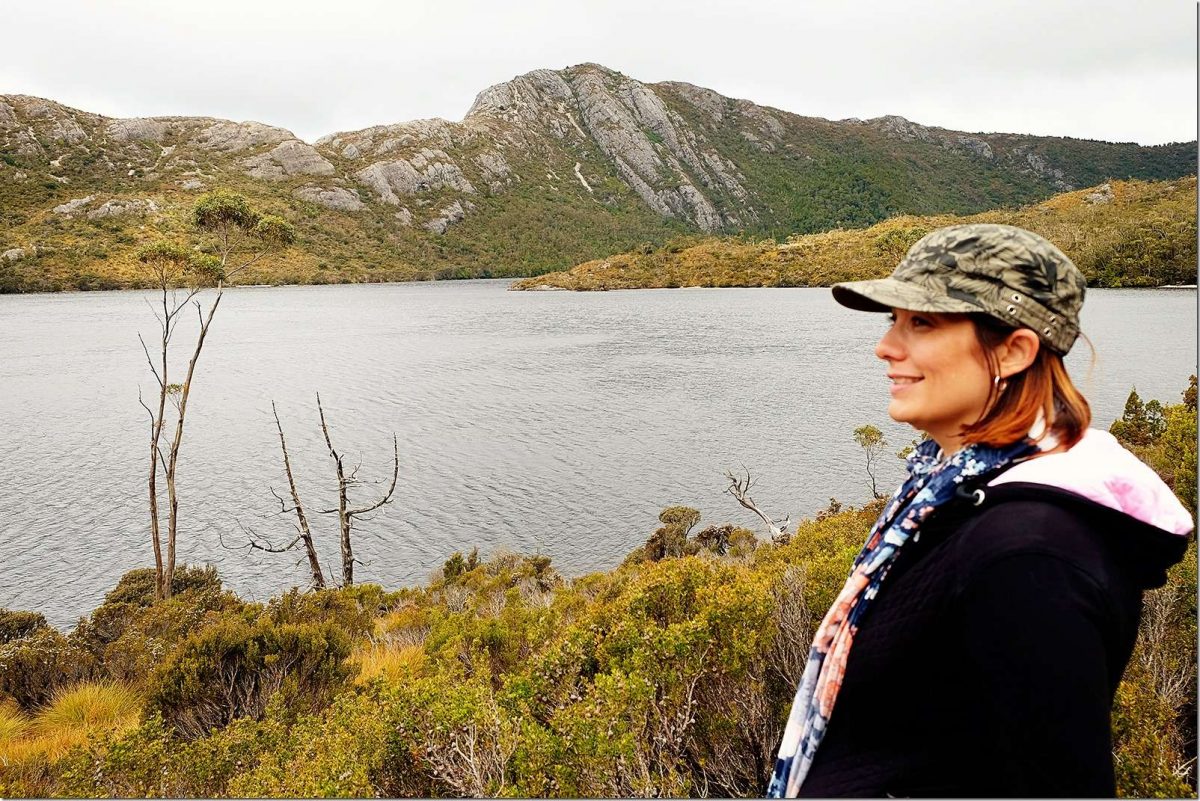 By Private Car: 
If you have a car, you might choose to use the car and park at the Dove Lake car park. Be aware though that this car park fills up pretty quickly! A boom gate at the entrance to the park will tell you whether there is parking inside (by an indication of green or red light).
If the light is red, you might want to stick around waiting for someone to exit, or alternatively head back up the road and park at the Visitor Centre and take the free shuttle bus into the park.
By Shuttle Bus:
The easiest way to move about the park is by free Cradle Mountain shuttle bus. Once you have purchased your Park Pass, you simply have to show this to the bus driver at the Visitor Centre in order to be shuttled back and forth between the locations you wish to visit.
The shuttle runs on a regular schedule. It stops at the following Park points:  Visitors Centre, Interpretation Centre, Snake Hill, Ronny Creek and Dove Lake.
By Foot:
If you are staying in the area, you might choose to start hiking from the Interpretation Centre. There is a beautiful boardwalk that meanders alongside the Dove River which takes you all the way to Dove Lake.
Be aware though that the walk will take you approx 3 hours, so make sure to include the time in your daily planning!
–
Where to Stay at Cradle Mountain:
There are a number of great accommodation options in Cradle Mountains to choose from. However, if you would like to spend your stay here in a more of a mountain cottage environment, then we would strongly recommend the place that we stayed at, the Cradle Mountain Highlanders Cottages.
(This is where we stayed)
We absolutely totally loved our little wood cabin at Cradle Mountain Highlanders Cottages. We chose to stay in one of the cheaper cottages, but loved our adorable Buttongrass hut! The inside of the hut is equipped with a massive stash of wood for your fireplace, the cozy bed has electric blankets to keep you warm.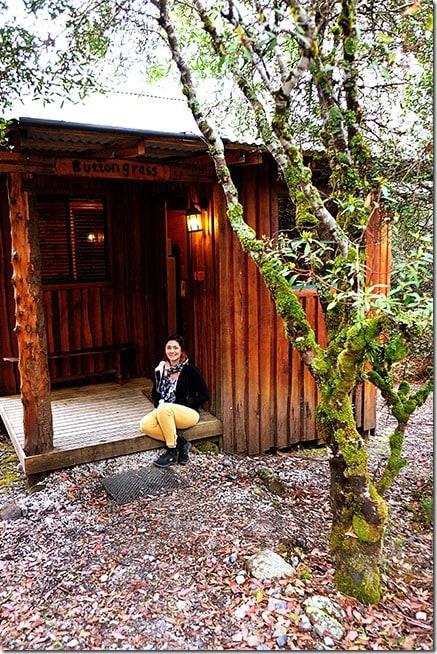 It has a kitchen and a lovely bathroom. What more could you want! Waking up to the sound of nature while the fire is still burning away – perfect! We highly recommend you stay here! There are huts to suit most budget levels. You can check them out and book here.
Other Cradle Mountain accommodation options:
Where to Eat (or NOT to eat!):
We were pretty disappointed by the dining-out options available in the area! Either the food was too expensive for us or just totally not worth the money.
We did try the buffet at Cradle Mountain Hotel but were highly dissatisfied with the service and taste in the food. We actually ran into other travelers at Wineglass Bay who also complained about the buffet, so maybe stay away from that one!
We truly suggest stopping in at a supermarket on your drive down and stocking up on your own food supplies! Good decent supermarkets can be found in Launceston, Deloraine or Sheffield. You can also find basic grocery supplies at the Discovery Hut.
If you have the money to splurge out on your dinner, ratings on Tripadvisor recommend good dinner options at Highland Restaurant, Peppers Cradle Mountain Lodge Tavern Bar & Bistro, and Hellyers Restaurant.
Cradle Mountain Walking Tours:
Although, it is fun to check out the Cradle Mountain on a self-guided tour, sometimes it is easier to plan an organized trip. This way you will be able to simply enjoy the sights and best things to do in Cradle Mountains. No planning and no worries here.
Enjoy a Guided 3 Day Guided Walk of Cradle Mountain & Walls of Jerusalem Walk
Carrying just a day pack, enjoy three days of guided walking in beautiful Cradle Mountain, marveling at 360-degree panoramic views of Tasmania's highest mountains.
Finish your walking experience with a journey into the remote Walls of Jerusalem National Park only accessible by foot, where you'll see stunning views of King David's Peak, Solomon's Jewels and Herod's Gate. 2 Nights at Cradle Mountain Lodge is included.
What to Pack for the Cradle Mountain walk?
It is crucial to pack the right gear for your hikes at Cradle Mountain! As this is an alpine region weather can change very rapidly and frequently. In our few hours of walking, we experienced ridiculous winds, and heavy rain, and 10 min later we were hot as the wind disappeared and the sun came out!
It was all over the shop for the whole duration of the walk. So please check the weather in the morning and take a backpack with essentials to cover all weather conditions.
Cradle Mountain Hiking Shoes:
Whatever your favorite shoe for hiking, ensure it is packed in your suitcase! It is very important here, that your shoes have a good grip and prevent you from slipping. Obviously, if you are doing the Overland Track walk you will need proper hiking boots, so make sure to invest in some if you need them!
Tasmanian Weather Proof Backpack:
Cradle Mountain weather can change at a moment's notice, so make sure that you have a good weatherproof backpack with you.
If you do not have one, pop your camera into a zip-lock bag before you chuck it in a normal backpack.
Poncho or Raincoat:
Invest in a good-quality poncho to give you adequate weather protection! In case you forget, you can pick up one of the simple, plastic ponchos at the local shop.
Warm Windproof Clothes:
When you are hiking around the Cradle Mountains, make sure to have adequate clothing.
The wind can be a bit unforgiving here, so grab yourself a good beanie, and a scarf and stay warm.
If you are doing a major hike, you might consider getting a good windproof jacket and weatherproof pants as well.
Essential Basics:
Of course don't forget all those basic essentials that you normally take along on hikes, such as:
________________________________
Please Pin our pin of Things to do in Cradle Mountain!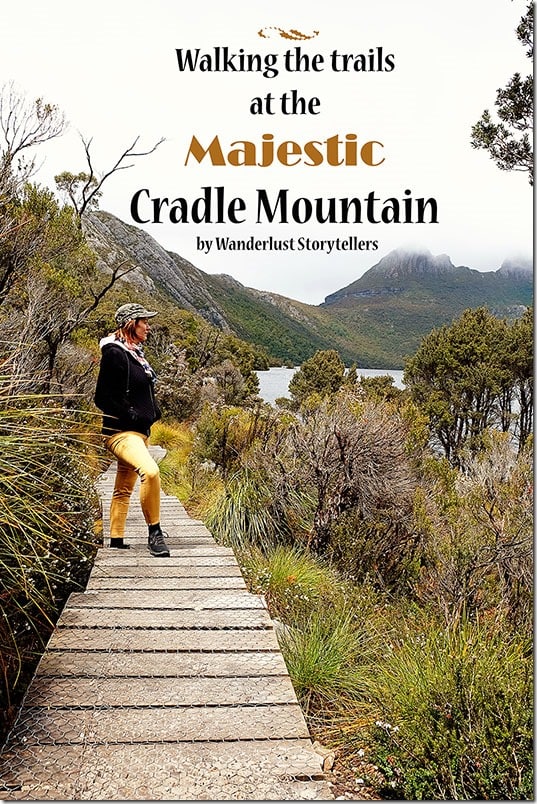 ________________________________
Further Reading
Find out more about Tasmania on our Australia Travel Blog
Check out the best places to visit on the East Coast of Tasmania.
Find out the best places where to stay on your trip around Tasmania.
________________________________