We recently had an incredible road trip around Tasmania. The scenery, nature, the wildlife there will truly blow you away.
It really is a destination that allows you to connect back with the wilderness, one that allows you to feel miles and miles away from the daily grind of life! One where you can just be at peace.
We made mistakes on this trip! And it affected our whole experience of this wonderful part of Australia!
–
What mistakes did we make on our visit to Tasmania?
1. We didn't pack correctly and we were left cold! When we left QLD (a 3-hour flight away), we left some really hot weather behind! So hot in fact that we were running our aircon at home 24/7.
We did not expect a part of Australia, not that far away from home, to have weather in such extreme contrast! So we were unprepared! Nothing like being cold on a holiday, it is NOT recommended!!
"There is no such thing as bad weather, only inappropriate clothing."

– Sir Ranulph Fiennes
2. We rushed too much! Not realizing how long it takes to truly travel along the bendy, windy roads in Tassie, we spent way too much time just driving from one destination to the next. It was exhausting!
Now, I'm a planner and I did in fact plan the road trip with google maps! Regardless, the time spent on the road wore us down! And if you do happen to go to Tasmania on a road trip holiday, we really recommend that you do so on a 2-week holiday!! (Not 1 week like us!).
If we could do this holiday over again, we would and we would use our list below of what to pack for Tasmania! This list has been compiled from learning from mistakes, so please use our mistakes in order to properly prepare yourself for the 'weather moods' of Tassie!
We hope you guys will be better prepared, so you can have an awesome relaxing holiday where you can 'get back to it' and 'come home to YOU!'!!
–
Guide to Tasmania | What to pack for Tasmania
1. Car Insurance
Okay so you can't exactly 'pack' this one, but we figured it was important enough to include in this guide to Tasmania.
In some destinations, sometimes we are a bit a 'naughty' and forego the car insurance that car hire companies offer to us! 'Touch-wood' we have never had any issues with cars and have actually managed to save a big chunk of money this way.
We know it is like playing 'roulette', taking a big chance, so we don't recommend it! In Tasmania however, we highly recommend that you DO take out car insurance!
One of the beautiful things about Tasmania is the fact that you will see PLENTY of wildlife wandering around!
Unfortunately, they also love wandering on the roads and you will see more roadkill of these lovely animals than you would expect!
Try avoiding driving at dawn and dusk when they are most active! And if you have to drive at those times, SLOW DOWN!! as they will surprise you by jumping out of the bushes!
We had a few surprises but fortunately did not hit any of the gorgeous wildlife, best to best insured so that if it happens, you are covered!!
We love grabbing our insurance for travel and car from Cover-More! Cover-More is one of the leading Australian Insurance companies. They offer affordable high-quality covers with 24-hour emergency assistance.
Click here to check prices and grab your car insurance cover now!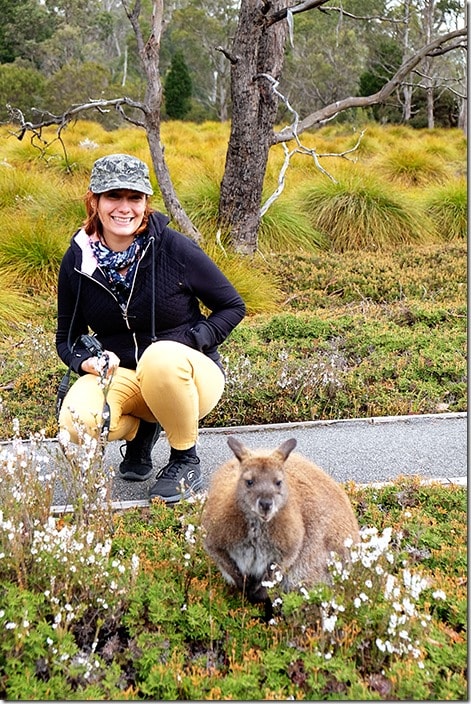 –
2. Pack a Poncho or Raincoat
We learned the hard way that Tasmania's weather is completely unpredictable and random. Even the locals told us that the weather we experienced whilst there was bizarre as the previous week was beautiful and warm!
Some hotel staff in Hobart told us that there are a few weeks in January where you can expect to have good weather, but the rest of the year leaves you weather-bombarded.
We had rain showers on and off throughout our whole trip in Tasmania, but the worst of it hit us in Cradle Mountain!
Of course, we were only going to be here once and we wanted to hike around Dove Lake without something as little as 'bitchy' weather stopping us!
So we had to go on a hunt for some ponchos, and they were basically just like plastic bags, the wind tore them up in various spots and kept blowing them around exposing our backpacks that had our camera and GoPro in them!
While they were helpful, essentially they just were not good enough to keep us completely dry, and it really would have been awesome to have our own good-quality rain jackets.
If you want to grab something decent that you can use for all future trips to rainy destinations, check out Helly Hansen rain jackets. They are fantastic quality and will keep you dry and comfortable.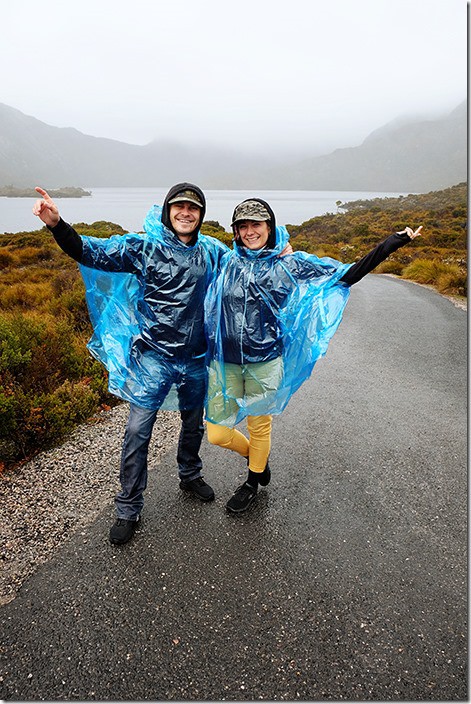 It would also be wise to invest in a pair of the best travel pants for women or some great traveling pants for men that has water-resistant fabric to help ensure that your legs stay dry too.
Suffice to say that it will be worthwhile for you to invest in a good quality poncho to give you adequate weather protection!!
Also, don't let the crazy wind and pouring rain stop you from experiencing your holiday, just as soon as we thought about turning back, it cleared up …. only to pour again later on! But most of our walk ended up being free from the rain.
Purchase a good quality lightweight Poncho here.
–
3. A Comfortable Shoe for Hiking!
We both have the same brand of shoes that travels around the world with us! This shoe is so comfortable with its memory pillow inside that you can easily hike around for hours on end! This shoe proved its worth on a 4-hour slippery hike through the rice paddies in Sapa, Vietnam. It has also taken us on some decent hikes at Cradle Mountain together with some smaller walks around Stanley The Nut and the Freycinet National park in Tasmania.
I think it is important to find a shoe that you can trust, and this is mine!!! Sketchers Sport Sweet Spot Fashion Sneaker, I love you!!! Lots of funky colors available too!! Whatever your favorite shoe for hiking, ensure it is packed in your suitcase!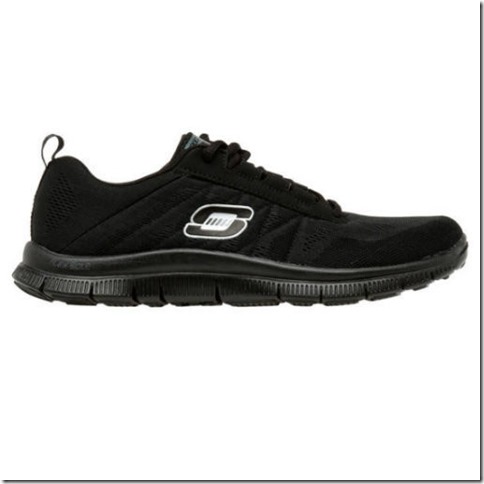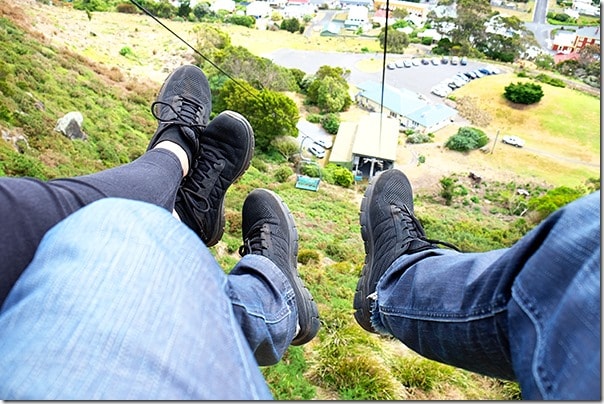 Our shoes! Chilling out on the Chairlift on the way down from the Nut in Stanley, Tasmania!
We also recommend some really comfy flat shoes for when you explore on your day trips.
You may also be interested in getting the best compression socks for travel.
—
4. Warm Windproof Clothes
I've already told you how unprepared we were for the crazy wind and cold weather during our visit to Tasmania. I don't think a day went past that I was not cold at some point. My ears were aching from the constant wind and all of this definitely affected our experience of our walks and hikes whilst exploring some pretty spectacular areas! I think I spent every day looking like this, and yes I wore the same clothes over and over and over!!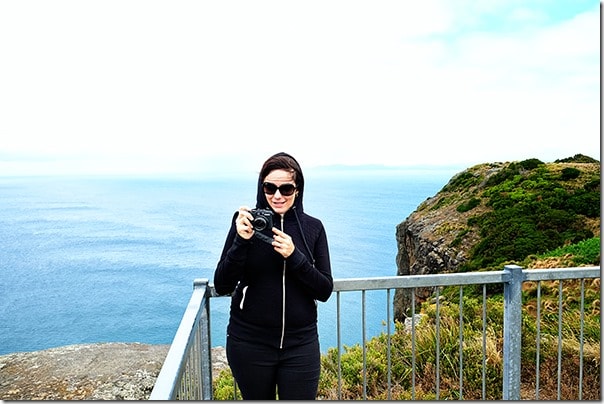 So in a bid to keep you warm whilst you travel around Tasmania, this is our recommendations!
Get yourself a warm beanie! It will give you protection over your ears to cope with the power of the wind better! Plus it will also aid you in your attempt for warmth! We didn't have any beanies and used our hoodies, but the wind kept blowing it off! So please invest in a nice beanie or two! You can browse through some gorgeous beanies here.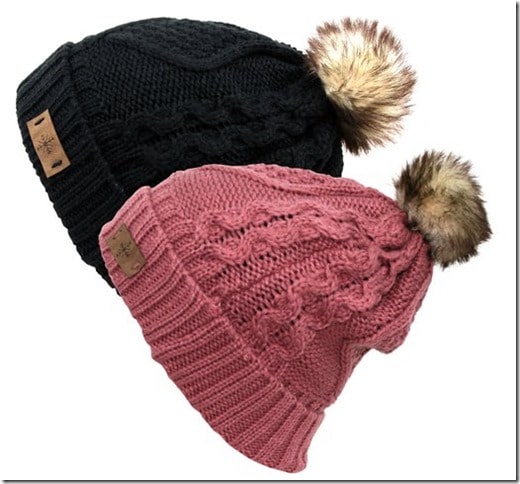 Take a WARM scarf! Forget about a scarf that is sheer and stylish, you need something to give you warmth. I wore my scarf every day, neatly tucked away under my jumper (that I zipped all the way to the top), so you couldn't even see it! But it helped so much! Hubby didn't have a scarf and suffered the cold a bit more than me as a result! You can browse through some lovely warm scarves here.
Get a quality windproof jacket that has a hoodie! A jumper is really not going to cut it here! You need something to keep the wind out, we met travelers who actually had windproof gear on and still complained, so make sure the jacket is a lovely size that allows for layers of clothes underneath it too! Check out these beautiful windproof jackets.
Layer up! Take clothes that you can easily layer up or down as need be!

Take a Warm Blanket:

It might also be really helpful to take your own lightweight travel blanket so you can pull it out during your car rides and whenever else you are a bit cold!
–
5. A Good Camera that is Weather Resistant!
We recently upgraded our camera to a beautiful mirrorless, water and dust resistant camera! Just in time for Tasmania! Perfect timing! Our Fujifilm X-T2 together with our 18-55mm lens served us well through Tasmania and survived all the hiking through rainy weather!!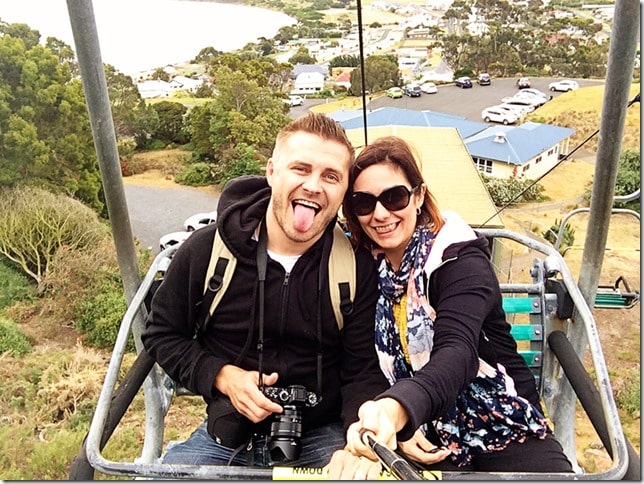 Our gorgeous new camera hanging around Andrzej's neck! While you are at it, maybe grab a selfie stick for shots like these?
–
6. A Weatherproof day-Backpack
You will use your backpack for all your walks and hikes, I don't think a day went past when we didn't use our backpack!
If you can get hold of a waterproof backpack, even better! But if not, consider chucking your camera and phones in a plastic ziplock bag for extra protection.
Your backpack will come in use when you might need to lie down once you warm up, it will hold your water bottle, camera equipment, and snacks!
These are travel essentials for men! Well if you are traveling with your husband – as my husband always carry the backpack, but otherwise you could find a feminine backpack as well.
You can browse through some weatherproof backpacks on Amazon here.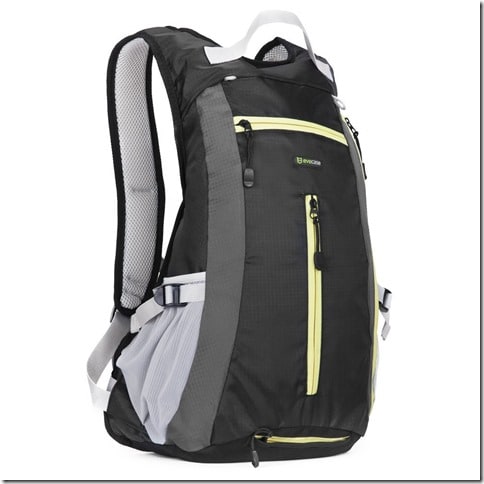 –
7. Water Bottle
This one is pretty self-explanatory but very important! Some of the hike locations around Tasmania don't have any little stores close by to purchase water, so make sure you fill up before leaving your accommodation. Pack it in, don't forget!
You can browse through some water bottles on Amazon or check out a great guide to the best foldable water bottles.
–
8. Car Charger
Of course, whenever you are on a road trip, your car charger, if you have one, will come in handy! We never pay the extra cost for a GPS anymore, as we just use the free Google GPS maps on our phones! But of course, using our phones for hours on end can eat away at battery power pretty quickly. So if you have a car charger at home, remember to chuck it in your suitcase for your trip!
If you need to purchase one, why not have a browse through a selection here.
–
9. Thermo Mug
When temperatures are low and the wind is icy cold, there is nothing as comforting as a delicious warm drink! Whenever we go on a road-trip style holiday I always pack my own thermo-mug. You can ask any coffee shop to fill up your thermo-mug instead of creating rubbish with their disposable cups! Plus your hot drink will stay hot for longer whilst you enjoy traveling towards your new destination!
As an extra special something, did you know that we create art pieces in our spare time? If you purchase one of these gorgeous thermo-mugs, you will get a mug that has one of my very own art pieces printed on it!! So cool!! You can browse through my selection of travel mugs in our shop here.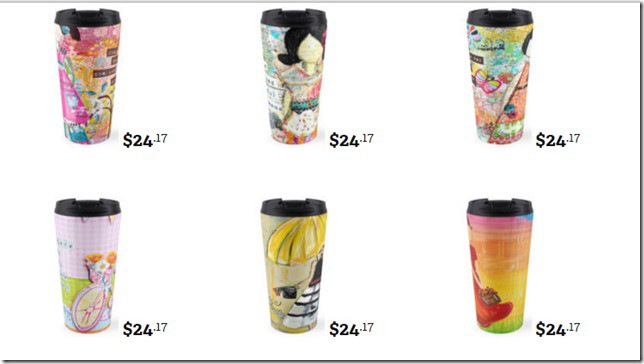 –
10. Travel Journal
And lastly, it is always nice to have a book that you can scribble down your memories in whilst traveling around. Our journals, again with our art as the cover have lined paper, perfect for you to record your thoughts and favorites whilst you explore a new destination! If you are in need of a travel journal, why not browse through our selection here.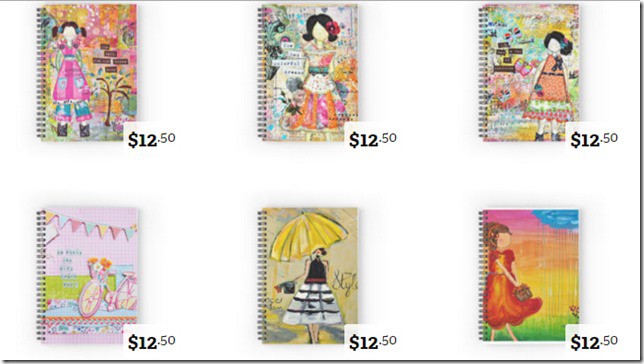 Tasmania is such a beautiful part of Australia to discover! It is a real shame that the weather and the mere fact that we weren't prepared for it had such a big impact on our trip. Hopefully you can use our Guide to Tasmania | What to pack for Tasmania post and get yourself more prepared for this unique destination. I'm sure you will fall in love with the nature and wildlife whilst there! Be sure to look out this month for more posts on our travels around Tasmania. For a list of recommended places of where to stay in Tasmania, hop over to our post here!
–
Over to you: When will you be travelling to Tasmania? Can you add anything to our essentials of what to pack for Tasmania?
PIN ME!!!!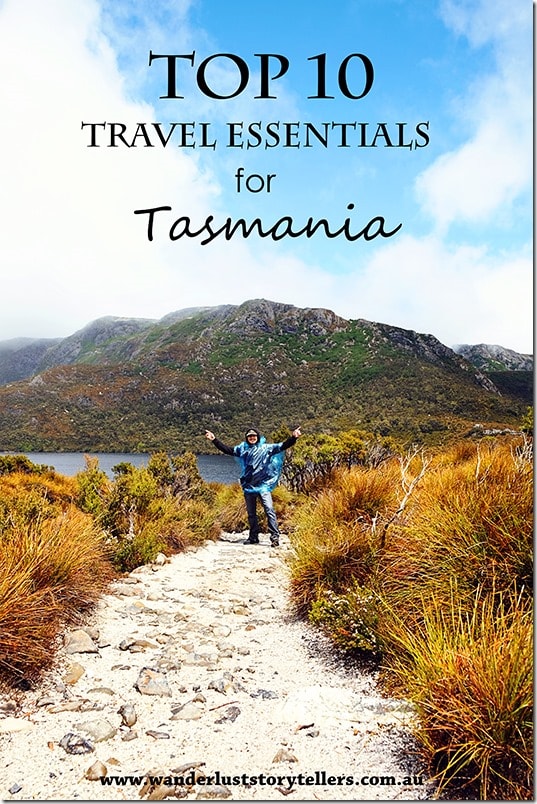 ________________________________
Further Reading
Find out more about Tasmania on our Australia Travel Blog
Check out the best places to visit on the East Coast of Tasmania.
Find out the best places where to stay on your trip around Tasmania.
Read about the best things to do in Cradle Mountain.
To read about our list of travel essentials for your holiday in Tassie.
Check out the Port Arthur Historic Sites here.