I don't see how you can go to Vietnam and not book in a cruise on Halong Bay. In my opinion, it is one of those "must-do" items that belongs on your itinerary. Unfortunately, way too often do I hear travelers complain about their experience on their cruise – which is sad really because it was one of my favorite things from all our trip to Vietnam.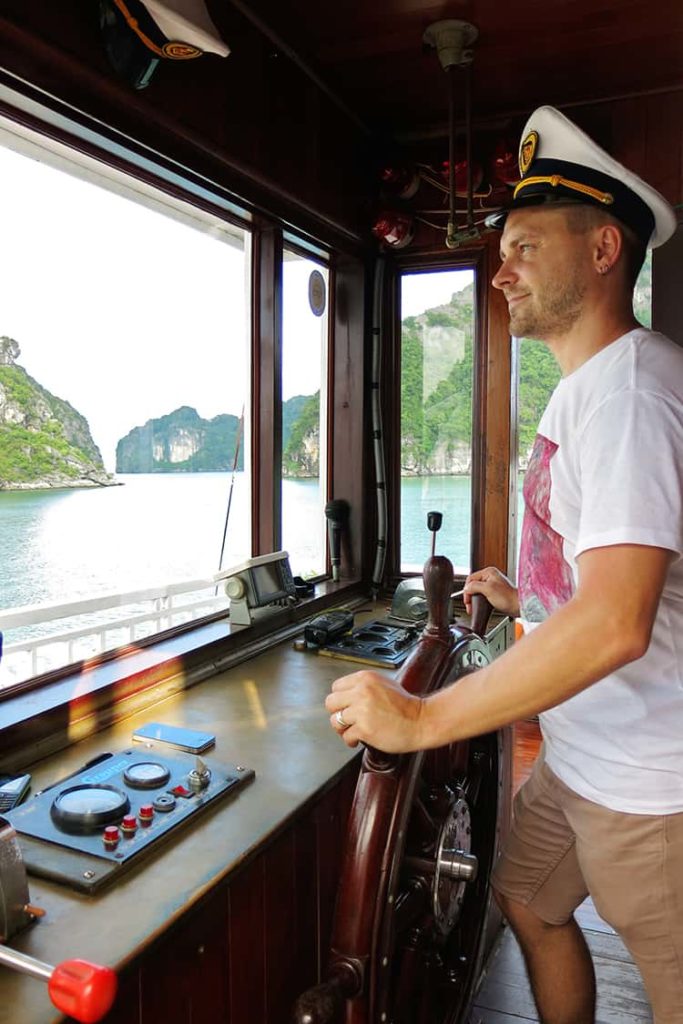 In actual fact, we loved our cruises so much that we compiled a lovely guide on the best cruise in Halong Bay that we can recommend. I think that choosing the right cruise will have a big impact on whether you enjoy the Bay. So to ensure that you choose the cruise that is right for you, we wanted to check in with some of our favorite travel bloggers to see which cruise they chose.
---
Halong Bay Cruise Package Reviews by Travel Bloggers
Here are some favourite Halong Bay Cruise Packages as recommended by other bloggers. They include a bit of an outline about what is included in the price, as well as talk about both the positives and negatives of their experience.
Indochina Junk| 1N2D Itinerary
– Recommended by Suzanne from The Travelbunny –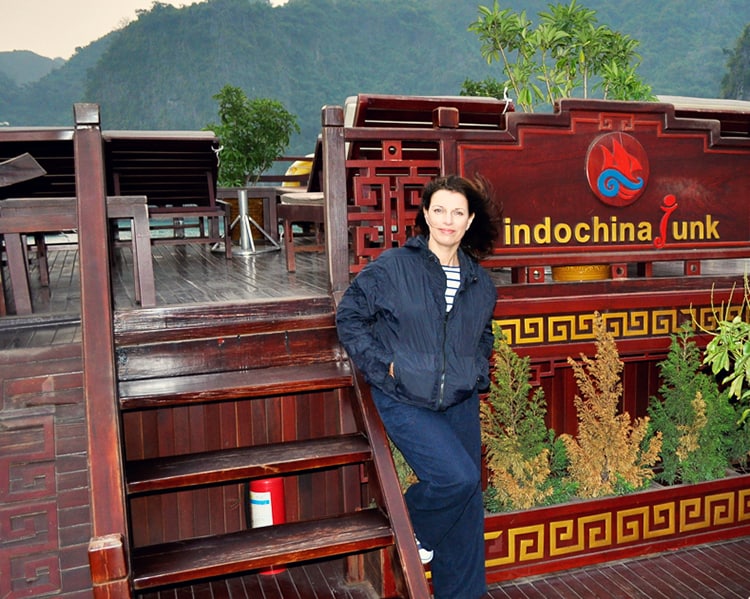 We explored Halong Bay with Indochina Junk on a 24-hour trip. Indochina Junk has a permit to visit a quieter part of the bay away from all the other tourist boats. Bai Tu Long Bay translates as Baby Dragon Bay and is where we spent our time in Halong Bay.
The Dragon Pearl had traditional teak paneling, ornate decoration, and areas to relax and enjoy the passing scenery. We anchored amid limestone karsts and enjoyed an excellent seafood lunch served on deck. Later, we moored near a small island and explored Thien Canh Son Cave, kayaked, and watched the sunset.
The food on board was amazing and included in the price. Some drinks were also included. Dinner was a Thai feast of epic proportions. There were around 18 guests on board.
Our cabin had a double bed and private bathroom with a shower, toilet, and basin. In the morning we got up early and watched the sunrise over Halong Bay with a steaming Vietnamese coffee. After breakfast, we visited a floating village on our way back to the port.
I can highly recommend Indochina Junk. It's not the cheapest but it's a first-class experience, and more importantly, a safe experience. The company is a sustainable business and has developed a 'Green Halong Bay' program to help protect the bay against rubbish. They have also set up a school in Vung Vieng fishing village and provide job opportunities for local people.
Note from Jolene: We also recommend Indochina Junk, you can read about our 2N3D Halong Bay Cruise here.
Click to Check Price for Indochina Junk Cruises
---
Bhaya Cruises| 2N3D Itinerary
– Recommended by Kylie from Visiting Dordogne –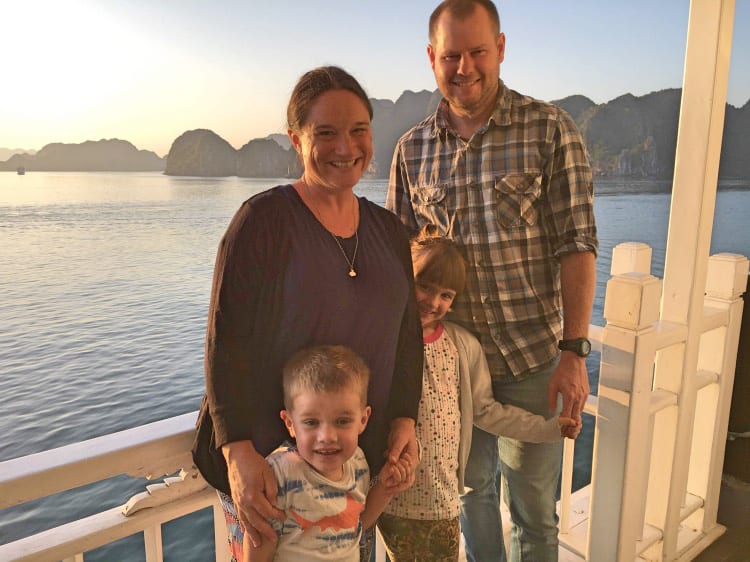 We spent a fabulous 3 days, 2 nights with Bhaya Cruises on board the Bhaya Classic II boat in beautiful Halong Bay with our two children (aged 4 and 5 at the time). Halong Bay is truly stunning, however, the Bhaya boat and staff made our experience exceptional.
We had two rooms to accommodate the four of us, both lovely and spacious with private en-suite bathrooms and generous windows to take in the views.
Everything was included with the exception of alcohol or the occasional soft drink for the kids. Right from the start, we were treated to delicious food (more than we could eat), with the amazing 5-course dinners both night's real highlights, as well as yummy breakfasts on the deck admiring the early morning views of the bay.
Our excursions included kayaking through a beautiful cove, cycling on Cat Ba Island, visiting a traditional floating village, checking out a pearl farm (more interesting than you might imagine), swimming in the South China Sea, and an amazing cave walk on the final day. While on board we were also able to participate in a spring roll-making lesson on the top deck, tai chi each morning, and nighttime squid fishing. Pre-dinner drinks also gave us a great opportunity to meet our fellow passengers.
Was there anything that could have improved the experience? Well maybe fewer boats in Halong Bay, but it's certainly hard to hold Bhaya responsible for that! And the extended 3-day cruise also meant that we traveled beyond most of the other boats giving us a touch more seclusion and adding to a brilliant overall experience.
Click to Check Price for Bhaya Cruises
---
Au Co Cruises | 2N3D Itinerary
– Recommended by Holly from Four Around the World –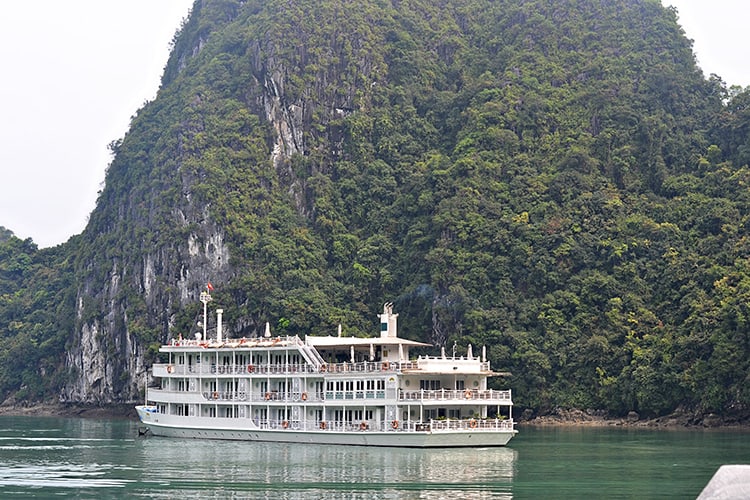 We took a 2 night Halong Bay cruise with Au Co Cruises with our daughter, who was only 14 months at the time. We knew a Halong Bay cruise was a must for the first visit to Vietnam, however, we wanted to have the reassurance of a child-friendly cruise ship. Au Co considers itself to be a luxury cruise option, with several upgrade suite options.
We stayed in a standard deluxe cabin, which is beautifully decorated in dark wood grain and decor items. Each cabin has a private balcony so you can enjoy the view from your own cabin. We loved enjoying the tranquil afternoons before dinner with a view from our balcony.
All meals and snacks are included in the cruise cost and the food is extravagant. We enjoyed multi-course feasts and local cuisine. All excursions are also included in your cruise package, with visits to caves, a local village, kayaking adventures, and island visits during the 3-day cruise. You also get to book yourself an included session in the boat jacuzzi, situated on the deck so you can relax with incredible views.
We loved our experience, from the food to the onboard entertainment, the excursions, and the staff. They doted on our daughter the whole time and were wonderful at keeping her entertained throughout the trip and excursions. There was nothing that comes to mind that needed improving. It was a wonderful cruise experience.
Click to Check Price for Au Co Cruises
---
Galaxy Premium Cruise | 1N2D Itinerary
– Recommended by Ania from The Travelling Twins –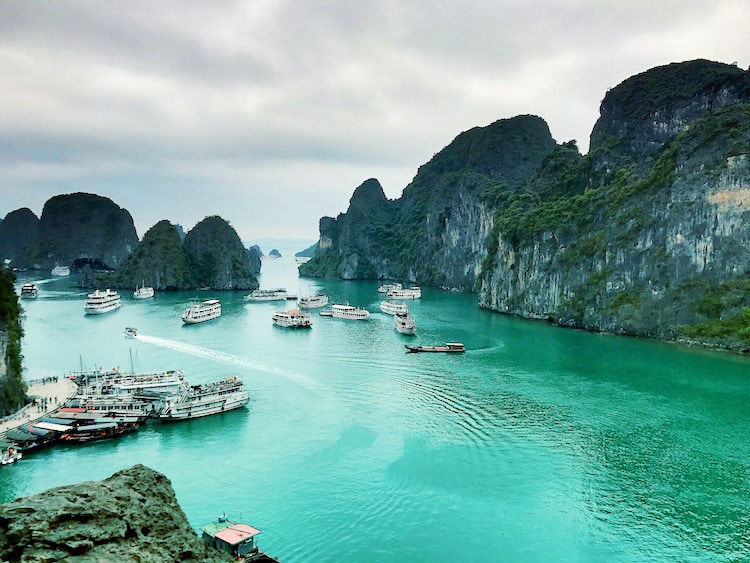 Family trip: 2 Adults and 2 Young Kids
Our Accommodation on the Boat: One Deluxe Double and one Deluxe Twin Cabin
Included in the price:
Full Cabin Facilities
All meals on board.
Welcome drink.
Cookery demonstration.
Entrance and sightseeing fees.
Kayaking.
Fishing equipment.
English speaking guide.
Shuttle bus (Round trip from Hanoi).
Fruit and local wine party
What we loved about it: Besides being awestruck with the beauty of Ha Long Bay we especially loved the food served on our cruise. It was delicious and the staff was fully accommodating to our family's different food intolerances. In the evening on the first day, they threw a small party and after that, we tried squid fishing. We didn't manage to catch any squid but we all had great fun. As well as sightseeing from the boat we climbed up to a spectacular viewpoint and on the second day, we visited caves. The sightseeing was all well organized. Later, we all (including the kids) participated in a hands-on cookery class to make spring rolls, and to top it off we went kayaking.
What could have been better?: Not much. If we had to pick, then the room was comfortable rather than "de-luxe" and for the kayaking, we had to keep up over quite a bit of distance, so it felt a bit more like exercise than sightseeing.
Click to Check Price for Galaxy Halong Cruises
---
Emotion Halong Bay Cruise | 1N2D Itinerary
– Recommended by Kate from Tear-Free Travel –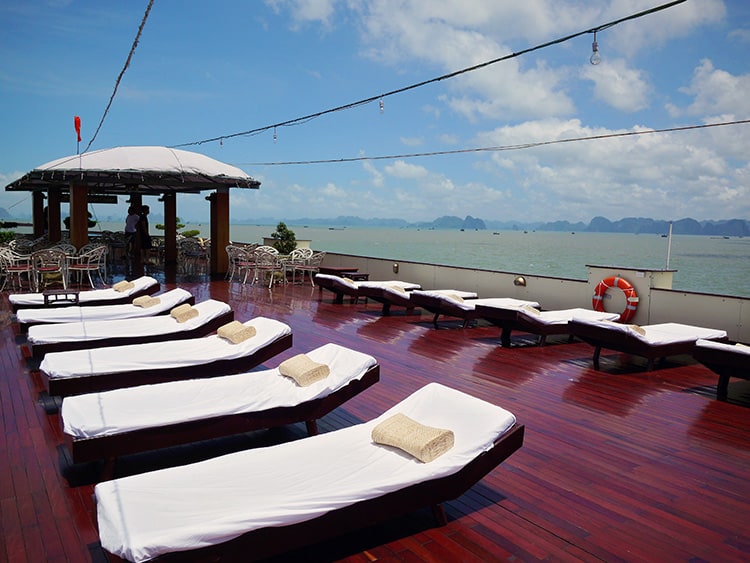 We went as a couple on the beautiful Emotion Halong Bay cruise. The cruise along Halong Bay is breathtaking, and we thoroughly enjoyed the included activities.
Our 1-night cruise included kayaking and swimming, a tour of Sung Sot cave, and a tour of a floating fishing village. We particularly liked our cave tour – 'Surprise cave' is a beautiful walkable cave tucked into the edge of the bay. There is also a 2-night cruise option if you would like to see more of Halong Bay and participate in more excursions.
We had a very comfortable room that was clean and well appointed. The bed was very comfy and I did not feel much movement on the ship.
The crew was very nice and helpful with any requests we had. Although the food was not 5-star, we enjoyed the traditional dishes and felt we got great value for the price of this cruise.
Click to Check Price for Halong Emotion Cruises
---
Oasis Bay Party Cruise | 2N3D Itinerary
– Recommended by Jess from Unearth The Voyage –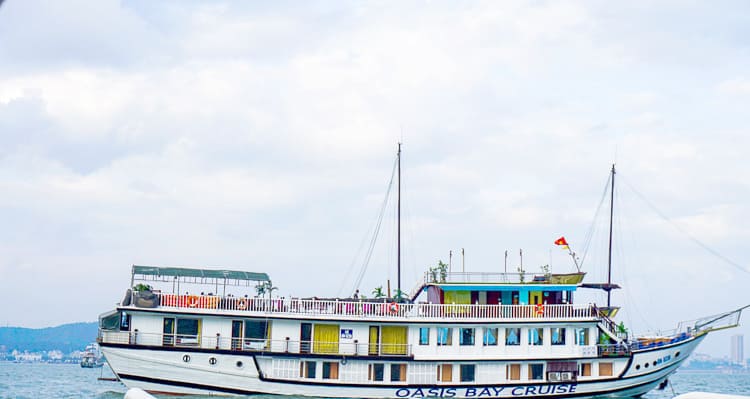 Going on a cruise through Halong Bay when visiting Vietnam is definitely a must-do. There are so many different types of cruises you can choose from; luxury, eco-friendly, adventure, or a party cruise.
When we visited Halong Bay we were backpacking with friends, so we decided a party cruise would be our best option. We chose to go with Oasis Bay Party Cruise, and we had such a great time!
If you choose the 3 days 2 nights cruise, you will spend one night on the cruise boat and one night on a private, gorgeous island. The cost for 3 days and 2 nights is $199.00USD for one person and includes accommodation in a private room on the boat the first night, and shared accommodation on the island the second night. All meals are included as well as a small cooking class where they teach you to make Vietnamese spring rolls.
On the first day the cruise boat goes to a cave where you can take your time exploring around, and then the boat stops off at some cliffs where you can enjoy cliff jumping, kayaking, and swimming. One of the best parts of the cruise is spending time on the private island where you can take kayaks and explore the karsts all around the island. Also, when it gets dark you can enjoy watching bioluminescent plankton right off the coast.
The only thing that isn't too great about the cruise is that once you are on it, you are stuck with the group of people who also signed up for the cruise. Since it is a party cruise, make sure you want to party as that is what most everyone wants to do!
Click to Check Price for Oasis Bay Party Cruises
---
Halong Hideaway Cruise | 2N3D Itinerary
– Recommended by Patrick from German Backpacker –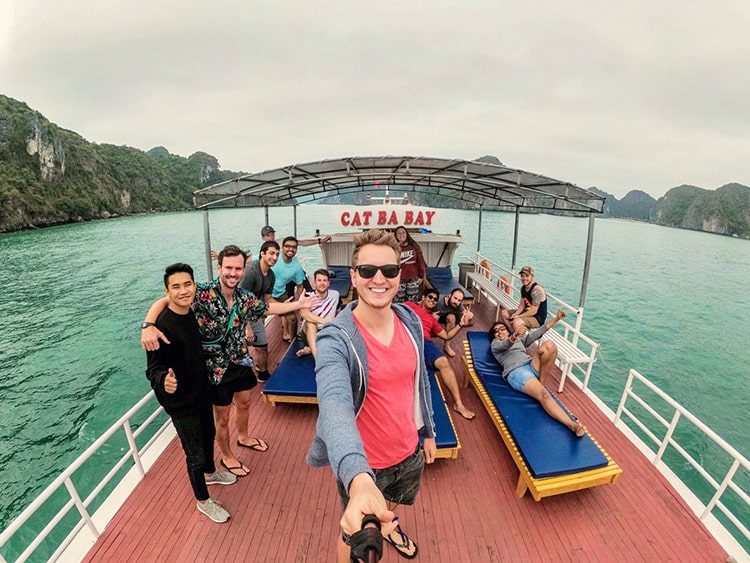 Deciding on the right Halong Bay cruise can be difficult, there are so many choices ranging widely in quality and price. Since I'm a solo backpacker in my mid-20ths, I didn't want to spend a fortune and while I tried to avoid the typical "booze cruise", it's been important for me to have a fun and social atmosphere on the cruise. After lots of research, I decided to go on the Halong Hideaway Cruise, organized by the Central Backpackers Hostel in Hanoi.
This cruise actually takes you to a more remote part of Halong Bay around the area of Cat Ba Island, south of where the typical day tours go. While you spend the days on the cruise ship exploring the stunning nature, you will spend the night on a private island. People can decide between 2 days or 3 days on the tour, I went for the latter option which gave me an extra day where we explored one of the islands by bicycle and went on a short hike to a nice viewpoint. Besides that, there was lots of time to go swimming, kayaking, and to enjoy the beautiful landscape.
The evenings on the islands were social with music and drinking games. Summing it up, I enjoyed the tour and it's certainly a great budget option for backpackers. However, keep in mind that the tour certainly targets a younger crowd with most people being in their late teens or early twenties (I actually felt quite old!).
---
Halong Princess Cruise | Day Cruise
– Recommended by Karolina from Lazy Travel Blog –
One of the best attractions in Vietnam is the misty cruise through the limestone karsts of Halong Bay. It may be quite difficult to find the right cruising company to take you there. With so many to choose from and the possibility of being scammed, picking a reputable company is really important. After going through several reviews on Trip Advisor, we chose the Princess Cruise company which seemed to have a lot of positive reviews.
It was just me and my husband on the cruise, so it is definitely a great tour for couples. A one-day cruise was the best option for us. The trip started early in the morning when we were picked up from the shore by small speed boats. Upon boarding, we were very much impressed by the luxurious design of the 3-tiered Halong Princess. On top of the comfortable transportation, our package included a knowledgeable and entertaining tour guide, a buffet meal, and 2 sites to visit: The Surprise Cave and Tip Top Island.
What we loved about it is that we could explore the magical surprise cave. Although my husband and I loved the view from the top of Tip Top Island, it was not easy climbing up 600 steps. We can't really say anything negative about the tour except that we wish we had more time for sightseeing.
---
Kangaroo Café Halong Bay Cruise | 2N3D Itinerary
– Recommended by Sarah from ASocialNomad –
My husband and I took a 3-day, 2-night cruise to Halong Bay with Kangaroo Café Tours. While this meant we had 2 days in the area, we elected to stay one night on Cat Ba Island in order to experience land and sea.
Our price included transfers, accommodation on the boat, the island, and our food while aboard the boat. It didn't include any drinks on the boat or island (even water), but there are drinks to purchase from the boat and also from passing market boats.
We had a private cabin, and our tour also included kayaking in the bay. The cabin was comfortable and clean if a little cramped. Our room on Cat Ba island was the same – clean, and comfortable, but small. The food provided was plentiful, but plain, not at all like the Vietnamese Food I'd become accustomed to. It's a great way to see Halong Bay, both from the water and the land and I'd recommend it.
My only gripe was not being able to find out the prices of drinks before you actually got to the boat, even when we asked when booking we were told vaguely, "the people on the boat will tell you that".
---
Final Thoughts
Make sure you read up on when the best time is to visit Halong Bay. We have also compiled a handy guide on how to get to Halong Bay from Hanoi, as well as how to get from Sapa to Halong Bay.
Don't forget that we have LOADS of resources to help you plan your trip on our Vietnam Travel Blog hub. Also, make sure to check out other best places to see in Vietnam here. Enjoy your planning!