Finding the best time to visit Halong Bay in Vietnam can be a daunting task, especially if it is your first time. Not to worry here, we got all the information that you might need below.
Voyage through the jade-coloured waters that wash against impressive limestone islands, rainforests sprouting atop them like a mop of green hair.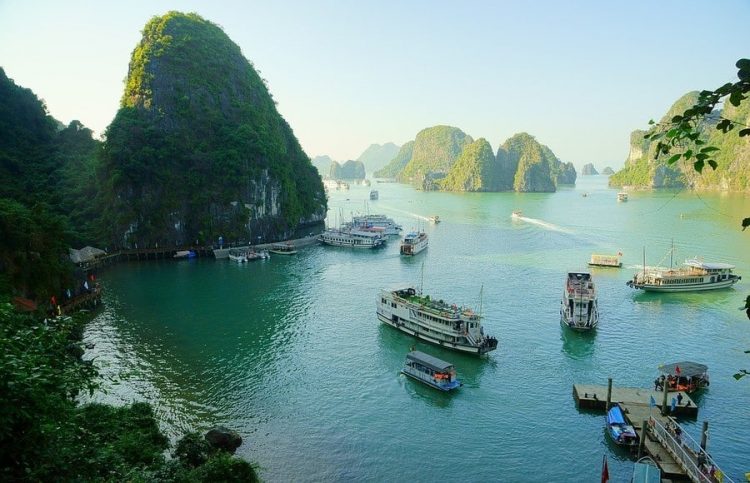 There's a reason why this magical seascape in the Gulf of Tonkin, northeastern Vietnam, is a UNESCO World Natural Heritage site and one of the New 7 Wonders of Nature. Virtually untouched, there are over 1,600 islets that dot the bay like jewels.
This unique and diverse karst landscape (land comprised of sandstone) is popular for an array of activities, from boating, swimming and kayaking, to exploring the Halong Bay caves. These geologically fascinating caves are the result of years of coastal erosion, and a must-see!
Best Time to Visit Halong Bay
Check out all the information that you will need to figure out the best time to visit Halong Bay for you and your family.
What it the Best Time of Year to Travel to Vietnam
The best time of the year to travel to Vietnam or the best time to go to Halong Bay is somewhat debatable, but generally considered between the months of March to May (Spring) and again between September to November (Autumn).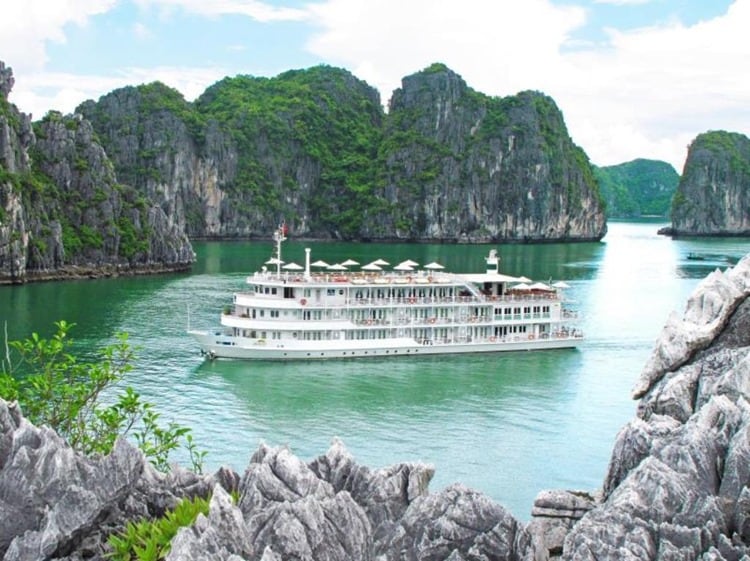 June to September (Summer) marks the rainy typhoon season, and the months of January to February (Winter) are host to strong winds and cooler temperatures.
Halong Bay Weather
With the best weather comes the biggest crowds, and a price tag to match. You can plan an incredible visit around the four seasons in Halong Bay, and find yourself saving money too.
Halong Bay Holiday Seasons
To figure out the best time to visit Halong Bay, you will need to know which season is the best time to go. Check out the Peak and Low season here:
Peak Season in Halong Bay
Mostly as a result of the holiday season in other parts of the world, October to December is regarded as peak tourist season in Halong Bay. The most popular month of the tourist season is December, with sporadic rainfall and temperatures fluctuating between 17℃ and 27℃.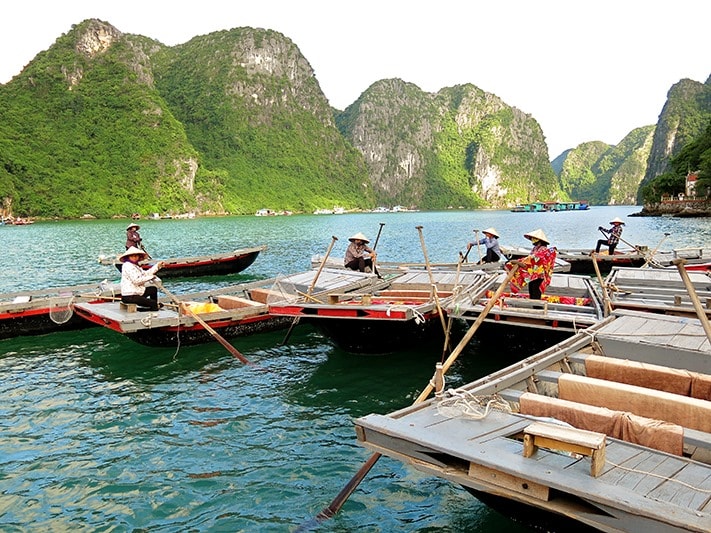 The weather in Halong Bay is most ideal during the months of March to April when the lowest average temperatures sit around 18℃ and the highest at about 36℃. Average humidity during this time is at 75%, and you may experience some occasional rainfall.
Although known for the lowest temperature in Halong Bay, January is still considered part of the peak tourist season. Visitors who want to steer clear of the sweltering heat of summer can enjoy cooler conditions at 13℃ to 26℃, and humidity at just 65%.
Low Season in Halong Bay
Due to the typical Halong Bay climate of heat, hurricanes and stormy weather, the offseason falls roughly between May and September.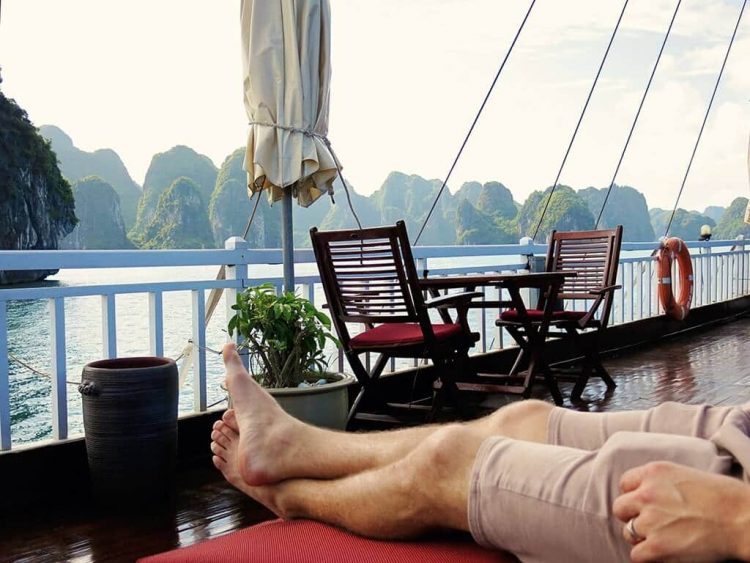 May hints to summer and heats up to an average low temperature of 29℃ and a high of around 40℃. Although humidity varies between 75% and 80%, there is little rain. An excellent time to visit Halong Bay, May is far less 'touristy' and considerably cheaper.
June is the start of the summer holiday season for locals, with temperatures ranging anywhere from 30℃ to 40℃. Similarly, in July, the humidity and temperatures soar, subsiding only for the occasional storm. This time of year is notorious for cancelled tours and cruises, due to storm warnings.
How To Get To Halong Bay
Located about 165 kilometres from Hanoi, and just 75 kilometres from Hai Phong, these cities will be your most likely point of departure when travelling to Halong Bay and can be navigated in much the same way, by:
Bus

Private car/taxi

Seaplane

Ferry (Hai Phong)
Once you are there, the bay itself can be traversed by one of the famous 'junk boats' or on a number of other best cruise Ha Long options here.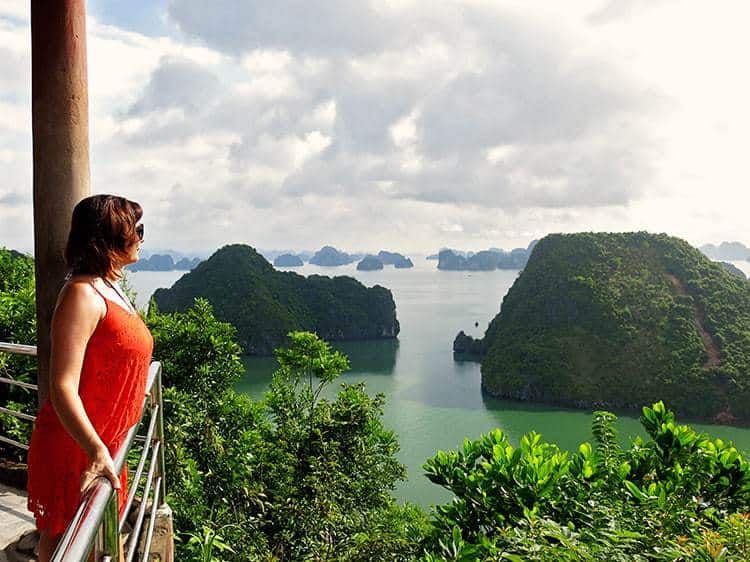 Apart from the months with extremely rainy weather, Halong Bay can otherwise be enjoyed aboard these boat year round.
Over to you:
Have you travelled to Halong Bay before? We would love to know when you think is the best time to visit Halong Bay and why! Please put your thoughts in the comments below.
Further Reading: