Hands up who has been to Phi Phi islands before! My hand is up too.
When we were looking into the Halong Bay Indochina Sails Junk Cruise 3 Days/2 Nights luxury getaway, I was imagining to see similar sights as the famous Thailand destination.
Well, I got to be honest here. To me, Halong Bay is hands down the winner!
On our adventure to Halong Bay we wanted something more than just sightseeing, we wanted to enjoy a luxury Halong Bay cruise and Indochina Sails provided just that! Forget about your busy everyday life for a while and rediscover yourself in peace and tranquillity. What better way to do that, than on a junk cruise boat.
This is a place, where you do not need to make your bed or prepare your food.
This is a place, where the focus is purely on you and the relaxation of your body, soul and mind.
I sound like some kind of guided meditation video; and now, position yourself in a comfortable place, then close your eyes and count to 4 as you breathe in… Haha… Ok, ok. Back to the story.
Click here to see the latest prices to stay on the Indochina Sails Cruise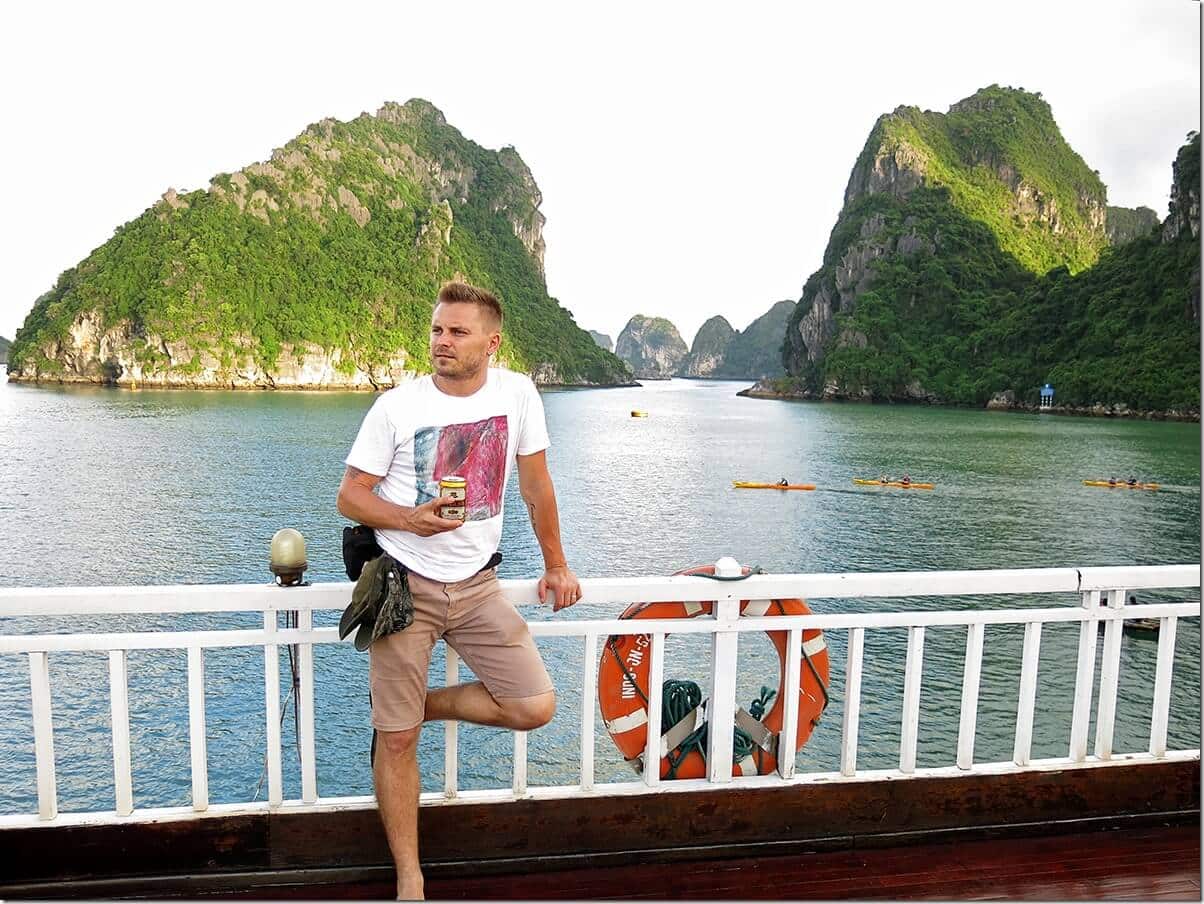 Today I am going to share with you one of the stories from the coolest boat cruise that we have been on so far.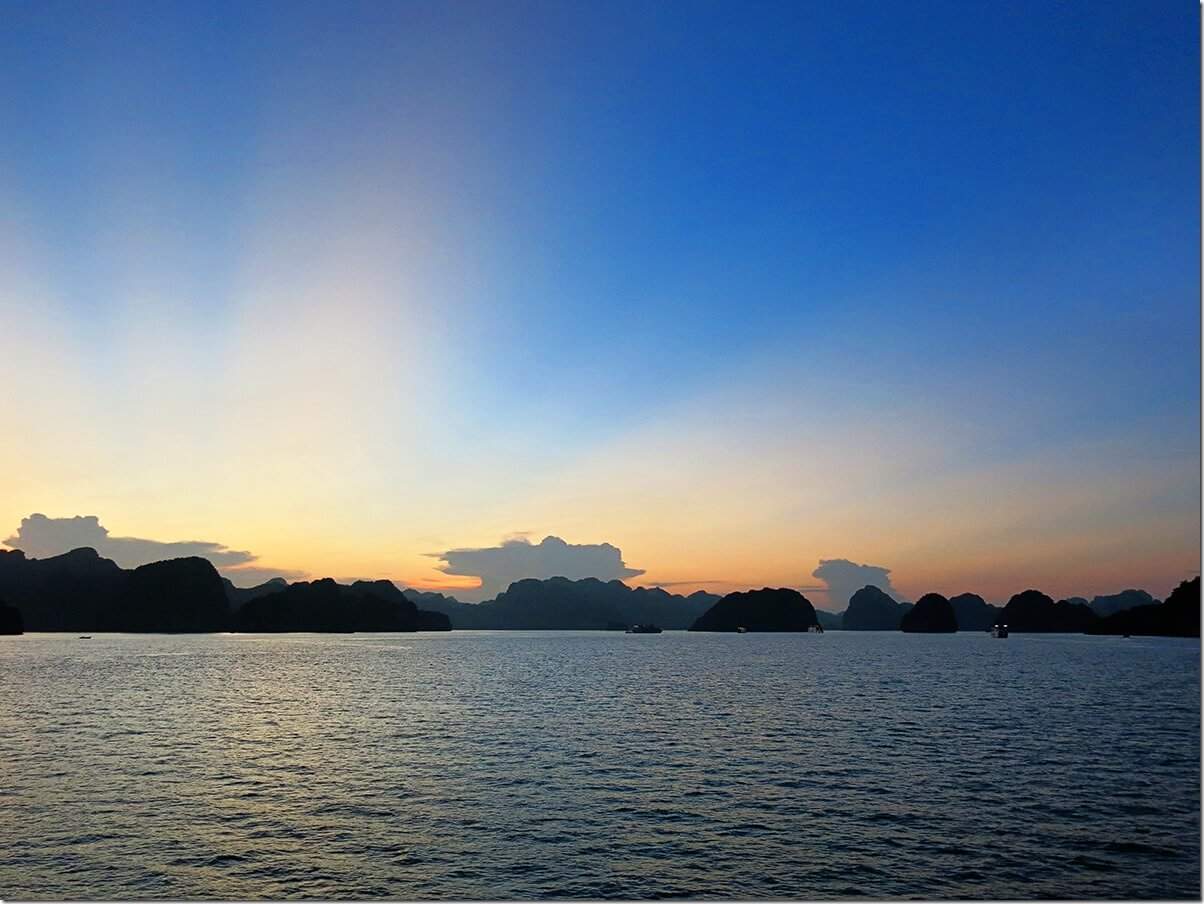 –
Luxurious Halong Bay Indochina Sails Junk Cruise
–
Watch our video of our time at Ha Long Bay
Here is a video to show you how much fun we had at on a cruise on Halong Bay. –
Click play and don't forget to subscribe to our channel!
–
Choosing your Junk Cruise Boat
Ok, so you will be encountered with a few choices of cruises, however, we have made the selection easy for you here.
You can get on the 2 Days/1 Night which stays mainly around the Halong Bay area, or you can take a 3Days/2 Nights cruise option, where you can check out much more.
Halong Bay can get a bit crowded with tourists. On our trip, and the one that we are recommending to you, we took option two. We chose to stay a little longer and check out Halong Bay, as well as Bai Tu Long Bay. And we loved it!
Here are some positives and negatives about both, so you are ready for your travels.
–
Halong Bay
Positive:
Halong Bay is a very beautiful place with many small islands, famous Amazing Cave and Titov Island. You can climb to the top of the Titov mountain and gaze over a spectacular view of Halong Bay. The sea is calm and safer. Here you are surrounded by million islands, so there are no large waves in sight.
The Halong Bay Caves are amazing, and yes, that is a real name of the cave, no jokes.
If you are looking for relaxation, there are many more activities like lazing around on the beach, kayaking and many more.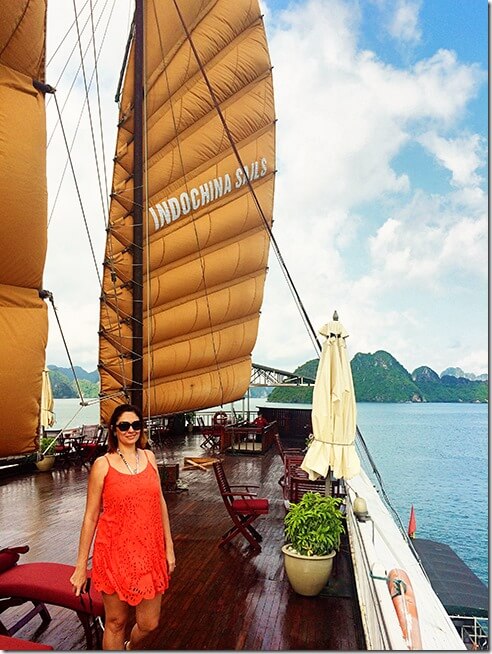 Negative:
More crowded with many tourists since almost all tourists try to visit this beautiful place.
Tip:
If you choose the 3 Days/2 Nights itinerary, you will be able to see both, the main areas, as well as less touristy trails.
–
Bai Tu Long Bay
Positive:
Bai Tu Long Bay in comparison to Halong Bay, it is very quiet. Since there are only two sail companies travelling to this destination, you will have more time for uninterrupted and blissful relaxation here.
Negative:
If the weather turns, you may need a few sea sickness tablets to keep you going. Kayaking may be a little bit less exciting in the waves. Ps: we had awesome weather here as well.
Indochina Sails Junk Cruise purchased a cave called Thien Canh Son and it has been decorated for the visitors to check out. Since the caves in Bai Tu Long Bay are small, only small groups can visit the cave at the same time. Not enough space and not as nice views as at Halong Bay.
Tip:
If you choose the 3 Days/2 Nights itinerary, you will be able to combine both positive things about the destinations, thus creating double awesome cruise!
–
Indochina Sails Junk Cruise Boat
Ok, so you have chosen your destinations and length of stay on your cruise boat. Now it is time to see what the boat looks like!
Click here to see the latest prices to stay on this Halong Bay Junk Cruise Boat
Man, we loved our boat!
I did imagine the boat to be dark brown, wooden colour with orange or red sails, but it's all good. All of the boats on the Halong Bay have been painted white, as per Vietnam regulations. We have been told that this way the cruises will be more uniform and more appealing to the eye as you see millions of them everywhere. I don't know about that, but it didn't bother me what colour they were, as long as we get looked after and enjoy our stay.
And we did!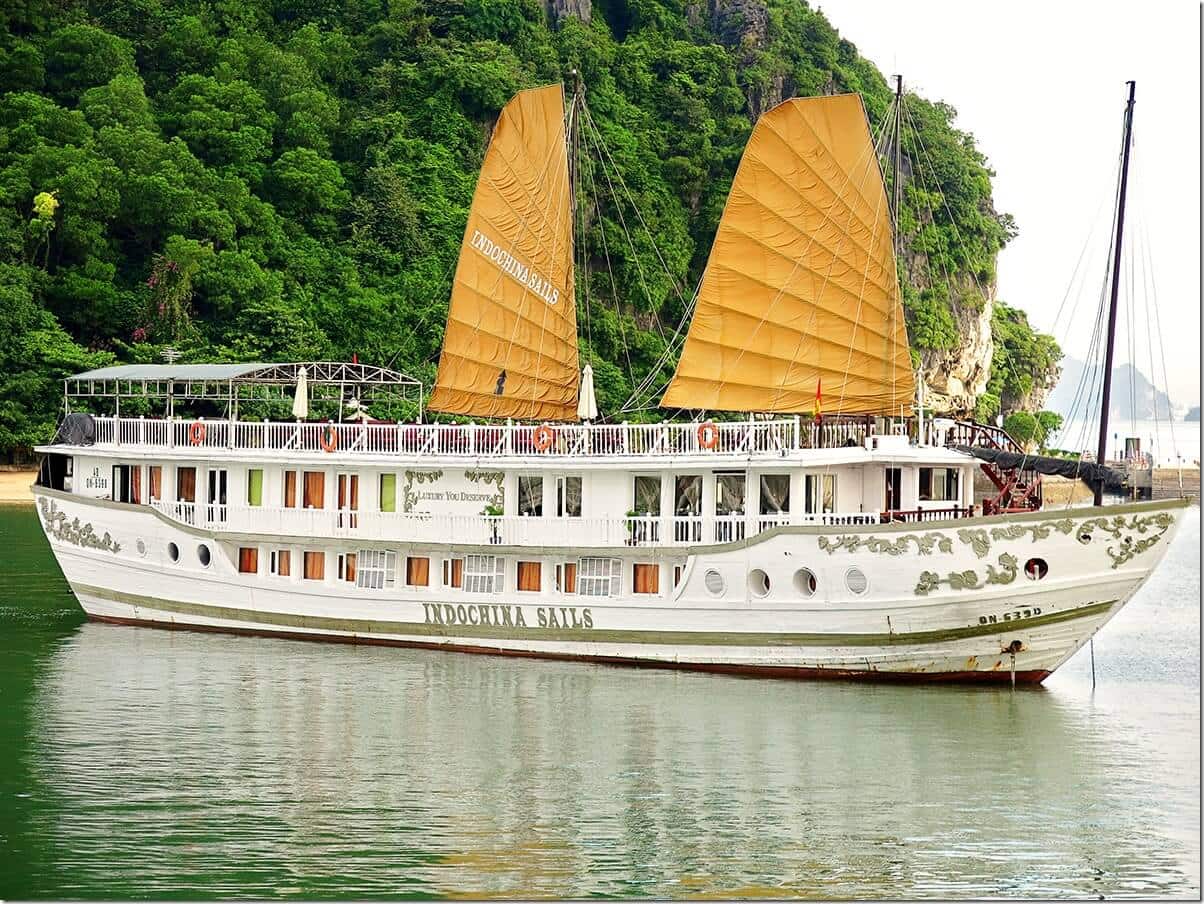 The boat itself was well looked after and very cool! Multiple decks all decorated to the 5 Star standard.
Cabins level with a selection of rooms to suit your needs, restaurant level with top-notch upper-class feeling and our favourite top deck with comfy sunbeds to chill out on.
Talk about the relaxation here!
I think we have spent most of our time on the top deck. Whether it was the sightseeing during the day as we travelled through the maze of spectacular islands, or happy hour with cocktails at sunset.
Well, do I need to say more? I think you get the picture. If you can't relax and unwind here, then I might have to go back to our guided meditation once again; position yourself in a comfortable place, then close your eyes and count to 4 as you breathe in… Haha…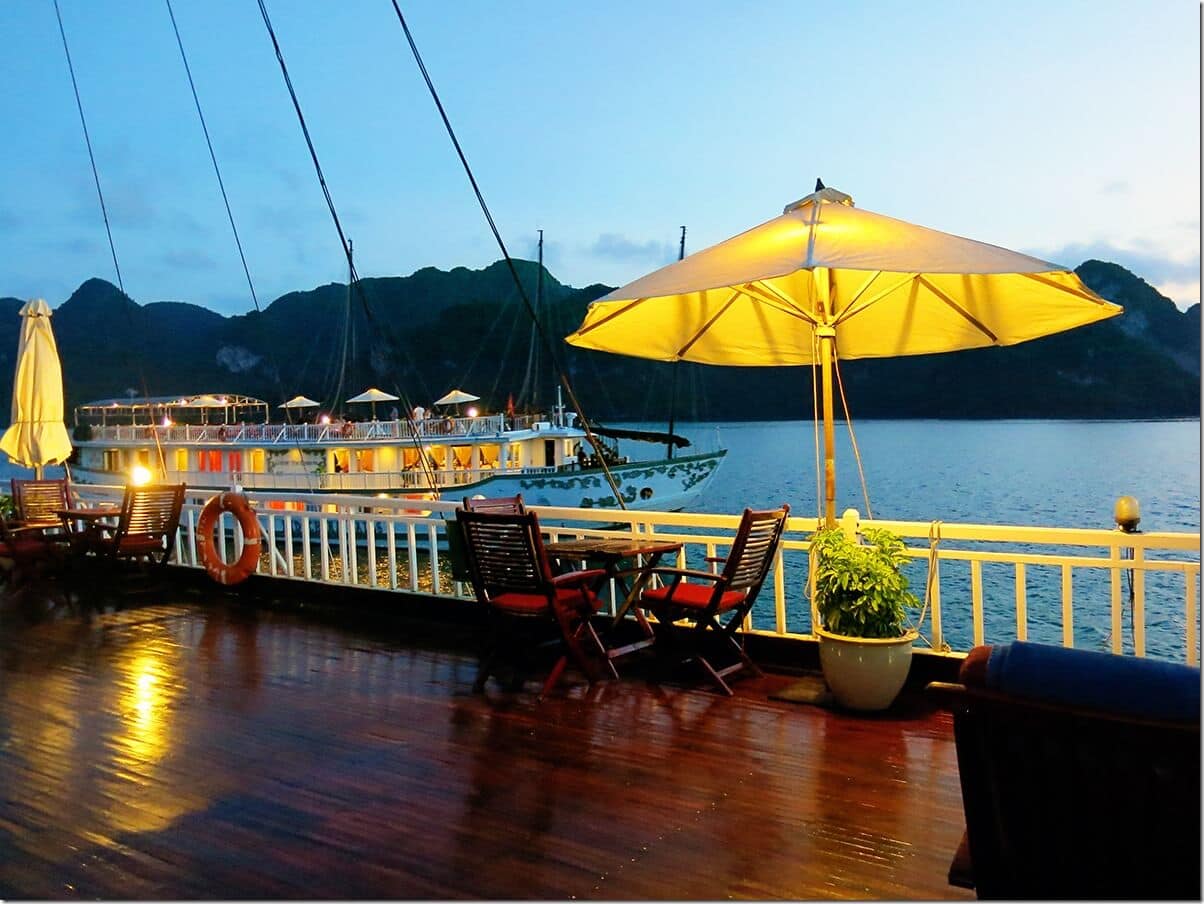 We loved the afternoon chill out session on the top deck the most. Beautiful surroundings, service with a smile and much much more.
–
_______________________
–
–
_______________________
–
Luxury Rooms
Our cabin was just perfect for us. All the essentials and with all bells and whistles! Super comfy bed with a window view onto the bay for when you choose to stay in. Private luxury en-suite bathroom with massage shower and toilet, with a marble type decor, super fancy if you ask me.
Everything was here, like a bar fridge with complimentary water, a safe, deluxe toilet amenities and even a hairdryer. Air conditioning to cool you down on a hot and steamy day outside. Yup, everything!
Our cabin was small but perfect!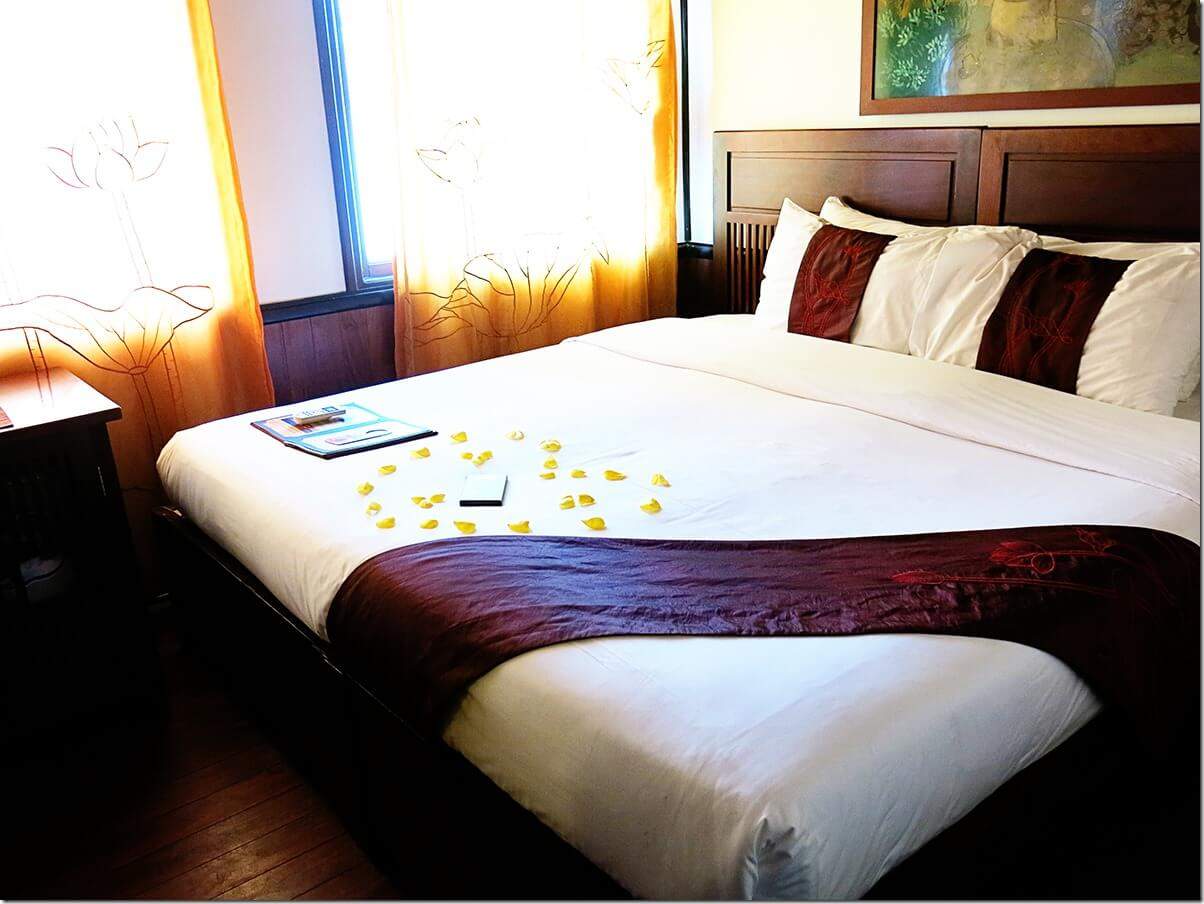 There are choices of cabins to suit all types of travellers. Whether you are after a Twin Share, Double or Family size rooms, they have it all here.
There was only two of us travelling on this trip, so we decided to go for the most affordable option. Let's be honest, how much time are you going to spend in the cabin when you are on your adventure here. Exactly!
–
Itinerary and Halong Bay Excursions
The Indochina Sails Junk Cruise has an itinerary that is fully packed to keep you entertained, well fed and relaxed to the max! To make your choice easier check out the link to 2Days/1 Night itinerary, or the 3Days/2 Nights option.
Personally, I think that the second choice is a much better one! One night is simply not enough. As soonest you start unwinding, you got to get back to the port. The 3-day trip was just perfect!
Remember, you do not need to do anything if you don't want to. You can stay on board, read a book or chill out to the amazing view. Maybe that is just what you need. However, if you are up for a bit of fun, then you most certainly can.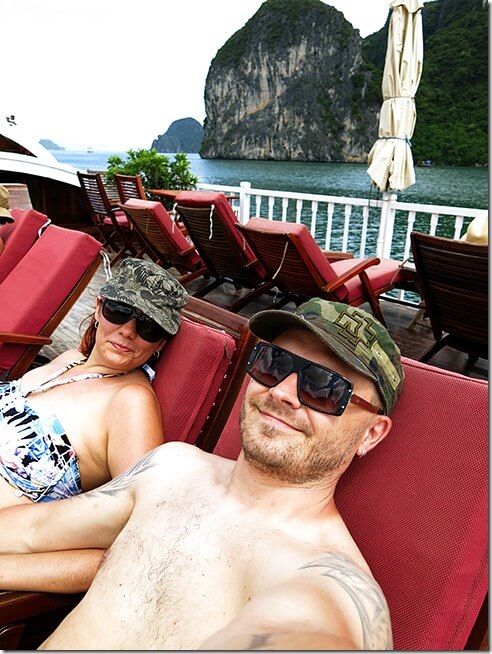 On your cruise, you will visit a fishing village where you can observe how the locals live. You will be able to check out a pearl farm, where you can learn how the pearls are grown and processed to the beautiful jewellery that you can purchase.
You can climb to the top of the Titov Island and take in a 360 Degree view over the Halong Bay. You will have a chance to walk through the Amazing Cave and it is truly amazing!
For those of you that like to get wet, you can go kayaking around the coolest rocky islands, jump off a day-boat top deck and swim.
For those of you that would like to learn how to cook some Vietnamese cuisine, they have classes too. I learned how to make fresh Spring Rolls. Yum!
And for those of you that can't sleep, they have a choice of a late night movie or a squid fishing hour.
Man, I bet I still missed a few things.
You can do it all, or you can choose only a few options, that is up to you. We did it all, because why not.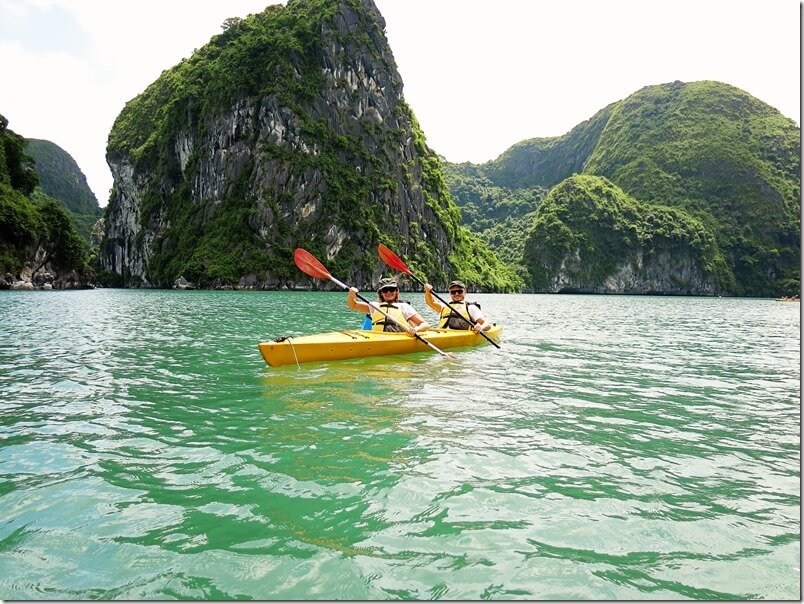 Just so you know; if you are taking a 3 day trip; on the second day you will be transferred to a day boat for a few hours around the lunch time.
Some of the passengers on the main boat return to the mainland, to swap with the new group that are staying only for 1 night.
We didn't mind the swap for a bit. The day boat was comfy as well and we were looked after every step of the way just the same.
–
_______________________
–
–
_______________________
5 Star Food and Happy Hour
Ok, so this is the part where I say YUMM!! Yup, through the stomach to the heart. This is the secret to man's happiness. I think the title says it all. Next topic, haha…
The food was amazing. Obviously, if you have any special requirements like vegetarian or no seafood diet, than you should let them know as you book your cruise. However, if you are up for anything, than no dramas here. 5 Star it is!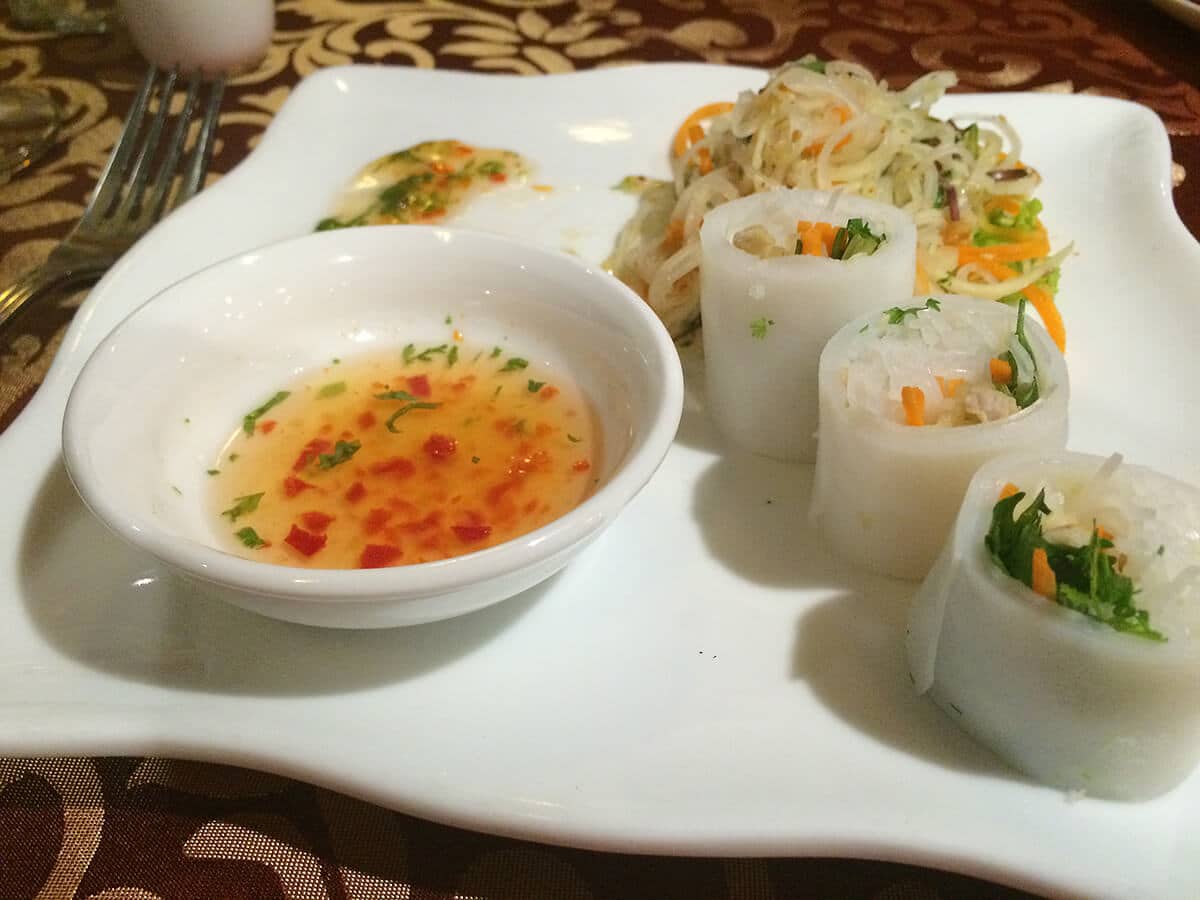 Buffet breakfast has it all. From the western choices of bacon and eggs to the amazing local cuisine. Yes!, even the famous Pho Ga, my wife's favourite Vietnamese dish. Delicious!
Lunch is no different. Choices to come out of your ears and all-you-can-eat amounts. My mouth is salivating thinking about Vietnamese food. Dinners were to die for. I wish we could have 4 or 5-course meals every day, obviously without all the preparation and cleaning of the dishes, right? I could really live like this forever.
All my fellow travellers will know what Happy Hour is, right?
This is the time when you put your feet up on the comfy deck bed and indulge in a selection of the most delicious cocktails at two for the price of one deal.
Not a bad way to spend an evening, whilst enjoying the sunset with your loved one.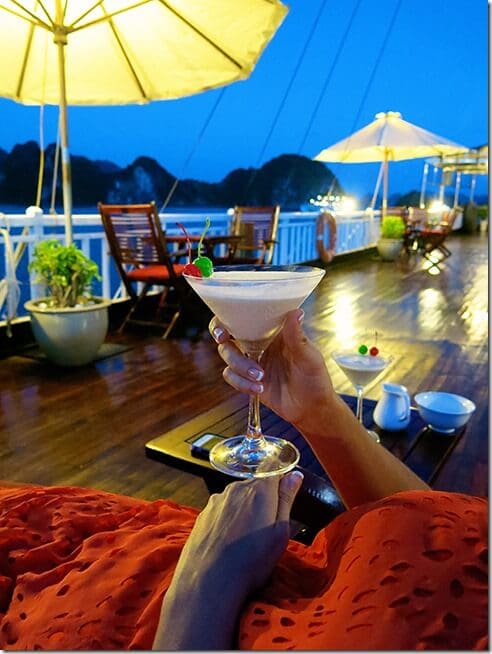 –
Well, after writing this post and checking out the photos again, I am definitely there. Blissfully relaxing, well fed and spoiled to no end with a 5 Star service.
I think we all deserve a little bit of fancy sometimes, even if it is only for a few nights. It makes you feel that little bit more special. All this hard work of everyday life, the normal, I don't like it one bit. I choose the extraordinary.
Sometimes you need to getaway and treat yourself. Treat yourself to a trip that you will remember forever!
–
Booking information:
2 Days/ 1 Night – prices from $611 AUS or $448 USD
3Days/ 2 Nights – prices from $982 AUS or $719 USD
–
_______________________
–
–
_______________________
–
–
–
Wondering about Where to Stay in Vietnam?:
On out travels through Vietnam, we had a pleasure in staying in variety of destinations. Our base in the northern part of the country was Hanoi from where our journey to Halong Bay on the Indochina Sails Junk Cruise started. Click here to see our Vietnam Accommodation: Recommended places to stay for a Memorable Trip.