Gorgeous rustic canals and picture-perfect walkway bridges. Romantic little cafes scattered along stunning lanes. The colors of the buildings, the textures that make up their walls. Where else but in Venezia Italy?
Romance in Venice is the perfect way to experience the city of love! There's so much to see and explore, and all of it is only made better with your loved one. We've put together all the most romantic things to do in Venice, as well as the best hotels for couples!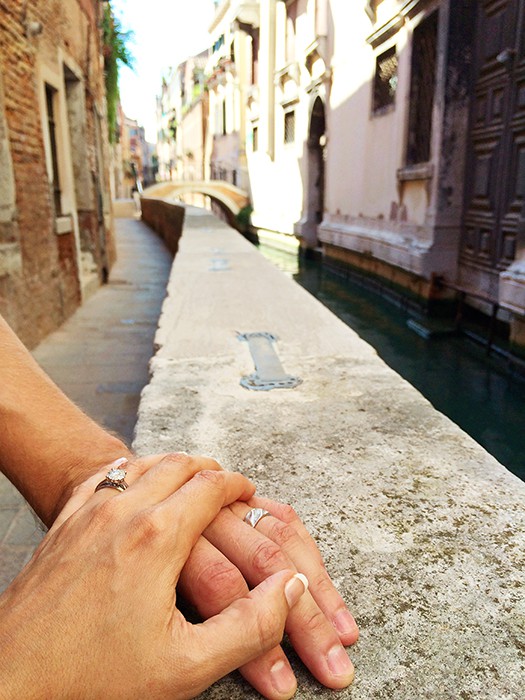 This beautiful Italian city 'forces' you to relax. It convinces you to slow your pace, as the only means of exploration is by foot or boat. It also encourages you to slow down as you keep stopping to take in the mere beauty of this place. And we just can't imagine a better place to be with your partner!
–

Romantic things to do in Venice during the day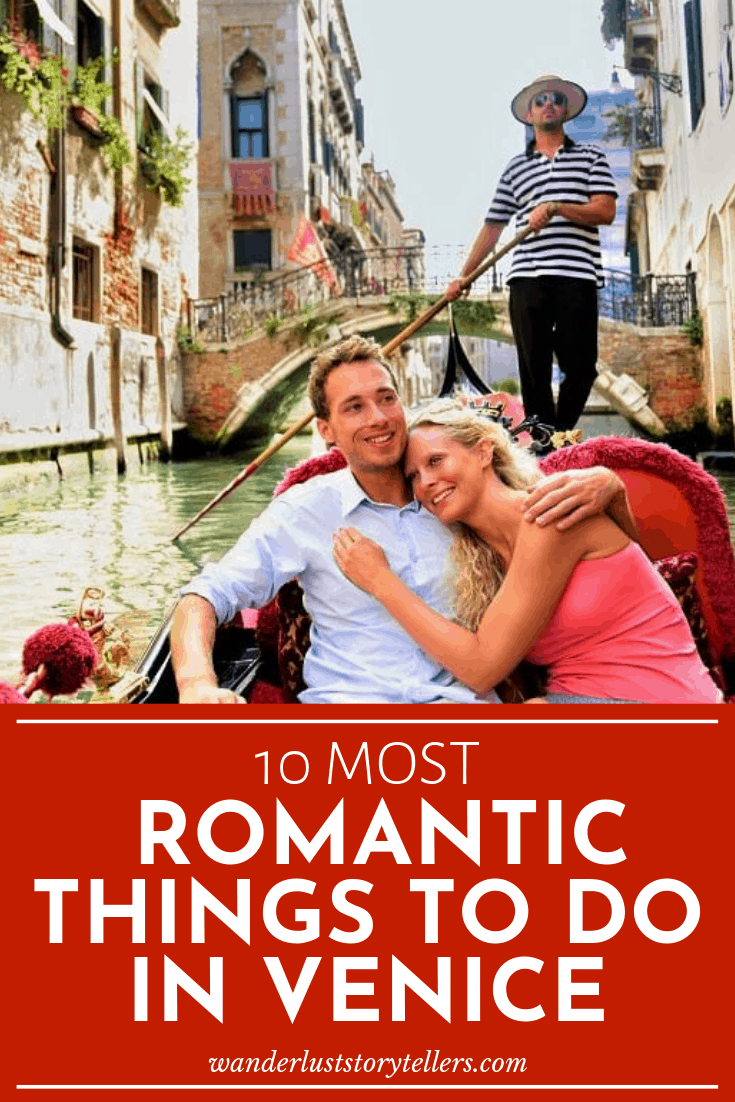 Daytimes are for exciting ice cream flavors and exploration with your loved one! Whether you're visiting Venezia Italy for 2 days or a month, these are the very best romantic things to do during the day!
1. Go on a romantic Gondola Ride
This is Venice's most popular tourist activity! And while the canals can get a little overcrowded, it's still such a worthwhile thing to do.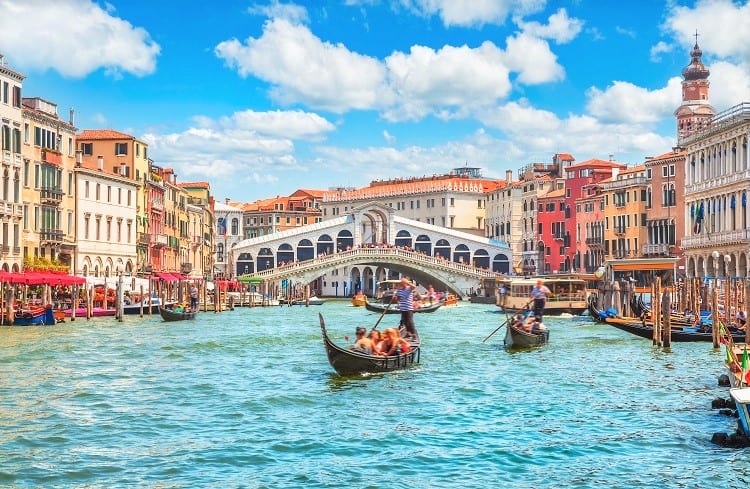 The trick is to make sure you get a Gondola in lower-traffic areas.  You will find Gondola traffic jams by the Bridge of Sighs, so try to avoid that. Ask your Gondolier to take you to quieter areas.
When there are fewer people around a Gondola ride is serene, and magically romantic. Snuggle up together and gaze out at the beauty all around you.
Check out current prices for a romantic Gondola tour for two here!
---
2. See the beautiful Venice Rialto Bridge
The oldest bridge spanning Venice's Grand Canal, this charming site is worth seeing at any time of day! In the morning the water twinkles in the sunlight, the canal is busy with the commotion of people making their way onto the Venetian Lagoon grounds.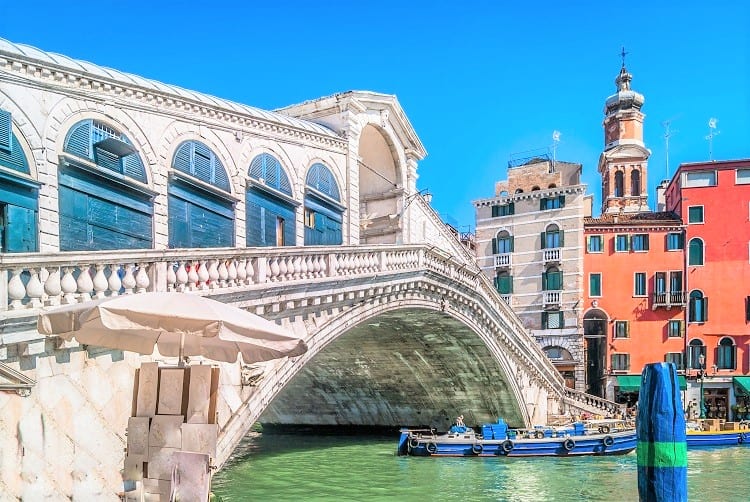 Late in the afternoon when the light is less harsh, the gorgeous vibrancy of the colors from the buildings brings a different kind of magic to the light. At night time, gosh, the romance of the lights shining on to the quiet of the canal is simply indescribable.
---
3. Visit San Marco Square
This square is world-renowned for a reason. Over a thousand years old, the site is a beautiful example of Renaissance architecture, and an opportunity to imagine what Venetian life was like over different centuries. Much has happened here.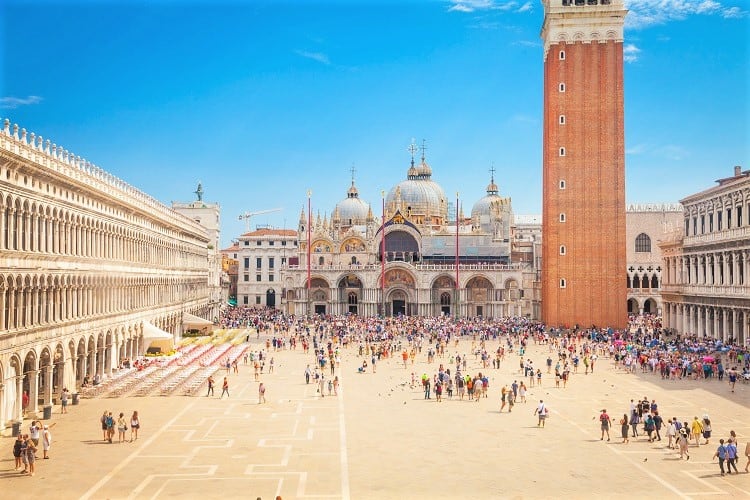 It is luxurious and beautiful, but unfortunately, everything here comes at a luxurious price. We suggest you save your pennies and spoil yourself at the square!
Sit down at one of the lovely restaurants without an orchestra to avoid the 'tag-on-fee' for the music, and simply sit back and absorb the atmosphere.
---
4. Explore Doge's Palace
Explore the seat of a thousand-year republic and marvel at the decadent splendor of it together. The rich details are almost overwhelming!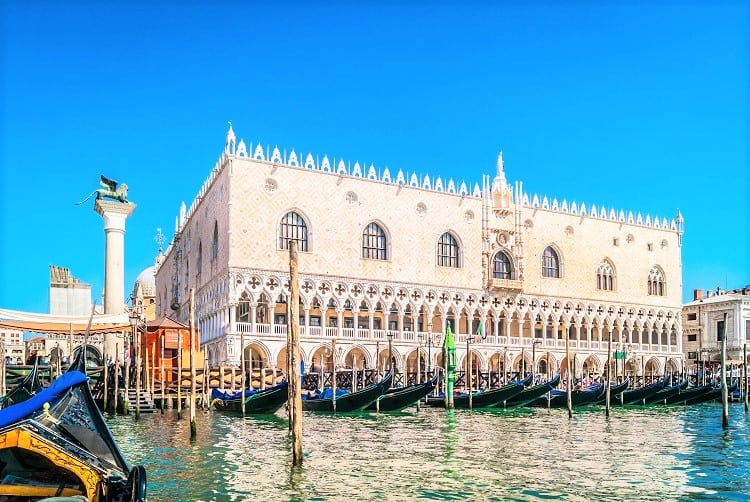 Share wonderful memories together of art and artifacts you never dreamed of. If you're the kind of couple who love to share activities and explore together, this is the perfect stop for you!
A great thing about Doge's Palace is that it also gives you access to the Bridge of Sighs! So instead of simply joining the crowds and looking in at the bridge, you can see the sights from the bridge itself!
Get the priority admission ticket and skip the lines here!
---
5. Stroll along the canals and find hidden treasures
One of the beauties of Venice, the city of romance, is the mere fact that simply wandering around is romantic!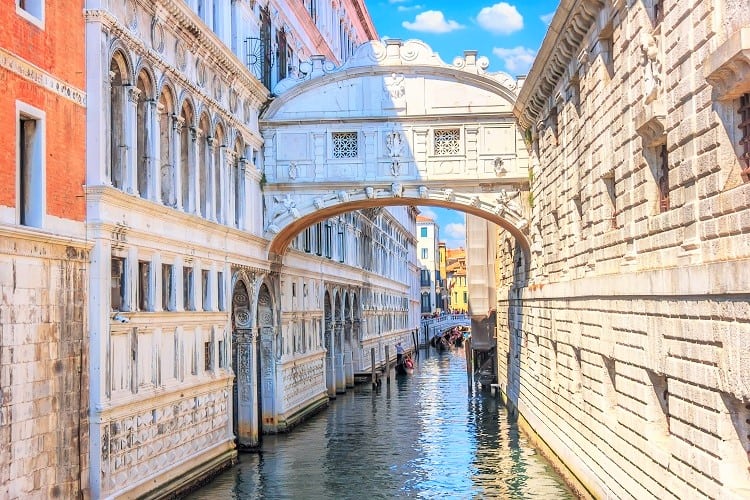 While you are roaming the streets hand in hand, getting lost, exploring, soaking it all in, don't forget to make your way to the most trafficked Gondola area – The Bridge of Sighs!
It's such an important, mesmerizing thing to see, you simply can't miss it. We suggest you go early in the morning so that you miss the heavy crowds that throng here throughout the day.
But remember to explore beyond the popular areas. If you see people going in one direction, go the other way! See how far you can get, and the magical little details you see when you're not surrounded by people.
When you leave the tourist-populated places, you'll see more of the authentic Venice. Stop at a cafe and have a coffee and pastry with the locals. Breathe in deeply and consider how great it is to be right here.
If you're looking for something in Venice for solo travelers or families, check out our 'Top 10 attractions you must see in Venice' post!
---
Top things to do in Venice at night
Wondering what to do in Venice, Italy, at night? The romantic activities certainly don't stop when the sun sets! In fact, a whole new set of beautiful and adventurous things to do together rises to the top of the list.
See decadent shows, explore places closed to the general public, and delight in each other and your surroundings!
1. Take an iconic Legends and Ghosts tour
Do you love watching a scary movie with your partner? There's just something about it that makes the scariness exciting and enjoyable! This legend and ghosts tour combines the best of scary movie fun with a nighttime excursion in the beautiful city.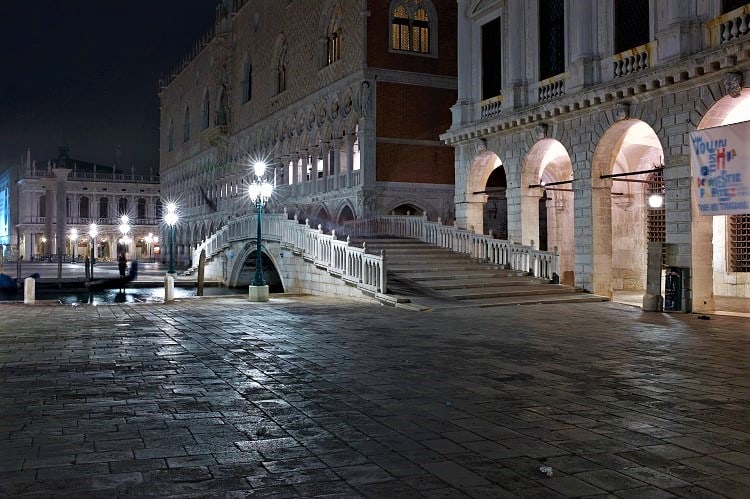 Your guide will show you the dark and hidden parts of Cannaregio, Venice, and tell you some of the legends that have haunted the city for centuries!
This tour is a Venice highlight, and a great deal of fun. Enjoying it with your significant other only makes it better.
Check out ticket prices for the Legends and Ghosts tour here!
---
2. Watch a show at the La Fenice Theatr
If you can get a seat at the La Fenice Theatre, you're in for such a treat! One of the top things to do in Venice Italy at night, the theatre itself is reason enough to go, decked out in gold. It's one of Italian theatre's most important landmarks!
See an opera in a space that will make you tear up, it's so beautiful. And that's before the beauty of the opera even hits you! The best of Italy's, and indeed the world's, performers put on shows here, and the costumes are gorgeous, the quality of everything beyond what you've seen before.
The tickets for the theatre are pricey, but it's truly a once in a lifetime experience. If you can, you should.
---
3. See St. Mark's Basilica after dark
Explore one of the world's most magnificent churches on this unique experience! You'll see places that aren't even open to daytime visitors, and take in the splendor of the place with no crowds.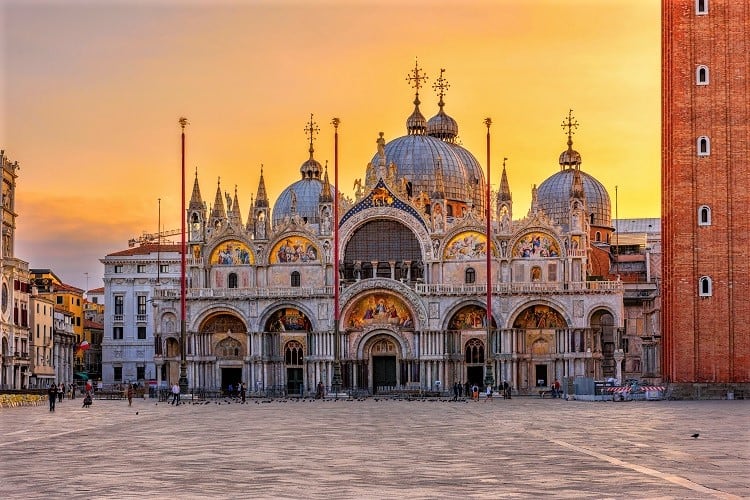 The mosaics are even more incredible at night. With light shining through them, illuminating the faintly lit church, you'll lose your breath and clasp each others hands, awestruck. The tranquility makes the sights even more splendid, and your guide will tell you everything you want to know.
The after-dark tour is reserved for only a few people, so be sure to book early if you want to join one of the small groups!
Book a night-time tour of St. Mark's Basilica here!
---
4. Take in a unique Italian opera at Musica a Palazzo
For an entirely different operatic experience, see a show at Musica a Palazzo! This unique opera takes place across the building, each act set in a different hall of the Venetian palace.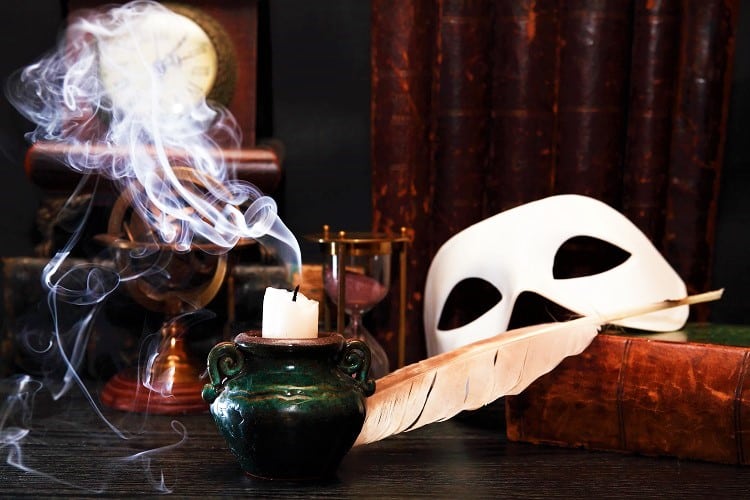 As the audience, you will follow the characters into different rooms. It's an interestingly intimate and unusual experience and the perfect thing to experience with your partner!
There's a show on most nights, and you can choose between different performances. You may not understand the words, but you will adore the opera! In fact, you don't even need to enjoy opera to be blown away by this experience!
---
5. Have a romantic dinner at Trattoria Antiche Carampane
Of course, one of the most romantic things you can do on an evening in Venice is to indulge in the fantastic local food! Venice is the source of many of the world's most sublime seafood dishes – which is why we picked this restaurant!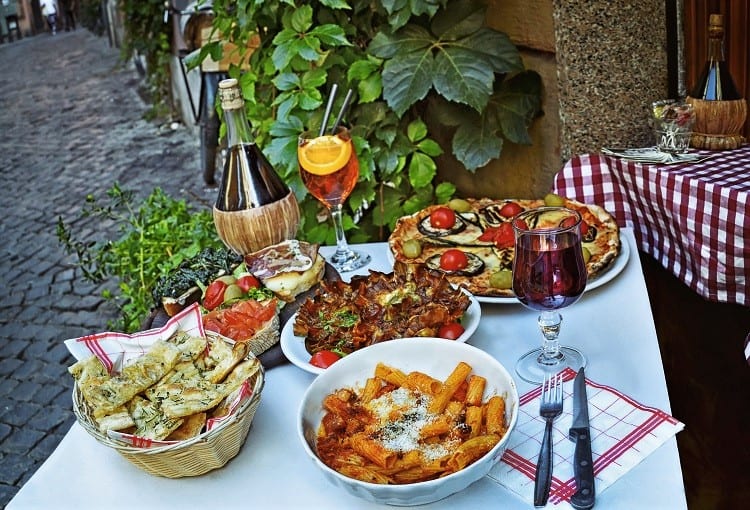 Enjoy delicious seafood and pasta dishes in the cozy family-run restaurant. The atmosphere is great, and there are usually more locals than tourists, as it's a little hard to find if you're not looking (plug it into Google maps and you'll find it in minutes).
The wine is fantastic, and the staff very friendly!
---
Romantic hotels in Venice Italy
For the perfect romantic holiday in Venice, you want a hotel that caters to couples, and beautiful rooms you can remember as fondly as the rest of your trip! These are the most romantic hotels in Venice, so you can have just that.
1. Palazzo Veneziano
– 4-star –
Palazzo is one of the most romantic and beautiful hotels in Venice! Enjoy views over the canal, and an incredibly luxurious spa bath in your room.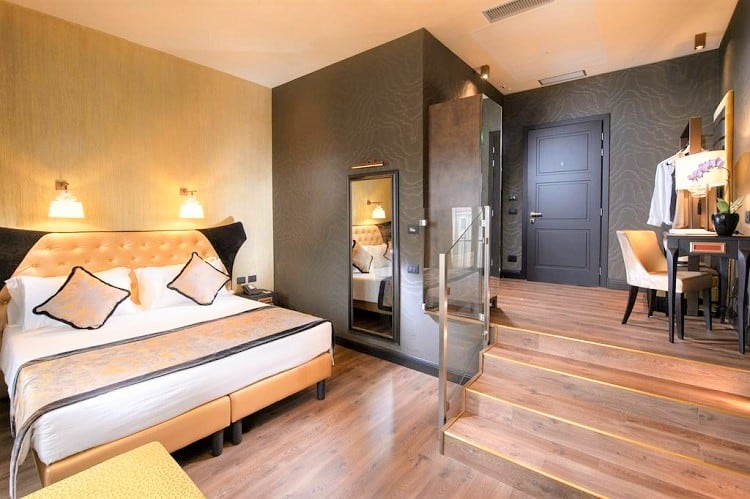 The hotel is the perfect base for couples, with lovely amenities and a perfect, canal-side location! If you're trying to figure out what to see in Venice, Italy, in 2 days, this is the perfect place to set out. You'll be close to all our suggestions, and more!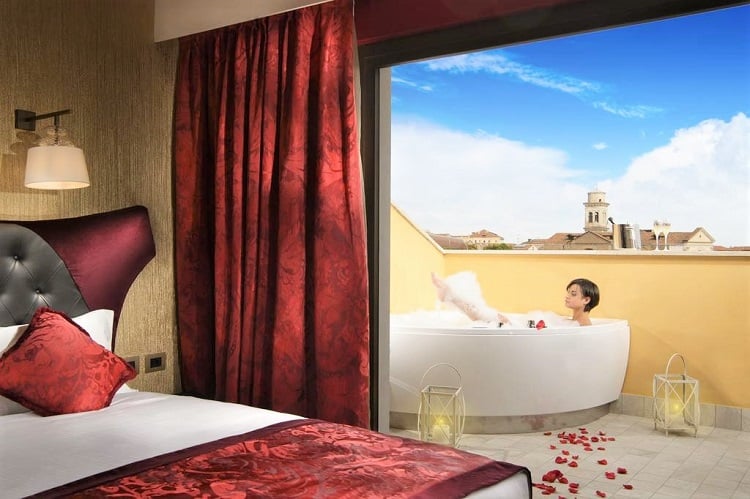 Take full advantage of the decadent buffet breakfast together before you set out to enjoy days of romance and beauty!
Why should you stay here?
The rooms are gorgeous and set out for a decadently romantic holiday
The location is brilliant
Italian-style and continental buffet breakfast
An on-site bar and room service available
Check out the current prices for the Palazzo Veneziano here!
---
2. Hotel L' Orologio
– 4-star –
We love Hotel L'Orologio for its decadently comfortable beds and beautiful, simple rooms!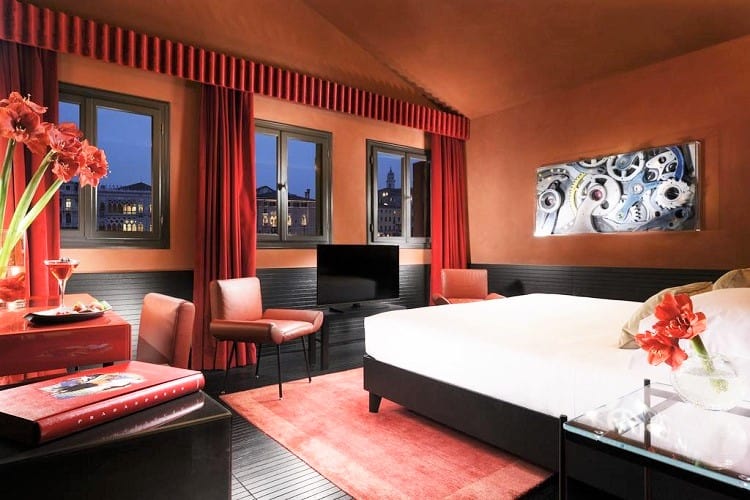 The staff is very helpful and enthusiastic. The terrace is the perfect place to enjoy a few drinks and people-watch!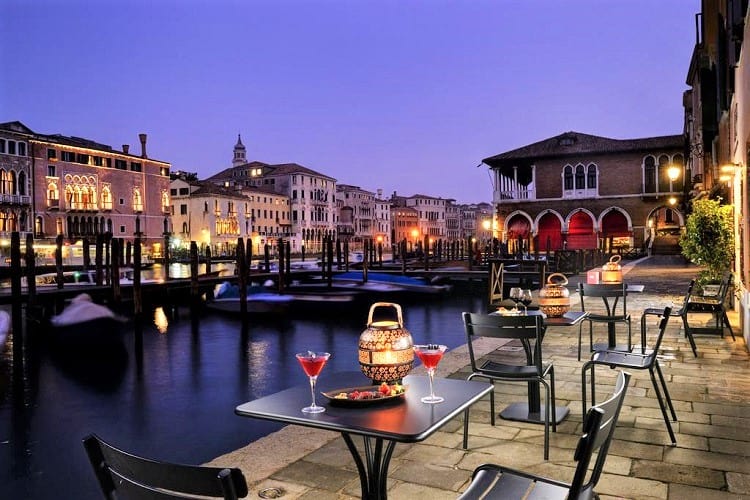 The rustic decor sets the hotel apart from others in Venice, and the tea and coffee makers in every room add the perfect touch!
Why should you stay here?
The daily breakfast buffet is superb
Staff is helpful and efficient
Perfectly located a short walk from the Rialto Bridge
Fantastic comfort and quality
Check out the current prices for the Hotel L' Orologio here!
---
3. Al Theatro Palace
– 4-star –
A few steps from the La Fenice Theatre you'll find this charming hotel. Exquisitely romantic and private, this luxurious hotel offers guests everything they could want.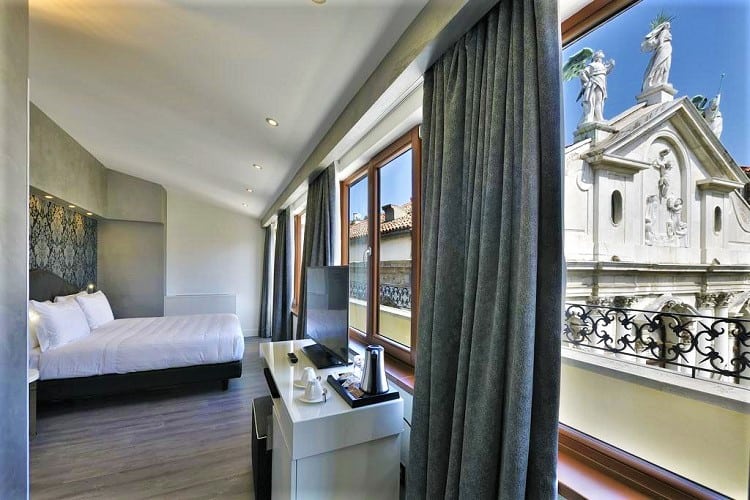 Enjoy the tasty breakfast before stepping right out into the heart of Venice! And in the evening, return for a drink at the bar before setting out for some romantic evening activities.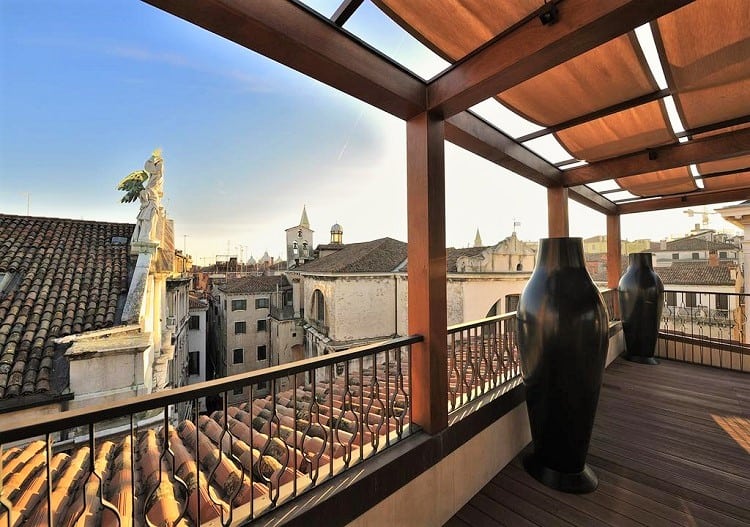 Enjoy the picturesque views at the in-house bar, or from your own room! You're bound to rekindle the passion here.
Why should you stay here?
The rooms have huge windows and comfortable beds
Perfect location
First-class breakfast and facilities
Check out the current prices for the Al Theatro Palace here!
---
Final Thoughts on Venice City of Love
Overall, what we encourage you to do is to just enjoy, to laugh, to kiss, to embrace. Relax, eat and drink and be merry.  After all, this is Venezia, Italy. A once in a lifetime opportunity to be in an incredibly unique little city.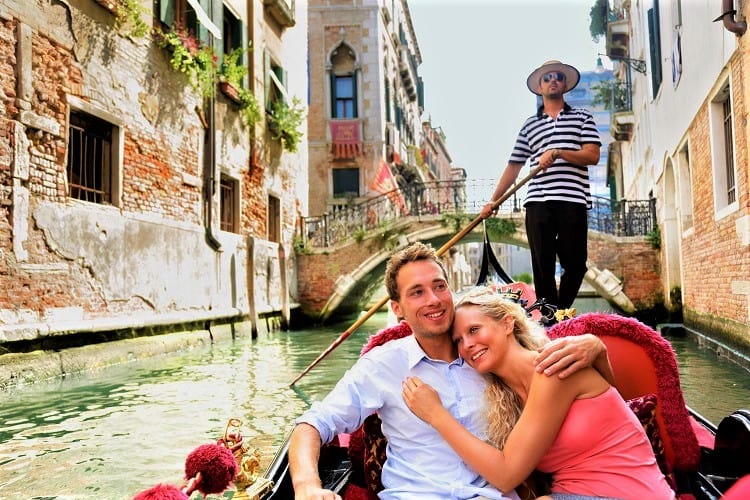 A unique opportunity to let go of all the hassles of normal life, because here, you will feel miles away from normal responsibilities. Here you can be silly, you can be free and you can be absolutely totally head-over-heels in love.
While Venice is the most romantic city in Italy, the country offers much more! Check out our destination guide on Italy to help plan the most amazing trip.
---
Further Suggested Reading: The Romance of Venice by 50 Shades of Age

Venice is not too far from Milan. You could easily combine both destinations on one itinerary. To see which other destinations you should include, see our post about where to go from Milan.
Over to you who has been to Venice and who desperately NEEDS to be there right now??
For more of our honeymoon stories of Italy, click here!