Finding the best toddler car seat for travel can be tricky – especially if you plan on flying with it too!
It does however remain to be one of the most important toddler travel gear items that you could ever invest in.
Obviously, the car seat needs to be a lightweight portable car seat for 2-year-old use. And one that you can preferably use in both cars as well as on planes.
Below we share a quick guide on what to look for in the ideal travel car seat for toddlers.
But if you are in a hurry and just want a quick answer, here is our top recommendation.
Click here to see our pick for the best travel car seat for 2-year-old toddlers
What to Look for in a Travel Car Seat for 2-Year-Old Kids
Find below some helpful information on what you need to look for and be aware of when you are trying to find a great car seat for travel.
1. Using a Car Seat Overseas in Cars
Firstly, if you plan on using the car seat in a car overseas, we highly recommend that you do some research to see how they secure their car seats in your destination.
We have found that some countries such as Australia use anchor points in the boot of the car, while other countries such as Italy, use a click-on system combined with an anchor point.
That means that car seats from Australia won't be ideal for Italian rental cars and it would make more sense to rent one with the car itself.
Car seat rentals can add up super quickly though, especially if you have a longer vacation, so definitely see if your car seat can fit in the cars before hiring one.
2. Using a Car Seat in Planes
For those who wish to use the car seat on a plane, it is important to note that you can only use a portable car seat for airplane travel if it has been FAA certified, making the process even more tricky.
However, there are some great options out there if you know what you are looking for and we will share our top recommendation below.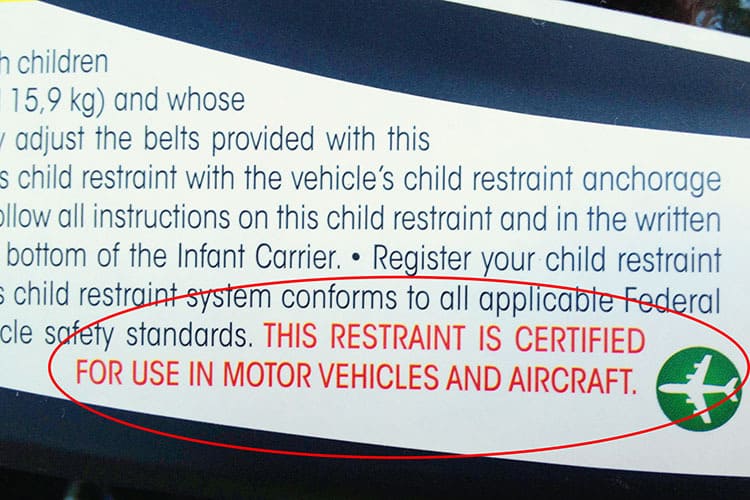 3. Preferred Criteria to Lookout For
Here are some important criteria to look out for in your travel car seat.
Slim Design
Of course, when flying with a 2-year-old car seat, you will need to meet special criteria.
The seat needs to be slim enough to fit on airplane seats and down the aisle if you wish to use it on a plane.
Plane seats can be anywhere from around 16″ to 22″.
Most are around the 17 or 18″ mark. You can check to see if your plane is listed on the SeatGuru seat chart table to see what size your seat will be ahead of time.
Lightweight
The best toddler car seat needs to be lightweight (around 15 lb) and easy to carry around, while still providing complete safety and comfort for your child.
Convertible
And lastly, it is recommended that babies up to 2 years old of age stay in a car seat that is rear-facing, but at some point during the next year, you will want to swap the car seat around to be forward-facing, so a convertible car seat is essential.
Suitable for Toddler Weight and Height
Find a car seat that is suitable for both your toddler's weight and height, so get off your computer right this second and go and measure and weigh them.
Here are some average weight and height info, but we all know each child is different, so best to get the correct measurements from your own child.
The average weight for a 2-year-old is around 26 lb and by 3 years of age, they could be around 31 lb.
The average height for a 2-year-old is around 33.7″ and by 3 years of age, they could be around 37.5″.
With all of the criteria in mind, we have decided on our best car seat for 2-year-old toddlers!
Out of all our toddler car seat reviews, we have found the best travel car seat for 2-year-old travelers.
This product ticks all the right boxes for both flying as well as car-travel with your little one!
The Best Travel Car Seat for 2-Year-Old Travelers
Find below our top recommendation for a small car seat for 2 year old kids that are lightweight, slim, and definitely portable.
We will also share two other car seats below that we can recommend, as well as an alternative to the car seat, so make sure to keep reading.
Safety 1st Guide 65 Convertible Car Seat Review
This is one of the absolute best toddler car seats for travel, and it is our top pick for flying with a 2-year-old.
The Safety 1st Guide 65 convertible car seat is convertible, and it can be used in both rear-facing and forward-facing positions.
It can accommodate children from 5 to 40 lbs in rear-facing mode and from 22 to 65 lbs in forward-facing mode, which makes it perfect for a growing toddler.
Not only are there lots of nifty features in this product, but the price is also very appealing!
This is great because if the car seat is cheap you won't care as much if it gets banged about during the trip!
When looking at car seats for toddlers to travel with, you need to make sure they are lightweight – this seat definitely is!
The car seat only weighs 14 lbs, which is lovely and light.
Due to its compact size of 27.25 x 18.5 x 20.25″, this is the ideal seat for smaller cars, as well as airplane travel.
Even though the Guide 65 has such a compact design, it still manages to offer plenty of padding and space for your child.
It also has 5 harness heights, 3 buckle locations, and an adjustable headrest for proper fit.
This is the ideal car seat for 2-year-old children if safety is a concern.
It has side-impact protection built into this infant car seat keeping your little one extra secure.
The headrest is adjustable with multi positions to ensure a snug fit.
The padding is thick and comfortable (and hand-washable too!), completed with anti-rebound boosters. Of course, the buckle is tight and offers great coverage.
In terms of airplane travel, this seat is perfect.
FAA-certified, and slim enough (18″) to fit easily onto airplane seats, traveling with this is a breeze.
The cup holder is removable to provide more space while carrying down the airplane aisle.
This seat is also light enough to easily carry around the airport and is compatible with most travel car seat carts and bags.
You can also read through our review of this car seat here, and compare this car seat with other popular best convertible car seat for travel options.
Click here to purchase the popular Safety 1st Guide 65 Convertible Car Seat
Other Recommended Portable Car Seats for 2 Year Olds
Not sure that the travel toddler car seat above is the one for you? Here are two other travel car seats that we can recommend for toddlers.
Another great option as a portable travel car seat for 2 year old kids is the Evenflo Sonus seat.
The car seat is convertible, lightweight (11 lb), slim (18″ in width), cheap, and will last you beyond through to age 4 with a max of 40 lb weight limit.
It is another popular seat and sells really well on Amazon. Read our full review of this car seat here.
>>> Click here to grab this toddler travel car seat.
And our last recommendation for a car seat for 2 year old on airplane and car use is the Cosco Apt 50 seat.
This seat is convertible, cheap, super lightweight (8lb), and suitable for kids weighing up to 50 lbs.
This seat is wider than the other, measuring at 22″, you need to be aware that you will need to have the armrest up in order to make this seat fit.
Also important to point out that this seat is lighter because it doesn't have as much cushioning, at 2 years of age with only one nap a day this might not be a big deal, but worth mentioning nonetheless.
>>> Click here to grab this cheap toddler travel car seat.
Alternatives to Using a Car Seat on Airplane for 2-Year-Old Kids
Wondering what alternatives you have to use a car seat on planes for 2-year-old toddlers? We have personally used a harness as well.
The Airplane Safety harness restraint is for children weighing between 22 and 44 lbs (kids 1-year and older).
Our daughter was only 2 years old when we used it for the first time and here are my thoughts.
It was fabulous to not have to drag a heavy car seat through the airport.
The harness is small and super lightweight. It fits into a 6″ stuff sack and only weighs 1 lb. The harness is super easy to install, and it doesn't interfere with other passengers' ability to recline.
As a negative, the harness is not really that comfortable for our little one to sleep in. Your toddler will have to sit up straight and only have the slight recline of the seat plane to try and be comfy.
The harness also doesn't have a strap for between the legs and we found that at 2 our toddler kept slipping down the seat and then we freaked out that the harness might strangle her as it moved up her neck.
We do LOVE the harness now that she is older (almost 3), but I do prefer a car seat for 2 year olds.
>>>Check prices for the Airplane Safety harness here.
Final Thoughts
Traveling with young kids can be a challenge, and when you add a car seat into the mix you have even more to handle!
However, a car seat is essential for the safety of your little one.
If you plan on flying with a 2-year-old, we would recommend equipping yourself with the best car seats for toddlers: the Safety 1st Guide 65 convertible car seat. We find that this seat just provides the perfect balance between safety, size, and ease of use.
Tip: