If you are planning your next family vacation and are thinking of taking a trip to Costa Rica then you may be wondering what is there to do as a family?
Costa Rica is famous for its majestic nature with volcanic peaks, hot springs, and a long coastline. Not only that, but Costa Rica is also a land bridge connecting North and South America, giving Costa Rica many different climates and great biodiversity.
10 Best Things To Do as a Family in Costa Rica
Costa Rica is a great destination for kids to explore nature and animals, admire the unspoiled beauty, and have more interesting experiences from many activities featured here.
Tip: Take a look at where to stay whilst in Costa Rica, at the all-inclusive Costa Rica Dreams Resort here.
1. Waterfalls
Costa Rica has many beautiful and majestic natural waterfalls. You can easily find a waterfall that's safe for kids to swim in and isn't as strenuous to get there as Arenal Observatory Lodge, although it's not always safe to take a dip if the water levels are high.
Alternatively, you can also go to the beautiful waterfall near Bagaces, Llanos de Cortés. They are both great waterfalls and are relatively safe for children.
In addition, there are also several waterfalls suitable for adventurous children such as Montezuma waterfall or Catarata Río Fortuna.
2. Canopy Tour
Canopy tours are a popular activity in Costa Rica because there are many famous national parks here. The most prominent of which must be mentioned is the tour on the oldest trees at Manuel Antonio National Park in the southern region of Costa Rica.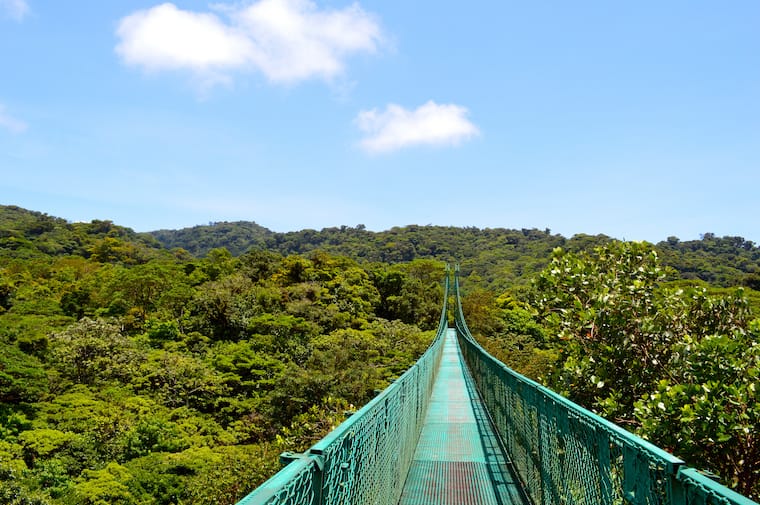 El Santuario Canopy Adventure has the longest dual zip line in Central America! You can race with your family on the 4,300-foot straights above the Costa Rican rainforest, and as a bonus, enjoy stunning views of the Pacific Ocean on the horizon!
In this large park, children also can discover a variety of fascinating animals, hike the trails within Manuel Antonio National Park to get close to many of the shyer rainforest animals. All kids from 3 years old can try these activities.
This is a great place if you're coming from San Jose because it is about 59 Km away from San Jose so you can easily go from San Jose to Manuel Antonio by car, minivan or bus.
3. "Play" with Sea Animals in a Tropical Fjord
There are many tropical fjords in Costa Rica, however Golfo Dulce is the most well known.
It welcomes year-round marine mammals such as humpback whales, spotted dolphins, bottlenose dolphins, orcas, several types of sea turtles and a variety of sharks and rays depending on the season.
You'll be lucky enough to witness a pod of friendly dolphins following your boat and performing spectacular sea acrobatics. They are the friendliest creatures even in the wild.
4. Cultural Exchange by Visiting a Local School
Visiting a local school may not be one of the activities that comes to mind when you are planning your family holiday to Costa Rica.
Since 1869, primary education has been compulsory and free in Costa Rica, resulting in a very impressive literacy rate of 97.7%.
We recommend that you connect with a tour company to help you organize this visit.
You can watch the students perform some traditional dances and sing. Your family can have a simple lunch with the students. It will certainly be a great experience for the kids and adults to see what school is like in such a different setting.
5. Bird Watching in Tortuguero National Park
Tortuguero National Park in the north of Costa Rica can only be reached by air or by boat.
The park's unspoiled rainforest is most famous for its diverse range of birds. This is the best place to show your kids local and migratory birds from the rare blue macaws, spoonbills, herons, tiger herons, herons and kingfishers to howler monkeys and spider monkeys.
However, because of the remote and deserted location, when you come here, you won't have many options to eat and stay. People often book an all-inclusive stay at a place like Tortuga Lodge and Gardens and dining is mostly all in hotels.
6. Hot Spring Pool with Arenal Volcano View
The water from the Arenal volcano is world-famous for its healing powers. It would be great if the children could soak in the mineral hot springs at the natural hot spring river at Tabacón.
In addition, in this area, you can also let your children enjoy a lot of other activities such as hiking to see the impressive La Fortuna waterfall, enjoying some of the hot springs in La Fortuna, going to the suspension bridge, taking the train, and even water rafting
7. Paint your own pottery in the town of Guaitil
The town of Guaitil, Guanacaste is home to the indigenous Chorotegas people known for producing beautiful pre-Columbian pottery.
The pottery here is famous for using only the raw materials of nature and traditional methods and the whereabouts of the raw materials for the glaze has always been a secret.
The children will definitely enjoy seeing the traditional ceramic production process and they can even create a masterpiece of their own.
8. Watching Turtles Nesting and Hatching
It will probably be an unthinkable experience for urban children. The best place that you can give your child this experience is Tortuguero National Park.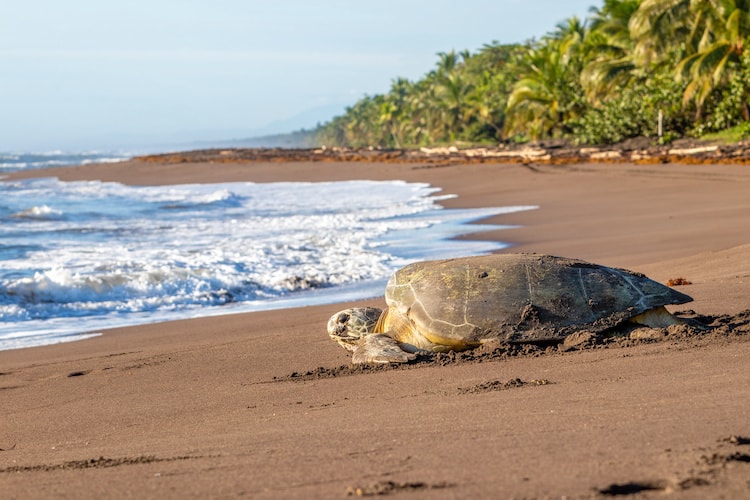 From July to September is the time when pregnant turtles come ashore to find a nesting place. You will witness hundreds of eggs the size of golf balls being deposited into the sand dunes.
From September to November, baby sea turtles begin to hatch hundreds of young in the early morning. Then you'll see hundreds of baby turtles racing precariously toward the wave.
9. Don Olivo Chocolate Tour
It's hard to find a kid who doesn't love chocolate. So this trip will definitely never let your kids get bored. The tour will last 2 hours in La Fortuna de San Carlos.
Firstly your family will be treated to a cup of hot cocoa and a chocolate bar. Then the fun continues as you will discover the chocolate making process for the everyday chocolate that your kids just love to eat!
10. Mistico Arenal Hanging Bridges Park
Walking along the suspension bridges will be an amazing activity with kids.
There are a total of 12 suspension bridges that can walk through!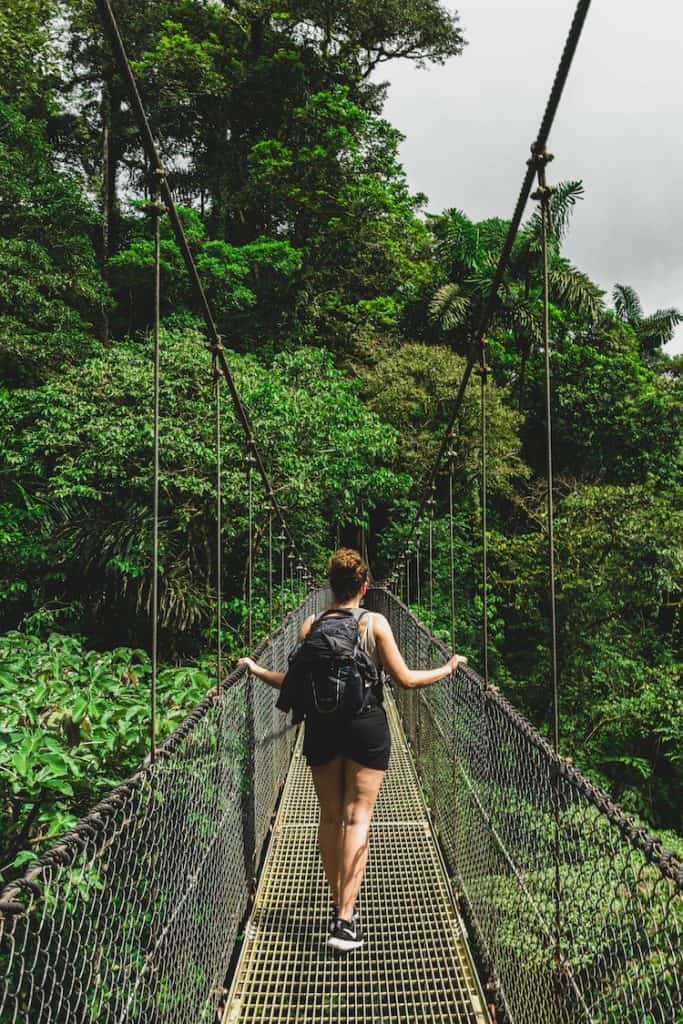 The bridges here are very solid and safe, so children from 3 years old and up can walk. Along the way, children can find lots of wildlife, tropical birds and lots of interesting insects.
There are also some nice views of Arenal Volcano from the property. With a reasonable cost, this will be a great attraction for your family.
FINAL THOUGHTS
As you can see, there is quite a few fun and interesting places to visit with the family in Costa Rica. With this list of activities the whole family is sure to have a great vacation.