Many of us get the chance to explore the more popular holiday destinations, like Europe and the States, but how often do kids get to explore a country as unique as Namibia? Well, wouldn't you know, Namibia is one of the best places in Africa you can travel to with kids.
Namibian people are extremely friendly and the country has an abundant array of wildlife and beautiful landscapes to explore. This is definitely a country that offers plenty of opportunities to educate your kids through worldschooling with new cultures and languages.
Along with the beauty in Namibia, there are top-quality accommodation spots and awesome activities for the whole family to enjoy.
---
Travel Namibia with Kids
Are you thinking of visiting Namibia with the family, but are not sure if the kids will enjoy it? This article should help seal the deal!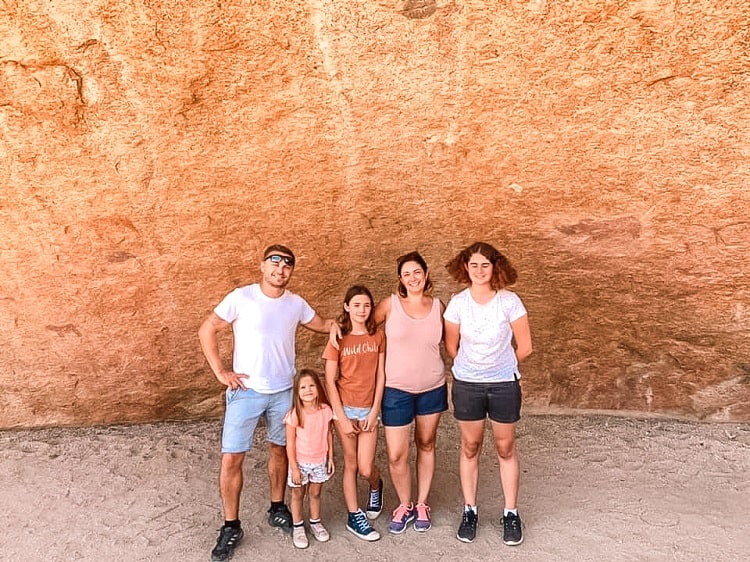 Here is all that you need to know about Travel Namibia with kids:
3 Best Places To Visit In Namibia With Kids
We've shared some of the greatest places to visit in Namibia and the top activities for kids to partake in. It'll be easy planning a full day itinerary purely because of how safe, affordable, and accommodating the country is.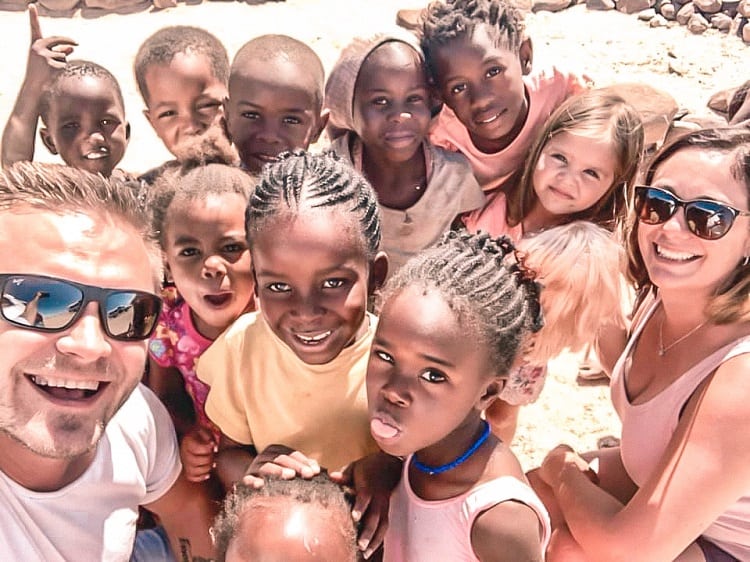 Below we've shared some of the best activities and what to do in Namibia with kids.
---
1. Swakopmund With Kids
Swakopmund is an exciting, colorful town that's known for its thrilling activities. It's the capital of the Erongo Region and sits right along the coast of Namibia. It's also situated amidst the dunes and Swakop River mouth.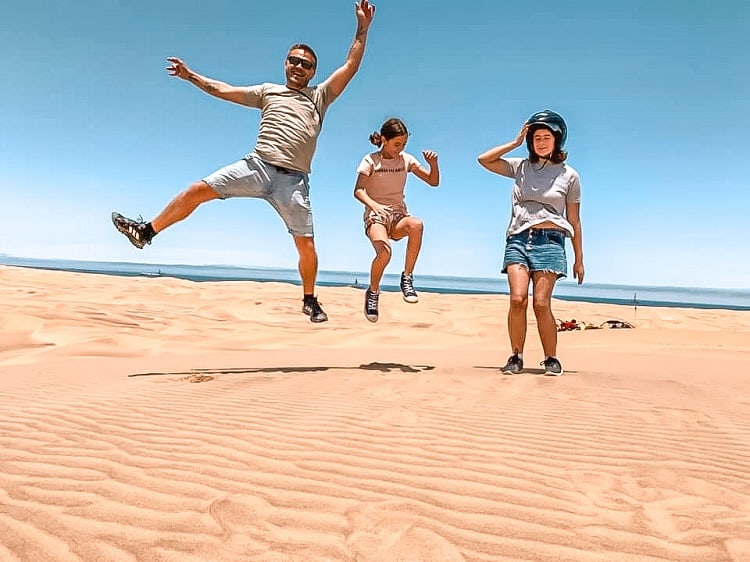 Its mild climate with an ocean breeze has turned this once colonial town into a popular tourist destination. It is scattered with luxury lodges and attractions.
---
Best Things To Do In Swakopmund With Kids
Swakopmund is ideal if you're keen on seeing a different side to the wildlife and towering golden dunes in Namibia. The oceanfront shows off the town's promenade. It's a great spot for afternoon strolls with the pram, or heading to the town's playground.
It's also home to Namibia's only aquarium, which showcases the wonderful marine life that's found in the cold Benguela Current. As a family, you can wander underneath the underwater walkway and marvel at the sharks and rays swimming right above you.
Although Namibia is famous for its large desert mammals, Cape fur seals and African penguins are also some great animals you can enjoy with a visit to the coast.
A few other options of activities range from camel rides at Swakopmund Camel Farm, fishing trips on the beach, or relaxing boat rides. You can also plan a visit to Kristall Galerie, where you'll be able to see the world's largest clear quartz collection.
The most popular activities to do with kids in Swakopmund are listed below.
---
Daredevil Adventure With Kids
Without a doubt, one of the most exciting things you can do in Namibia is to book yourself a quad bike ride through the dunes.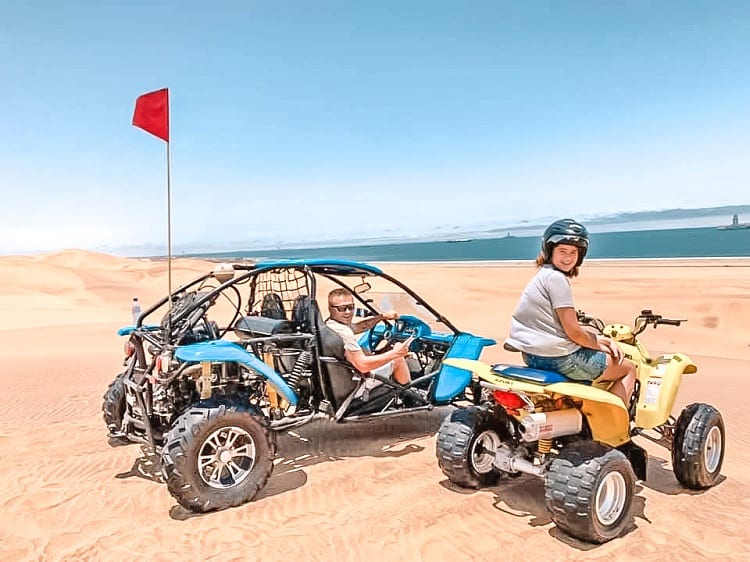 Because it's such a popular Namibian attraction, Daredevil Adventures offers a kiddies track for small kids. The short 15-minute track is specifically designed for small kids and supervised at all times.
Other than quad biking, the company also offers lying down sandboarding, which is an awesome option for those who aren't up for quad biking. Slip and slide down small dunes in the famous Namibian desert.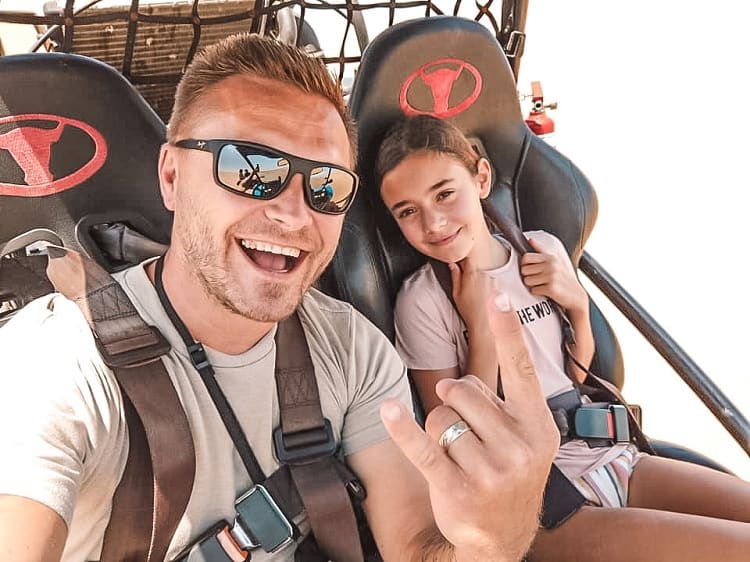 Don't forget to bring sunblock, closed shoes, a warm jacket, and your camera.
Some things to note: Children under 6 will not be charged if they're lifted by an adult. And children 7-16 who are lifted by an adult will only be charged half price.
---
Visit The Salt Lakes With Kids
Another great attraction in Swakopmund is the Namib Dead Sea. Although it doesn't come close to the Dead Sea in Jordan, it's definitely worth taking the kids on an adventure here.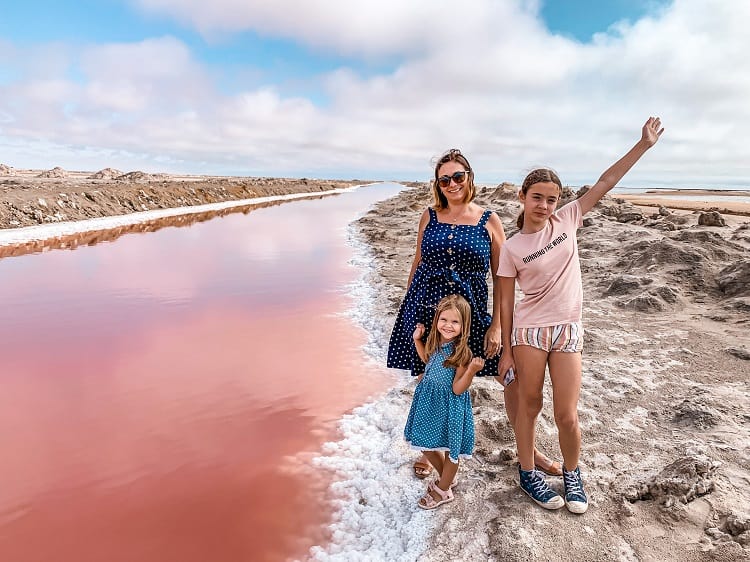 Due to the minerals found in the small lake, swimmers can float freely in the water – it's not something you get the chance to do often.
Spend a couple of hours splashing in the water, but don't forget to bring plenty of extra water to rinse the salt off.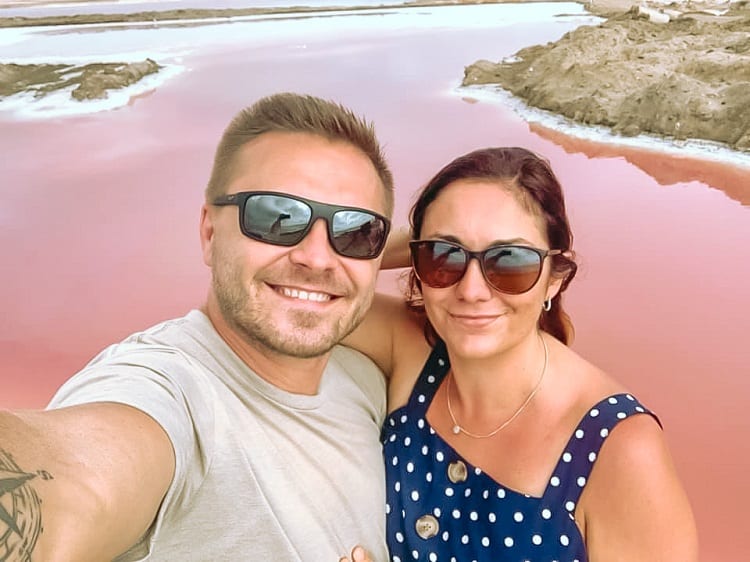 Click here to book a tour and 4×4 drive through Swakopmund.
Read More:
---
Where To Stay In Swakopmund With Kids
Take full advantage of being near the beach and book a stay at the Hotel A la Mer in the heart of Swakopmund. The terrace and balconies show off views of the ocean, which is only a stone's throw away.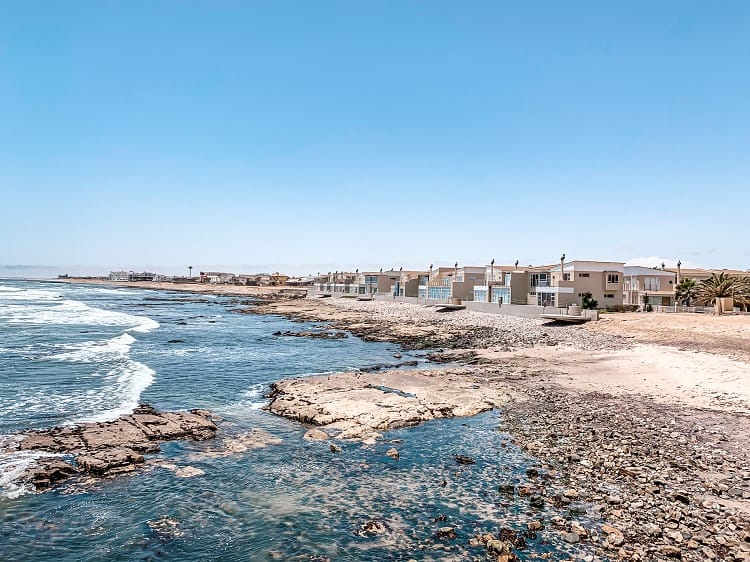 The hotel features family rooms, with two single beds and an extra-large double bed, as well as having its own en-suite bathroom.
Check out the current prices for Hotel A la Mer here.
---
2. Sossusvlei With Kids
Sossusvlei is a large salt and clay pan situated in the largest conservation area in Africa, the Namib-Naukluft National Park.
Sossusvlei is also surrounded by large red dunes, that are said to be some of the largest dunes in the world. And incredibly, some of the dunes are around 5 million years old.
Although the plains are all dried up, there's still an array of wildlife that has adapted to live in these circumstances. Which makes it an exciting place to journey to with children.
---
Best Things To Do In Sossusvlei With Kids
As one of the top attractions in Namibia, it comes packed with plenty of one-of-a-kind activities to do in the area. Show your children what different parts of the world look like, and head on a one-of-a-kind adventure through the desert!
Check Out The Sand Dunes
Kids will go crazy when they find out that they can run down these striking red dunes – a fantastic place to have an adventure as a family.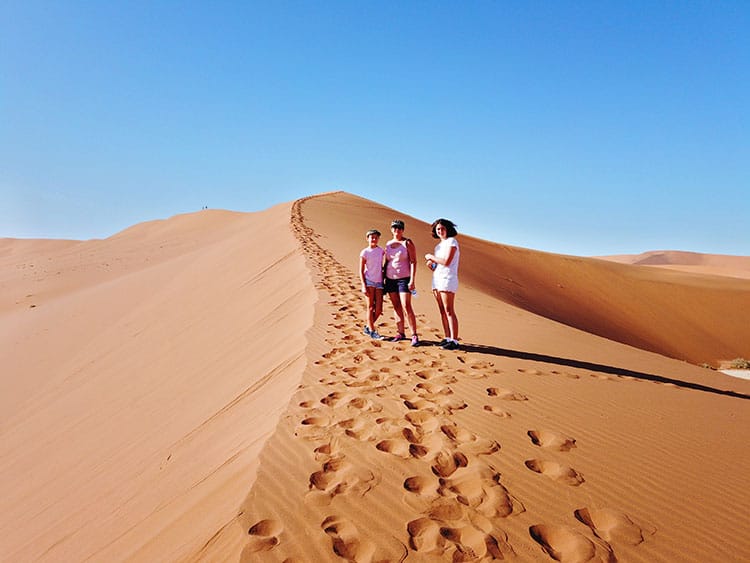 Dune 45 is one of the most famous dunes in the world, and its fascinating shape makes it the most photographed dune. Climb 85 meters up to the top and you'll be rewarded with panoramic views of the desert. Even though it's one of the most beautiful things to see, the kids will probably enjoy it more because of the fun run down it.
If your family rises early, consider taking the trip in the early hours to get a glimpse of the sunrise. As the lighting changes during the day, so do the colors of the dunes.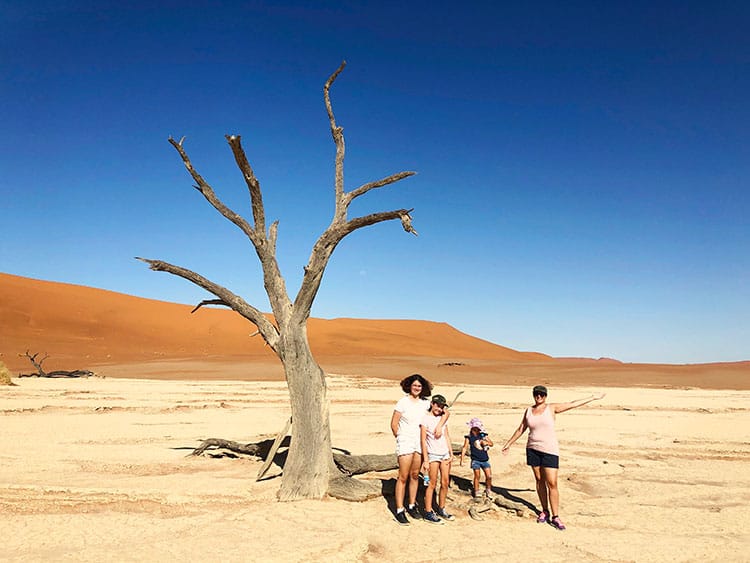 You can also visit the Big Daddy dune, which stretches 325 meters, making it the tallest dune in Sossusvlei. If your kids are old enough, there is the option of trekking to the top. Just be sure to pack plenty of water!
---
Deadvlei With Kids
The Deadvlei is recognizable by the dead camel thorn trees that once grew out of this white clay pan. The clay pan wasn't always clay, though. Once, the Tsauchab river flooded the grounds and allowed the trees to thrive.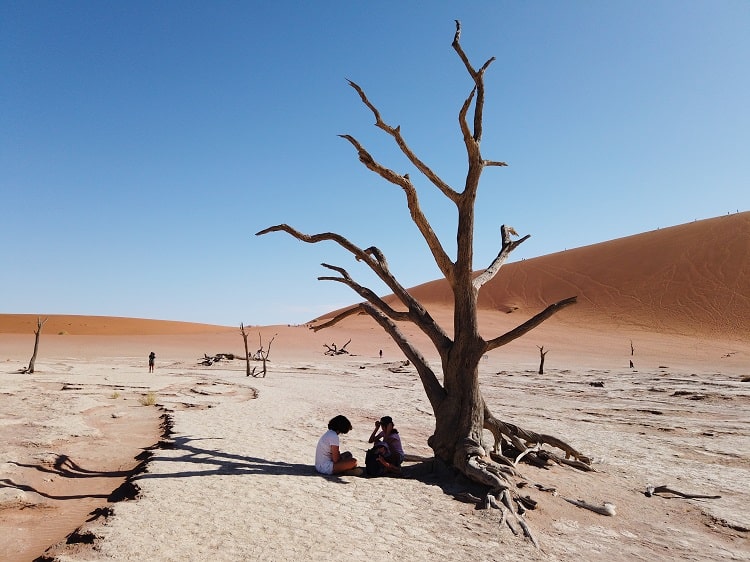 It's a perfect experience no matter how old your child is. Either they can play in the world's largest sandbox or embark on a hike through the dunes.
Click here to book a tour of Sossusvlei.
Here is a list with loads more ideas of what to do in Sossusvlei with kids (as well as tips to survive the heat there).
---
Where To Stay In Sossusvlei With Kids
Travelers can easily find accommodation in Sossusvlei that suits their needs.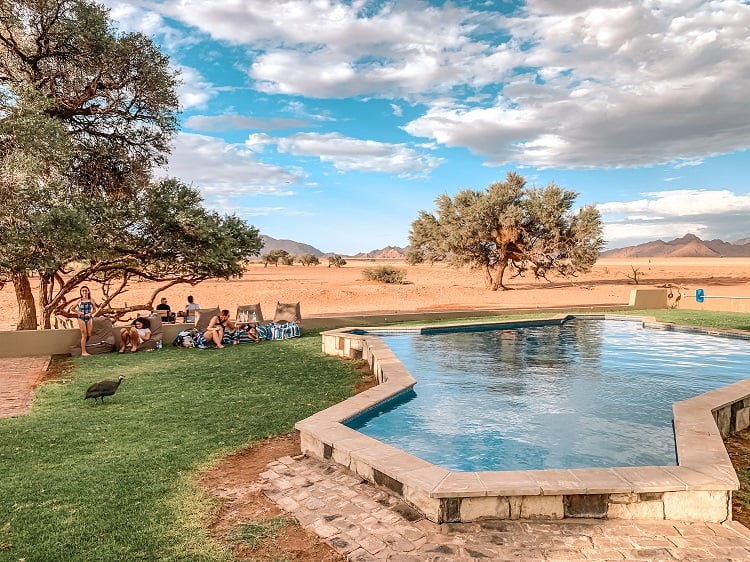 Accommodation ranges from luxury lodges, mid-range lodges, camping sites, and self-catering B&B's.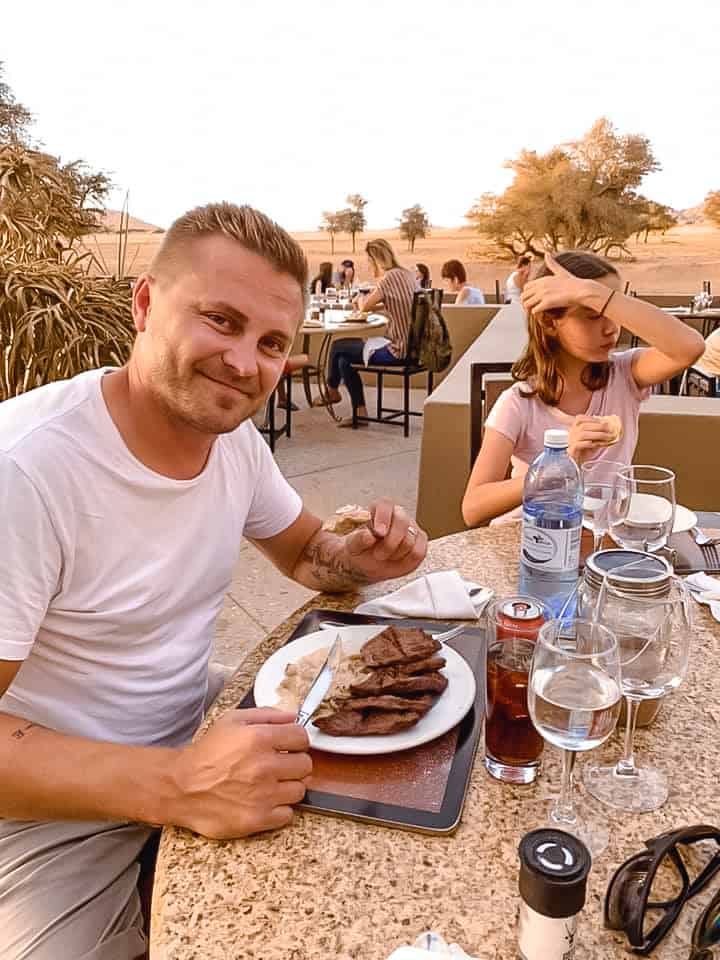 Desert Quiver Camp
Desert Quiver Camp offers guests modern, self-catering accommodation with incredible views of the surrounding wildlife and mountains.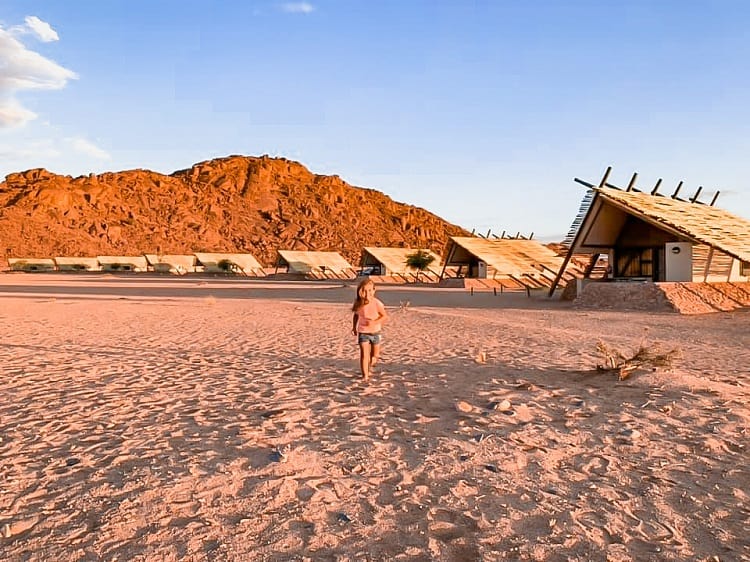 The camp comes with beautiful spacious rooms, a pool for the kids to enjoy, and a patio area fitted with a barbeque. It's a top choice for enjoying some quality family time.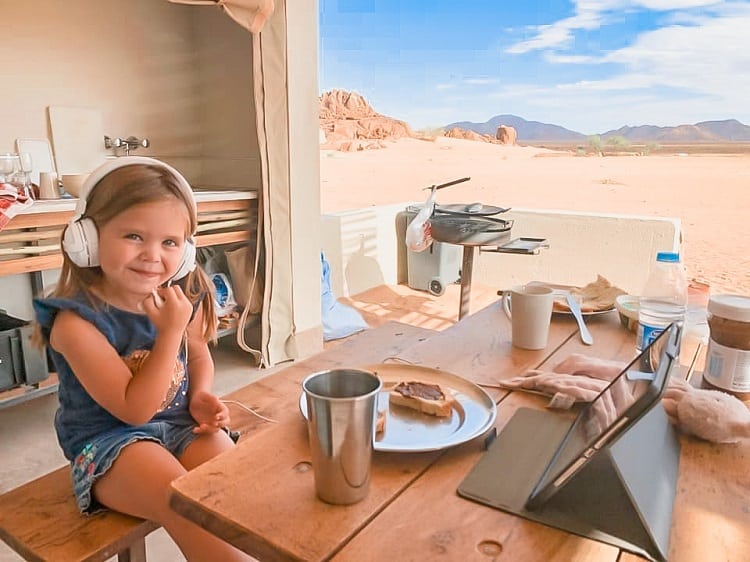 Check out the current prices for Desert Quiver Camp here.
---
Namibian desert camping with kids
Camping is one of the best things to do in Namibia with kids. Kids have the chance to stay up past bedtime, make new friends, and spend all of their time outdoors.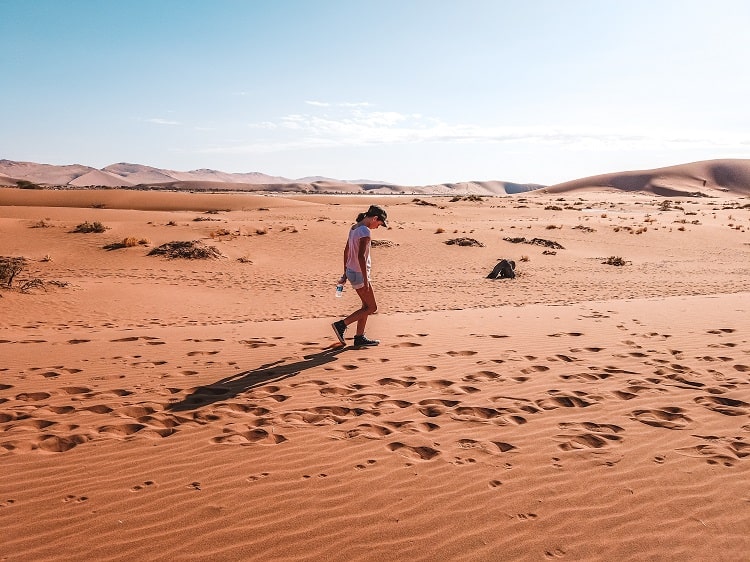 Sesriem Oshana campsite offers protective shading so that you can enjoy the outdoors. There is also a nearby pool and restroom and shower facilities.
Check out the current prices for Sesriem Oshana campsite here.
---
3. Etosha With Kids
Of course, a trip to Namibia wouldn't be complete without a wildlife experience. Etosha is one of the most popular places to visit in Namibia.
TIP: Check out your Complete Etosha National Park Self Drive Guide.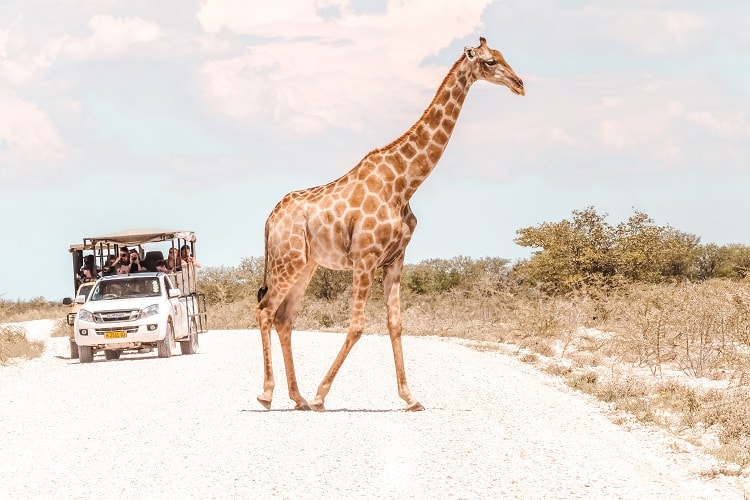 Discover the wildest parts of Namibia that are home to cheetahs, hyenas, lions, giraffes, and many more.
Namibia is home to a few critically endangered species, like the black rhino. If you're lucky, you may get the chance to see them.
During the winter months, all you need to do is park your car alongside a waterhole and you'll be able to see the large elephant population of Namibia.
---
Best Things To Do In Etosha With Kids
Depending on whether your family has rented a car or not, you can take a drive through the park or hop on a private game drive. If the budget allows, we recommend opting for a guided game drive. That way you'll have the highest chance of seeing the awesome wildlife animals.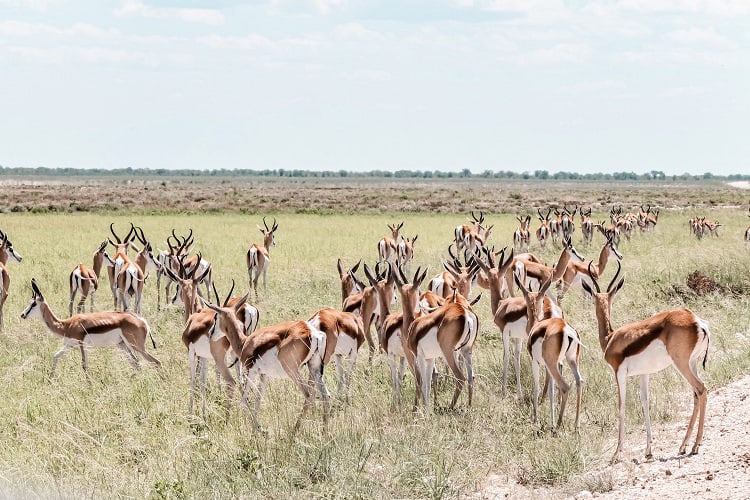 Kids of all ages will have an amazing time spotting the animals and maybe seeing species for the first time. It's truly one of the best things to do in Namibia.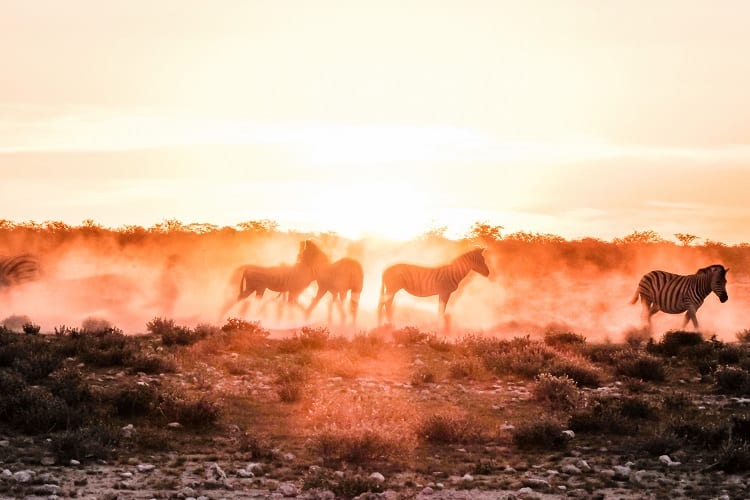 You can also opt for a walking trail with a guide. You might be able to spot some small mammals and discover some of the native plant species.
Click here to book your tour and game drive in Etosha National Park.
---
Where To Stay In Etosha With Kids
Etosha Village is a fantastic place to stay in the Etosha National Park. The lodge includes a restaurant, 2 pools (as well as a kiddy pool), and modern, African-decorated rooms.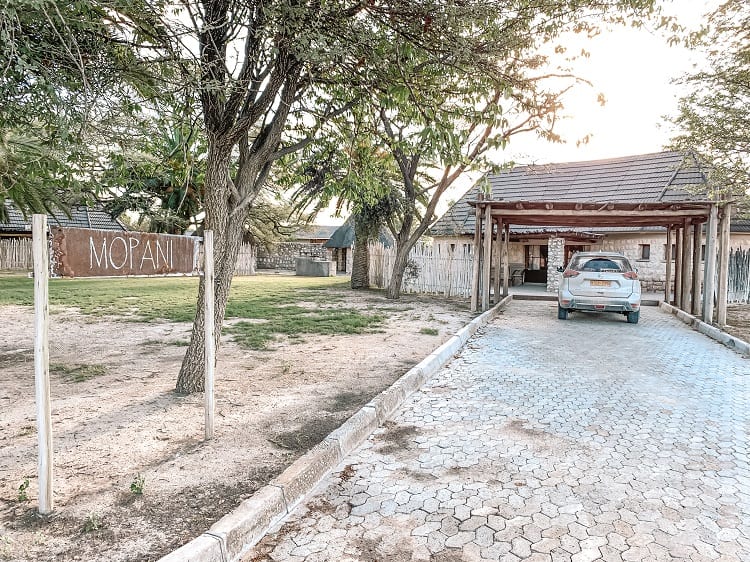 The best part about staying at a lodge is the boma area. Sit under the stars in a traditional enclosure that surrounds a bonfire. Feast on delicious meals and share stories with newly made friends.
You also have the freedom to arrange your own game drive and guided walk. And for days when the family isn't in the mood for adventuring around, spend some time on the patio or a day at the pool.
Check out the current prices for Etosha Village here.
---
Best Time To Go To Namibia With Kids
The perfect time to visit Namibia is from July to October, which just so happens to be winter. Temperatures are pleasant during the day but do get chilly as the sun starts to set.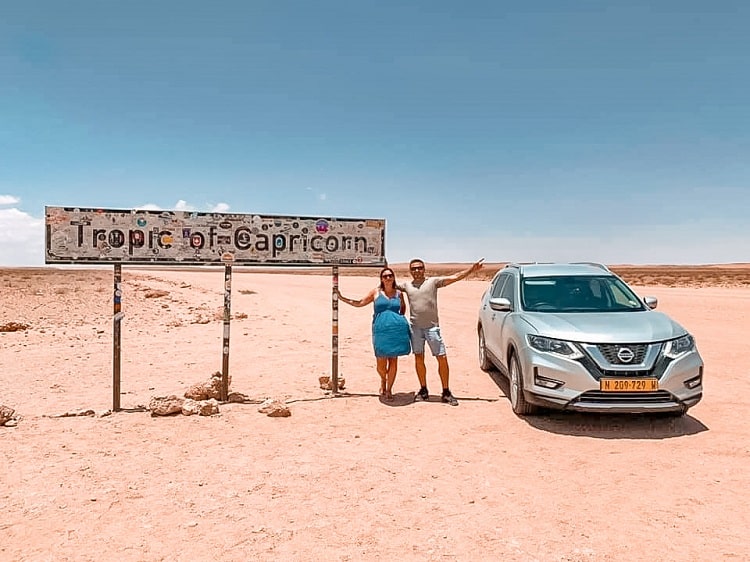 The dryness of winter results in prime wildlife watching. Water is scarce, so many larger mammals tend to gather around waterholes, and the thinner grass makes it easier to spot them.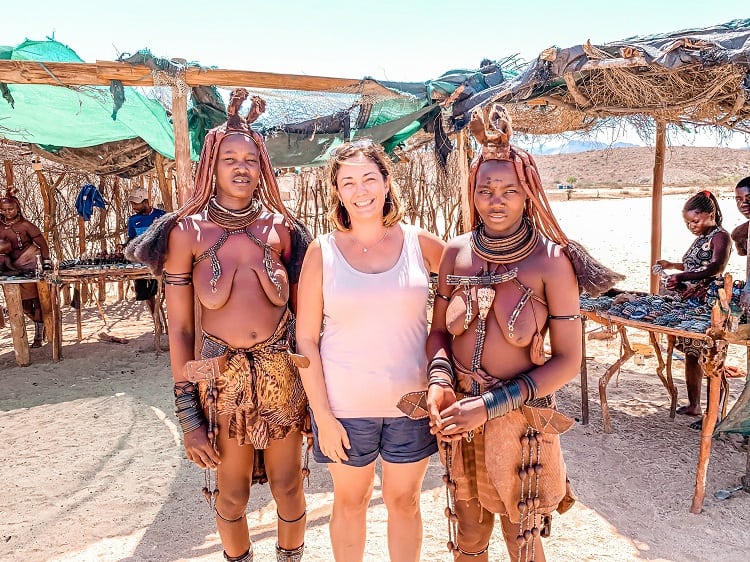 Summer in Namibia can be unmanageable with kids. Temperatures are above 30°C (86°F) on average, which makes climbing dunes and spending the day outside pretty tough!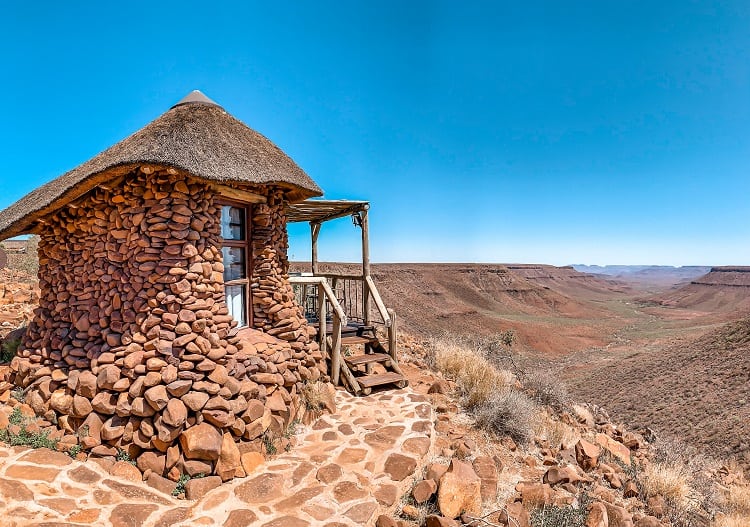 Tip: Check out the current prices for your stay at the Grootberg Lodge here.
Summer school holidays start around July/August, so it's a perfect time to embark on a trip to Namibia with the whole family.
---
How To Get Around Namibia With Kids
Namibia is one of the safest countries in Africa, but one of the biggest precautions you'll need to take is traveling on gravel roads. The good news is that many car rental companies will give you a heads-up regarding road safety.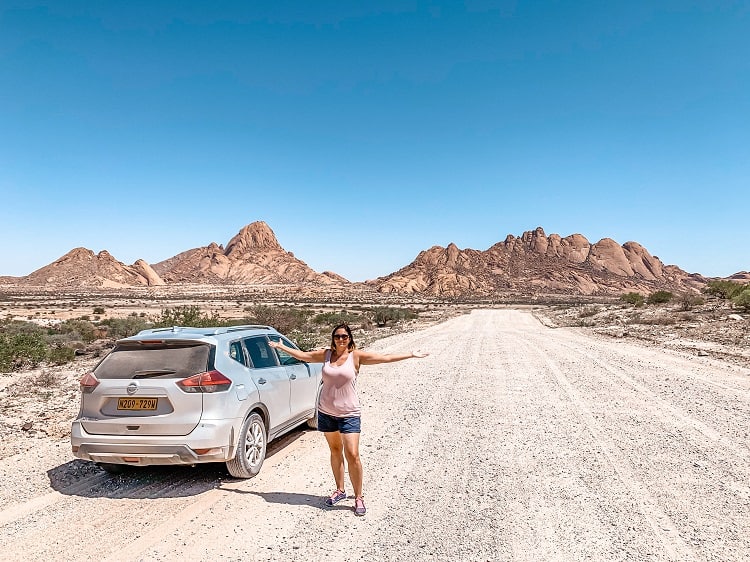 The most popular way to get around Namibia is by booking a rental car and it's the perfect way to explore the vast desert landscape. Your best bet is to book a 4×4 for easy travel along some of the unpaved roads in the reserves.
Public transport isn't a viable option. Busses only run from city to city, and not within the main regions.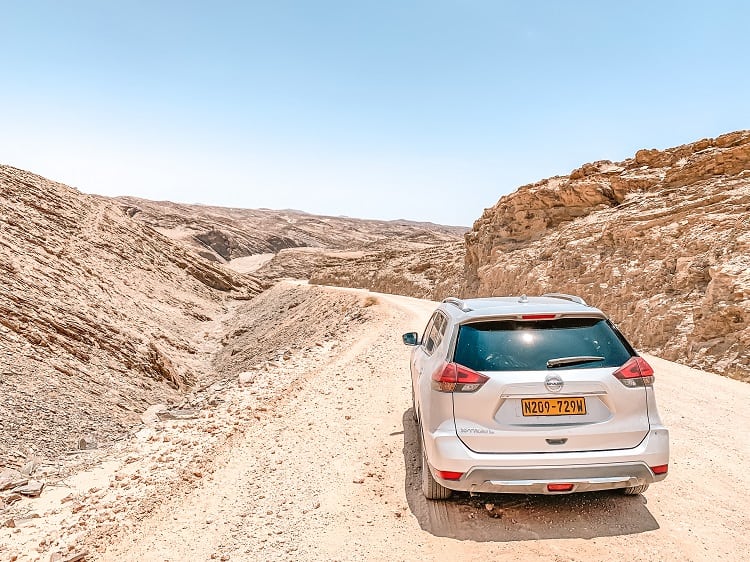 Some extra precautions we recommend are not to drive on the rocky roads at night, stay inside the vehicles when you're driving in the wildlife, and don't leave valuables in the car.
Don't forget to pack some of the essentials for traveling with kids, to make the trip easier.
---
To Conclude: Namibia With Children
As you can see, traveling Namibia with kids isn't for the faint-hearted. Rather, it's a country that needs exploring with a sense of adventure and excitement! It's an amazing thing to be able to take the road less traveled and venture to new lands as a family.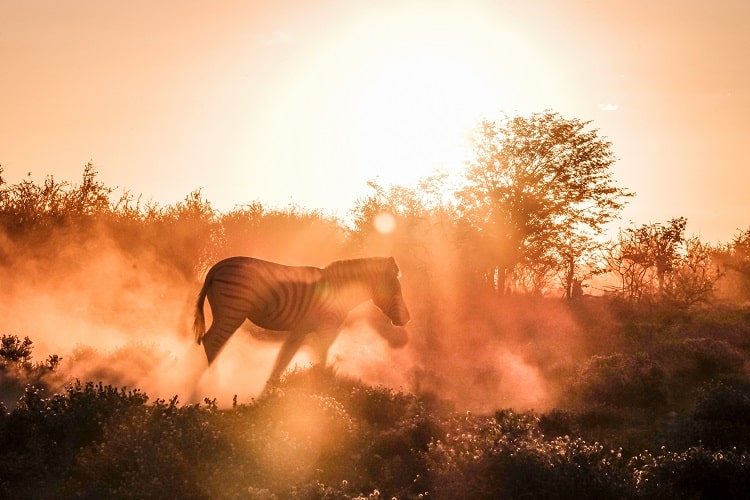 Book yourself a tour and make the most of your time in this renowned desert. Discover parts of Africa you won't be able to see anywhere else. And jump right into experiencing new cultures with the whole family.
Check out our best African airlines list to help you choose the airline for you for your African adventure!