Surrounded by giant red dunes, bare trees, and white clay, Sossusvlei is a large salt pan in the southwestern part of the Namib Desert. This picturesque sandbox is a prime Namibian destination that's great for visiting with your kids.
There are tons of family-friendly activities to do in Sossusvlei. You can enjoy many outdoor activities, from camping under the stars to desert excursions, safari drives, and scenic helicopter tours.
One word we can use to describe Sossusvlei is simply—breathtaking.
In this guide we will cover the following information:
Things To Do In Sossusvlei
Where To Stay In Sossusvlei
Must-Know Tips
---
Where Is Sossusvlei?
Sossusvlei is located in the Namib-Naukluft National Park. The national park sits on 19,228 square miles of Namib Desert land, making it the largest game park in Africa. This desert is also home to the country's highest sand dune, Dune 7, standing at 1,256 feet tall.
We learned that the literal translation of Sossusvlei is "dead-end marsh." The word is a combination of "sossus", which means 'dead-end' in the Nama language, and "vlei", meaning 'marsh' or 'wetland' in Afrikaans.
Sossusvlei gets its name from its geographical location. The area is locked in by dunes, preventing further flow of the Tsauchab River. Dry conditions keep the pan bone-dry for most years. If you want to learn more about the nature and geography of salt pans, click here.
---
How To Get To Sossusvlei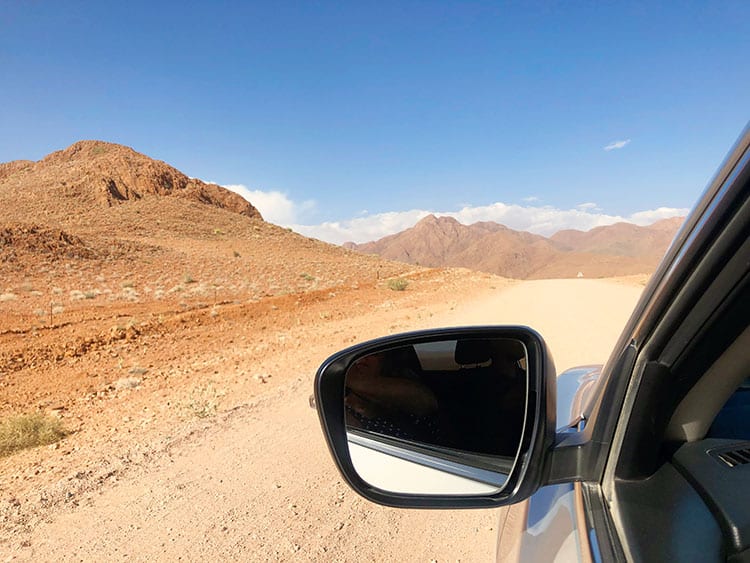 Sossusvlei is easily accessible by car and plane. Depending on where you're coming from, you may need to use both forms of transport to get to this stunning desert oasis.
If you're coming from outside of Namibia, you will most probably land at the Hosea Kutako International Airport in Windhoek. From there, you can either make the five-hour drive to Sossusvlei or take another flight to the smaller Sesriem Airport.
You can rent a car from the airport or hop on a tour shuttle and make your way to your accommodation.
Tip: A 4×4 is the best car to ride through the desert—sand dunes become molehills.
---
When To Visit Sossusvlei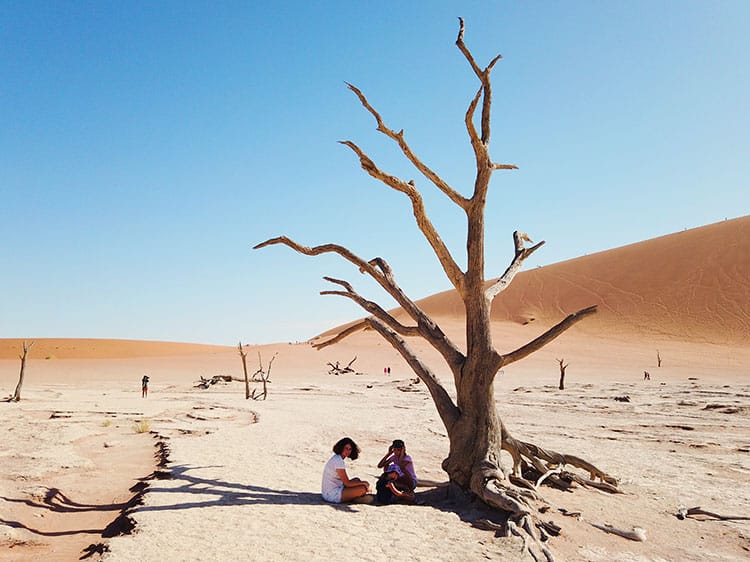 Seasons in Namibia are very unique. They don't typically follow the three-month pattern like most countries. A Namibian summer is longer than usual, spanning from October to March. It's then followed by a short two-month autumn, a three-month winter, and a mere one month's worth of spring.
The country's rare season patterns primarily split Namibia into rainy and dry seasons. Summer gets the most rainfall and the most heat, creating somewhat of a balance.
However, precipitation varies across the country. The southwest region, where Sossusvlei is, typically gets less rain than other parts of the country, making it ideal for a summertime visit.
But, we would say the best time to visit Sossusvlei is in autumn or spring. With little to no rainfall, days are dry, skies are clear, and the desert wildlife retains its natural habitat.
---
Sossusvlei National Park Opening Hours And Permit Fees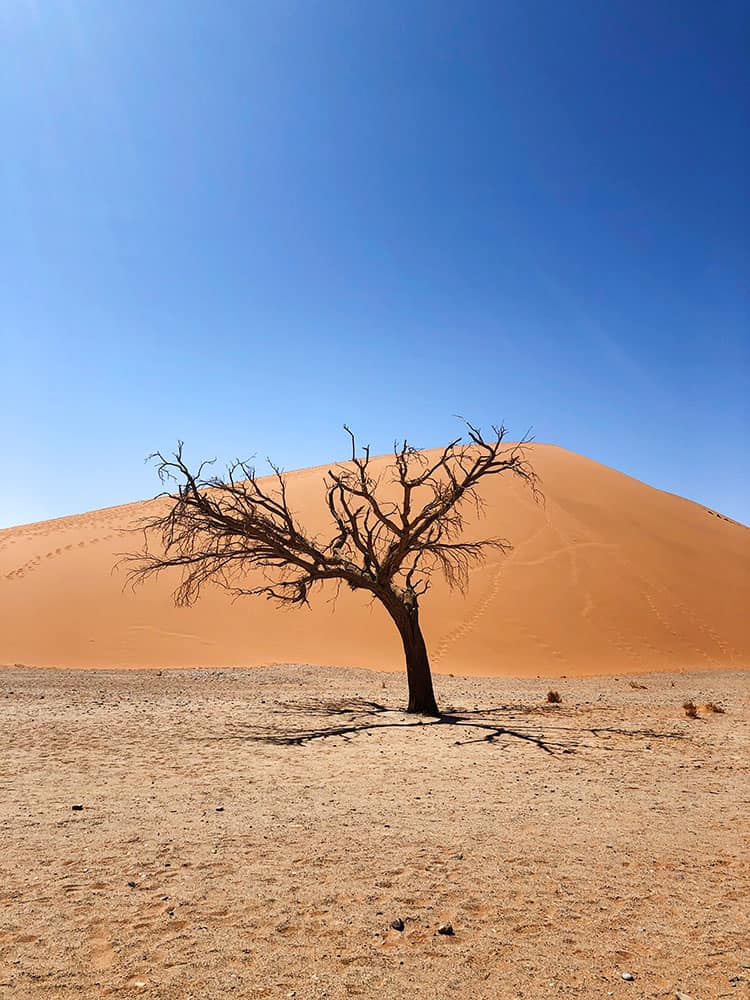 The national park's Sesriem gate opens at sunrise and closes at sunset. The exact time varies according to the season. In summer, the gate typically opens at 6 am and closes at 6 pm, while in other seasons, they open between 6:45 am and 7 am.
All Namib-Naukluft National Park fees and permits are payable at the gate. At the Sesriem gate, non-Namibian residents can expect to pay around $6.5 per adult, and residents pay half of that, plus a vehicle permit for less than a dollar.
Park permits are valid for 24 hours from entry, meaning that entrance fees are payable every day for both visitors and vehicles.
See the latest park entrance and usage fees here.
---
Things To Do In Sossusvlei
Every destination has its best attractions, and Sossusvlei is no exception. Despite its remote positioning and arid lands, this Namibian locale is full of unique geographic anomalies with breathtaking scenery.
There are so many things to do in Sossusvlei that we have helped you narrow it down. Here are our top recommended attractions and tours in the area.
Click here to book your family a two-day Sossusvlei guided tour from Swakopmund and experience hiking up Dune 45, exploring the Sesriem Canyon and the Deadvlei.
---
1. Visit The Deadvlei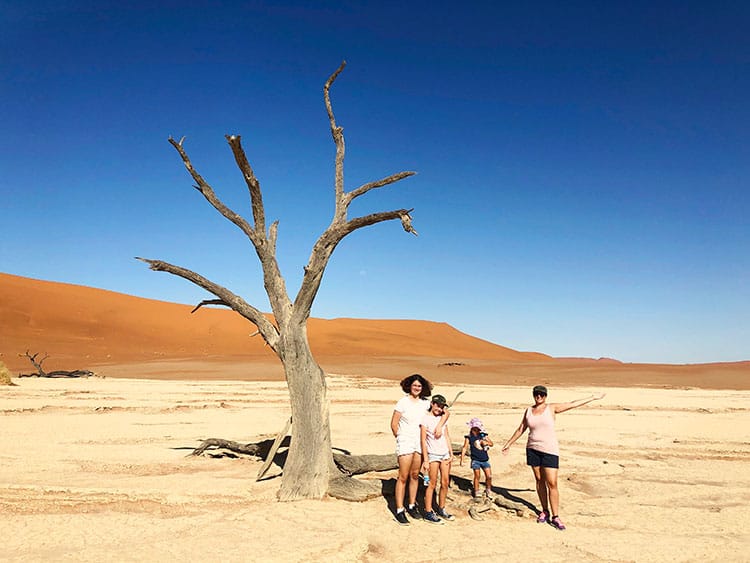 Unlike Sossusvlei (a salt pan), Deadvlei is a white clay pan, boasting ancient barren trees and gigantic dunes. This particular pan creates a striking contrast between the white clay and black skeletal trees against the red dune backdrop.
To get to this jaw-dropping scenery, you'll drive about 406 miles from the Sesriem gate. The hour-long drive will require a 4×4 (provided on lodge-arranged tours). On your way to Deadvlei, you'll be in constant awe of how the 900-year-old camel thorn trees survive on this parched pale land.
---
2. Hike Up The Big Daddy Dune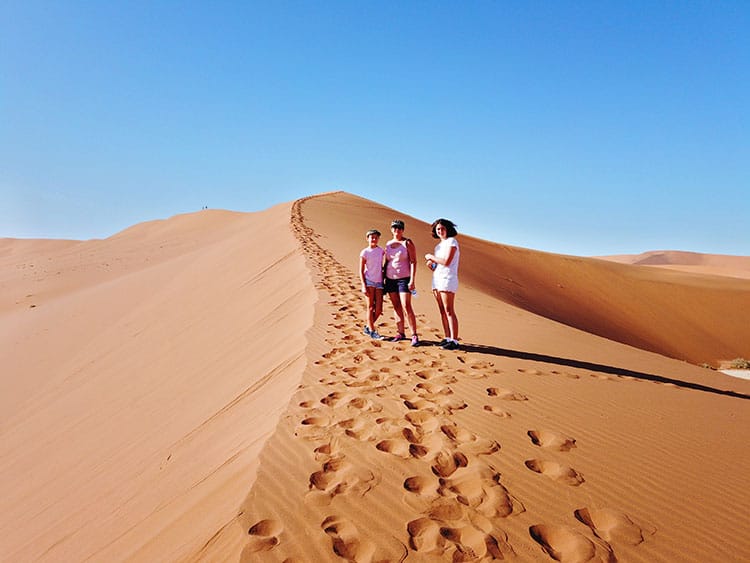 If we haven't stressed this enough throughout the guide: Sossusvlei is the home of dunes! There are so many to pick from, but only a few are outstanding, like The Big Daddy Dune. Standing at 1,066 feet, this impressive dune is the tallest in Sossusvlei.
Hiking up The Big Daddy Dune is tricky with kids. It typically takes around 45 minutes for adults to complete and a little over an hour for kids. The walk up to the dune's summit is fun and exhilarating. However, the views from the peak, overlooking the contrasting Deadvlei, take the cake for us.
Maneuvering through the soft sinking sand will require effort. So don't hesitate to take short water breaks and embrace the views. If you have a little one, it would be a good idea to have a baby carrier or a hiking carrier.
---
3. Hike To The Top Of Dune 45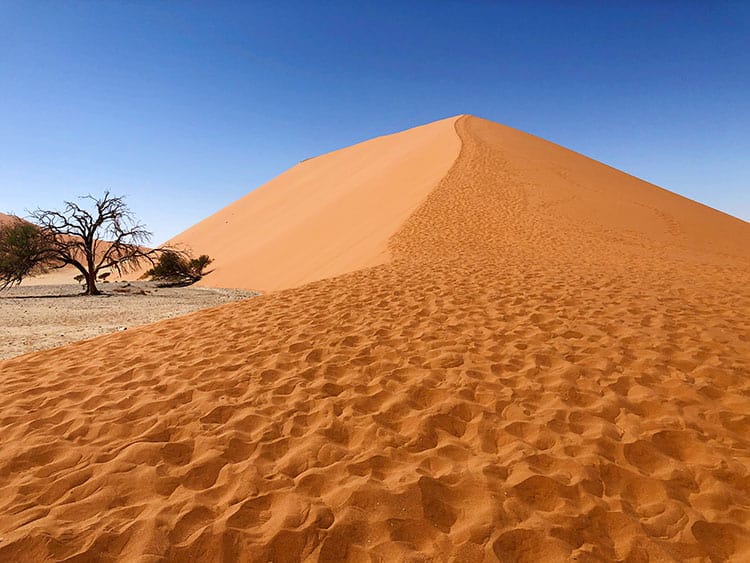 Although only 264 feet tall, Dune 45 is more photographed and more visited than The Big Daddy Dune. The hike typically takes adults 30 minutes to reach the summit and around 45 minutes for kids.
When it comes to the climb (the same goes for the Big Daddy), we highly recommend that you start just before sunrise. Hiking up a dune in the scorching Namibian sun is not a pretty sight, especially when traveling with kids.
You can take your shoes off when climbing—they fill up with sand and weigh you down, plus the sand won't be hot yet.
Once you reach the peak and the dawn starts breaking, you'll be overwhelmed by spectacular desert views with backdrops of rolling dunes and barren clay patches.
---
4. Walk Along The Sesriem Canyon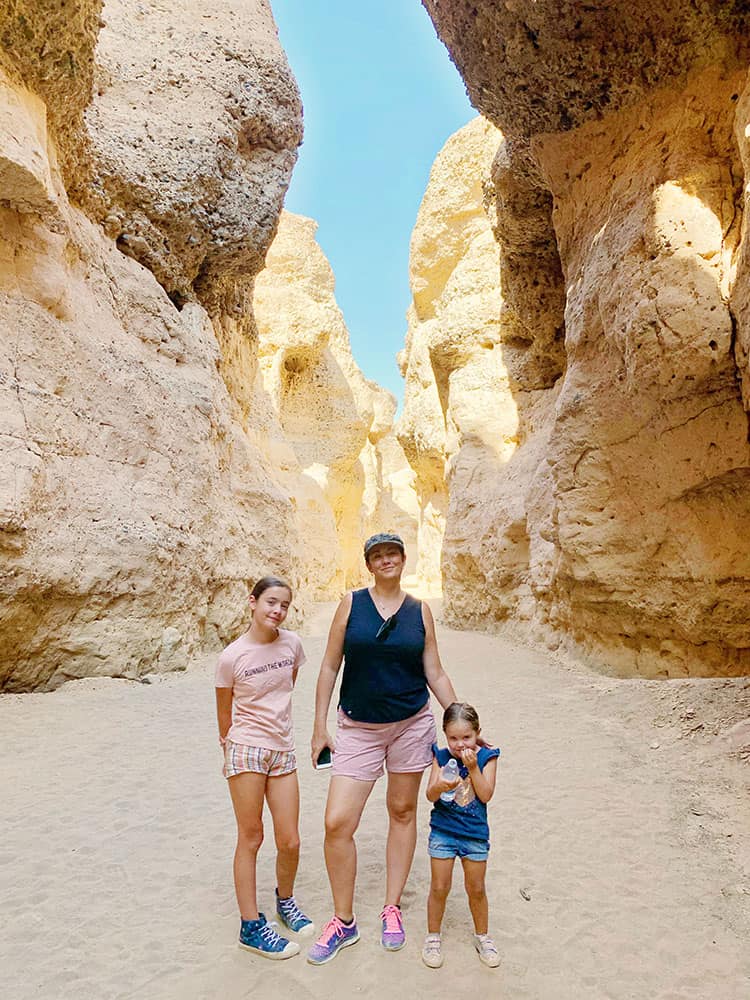 One attraction you must not miss is The Sesriem Canyon. Located just 2.8 miles from the entrance, Sesriem Canyon is narrow and filled with strange rock formations. The canyon is only about 0.6 miles in length and 98 feet deep.
Sesriem Canyon dates back roughly two to four million years. The Tsauchab River shaped the canyon as it flowed through the rocks. This extraordinary geographic feature is one of Sossusvlei's unique gems, as it's one of the few areas in the region that holds water throughout the year.
5. Hot Air Balloon Over Sossusvlei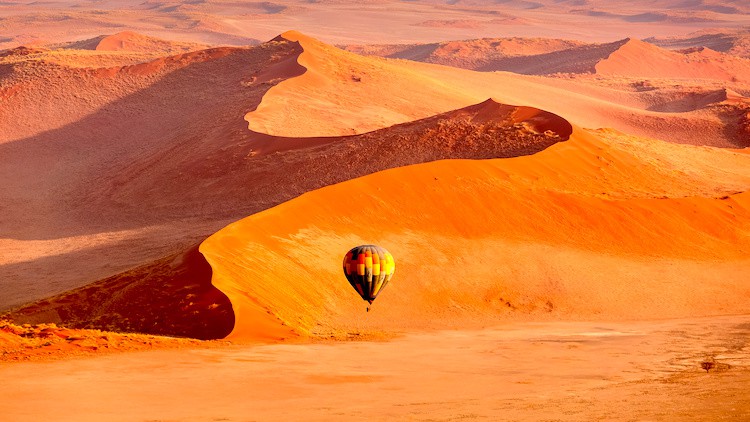 One of the best ways to see Sossusvlei is from the sky. Book a hot air balloon tour over the region and have a panoramic view of the striking contrast between the red dunes, salt, and white clay pans.
Serving as a great start to your day, the 45-minutes to hour-long flight takes off before sunrise, ending with a luxury breakfast at a stunning landing site. At the time of writing, you can expect to pay around $550 per adult. However, special group rates are available.
Kids have to be over 3.9 feet tall to participate. Younger children or toddlers are welcome to follow the hot air balloon via 4×4 with the designated guiding crew and can join their parents at the landing spot.
Note: Hot air balloon flights are highly reliant on the weather, and tours booked on windy days will be postponed. As hot air ballooning may be unavailable during certain periods, we recommend confirming ahead of time if it's available.
---
Where To Stay In Sossusvlei
Sesriem is the closest settlement to Sossusvlei. You'll find many bush lodges and overnight accommodations in this area. The drive from the Sesriem gate to the Sossusvlei pan is 37 to 40 miles.
While fun, traveling with kids can be quite challenging at times. As such, it always helps to book spacious, kid-friendly accommodation that has plenty of activities for them to enjoy.
We recommend considering one of the three lodging options below, based on what you can afford.
Luxury – Sossusvlei Lodge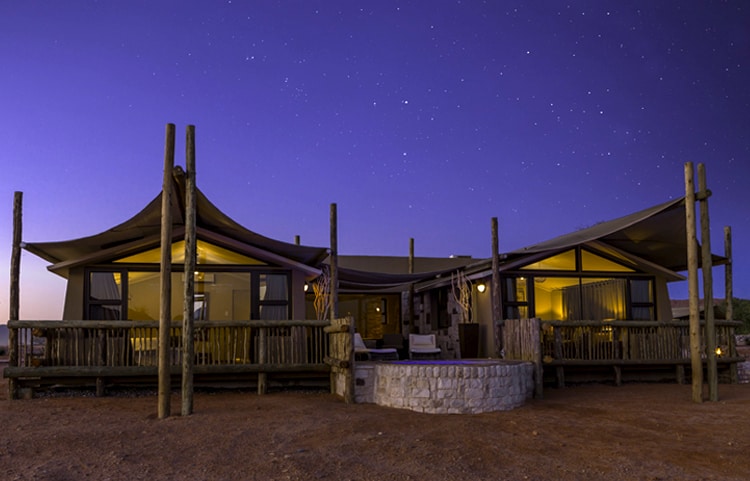 Located less than 0.4 miles from the Sesriem gate, Sossusvlei Lodge offers superb accommodation units, boasting idyllic views of the desert and excellent amenities.
The lodge's private suites feature hard wooden floors, standalone tubs, superior granite decor, and expansive glass windows.
The standard units at Sossusvlei Lodge double up as family units as they feature a lockable interleading door between two private bathrooms
Sossusvlei Lodge is the embodiment of desert glamping and the accommodation has excellent facilities.
The kids can cool off in a uniquely-shaped pool while you relax in the sheltered poolside seating. There are ground fire pits under the trees and a well-stocked on-site bar.
Enjoy the hotel's culinary masterpieces, prepared and served at the outdoor dining terrace, overlooking the vast desert landscape and a floodlit watering hole.
The lodge offers several guided tours, including wildlife safari excursions, hot air balloon rides, and an adventure center. You can also buy books and African clothing from the lodge's souvenir shop for an experience the kids will never forget.
Click here to see the latest prices for Sossusvlei Lodge.
---
Mid-Range – Desert Quiver Camp
Enjoy a mid-market lodging experience at Desert Quiver Camp, just 3.1 miles from the national park's entrance. This unique campsite offers a self-catering getaway, featuring a fully-equipped kitchenette, outdoor BBQ area, and covered patio.
Desert Quiver Camp is truly a Sossusvlei gem. Kids can take a dip in the elongated swimming pool or bask in the sun while taking in panoramic desert views, free-roaming wildlife, and the beautiful scenery of the Elim Dunes.
The campsite has top-notch amenities ranging from an on-site bar to communal fire pits and a wide range of utensils available at the reception area. You can order meals from a neighboring lodge at additional costs.
This is where we stayed, but we had to get two units to fit our family of 5 and they are not connected either. Fortunately, this worked as our older two kids could stay in the second unit and our little one could be in our unit
Click here to see the latest prices at Desert Quiver Camp.
---
Budget – Sesriem Camp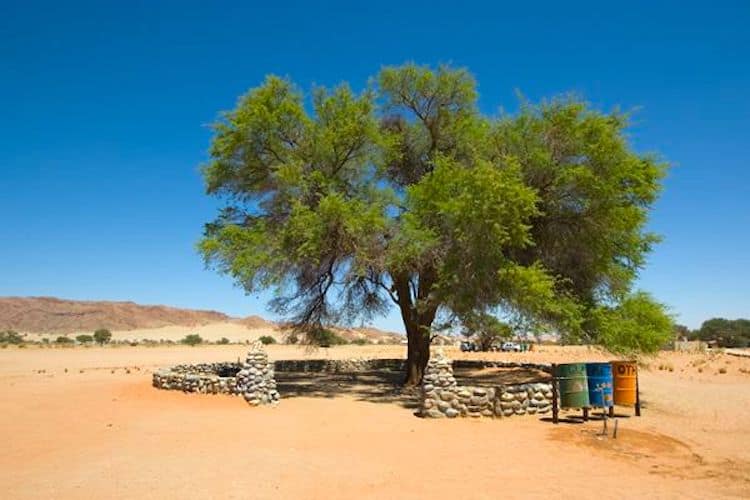 Experience a true escape into Sossusvlei at one of the only two campsites inside the park. Sesriem Camp offers an authentic camping experience with electrical plug outlets, shared bathrooms, BBQ facilities, and an outdoor pool.
Sesriem Camp guests can drive to Sossusvlei and Deadvlei before sunrise, giving you a front-row seat to the picturesque breaking dawn. Other camp amenities include an on-site restaurant, refueling and repair station, and a souvenir shop.
In addition to exploring the towering dunes on the ground, you can also experience Sossusvlei from a bird's eye view by hopping on a hot air balloon or going on a helicopter tour—the kids will love this.
Click here to see the latest prices at Sesriem Camp.
---
Must-Know Tips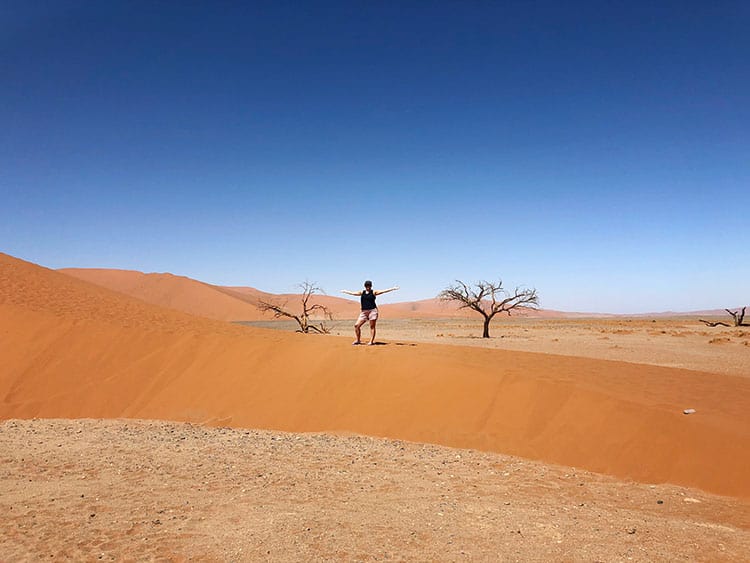 Traveling to any destination requires you to know the basic ins and outs of the region. Sossusvlei is remote and not in any way gentrified. So here are a few of our must-know tips for traveling with kids in Sossusvlei.
1. Connection: Internet And Mobile Reception
You may struggle to find mobile service or Internet access while traveling across the desert. But, Namibia has plenty of internet cafes throughout the country, and most lodging accommodations offer Wi-Fi access.
2. Access To Shops And Facilities
Shops and facilities are easily accessible as most lodges and campsites offer on-site amenities. You'll also find retail centers sprinkled across the country's major cities.
3. It Gets DAMN Hot!
Temperatures in Sossusvlei can easily reach between 87.5°F and 97.9°F. We advise you to bring lots of sunscreens, shoulder-covering t-shirts, sun hats or caps, and plenty of water bottles.
It's also best to go on excursions in the early morning and spend the rest of your day in the swimming pool.
4. Wear Decent Shoes!
Sossusvlei is surrounded by dry, arid land, making it hard to get around. It's even harder when the sun is scorching hot. So, make sure to bring practical shoes that are durable enough to wear in the desert.
5. Insurance Is Necessary
Many travelers still lack the foresight to get travel insurance. We had two flat tires on our Namibian road trip. If we didn't have insurance, that would have been an extra expense that we did not budget for.
We recommend Safety Wing; they cover many unforeseen events like medical emergencies, delayed luggage, flight cancellations, accidents, and more. 
Click here to see Safety Wing travel insurance packages.
6. For Those With Babies Or Toddlers
If your kids are still very young, they won't be walking or hiking up Sossusvlei dunes. We recommend bringing a hiking or baby carrier and a stroller to help you easily maneuver through the desert and still experience all its incredible attractions.
---
Final Thoughts On Visiting Sossusvlei With Kids
Traveling in Namibia with kids is every parent's dream. From Windhoek to Walvis Bay and down to Sossusvlei, the country is jam-packed with kid-friendly accommodations, attractions, and amenities.
What we love the most is watching and taking tons of pictures of our kids having a great time exploring and discovering unique places.