Namibia is the ultimate playground for nature lovers. The breathtaking landscape is dotted with many scenic wonders, like towering peaks, deep canyons, and gravel plains laid out as far as the eye can see.
It's the kind of place that encourages you to live in the moment and appreciate the simple things in life — like watching the sunrise or wild animals at play. If you're traveling around Africa, you don't want to miss the opportunity to visit this wonderful country.
To make sure you get the full experience and don't miss any of the highlights, here are the best places to visit in Namibia.
Best Places To Visit In Namibia
These Namibia destinations all showcase the true beauty of the country. From national parks full of wildlife to vast open deserts that produce magical sunsets, you'll want to add as many of these stops to your itinerary as possible.
1. Deadvlei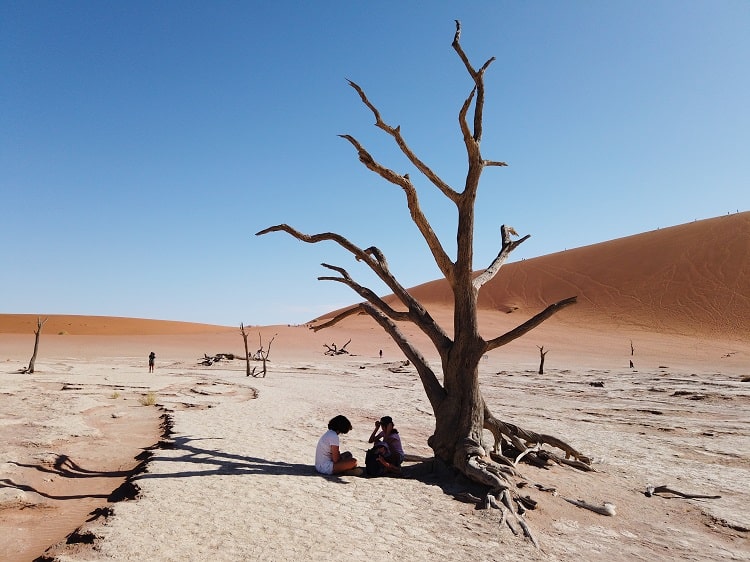 Deadvlei translates to "dead marsh" from the English word 'dead,' and the Afrikaans word 'vlei,' meaning an area of low marshy ground. This area is the picture postcard of Namibia.
The white clay pan landscape features orange sand, black trees, and a blue sky. All of the different colors contrast in the most beautiful way. The trees are ancient; they died between 600 and 700 years ago. However, their skeletons still remain, as the temperatures are too dry to allow for decomposition.
To get the most out of the scenery, we recommend arriving as close to sunrise as possible. This is when the lighting is most favorable for capturing incredible pictures of the landscape. It also means you'll avoid the midday heat. Sunset is also good — we know the battle of waking your little ones isn't easily won.
There are a number of dunes you can hike up in Deadvlei. Sunrise hikes are especially magical. Not only will you encounter fewer people, but you'll also be able to admire an array of colors in the sky as the sun makes its ascent.
Before you set out, make sure to wear sunscreen, wear proper hiking shoes, and pack plenty of water as well as a fully charged camera.
Visiting Sossusvlei with kids? Here is a really helpful guide on how to visit Sossusvlei with kids.
---
2. Fish River Canyon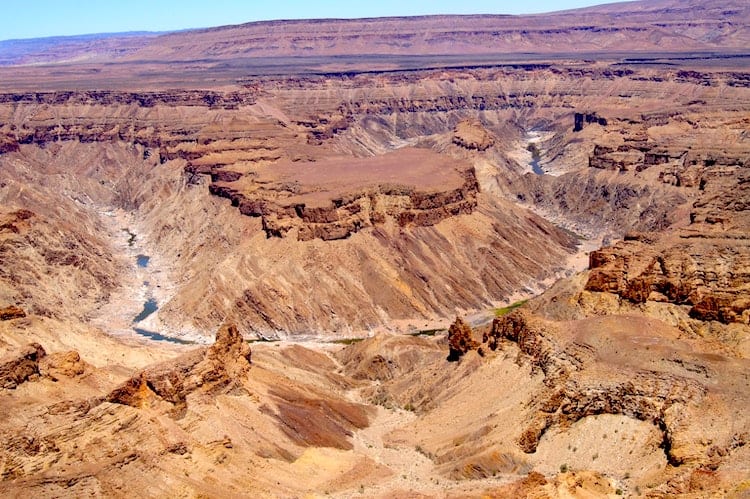 Namibia's natural beauty is on full display at Fish River Canyon. This is the second most visited Namibia tourist attraction and the largest canyon in Africa.
It measures a staggering 100 miles (160 km) long and about 16 miles (27 km) wide. It's the kind of place that pictures just don't do justice to, you have to see it for yourself to appreciate its majestic and dramatic beauty.
Hiking the canyon is an exceptional experience; however, the trail is 52 miles (85 km) long, and you need to pre-book the hike before arrival. You can still appreciate the canyon by simply visiting the viewpoints open to the public.
---
3. Spitzkoppe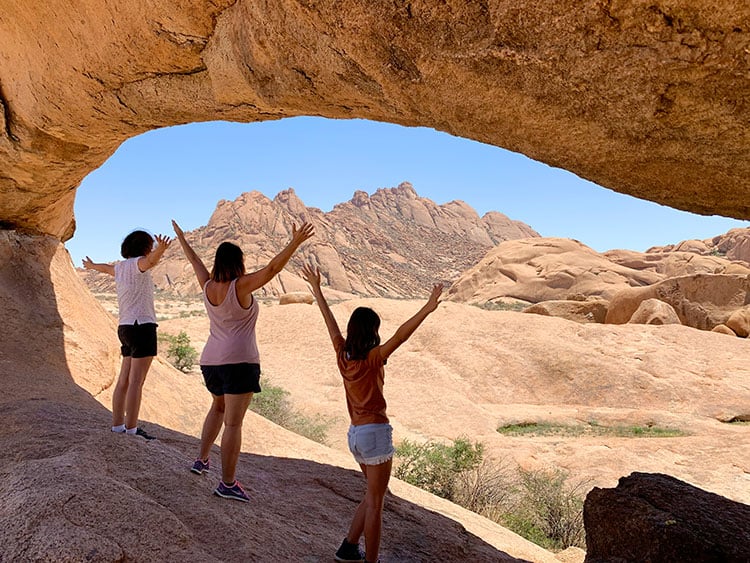 Spitzkoppe is a striking peak in the Namib desert. It's made of granite that's more than 120 million years old. The peak sharply rises up from the surrounding flat plains in such a powerful way that you can't help but feel incredibly small when looking at it.
If you're the adventurous type, there are rocking climbing and hiking options for ascending the mountain. Or, simply admire the peak from the comfort of level ground.
There are also several areas around Spitzkoppe where you can see Bushman artwork. The area known as Bushman's Paradise is especially famous for containing many historic rock paintings and kids of all ages will love this.
Near the foot of this sprawling rock formation, there's a well-maintained campsite where you can pitch a tent with Spitzkoppe as a backdrop.
Click here to book your tour of Spitzkoppe, combined with some nearby attractions.
---
4. Walvis Bay Flamingos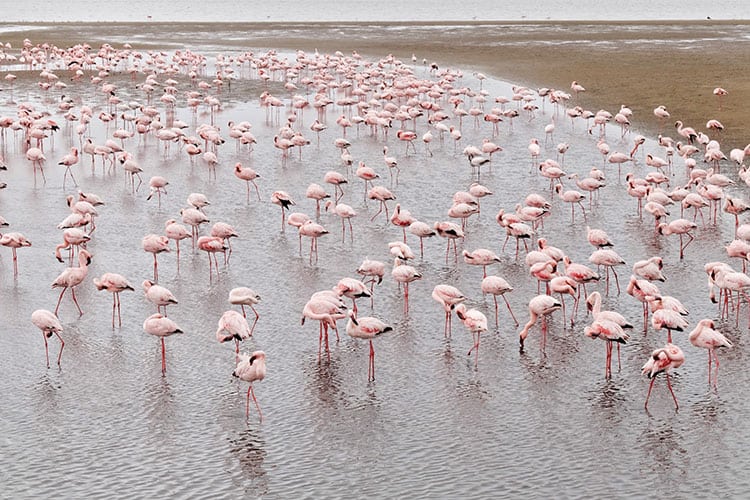 The waterfront at Walvis Bay is home to a flamboyance of flamingos — and yes, that is the term used to describe a gathering of these large pink birds. Thousands of flamingos congregate at Walvis Bay Lagoon, and seeing them is quite the spectacle. There is also an abundance of pelican and other bird species.
Click here to book your tour of Walvis Bay, which includes a visit to a flamingo lookout.
Read More:
Walvis Bay is located close to Swakopmund. We based ourselves in Swakopmund and explored the area from there. You can find a whole range of fun activities to do in Swakopmund here.
---
5. Pink Salt Lake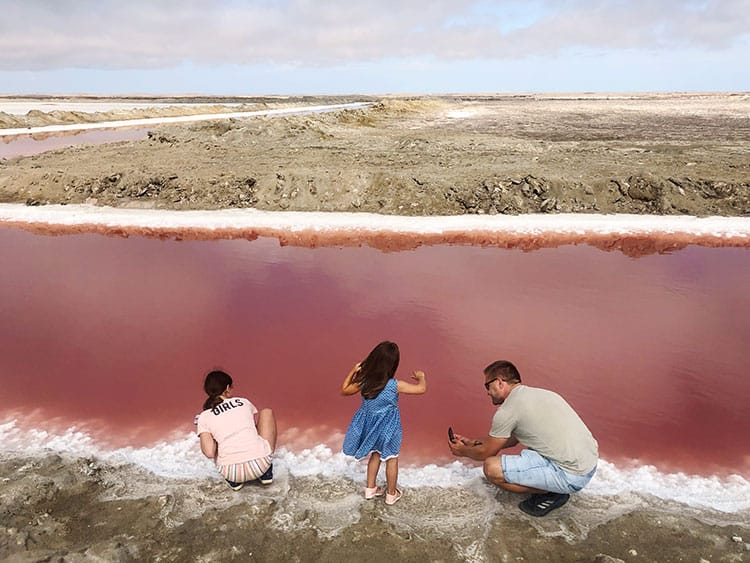 As the name implies, Pink Salt Lake is a rosy-hued body of water in Walvis Bay. This beautiful Namibian landmark is the result of the large salt deposits in the area as well as a form of algae that release a red/pink substance called beta-carotene during their photosynthesis process.
Talk about an incredible backdrop for a photoshoot. The harsh lighting of the mid-day sun is the ideal time for capturing the pink hues of the lake on camera.
---
6. Etosha National Park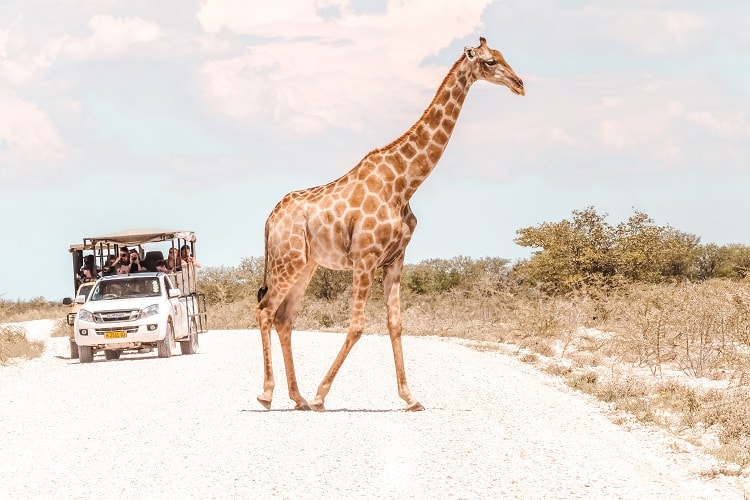 Going on a game drive is one of the best things to do in Namibia, and Etosha National Park is one of the best places to do it. It's one of Africa's largest game reserves and features an abundance of wildlife for kids to spot, including lions, leopards, elephants, rhinos, and more. It's also home to an impressive range of birdlife.
Etosha means the "great white area," which refers to the area's vast salt pan. A visit here will provide an authentic African safari experience with guaranteed animal sightings.
It's recommended to spend 3 to 4 days exploring the park. You'll find several accommodation options inside the park, which give you easy access to game drives.
Find out everything you need to know about self-drive in Etosha National Park here.
Click here to book your tour in Etosha National Park to see wildlife up close.
---
7. Tropic Of Capricorn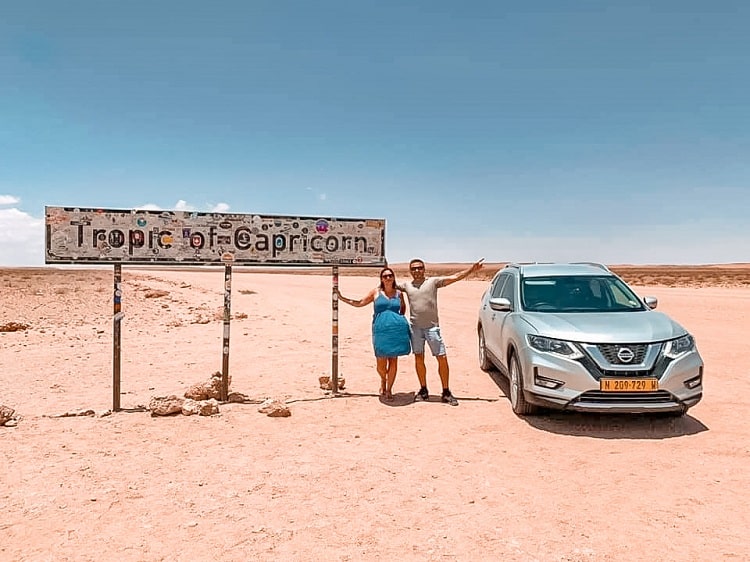 The Tropic of Capricorn is the southernmost latitude out of the five main circles of latitude. In Namibia, you'll find the Tropic of Capricorn Crossing, which is where the line runs from directly overhead, which means the sun shines from straight above.
It sits in the Namibian desert, on the route between Sossusvlei and Walvis Bay. Two large signs sit on either side of the road to mark the crossing. It's become a popular place for a photoshoot so be sure to bring your camera along to snap a few shots.
There might not be too much to see other than the signs, but it's still one of the most unique destinations in Namibia that you won't find in many other countries.
---
8. Solitaire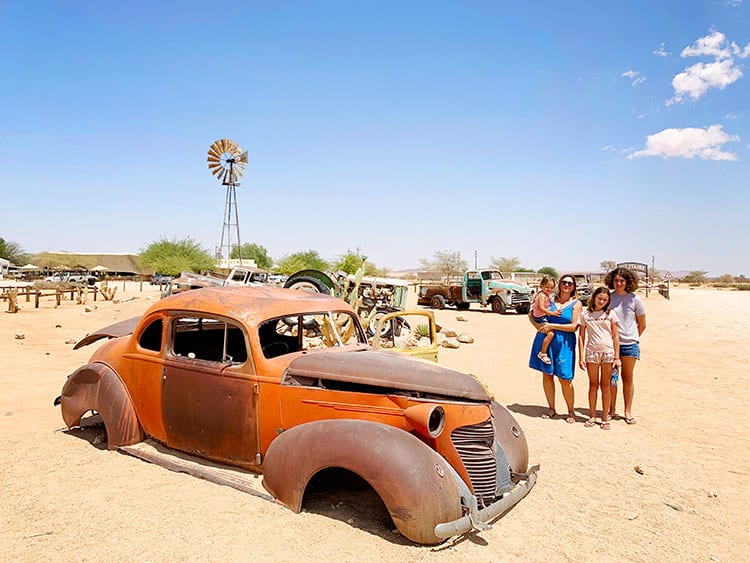 Solitaire is a small desert town with a population of fewer than 100 people. It lies in the Khomas Region of Namibia, near the Tropic of Capricorn Crossing. The surrounding area is very remote, which makes Solitaire a popular stopover for tourists en route to other destinations.
It features a few service establishments, like a gasoline station, public restrooms, a couple of accommodation options, and a small bakery — McGregor's Bakery. Stop in for a cup of coffee and try their famous apple pie, it comes very highly rated.
One of the quirky aspects of the town is its collection of old cars that have been left abandoned in the sand. It's like an old car graveyard and definitely something you don't see every day.
---
9. Klip River Valley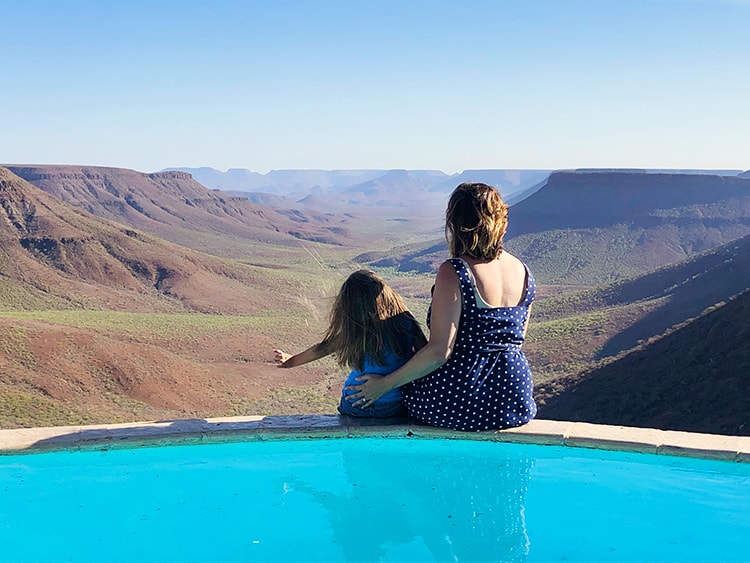 Klip River Valley is located in the Kunene region of Namibia. It's an area of the country known for its raw, unspoiled beauty and pristine wilderness.
The best place to soak in the scenery is Grootberg Lodge. The accommodation overlooks the beautiful Klip River Valley, with views that make you feel like you're literally 'on top of the world'.
The remote, thatched-roof, and rock chalets feature modern comforts, and there's also a restaurant and a pool on site.
You can also book activities through the lodge, like guided nature walks, drives down to the Klip River Valley, and horseback riding.
Click here to book your stay and/or check out the prices for the Grootberg Lodge here.
---
10. Namib-Naukluft National Park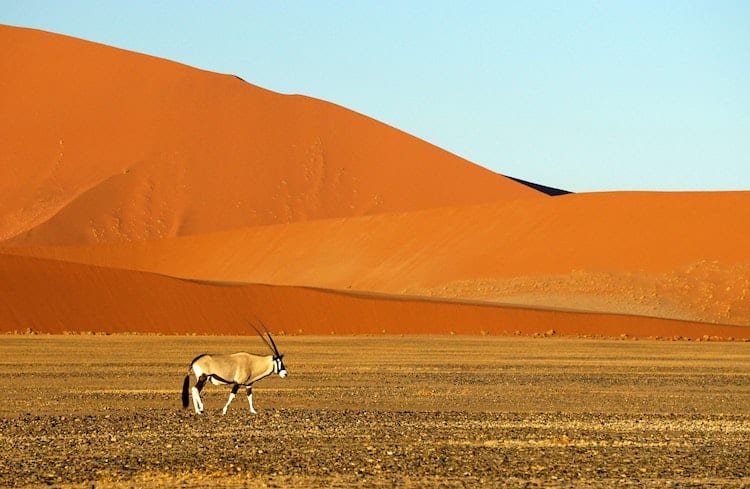 Namib-Naukluft National Park is an effortlessly beautiful stretch of land found on the western side of the country. It's the largest national park in Africa, and the vast terrain features mountains, canyons, gravel plains, and sand dunes. In fact, the sand dunes found here are among the tallest in the world.
The most popular area of the park is the Sossusvlei salt and clan pan. It's similar to Deadvlei (mentioned earlier) and contains many towering, rusty-red colored dunes, most notably, Dune 45, Big Daddy Dune, and Elim Dune.
The best way to appreciate all the area has to offer is by hiking up one of the dunes. When you reach the top, you'll feel like you're in another world and be treated to a sea of red sand contrasted with a clear blue sky.
---
Where To Go In Namibia | Final Thoughts
Whether you're traveling Namibia with kids, with friends, or by yourself, everyone will appreciate the beautiful destinations found throughout the country. The spectacular scenery, ample opportunity for wildlife viewing, and remote nature of the attractions make it easy to disconnect from the stresses of everyday life.
Visit a pink lake, see historic bushman paintings, drive through a remote town, and enjoy the simple beauty of this truly unique African country. One thing is certain, Namibia will be one of the most rewarding and educational places you visit.
Feel free to pin this pin to Pinterest so you can find this post easily in the future!