A little girl; in Grade 4; lost in the history of volcanoes, and more specifically Mt Vesuvius, as I tried to complete a History assignment. With my nose in library books, the images of bodies of protective parents and the historical information that I read of Pompeii in Italy, still haunts me till this day.
So here I am, 25 odd years later, with husband, brother and sister-in-law by my side. Excited to visit Pompeii the city of ruins; and explore the historic site in real life!
Brief History of Pompeii
The Ancient City that Vanished for over 1500 Years
There is a truly fascinating historic story that lies behind Pompeii and the powerful Mt Vesuvius Volcano.
A story so well known throughout the world that it drives millions of tourists each year to visit Pompeii.
This is a city that lied in waiting under 4-6m of layers of ash and pumicestone. A city that used to be inhabited by over 11,000 people. A city that flourished with popularity.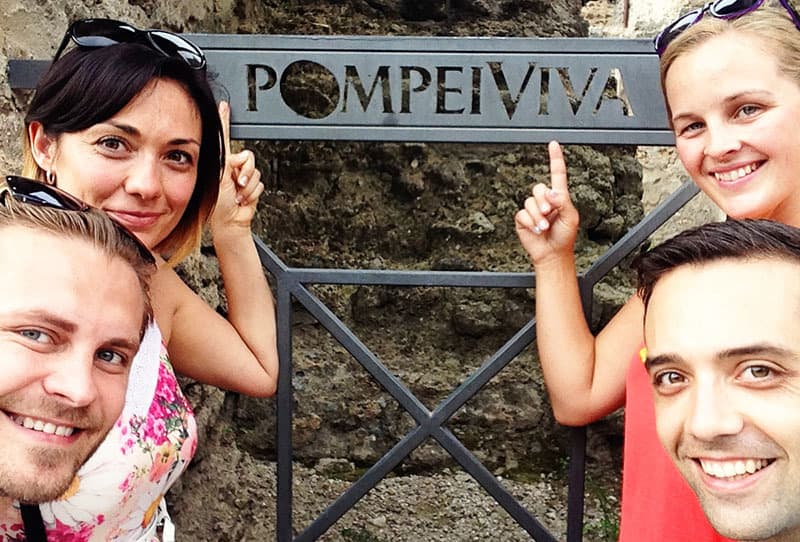 Visiting Pompeii Italy
One which boasted its own port, its own water system, amphitheater and gymnasium. A city that not only has a shocking story of vanishing from existence but one that has a history so scandalous and so erotic that it should be called the Pompeii City of Sin.
If you are interested in the history of Pompeii, we recommend you purchaseLives in Ruins: Archaeologists and the Seductive Lure of Human Rubble
.

The Pompeii Volcano (Mount Vesuvius) visible in the Distance
There is a pretty ghostly-eerie feel as you wander around the grounds of the ancient city of Pompeii. On your Pompeii visit, you will feel the 'emptiness' and the weight of the devastation that a night in history in 79AD brought.
You will find yourself wandering around the site, trying to rebuild the Pompeii ruins to create a visual in your mind as to what Pompeii would have looked like in all its magnificent glory.
The power and glory of the Romans echo through the mere size of the buildings and the pure enormity of the grounds of this city, so large in size that it leaves one feeling very small and timid in its shadows.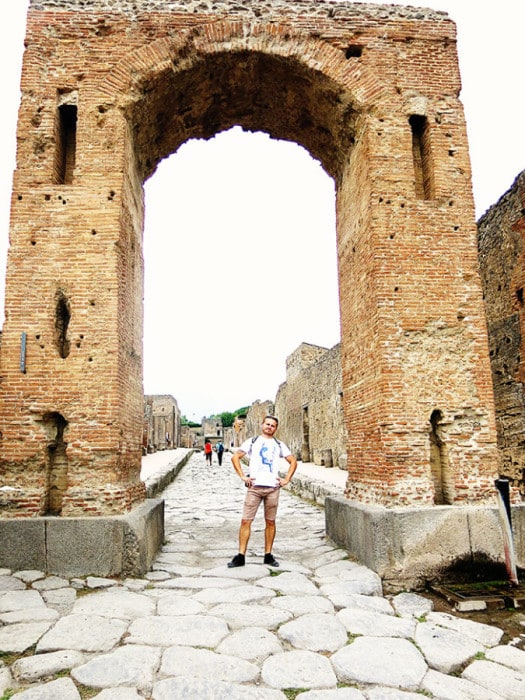 Save
You can't help but snap loads of Pompeii images as you roam the streets of the city of Pompeii.  Wondering what to see in Pompeii so that you can fully connect with the history that lies there.
Helpful Pompeii Information
Where is Pompeii located?
Pompeii Location: Pompeii lies in the shadows of Mt Vesuvius, located close to the very modern Naples, in the Italian area of Campania. See the location of Pompeii on map below.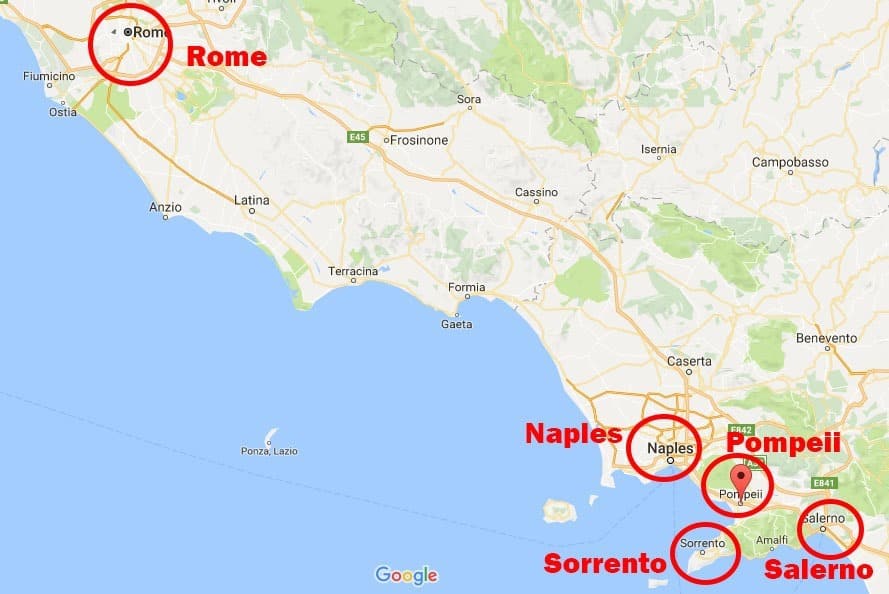 How far is Pompeii from Naples? Naples to Pompeii distance is around 26km (around 25 min by car).
How far is Pompeii from Rome? The distance from Rome to Pompeii is around 240km.  It will take you around 2h30min by car.
Pompeii City Opening Times
From 1 April – 31 October the Pompeii hours of operation is from 9:00 – 17:30
From 1 November – 31 March the Pompeii opening times are from 8:30 – 18:30
Time required to explore the Ruins of Pompeii
Expect to spend around 2-4 hours exploring the ruins of Pompeii.
Pompeii Entrance Fee
The Full Price Pompeii tickets are 17 Euros and tickets to Pompeii for the kids are 2 Euros. These tickets include the ability to 'skip the queue' which is always worthwhile when in Italy as the waiting time in queues can be hours.
Pompeii Map
You can pick up a map of Pompeii at the ticket office upon entrance. Alternatively, if you wish to use online maps, this Google Pompeii Italy Map is a great one to make use of!
Pompeii ruins map
Best Things to do in Pompeii
Pompeii is one of the best places to visit in Southern Italy. It is of course a perfect place for those who love history and we highly recommend you take a tour to learn more about the fascinating history of Pompeii.
The site and ruins of Pompeii span many hectares. There are areas in this city that are filled with interesting features and décor that oozes with scandalous history, however, there are plenty of housing streets in this city that looks the same as the one before.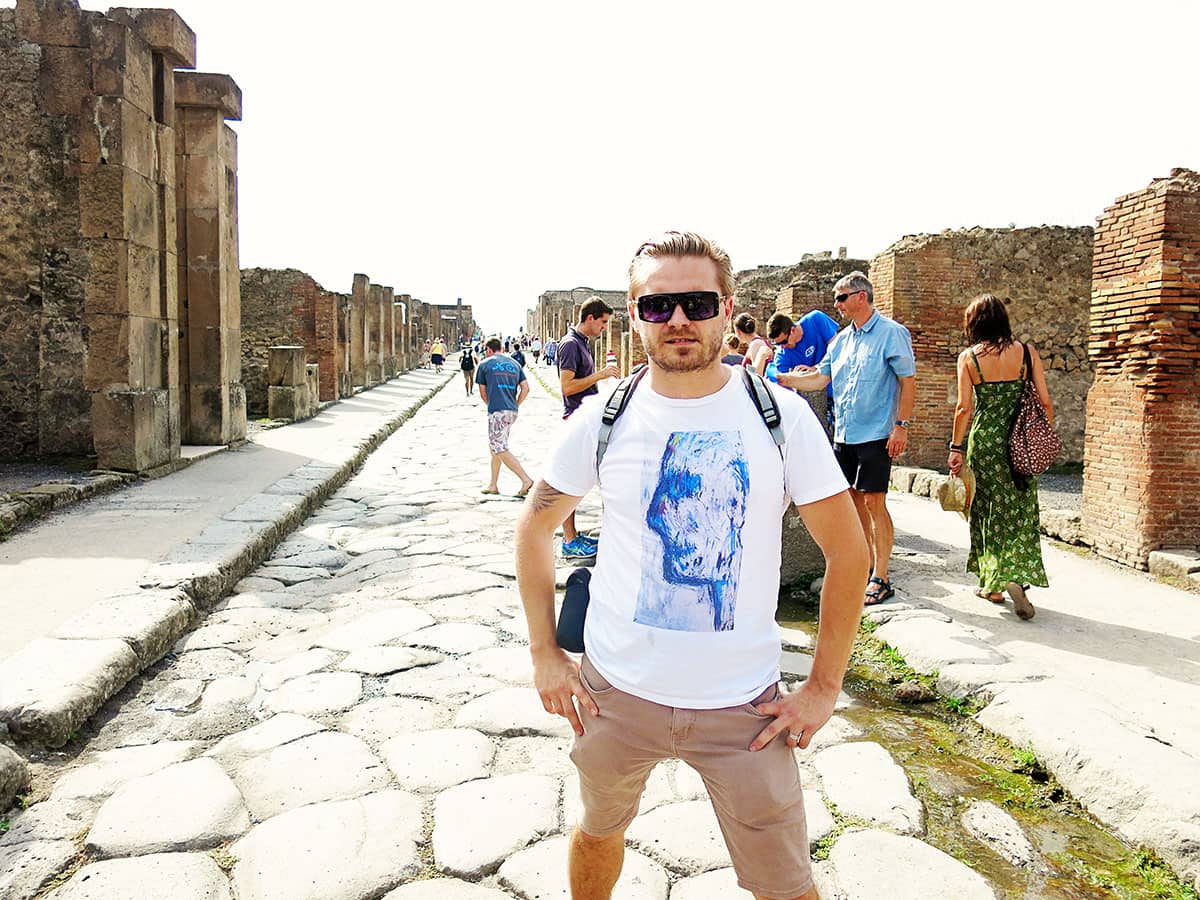 It is for this reason that we recommend you take a tour with an expert that can guide you to the main tourist Pompeii attractions, and skip over, the not-so-interesting parts. You can find information of recommended tours at the bottom of this post.
1. See the Casts and Artefacts in the Warehouse
Whilst it might be obvious to some of you, if you are like us, you might be expecting to find the plaster casts of people scattered around the housing estates in the Pompeii archaeological site.
However, most of the well-preserved remains and artifacts that were found here have been relocated to a safer home in the National Archaeological Museum in Naples. So if you are interested in seeing them, make sure to pay the Pompeii Museum a visit.
Here are some of the casts and artifacts found in a small warehouse in Pompeii.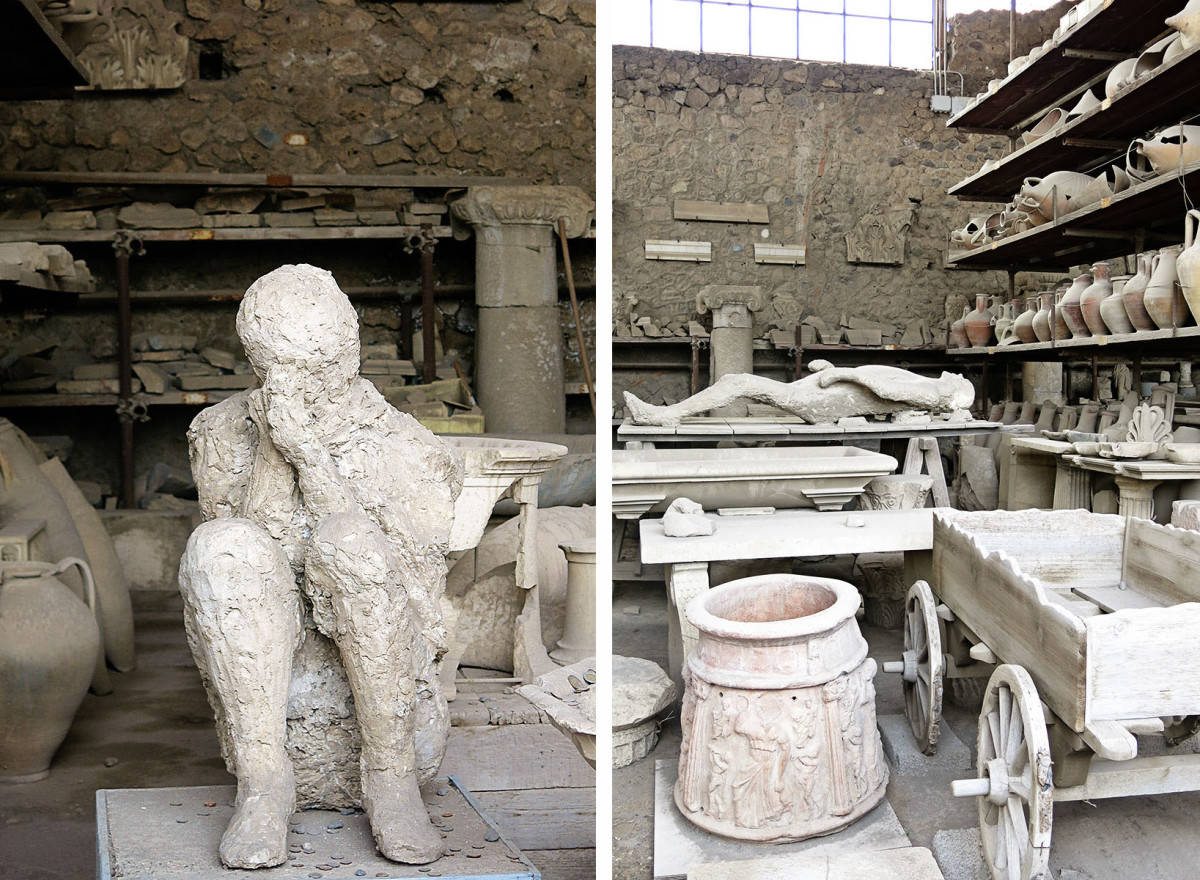 Cast and Artefacts that you can see in Italy Pompeii
2. See the Forum with Mt Vesuvius in the Background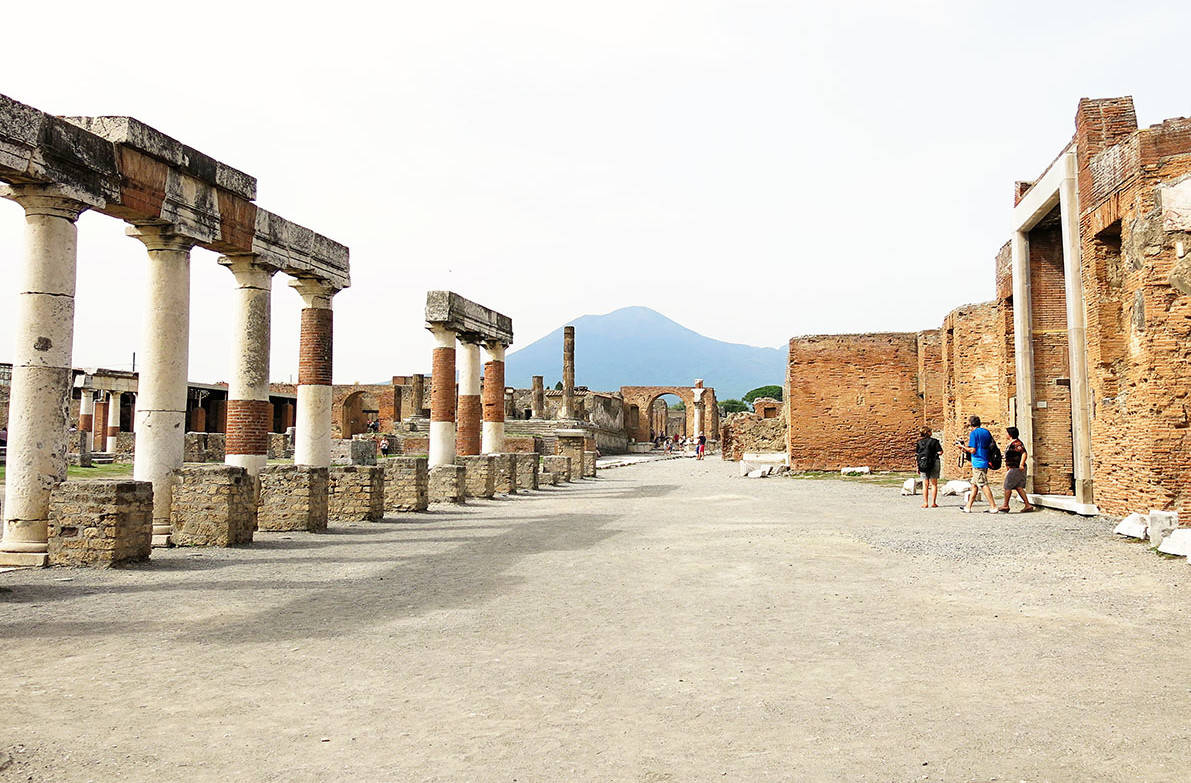 The Forum of Pompeii; One of the Main Pompeii Points of Interest
The Forum is spectacular due to the enormous size of the ruins; together with the fact that you will see Mount Vesuvius looming in the distance. It used to be the main center of life in Pompeii and will mostly be one of the most crowded places you visit in Pompeii.
3. Visit the Garden of the Fugitives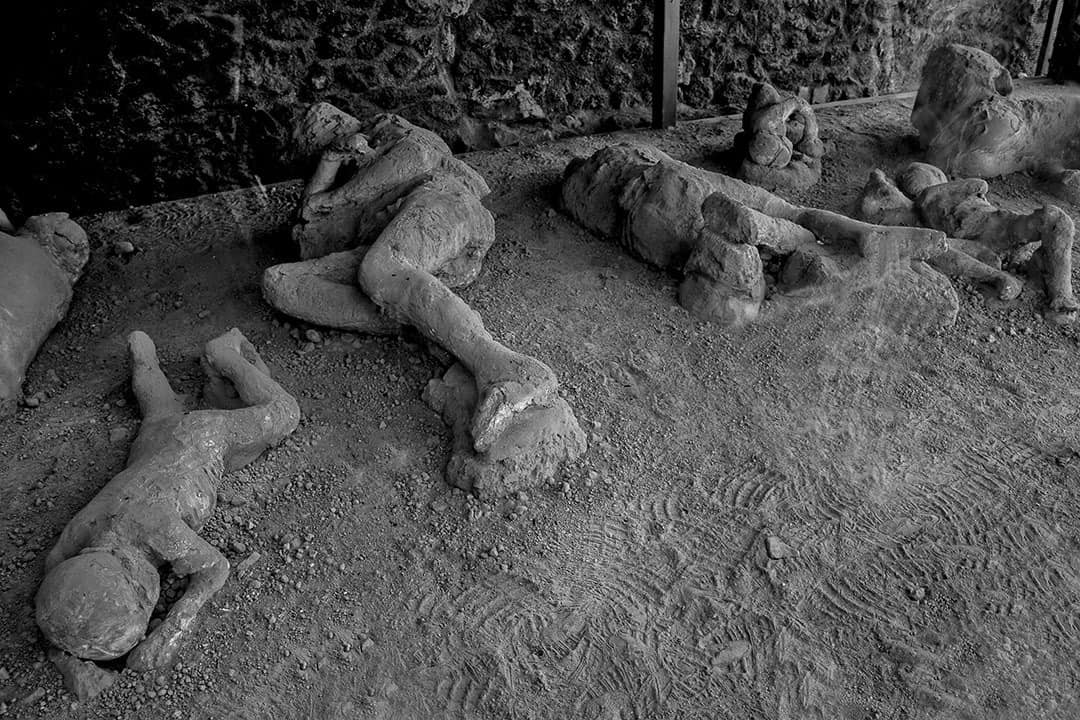 This must be the image that most tourists have in their minds when they visit Pompeii. Casts of bodies; children & adults as they took cover when they realized they will never make it out alive. Such an incredibly dramatic scene. This garden in located in the back of Pompeii and can bit a bit tricky to find without a tour guide.
4. Visit the Statue at the House of the Faun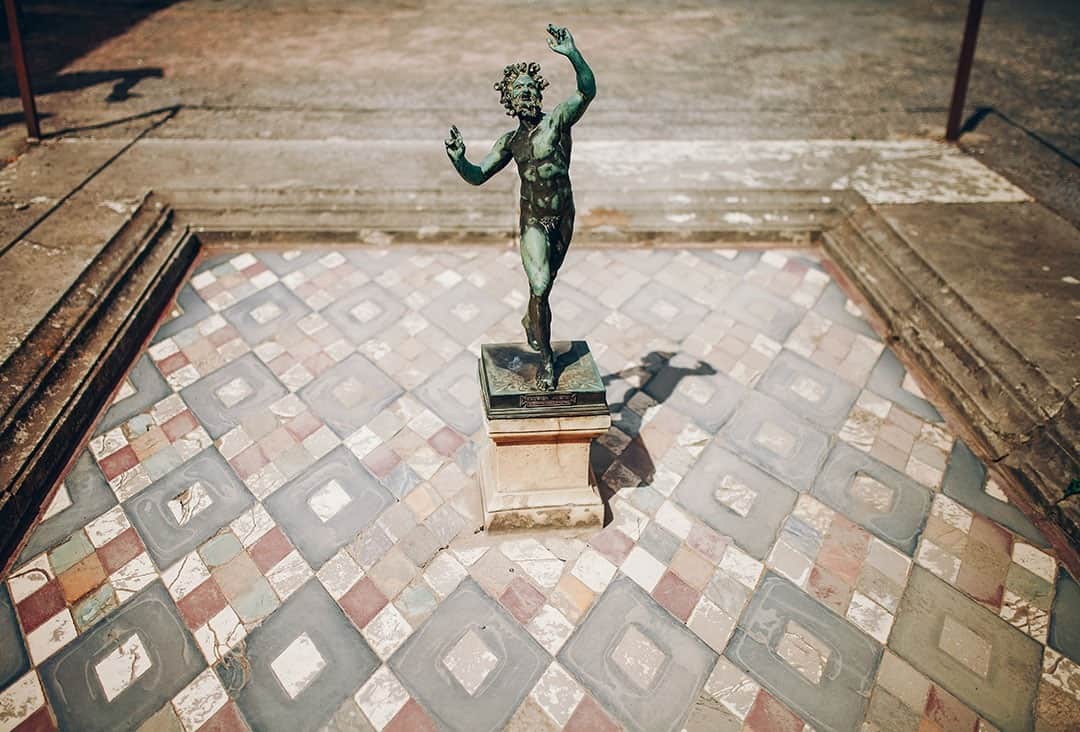 The House of the Faun happens to be the biggest house in Pompeii. Visitors love this house because of the statue in the front courtyard. Make sure you also head around to the back courtyard where you can find a very detailed mosaic of a battle scene.
5. Enjoy a Rest at the Grand Theatre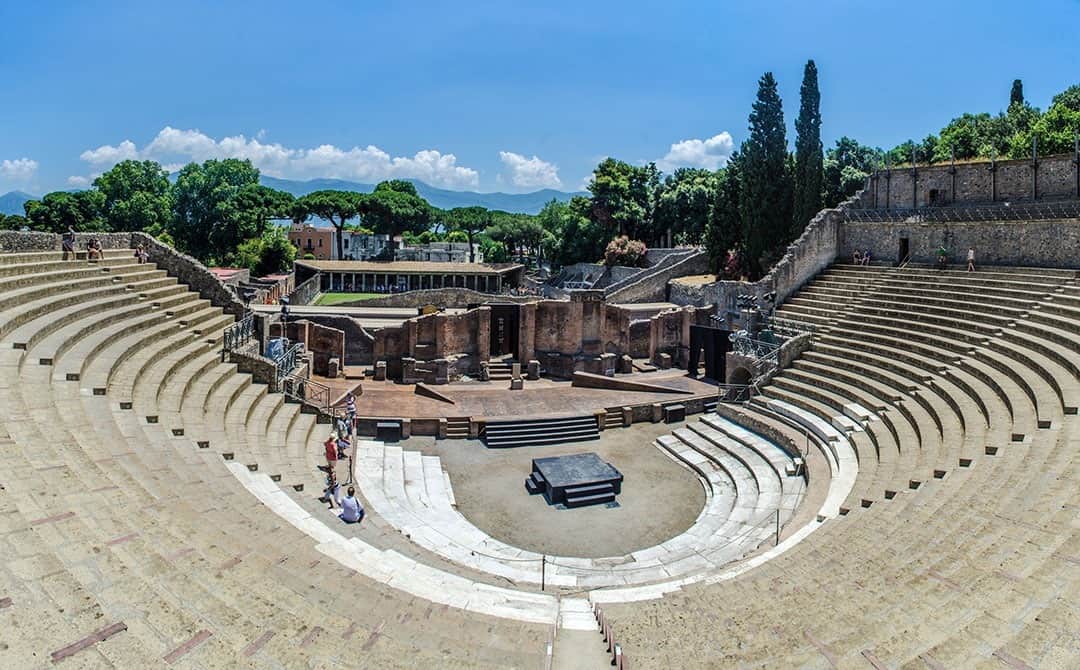 The grand theatre is truly huge. I enjoyed the theatre as you can get some great views over the ruins from up there. The theatre could accommodate up to 5000 people and has excellent acoustics!
6. See the Amphitheater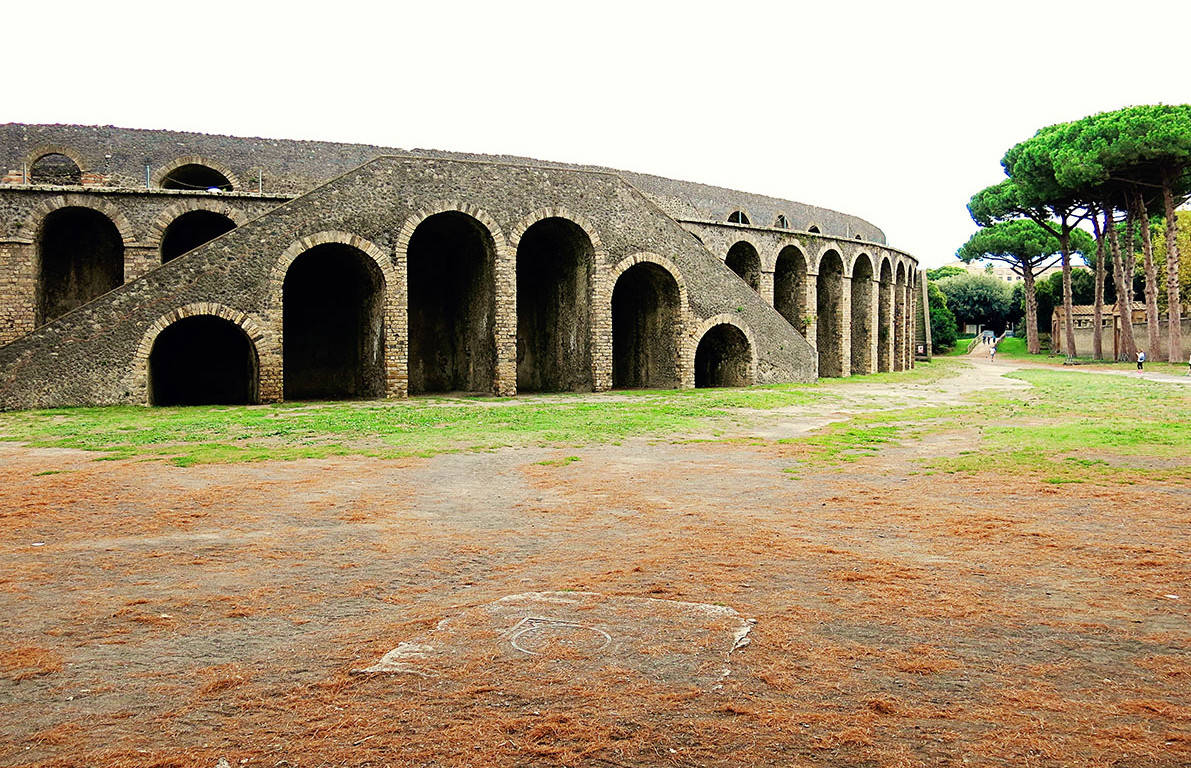 This ancient Roman amphitheater was built around 70 BC. It is one of the oldest and best preserved of this kind. It was used for the typical amphitheater events such as circus games and fights between gladiators.
7. Lupanare, the Brothel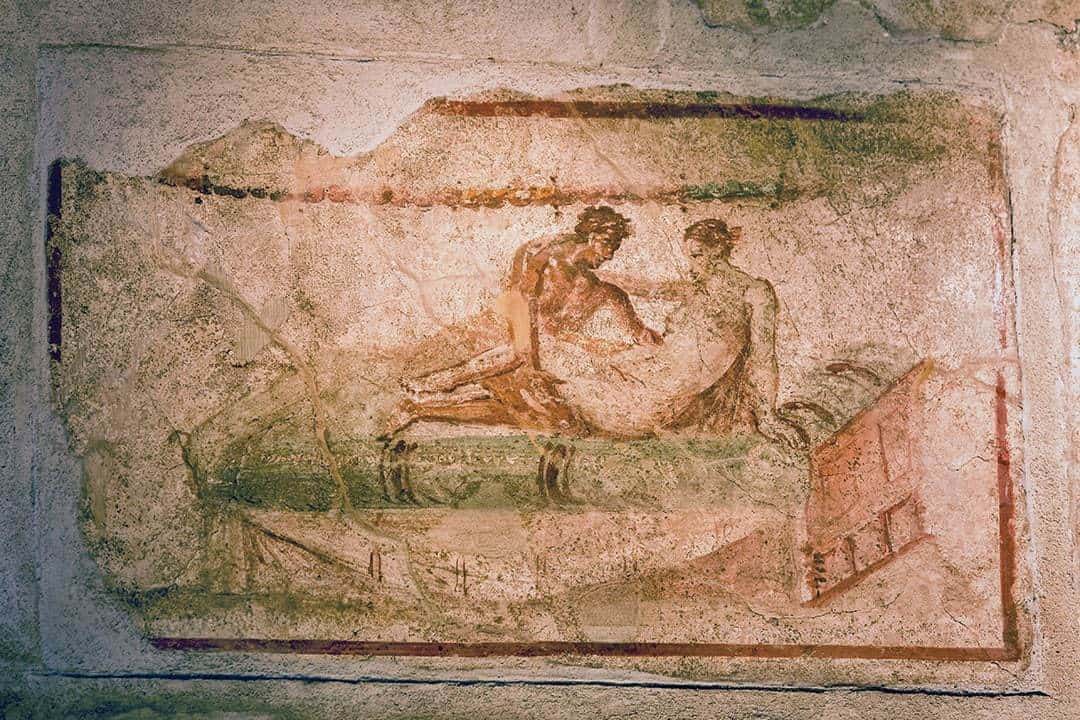 The brothel is a really interesting stop. Inside the tiny house you will find stone beds and some really interest pictures. These scenes which were used as the 'menu' for the customers to pick and pay from. The brothel is actually really basic and nothing flash, but yet remains to be one of the most-visited houses in all of Pompeii.
8. Other Interesting Places to Visit if you have Time
If you happen to have additional time, we also highly recommend you visit:
The Forum Baths
The Villa of Mysteries
The Stabian Baths
House of the Small Fountain
House of Venus in the Shell, and
House of Sallustio
You can also see if you can find the famous image of the tree growing out of the ruins. One of the most photographed scenes in Pompeii.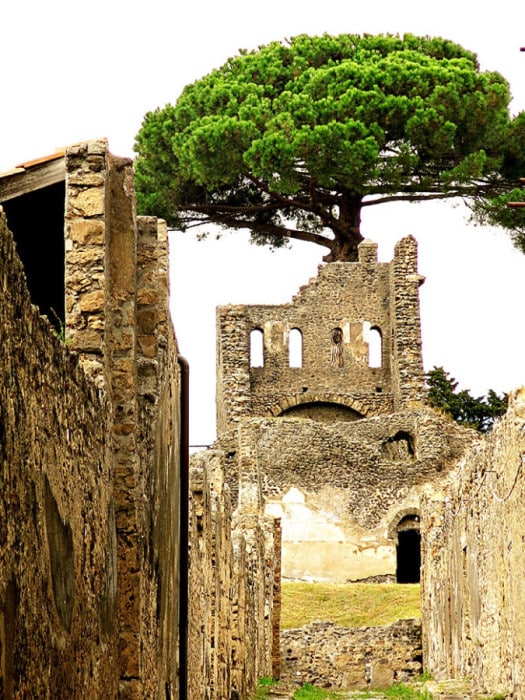 This historic archaeological site has been a tourist destination for over 250 years, attacking around 2.5 million tourists a year. Today it has UNESCO World Heritage Site status.
An incredibly fascinating history lies waiting for you here! A history that makes it worthwhile to visit Pompeii today.  Most tourists enjoy taking a Pompeii day trip, but for those of you wishing to stay for longer, you can find our list of recommended hotels below.
Pompeii Recommendations and Tips
Wear comfortable walking shoes. You will be walking A LOT, the site is very large in size and walking on the old ancient Roman stone roads can be tricky and exhausting.
Wear a hat and take a water bottle. There is little escape from the sun and it can get really hot exploring amongst the stone ruins.
Pompeii for kids? If you are taking your kids along to Pompeii, I would highly recommend you join a tour so that you can see the main sites and get out. Pompeii can be tiring for even us adults and walking around in the heat can be tough.
Pompeii restaurant recommendations: For the best food in Pompeii, we recommend Caupona Pompei, Todisco, or Add'u Mimi.
How to Get to Pompeii
Our personal preferred way of getting to Pompeii is by car. That gives us the freedom to leave whenever we wish. You will be pretty exhausted by the end of your Pompeii trip and the last thing you will feel like doing is waiting around for public transport.
For those who wish or need to stick to the cheaper option. The train system is pretty efficient and will to take you to the Pompeii train station.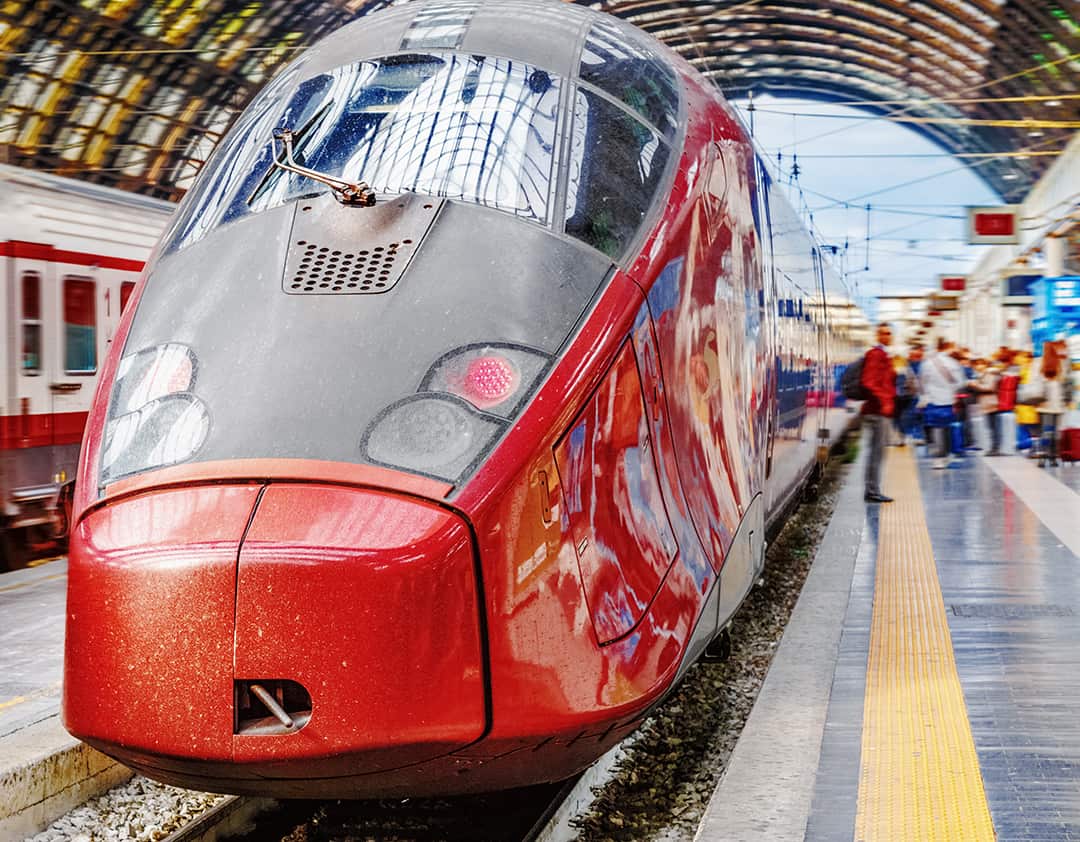 How to get from Naples to Pompeii
Different options are available to get to Pompeii from Naples:
The easiest option (but also the most expensive) is to simply grab a taxi. It can be tricky to find a free taxi in busy Naples, so we highly recommend that you organize a taxi online. Super handy for families as you can select to have a child seat in them as well.  Taxies are pricey and will cost you around US $110 for a one-way trip.
The second option gives you the most freedom.  Visit Pompeii by rental car (around US $30-$50 per day), which should take you around 35 min via highway A3. We love renting our cars through

Cheapo Air

as they offer super competitive prices. It is also very easy to compare the prices of the various car rental agencies on one page.
Catch the

train from Naples to Pompeii

. Catching a train is super easy and is also the cheapest way to get to Pompeii. Whilst it is cheaper, it is less convenient and will take you longer than by rental car. The duration of the Naples to Pompeii train is around 43 min and the current price is around US $4 one way.
How to get from Sorrento to Pompeii
Different options are available to get from Pompeii to Sorrento:
The easiest is by rental car (around US $30-$50 per day), which should take you around 1h20min. We love renting our cars through Cheapo Air as they offer super competitive prices. It is also very easy to compare the prices of the various car rental agencies on one page.
Catch the train from Sorrento to Pompeii. The Sorrento to Pompeii train trip takes a long time and in our opinion is not worth the effort. We would recommend either a rental car or a private tour instead. The train trip will take at least 2h30min.
How to get from Rome to Pompeii
Different options are available to get from Pompeii to Rome. I don't recommend attempting a day trip to Pompeii from Rome, so think about booking in for a night and staying over in either Pompeii or Naples (hotels at the bottom of the post):
The first option is by rental car (around US $30-$50 per day), which should take you around 2h30min. We love renting our cars through Cheapo Air as they offer super competitive prices. It is also very easy to compare the prices of the various car rental agencies on one page.
Our preferred method is to grab a Round-trip Shuttle Service to Pompeii. The shuttle is comfortable and air-conditioned. The shuttle is for a Rome to Pompeii day trip duration of 11 hours and will cost you US $60.71 per person.
The third method is by train from Rome to Pompeii, but this option will take much longer. The Rome to Pompeii train will cost you anywhere from US $18, but typically it will set you back by around US $50 one way. The journey from Rome to Pompeii by train will take you around 3 hours.
Lastly, you also have the option of catching an internal flight. There are no direct flights to Pompeii, so you will have to book the flight from Rome to Naples (50min duration and around US $100 in cost). And from there catch the 43 min train to Pompeii.
Pompeii Tours
Buy an audio guide to tour Pompeii or join one of the tours of Pompeii. We did neither and we got lost as a result. We also could not find some of the sights we desperately wanted to see in Pompeii. Do yourself a favor and get a tour and learn more about Pompeii's fascinating history!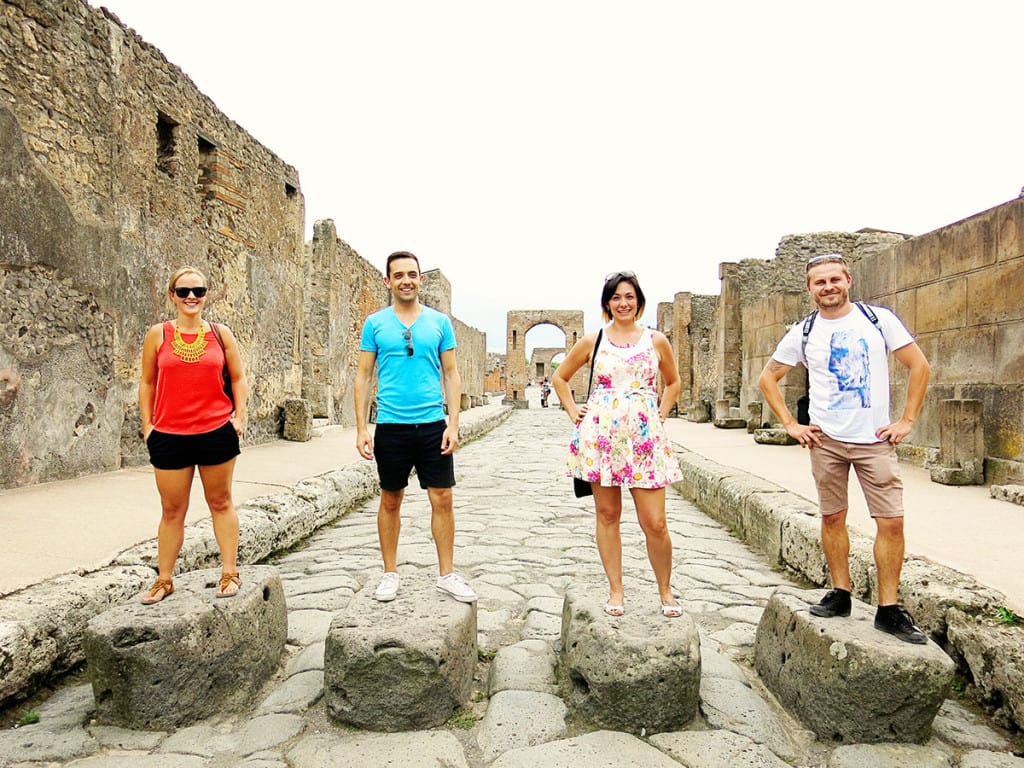 SaveSaveSaveSaveSaveSaveSaveSaveSave
Skip-The-Line Walking Pompeii Tour Guide
If you are happy to make your own way to Pompeii, you might like to grab this Skip-The-Line and 2-Hour Pompeii guided tour combo. The guide will lead you down ancient roads to experience what an everyday Roman town was like before it was destroyed by Mount Vesuvius. In my opinion, 2 hours is just the right amount of time in Pompeii and I think this is a brilliant way to see this site.
Skip-The-Line Private Tours of Pompeii
For those who love private tours, you can't go past this popular Pompeii Skip-The-Line 2-Hour Private Guided Tour. Learn about this incredible historic site at your own pace. Spanish, English, French, German & Italian guides are available. We personally love private tours, especially as we generally travel with our kids and this particular tour is a favorite of ours! Get more info on the tour here.
Naples to Pompeii Tour
We love Viator tours!  You can join one of the Viator Pompeii tours from Naples, with a guide here! Follow your local guide through the ancient ruins of Pompeii. For lunch enjoy a traditional Italian pizza and then hike to the top of the notorious volcano. Brilliant for those who love more active tours. Get more info on this tour here.
Tours to Pompeii from Rome
Or if you are keen to visit Pompeii from Rome, you can join their Pompeii and Vesuvius Rome to Pompeii Tour here. On this tour, you can either choose to hike up Mt Vesuvius (summer only) or choose to visit the National Archaeological Museum of Pompeii. On top of those experiences, you will also stop to enjoy a pizza in Naples and learn about Pompeii on a guided tour of the UNESCO-listed digs.
Tour from Sorrento
For Pompeii tours from Sorrento, why not join this popular half-day tour? Skip-the-Line tickets are included in this tour. The tour duration is 4 hours which will give you just enough time to see many of the well-preserved buildings at the archaeological site. Grab your tickets here.
Pompeii and Herculaneum Tours
If you are hoping to see both Herculaneum and Pompeii, then we suggest you join Viator's Pompeii and Herculaneum Day Trip from Naples. The tour departs from Naples and is led by a local guide. The tour includes Pompeii, a visit to a cameo and coral factory, traditional Italian lunch as well as a stop at Herculaneum. The tour doesn't include entrance fees to either site, so make sure to bring some extra cash. The tour duration is 8 hours. See more info on this tour here.
Pompeii and Amalfi Coast Tours
For those who wish to explore both Pompeii and the Amalfi Coast; we recommend you join this brilliant Pompeii and Amalfi Coast Semi-Private Day Trip from Rome. The tour is 14 hours in duration, but you will see one of Italy's most beautiful stretches of coastline, and explore the volcanic ruins of ancient Pompeii. We love that this tour is limited to seven/eight people per vehicle. See more info on Viator here.
Top Notch Pompeii Hotels
You can easily fit Pompeii into a day trip if you are coming from Naples or Sorrento. If however, you are coming over from Rome, we do highly recommend that you look into our list of hotels in Pompeii Italy. A day at Pompeii is a BIG one and I can think of nothing worse than being exhausted and having to travel all the way back to Rome.
1. Hotel Forum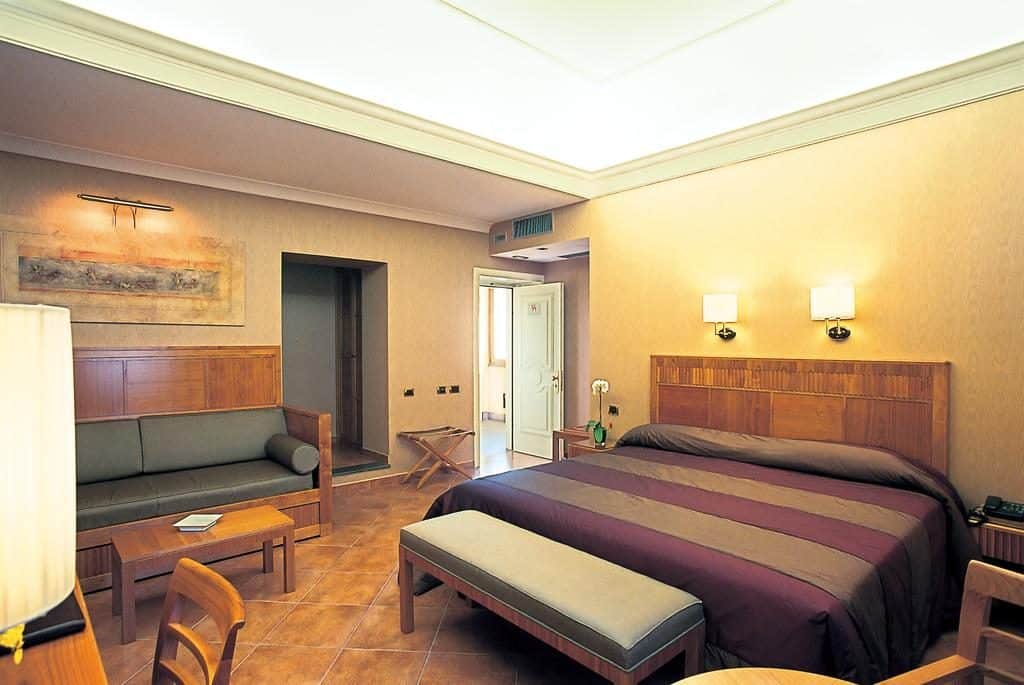 SaveSaveSaveSaveSaveSaveSaveSaveSaveSave
This Pompeii hotel is by far the most popular and the most booked in all of Pompeii. It is a beautiful 4 star hotel and is conveniently located opposite the entrance to the Pompeii excavations.
Rooms are air-conditioned and breakfast is included in your stay. We especially love the low price and you can typically book this hotel for under US $100 a night. Suitable for both couples and small families.
2. Hotel Diana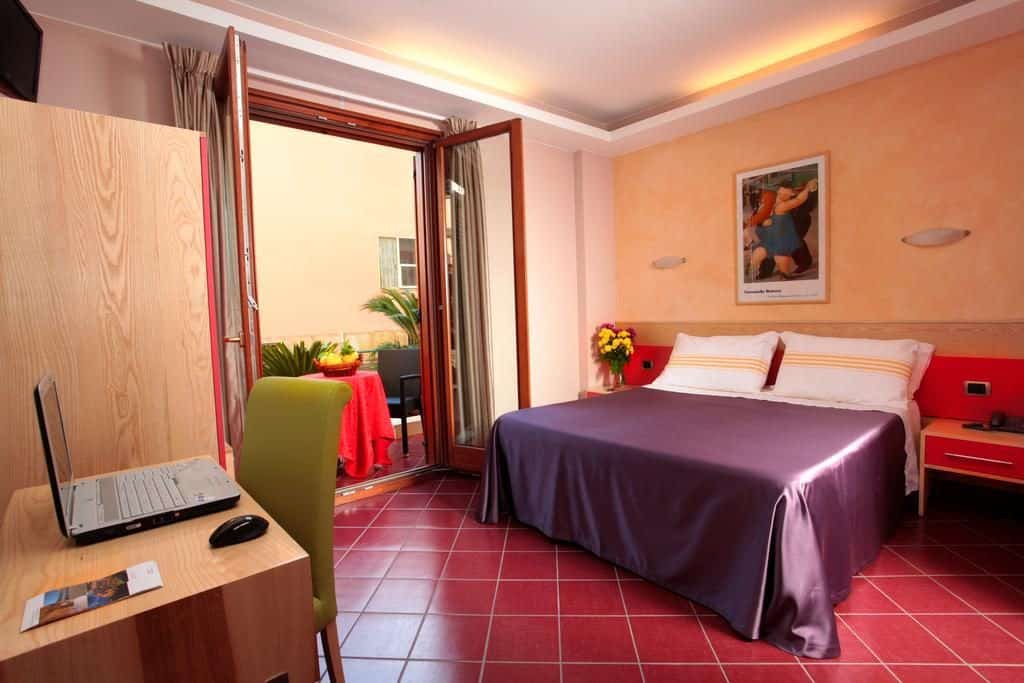 SaveSaveSaveSaveSaveSaveSaveSaveSaveSave
Hotel Diana is our second favourite hotel. It is a 3 star hotel at around about the same price tag of Hotel Forum which is a 4 star. Regardless the hotel still offers brilliant value in return for its peaceful garden surroundings. Hotel Diana Pompei features a garden with lemon and orange trees, and typical Mediterranean plants.
The hotel is located 500 m from the ruins. All rooms have air conditioning and include a yummy buffet breakfast for each morning of the stay. Families might particularly enjoy staying here as they have a children's playground area. A very popular choice.
3. B&B Elena
SaveSaveSaveSaveSaveSaveSaveSaveSaveSave
If you prefer B&B Pompeii accommodation above hotels, then we highly recommend you try to get a room at the popular B&B Elena. Located super close to Pompeii (100m), this B&B features a terrace with city views. Such a great place to relax after a draining day exploring Pompeii.
We especially love the homemade cakes and fresh croissants that are provided as part of the yummy Italian-style breakfast. B&B Elena is suitable for couples as well as families (4pax).
Where to next?
ROME| VENICE | POSITANO | AMALFI COAST | ASSISI
Prepare yourself for your trip to Italy by reading up on all the things you should know!
Use our list of popular Italy Accommodation choices to help you plan your trip!
After more Amalfi Coast Inspiration:
Amalfi Coast Bucketlist Experiences
Which Town should you stay in?
Best Amalfi Coast Town to Explore
Best Beaches in Positano, Italy
Over to you:
Would you like to visit Pompeii one day?
Do you think it is fair to call it the Pompeii Sin City?
What are your expectations of Pompeii now?
Do you have any favorite Pompeii Sites that you want to add to our list of 'what to do in Pompeii'?