I have traveled to most parts of Bali in Indonesia, and have come to favor two different areas. 
I love central Bali for all its greenery, its rice paddies, its view, and its waterfalls! (You can read about our top things to do in Ubud post here)
I love Southern Bali, especially Jimbaran and Uluwutu, for its slower pace, and dramatic coastlines together with the mere fact that there are slightly fewer tourists there than along the Kuta stretch of beach.
There are always more gorgeous beach coves to discover in South Bali, more ocean-side caves … if you dare to face all those millions of stairs down that lead down the cliffs.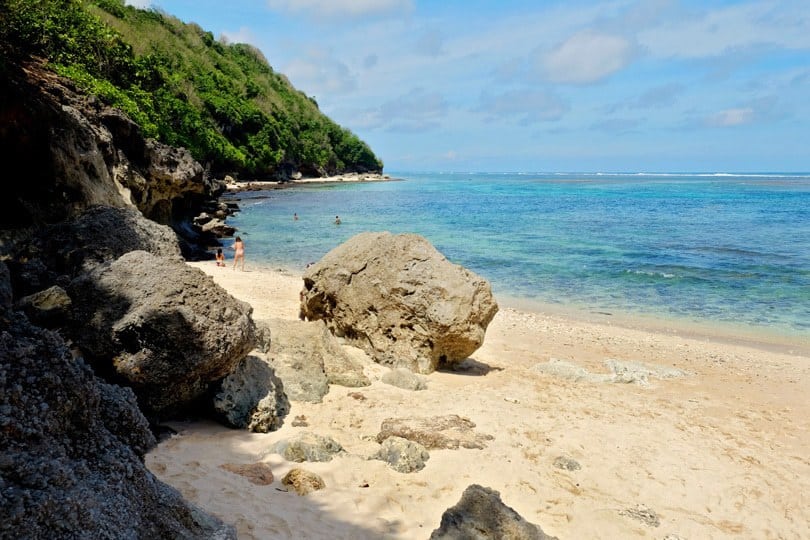 We love basing ourselves in Jimbaran when visiting this region of Bali. This gorgeous little fishing town makes a great spot to visit the beaches, sites, and temples that Southern Bali is so well known for.
Why not check out our favourite Jimbaran resort or grab more ideas of where to stay in our guide to the best hotels in Bali for family stays.
If you have limited time in this region, why not focus on the following 8 best things to do in South Bali?  It makes for a great day road trip, or if you have longer, we do recommend spreading them out ever so slightly.
The Best Way to Explore These South Bali Attractions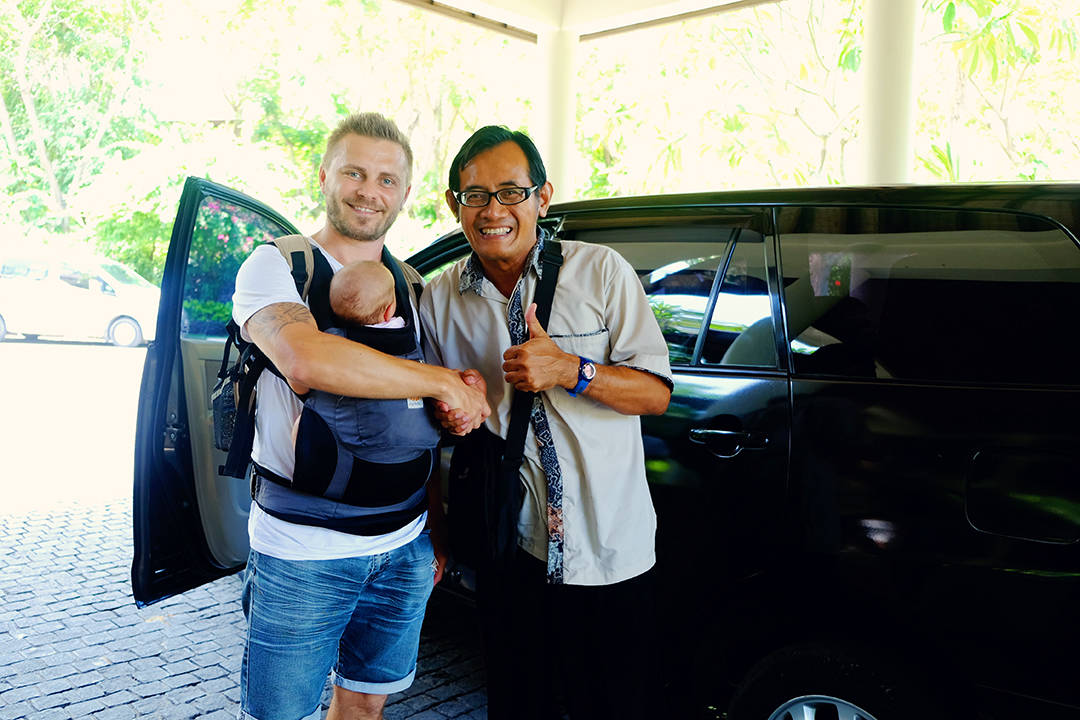 Wondering how best to visit all of these beautiful places on our list? The most popular way to organize your day is to simply hire a private driver for the entire day. That way you can tell them which destinations you would like to visit.
We love to pre-book our drivers to have everything sorted for our trip. If you love to be organized, you might prefer to do the same. The beauty about hiring a private local driver is that they will know exactly where to go in South Bali
Prices are really affordable and you can quickly book your driver for the day by clicking here.
If you prefer to book organized tours, we will share these in the post under the headings for you as well.
Best Things to Do & See in South Bali
Wondering what to do in South Bali?
In our South Bali travel guide, we share 10 of our favorite things to see and do.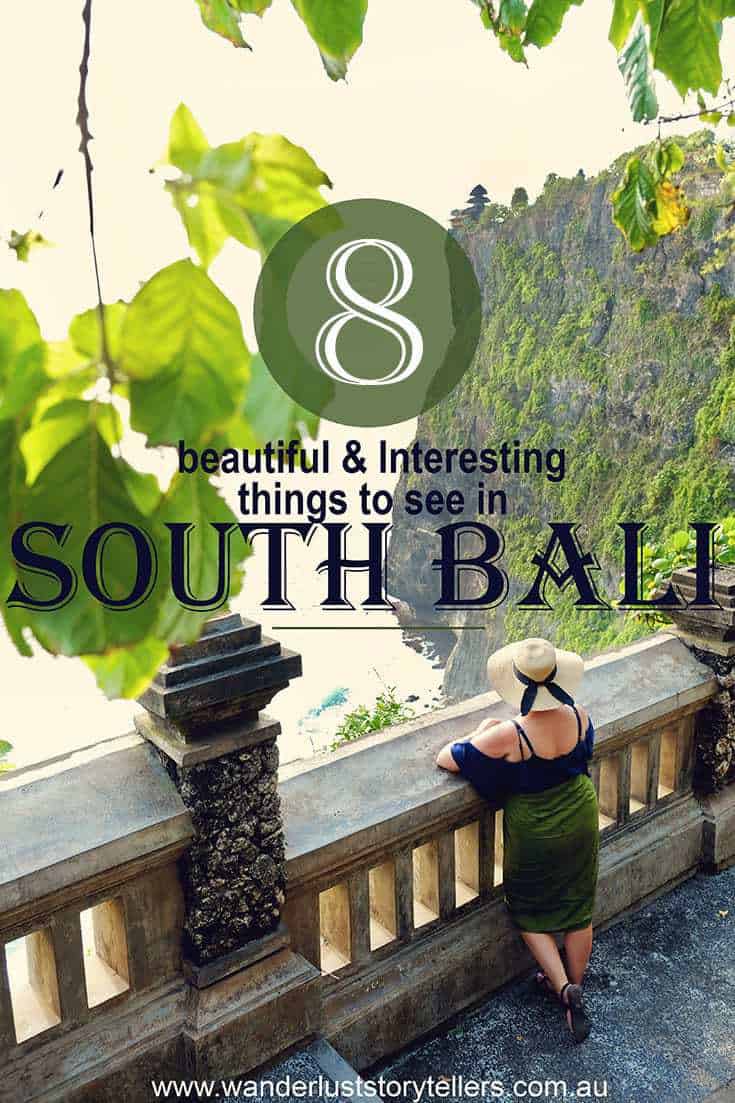 Click HERE to save this listicle to Pinterest!
–
1. Watch the Locals at the Jimbaran Fish Market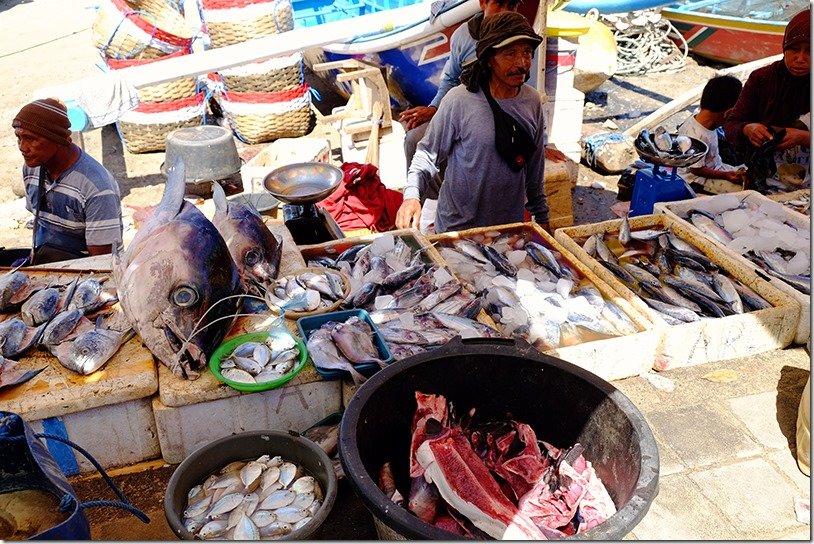 One of the most interesting places to visit in South Bali is the Jimbaran Fish Market.
Get up nice and early and head to the fish markets around 7 am to see the fisherman bringing in their catch or if you love your sleep, why not head in around 9 am to see all the locals buzzing around, trying to snap up some gorgeous fresh fish for the day.
A walk through the sheds that holds all the gazillion variety of fish is truly interesting.
I think you can find any ocean creature there, no matter how small or how large. Some stall owners are chopping up beautiful pieces of Tuna, whilst others are carrying more ice to their stalls.
A bit of a fishy-smelling walk, a bit of fish blood and gore about, some heat in between all the crowded stalls … but it was so interesting to see.
A walk along the water will allow you to observe hundreds of fishing boats bobbing on the water. See if you can spot the guy on the beach that looks a bit bored, sitting next to the petrol he sells to the boat owners during the day!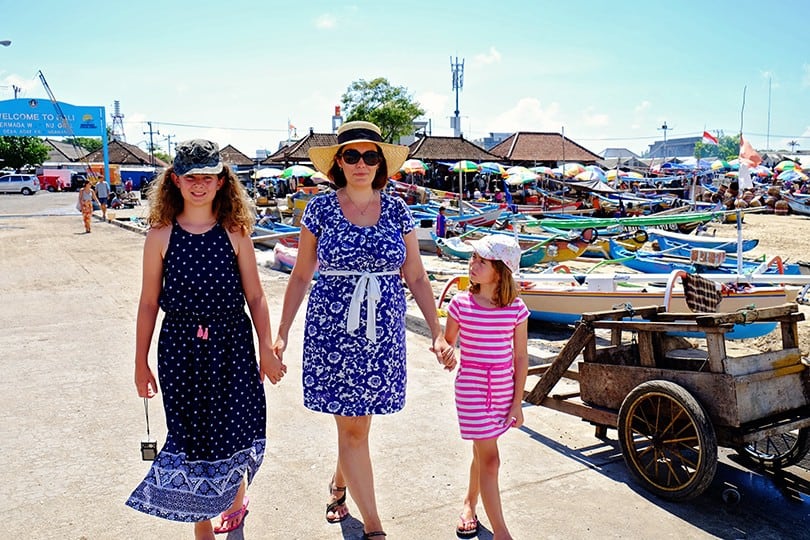 You probably only really need around 30 min here.
You can find the Jimbaran Fish Markets off Jalan Pantai Kedonganan in Jimbaran.
We enjoyed an organized tour to visit the markets, followed by a cooking class where we learn how to prepare some beautiful traditional Balinese dishes.
Click here if you wish to join an organized Viator Balinese Cooking Class and Market Tour.
2. Seek Out Geger Beach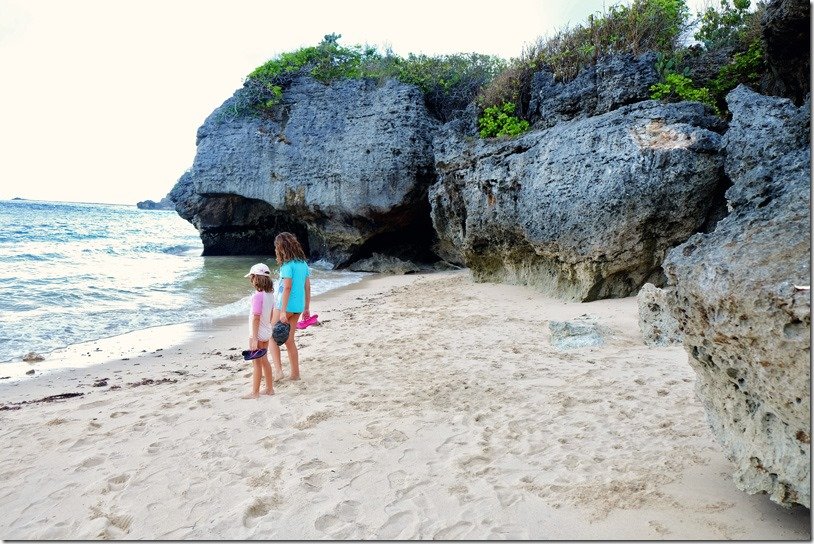 Geger Beach is a beach that is accessible from Nusa Dua.
We loved the little teeny tiny beach that was a little bit hard to find. I think we had to ask about 6 locals before we eventually found directions that took us to this little-hidden cove.
Just behind a hill that houses a temple, you will find some rusty stairs leading down to a gorgeous little beach.
Some photographic rocks peeking out of the sand, some shallow caves that have been eroded by the crashing waves. Our girls found steps hidden by some rocks that led to a shrine as well as some stairs.
The beach is best visited in low tide so try to coincide your timing according to the movement of the waters.
3. Sun Bake at Green Bowl Beach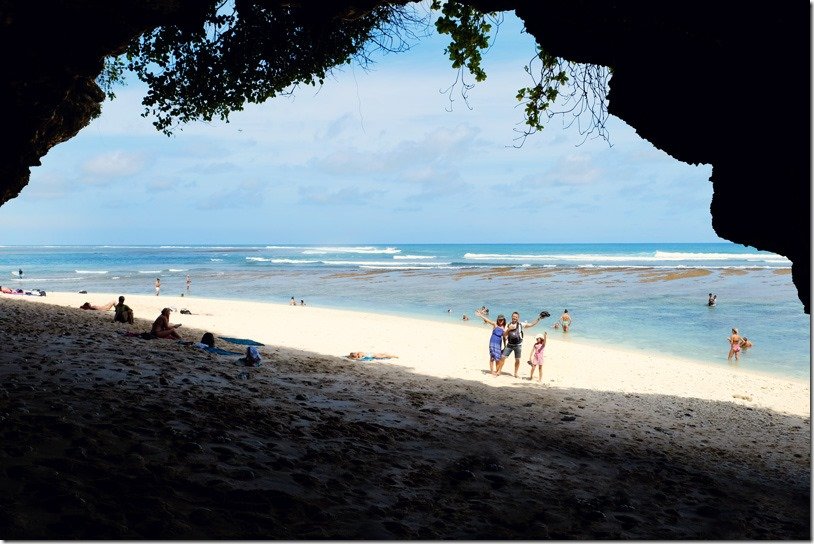 I think out of all the beaches we visited on our day of exploring, Greenbowl Beach was my favorite.
It is definitely one of Bali's most beautiful beaches. Even the views from the top as you start your walk is glorious! The colour of the water, and the sight of all the coral that lies below.
On descend of the millions of stairs, you will most likely see some monkeys watching you close!  So pop away those shiny objects (sunglasses, cameras) and don't carry any snacks or water in your hands (or best if you don't have any on you at all).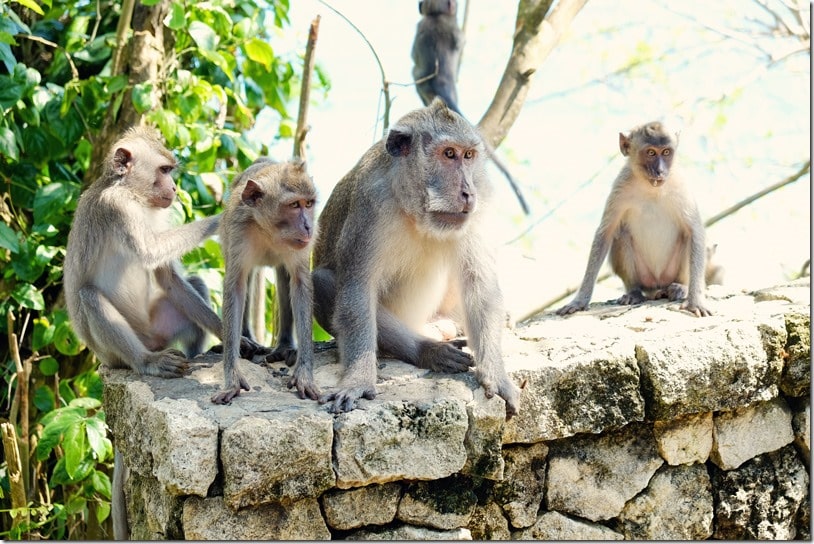 Be prepared to climb down many many stairs, until you get your first sight of a stunning beach scene.
Again, you will find some interesting caves that you can head in to (although they were pretty littered on the day we were there). Or why not simply lie down and enjoy the view in front of your eyes.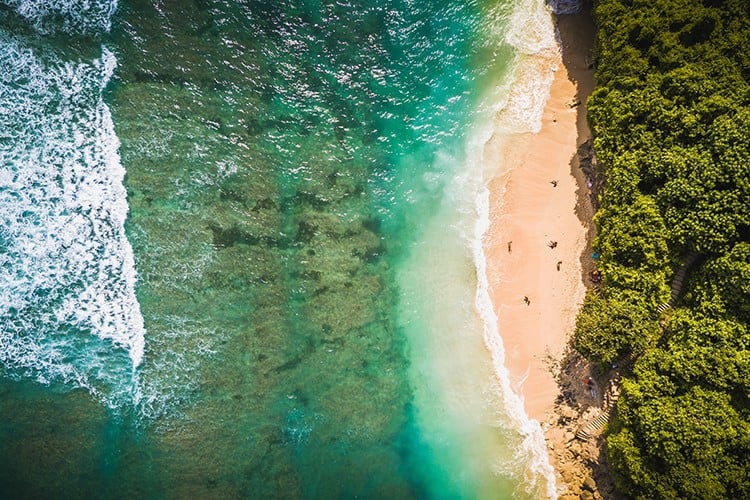 Be prepared to get super puffed and mighty hot as you climb all those millions of stairs back up to the top!! Our kids managed just fine, but hubby and I struggled!!!
At least you can buy some ice cream at the top to cool you back down.
Another beach that is best visited at low tide.
You will find Greenbowl Beach in the village of Ungasan (a 15-kilometer drive from Kuta, and under half an hour from Nusa Dua).
4. Have a Swim at Bali Padang Padang Beach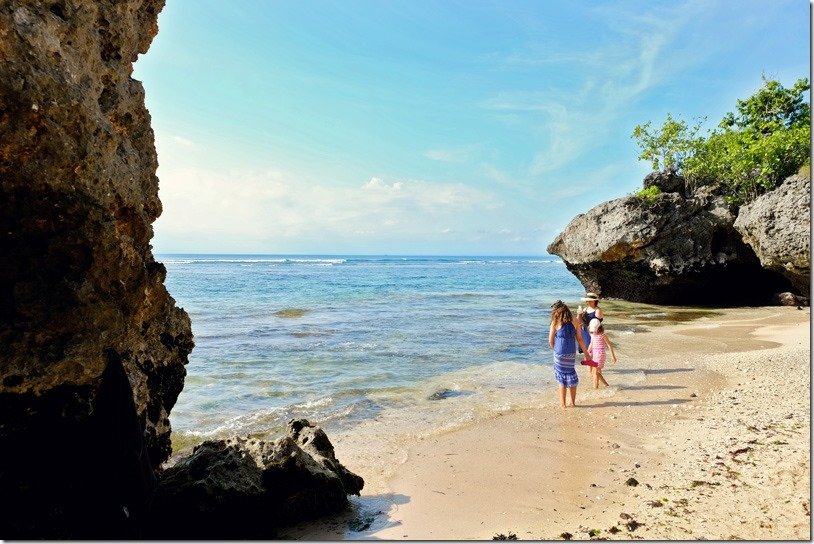 Ever since this stunning beach made an appearance in the 2010 big-screen adaption of 'Eat, Pray, Love', it became a tourist hotspot and a must see on the 'what to see in South Bali' list!
It happens to be one of the best beaches in Bali, but it has also become increasingly busy with tourists.
Located on the North-Western coast of the Bukin Peninsula, this beach is popular with both the surfers as well as with families.
The beach is accessible down a flight of stairs (not too many this time, I promise).
At the bottom, you will find some beautiful white beach sand together with an ocean that grows in shades of blue. Colourful umbrellas dot the sand and lazy beach-goers are enjoying the sun.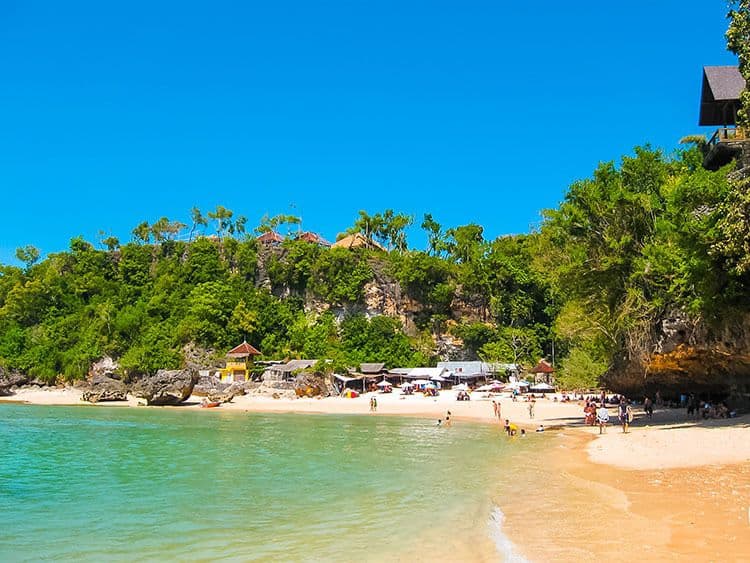 There is board rentals available as well as a couple of local warungs where you can grab a light meal.
You can find the Bali Padang Padang Beach at Jalan Labuan Sait at Pecatu Village.
If you prefer you can book this tour which will take you to Padang Padang Beach, as well as to Tanah Lot, Uluwatu Temple and Jimbaran Bay. It is a lovely tour to see some of the best highlights.
Click here to grab more info and check current prices.
5. Explore the Cliffs at Pura Luhur Uluwatu Temple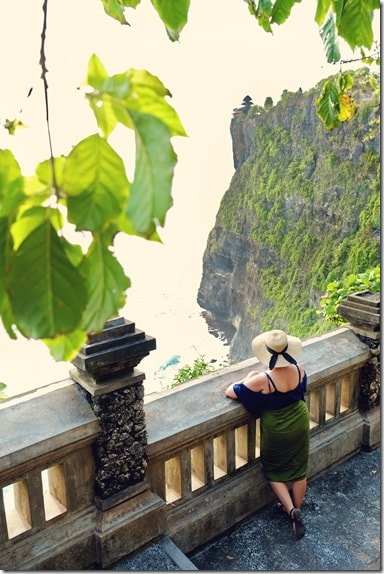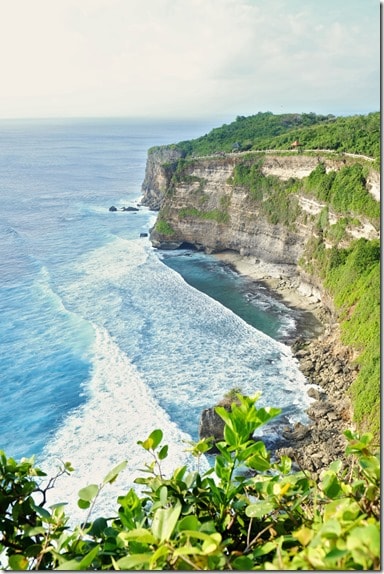 Pura Luhur Uluwatu Temple should definitely be on your list of temples to see in Bali!
Together with my other favourite temple, the majestic Tanah Lot, this Uluwatu cliff temple, features gorgeous coastal scenery. Those sensational cliffs, the high drops to the beautiful water below! The winding meandering pathways, where every view back gives you a different, but yet a stunning view of the temple.
Of course, this temple has to be on your list at the end of the day.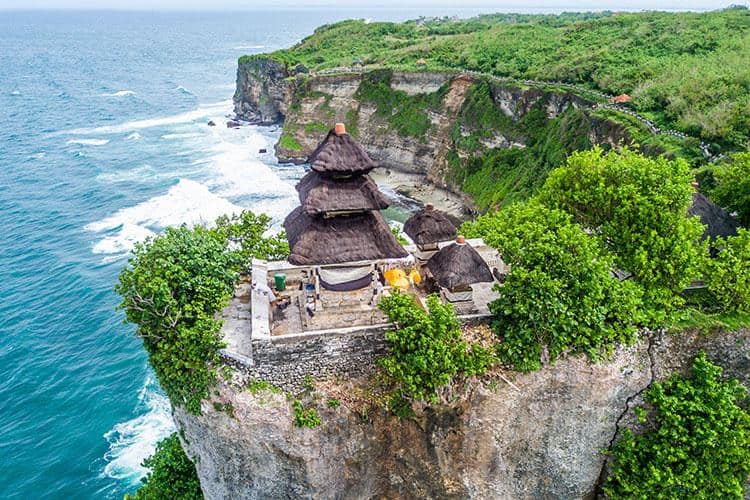 The sunset behind the temple will bring hundreds of tourists this way, but the fight for a spot along the wall is worth it when those colours in the sky start dancing in perfect sync with the stony cliffs and the temple serenely lying in the backdrop.
If you love exploring popular sights through a tour, we really love this Uluwatu Temple PRIVATE tour via Viator. Click here to grab more info and to see current prices.
Uluwatu Temple entrance fee: Adult 30,000 Rp and Child 20,000 Rp
Uluwatu Temple opening hours: 9:00 am – 18:00 pm
Uluwatu Dress Code: As a place of worship, you will be required to wear a sarong. So either bring your own or grab one from the 'borrow' bin at the entrance to the temple.
Where is Uluwatu Temple: The temple is located in Pecatu Village. It is around 25km South of Kuta.
6. Watch a Traditional Kecak and Fire Dance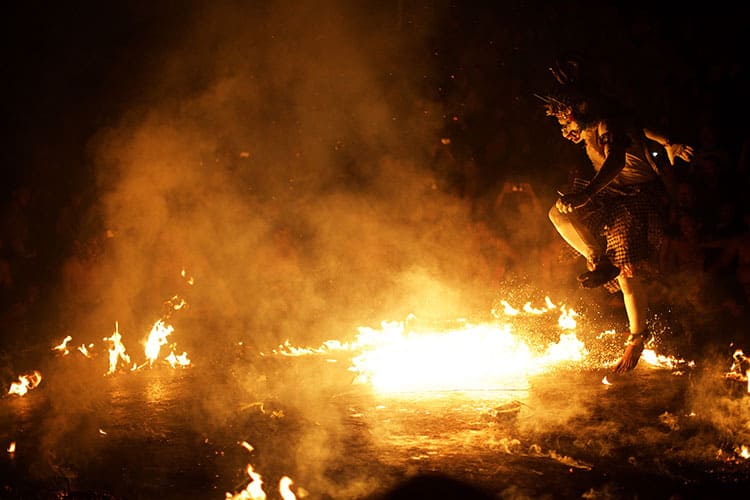 If that is not enough, you can also enjoy a traditional Kecak and Fire dance at the Uluwatu Temple (from 18:00 pm-19:00 pm). If you are interested you can find more helpful information about the temple and the dance here.
Entrance fee for Kecak Dance performance: IDR 100,000
Book a Tour: You can also book a tour that includes a visit to Uluwatu Temple to see the Kecak Dance. The tour is really popular. Click here to see more info on this great 6-hour tour.
7. Go for a Surf at Uluwutu Beach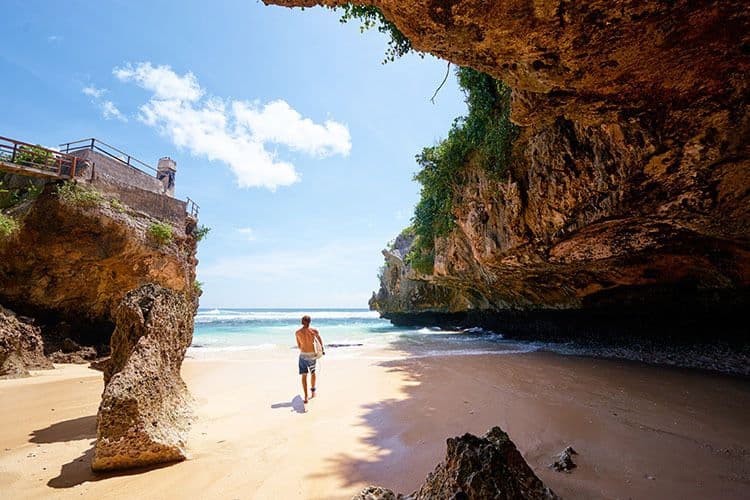 Uluwatu Beach is a popular surfer beach. In actual fact, it is one of the best surf points in the island. The waves are fast and powerful. The only negative is that you will need to carry your surfboard up and down way to many stairs.
Uluwatu Beach is located in the area of Uluwatu Temple right in Pecatu Village.
Best Months for Surfing: April – August
8. Find Seclusion at Suluban Beach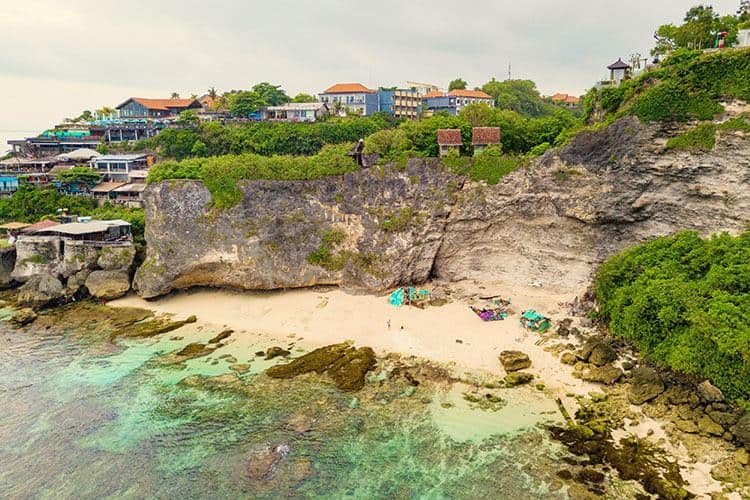 Suluban Beach (also known as Blue Point) is a gorgeous secluded beach. You have to climb a few gazillion stairs to reach the beach, but tourists absolutely love it as they have to pass through the coral reef cave before reaching the beautiful white sandy beach.
If you are in Bali for a romantic holiday, we highly recommend you head down to the beach in the late afternoon to watch the sensational sunset over the Indian Ocean.
The beach is located really close to Uluwatu Temple and Padang Padang beach.
9. Explore Garuda Wisnu Kencana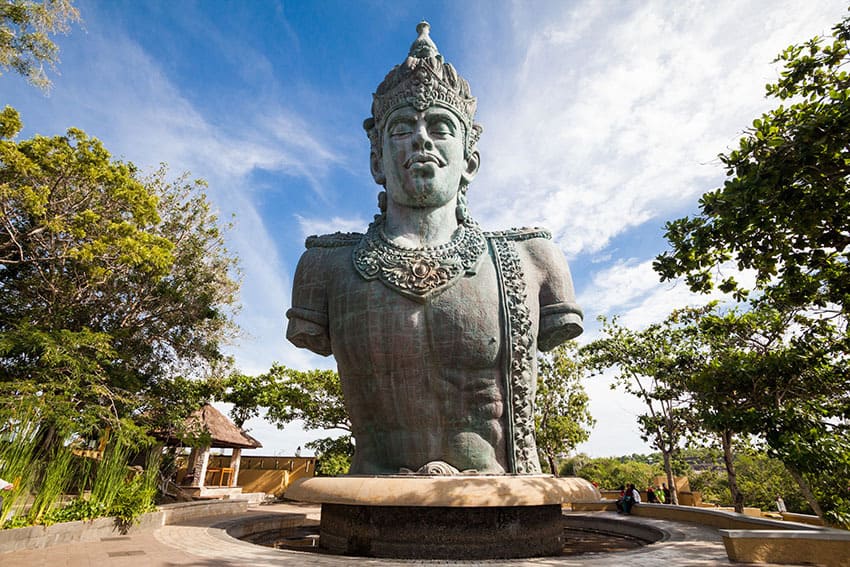 If you are into arts, culture, and spirituality then the Garuda Wisnu Kencana is for you. There are lots to explore at Garuda Wisnu Kencana as the park covers an area of 250 hectares (618 acres).
Walk to the high level of the park where the statue of Hindu deity Vishnu is located. Stroll further and find Parahyangan Somaka Giri, a fountain believed to have healing powers. In the main area, you will find walls with intricate carvings on them, depicting the life of Vishnu.
See the Lotus Pond and head to Indraloka Garden, where you will get beautiful views of the island. If you are here around 6:30 pm, make sure to stay for the traditional Kecak dance show as well.
Opening hours are from 8:00 am to 8:00 pm and the entrance fee is around 5 USD.
You will find Garuda Wisnu Kencana in the village of Ungasan (a 15-kilometer drive from Kuta, and under half an hour from Nusa Dua).
3. Check Out Some of the Stunning Beach Bars and Beach Clubs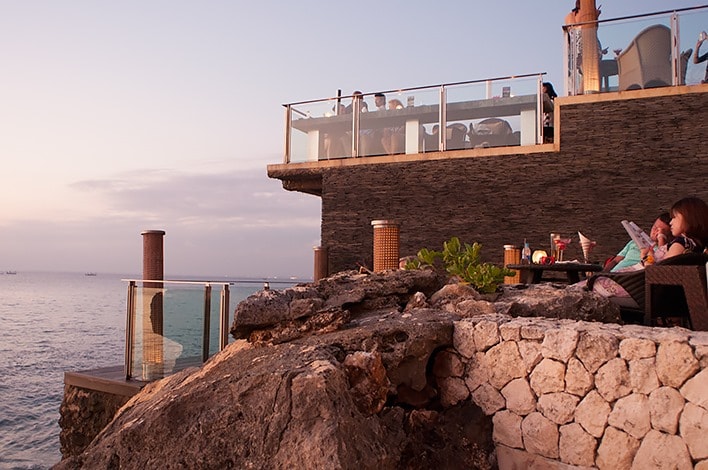 For our last suggestion, why not enjoy a sunset drink at one of the many stunning beach bars or beach clubs along the Southern Coast.
My absolute favorite is the Rock Bar, but there are many other popular ones such as:
Additional Options of What to Do in Southern Bali
After even more ideas? Here are some great options for other fun tours that you can take to explore the culture and scenic beauty of Southern Bali.
1. Watch the Devdan Show at the Nusa Dua Theatre
Get a fascinating overview of the history and culture of Bali and Indonesia in less than 2 hours with a ticket to the Devdan Show at the Nusa Dua Theatre.
Click here to grab more information and see current prices.
2. Bali Beach and Bar Hopping Tour by Custom 1980 VW Kombi Bus
This is a really fun tour if you are visiting Bali with friends. See some of Bali's top beaches and beach bars in a unique and memorable way by vintage VW Kombi bus. The Kombi will cruise along Bali's southern coast to visit beautiful beaches and popular bars. The tour will also take you to the temple and Jimbaran Bay as well.
Click here to grab more information and see current prices.
Conclusion
Of course there are PLENTY more stunning beaches to explore in Southern Bali! Some of them however are down many many stairs and with our little ones in tow (together with our 2 month old baby in a pouch), we decided to not venture down to visit them this time around, as we weren't to sure how we would get back to the top again.
So if you have the luxury of time, do hang around this region of Bali for a bit longer as it has many secrets to show you, many glorious places waiting for you to discover.
We hope you enjoyed our list of the top things to do in Southern Bali
Over to you:
Which item on our 'things to see in South Bali' is on your list of places to explore?
Which beach in Bali do you think belongs on the 'best beaches in Bali' list?
Do you love to explore the more natural aspects of Bali or do you go for its hotels and tourist attractions?