Belmond Jimbaran Puri Bali is one of the most unique resorts that we have had the pleasure of staying at.  We loved our relaxation there so much, that I don't think we left the grounds of the resort for the whole three night stay.  To call this resort perfect, would be an understatement!  For the lack of better words, our experience here was absolutely awesome!

Picture yourself stretched out on one of many sunbeds on the powder soft sandy beach, service with a smile right to your sunbed side table, all whilst your little ones enjoy a swim in a perfect pool!  Yes, Jimbaran Puri Bali has ticked all the boxes for us and I am sure that once you stay here yourself, you will feel just as mesmerized.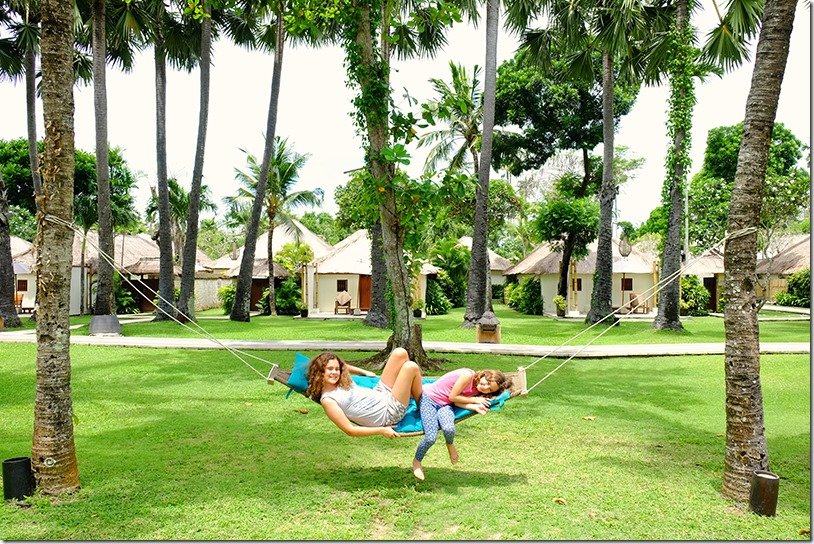 When you arrive at the resort you will be greeted by the most friendly staff.  There is a special wooden gong that you must smack with a wooden hammer at the arrival gate.  This is a little tradition that the resort has for their guests.  Our kids loved it!  Every time we went passed by it, the kids just ran towards it to make as much noise as possible.  I think everyone knew that we were there at the time, but nobody minded.  Haha…
Click here to see the latest prices to stay at the Belmond Jimbaran Puri Bali Resort 
I can keep blabbering about how much we loved the resort, or I can tell you a bit more about Belmond Jimbaran Puri.  Today I will take you on a visual journey to the heart of Jimbaran Bay Bali.  Today I will take you to the most luxurious Jimbaran Puri Bali Villas and trust me, you are going to love it!
–
The Super Luxurious Belmond Jimbaran Puri Bali | The Best Jimbaran Bay Resort
–
Belmond Jimbaran Puri Bali Resort
Belmond Jimbaran Puri Bali is located at Jalan Uluwatu, Yoga Perkanthi Lane in Jimbaran.  The position couldn't be more perfect!  Tucked away from the busy main road of this fishing village, the resort looks out over the beautiful private section of the beach and the most spectacular sunsets!  Here you will be able to totally unwind and loose yourself in total bliss and relaxation.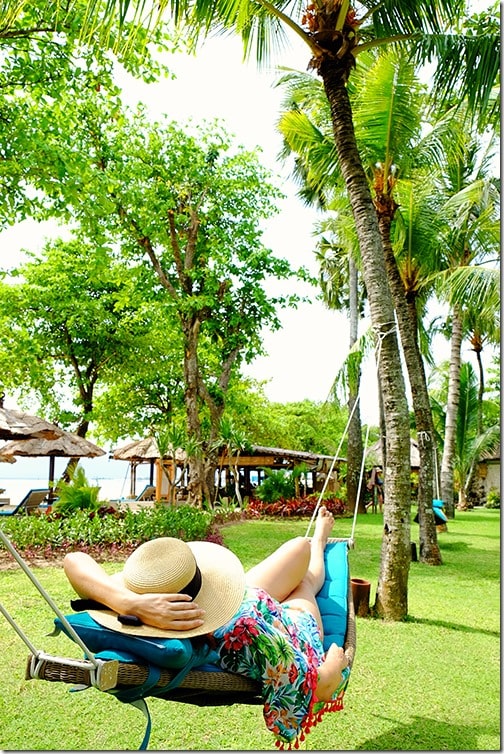 The resort is situated about 30 mins drive from the international airport and you can even see the planes take-off and land from far away.  Got to say, spotting the brand names of the planes was Katie's most favourite activity of the day.  Don't worry, you won't hear the noise from the airport at all, it is only the sound of ocean waves that will soothe your soul here.  Take a stroll on the beach and within around 10 minutes you will find all of those famous seafood restaurants that are located right on the sea sand.  You cannot miss those.  The delicious aromas from the grills usher you in from afar.
As I am writing about Jimbaran Puri Bali, my mind takes me back to all these awesome memories.  Such a great time!  I just want to be there again.  Maybe stay longer next time?  Yes please!  Haha…
–
Two Bedroom Deluxe Pool Villa | Jimbaran Puri Bali Villas
When we travelled to Indonesia, we were travelling as a family, together with our daughters Katie-Lee, Lily and Avalee-Rose.  The most reasonable and the best way to enjoy your stay at Belmond Jimbaran Puri Bali is of course to stay in a two bedroom deluxe pool villa.  The set up here is more than perfect.
The villa we stayed in had two separate houses.  Our one had everything that adults would require.  The super spacious bedroom had the comfiest king size bed, TV and DVD and private en-suite facilities.  The most glamorous bathroom has two sink areas, one for him and one for her.  There is a large stone tub for romantic relaxation in soothing bath salts and also a indoor and outdoor shower, in case you feel like showering in the Balinese heat or in the air-conditioned room.  Choices plenty.
The kids room features two twin beds and their own private en-suite as well.  All the same glorious luxuries as for the adults.  Katie and Lily were super happy to have their own little house, where they could play hide-and-go-seek.  Yes, there is more to their side of the villa.  In their house, there is also a dining area and a living room.  Here you can enjoy your in-house dining experience and veg out on a large couch whilst watching movies on the large flat screen TV.
I think the designers thought about everything when developing this luxurious private oasis for their guests.   First of all, what a great idea to separate adults from kids.  Whilst the adults enjoy the sleep in in their super comfy king size bed, the early risers can entertain themselves in their own house with all the lounge room has to offer.  Did I mention, in their room, they also had a funky office desk.  I found our kids designing their own Wanderlust Storytellers business cards together with some ideas for their own travel blog.  So cool!  Love to see them happy and have their imagination run wild.
Click here to see the latest prices to stay at the Belmond Jimbaran Puri Bali Resort 
Well, let me tell you more about the villa.  Outside there is a private sunken pool, a relaxing terrace with four sun beds, outdoor dining table as well as a large Balinese day bed.  All of this is surrounded by the most gorgeous well manicured gardens.  Colourful flowers everywhere.  Lilys' favourite activity was to put frangipani flowers all around the pool and create her own little space, whilst swimming in the pool for hours.
Yes,  our villa had it all.  All this luxury and glamour, and all peacefully tucked away at the back of the resort in a private little haven just right for our little family of Wanderlusters.
–
Family Friendly Aspects of the Resort
When we stayed at Belmond Jimbaran Puri Bali, there were a lot of families there on holidays as well.  And it was awesome to see that such a luxurious resort is so family friendly.
Everywhere we went, if it was a kids friendly pool or a restaurant, the super friendly staff was there to help us.  They were there to help to babysit, whilst we enjoyed some of the resort activities on offer.
As to Katie and Lily, the specialized kids menu had plenty of delicious choices for them to choose from.  Always service with a smile and sincerity.
Our villa had a large and comfy baby cot for Avalee, which made our life so much more manageable.  Everyone deserves a good night sleep, when on holidays.  I think even Avie was totally relaxed in this resort.  She didn't give us any headaches at all.
–
Amenities at this Bali Beach Resort
Ah, the pool… Picture yourself floating on your back atop emerald water, gazing into the tops of the palm trees, whilst listening to freshwater fountains trickling gently.  Pretty awesome!  We spent quite a few hours chillaxing on the sunbeds, watching our kids enjoy the swim till late afternoons.  Yes, the best time to be by the pool is probably at sunset, preferably with a cocktail in hand.
This beautiful infinity-edged pool is in the heart of the resort and right in front of the perfect beach view.  And the sunsets here?  So beautiful!  I have seen plenty of beautiful ones, but this one is on par with the most spectacular!
I do have to mention the very high quality of the restaurant at the resort.  The food was so delicious and it didn't matter if it was the buffet breakfast or the dinner.  I have to say, we had the yummiest breaky here from our travels through Bali!  For me of course the deciding factor was the bacon and the cured meat.  Yup, make these right for me and I will love you forever, haha…  As to the dinner?  The three course meal at the beach front restaurant was to die for!  I reckon the chef here has got to be an award winner for sure.  Super tasty, flavoursome and delicious!!  5 Stars from me!
Ps.  Make sure that you try the famous bartenders' own creation.  I believe it is a mix between a mojito and something else, but with use of the local brew, Arak.  Yup, it is a very interesting drink and worth and try!
The resort has its own boutique, where you can purchase all sorts of souvenirs to remind you of this beautiful part of the world.  You can get plenty of items that reflect the islands' artisanal heritage.  These could be beautifully crafted delicate scarfs, or intricately designed sculptures from Hindu Temples.  You can get a traditionally Balinese painted wooden egg, or gorgeous jade jewellery.  There are essential oils for sale, to remind you of your massages on the Jimbaran bay beach and much much more.
You can do all the purchases from the privacy of your own villa if you like as well.  Yup, if you are happy to just chill, the shopping menu and all that you need is there.
Jimbaran Puri Bali prides themselves with their library as well.  The selection of reading material is quite extensive.  If it is a book, magazine or a newspaper you are after, you will find it there. You find reading material in a multitude of different languages as well.  There are a few computers to use as well, for additional internet access and a large selection of DVD's in many different languages.
Click here to see the latest prices to stay at the Belmond Jimbaran Puri Bali Resort 
–
Activities on offer at Jimbaran Puri Bali
If all of the above wasn't enough, the resort has plenty of awesome activities in store for you.  There is so much here, that you might have to pick and choose a few, or you might have to stay here longer to enjoy them all.  And I have to say, we only managed to do three:  Balinese traditional egg painting, Balinese dancing class and a visit to the Jimbaran fish market together with a traditional cooking class.
–
Balinese Traditional Egg Painting
We totally enjoyed a Balinese traditional egg painting class with one of the locals.  I do forget the artists name, but I remember that he mentioned that his whole family has been painting for generations.  Some of the art that he had on display was truly stunning!  The detail and the skill that goes into these intricate designs is mind blowing.
To think that one egg can take up to a week to complete; you can imagine how much work goes into creating something as detailed as that.  Amazing I tell you!  Well, Katie, Lily and me, we all had a go at this traditional art form, whilst my wife looked after Avie.  Lily thought that I did very well with my one hour creation.  I felt so proud, that I gave her my egg as a souvenir.  Do yourself a favour and enrol yourself in this class.  We totally enjoyed the process and it was so relaxing too!
–
Balinese Dancing Class
The Balinese dancing class was pretty cool!  It was great to see our kids have a go at really tricky moves.  To be honest, to me, it must have been the hardest dance on the planet.  Haha…  I remember one thing from it, which I had a go at.  It was moving the hips with a swing from side to side … and my most favourite – the Eye Play.  Basically you move your eyes from side to side focusing on only two points.  That way your eyes don't look like they are all over the place and it looks rather interesting together with the dance.
Well, I think that this was more of a dance for the girls, but I didn't mind receiving a few laughs when I had a go.
–
Visit to the Jimbaran Fish Market
Our visit to the Jimbaran Fish Market was very cool!  This place is best to see early in the morning (around 7am), when the fisherman unload all of the catch into the markets or alternatively you can arrive a bit later (around 9:30am) to watch all the locals purchasing their choice fish for the day.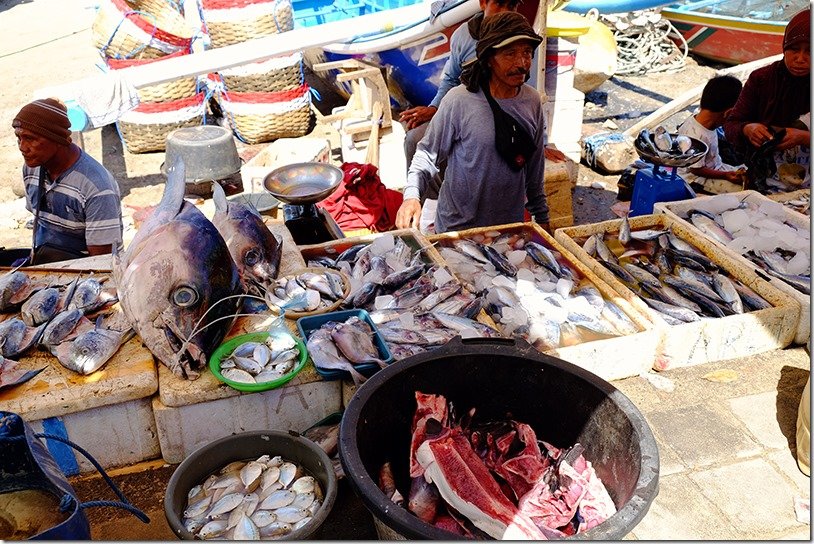 The stalls are tightly compacted; lining every corridor of the undercover fishmarket shed.  You can find a wide variety of sea produce here!  The best thing about this place is, when you are finished with your purchases, you can take is directly to the market restaurant and you can enjoy your super delicious, extra fresh and grilled to perfection goodies right there and then.  Perfect if you ask me!
–
Traditional cooking class
The traditional cooking class was awesome!  I took on the position of a camera man and a taste tester, haha…, whilst the girls got into the fun part of preparation for a three course meal  for us for lunch.  I am so hungry right now!  I am salivating!  No jokes!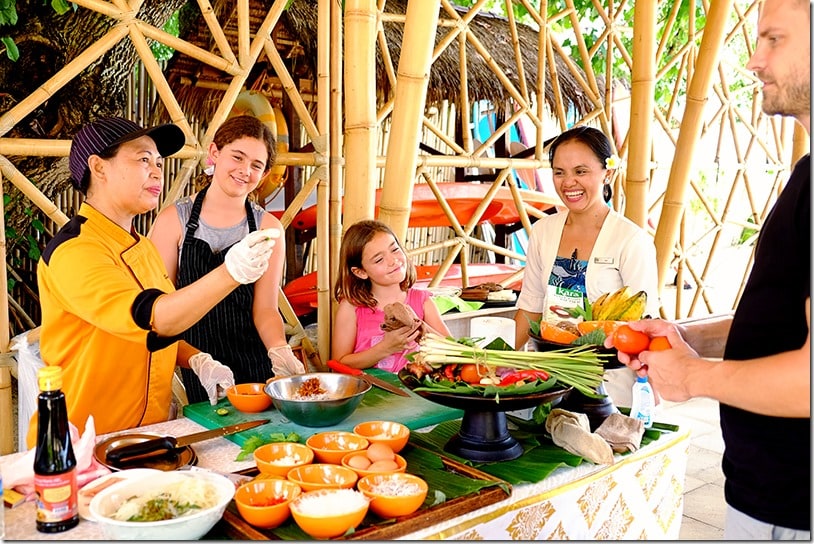 First was the entree, the Soto Ayam / chicken soup.  DELICIOUS!  I had to write it in Caps Lock, so you can understand how yummy it truly was.  You have to understand that I am actually a bit scared of trying new food, but this soup was so tasty that I polished it all off!  For the main course we had grilled fish sate sticks with all the usual sides and for desert we had caramelised banana in a brown sugar syrup.  YUM, YUM and YUM!  I don't think I need to say more about this class.  Haha…
–
There are plenty of other activities at the resort such as Artisan Demonstrations, various temple tours, Yoga, Thai Chi and meditation.  Like I said, you might need more time here in order to do it all.  Haha…
–
Belmond Jimbaran Puri Bali, what can I say…  We miss you a lot!  Such an amazing resort, fantastic villa and tonnes of things to do for us and our kids!  It really doesn't get much better than that!

With all the memories that we have created on our stay at the resort, we will always go back to those moments with smiles on our faces. 
–
Book in for your stay at Bemond Jimbaran Puri if:
You love to stay in luxurious villas
You love beautifully manicured gardens
You love peace and tranquillity
You love both privacy and socialising
You love great food
You love to learning new things and trying out extraordinary activities
You are after a kid friendly resort
You really want to stay in the best resort in Bali!
–
Belmond Jimbaran Puri
Star rating – 5 Star
Garden View Cottage Suite prices from $410 USD / $538 AUS suitable for Couples
Two Bedroom Deluxe Pool Villa prices from $770 USD / $1010 AUS suitable for Families
Airport transfers available
You can read plenty of awesome reviews about this resort on TripAdvisor here!
–
Over to you:
What did you find most attractive about Belmond Jimbaran Puri Bali?
Which of the activities on offer has got your name on it?
–
* We stayed at this resort as guests of Belmond Jimbaran Puri.  All thoughts, opinions and experiences are our own.  We pride ourselves in delivering honest hotel reviews.