The super cool … the one & only … the Rock Bar Bali!
It seriously comes as no surprise as to why this incredible hotel bar keeps ranking high on popularity lists for world bars.  CNN has declared it to be one of the world's 30 best hotel bars and if you visit Bali, you very most certainly CANNOT miss the opportunity of going and experiencing this superb place yourself!
Where is Rock Bar Bali?
The popular bar is situated on the Jimbaran Bay in Bali and is part of one of the most incredible Balinese hotels, Ayana Resort*. The Rock Bar got its name as it literally hangs off the side of a rock cliff, 14 meters above the beautiful Indian Ocean.  And from the very first glimpse of this bar, you will definitely feel incredibly impressed by its dramatic oceanic setting.
If that isn't encouragement enough, it is also well known for having one of the best sunset views in Bali.  This place definitely tops my list for favourite bars I have been to thus far!!!
Further Reading:
Ayana Resort is a great resort for families, but if you would like to compare this resort to others, why not click through to our guide on the best family resorts in Bali.
–
 The Rock Bar Bali | One of the World's 30 Best Hotel Bars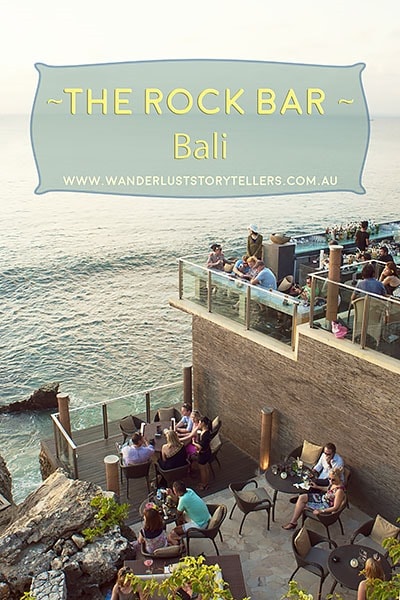 The Rock Bar Bali came as a personal recommendation from one of the staff members I work with.  Ever since he heard that I was off for a Balinese holiday, he kept encouraging me to go and see this stunning place, and I'm so grateful for him sharing his Bali secrets with me as this one sure is a gem!
The AYANA Resort & Spa, Jimbaran:
Entrance down to the Rock Bar is through the beautiful grounds of the Ayana Resort & Spa in Jimbaran.  This hotel is sure to impress the hell out of you!  It took us a while to simply walk from the lobby down to the gates of the Rock Bar as we kept on stopping to take photos of the incredible grounds of this resort!  Next time I go back to Bali, THIS is the resort I would like to stay at! 
The resort itself is situated atop limestone cliffs on Bali's South-western coast.  It includes multiple levels of sensational infinity pools that provide you with a magnificent view over the high cliff coastline.  You will find all the most perfect details that only Bali luxury resorts provide, such as waterfalls, comfy and cozy Balinese daybeds, ponds around restaurants, water spouting statues, gorgeous pagodas and cascades of flowers down stone walls! 
The walk down to the bar, takes you meandering through all of this incredible beauty, building up the excitement and adrenaline as you approach, what you know will be an impressive site over the cliffs down towards the Rock Bar.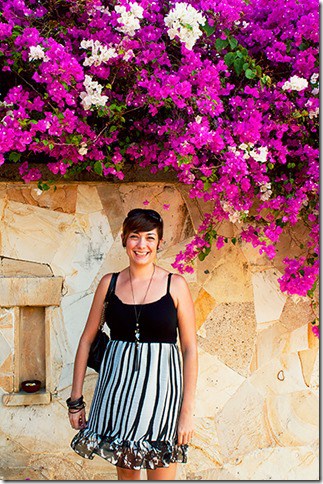 Why you Should see the Ayana Rock Bar:
As soon as you arrive at the entrance to the Ayana Rock Bar, you will find yourself walking towards a gate that seems to open right onto the ocean and sky beyond.  It definitely pipes your interest as you try to understand where exactly this gate leads towards?
It isn't until you reach the front of the queue of people that you get a bit of insight into exactly what awaits you ahead!  This gate isn't the gateway to heaven, but rather the entrance to the specially designed inclinator Cable Car that glides you down to the lower level on which the Ayana Resort Rock Bar and its surroundings are set.  It certainly makes the entrance feel even more magnificent and really does leave you feeling a touch like royalty.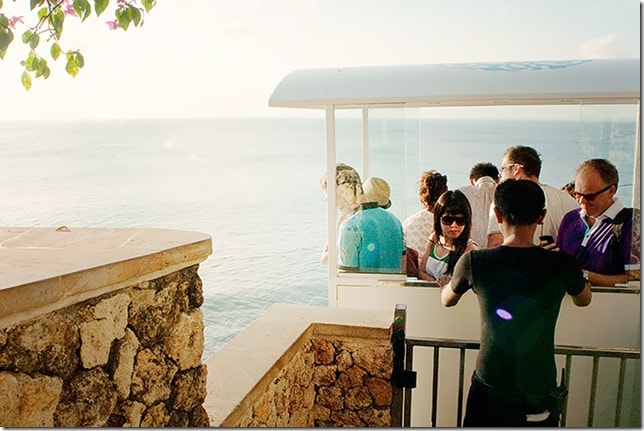 As you head down inside the cable car, you will get your first glimpse as to the gem of a bar that awaits you down below!  The sight might even possibly take your breath away and I know that it definitely heightened my excitement as we descended downwards.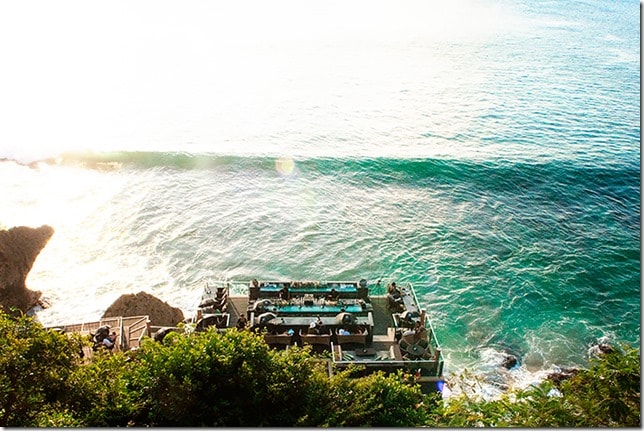 When you reach the ground level, you will not only find the Rock Bar Bali, but you will also find gorgeous landscapes to both the left and the right.   If you glance to the left of you you will find some viewing platforms together with a view over a gorgeous jetty in the distance.  You will also find an Sea Salt resort pool down on this level.
Towards the right of the Bali Rock Bar, you will see an expanse of beautiful sea landscape that is filled with the typical large eroded rocks that you find at Jimbaran Bay.  I love this view and snapped heaps more photos of the water crashing against the rock at various stages of the afternoon and night that I care to openly admit on here. *cough cough*
The Bar itself is incredible both in the late afternoon, as well as when the magic of sunset comes out to illuminate the scene.  Whilst at night time the gorgeous well-designed lights on the bar and the lanterns spread out around the sitting platforms to create its own kind of romance.  I think the true beauty for me about this bar is that it is open aired.  The atmosphere created here from the taste of sea salt on the air, the sounds of the waves crashing against the rocks, the soft music from their in-house band or dj playing and the splendid views in every direction is why everyone simply should see it.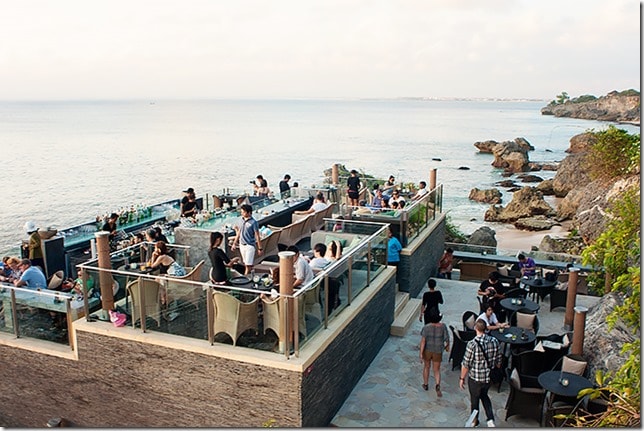 The cocktails were delicious and simply adds to the incredibly relaxed social atmosphere you will find here.  Be aware that you are obliged to purchase a drink per person whilst enjoy this bar setting.  In all honesty, we just simply did not want to leave and worked our way through a few more than just ONE cocktail.  My personal recommendation however is definitely the Frozen Margarita Lychee, it was DELICIOUS!
There is of course all sorts of different snacks or tapas that you can enjoy to keep the balance between food and alcohol fair.  However we were a bit naughty and only indulged in the drinks, so I can't comment on whether they are worth purchasing or not!  For me it was simply just the atmosphere that was perfect, sensational and magical, leaving me with the sense that this is one of the best bars in Bali – for sure!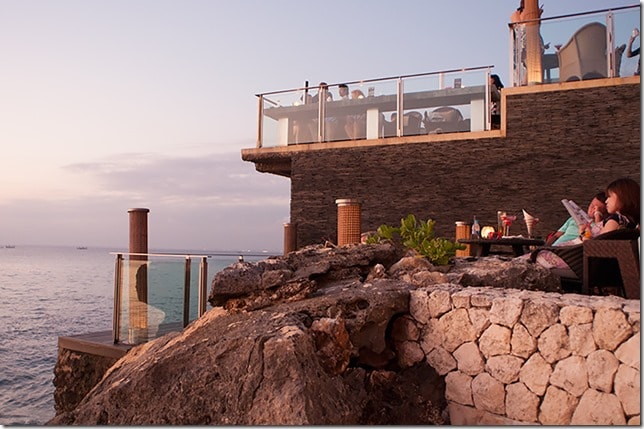 –
What you Need to Know about the Rock Bar, Jimbaran Bay:
The rock bar is very popular so expect longer waiting lines.
The resort is open from 4pm, however it is advisable to be there early in order to secure your spot!
You are obliged to purchase at least one glass of drink per person, and yes the Rock Bar, Bali's prices are a touch more exxy than normal, but it is so worth it!

If you stay at

Ayana Resort and Spa, Bali or Rimba Jimbaran, Bali you can get priority access to not only priority lines but also the best sunset viewing spots.
Rock Bar Bali dress code applies for entrance: No singlets, board shorts or alcohol-branded clothing.  Most girls love dressing up for this one.
Whilst you wait for the sunset to approach, the bar will provide you with shading through one of their branded umbrellas.  Whilst you will need to hold up your own umbrella, I personally think it adds to the whole feel and experience of the Rock Bar itself and saves you from sweating away in the summer Bali sun.
Upgrades to the Rock Bar since our Visit:
The Rock Bar has recently (in the last few months) had a facelift.  The Bar has been upgraded to expand its seating areas and decks to accommodate up to 650 guests.  Latte Luxury News states that the new area is  '[a]ccessible via an over-the-water bridge, the newly elevated Round Deck presents an exclusive oceanfront destination, the circular venue offers premier seating for up to 18 privileged guests, complemented by 240-degree panoramic views.'
Further Reading:
What do you think of the Rock Bar Bali?  Would you like to have a cocktail here?? Do you think that it might just possibly be one of the best beach bars in Bali?
* Denotes affiliate links, it doesn't cost you any extra, but we do earn a commission when you use our links.  We only recommend products and brands that we have either personally used and loved, or ones which we hope to use ourselves soon.  We always have our readers' best interest at heart and would love to be open and honest when we use these links by denoting them with an *.