A tour to see a temple that is often surrounded by ocean water? YES please!!
Photographers and travellers alike stampede their way towards this popular temple! Not only does it offer a splendid photo opportunity at sunset, but it is also often completely blocked off, isolated on its own little rock island, totally and completely surrounded by ocean water!
Incredible, right? No wonder we signed up for this incredible Tanah Lot Temple tour! What an amazing day!
A Bali Tour to see the Incredible Tanah Lot Temple
We booked our Tanah Lot Temple tour through Viator and were fortunate enough to be the only ones on the tour! Which meant that we could explore at our pace! I like doing things at my own speed? Don't you?

It also meant that we could ask our tour guide to alter the tour slightly from the one we purchased, never be afraid to ask them to leave stops out, or to include others!
–
Royal Temple of Mengwi – Pura Taman Ayun
First stop for the day was at this incredible Hindu Temple, a UNESCO recognized site of cultural heritage dating from 1634. This Mengwi Temple is located within the village of Mengwi, which is about 18 kilometers from Denpasar. Here the Balinese come to worship the Wisnu Lord.
On our visit, not many tourists were about, which aided to the special sacred sense found here. The architecture and design of the Pura Taman Ayun complex are sure to impress every traveler! Not only will the buildings with their oversized doors and multi-story grass rooftops impress you, but so will the gardens and the fish pond that surrounds this place.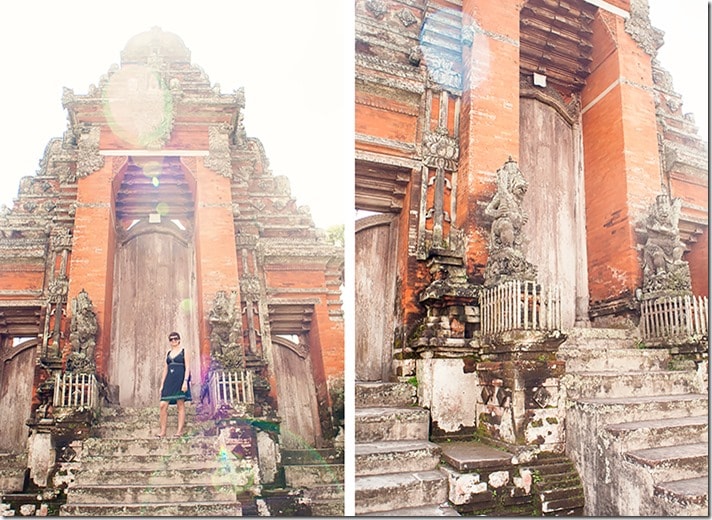 The main part of this temple, called Jeroan is found towards the back of the complex. This part of the temple is so special that entrance to tourists and travellers are not allowed.
Here across a low wall that protects this 'holy of holiest' area, you will see stunning pavilions and pergolas-like multi-leveled Meru shrines. These shrines, altars, and meru towers serve as temporary places for the gods during their visits to Bali. These 11-roofed shrines are dedicated to Sanghyang Widhi, the highest Balinese deity.
Our guide truly fascinated us with all the cultural information that surrounds all these shrines and altars, and whilst we didn't spend more than around 30-40 minutes here, it really was a great first stop on this Tanah Lot temple tour!
Bali

Monkey Forest
The next stop of the day was at Bali Monkey Forest. This forest forms a sanctuary for the grey-haired long-tailed Balinese macaques monkeys. They are considered sacred and well protected. This forest is a smaller version of the larger Ubud Sacred Monkey Forest, and I've been told that the monkeys here are a lot more friendly and more docile (although I haven't been to the Ubud one so can't compare really).
On drop off at this forest, we were told to be careful with these monkeys, and to not feed them or try to hold them! As soon as you enter through the gates you will already see some monkeys about! The gate we entered at housed the market area that runs alongside this forest. Many tourists come to visit these monkeys, so it makes sense that Balinese have taken up the opportunity to make an income from running market stalls close by! They have a hard job though! Walking around with a stick in hand to try and protect their merchandise from these thieving monkeys that scramble about.
As soon as you pass the markets, you will find an 'Indiana-style' space where the monkeys who are not enjoying the dense forest is 'hanging' out. I love monkeys and can truly say that I enjoyed watching them go about their 'tick-searching' businesses! There was also lots of adorable little babies with big eyes hanging about! And many monkeys sleeping away in the oddest positions!
I have read lots of blog posts about these monkeys and how they love to 'pickpocket' tourists, so if you do happen to go, it really would be sensible to leave your important belongings behind (and all food/candies etc). Don't try to feed these wild animals! There will be people trying to persuade you to purchase food for them! We were told by our guide not to attempt this as the animals in Bali are renown for carrying rabies! We had no food and must admit that we still had some of the larger monkeys climb right onto our shoulders and even onto our heads (whilst we were in a standing position)! I got a nice big scratch up my back that had me really worried! And I was grateful for a bit of first aid from our tour guide who could apply some antiseptic liquid onto it! But other than that we did not have any issues with them at all.
Overall we still loved the experience! And I really enjoyed watching the adorable little baby monkeys play about! I'll leave it up to you to decide if this is a stop that fits okay with you! But if you go, please remember these animals are wild, they might be cute but don't try to pat them or feed them and be careful around them.
Tanah Lot Temple, Bali
The next stop for the day was Pura Tanah Lot, which is the most visited and photographed temple in Bali, especially at sunset. As we wanted to avoid the crowds here, we chose to see this temple earlier in the day and made our way instead to Jimbaran for a beautiful peaceful sunset dinner on the beach after! (Not part of the tour, but on our request).
When you arrive at the popular Bali Tanah Lot Temple, once again you find yourself surrounded by markets. I don't even think we stopped to browse these markets here, as we truly were a bit 'marketed' out! But they had some nice wares for those who love to wander about!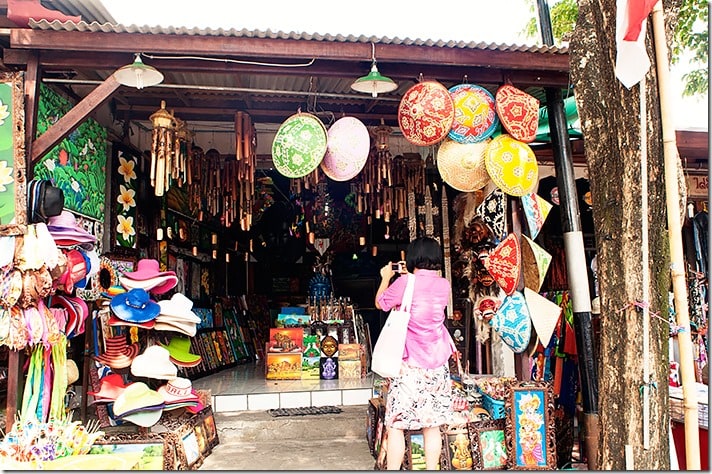 We eagerly made our way down to the Temple found here. And as you descend the stairs, you truly will be impressed by this incredibly unique sight! At high tide this temple will be completely surrounded by ocean water, however, on our visit, it was low-tide, which allowed us to walk up close to the Temple itself. Be mindful though that non-Balinese people will not be allowed to enter this temple!
Here you will find the popular Tanah Lot Temple, sitting on a rock! Truth be told, the rock it sits on is not as authentic as you might think it is. The constant movement and crashing of the ocean against the rock eroded the original rock to a state of crumbling away. About a third of this rock is now artificially reconstructed. The sight none the less is still incredible to behold!
For the Balinese, Pura Tanah Lot is one of the most important and venerated sea temples, closely associated with the Majapahit priest Nirartha. Each of the sea temples along the coast was built within a direct line of sight of the next to form a chain along the south-western seaboard. Not only is the temple gorgeous, but so is the views if you walk around and explore the grounds surrounding the temple.
Further Reading:Bali – A Little India in Indonesia by Travelure
–
–
Jimbaran Dinner on the Beach
We asked our driver to take us to Jimbaran at the end of the day as it was one area in Bali that we had not been to yet and whilst I can't remember this specific restaurant's name, it truly was the most perfect way to end our pretty amazing day!
The atmosphere found here is truly spectacular and relaxing and it truly is a place to pop on the list for things to do whilst in Bali! We loved watching the colours in the sky change whilst waiting for our dinner to arrive! And then after sunset when it gets dark, this whole stretch of beach lights up with lanterns and candles! Truly magical!
And so that brings us to the end of the Tanah Lot Temple tour day. It really was a pretty full packed day, but a totally enjoyable one! We definitely recommend this one when you are visiting this gorgeous island!!
If you would like to purchase this tour through Viator (AU $80.33 or US $56), please support us by using our link here.
Further Reading: