Due to its rich culture, fauna, and flora, Africa has always been a must-visit holiday destination.
And Namibia, a country in the southwest of the continent, is no different. You can enjoy various extreme sports like skydiving and sandboarding here, making it ideal for families and couples alike.
However, we wanted to unwind in a remote, secluded spot (preferably with a sunset view), and hence we visited the Grootberg Lodge during our stay in Namibia. And we did not regret it!
TIP: Check out our ultimate guide to traveling Namibia with kids.
Want to know more about the lodge and check out the prices:
Book your stay and/or check out the prices for the Grootberg Lodge here.
Where to Stay in Grootberg with Kids | Grootberg Lodge Review
Here is our detailed and honest Grootberg Lodge review from our personal experience in the beautiful place:
Accommodation
We stayed in a 2-bedroom accommodation, but you can easily find something bigger or smaller according to your needs.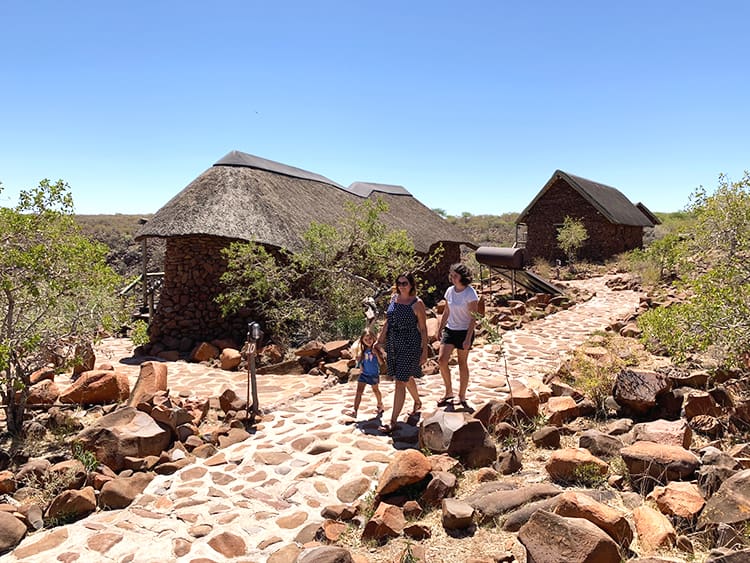 In fact, the lodge boasts 16 accommodations, with all the basic amenities like a coffee/tea maker, free breakfast, daily housekeeping, and a clean and disinfected environment.
We were also provided with fresh sheets and towels whenever required. And the prompt laundry facilities added to the convenience of the accommodation.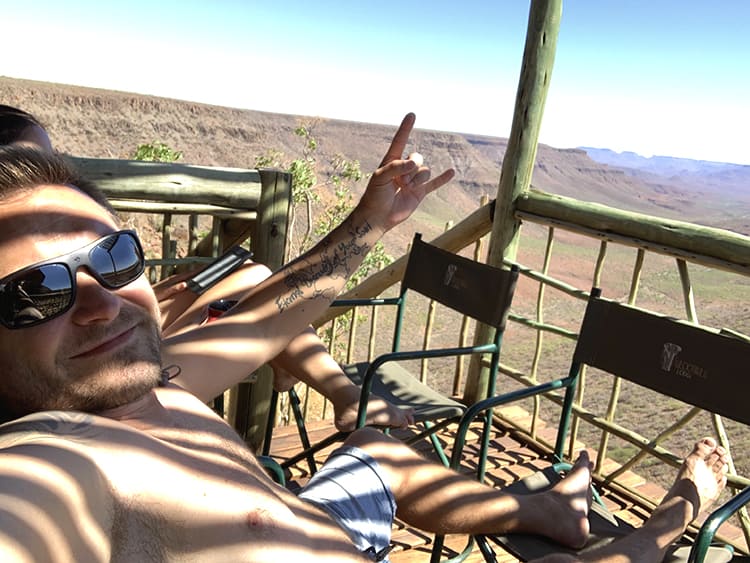 However, we must mention that if you're planning to work here, it might not be possible since WiFi connectivity and charging points are available in public areas only.
Amenities
The lodge boasts an outdoor pool and a Swedish spa, along with other recreational amenities.
Pool
We were short on time and didn't really want to step out of the lodge, so we decided to lounge by the pool was the best we could do.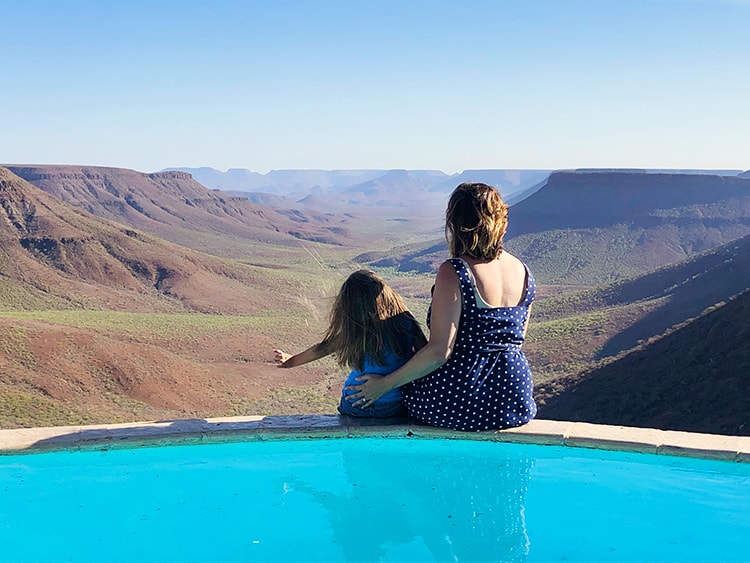 The infinity pool, despite being stunning by itself, is surrounded by a picturesque view of the Klip River Valley (Klip River Vally is one of the most beautiful places to visit in Namibia). We are not kidding when we say that every picture we took here needed no filters; in fact, they could pass off as postcards!
However, we recommend staying cautious with children as the lodge does not offer a separate pool for little ones.
Later, we completed our swimming sesh with some delicacies from the restaurant and called it a day with a drink.
If you're not much of a hydrophile, you can always stay back on the balcony and witness the scenic geological and botanical wonders the place has to offer.
Things To Do at Grootberg Lodge
In all honesty, our time at the lodge was so comfortable and fulfilling that we didn't feel the need to participate in a day trip or tour. However, we did consult about the activities offered by the lodge.
The one that caught our attention the most was the Damara Culture Tour, which includes a guided tour to authentic Damara homesteads.
One can learn a lot about their cultures, traditions, and the human-wildlife conflict, and we highly recommend this tour if you're traveling with children.
If you're looking for an adrenaline kick, on the other hand, you can opt for Desert Elephant Tracking and Rhino Tracking for a once-in-a-lifetime experience!
Where to Eat
Grootberg Lodge restaurant, although it is not fine dining, they do look after you well.
Can't go wrong here with a steak and chips and some easy pasta dishes for the kids as well.
Final Words
Despite our inability to go for the aforementioned tours, we enjoyed every bit of our relaxing stay at the Grootberg Lodge.
Simply sitting by the window and soaking up the scenery helped us rejuvenate and forget about the hustle and bustle of our everyday lives in the city.
However, keep in mind that due to the isolated location, internet connectivity can be an issue. So, only if you're ready for a digital detox, head over to Journeys Namibia's flagship lodge today!