While taking the baby to the beach can be a great deal of fun, there are some hacks that you should know to make the beach outing a breeze.
Being prepared with all of the essentials that you'll need for the baby on the beach is advantageous.
However, in order to have an easy and relaxing time on the beach, you will have to make sure that your baby is just as comfortable as you.
Check out the following 23 beach baby hacks below that will save your life when taking your baby to the beach.
23 Baby Beach Hacks:
1. Bring along an inflatable pool with adequate shade
Bringing a pool is advantageous for your beach trip especially if the baby is too young to experience the ocean yet.
At least with an inflatable pool, they will be able to get in the water just like everyone else and cool down as well.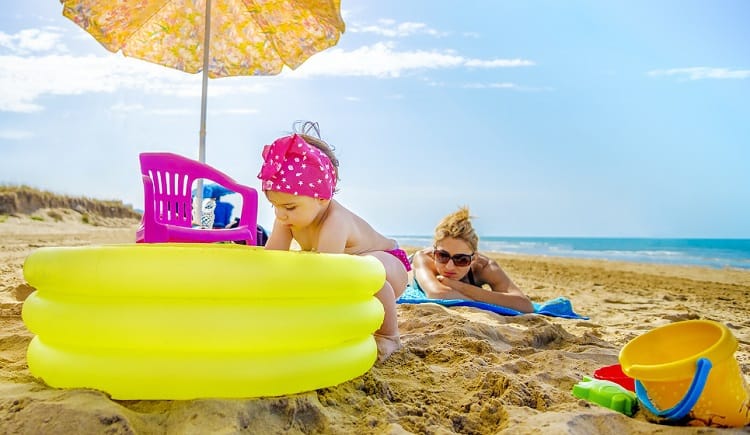 Although playing in the sand is a great way to enhance their sensory development, a baby can enjoy the beach in an inflatable pool without you having to worry about them coming into contact with an excessive amount of sand.
An inflatable pool will keep them contained and you will have a more enjoyable time at the beach as well.
_______________________
2. Keep your baby's hands sand-free
Whilst at the beach it is best to always have a small towel with you. The small towel is very helpful when removing the sand from your baby.
With the towel, when lightly moisten, you can wipe off the areas of their body that the sand gets stuck at the most, like their hands, feet, face, and any leg and arm creases.
Tip: You can grab yourself a sand resistant beach blanket here.
_______________________
3. Load the laundry basket
Bringing your precious one to the beach is fun, however, your baby may want to take a nap.
The laundry basket can be used for transporting all the necessary things that you are bringing to the beach.
Once the laundry basket is empty you can line the basket with towels and use it as a little bassinet.
This is an easy substitute, instead of bringing the better bassinet from home. However, when using the laundry basket, you might need to get creative with the shade.
_______________________
4. Contain the baby in a certain area
While on the beach and especially if you have a crawler, you will want to keep them close by so you can keep an eye on them.
However, sometimes your eyes tend to wander off in other directions. Babies are super quick and it's easy for them to wander off as well.
Thankfully, there are techniques that you can use in order to keep the baby contained in a space where they can still enjoy themselves. This will also help to not expose them to the sand.
Take an old fitted sheet and spread it as wide as you can and place heavy items in each corner to keep the sheet in place.
This layout will create a barrier between your baby and the sand. Your baby will have the freedom to move around and you will have more time to scan the view.
_______________________
5. Pre-freeze all of your snacks
This is one of the best baby beach hacks you will ever find. Pre-freezing baby food, especially if the baby is eating solid food, is a great way for keeping the food cool at the beach.
Also, if the weather is hot and humid, chilled treats will help to keep your baby cooler and more comfortable whilst you all enjoy spending a great time at the beach.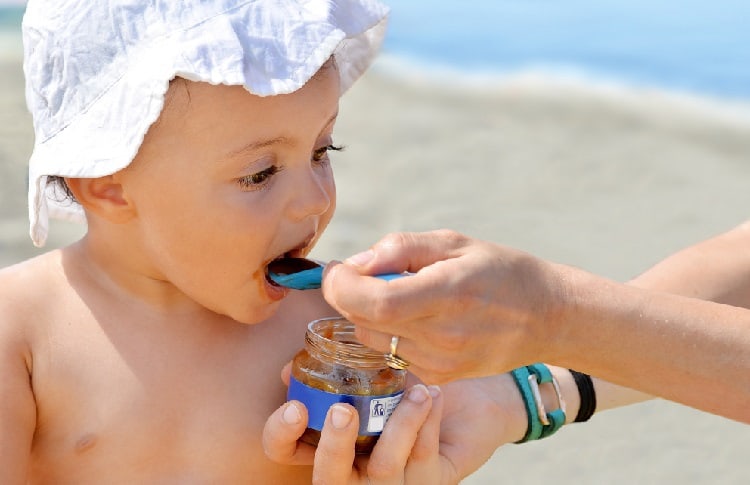 _______________________
6. Cornstarch in a sock
Since babies are not highly comfortable with being wiped, especially when you have to wipe the sand off their faces, this hack will come in super handy.
Next time you are prepping to go to the beach, pop into your local supermarket and pick up some cornstarch.
Use a small amount of cornstarch on a sock to wipe sand off of the baby without irritating their skin. Simple and awesome!
_______________________
7. Spray the heat away
Whilst the shade will help to keep the piercing sun off of your baby, sometimes extra steps are needed to keep them comfortable.
Purchase a water spray bottle and bring it along to the beach with you. Even a tiny bit of moisture sprayed over the baby can help to keep your little one cool, comfortable, and happy.
_______________________
8. Roll your load
Packing for the beach is easy! However, transporting all the goodies is always an issue! Bringing a jogging stroller to the beach can make your life much easier.
Not only you can take your baby in the stroller, but you can also pack it to the brim with extra baby beach gear as well. See even more great baby travel accessories here.
Tip: Pull the stroller backward when on the sand. It is easier to pull than to push the baby forward on the soft sand. Also, this will prevent the stroller from tipping over.
_______________________
9. Bring a tent for shade and naps
If you are planning on spending a full day at the beach, it is best to bring a tent for shade and for your baby's nap time.
It is also an advantage to bring a tent so that you can take a nap with the baby and that you're refreshed with them as well.
Buy a popup baby tent that is easy to travel with and set it up in your desired spot on the beach.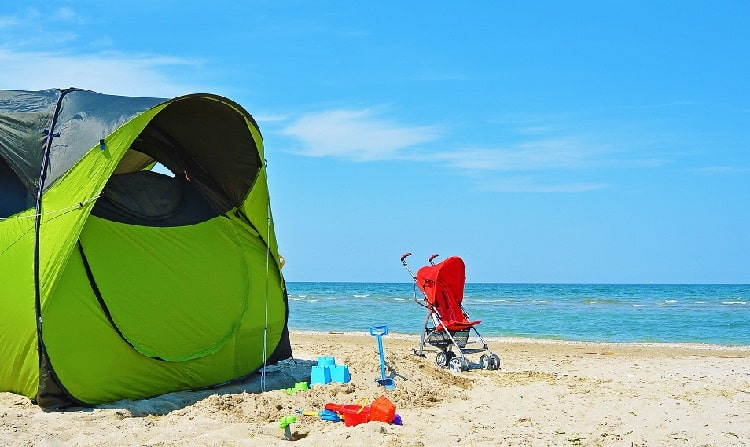 _______________________
10. Bring apple cider vinegar
The dreaded issue of going to the beach is always centered around sunburn. Keeping the baby well-shaded works.
However, in the event that the baby gets a slight sunburn anyway, there are things you can do.
Adding a bit of apple cider vinegar to the baby's bath can help with treating sunburn effects and make your baby comfortable again. 
_______________________
11. Apply cold sunscreen
Applying cold sunscreen will keep the baby's body temperature down especially before you head out to the beach.
Also, keeping the cream in the cooler whilst at the beach would be a good idea as well, just in case you need to re-apply a bit more.
_______________________
12. Take a box of washcloths with you
Bring a box of washcloths to the beach and keep it chilled in your cooler. This will help to keep the baby cool as you wipe them down.
Your little one will be much happier when being changed, even if they can't say that they are.
_______________________
13. Save money on beach toys
Since the beach is like a big open playground for the baby, there is no need to buy any extra toys. However, it's okay to bring what you already have.
Bringing some of the bath toys that your baby is already familiar with can be an idea here!
These toys are much cheaper to buy and are guaranteed to provide tons of joy as well.
_______________________
14. Use a mesh laundry bag for toys
Hand up how many of us bring half the beach home every time with come back home.
After the playtime is over, put your baby's toys in the mesh bag, shake well to get the sand out and you are all set. No vacuuming the car is required today!
_______________________
15. Bring a hat for your baby
This is obviously a must, especially if you want to keep your baby safe from the harsh UV rays of the sun.
A hat should be a priority for the beach as you will need to protect the baby's head and neck from direct sunlight.
Buy a hat that has a built-in SPF for an extra layer of protection.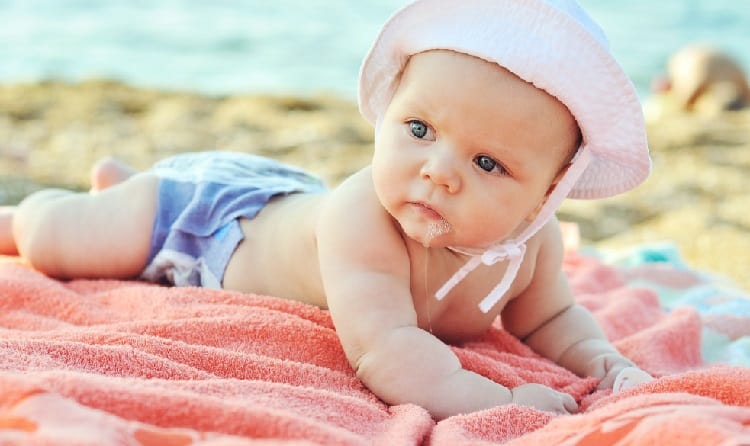 _______________________
16. Create your own breeze
Breezes are not always guaranteed at the beach, so bringing a small battery-powered fan will help.
A small mini-clip battery-powered fan can be clipped to a number of things that you bring with you to the beach.
Clip it to a stroller, to the beach tent, or to the beach diaper bag.
Creating a breeze for your baby will help to keep them cool and more comfortable.
_______________________
17. Bring baby powder
Using baby powder will help to keep the sand off of the baby's hands.
If you sprinkle a small but ample amount of the baby powder on their hands, the sand will easily come off without you having to continuously wipe them.
The alternative to baby powder is of course cornstarch.
_______________________
18. Freeze the water bottles
Freeze your water bottles well before you go to the beach. Pop them into the beach bag and save space in the cooler.
That way, the water bottles will defrost slowly, and you will have plenty of cool water ready to go for refilling your baby's bottle.
_______________________
19. Dressing to prevent sunburn
Despite the fact that you need to use appropriate sunscreen on your baby, make sure to bring appropriate sunblocking clothes as well.
You can also purchase baby clothes with a built-in SPF as well.
Your baby's skin is extra sensitive to sunlight, so keeping the skin covered is always a better idea.
_______________________
20. Leave the diaper bag at home
There is no need to bring a diaper bag to the beach. You can pack your baby's diapers and other disposable toiletries in a plastic bag that will be easily disposable before or when you get home.
Sand gets into everything, so by leaving your diaper bag at home, you will ensure that the beach stays at the beach. 
_______________________
21. Bring a backup bag when driving to the beach
Knowing that you are going to the beach, it will undoubtedly be an eventful day.
Depending on how far you have to travel to the beach, bringing a bag of spare clothes for your baby is a necessity. Accidents happen all the time, especially with the little ones. 
_______________________
22. Use a waterproof baby carrier
If you are heading to the beach chances are you and your baby will want to experience the water activities.
The best way to do this is to use the best waterproof baby carrier.
A waterproof baby carrier is important as it will help to keep your baby safe (because let's face it, wet babies are slippery) whilst both of you can enjoy your time in the cool water.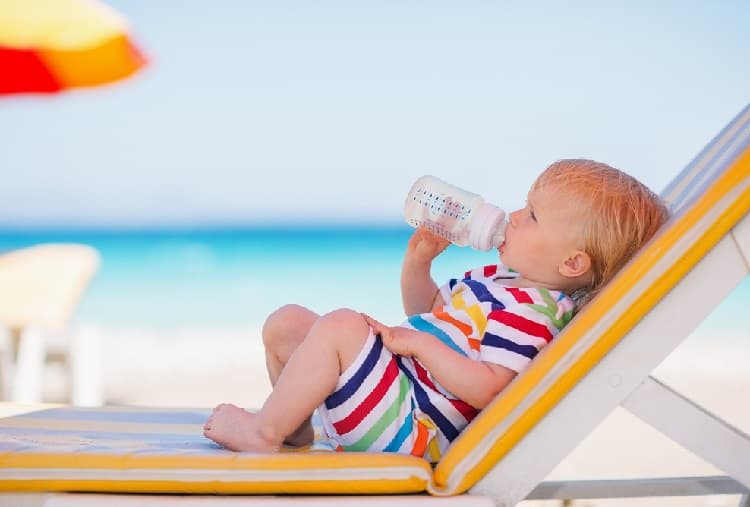 _______________________
23. Bring comfy baby water shoes
Baby water shoes and baby swim shoes are essential for protecting your little one's feet from hot sand, sharp shells, slippery rocks, and other hazards found on the beach.
Not only will they provide much-needed protection, but they'll also help your baby have more fun in the sand and surf.
You can browse the list of our favorite baby water shoes here.
_______________________
I hope that some of these hacks will help you out when you venture out to the beach with your little one.
If any of the above points have caught your attention the most or if you have any extra hacks to add to the list, please feel free to pop them into the comments below.
As for now, enjoy the day at the beach, everyone!