Are looking for some genius toddler and baby beach hacks that will make life easier? We've got you covered!
While taking the baby (or toddler) to the beach can be a great deal of fun, there are some foolproof baby beach hacks that you should know to make the beach outing a breeze.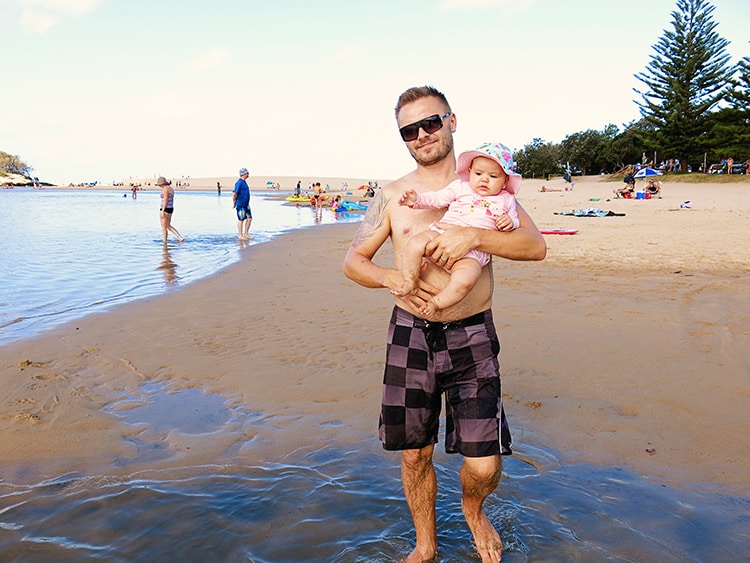 Having all the essentials that you'll need for your baby on the beach is a game-changer.
However, in order to have an easy and relaxing time on the beach, you will have to make sure that your baby is just as comfortable as you.
Check out the following 23 beach baby hacks below that will save your life when taking your baby to the beach.
23 Baby Beach Hacks You Should Know
We are so lucky to be living only 10 minutes away from our local beach. This means that we spend a great deal of our time either walking along the beach with our bub or relaxing on the beach over weekends.
So I wanted to share some of my best baby hacks for the beach with you and other mums, so that your time on the beach with your baby can be as fun as possible.
1. Bring along an inflatable pool with adequate shade
Our first baby beach hack we want to share is an inflatable pool (we love an inflatable pool with a canopy such as this one from Amazon).
Bringing a pool is helpful for your beach trip especially if the baby is too young to experience the ocean yet.
At least with an inflatable pool, they will be able to get in the water just like everyone else and cool down as well.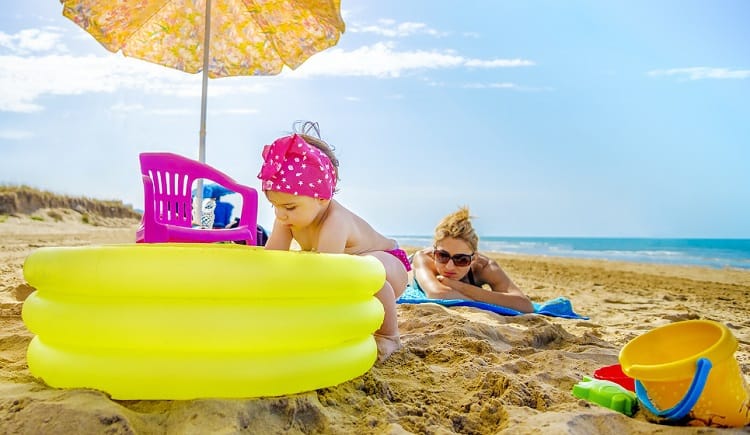 When it comes to your baby's sensory development, playing in the sand is a fantastic option.
However, if you want to give them a beach-like experience while minimizing their exposure to excessive sand, consider setting up an inflatable pool.
This baby pool beach hack will help you to have a more enjoyable time at the beach as well!
---
2. Keep your baby's hands sand-free
When you're at the beach, having a small towel by your side is a must. It is helpful when it comes to getting rid of sand on your little one.
Just lightly moisten the towel, and you'll be able to effortlessly wipe off sand from those tricky spots like their hands, feet, face, and even the creases on their legs and arms. Trust me, it's a game-changer!
Another great way of keeping you baby or toddler as sand free as possible is to purchase an oversized sand-proof outdoor blanket. See our list of our favorite sand resistant beach blanket here.
---
3. Bring the laundry basket
I love this beach hack for babies and toddlers! A laundry basket can have multiple uses for the beach!
Not only can it transport your essentials like beach blankets, toys, and bags, but it can also serve as a makeshift bassinet lined with towels for your little one.
It's a convenient substitute for bringing the bulkier bassinet from home. This works really well when you have a nice large beach cabana to create a shady spot for your baby to sleep.
Enjoy your beach day with this handy infant beach hack!
---
4. Use a beach wagon for all your stuff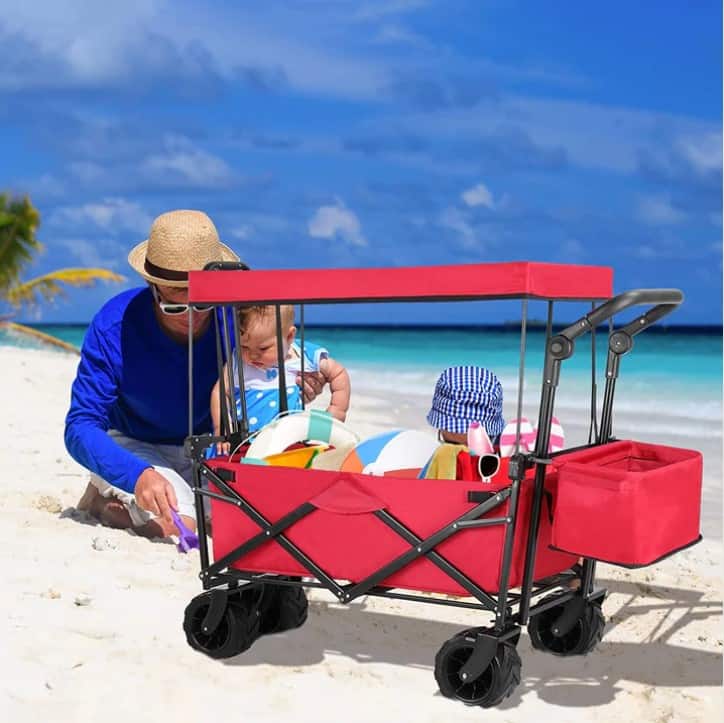 Don't forget to bring a beach wagon! It's the perfect solution for carrying all your baby and beach essentials conveniently.
This game-changer can accommodate multiple towels, sunblock, swimsuits, and even toys or a baby beach tent.
We love the wagons that have a canopy because our toddler loved climbing into the wagon with all the other gear for a fun ride.
---
5. Pre-freeze all of your snacks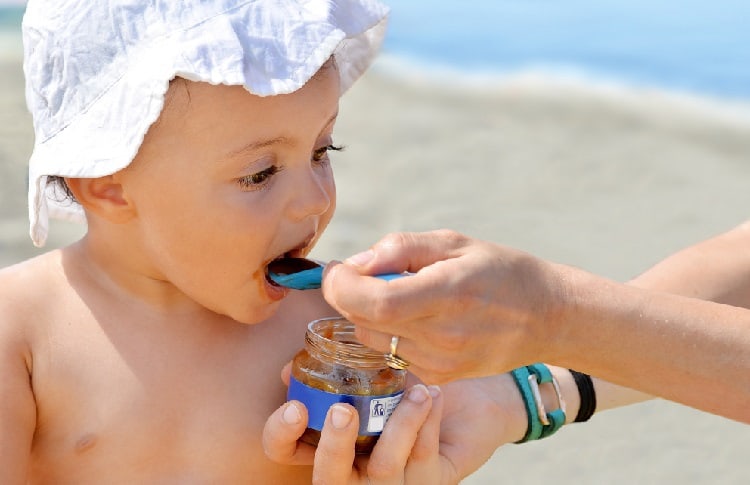 This is one of the best baby beach hacks for those who don't want to invest in a cooler for the beach. Freeze the food so that it can slowly defrost for lunch time.
Also, if the weather is hot and humid, chilled treats will help to keep your baby cooler and more comfortable whilst you all enjoy spending a great time at the beach.
---
6. Backpack cooler bag
I remember the days when as a couple all you had to do was grab your sunnies, a book and a towel and head to the beach.
These days we don't leave without our cooler! It just makes life so much easier to keep things like water bottles sand free and also to pop in food and snacks to feed the kids when they get hungry.
I see many people recommending a pull along cooler however I found them hard to drag along in the sand and much prefer a backpack cooler bag that I can carry hands-free (leaving my hands free for bubs).
---
7. Spray the heat away
When trying to protect your baby from the heat, shade alone may not be enough to keep them comfy (and happy).
Consider bringing a water spray bottle to the beach with you. Simply mist a little water over your little one can make a world of difference, keeping them cool, content, and happy.
---
8. Bring your jogging/all terrain stroller
Packing for the beach is easy! However, transporting all the goodies is always an issue! Bringing a jogging stroller to the beach can make your life much easier.
Not only you can take your baby in the stroller, but you can also pack it to the brim with extra baby beach gear as well. See even more great baby travel accessories here.
Tip: Pull the stroller backward when on the sand. It is easier to pull than to push the baby forward on the soft sand. Also, this will prevent the stroller from tipping over.
---
9. Bring a small pop-up tent for shade and naps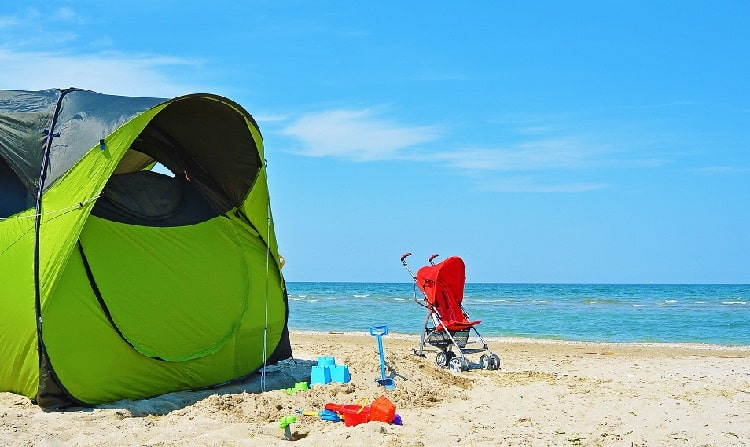 If you are planning on spending a full day at the beach, it is best to bring a tent for shade and for your baby's nap time.
Buy a popup baby tent that is easy to travel with and set it up in your desired spot on the beach.
---
10. Spout Adapter for Water Bottle
This handy little accessory is a must-have, especially for beach trips.
In a matter of seconds, you can transform an ordinary plastic water bottle into a baby-friendly bottle.
We always keep one of these in our beach bag.
---
11. For beach holidays: Use collabsible sand buckets
If you are traveling to a beach destination, a great beach toddler hack is to purchase sand toys that can collapse, that way they take up minimal space and can be packed in checked in luggage.
You can these at a pretty affordable price from Amazon and I just think they are so clever!
---
12. Use chilled washcloths to cool down your baby
Bring some washcloths to the beach and keep it chilled in your cooler. This will help to keep the baby cool as you wipe them down.
---
13. Save money on beach toys
Since the beach is like a big open playground for the baby, there is no need to buy any extra toys – not until they are older.
I suggest you bring along toys that you already have at home. Bath toys work brilliantly at the beach and can be used the in the inflatable beach pool too.
When you bubs is older and ready to build sand castles, it might be worthwhile to buy sand toys then.
---
14. Use a mesh bag for sand toys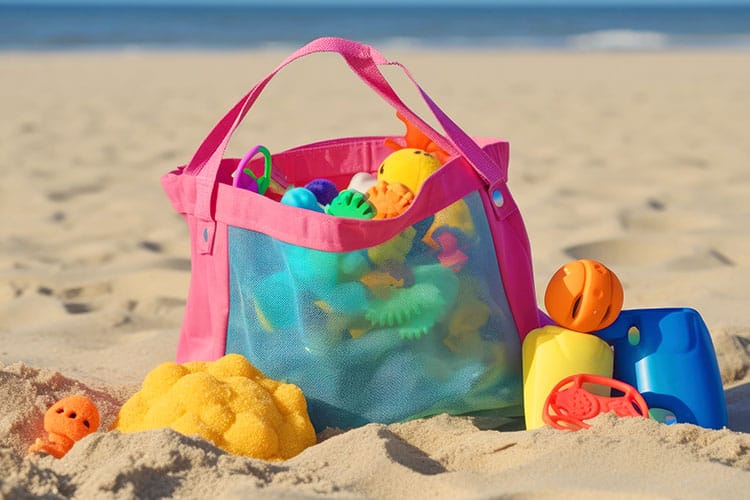 Hands up how many of us bring half the beach home every time with come back home.
After playtime, simply gather your baby's toys and place them in the convenient mesh bag. Give it a good shake to remove any sand, and voila!
I love buying large mesh bags designed for sand toys, but you could also use a mesh laundry bag as well.
Experience hassle-free cleanup with this quick and efficient solution.
---
15. Bring a hat for your baby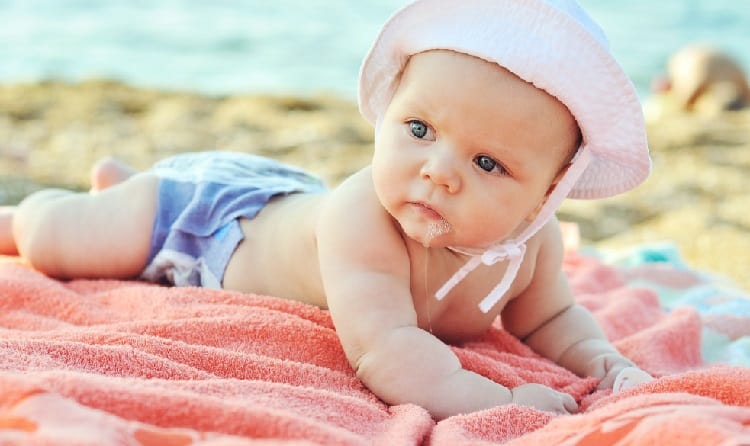 This is obviously a must, especially if you want to keep your baby safe from the UV rays of the hot sun.
Buy a hat that has a built-in SPF for an extra layer of protection.
---
16. Bring a portable fan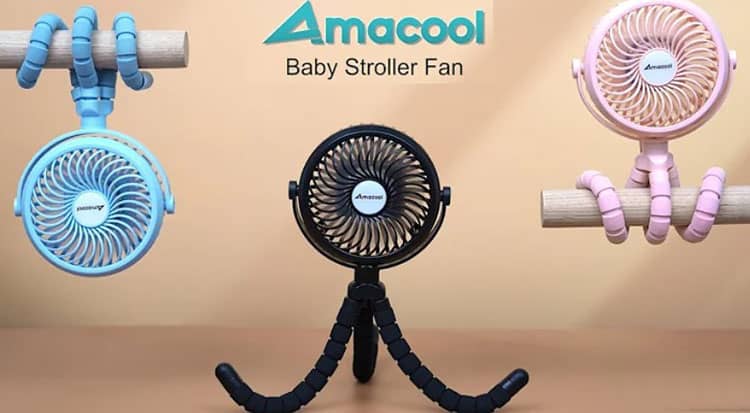 Breezes are not always guaranteed at the beach, so bringing a small battery-powered fan will help.
A small mini-clip battery-powered fan can be clipped to a number of things that you bring with you to the beach.
Clip it to a stroller, to the beach tent, or to the beach diaper bag.
Creating a breeze for your baby will help to keep them cool and more comfortable.
---
17. Remove the sand with a talc-free sand removal bag
Discover the ultimate solution to pesky sand with this revolutionary sand removal bag!
Everyone used to use baby powder to easily remove the sand from their babies, until we learnt that talc is not so great for babies.
This talc-free, reef-friendly powder, enclosed in a soft microfiber pouch, will effortlessly help you say goodbye to unwanted sand.
Simply give the pouch a gentle pat to activate Sandscreen, and wipe away sand from your baby's hands, feet, legs, and more.
Of course you could use cornstarch in a sock to do the exact same thing, but I love that this bag comes with a handy zipper bag so I can just keep it in my beach bag all the time.
---
18. Freeze the water bottles
Freeze your water bottles well before you go to the beach. Pop them into the beach bag and save space in the cooler.
That way, the water bottles will defrost slowly, and you will have plenty of cool water ready to go for refilling your baby's bottle.
Our bubs also loved playing with these frozen bottles (helps to cool them down when they get hot and sweaty).
You can simply add the frozen bottles to their inflatable pool so they can play with it without getting sand all over it.
---
19. Dressing to prevent sunburn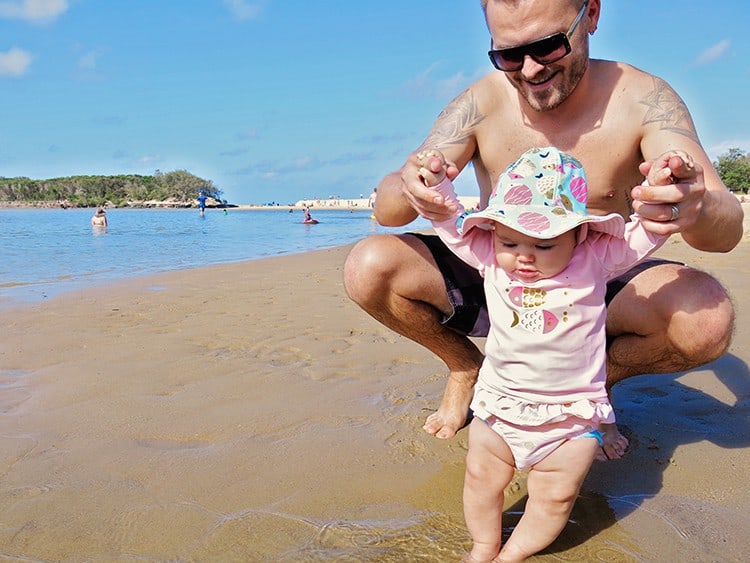 To protect your baby's delicate skin, it's important to use proper sunscreen from 6 months onwards. I love this natural SPF 50+ baby sunscreen from Amazon.
Additionally, don't forget to bring along suitable sun-blocking clothing.
This will help provide extra protection and ensure your little one stays safe under the sun. You can also purchase baby clothes with a built-in SPF as well.
I would also recommend you bring a sun hat with a broad rim as well.
Your baby's skin is extra sensitive to direct sunlight, so keeping the skin covered is always a better idea.
---
20. Leave the every day diaper bag at home
I recommend leaving your every day diaper bag at home. I know – I can hear you sigh! Because you have everything you could possibly need in that bag, but if you take it to the beach you will most likely get sand everywhere.
It is easier to just leave it behind and to pack your baby's spare clothes, swim diaper, diaper supplies, snacks and bottles in a designated beach baby bag.
Personally I prefer to use a backpack diaper bag so I can pop it on my back and carry it onto the beach that way!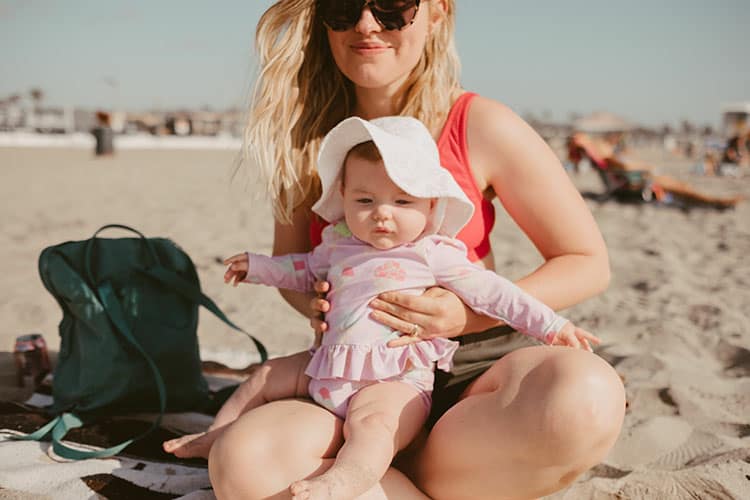 Sand gets into everything, so by leaving your diaper bag at home, you will ensure that the beach stays at the beach. 
---
21. Bring a backup bag that you can leave in the car
This is just an important hack for every day life with a baby or toddler. But it is a good idea to always leave a bag in your car that has a supplies of extra spare clothes.
The last thing you want to do is to leave the beach early because your baby had a diaper blow out twice.
---
22. Use a waterproof baby carrier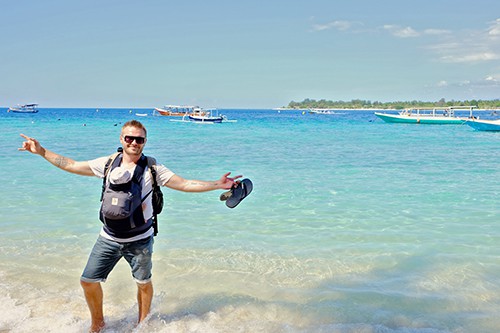 If you are heading to the beach chances are you and your baby will want to head into the ocean.
The best way to do this is to use the best waterproof baby carrier.
A waterproof baby carrier is important as it will help to keep your baby safe (because let's face it, wet babies are slippery) whilst both of you can enjoy your time in the cool water.
Honestly to me it just makes my time at the beach less stressful and I love having my hands free so I can just enjoy a dip in the water (even if I don't go very deep).
---
23. Bring comfy baby water shoes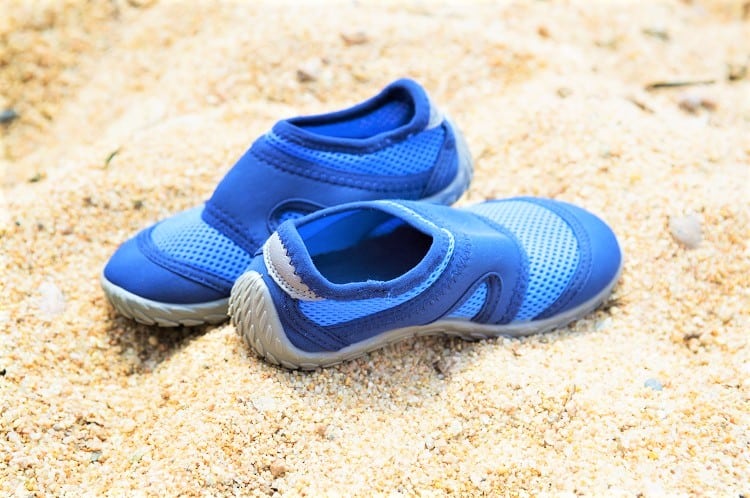 Baby water shoes and baby swim shoes are essential for protecting your little one's feet from hot sand, sharp shells, slippery rocks, and other hazards found on the beach.
Not only will they provide much-needed protection, but they'll also help your baby have more fun in the sand and surf.
You can browse the list of our favorite baby water shoes here, or if you are not in the mood for research, you can simply purchase our favorite water shoes for babies from Amazon here, or buy our favorite water shoes for toddlers from Amazon here.
---
FAQs About Our Best Beach Hacks for Toddlers and Babies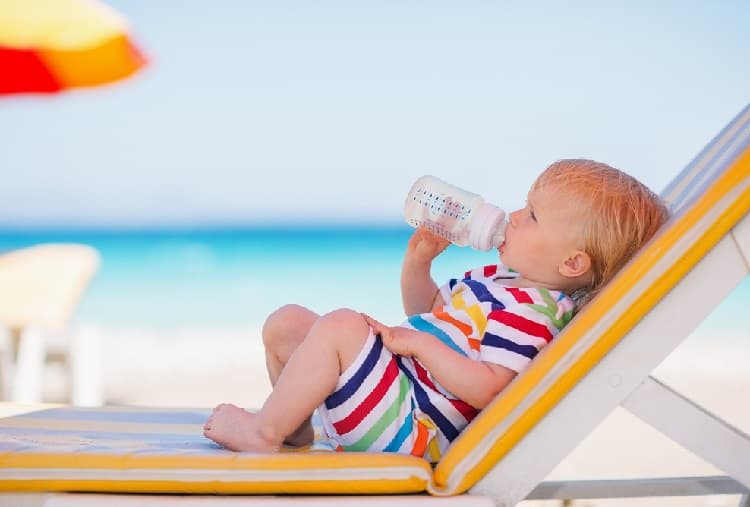 Here are some answers to some of the most commonly asked questions about beach hacks for babies and toddlers.
1. What can you do with a baby at the beach?
One of the best things to do with a baby at the beach is to play in the sand!

Don't forget activities like splashing around in the shallow shore.

And if you're looking for something a little more chilled out, a game of catch using soft balls can be particularly enjoyable.
2. How soon can a baby go to the beach?
We went for walks on the beach with our little one since she was a newborn, however if you plan to spend many hours in the sun on the beach I would recommend you wait until your baby is at least 2 months of age.
3. How do I keep sand off my baby at the beach?
The easiest way is to make sure you bring an oversized sand-proof beach blanket. We particly love this beach blanket from Amazon.

Secondly I recommend using a long sleeve zip-up suit or rash guard.
4. How can I enjoy the beach with my baby?
We love to create a comfy shaded spot on the beach. Our set up includes a beach cabana for shade, a large sand-proof beach blanket, and some beach loungers.

Make sure to bring some water, snacks, and toys that will help your little one stay entertained in the sand.

And lastly, if you have a partner why not make a deal to give each one an hour to just relax whilst the other partner keeps the baby busy.
5. What should I take to the beach for a baby?
Here's some ssentials of what to take: baby sun hats (I like to have two for incase one gets wet) or shade tent, baby sunscreen, plenty of regular diapers and wipes, a beach blanket or towel, water, snacks, toys, and an extra set of change of clothes.

You can find a free copy of our baby beach bag checklist here.
---
Final Thoughts On Our Favorite Baby and Toddler Beach Hacks
These beach hacks with toddlers and/or babies are sure to make life a bit easier and a bit more enjoyable.
If any of the above points have caught your attention the most or if you have any extra hacks to add to the list, please feel free to pop them into the comments below.
As for now, enjoy the day at the beach, everyone!