Parents sometimes deserve a gold medal for flying with a baby. Traveling with a baby can be challenging, especially over long haul flights. It requires extensive preparation to ensure you and your baby have a comfortable and safe trip.
Trying to puzzle out what to pack and which baby gear to take with when traveling can be overwhelming, especially for a first family vacation abroad. Here are some essentials on what to pack and what you need to fly with a baby for a peaceful flight.
---
Top 21 Long Haul Flight Baby Travel Checklist Essentials
For those who like to be organized and prepared (don't we all?), here's a handy list of everything you should take with you on any trip.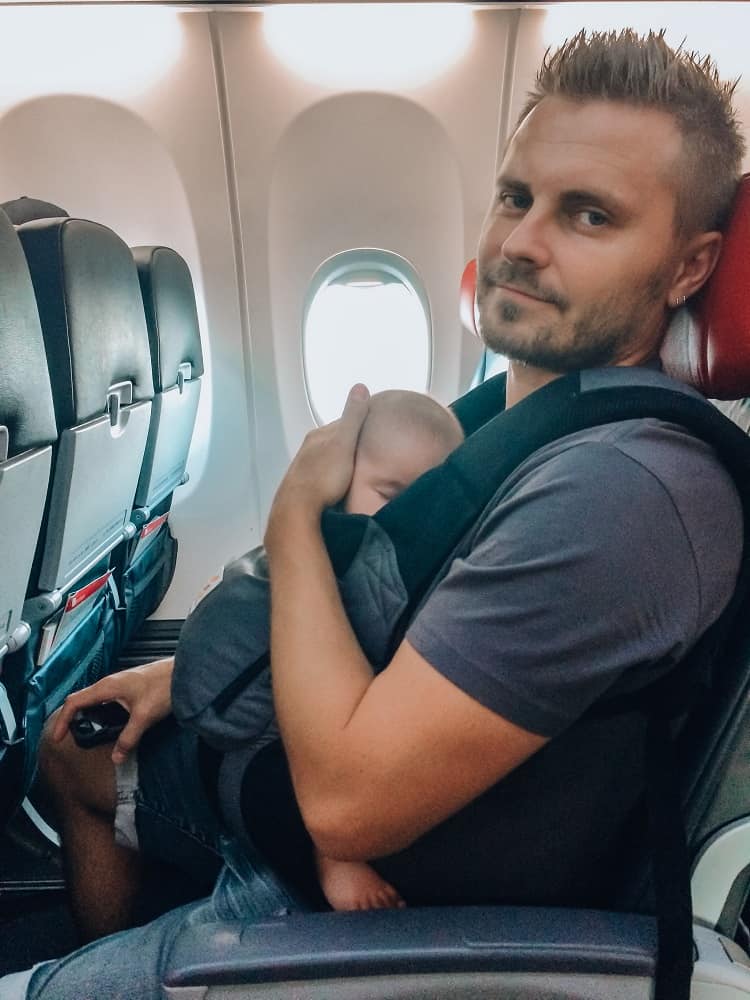 Tip: When creating your baby travel packing list, be sure to add extra supplies in case of any unexpected event.
---
For Comfort
Your baby's comfort is the main objective, whether you're on a short or long haul flight. There are certain essentials to add to your baby travel checklist to ensure a pleasant flight for all.
1) Swaddle Blanket
Small blankets are ideal for wrapping your baby up and keeping those little toes warm. Swaddle sheets are a great choice and perfect for keeping warm and wiping up any messes as well.
They also save space compared to regular blankets because they are so light.
Check out the price for this blanket on Amazon here.
---
2) Dropper Stopper
Another must-have, unless you enjoy doing your stretches every two seconds to retrieve an item, is a stopper. Any item your baby plays with on the plane is attached to one of your or your partner's wrists so that it's never more than 2 feet away.
Check out the price for this dropper stopper on Amazon here.
---
3) A Few Small Toys
Young children can get somewhat cranky while traveling for long periods. A collection of airplane toys is usually the last thing we cram into the bag. So they're easy to grab when needed.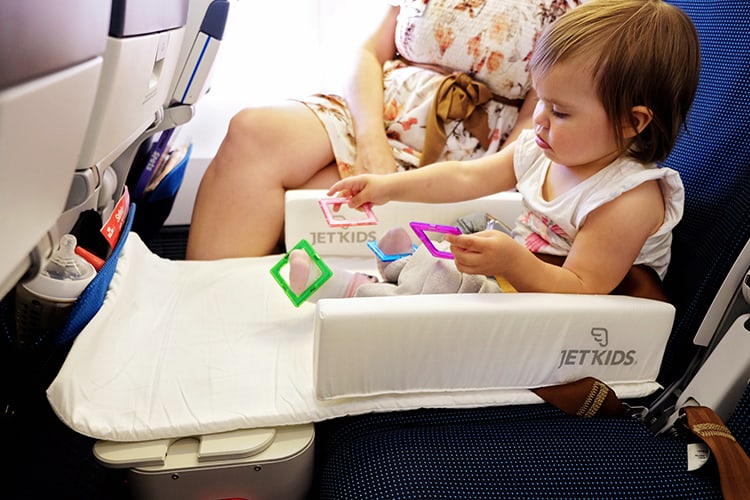 Stuffed animals, music toys, teether blankie, teething keys; take whatever is compact and is loved deeply by your little one. It is best to take a few different options to keep the little one occupied.
---
4) A Sky Mattress
A fantastic new product from SkyBaby is the travel mattress. It enables young babies to sleep snug on your lap during a flight. There's a loop underneath the bed that attaches to the lap belt to keep your baby secured.
This means a peaceful sleep for the baby and minimal discomfort for mom or dad.
Check out the price for this baby mattress on Amazon here.
---
5) Pacifier and Clip
If your baby uses a pacifier, it may come in really handy while on a long-haul flight. A clip attached to your baby's jammies will ensure the pacifier is not spat out onto the dirty airplane floor, and then lost forever.

Check the price for this pacifier with a clip on Amazon here.
---
6) Extra pair of jammies
We usually always pack in an extra pair of pajamas for the plane.
Check out the price for these pyjamas on Amazon now.
Firstly, they're comfortable. The best ones come with attached booties to keep their feet warm. Plus, it's much easier to change a diaper in an airplane bathroom if all you have to undo is a few buttons. Rather than need to pull pants off and back on.
Taking an extra pair is crucial, as well. If there's a messy accident on the plane (most likely to happen), you will definitely want a backup.
---
7) An airplane travel bassinet
Not even the most doting parents want to hold their baby for an 8-hour trip. For a long haul flight, parents can request a free bassinet (cot) for the baby to sleep in.
Note: It's best to request a bassinet early as most planes usually only offer one per plane. Also, there is a limited number of seats to accommodate this space.
---
For Diapering
On any flight, diapering is a challenging task. To get the job done quickly and cleanly, ensure you have the right tools. To make life even more convenient, find yourself the best diaper bag possible.
Check out our favorite diaper bag here!
8) Diapers
When you're getting ready for a long flight, you should pack a diaper in for each hour you'll be in transit – and some extras. A rule of thumb when packing is to add one and a half times more than what you think you'll need for the trip.
Check out the price for these diapers on Amazon here.
---
9) Diaper rash cream
Diaper rash cream comes in small travel-sized versions and should be a staple in your carry-on.
Check out the price for this diaper rash cream on Amazon now.
---
10) Dirty diaper bags
These dirty diaper bags are fantastic for bagging up smelly diapers on the plane. They are also great to have on hand for any additional trash. Take a couple of these with you at a time instead of taking the whole dispenser – this will save you room.
Check out the price for these diaper disposal bags on Amazon now.
Tip: Use a waterproof-lined diaper bag with a shoulder strap.
---
11) Travel case wipes
Wipes are great to carry with you, especially during the awkward diaper changes on a long flight. A travel case is great to use. It allows you to refill the wipes to last you a full 8-hour day.
Check out these travel diaper wipes case on Amazon now!
---
Personal Health & Hygiene
Keeping your baby healthy is of the utmost importance. Here are some baby bag must-haves to ensure your infant is hearty and happy.
12) Nail clipper
The nail clipper is a baby bag foremost that should be carried with you at all times. You would never want your little one cutting themselves with long nails.
Check out the price for these baby nail clippers on Amazon here.
---
13) Infant Tylenol and Ibuprofen
Infant Tylenol should be packed just in case of emergencies. Keep this in small measures with your other travel-sized liquids.
Ibuprofen sachets come in handy in 5ml sizes and are available from most supermarkets and chemists.
Check out the price for this Infant Tylenol Medicine on Amazon now.
---
14) Comb or brush
Yet another baby bag staple, though not so exciting. Keep the whole family looking presentable for that 'just landed' photo. A soft brush for baby is convenient and always comes in handy.
Check out the price for this baby hairbrush on Amazon here.
---
15) Antibacterial wipes
Keep antibacterial wipes on you to wash down any grimy tray tables, sticky hands, etc. Wet Ones are perfect for sensitive skin and they're safe to use on infants.
Check out the price for these wet wipes on Amazon here.
---
16) Nose Frida – the snot sucker
You can never tell when your child will need a good old nose suck. It's not the most important, or exciting item, but it is another baby bag essential.
Check out the price for this Nose Frida on Amazon here.
---
Feeding Time Must-Haves
With any human being on the planet, traveling with comfort food is essential, especially with your infant – through with a baby, it can be a messy job!
Comfort food can make a fussy baby a very happy one in a few seconds. Pack in these handy items to keep feeding time simple and stress-free.
17) Extra bibs
A bib is a great device when you're trying to feed your baby. The bumkins SuperBib is terrific to use. It's waterproof, making it easy to wipe off any spills. It folds into a small pouch for storing and is big enough to keep an extra spoon there when feeding.
Check out the price for this baby bib on Amazon here.
---
18) An extra bottle
For those formula feeding, an extra bottle is a lifesaver. Fill it up with the exact amount of water and then just keep it handy at airport security.
Check out the price for this baby bottle on Amazon here.
This will help if one is dirty and you need an emergency comfort feed.
---
19) Spoon with a travel case
Take a soft baby spoon with a travel case. There's a great one from Oxo that comes with both the travel spoon and case. During a flight, you would certainly want a place to put the dirty spoon, and that's where a case comes in.
Check out the price for this infant feeding spoon on Amazon here.
---
20) Formula dispenser
The formula dispenser is yet another staple on your baby packing list. It's an absolute lifesaver, especially when you're trying to balance a baby and mixing up a bottle while flying 35,000 feet in the air.
Check out the price for this baby formula dispenser on Amazon here.
---
21) Baby milk and food
You are allowed to take baby food and milk onboard. If it is for the duration of the flight, it may be over 100ml. This includes; breastfeeding or formula milk, baby food in packaging, and sterilized water.
Check out the price for this infant formula on Amazon here.
A food squeeze pouch makes feeding solids during a flight much more manageable. Instead of buying plastic jars of food, taking up much-needed room in your travel bag, the pouch is easy to tuck into a side pocket and is a lot more compact.
Besides the vital foods, bring your baby's favorite snacks, such as crackers, fruit, puffs, or cereal, to keep them happy.
---
Final Thoughts about Your Baby Travel Essentials
When traveling with a baby, keep in mind that most major international airlines have a limited supply of baby items such as formula milk, nappies, baby food, etc. Also, be prepared for unexpected stopovers or flight delays.
Traveling with and packing for a baby can be tricky. Fitting the stroller, the right FAA-approved infant car seat, toys, teddies, and clothes can seem impossible. But exploring the world with your little one makes it all worth it. And, it gets easier as they grow.
One thing you can have some sort of control over is your carry on. Take advantage of that, and get ready for a fun, exciting flight with your little nugget.