If you only have time to visit one quaint, historical Italian town then it simply must be Volterra. Tuscany is loved as an area that is full of breathtaking views, traditional architecture, and nostalgic experiences – and Volterra epitomizes all of these characteristics.
We loved our day there so much that we added the town to our list of the best places to visit in Tuscany.
Located in the up in the Tuscan hills, Italy, a short trip away from Siena and Florence, Volterra is fondly known due to its slightly odd urban layout and Etruscan origins.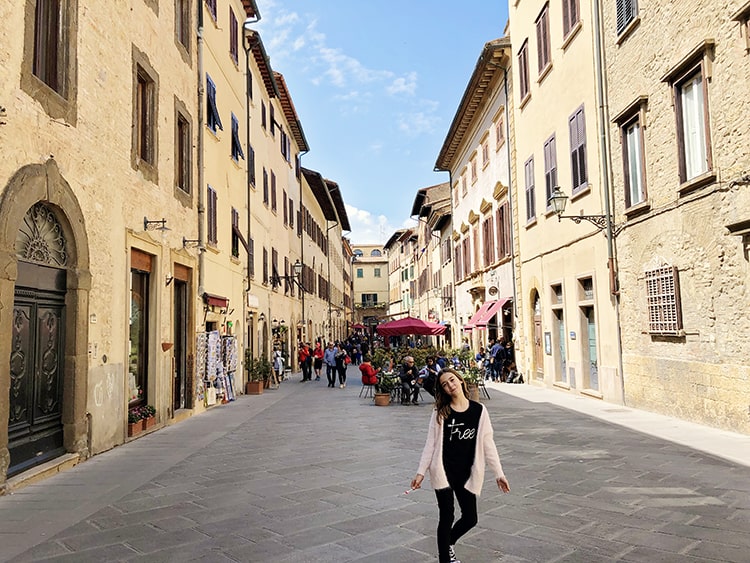 With a history dating back before the 8th century, Volterra is filled with ancient ruins, artworks, and architecture from various periods. It is also known to be the center of the Etruscan civilization, and this fascinating history can be explored within its walls.
As a guide to help you make the most of your trip to Volterra, here's our list of top things to do in the enchanting town.
Getting to Volterra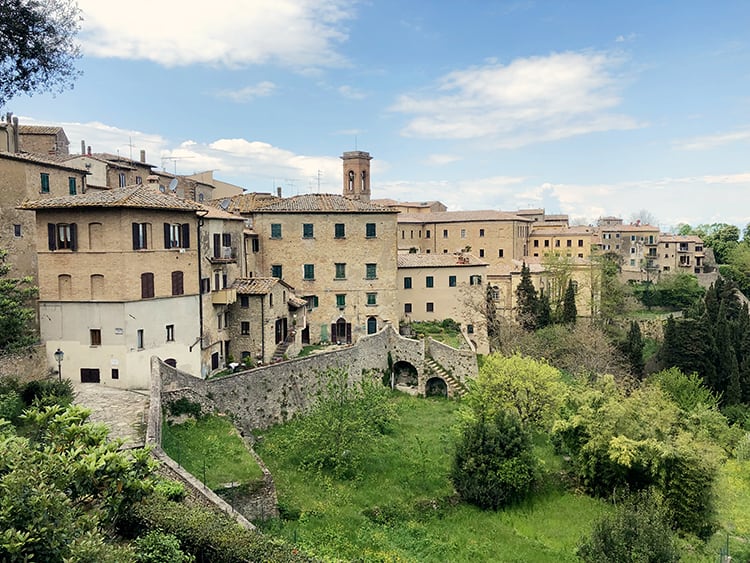 If you haven't yet heard of Volterra, you're probably asking yourself, "Where is Volterra, Italy?". You can find the charming town fairly easily when looking for Volterra on a map of Italy.
Although there are not many nearby towns, Volterra is close enough to Siena and Florence to make it accessible. With this in mind, we would suggest a few main ways to get to Volterra.
Day Trip from Florence to Volterra
If you're only planning to visit Volterra for a day, then a day trip with a tour is the perfect option. Not only are the transport logistics organized for you, but the tour will have an efficient itinerary. This will make sure that you see the best of the town – along with all of the golden nuggets of information.
There's also the ultimate day trip from Florence available if you want to go from Florence to Volterra. Find out more about this tour here.
Day Trip from Siena to Volterra
As another popular Italian destination, you may find yourself wanting to visit Volterra from Siena. If you're based in Siena, check out this incredible tour that will return you from Volterra to Siena at the end of a wonderful day of exploring.
Drive Yourself
Another way to reach the town is to drive yourself. By doing so, you give yourself a little bit more flexibility and autonomy. The down-side is that you miss out on some valuable information that tour guides can provide, and parking in the town can be a nightmare.
Not to mention that the final few kilometers on the road are rather full of turns and steep uphills. We would definitely recommend one of the tours to make the most of your trip.
If you still prefer to drive yourself, you can rent a car here.
Best Things to do in Volterra
In a town so rich in history and culture, a little bit of guidance can go a long way. Here are our must-see spots when visiting Volterra.
1. Roman Theater, Forum, and Baths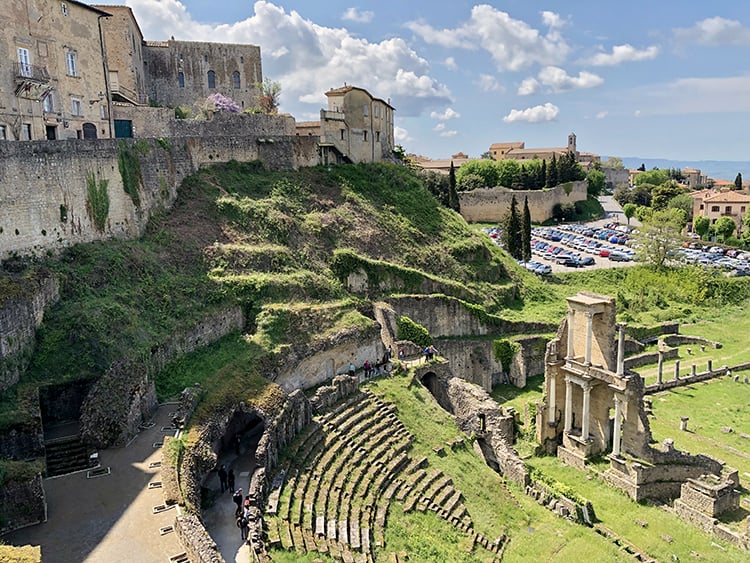 The large archaeological site was excavated in the 1950s to unveil ruins from as far back as 1BC. A visit to the Roman Theater in Volterra is sure to sweep you away in a nostalgic dream as you reimagine the performances that were once performed in the theatre ruins.
The stunning amphitheatre and large complex of baths are really well preserved and an incredible sight to behold.
While it is possible to view the ruins from outside the fence, the guided tour and information received upon entry is invaluable. The €5 (USD $6) entry fee for adults is a small price to pay in order to experience this iconic Volterra sight up close.
2. Piazza Dei Priori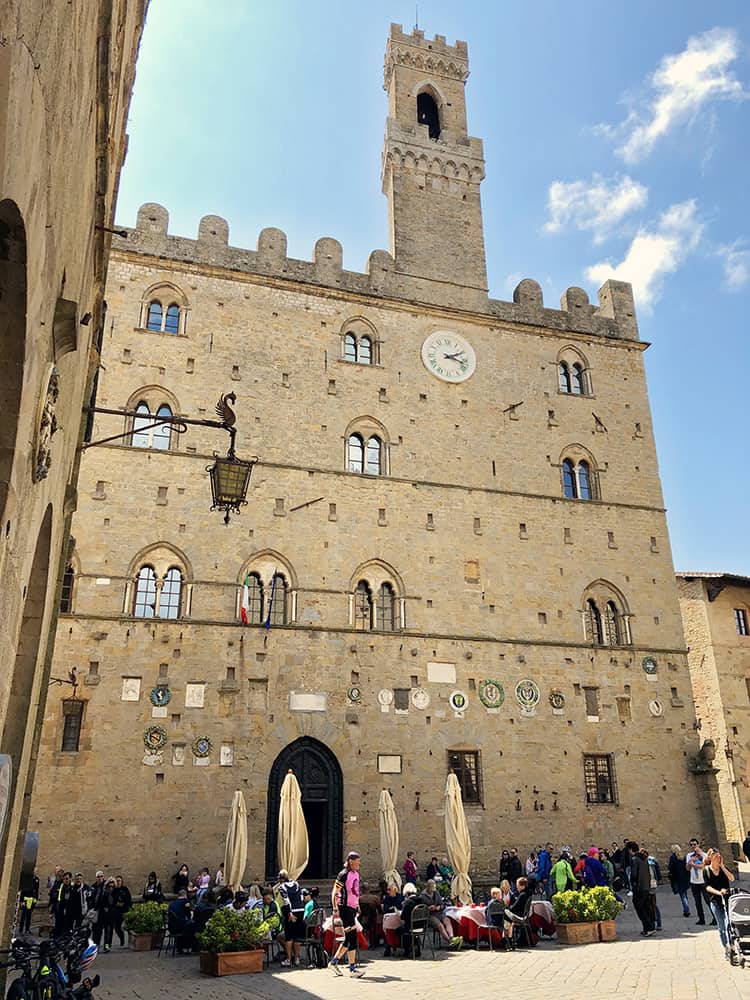 Found in the heart of Volterra, the Piazza dei Priori is filled with historic buildings and restaurants to relax and absorb the vibrant center of the town. The combination of the medieval and Renaissance history is almost tangible in the atmosphere of the piazza.
The piazza is also home to the tourist center where you can pop in and ask any burning questions. Take your time to explore the alabaster shops, marvel at the historic buildings and enjoy a coffee as you watch the daily life of the town go by.
3. Climb a Tower for Views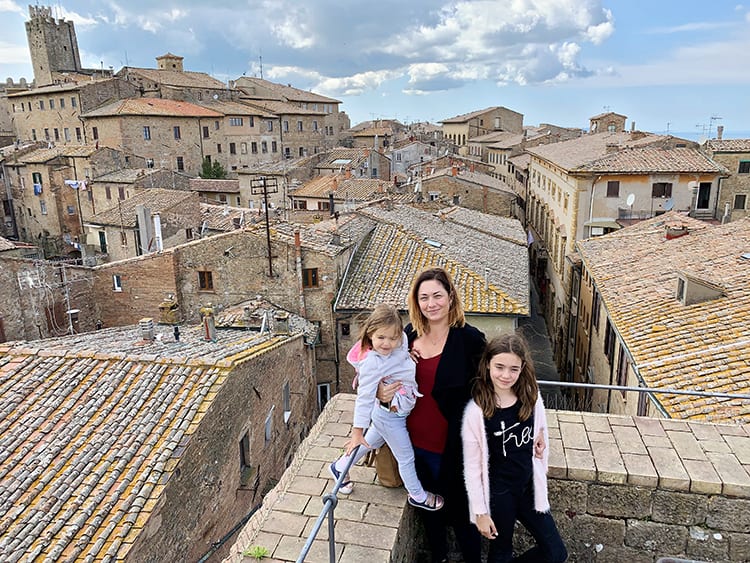 One of the top sights in Volterra, as it is in many Italian towns, is to visit a tower which is an iconic activity in a Tuscan hill city.
A climb to the top of Volterra's Clock Tower, found in Piazza dei Priori, offers spectacular panoramic views of the town and surrounding countryside. There are also other towers that you can climb as well, so keep a lookout for them. We loved the views from the top!
There is another tower, Torre del Porcellino, which has a little stone piglet perched on the top of the tower. Unfortunately, you can't access this tower.
4. Museo Etrusco Guarnacci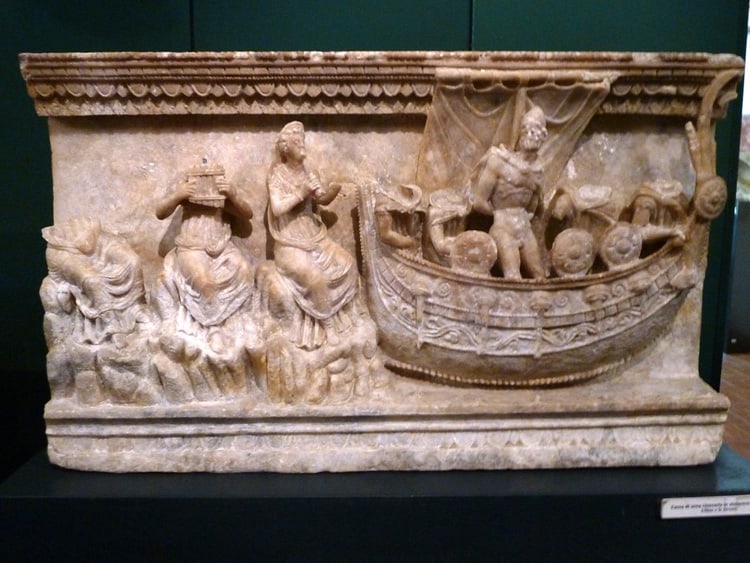 Housing some of Italy's best collections of Etruscan artifacts, Museo Etrusco Guarnacci is a must-visit spot for anyone with an interest in ancient history and culture.
The museum tells the story of Italian history before the Romans through ancient sculptures, artifacts, and pottery. Even the building is beautiful!
5. Le Balze Cliffs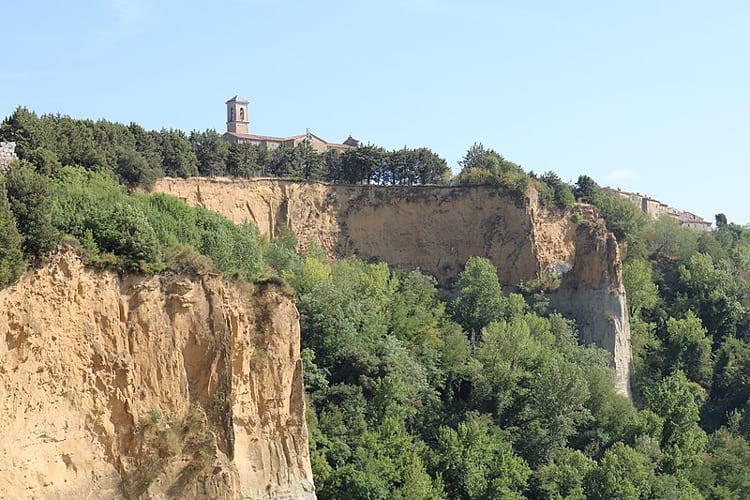 As captivating as the town of Volterra is in itself, nothing can compare to the view from Le Balze Cliffs which offers a magnificent over the town from a distance. Known as Volterra's 'dramatic crags', Le Balze can easily be reached by foot from the town center and is well-worth breaking a sweat.
Insider tip: The spot in the Volterra hills is best visited at sunset when the beauty of the scenery is amplified ten-fold!
Keep walking to the end of the path where you will get some beautiful views of the town of Volterra and the surrounding Tuscan hills and valleys as well.
Volterra and Twilight
If you are wondering why the town of Volterra sounds so familiar, it's probably because you have read or watched with the famous 'Twilight' series. Fans of the saga will know that the Volturi lives in the town of Volterra, and rarely ever leave.
Interestingly enough, despite the book's location being based on a real place, the film was actually shot in Montepulciano (and even then they had to bring in a fake fountain for Bella to run through in order to get to Edward – only a short feature came from Volterra itself.
Final Thoughts on Visiting Volterra
Although we've traveled to many different destinations around the world, Italy is one of our favorite countries to visit, largely because of its fascinating history and quaint towns. Volterra is one of these interesting towns that offers a deep and rich cultural and historical experience by revealing its Estrucan and Roman past.
So, pack your bags and prepare to take your family on an adventure of a lifetime as you explore Tuscany with the kids, or even just with your partner as a romantic getaway