The glorious Eternal City is called Rome. A city so incredibly rich in history, from the glutinous Romans and the almighty gladiators to the deep dark secrets of the underground catacombs.
Rome, one of the most beautiful cities in Italy, is a wonderful destination to visit.
There are so many things to see in Rome and so much fun to have whether you're a traveling couple, family on holiday, or solo traveler.
Here's our idea of the perfect Rome weekend itinerary.
Top Things to see in Rome in a Weekend – Friday
Even though there are 30 famous landmarks in Rome, we have selected only the best of the best to squeeze into your weekend itinerary for the most visited European cities.
The following must-see attractions are all found in the old city center of Rome and are located within walking distance of each other.
You'll only need to really start your sightseeing in the late afternoon, and you can fit it all in before feasting on a delicious Italian dinner.
1. Marvel Inside The Pantheon
This building is nearly 2,000 years old and is definitely one of the most popular places to see in Rome. Visitors flock to this grand church to marvel at its ancient architecture and sophisticated decor.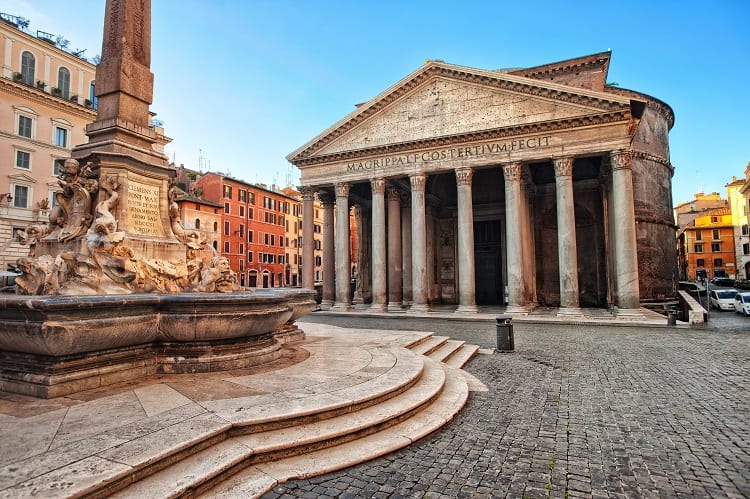 Entrance to the Pantheon is free, and paying a visit in the late afternoon will usually ensure fewer crowds. Enter the stunning building to gaze up into its magnificent unreinforced concrete dome, and appreciate its 2000-year-old patterned marble floor.
You'll need around an hour inside the Pantheon, to really see the building in its fullest.
The Pantheon Tips:
Open hours:
Monday-Saturday 8.30am – 7.30pm (last entrance 7.15pm);
Sunday 9.00 am-6.00 pm (last admission 5.45 pm);
Non-Sunday holidays: 00-13.30 (last admission at 1.15pm)
Cost: Free Admission
Best Selling Tours:
---
2. Make a Wish at the Trevi Fountain
Trevi Fountain is located 10 minutes away from the Pantheon and is a must-see when in Rome.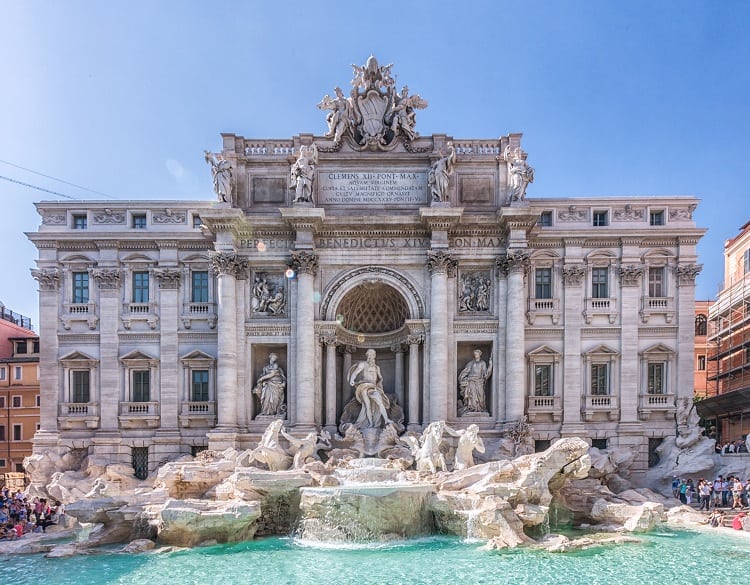 Walking up to the fountain, you can't miss the grand 26-meter tall structure. The fountain was built in the 18th century, on top of Rome's oldest water source.
Visited by many at all times of the day, the fountain is a fascinating spot full of history and mythical wonder. Legend has it that you can throw a coin into the fountain and make a wish – which will evidently come true.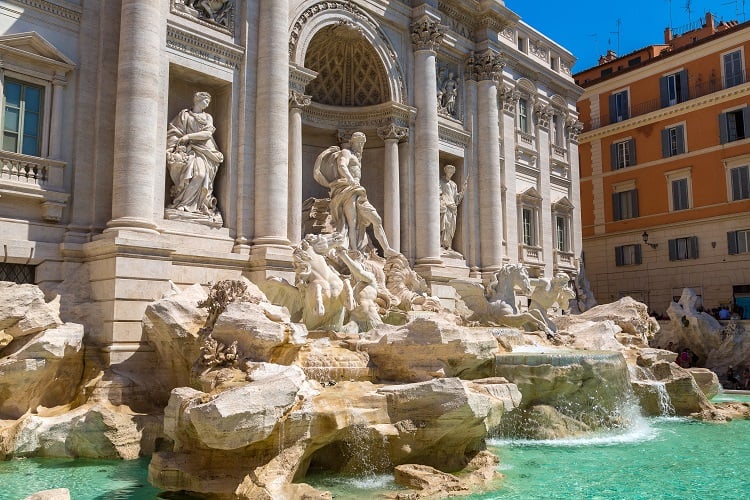 Thanks to this story, the fountain becomes quite full of locals' and tourists' coins, and the money is donated to a charity each night – making dreams come true either way!
Trevi Fountain Tips:
Opening hours: All-day
Cost: Free
Best Selling Tours:
---
3. Stroll Up and Down the Spanish Steps
Another short 10-minute walk from the fountain you'll find the Spanish Steps.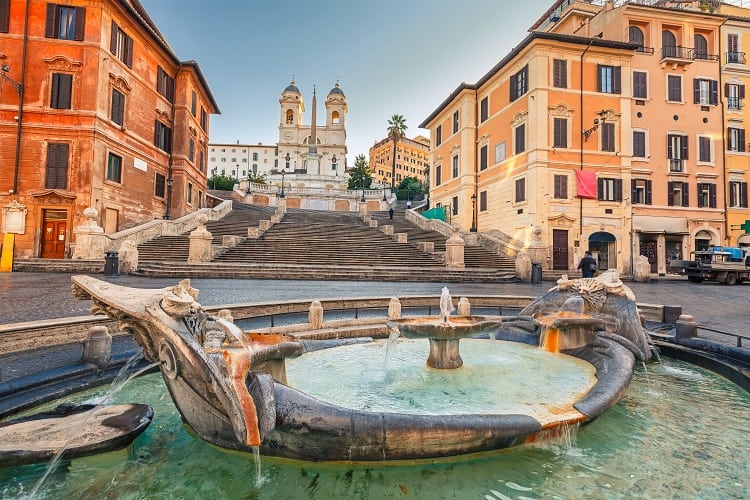 Named after the nearby Spanish Embassy, the Spanish Steps are a landmark in Rome. They were built in 1723. At the bottom, you'll find the Piazza di Spagna and at the top is the Piazza Trinita dei Monti.
Since it is such an iconic place, the steps can get crowded, with many tourists trying to take photos and enjoy the views.
For this reason, many suggest going at sunset, which is usually between 6 pm and 8 pm. The foot traffic flows evenly at this time, and you can get some amazing photos.
Recently, Roman police have banned tourists from sitting on the steps, due to the landmark becoming dirty with chewed gum, coffee spills, and wine stains. So it's best to take in the scenes and continue moving on to one of the surrounding restaurants for dinner.
Spanish Steps Tips:
Opening hours: All-day
Cost: Free
Best Selling Tour: Spanish Steps and Trevi Fountain walking tour.
---
4. Enjoy Your Night at Rooftop Bar
Finish your day in style! It is Friday night after all. There are plenty of great places to grab a drink after your full day, however, what I recommend is that you pick one of these rooftop bars in Rome. Enjoy!
Weekend Itinerary for Rome – Saturday
There really isn't a better way to spend a Saturday than to dedicate the day to exploring the magnificent Vatican City and all it has to offer.
1. Explore the Sacred Vatican City
A separate state from Rome itself, the Vatican is an enchanting city. While the city-state is not in actuality open to tourists, visitors are welcomed to a few spots.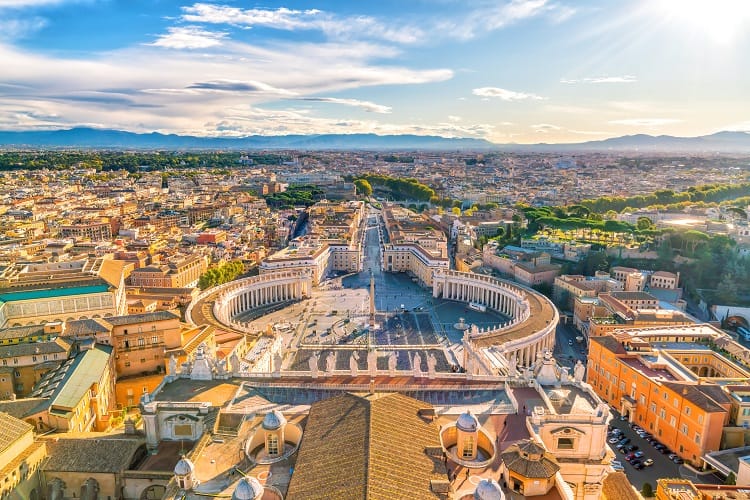 The most important, in our opinion, are the Vatican Museums and St. Peter's Basilica, but trying to get to both of these in just 1 day in Rome can be challenging.
So, we suggest you wake up early! The Vatican opens at 7 am and after a quick espresso, you should be able to enter at the Basilica entrance easily – with pre-booked tickets, of course.
Save some time and get your skip-the-line Basilica tickets here.
First, we recommend you visit the Basilica. Traipse up to the St. Peter's Dome, admire the inside of the Basilica, and gaze at St. Peter's square.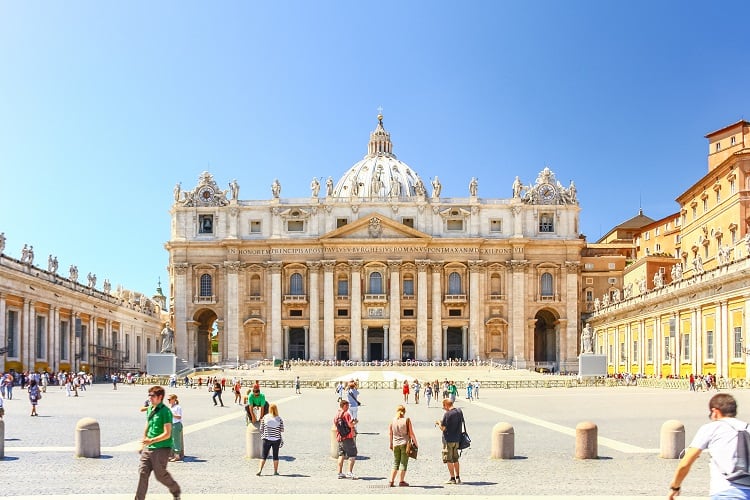 Entrance to St. Peter's Square and the Basilica is free, but if you'd like to climb the Dome it'll cost you around €6. The recommended time at St. Peter's Basilica is 2+ hours, not including the waiting time in the queue.
To get to the Basilica, you'll walk through the iconic St. Peter's Square. This large plaza is breathtakingly beautiful and adorned with historic sculptures and statues. Take in the stunning scenery of the square as you make your way to the Basilica's entrance.
Inside the Basilica itself, your eyes are treated to even more beauty and magnificence. The amazing colors and details of the rooftops and statues throughout the building offer unique and memorable sights.
To reach the dome, you'll need to either walk up the 500+ steps or take a lift up to the top – and then walk up the last of the stairs. You'll be amazed at the inside of the Cupola up close, and the views from the outside are enchanting.
Once you've taken in the many magnificent sights at the Basilica, make your way around the Vatican walls to the Vatican Museums entrance. The walk is around 15 minutes but there is no other way to get there.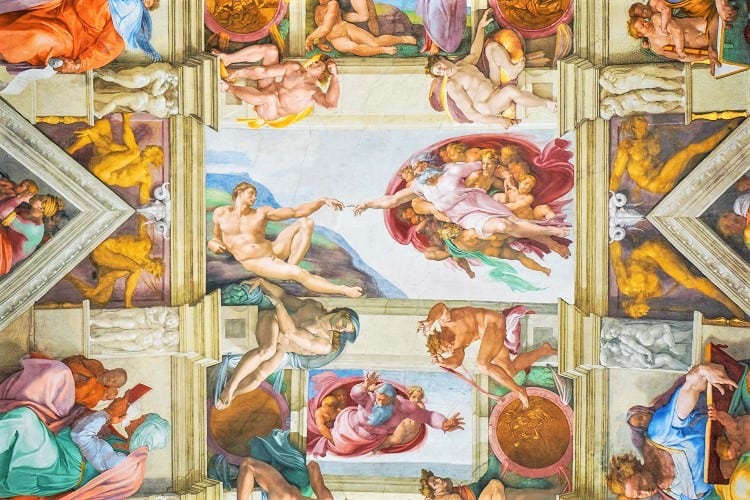 Admission tickets for the museums and the Sistine Chapel are combined, and you'll need to give yourself another 2+ hours for this part of the visit. At first, you'll make your way through the museums, browsing the impressive art collections, until you reach the chapel.
The impressive architecture, diverse exhibitions, and of course, Michaelangelo's majestic chapel paintings make this another must-do in Rome. There are also some striking Raphael pieces on display.
Photos aren't allowed in the chapel itself, but you can snap away inside the museums.
The Vatican tips:
Opening times:
October – March 7 am till 6 pm
April – September 7 am – 7 pm.
Cost: Around €21 to see the museums, the Chapel and the Basilica.
Vatican dress code: Wear clothes that cover shoulders and knees as required when you explore sacred sites in Rome.
Best Selling Tours:
---
2. Take a Walks of Italy Tour
When in Rome – you should make sure you visit the crypts and catacombs of Rome, Italy! One of the best, and most efficient, ways to do this is to book a Walks of Italy Crypts, Bones and Catacombs Tour.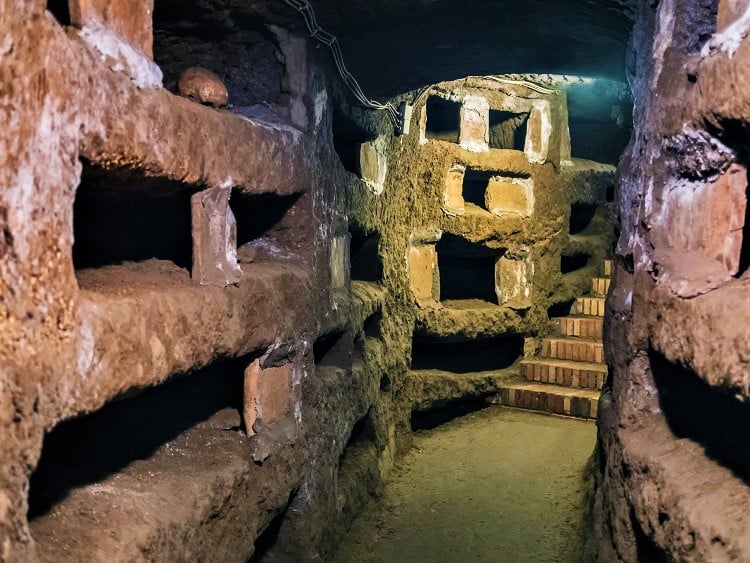 The walking tours take around 3 hours and start at 9 am or 2 pm, so there's just enough time for an afternoon tour. The groups are small and led by extremely professional tour guides who possess a wealth of knowledge. We were extremely impressed and recommend this tour to anyone wanting to travel Rome.
Catacombs Walking Tour Itinerary
This walking tour will take you to the Capuchin Crypt, where you'll find over 4000 bones from Capuchin Monks & Friars, indigent Romans and even children.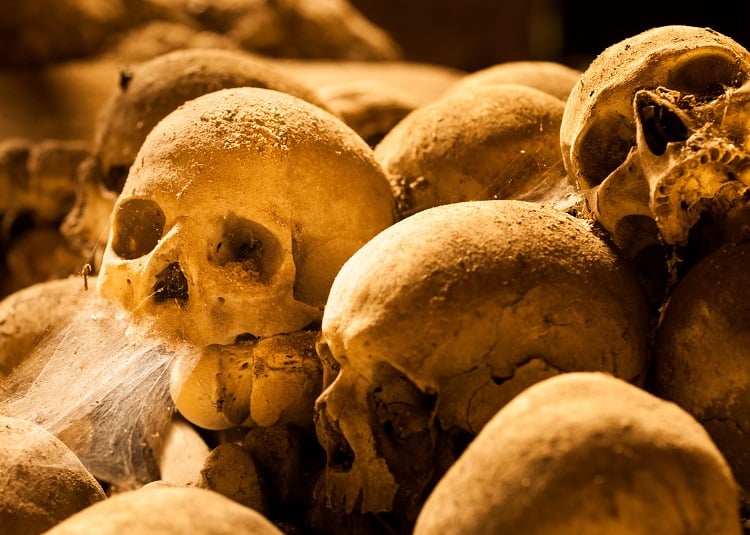 The bones have been used to create decorative shapes such as rosettes, crosses, and coats of arms, as well as two explicit reminders that time is forever passing by.
Next is the Santa Priscilla Catacombs. This catacomb dates back to 150 years before Christianity was legalized. The sheer size of the underground cemetery with it's cold and eerie windy tunnel left a lasting impression.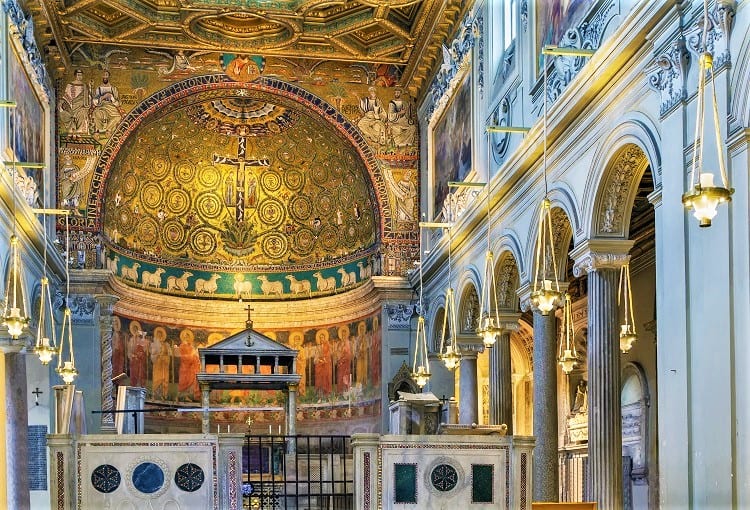 And finally, arrive at the Basilica San Clemente. This is not just any ordinary Basilica, this one takes you underground to a 4th-century Basilica.
If that's not impressive enough, you can go down even deeper to reach the 1st-century secret temple and apartments to find out more about the rituals carried out there.
Are the catacombs in Rome worth seeing?
The answer is a resounding YES!
At the end of the day, you're likely to be exhausted in the best way possible! You've now seen some of the most historic sites in Rome, and you deserve an ice-cold Gelato and perhaps a glass of wine or two.
Tip: The catacombs dress code differs from one site to the next, but closed shoes are a must!
---
What To Do In Rome On Sunday
While Sunday is often known as a day of rest, with only 3 days in Rome, you can't slow down just yet. There is still so much to see in Rome.
Tip: If your Rome trip falls on the first Sunday of the month, entrance to the Colosseum, Roman Forum, and Palatine Hill is FREE!
1. Visit the Roman Forum
Start off your day bright and early with a visit to the Roman Forum. Once home to many important Roman temples, today the rectangular area is a popular ruins spot. Entrance to the area is covered with a Colosseum combo ticket.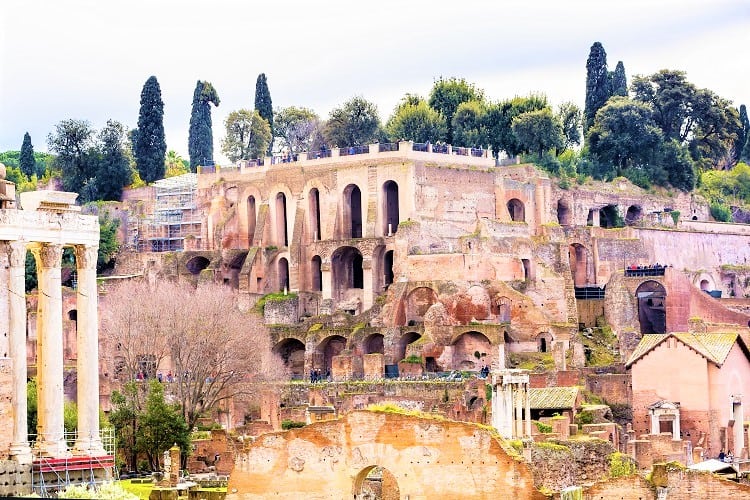 The site is steeped in history and holds hundreds' of years worth of Roman culture. The area is bound to be busy, especially on a Sunday, but right as it opens, between 8:30 am and 9 am is usually the quietest time. You shouldn't need more than an hour to take a self-guided exploration tour of the ruins.
Roman Forum Tips:
Opening hours: Monday – Sunday 8:30 am to 7:15 pm
Cost: €12 (Colosseum, Roman Forum & Palatine Hill combined)
Best Selling Tour: You can find a combined tour for the Colosseum and the Roman Forum here.
---
2. Tour the Inside of the Colosseum
A very short 1-minute walk from the Roman Forum finds you at one of Rome's most iconic attractions. The Colosseum is well-known and on most Rome travelers' bucket lists. This means it's a busy, crowded place and pre-booking your tickets is a wise thing to do.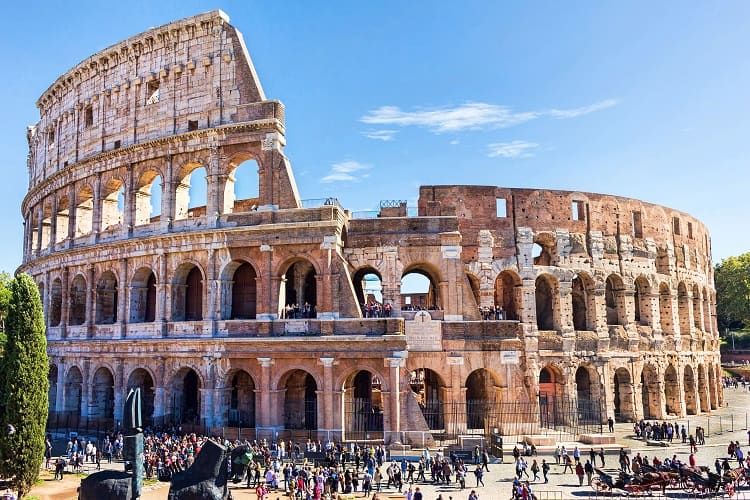 Built as a stadium for events such as gladiator fights in 70 AD, the Colosseum has stood the test of time. Today, the building is slightly damaged from natural disasters, and discolored from years of weathering, but is still as grand as ever.
The building is large, and has many sections to see. We'd advise you to set aside 90 minutes – 2 hours for this visit.
Colosseum Tips:
Opening hours: Monday – Sunday 8:30 am to 7 pm
Cost: €12 (Colosseum, Roman Forum & Palatine Hill combined)
Best Selling Tours: Check out the Viator Colosseum Tour here, or get your priority tickets at GetYourGuide Colosseum Tour here.
---
3. Journey up Palatine Hill
The original of the seven hills of Rome, Palatine overlooks the Roman Forum and is just meters away from the Colosseum.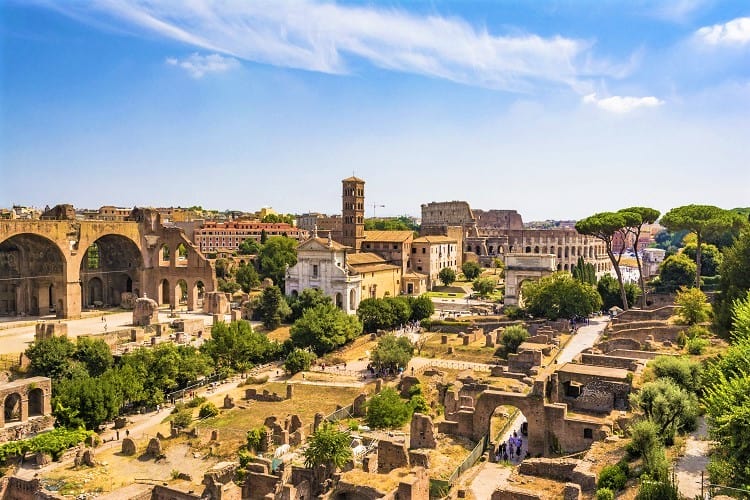 Full of myths and legends, and offering spectacular views of the city, Palatine Hill should be on every Rome itinerary. You can visit the hill with the same ticket as the Colosseum, and you'll be guaranteed a memorable visit.
On top of the hill, you can see the Romulus huts, Domitian's palace ruins, and the Farnese Botanical Gardens. It's a great place to spend some time wandering and enjoying the city sights from up high.
Palatine Tips:
Opening hours: Monday – Sunday 8:30 am to 7:15 pm
Cost: €12 (Colosseum, Roman Forum & Palatine Hill combined)
Speed up your morning schedule and get skip-the-line tickets to the Roman Forum, Colosseum, and Palatine Hill here.
---
4. Stop off at the Mouth of Truth
This giant carved statue of a man's face is situated outside the medieval Church of Santa Maria in Cosmedin. The carving has an opening for the man's mouth, and legend says that if a liar sticks their hand into the mouth, their fingers will be bitten off!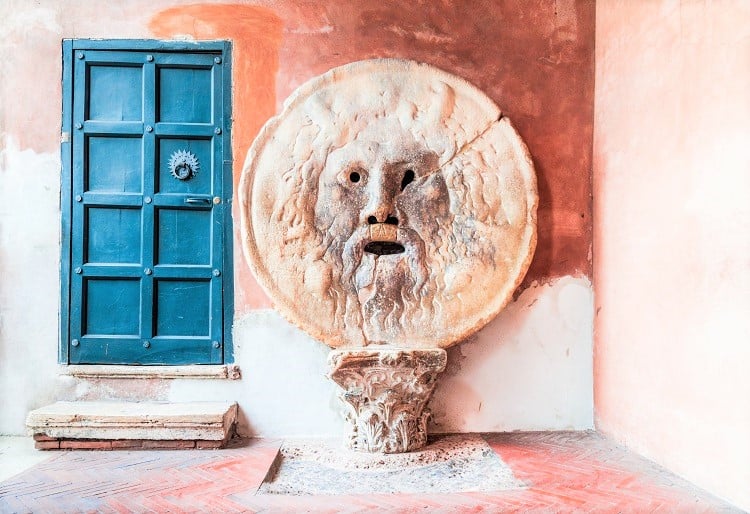 This statue has become quite the tourist attraction, perhaps thanks to its debut in the movie 'Roman Holiday' starring Audrey Hepburn. Travelers flock to the church to view the statue, with many opting to take photos with their hands inside the statue's mouth.
Tip: In 2016, the church that owns the carving started charging people €2 to take a photo with the carving.
Mouth of Truth Tips:
Opening hours: Monday – Sunday 9:30 am to 5:50 pm
Cost: €2 to take a photo
---
5. Look Through the Knights of Malta Keyhole
This is one of the more off-the-beaten-path Rome attractions, which makes it all the more alluring. This keyhole is set in an impenetrable, green door right at the end of a cul-de-sac located at the foot of Aventine Hill.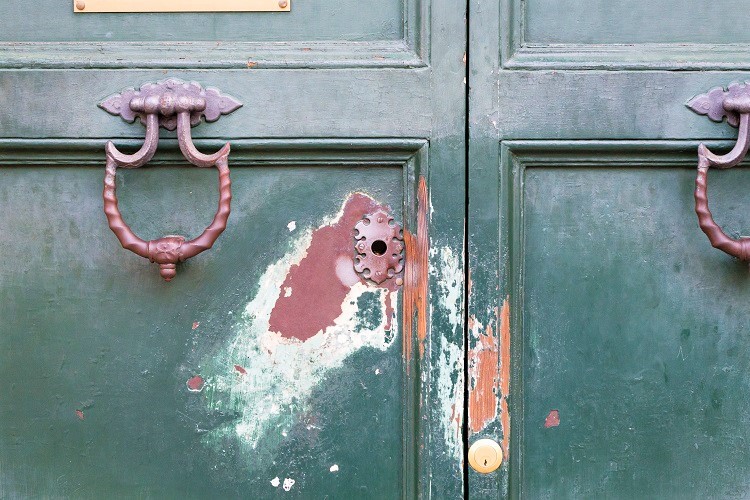 A look through the keyhole provides you with a curious view of St. Peter's Basilica. Many of the travelers that come across this enchanting view have tried to capture it with their cameras but, really, it's best seen with the naked eye!
Knights of Malta Keyhole Tips:
Opening hours: Open 24/7
Cost: Free to view through the keyhole
---
6. Roam Around Aventine Hill
Aventine Hill is home to the Knights of Malta Keyhole, and so much more as well! The southernmost of the seven hills of Rome is a peaceful break from the busy Roman city.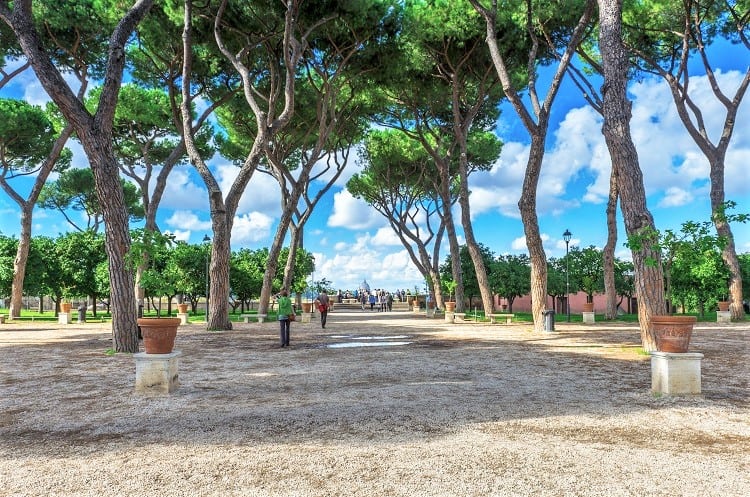 The hill is surrounded by churches, hotels, and impressive scenery. It's the ultimate spot to end your Rome vacation. On the hill, you can expect to find the oldest basilica in Rome as well as many temples, churches, and gardens.
Aventine Tips:
Opening hours: The hill is available 24/7, but the churches and other attractions have their own times.
Cost: Free to roam
---
Best Place to Stay in Rome for the Weekend
We booked an Airbnb room for our stay as it was so much cheaper than booking a hotel room.
Made in Rome B&B
This BnB is set in an elegant building full of old-world charm. The terraces of the building offer magnificent views of some of Rome's most famous features, and breakfast is a welcomed treat in the morning.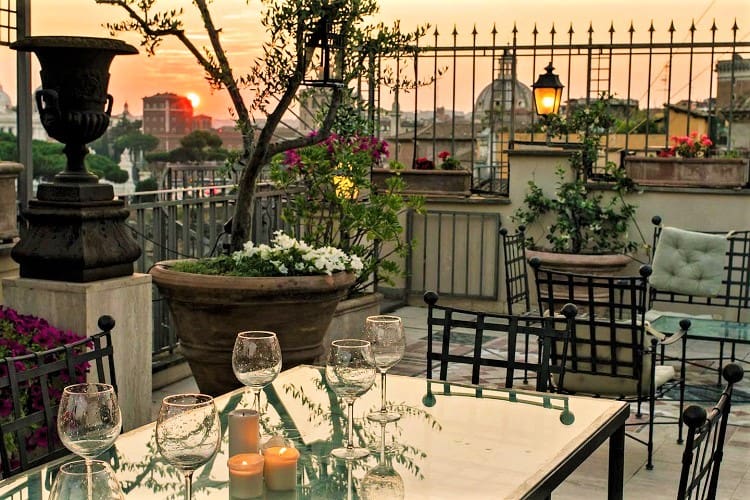 Rome Accommodation Tips:
Another great way to save money on accommodation is to opt for hostels. Here is a list of the best hostels in Rome to help you find something suitable.
If you are looking for a bit of luxury of a hotel, then you might be interested in checking out our post about Best Family Hotels in Rome.
---
How to Get Around Rome on a Weekend Trip
You can easily walk through the streets of the city to get to your destination, but if you're working with just 2 days in Rome, we suggest you find more efficient modes of transport.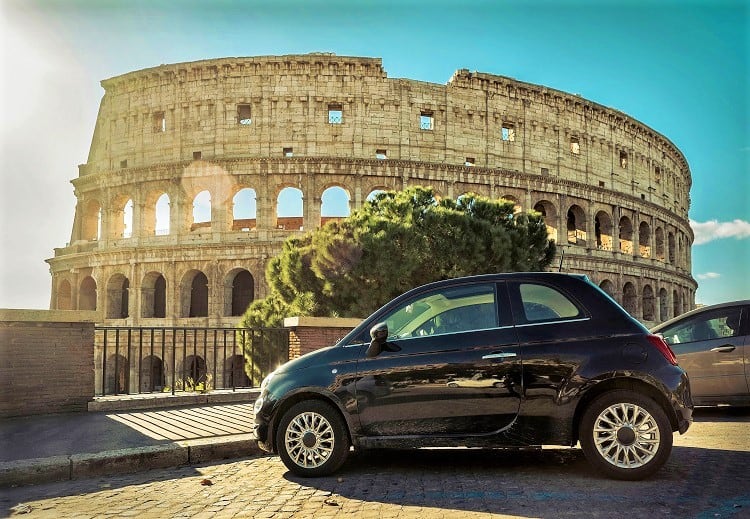 Here are some options:
The Metro runs through all the main suburbs and connects most of the attractions and landmarks together.
You can also take advantage of a transfer by taxi. This is a faster and more reliable way to move around Rome.
Get some exercise in while still managing to zip around the city by renting an electric bicycle. Rent an electric bicycle here.
---
Weekend in Rome Travel Itinerary Conclusion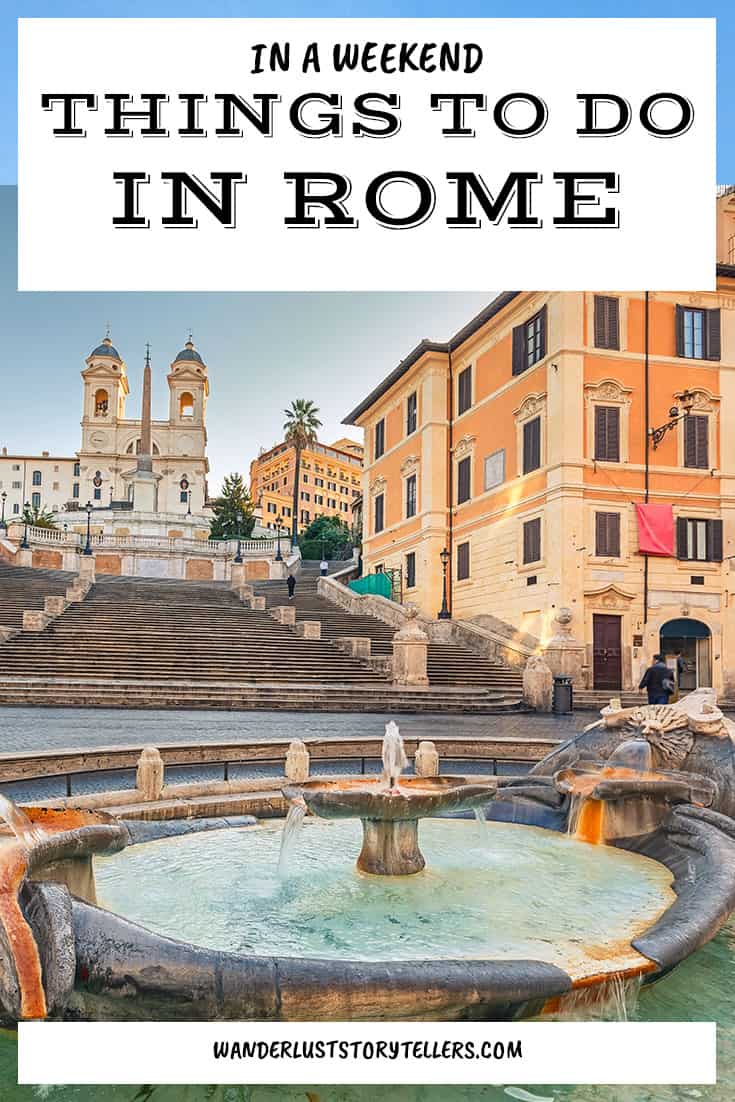 Now you know how to strategically plan your time for a weekend in Rome. This well-known city really is a splendid place, regardless of how long you spend here.
Trying to see the best of Rome in two days may seem impossible, but if you plan it properly you'll be able to reach all of the important places to see and things to do. Whether Rome is your main destination, or simply a stop on a longer Italy vacation, we're sure you're going to love it as much as we did!
---
Further Reading: