Where should you stay and what should you do in Hanoi?
Let's start planning your trip to Hanoi with these itinerary suggestions.
North Vietnam is my absolute favourite region. I adore Hanoi, Sapa, and Halong Bay. And we are already planning a return trip next year to explore even more of the beautiful places in the North.
So I'm hoping Hanoi is on your list! And today I want to help you get your Hanoi days planned and filled with the best things to do.
But before we do, I'm going to assume that you will be arriving in Hanoi via plane. So make sure you pre-book your private transfer from the airport to the hotel. Click here to grab this cheap transfer.
____________________________
HUGE TIP:
Pre-purchase your 3G WiFi Device with unlimited data and they will deliver it to your Hanoi Hotel so it is ready to go when you arrive. We hate standing in line at the airport to get connected, this way is so much simpler!!
Totally brilliant and super cheap at only AUD $10!
____________________________
Here's How to Plan your Trip to Hanoi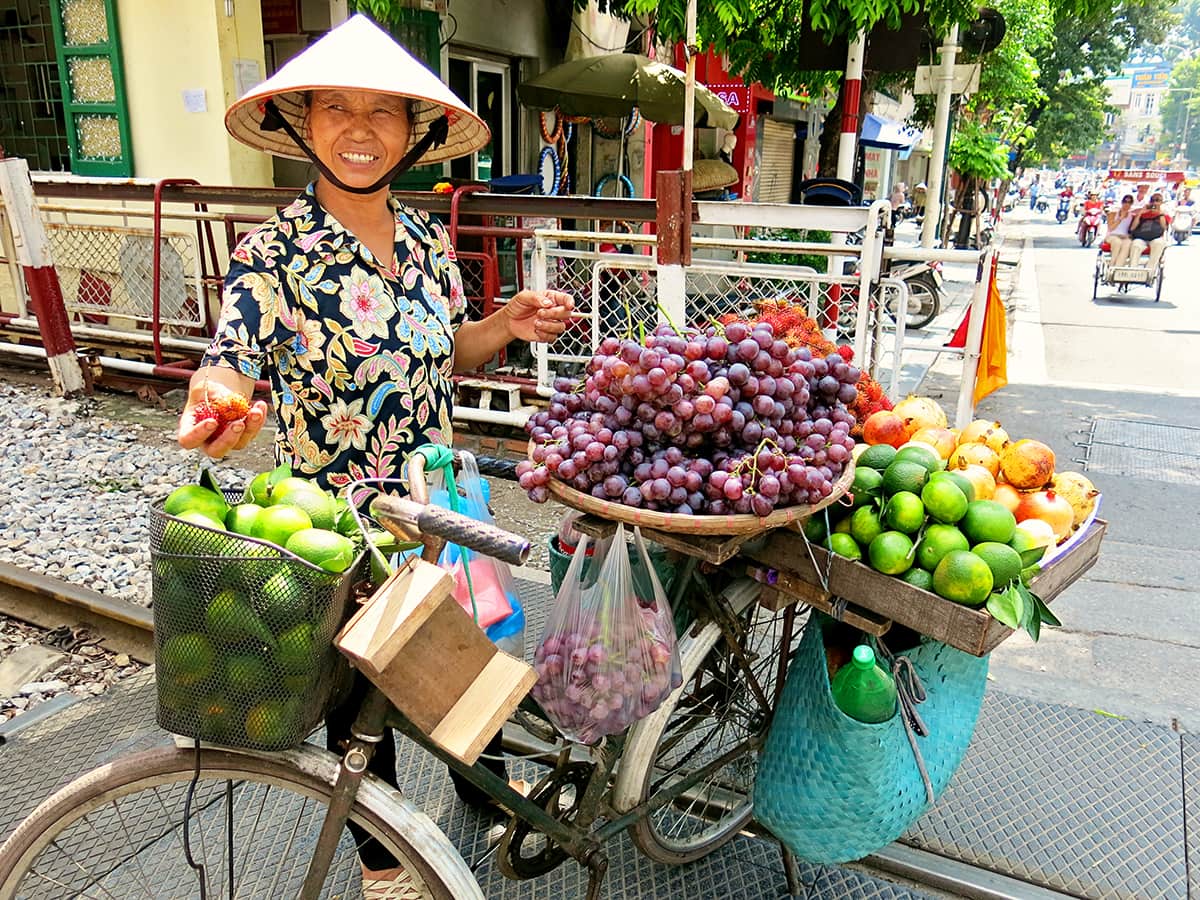 Not in need to do hours of research in order to plan your itinerary for one city? Don't worry, I totally understand! That is why I created this handy one-page guide to planning your time in Hanoi.
From the best recommendations on where to stay, to information on the best places to see in Hanoi. We share the best Hanoi tours to book, as well as information on how to long to stay.
1. Where should you stay in Hanoi?
You need to ensure that you are booking accommodation in the Old Quarter of Hanoi. Hanoi is a massive city, but the charm of the city is all located in the Old Quarter.
Tip:
Did you know that accommodation booking platforms specialize in certain continents? Agoda is all about SE Asia and you will without a doubt find the best deals for hotels there!
Where we love to stay:
Other super popular accommodation options:
You can find our full guide on the best Hanoi hotels to book here.
2. What should you do in Hanoi?
Here is how we suggest you spend your time whilst in Hanoi.
Explore on your own: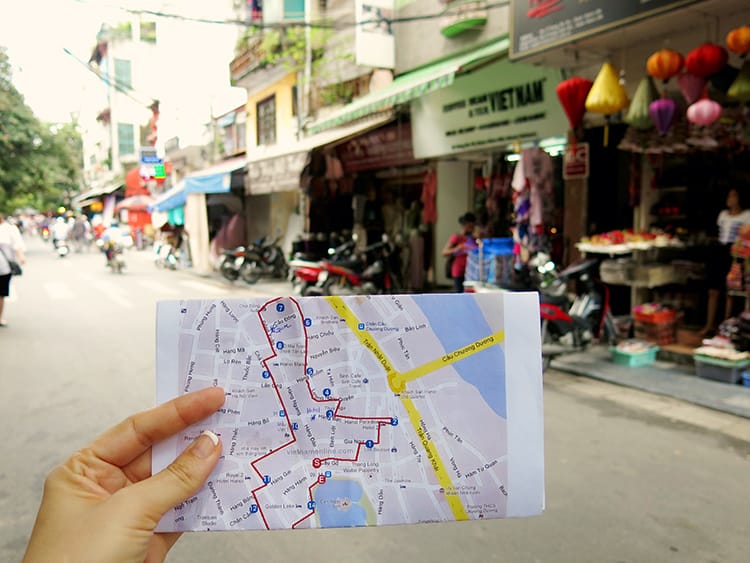 Hanoi is pretty easy to explore on your own. Simply download an app that has a map that can work offline and you are set. Here is a post with the top things to do in Hanoi. 
For those that prefer to book tours, check out our recommendations of the best walking tours in Hanoi.
Day tour of Hanoi to book:
Out of all the Hanoi day trips, this is the one I recommend as a 'must-do' – explore the Hanoi Food Culture.
It is pretty easy to stick to the touristy food restaurants, but this tour will give you the opportunity to find more local yummy food and to be honest, that is where you will find the truly delicious Vietnamese food.
(Stay away from the restaurants that look like they are there for the tourists!)
Click here to learn more about this fun tour.
The top day trip out of Hanoi to book: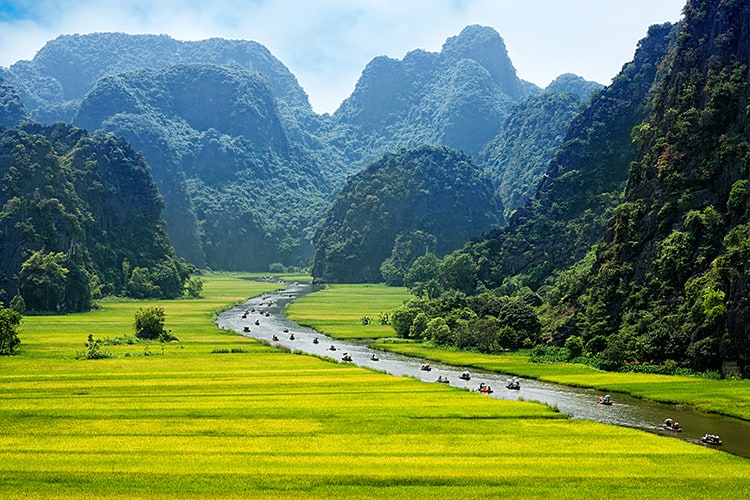 The most popular day trip from Hanoi to explore more of the countryside is the Hoa Lu & Tam Coc small group tour. This tour shows you some pretty beautiful scenery. It is a pretty busy full day tour, but you will get to:
Visit the ancient capital of Hoa Lu
Visit King Dinh and King Le temples
Explore caves on a sampan boat
Bike around countryside villages
Click here to grab a spot on this great day tour.
3. How long should you stay in Hanoi?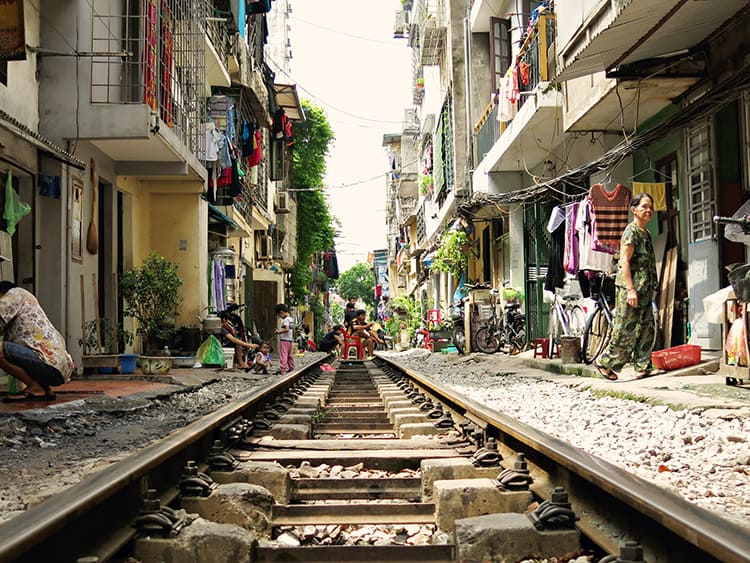 I recommend at least 3 days in Hanoi. That gives you 2 days to explore the Old Quarter and 1 day to include a day tour to Hoa Lu & Tam Coc.
If you only have 2 days in Hanoi, I suggest you skip out on the day trip to the countryside and simply enjoy your time in the Old Quarter.
4. What about Travel Insurance?
We often get asked whether Vietnam is a safe country to travel to.
In short, the answer is yes!
But you also need to understand that Vietnam is a third-world country. So you can see why it is so important to protect your expensive travel gear and why you need to invest money in protecting your health … just in case anything does go wrong.
Travel insurance may not be the most exciting thing to spend money on when planning your holiday, but I truly believe that it is the most necessary. We always purchase travel insurance. I believe that if you cannot afford travel insurance, then you cannot afford to travel. It is just not a risk that you should take.
Click here to see which company we prefer to use for our travel insurance.
5. What about Halong Bay and Sapa?
Whilst you can find day tours to both Halong Bay and Sapa, I highly recommend that you spend 1-2 nights in each of these areas. You can read more about Halong Bay here, check out the best cruises in Halong Bay and more about Sapa here.
We hope that you managed to book your stay in Hanoi. If you are after more helpful resources, you can find all our blog posts related to Hanoi here.
PS. Did you Skip to the End? Here is the brief version:
To help you book and plan your Hanoi trip.
1. Book your Hanoi airport to hotel transfer
2. Book your accommodation, we love Paradise Boutique Hotel
3. Read our post about what to do in Hanoi
4. Book this great Hanoi food tour