Located in the heart of the busy streets of Hanoi Old Quarter you will find a little gem! This little treasure stands tall amongst the colourful old streets that are typically flooded with loads of people and scooters.
If you are wondering about where to stay in Hanoi, look no further than the gorgeous Paradise Boutique Hotel.
Actually we thought this hotel was so perfect that we decided to make it our base whilst travelling out to Sapa and Halong Bay.
We stayed at this awesome hotel three times and we had a chance to check out three different rooms, so we can recommend this place to you, with knowledge and recommendations to suit a room for every style and every need!
We reckon it is the best hotel in Hanoi, especially in the 'budget' price range class!
Click here to see the latest prices to stay at the Paradise Boutique Hotel
–
Our Stay At The Paradise Boutique Hotel
–
____________________________
Read more about Hanoi!
Discover the Real Gems of Hanoi for an unforgettable adventure.
Top 5 Tourist Attractions of Hanoi that you must see.
Experience a Brilliant Cruise at Halong Bay and have a blast.
Go on one of our recommended Hanoi Walking Tours.
____________________________
–
Where is this Hanoi Boutique Hotel?
Paradise Boutique Hotel is located right in the centre of the beautiful, extraordinarily busy with tourists, but very comfortable Hanoi Old Quarter. When searching on the map, just type in 62A Hang Bac street, Hoan Kiem dist, Hanoi, Vietnam.
Entrance to the Hotel – a little hidden as the building is very tall and quite skinny
Although this area is so crowded with tourists and locals alike, this is a perfect place to really experience the culture of this beautiful part of the city. Masses of restaurants and street food to indulge your taste buds with, colourful and inviting souvenir shops all around and friendly and smiling faces up and down all the narrow old streets.
This Hanoi hotel is truly is the perfect spot for exploration of the Old Quarter of Hanoi! For the lack of a better word this hotel is perfect!! We loved it!!
–
Arrival at the Lobby of this boutique hotel in Hanoi:
Before you can even open the door, the concierge is already outside helping you with the bags whilst ushering you into the cool, air-conditioned lobby. Here you are greeted by more smiling faces asking you to rest in the comfortable waiting chairs. Within a few seconds you have a thirst crunching welcome drink in your hand and a cool wet small towel to refresh your skin.
Cannot fault the service here. From the minute we stepped in, to the moment we booked out, the staff at this hotel has been nothing but friendly, helpful and absolutely awesome. So make sure to ask them for helpful hints on where to eat in Hanoi, or where to have a nice relaxing cocktail or two.
—————————
—
Elegant Rooms:
We spent three nights here in Paradise Boutique Hotel on separate occasions. So, let me tell you a bit about the rooms we got to experience.
Family Suite Room 706 was the first room we stayed in. Located at the rear of the hotel with a larger terrace, it's one of the largest rooms in the hotel. Very cool 270-degree views over the old town, where you really see what it's like for the locals living here.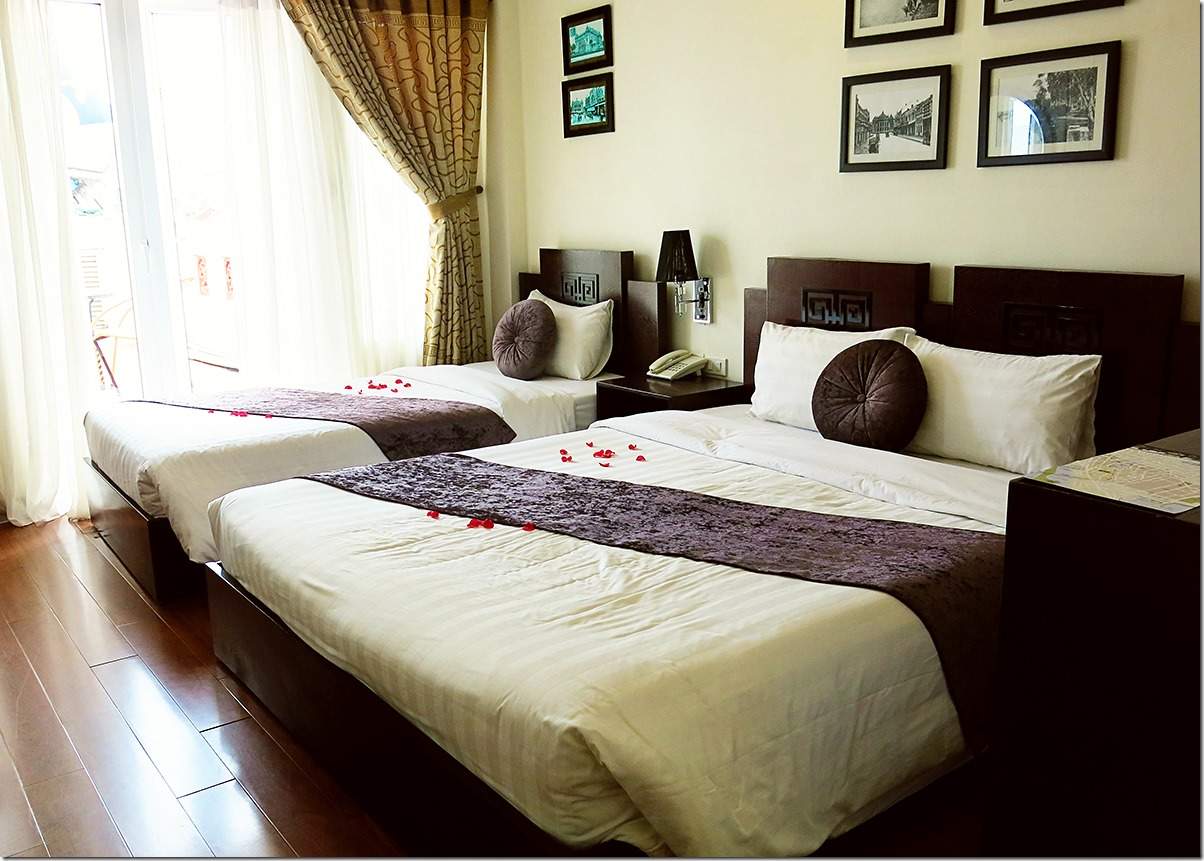 Large family size room taking over half of the floor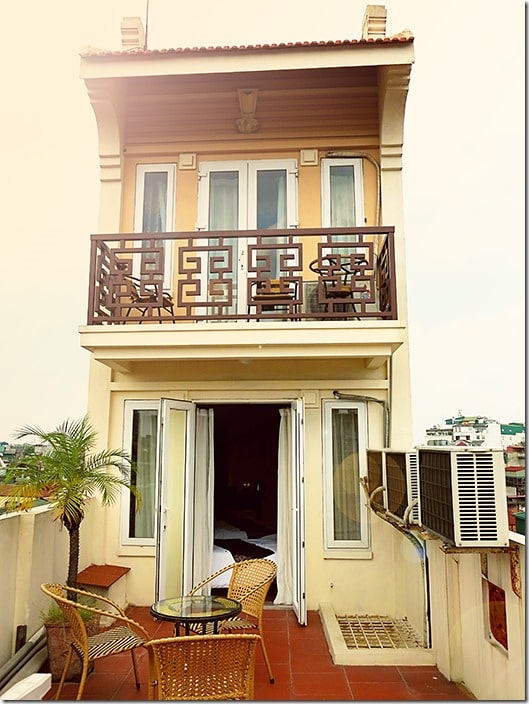 We stayed in the Superior Room (808) on the second night in Hanoi Old Quarter. This is a top floor room with only one window, which makes this room the quietest and the most peaceful one. If you need a little break from the hustle and bustle of the Old Quarter; even though this one is small and compact; we got some beautiful sleep here.
We stayed in Suite Room 209 on our last night in the town, so we wanted to get amongst it a little more. Located right at the front of the hotel, with a private balcony overlooking the street not far below, it is a perfect place to check out the night life and get closer to the noise of the movement in the streets. Haha, don't worry. The balcony was a double glassed door, so most of the noise is blocked when closed. This room also has a bath tub for those who love to soak away.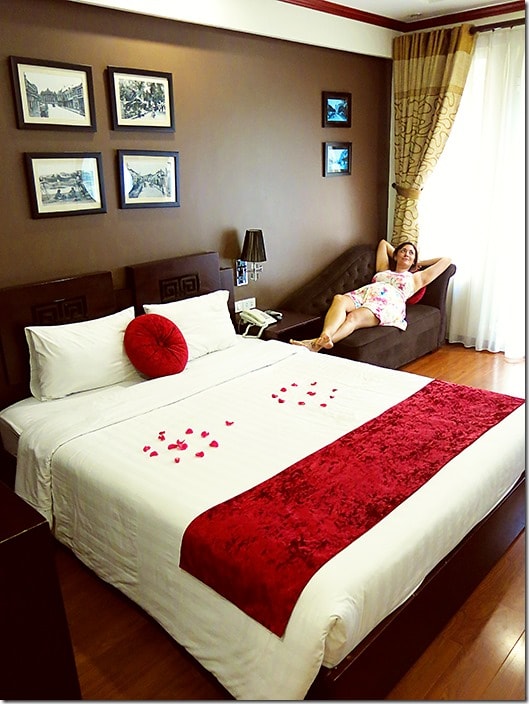 My Love relaxing on a comfy couch while in our romantic and stylish room
All the rooms are very clean, immaculately tidy and have very comfortable beds. Shower, TV, Safe-box and free Wifi are amongst things available. There are coffee, tea and two bottles of water complimentary, but you can also find a few other things in the fridge with affordable prices to quench your thirst.
–
Click here to see the latest prices to stay at the Paradise Boutique Hotel
–
Handy Facilities:
Paradise Boutique Hotel is a top 3 star hotel, so their facilities are limited, however, we believe you simply do not need any extra spa, hairdressers or beauty parlors here. We were so busy exploring and roaming the streets that we only slept in the hotel and went in and out to annoy them for recommendations of where to eat and feast.
The most friendly staff of this hotel will help you with organizing to wash your clothes at the local laundry and give you hints on what to do an where to go around the Hanoi Old Quarter. They will look after your luggage after check out, so you can still explore the town until pick up to next destination and you can also have a refreshing shower before you leave.
–
Cosy Restaurant:
Buffet breakfast is included in the price of the room, so wake up in time and get your bum downstairs to the restaurant for a feast. All the usual goodies are here to indulge in, like coffee and tea, eggs, bread and croissants, butter and jam. Or if you need a little Vietnamese in your diet like us, just ask for breakfast noodle soup, spring rolls and fruit for desert. You choose which version you prefer. I just took all haha. Ohh, and pancakes with chocolate on top. Yumm!!
–
Why you should stay at the Paradise Boutique Hotel:
I think you should stay here for a few simple reasons:
Paradise Boutique Hotel is located in the heart of Hanoi Old Quarter
Smack bang in the middle of all the old town has to offer, like food, drinks and souvenir shops
Around the corner from the Beer Corner, a very popular place to chill out and eat street food
Two streets away from the amazing EGG COFFEE at famous Giang Cafe Hanoi
Walking distance to Red Bridge on Hoan Kiem Lake, a beautiful place for photos
Overall I think it should be a 4-star hotel, comfortable, modern, stylish and very friendly
–
The Booking Information:
Paradise Boutique Hotel (3 Star Rating)
Rooms start from $34.85 USD for Superior room to $73.19 USD for a Family room – This includes a delicious and yummy buffer breakfast
Suitable for either family stays and parent (couples)-escapes
This Paradise Boutique Hotel is highly recommended by us!
Not convinced that this is the right hotel for you? Why not check out our guide of the top hotels in Hanoi. It is full of reviews and will help you to find the right hotel for your trip.
Wondering where to stay in Vietnam?
Click to read our very popular post about our recommended Vietnam Accommodation options here!
Have you been to Hanoi Old Quarter? Where did you stay?

If you are planning to go to Hanoi, will you stay at this hotel?
* Please note, this post is not a sponsored post. We paid for our own accommodation and simply wanted to share our experiences with our readers as we totally loved our stay with Paradise Boutique Hotel at the Hanoi Old Quarter.