Lake Como, in the foothills of the Italian Alps in northern Italy, is a destination that has been capturing the hearts of travelers for years.
Here we'll highlight the 8 best Lake Como tours from Milan, all with an English-speaking guide.
The lake's beautiful scenery, picturesque small towns, and elegant villas make it an idyllic spot to visit.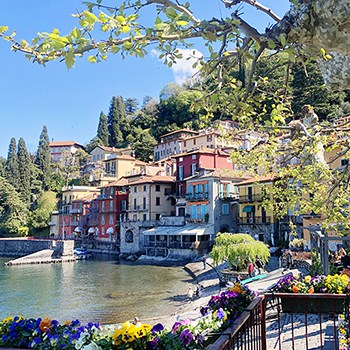 Whether you're interested in exploring the lake's historic sites, doing a little shopping, or indulging in the famous cuisine, there is a perfect Lake Como day tour from Milan for you.
Quick Guide: Best Milan To Lake Como Tours
After a quick list of the top 3 Milan to Lake Como tours? Here are the best tours.
---
Best Lake Como Tours from Milan
The following Milan Lake Como tours each offers an unforgettable way to experience the beauty of the Lake Como region.
Whatever sort of experience you're after, there's something for you on this list of the most popular Lake Como from Milan tours.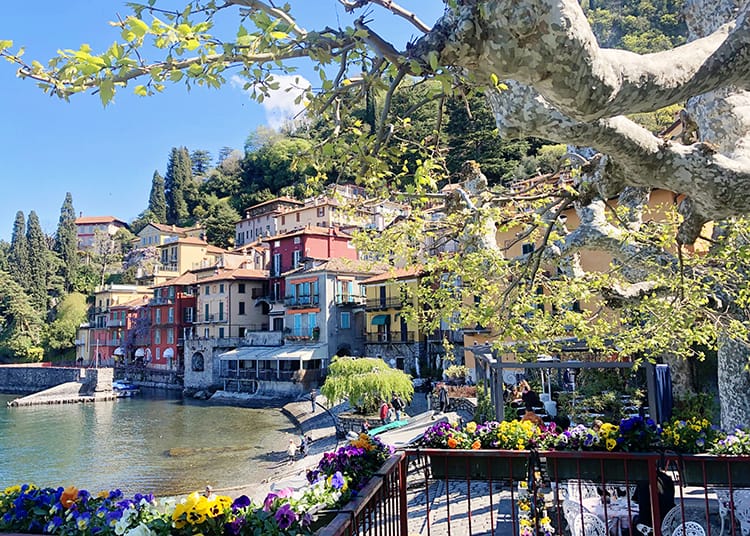 Tour Overview
Tour Type: Travel by luxury bus from Milan, enjoy a guided walking tour, and a private boat tour of the lake. Free time at various stops.
Tour Sights & Stops: Como, Villa Olmo, Bellagio, Varenna, Lake Como
Departure Points: Milan Central Station or Milan Piazza Della Scala/ Piazza Duomo
Length: 10 to 11 hours
Enjoy a full-day trip with walking tours of Como, and the Villa Olmo and its gardens with your guide.
Headphones will be provided – the best way to ensure that you'll hear everything your guide says.
Then embark on a lake cruise by private boat, and explore Lake Como's three branches.
Visit Bellagio and Varenna, spending your free time there shopping along cobblestoned streets and basking in the local ambiance.
Marina and Massimo were a pair sent from heaven, absolutely fantastic entertainment, facts and banter throughout the entire tour.

LOADS of freedom to explore and see different things … Sights were astounding and plenty of them, highly highly recommend!


Jordan (Get Your Guide reviews) ⭐️⭐️⭐️⭐️⭐️
Important to note is that this tour does not include meals, so make sure you are happy to take food with you or to spend additional money at a restaurant.
Also, prepare yourself for a very long day, the tour is 10-11 hours which makes for a pretty big day out.
Who This Tour Is For:
Couples who'd love a romantic day together while someone else does the driving.
Small groups who want a full-day outing in the Lake Como area.
Anyone who wants to explore Lake Como and its surrounding beauty.
This is the most popular tour so it is important to pre-book your tickets or you risk the chance of missing out. The tour is rated 4.6/5 from over 3700 travelers.
If you wish to tour Lake Como from Milan, then this is our top pick for you.
---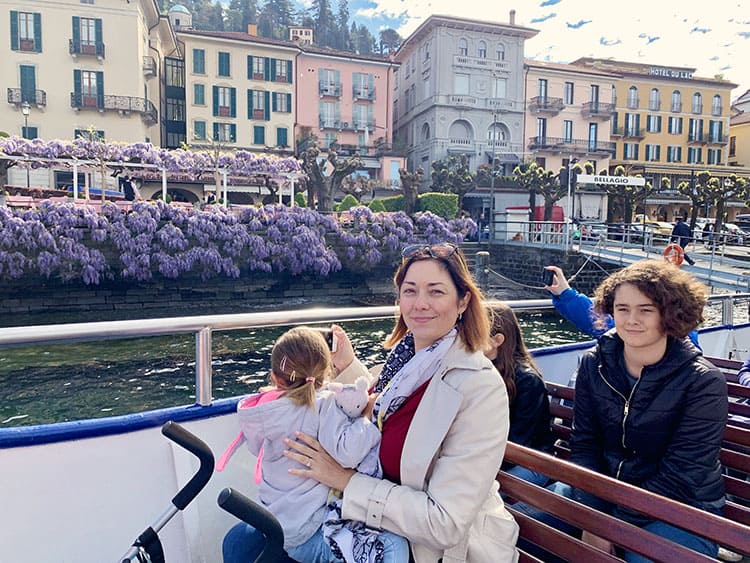 Tour Overview
Tour Type: Air-conditioned coach, a guided walking tour of Como. A boat cruise on Lake Como plus a funicular ride in winter.
Tour Sights & Stops: Como plus Bellagio and Cadenabbia in summer, Brunate in winter.
Departure Point: Milan Visitors Centre
Length: 9 hours
Explore Como, enjoy local cuisine, and browse shops and markets. This tour is tailored to the season in which you are traveling.
This ensures that you'll make the most of your time in Como any time of year.
Whether you're gazing down at the lake from Brunate or wandering next to it in Bellagio, you'll fall in love with Italy.
This tour promises unforgettable adventures.
We had a wonderful time! Our guide was so knowledgeable- he gave us so many facts about the history and geography of the area.

We would do this again and would recommend it to anyone who is interested in exploring the area for a day…


Jessica_W (Get Your Guide reviews) ⭐️⭐️⭐️⭐️⭐️
Important to note: Whilst the tour above makes use of a private boat for the cruise portion of their trip, this particular tour uses the ferry boat which can get busy.
Another comparison point is that the tour mentioned above accommodates small groups where this tour will take groups of up to around 50 people.
Who This Tour Is For:
Families enjoying a holiday together
Couples staying in Milan looking to escape the busy city for a day
Travelers who'd love to see where the rich and famous winter
This tour has received a badge of excellence on Viator. It is rated 4.5/5 from reviews from over 1700 travelers who have experienced this tour.
I love that this tour is slightly shorter than the tour before, however, I truly love Varenna so I think it is a shame that you will miss out on it on this tour.
---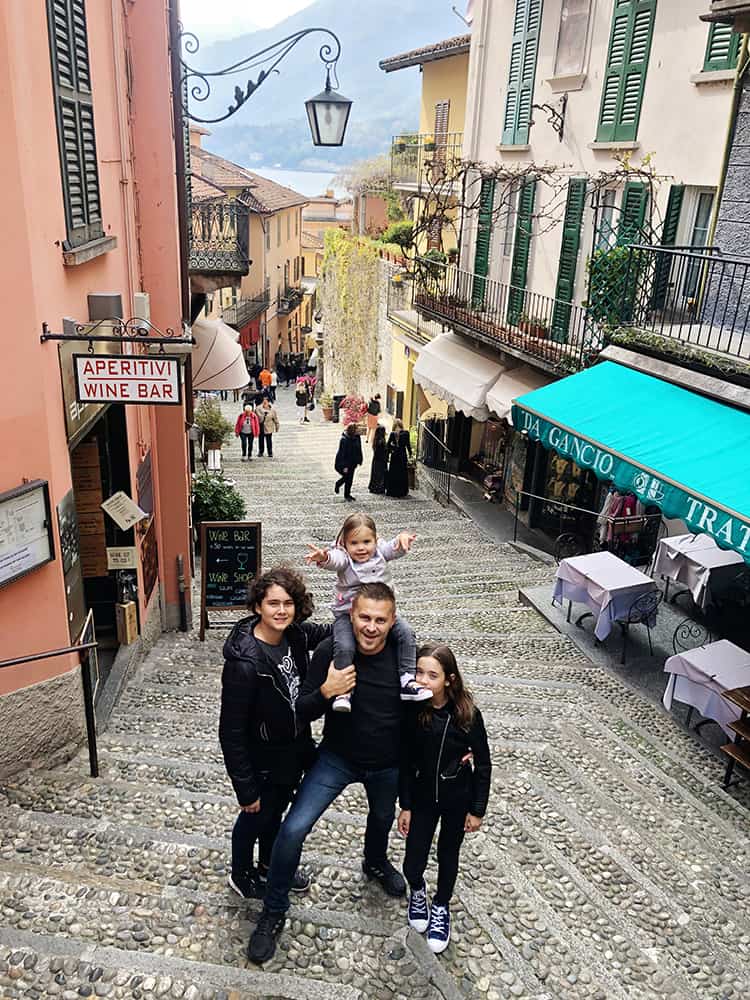 Tour Overview
Tour Type: Travel by air-conditioned coach and by boat. Guided tour of the lake and free time at the various stops.
Tour Sights & Stops: Cruise Lake Como, see celebrity villas from the water Bellagio, plus the Swiss town of Lugano and the church of Santa Maria Degli Angioli.
Departure Point: Stazione Porta Garibaldi
Length: 10.5 hours
This is a spectacular day trip combining the best of Switzerland and Italy. Explore the towns of Lugano and Como, renowned for their natural beauty.
Learn about the famous properties from your guide, who will point out villa Balbianello used to film Star Wars and James Bond movies.
Discover Bellagio, with free time to explore its charming streets and hidden corners.
Also, visit the Italian-speaking Swiss town of Lugano. Soak up the local culture and admire the beautiful architecture.
Tour guide was excellent, knowledgeable, warm and friendly. It was a great experience! … it was such a non stressful experience. It was my birthday trip and I loved it !!!"

Hagar_M, November 2022 (Viator Reviews) ⭐️⭐️⭐️⭐️⭐️
Important to note: If you prefer small group tours, this is not the tour for you as it is normal for them to have groups of up to around 60 people.
Also, be aware the cruise is via the ferry – it is not on a private boat (which the first tour mentioned is).
Also, ensure you are okay to cross the Swiss border (some might need a visa).
Who This Tour Is For:
Solo travelers who love to learn about their location from a local guide
Groups of friends traveling in Milan, eager to explore a bit farther afield
Couples on a second honeymoon who want to see the best of the area
If you would love to experience a bit of Switzerland, then this is the tour for you.
This tour is popular and has received a badge of excellence from Viator.
We highly recommend you pre-book this great tour to avoid disappointment.
---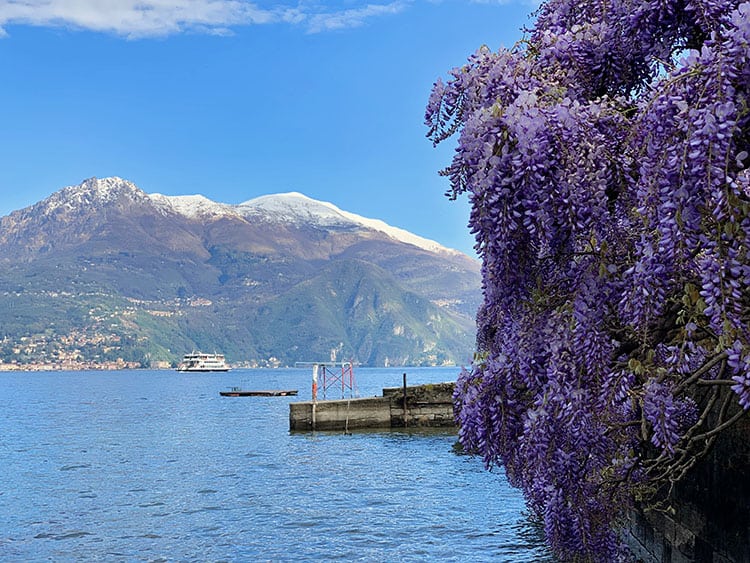 Tour Overview
Tour Type: private air-conditioned coach to Lugano and Bellagio with a cruise on Lake Como.
Tour Sights & Stops: Lugano and Chiesa di Santa Maria di Loreto Church, Bellagio and Lake Como.
Departure Point: Milan Porta Garibaldi Train Station main entrance
Length: 10.5 hours
Experience Italy and Switzerland on this day trip from Milan. Marvel at the snow-capped mountains and spectacular scenery along Lake Como.
Visit the Swiss town of Lugano as well as Bellagio, known as "The Pearl of Lake Como".
You'll have free time to spend as you'd like, souvenir shopping or sampling the local food.
On the lake cruise, learn which villa served as James Bond and Star Wars movie sets, plus view George Clooney's Italian lakeside home.
Our guide Valentino was very insightful. Thoroughly enjoyed this trip! There was sufficient time to walk around Lugano, Bellagio and Como.

She even gave us recommendations to dine at!! (The food places she recommended were all really good!!!!). She was very funny and it made this trip really enjoyable.

Samantha – Singapore (Get Your Guide Reviews) ⭐️⭐️⭐️⭐️⭐️
Who This Tour Is For:
Solo travelers who want to make the most of their time in Milan with a day tour
Family groups who'd love to learn about this stunning area from a local tour guide
Honeymoon couples who want to put themselves in the hands of a trusted tour company for a relaxing day outside of the busy city.
The tour is popular and has received a rating of 4.7/5 from over 600 travelers.
If you want to see both Lake Como and Lugano then this would be a great option for you.
---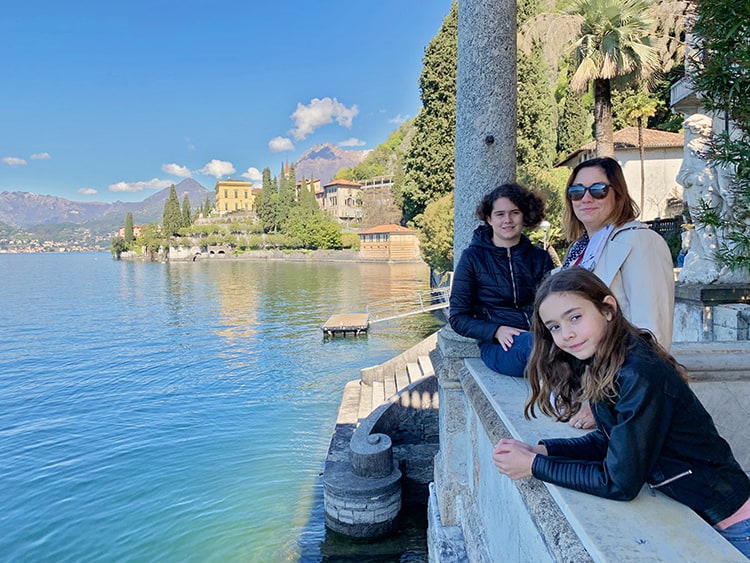 Tour Overview
Tour Type: Small Group, train travel to Varenna, with a lake cruise to the towns of Bellagio and Tremezzo.
Tour Sights & Stops: Verena, Lake Como boat cruise to Bellagio, Tremezzo, and Villa Carlotta, with its gardens and museum.
Departure Point: Inside Milano Centrale Train Station
Length: 9 hours
Take a journey by train to the charming village of Varenna on Lake Como. From there, cruise to Bellagio, then on to Tremezzo.
There you'll get to explore Villa Carlotta and its breathtaking gardens and museum. This tour offers a unique perspective of the beautiful Lake Como.
Wonderful day visiting Varenna, Bellagio and Villa Carlotta. Renzo was an excellent guide and knew so much history about the area.

The views alone are worth it! … Overall an excellent tour and would recommend it to anyone!!

Ian_H (Viator Reviews) ⭐️⭐️⭐️⭐️⭐️
Who This Tour Is For:
Anyone who prefers touring with just a small group
Those who love a European train ride
Fans of walking tours through enchanting Italian towns
This is the only tour on our list that actually includes a stop at Tremezzo. So you will see three gorgeous towns in one day with plenty of time to explore each at a leisurely pace.
We love that it is for a small group which makes the tour more personal too.
---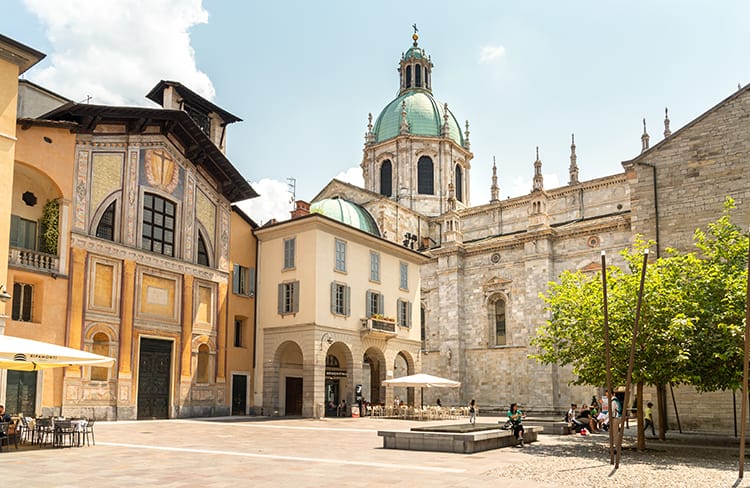 Tour Overview
Tour Type: Small group tour, train ride to Como, with a guided walking tour, plus a return train ticket that allows you to return to Milan at your leisure.
Tour Sights & Stops: Como and the Cathedral of Como, the Basilica di Sant'Abbondio, and Romanesque Sant' Abbondio Church. Stops also at Como shops and boutiques.
Departure Point: Inside Milan's Cadorna Station
Length: 5 hours
Experience the history and charm of Como on a walking tour led by a local guide. The tour takes you to the Cathedral of Como and the elegant Via Vittorio Emanuele.
Explore the ancient Romanesque Sant' Abbondio Church and walk along the lakeside promenade to Villa Olmo. Enjoy the panoramic views of Lake Como.
This tour was absolutely amazing and a must do if you want a quick and knowledgeable trip of Lake Como.

The tour guide was excellent and funny. He recommended amazing places and activities to do after the tour …

Sohely_V (Viator Reviews) ⭐️⭐️⭐️⭐️⭐️
Important to note: This tour takes you to the city of Como. If you wish to see some of the cute towns around Lake Como, you can see them at your own leisure after the tour of Como Town ends.
Who This Tour Is For:
Folks who love small group tours
Anyone who prefers a shorter trip, and would enjoy being able to return to Milan at the time of their choosing
All train travel enthusiasts
This is a fantastic option for those who don't handle full-day tours as well. It is also great for those who prefer free time at destinations.
It is the perfect combination of a guided tour plus independent travel.
---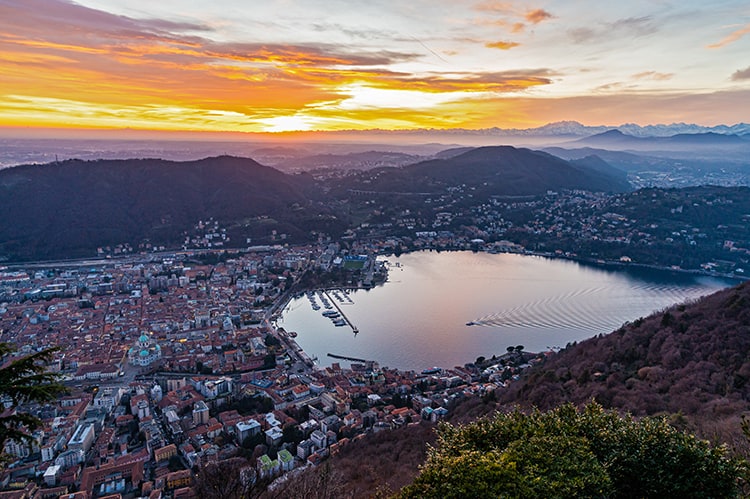 Tour Overview
Tour Type: An air-conditioned coach tour, a private boat cruise, a guided walking tour, and a ride on a funicular.
Tour Sights & Stops: Como, with Como Cathedral, Brunate, and Lake Como cruise.
Departure Point: Bus stop in Milan via Alessandro Manzoni or Central Railway Station in Piazza IV Novembre.
Length: 4 – 7 hours, depending on departure point
Explore the history and architecture of Como on a guided walking tour. For spectacular views, purchase a ticket for the funicular ride to charming Brunate.
Glide across Lake Como on a private boat tour and end your day with a spectacular sunset over the water.
An excellent way to spend the evening. Tour guide was very friendly.

Get Your Guide Traveller (Get Your Guide Reviews) ⭐️⭐️⭐️⭐️⭐️
Who This Tour Is For:
Couples who love a romantic sunset over the beautiful Italian Lake Como
Anyone who prefers an afternoon tour over a morning
Those curious to ride Brunate's funicular railway
This tour is a great option for those who wish to experience these towns at golden sunset hour.
It is also a great way to avoid crowds as you will arrive after most travelers have completed their day trips.
---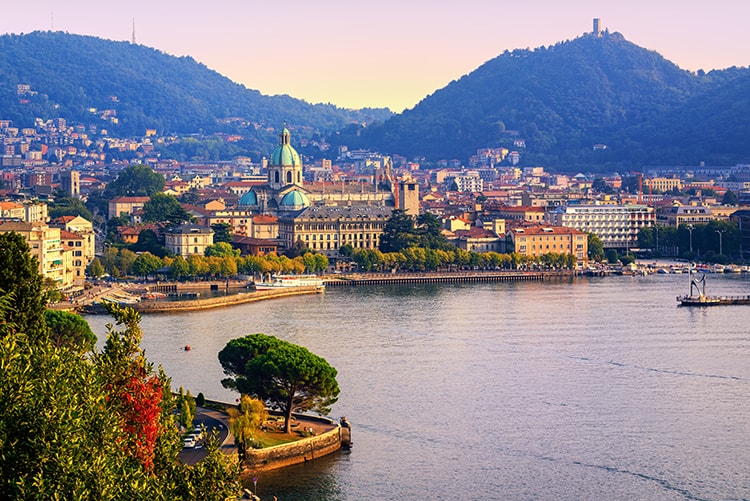 Tour Overview
Tour Type: A private tour from Milan to Lake Como, with just your own party and a private driver.
Tour Sights & Stops: Como, Lake Como, and Brunate
Departure Point: Milan Central Station or Milan Duomo
Length: 4-7 hours
With an air-conditioned coach, you'll gain access to this tranquil destination with ease. Admire the stunning Gothic architecture of Como Cathedral as you take a guided walking tour around the town.
The waterfront promenade will provide a perfect route for a gentle stroll and the chance to take in some of its breathtaking views.
Don't miss the opportunity to explore Brunate, as you board the funicular up the hillside.
You'll be able to admire Lake Como from above and capture any number of stunning photos on your camera.
Glide over the lake's waters on a private guided tour and marvel at the lavish beautiful villas located along its banks.
Before returning to your meeting point in Milan, make sure you witness the spectacular sunset from the lake's edge – an experience you won't soon forget!
Fantastic trip! This was a great way to get up to lake como from Milan. It was hitting the easy button. They took care of the driver, the boat ride, lunch reservations, it was great. The highlight of my trip.

Matthew_S (Viator Reviews) ⭐️⭐️⭐️⭐️⭐️
Important to note: the tour expenses do not cover the costs of the ticket for the funicular up to Brunate.
It also doesn't include time to explore any of the other towns around the lake – although perhaps you could arrange for that at an additional cost?
Who This Tour Is For:
Couples who'd rather not share this romantic experience with a group
Small groups who want to enjoy each other's company without a crowd
Families with children who relish their time together
If you hate crowds and you have the cash to spend for a private experience then this is a fantastic choice.
---
Tours To Lake Como From Milan FAQs
Find below the answers to some of the most commonly asked questions.
1. How do I get from Milan to Lake Como without a car?

There are several ways to get from Milan to Lake Como without a car.

You can take a train from Milan Central Station to Como San Giovanni station, which is located near the southern end of Lake Como. The journey takes approximately 40-60 minutes.

You can take a bus from Milan's Lampugnano Bus Station to Como or other towns around the lake. The journey takes approximately 1-2 hours.

And lastly, you can make life super easy and choose to opt for a tour from Milan to Lake.
2. Which towns should you see around Lake Como?
Our top 3 favorite towns around Lake Como that you should see are Bellagio, Veranna, and Menaggio.

You can find more information about why we have chosen them as the best Lake Como towns here.

Bellagio is our top pick of a town you simply must see. Known as the "pearl of Lake Como," Bellagio is one of the most popular and picturesque towns around the lake.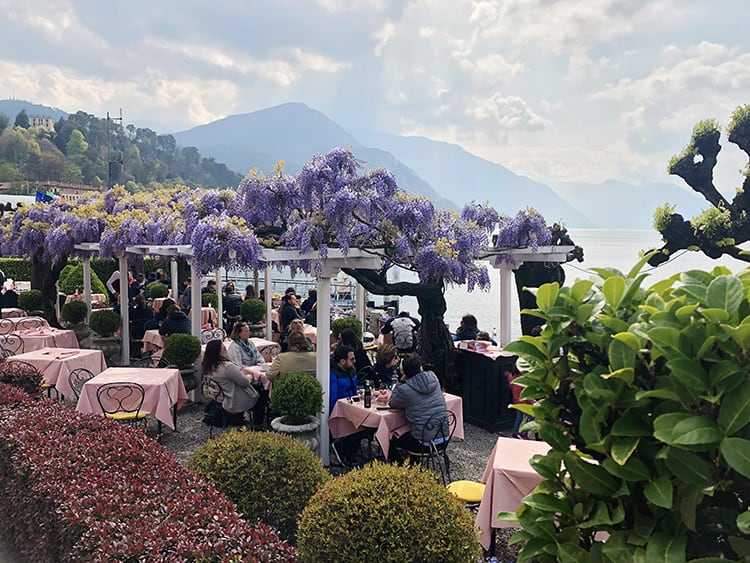 It is situated at the intersection of the lake's three branches and boasts stunning views of the surrounding mountains.

Bellagio is known for its charming streets, colorful buildings, and beautiful gardens.

We have a handy Bellagio guide that you can use to get a quick overview of what to expect from the town.
3. How far is Lake Como from Milan?
Lake Como is located approximately 50 kilometers (31 miles) north of Milan.
4. What is the best time to visit Lake Como?
The best time to visit Lake Como is during the spring and summer months (April to September), when the weather is warm and sunny.

However, keep in mind that this is also the peak tourist season, so expect larger crowds and higher prices.
5. Is it necessary to book a Lake Como tour from Milan in advance?
It is recommended to book a tour in advance, especially during peak tourist season, to ensure availability and avoid disappointment.
Summary Of The Best Tours From Milan To Lake Como
I hope this list made it easier for you to choose your perfect Lake Como day trip.
Whether you're traveling with culture aficionados, devoted foodies, or celebrity watchers, there are a few Lake Como day tours just for you.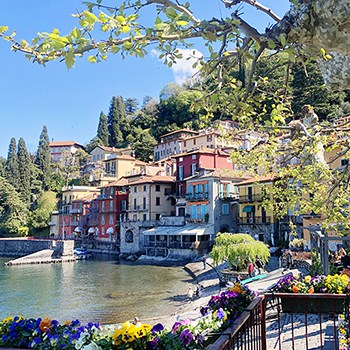 No matter what type of Lake Como tour you choose, it is sure to be a memorable experience.
From the stunning views and historic sites to delicious food and amazing boat cruises, there are so many things to enjoy in this beautiful region of Italy.
With these 8 best Lake Como tours from Milan, you can explore all that this incredible destination has to offer with an English-speaking guide who knows the area inside and out.
Whether you're looking for a private or group tour, each one will provide unique experiences that will make your trip unforgettable!
So start planning your dream vacation today – get ready for some fun on Lake Como!
Before you go, make sure to check out whether luxury hotels in Lake Como and restaurants will be open during your tour. Here is a great post about the best time to go to Lake Como.
If you're visiting Milan, don't make the mistake of thinking you have to stay in the city! Take advantage of the many relaxing day trips from Milan available to you.
If you are sticking around Milan and want to taste some local traditional Milanese dishes, then you might want to go on one of our recommended food tours in Milan.
And lastly, if you are unsure about whether a tour is for you, you do also have the option to rent a car. Renting a car in Como is easy and affordable and will allow you to explore destinations close to Como as well.
And for those who opt for staying for a few nights, I highly recommend you book a boat tour of Lake Como.
Find all our helpful posts on many countries, cities, and destinations in Italy on our Italy trip blog.