Are you a traveler looking for a Como car rental in Northern Italy? Look no further!
We spent 3 months traveling around Italy with our little family of 5 and we got plenty of experience renting cars in various regions of Italy.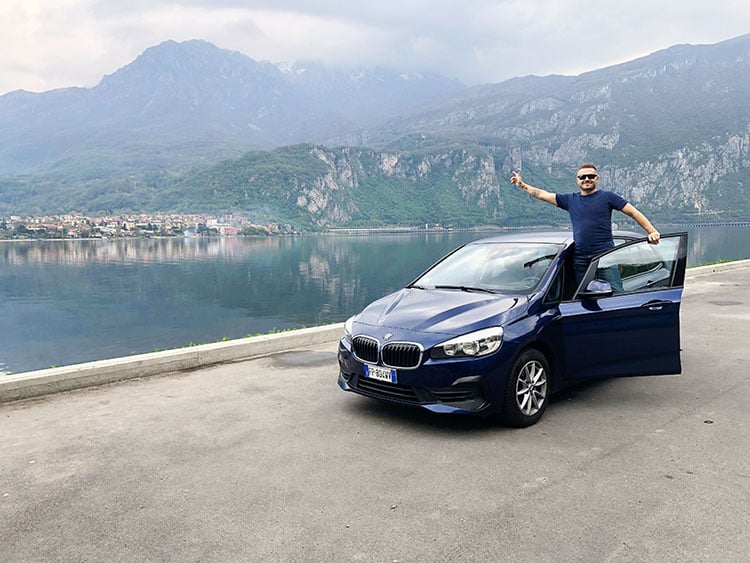 We rented a car for Lake Como as we were staying in VRBOs and planned on cooking (which meant we needed to buy groceries for a family of 5 people).
So today I want to help walk you through the process of renting a car in Como for your Lake Como road trip.
Before we get into it, let's just answer the most commonly asked question straight up. Where is the best place to rent a car in Como?
When we rent a car in Italy, we always use Discover Cars and we will explain why below.
BEST COMO CAR RENTAL COMPANY: DISCOVER CARS
I recommend and use Discover Cars. They search through all rental companies to find and offer only the best deals.
One of the best things about them is that they also offer full coverage Italian insurance for only about $14 USD per day.
We'll provide all the information you need about renting a car in Como Italy as well as helpful driving tips so that you can get around without any problems so that your rental experience will be safe and stress-free.
So let's get started!
1. Should You Rent A Car In Como?
Renting a car in Como Italy can be an excellent way to explore the majestic Lake Como and its beautiful surroundings.
With a car, you can enjoy freedom of movement and control over your own transportation schedule.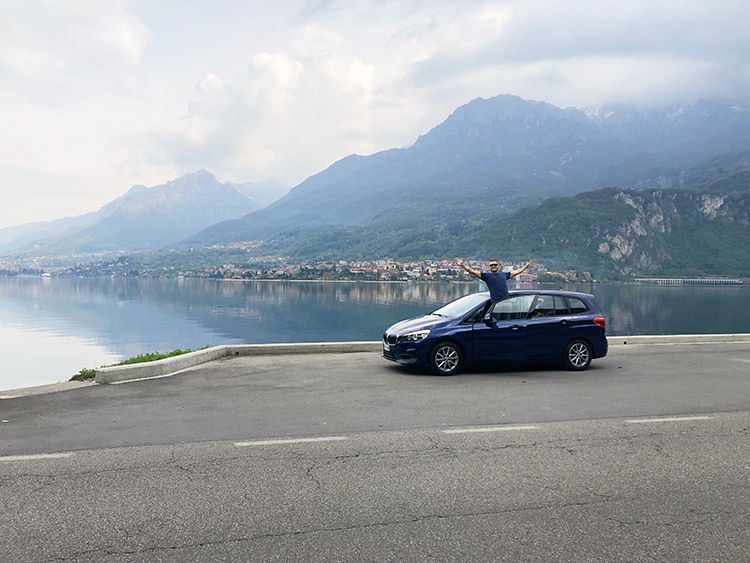 Here are some of the top reasons why renting a car in Como is beneficial:
1. Convenience: With a rental car, you have access to the best sights and attractions in Como and its surrounding area at your own pace.
No need to worry about public transportation schedules or waiting for taxis.
2. Personal Space: Traveling in the high season means that ferries can get packed with people.
If you don't like crowds or limited personal space – a rental car will be great!
3. Comfort: A rental vehicle gives you plenty of legroom, space to store luggage, and the freedom to choose what type of vehicle best suits your needs.
4. Experiences: With a car, you can explore the stunning scenery of the lakeside small towns and villages, as well as visit popular attractions like Villa d'Este, Villa Balbianello, or the Church of San Fedele in Bellagio.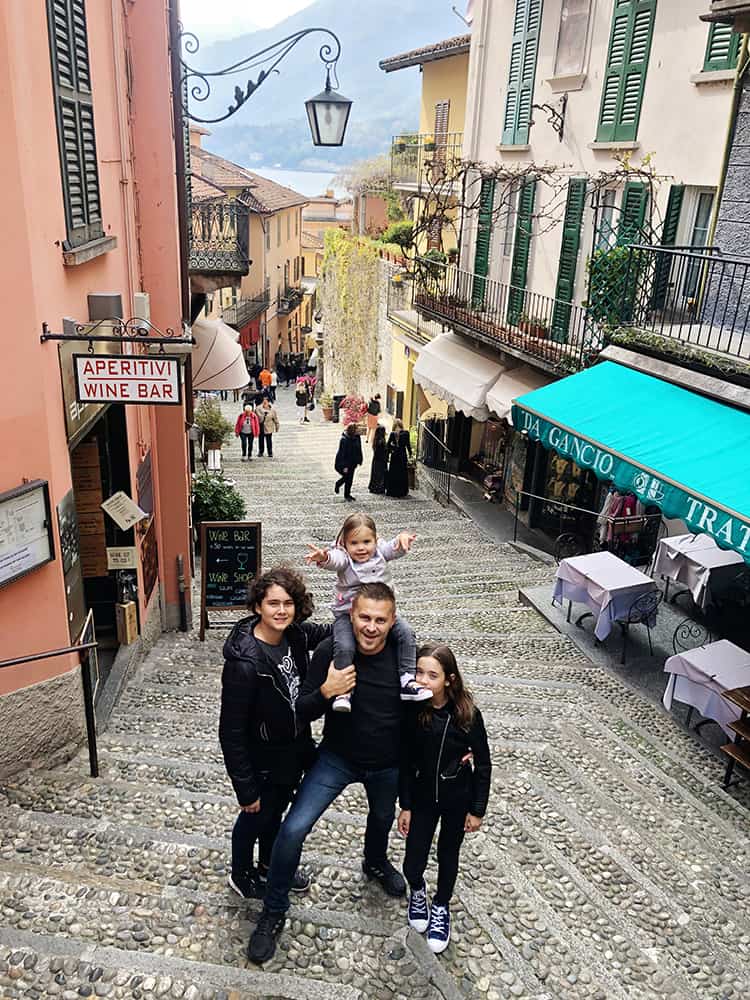 5. With a car you can explore further than Lake Como. There are some awesome places near Lake Como that are worth exploring as well.
6. Families with little kids: With a car, you can come and go as you please.
If your child is napping you won't have to wake them up in order to get to the bus or ferry on time.
And they can also fall asleep in the comfort of their own car seat whilst you explore destinations around the lake.
If you're looking to rent a vehicle in Como Italy, there are several reliable car rental companies that offer competitive rates and packages for tourists.
I always use DiscoverCars.com to compare prices and availability of different car hire companies when planning a trip to Como, Italy.
This consolidator offers the best rates in terms of pricing and availability, allowing me to choose the perfect car for my needs and budget.
---
1a) Can You Get Around Lake Como Without a Car?
Getting around Lake Como without a car is definitely possible! There are several options available, depending on your desired destination.
Public Transport: Public transportation in the area includes buses and trains, which can be accessed from Como's central station.
These services run to various stops around the lake, with some offering beautiful panoramic views of the lake and its surroundings.
---
Ferries: If you're looking to explore the many towns around Lake Como, ferries run from Como's central station between each of the main stops, including Cadenabbia, Bellagio, Lenno, and Tremezzo.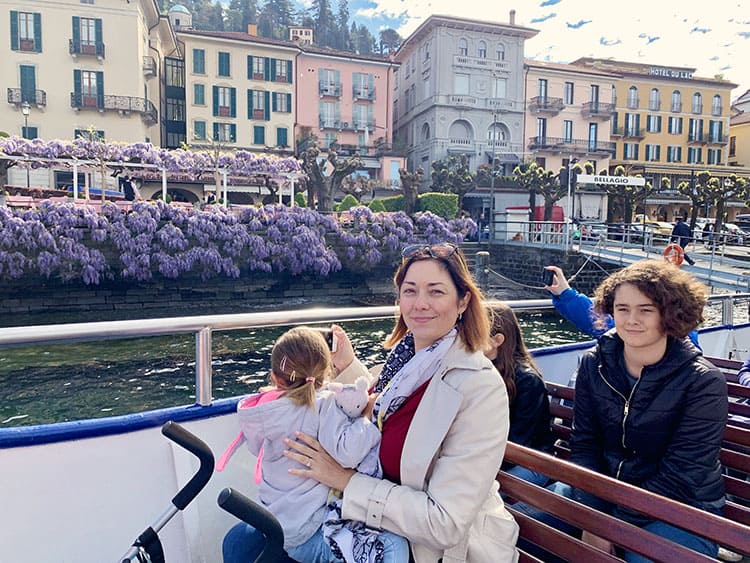 ---
Tours: If you prefer to not rent a car, you could also use a guided tour that includes transportation between destinations.
There are plenty of tours to Lake Como from Milan if you wish to base yourself there and head to Lake Como for a day trip only.
No matter which mode of transportation you prefer, a car rental in Como is a great choice for those looking to explore the area at their own pace and convenience.
---
1b) Can You Uber Around Lake Como?
No, you cannot Uber around Lake Como. There is no current Uber service available in the area.
However, there are other forms of transportation and rental car options available to explore Lake Como at your own pace and convenience.
---
2. Is It Easy To Drive In Lake Como?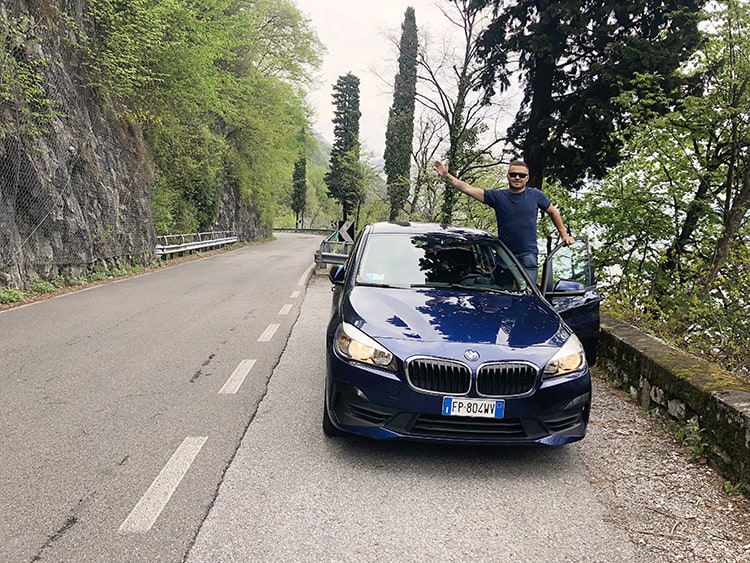 Driving in Lake Como can be quite tricky at first, especially if you're not used to narrow roads and switchbacks.
The locals also drive around these roads pretty fast, and there are a few blind corners where you have to be careful.
If you are a confident driver, then you will be just fine. However, if you don't feel as confident then you might find the drive stressful and tiring.
We really enjoyed the drive around the lake. We loved the scenery, and prefer the freedom of being able to stop here and there for some photos.
It is also fun to spend a day driving around the lake. The drive around the lake takes around 4 hours (without stops).
---
3. What's The Best Place To Rent A Car In Lake Como?
The town of Como is the best place to rent a car in Lake Como.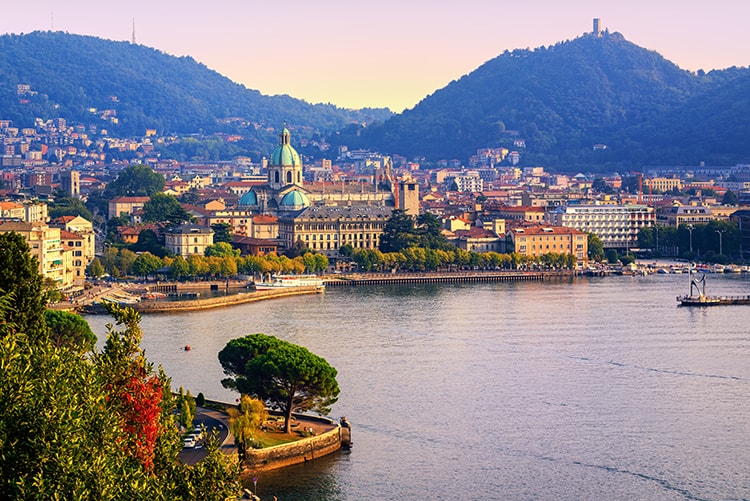 There are several reliable car rental companies that offer competitive rates and packages for tourists, making it easy to get around Lake Como without having to rely on public transportation or ferries.
Getting to Como without a car is easy and convenient. You can take the train from Milan, which takes just over an hour and has several departures throughout the day.
Additionally, there are direct buses from Milan Malpensa Airport that provide comfortable transport to Como.
If you're coming from Switzerland, you can take a direct bus or a ferry from Lugano.
And then can rent the car in Como which means your pickup and dropoff location is the same destination which keeps car rental costs down.
You do have to be careful with car rental companies in Italy. It is common for car rental companies to try to blame you for dents and scratches etc. on the car in order to squeeze extra dollars from you.
So we love renting with Discover Cars because not only do they have a price comparison from all the rental companies in one handy spot, but you can also clearly see reviews from recent customers – to make sure that you are renting from a reputable and reliable rental company.
5 Stars! Super

We had rented a car through discovercars at click and rent with full protection. Another party caused parking damage to the rear of the car.

By sending the necessary references, the damage was paid back within a week. Great class!

I will definitely book with Discovercars next time.

– Diana Visser (Reviewed on Trustpilot)
Click to find the best prices for car rentals in Como.
One thing to know is that because there aren't many options of where to rent a car around Lake Como the cars will book out way in advance for the summer months, for Christmas time and Easter, so make sure you rent a car as early as possible.
Most cars in Italy are manual cars, if you prefer an automatic again you will need to make sure that you reserve the car way in advance.
---
3a) How Much Does A Lake Como Rental Car Cost?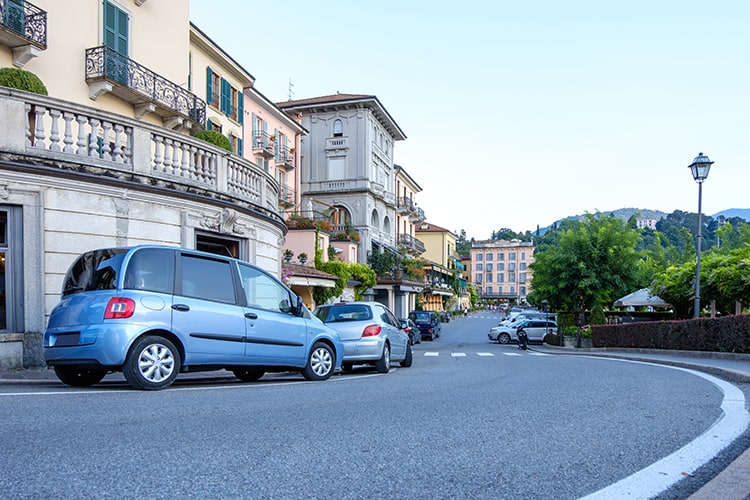 The cost of car rental in Como, Italy can vary depending on the type of car you are renting and the time of year.
Generally, prices start at around $115 USD per day for an economy car, excluding insurance.
You could also expect to pay extra for things such as additional drivers, car seats, and one-way fees.
Discover Cars is the best site to book a car in Lake Como for a variety of reasons. First and foremost, they offer competitive rates that are sure to fit any budget.
By searching through all the big car rental companies, Discover Cars can find the lowest prices available so that customers can get the most value out of their rental experience.
Click here to see how easy it is to compare prices on Discover Cars.
---
3b) Can I Rent A Car In Italy Without An International Driver's License?
Yes and no, you can rent a car in Italy without an international driver's license – you will need to provide a passport or your home driver's license.
Even though they will rent a car to you doesn't mean it is legal for you to drive without one though.
According to Article 135 of the Italian road code, foreigners will need to have an International Driving Permit in order to drive.
We once got pulled over in Italy and got asked for our license (well they didn't speak English but that is what we gathered they were asking for).
We couldn't find the international license – it was packed somewhere in our luggage and with 3 kids (we spent 3 months traveling around Italy), we had a LOT of luggage and groceries in the back of the car.
So we showed them our Australian license. They took it and after what felt like a long time they came back to our car and were saying all sorts of things in Italian.
We got away with the Australian license ONLY because of the language barrier and they gave up on trying to tell us which I can only assume meant – you need an International license.
Long story short, make sure you have an International license and have the thing with you in your wallet (not somewhere in the luggage).
---
3c) What You Need To Know About Lake Como Car Rentals
1. They have manual and automatic cars. Manual cars are way more common in European countries and more readily available to rent.
Automatic cars are more expensive to rent and book out more quickly.
---
2. Make sure you read the rental agreement carefully and check that all details are correct before signing it.
---
3. Ensure your car is in good condition by checking for any scratches or dents on the exterior/interior when you collect it from the rental company.
We take a video of the car WITH the rental person, pointing out all the issues to them.
And yes we have had to use the video to prove to them that the scratches and dents were already there, so don't skip this step!
---
3. In Italy, it is the law for you to have 2 types of insurance covers: Collision Damage Waiver (CDW) and Theft Protection.
In fact, we highly recommend full insurance coverage (we get the one on offer through Discover Cars) and it is so important that we have a whole section dedicated to everything you need to know about getting the best car insurance in Italy.
---
4. You will also need a credit card (in the main driver's name). They will keep your credit card on file in the event of car damage.
Different companies will place a hold of different amounts on the card (If you book through Discovercars the amount is € 600 or US$ 640.)
This amount will be released when you return the car in the same condition as when you received it.
---
5. Minimum age requirement: You can only rent a car if you are 21 years+.
You also would need to have had your license for at least a year. Anyone under the age of 25 will be required to pay an additional 19.43 USD per day for the young driver fee.
---
6. You will receive the car with a full tank, which means you will need to fill up the fuel tank before you return the car.
If you don't they will charge you for the fuel + an additional payment for having to fill it up on your behalf.
---
4. What Are The Best Como Car Rental Companies?
If you book through Discover Cars (which we highly recommend) the companies available are Drivalia, Europcar, and Maggiore.
---
5. What Kind Of Cars Are For Rent?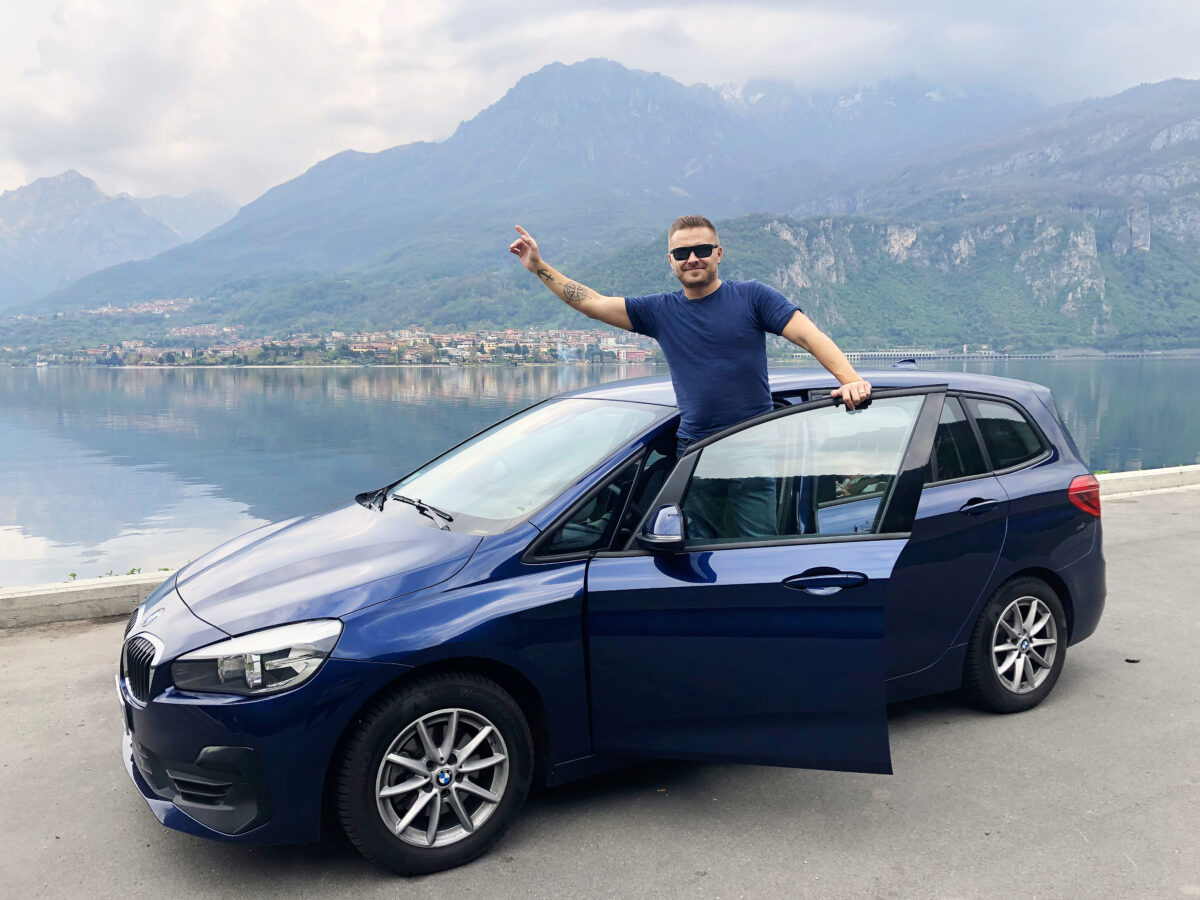 They have the following different cars available:
Economy Car (Fiat 500, Lancia Ypsilon, Opel Corsa, Renault Clio or similar)
Compact Car (Fiat 500L, Fiat Tipo STW, Ford Puma, or similar)
Standard Car (Jeep Compass, Alfa Romeo Stelvio, Peugeot 508 STW, or similar)
Mini Car (Toyota Aygo or similar)
Intermediate Car (Audi Q2, Peugeot 3008, or similar)
Full-Size Car (Alfa Romeo Giulia, Mercedes C Class, or similar)
SUV (Jeep Renegade, Volkswagen T-Roc or similar)
Luxury Car (Mercedes Benz E Class or similar luxury models)
Unfortunately, they don't have any sports cars, classic cars, or a vintage car available. So you will need to pick from the rental options listed above.
---
6. Do I Need Car Insurance For Italy?
YES! In Italy, it is the law for you to have 2 types of insurance covers: Collision Damage Waiver (CDW) and Theft Protection.
We highly recommend getting full coverage car insurance from Discover Cars which will cover essential costs such as towing services, roadside assistance, lost keys, and repair costs, including windows, mirrors, wheels, and more.
The reality is this, there is no way I would go without full coverage – because Italians are crazy drivers and sometimes the parking is nuts (they park so close to each other) and you will see lots of Italian cars with broken side mirrors, bumps, and scratches.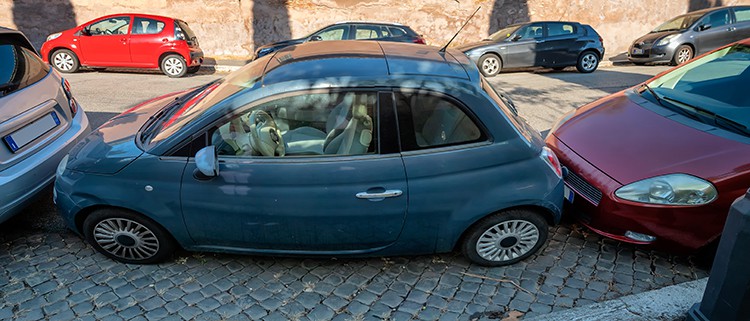 So with full coverage, you know you are protected if someone else scratches or dents the car.
During the rental, the car was spotted by a small rock and the frontal glass was damaged.

Fortunately, I had contracted Full Coverage. One day after I claimed DiscoverCars, the refund was approved.

Very simple, fast and effective service!

Review from Discover Cars
You are required to have valid car insurance when driving in Italy and the rental car company can provide you with a policy that covers your needs.
When booking a car rental for your stay in Como, Italy, it is always more cost-effective to select a prepaid rental rate that includes insurance coverage.
This way you are able to avoid the additional fee associated with purchasing insurance at the rental desk upon arrival.
Click here to purchase your full coverage with your rental car.
---
6a) How much is car insurance in Italy?
The cost of car insurance in Italy will depend on the type and length of rental, as well as your age and driving record.
Discover Cars offer a full coverage car insurance policy for only $14 USD per day.
---
7. Renting a Car in Italy For Families
Renting a car is just so much easier than trying to lug around your luggage on ferries.
We also stayed in a VRBO rental and we did some cooking which meant we needed space for groceries too.
When traveling around Italy with a family, you'll need to choose the right car to suit your needs.
Discover Cars offer a wide range of vehicles that are perfect for families. From economy cars and SUVs, to luxury cars – there's something suitable for everyone!
Top Tip: Make sure you get a car that has a big enough boot space for all your travel gear.
We often underestimate the size and then have to upgrade on the spot, which is a pain as the process takes so much longer!
The perfect vehicle will have a large enough boot for your luggage, and stroller plus additional space for groceries.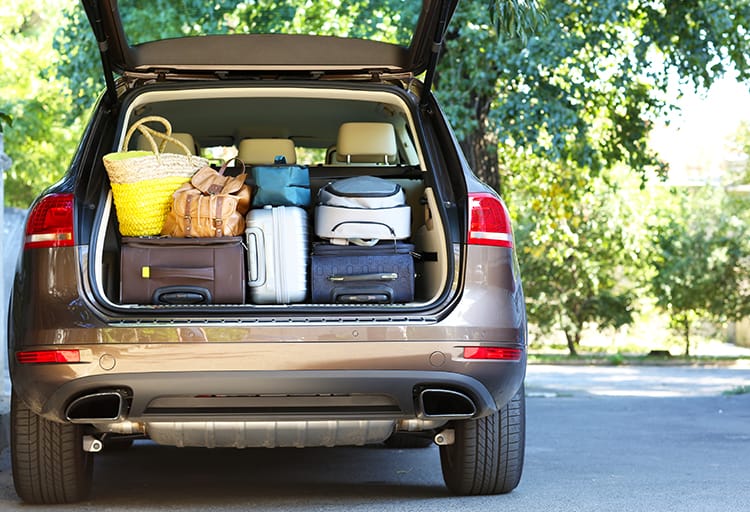 They can also provide a baby seat, a booster seat, and GPS for an additional fee, so you don't need to worry about lugging bulky items around.
---
7a) Are Car Seats Mandatory In Italy?
In Italy, it is mandatory for all children under the age of 12 to use a suitable child car seat when traveling in a car (See Italian road code article 172).
This applies to both Italian and foreign drivers and passengers.
The type of seat required depends on the child's age, weight, and height.
---
7b) Will Your Car Seat Work In An Italian Rental?
Traveling with car seats when visiting Como, Italy is not as straightforward as it may seem.
The regulations in Europe require child safety restraint systems to have a one-push button for quick release.
This means that if your car seat has two closures, such as a chest strap, it will not meet the requirements set out by EU regulations.
The best way to ensure a safe journey for your children is to rent a car seat from the rental company when you pick up your rental car in Como, Italy, or alternatively purchase a new seat when you get to Italy.
If your child is over 4 years, things do become easier and you can easily bring along a booster seat.
We loved using our Bubble Bum booster seat, but you can browse through our list of our favorite booster travel seats to pack and take along.
You can find more tips for visiting Italy with a baby or toddler here.
---
8. Driving Tips for Como
1. Parking: Driving around Lake Como can be a beautiful and unique experience, but finding parking in the towns around the lake can be a challenge.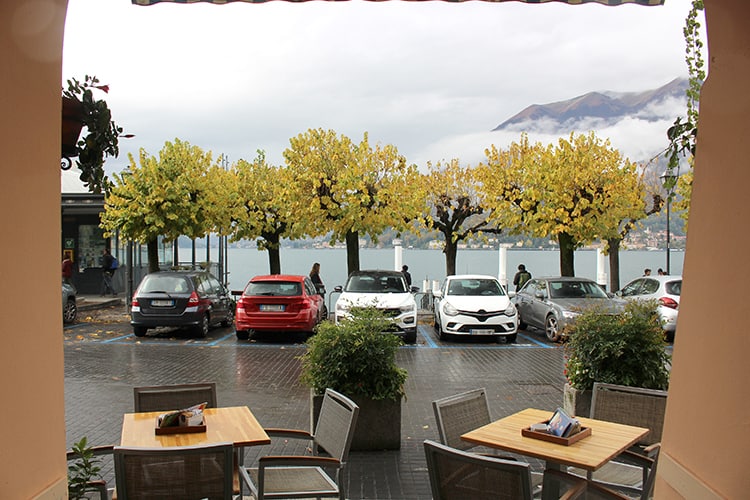 Parking spaces are limited and in high demand, and it is really tricky to find free parking.
My best advice is to see if your accommodation has parking – even if you have to pay for it, it would be worth the stress of trying to find a spot yourself.
---
2. Avoid the Inner Town Limited Traffic Zone Area: We got a fine in Bellagio because we drove through the inner town in order to get to our VRBO.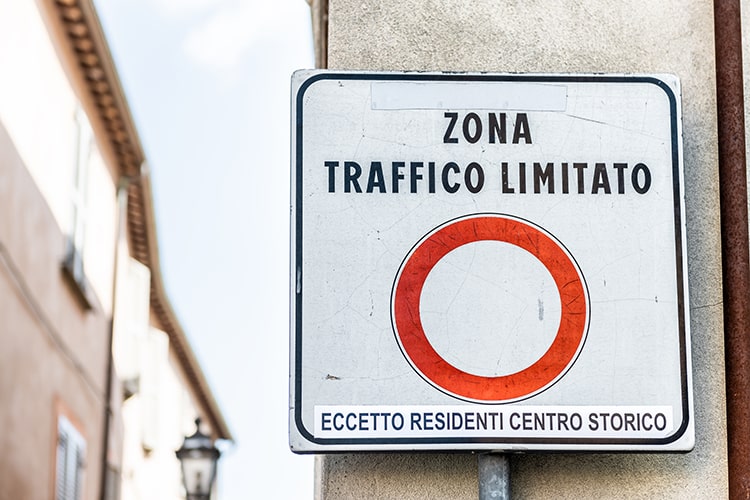 Only locals are allowed to drive through the inner town areas, so best to avoid driving through the town and drive around the town instead.
---
3. Drive Clockwise: The most scenic way to drive around the lake is in a clockwise manner, that way you are always closest to the water of the lake.
So start with Cernobbia and then make your way around as you visit some of the prettiest towns on Lake Como.
---
4. Take Your Time: Whilst it is possible to drive around the lake in around 4 hours, it is best to split the trip up into two sections so you can slow down and enjoy the stops at the towns.
---
Final Thoughts On Renting A Car In Como, Italy
Renting a car in Como, Italy is an excellent way to explore the stunning lake and its surrounding towns.
With Discover Cars, you can rent the right vehicle for your family at an affordable price with full coverage insurance.
BEST COMO CAR RENTAL COMPANY: DISCOVER CARS
I recommend and use Discover Cars. They search through all rental companies to find and offer only the best deals.
Make sure to book ahead of time if possible as parking cars are limited and they book out quickly over popular travel seasons.
Just remember that Italian road regulations require all children under 12 years old to use suitable child car seats while traveling in a car – so be sure to get one from the rental company or purchase one when you arrive!
Now start planning your next trip around Lake Como today – without worrying about transportation hassles – when you rent through Discover Cars!
To help you plan your trip, here are some articles you might want to read: