In the northwest corner of Italy, lazing peacefully at the foot of the Swiss Alps lies the vast and beautiful Lake Como.
The Y-shaped lake has long been topping lists of the best places to visit in Italy, and for good reason.
The lake is not only a gorgeous natural wonder, but its banks are lined with picturesque old towns and villages that offer fairytale scenery, gorgeous lakefront promenades, and exceptional views.
We think it's a perfect spot for a romantic getaway.
With so many towns around Lake Como, it can be a bit daunting to try and choose which you would like to see.
Or if you're wondering where to stay in Lake Como, you've come to the right place.
We've made a list of our top ten Lake Como towns, so you can start planning your trip to this beautiful region.
Here are the 10 Best Towns In Lake Como
Below you will find the 10 best towns on Lake Como in Northern Italy. Our two favorites by far are Bellagio and Varenna.
We stayed in Bellagio and it was a perfect base for us.
1. Bellagio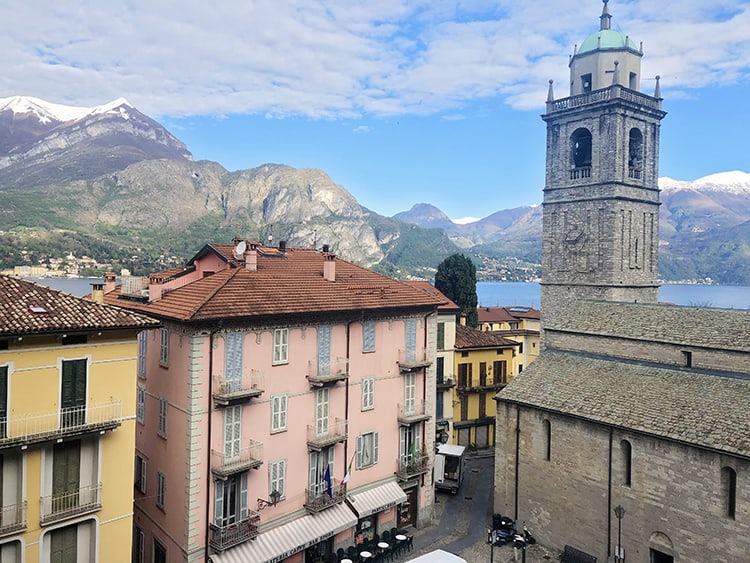 The town of Bellagio lies in a famously stunning location right on the peninsula that divides the three branches of Lake Como, Italy.
It is a beautiful town with a rich history stretching back thousands of years and is without a doubt the most well-known town in the area.
It is often considered the best town to stay in Lake Como, and whilst smaller in size than Mennaggio this is where we prefer staying ourselves.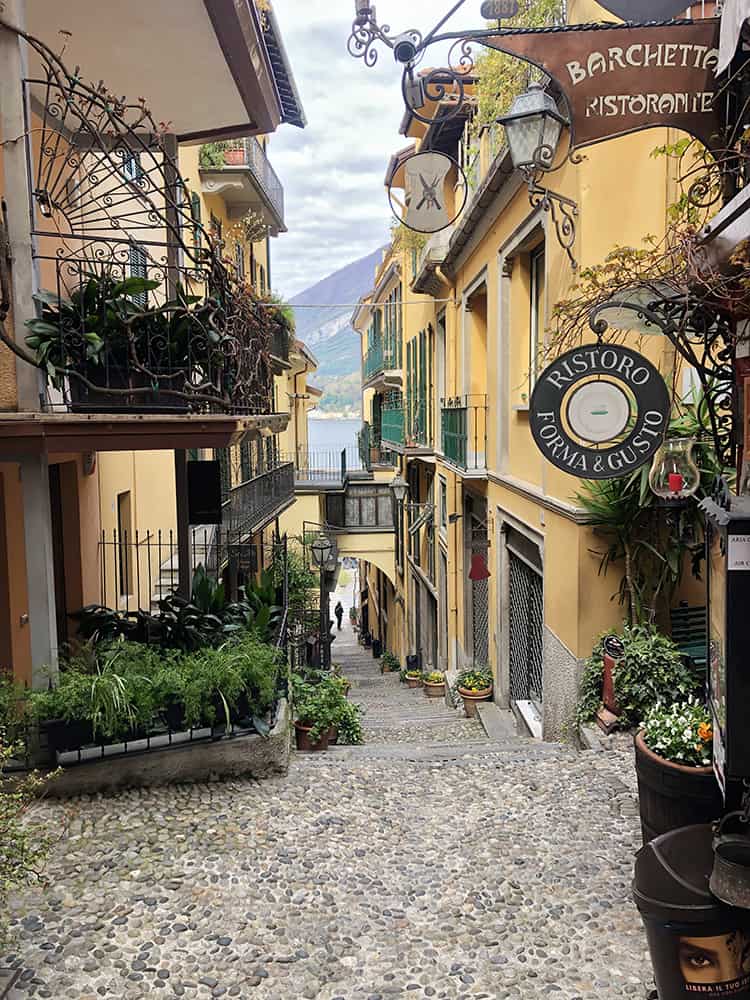 Also referred to as the 'pearl of Lake Como', Bellagio is classy, glamorous, and frankly relatively expensive.
It's also a hotspot for tourists (for good reason), so it tends to be relatively busy with a bustling atmosphere.
The town is veined with steep and narrow streets and alleyways that wind gracefully amongst the old buildings.
Gorgeous cobbled streets and gentle staircases slope down toward the lake, ensuring incredible views while you walk around the town.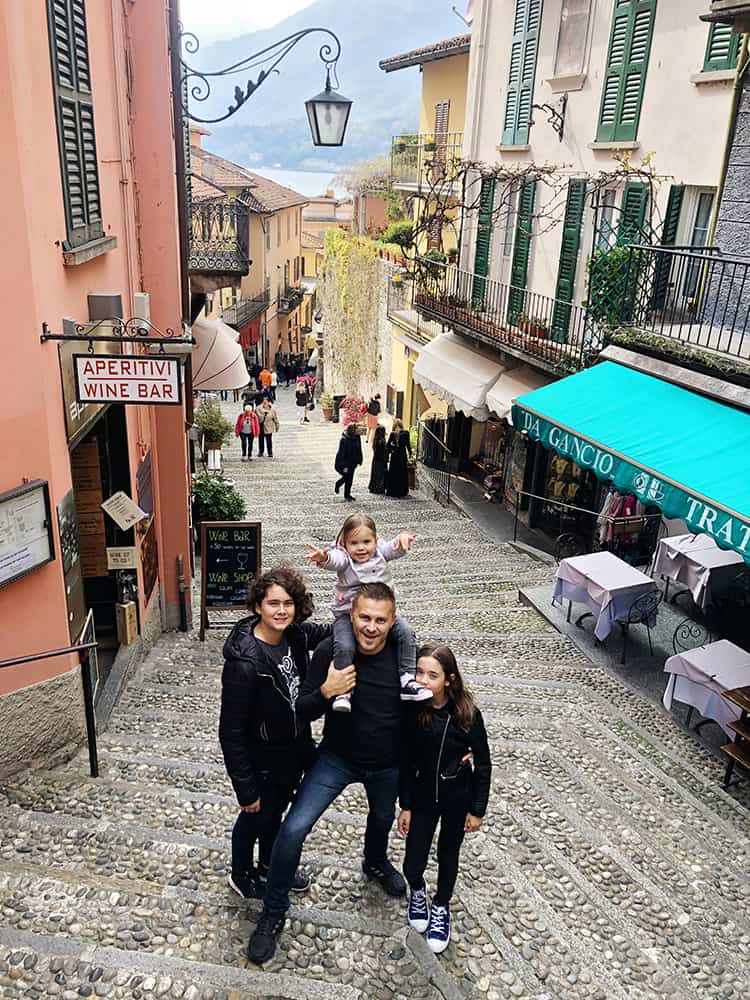 The quaint streets are lined with flowers, ivy-covered balconies, and buildings in an array of pastel colors. There is also a selection of great shops and restaurants in the town.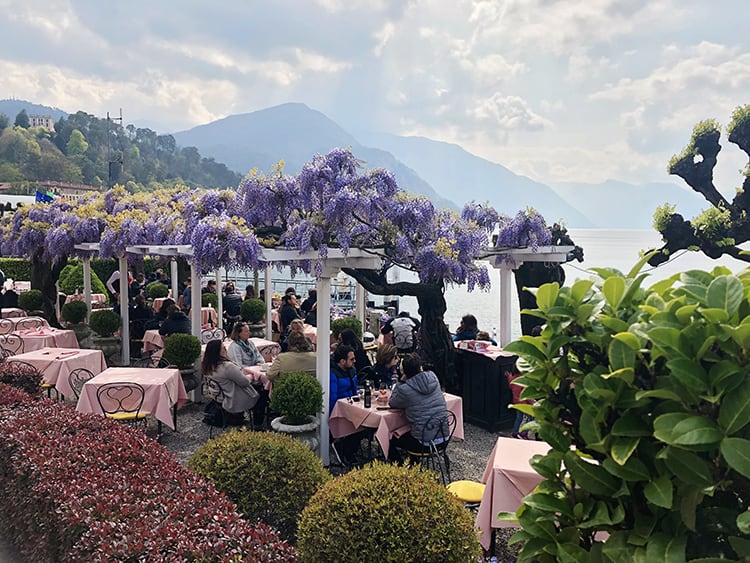 Whilst the town itself is stunning, the amazing panoramic views it offers are even better.
What To Do In Bellagio
Amongst other activities, visitors can spend time walking the picturesque streets, strolling along the waterfront promenade, admiring the Villa Melzi gardens, or taking a kayaking tour.
There are numerous boat trips available. Take a leisurely ferry cruise around the lake or opt for a speedboat tour to get up close and personal with the stunning scenery.
For outdoor enthusiasts, there is an interesting Devil's Bridge Tour. Discover the stories behind the witches of the "Devil's Bridge," nestled in the beautiful Alpine scenery. The tour lasts for 2 hours.
Spend the day lounging on the sand on a beach or exploring Bellagio's many piazzas with a delicious cup of cappuccino. Experience Bellagio like the locals do – swimming in the lake or taking part in an Italian cooking class.
Where To Eat In Bellagio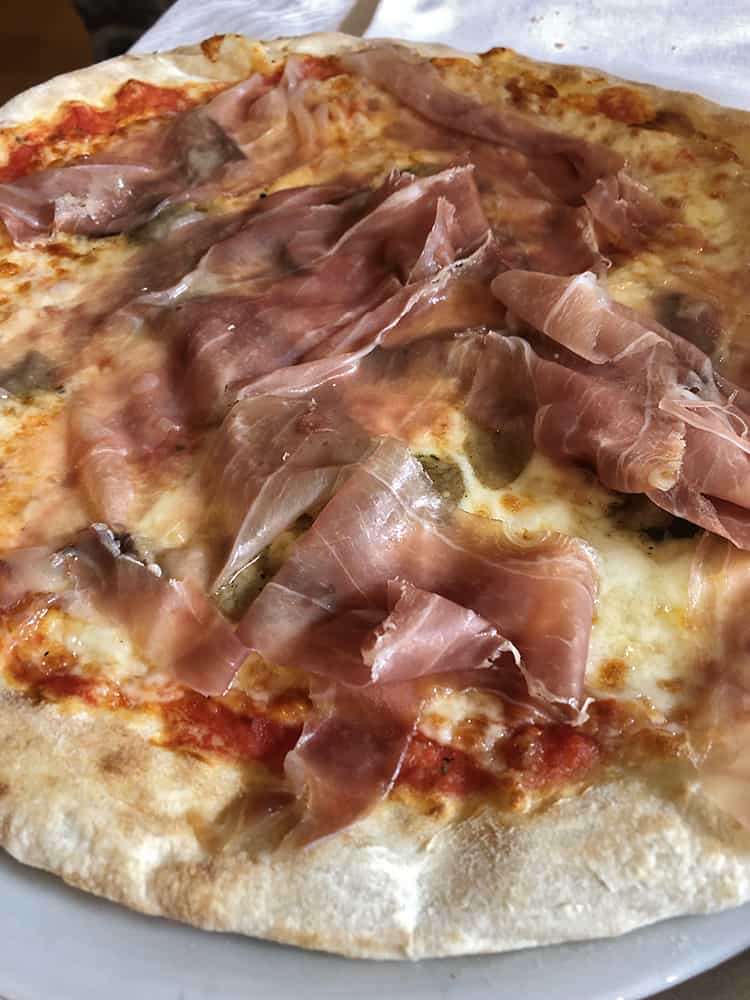 Whilst you are in town, do make sure that you sit down for a meal at La Grotta. It was a local recommendation and we loved it so much that we went back for return meals.
If you have transport, you might also like to book a table at Trattoria_Baita_Belvedere where you can get lovely views over the lake.
You can read our full travel guide on what to do and see in Bellagio here.
How to Get to Bellagio
Our preferred way to get to Bellagio is by car. There are several small roads that lead into Bellagio from different directions, so it can be easily reached from Milan (the drive will take around 1 hour 30 minutes) or other nearby cities. It is also easy to rent a car.
Alternatively, you can take a train (1 hour) or a bus to Varenna and then catch the ferry (15-20 minutes) over to Bellagio. Book your train tickets here.
You can also take the hydrofoil ferry from Como to Bellagio. This trip will take around 45 – 60 minutes.
How Long To Stay For
Whilst you can easily explore this town in just a few hours, we recommend you stay for longer.
A typical stay in Bellagio should be no less than two days, but if you're looking to really explore the town and its surroundings, then 3-4 days would be much less rushed.
Where to Stay in Bellagio
Our top pick of where to stay in Lake Como is Bellagio, it is just such a sweet little town, and in my opinion, it is the best town on Lake Como (don't miss seeing this one!).
Also, check out our list of the best Lake Como luxury hotels here. Yes, luxury, cause you do deserve it, right?
Here is an easy-reference guide to the best hotels in this town.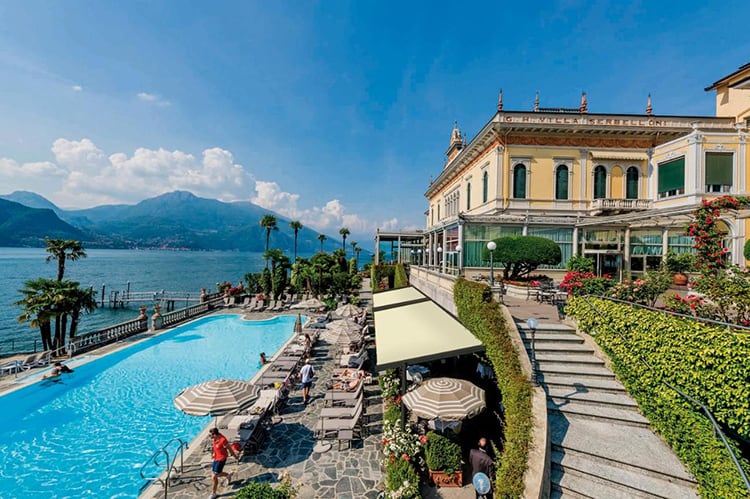 The Grand Hotel Villa Serbelloni is a lavish 5-star hotel housed in an enchanting historical villa. Surrounded by verdant gardens and commanding breathtaking vistas of the lake and mountains, the hotel is a haven of luxury and tranquility.
Indulge in an array of lavish amenities and services, such as a spa, a fitness center, a pool, and a variety of refined restaurants and bars.
With its unmatched elegance and comfort, the Grand Hotel Villa Serbelloni is an exceptional choice for your Lake Como vacation.
Click here to check rates and availability at Grand Hotel Villa Serbelloni
---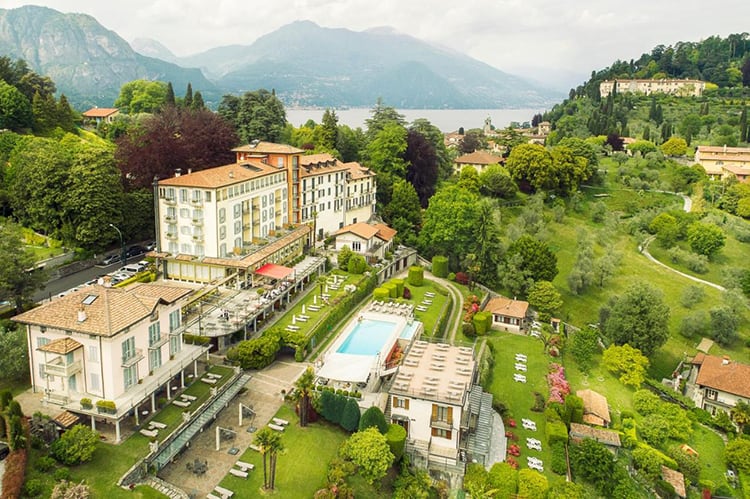 The Hotel Belvedere is a remarkable accommodation option that I would highly recommend. This hotel offers stunning views of the lake and mountains.
The hotel is a stunning historic villa with charming decor & atmosphere. Rooms are spacious, comfortable & elegantly furnished with modern amenities for luxurious stays.
The hotel boasts a fantastic restaurant, bar, and lake-view terrace, where guests can savor food and drinks while admiring the stunning scenery.
The Belvedere also has a new spa, featuring a Turkish bath, sauna, therapeutic showers, and a relaxation area designed to help guests unwind and destress.
Click here to check rates and availability for Hotel Belvedere
---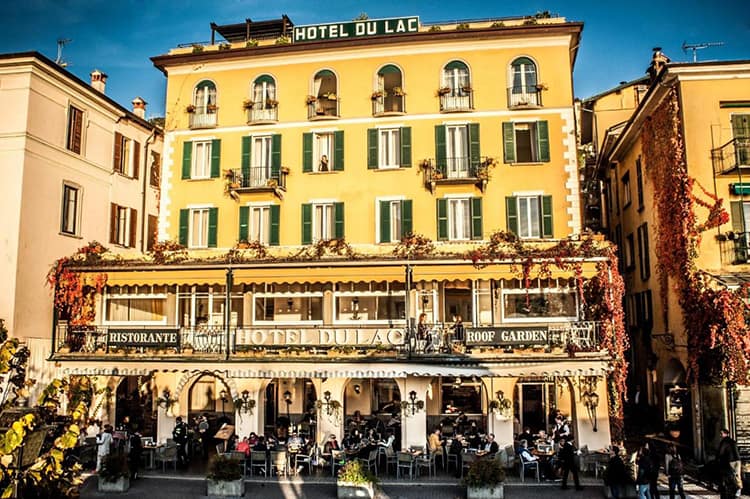 The MOST popular hotel by far. This 3-star hotel has an incredible review score of 9 out of 10 (and that's from over 950+ travelers).
The hotel offers a variety of rooms, including some with balconies and others with lake views. While most rooms are suitable for couples, there is a family room available for a family of four, subject to availability.
One of the highlights of Hotel Du Lac is its prime location. It is situated close to the town center and the lakefront, making it a convenient base for exploring Bellagio and the surrounding area.
Guests can easily walk to shops, restaurants, and other attractions.
Click here to check rates and availability at Hotel Du Lac (this one gets booked out quickly).
---
2. Varenna
Originally a traditional fishing village, Varenna is a humble, quiet, little town that is far less touristy than some of the other towns on the lake.
The town is quaint and rustic and offers a more authentic window into the life of Como Lake locals. In my opinion, it is definitely the prettiest out of all the Lake Como villages.
It's famous for its brightly colored houses and villas, as well as its peaceful atmosphere. We'll be honest, there isn't a whole lot to do in Varenna, but that's part of its charm!
This town is my pick if you are after a romantic escape.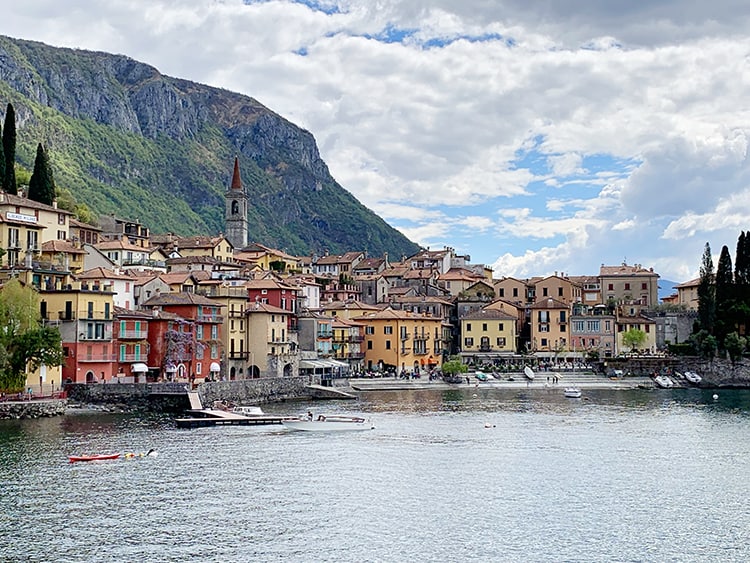 What To Do In Varenna
Visitors can walk through its streets and admire the beauty, walk along the lakeside boardwalk, lounge by and swim in the lake, or hike up to Castello di Vezio, an 11th-century castle.
The hike up is beautiful and offers views across the expansive lake to Bellagio.
You can also pay a small fee to enter the beautiful Villa Monastero, whilst you can enter the villa, and the grounds are lovely to explore.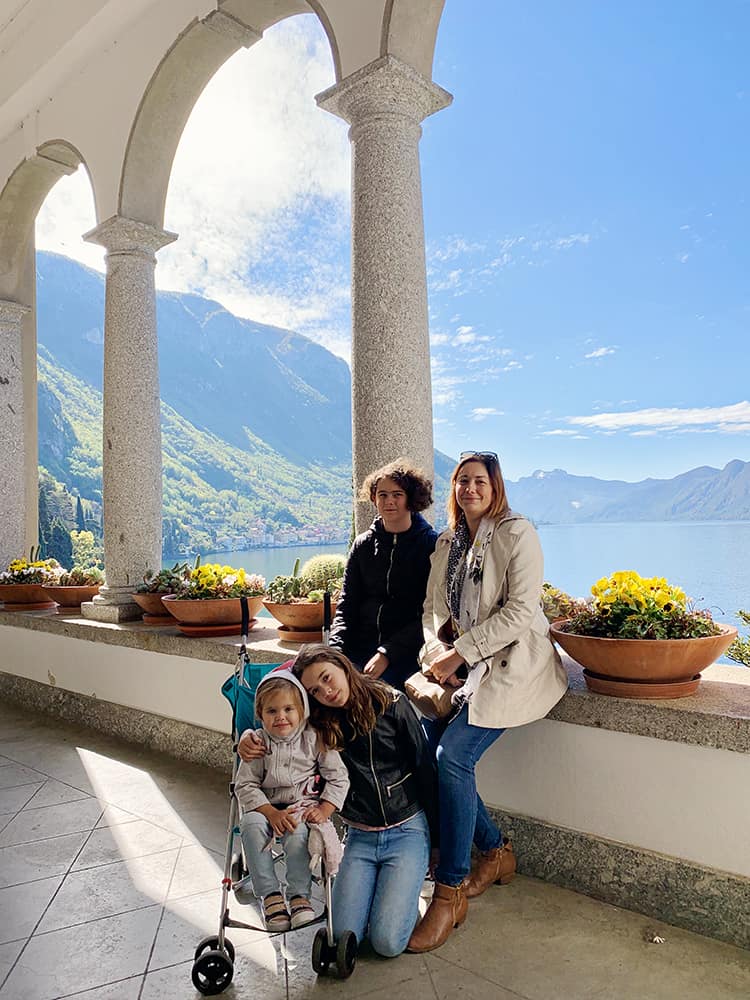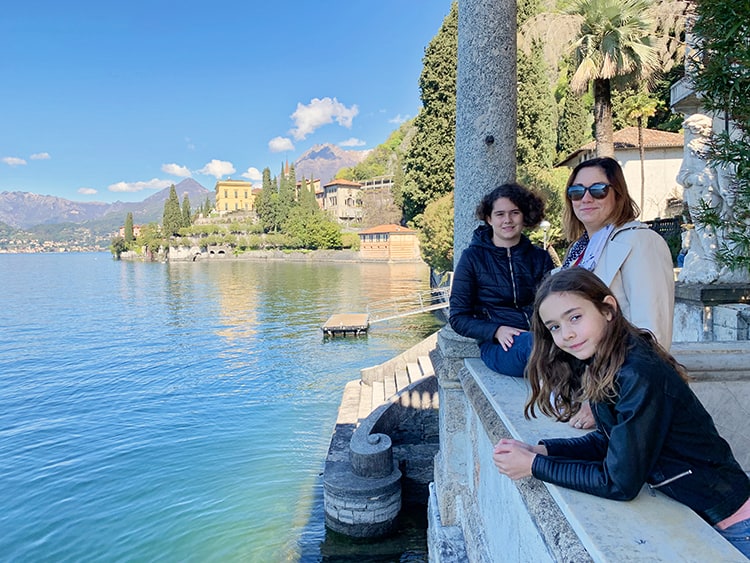 Varenna is full of unique places to explore, and a walking and food tour is the perfect way to experience them.
Explore Lake Como's banks with a small-group walking tour from Varenna. Enjoy a nature walk, spot local wildlife, and learn about bird species. Walk the 'Greenway of the Patriarchs,' visit the 'fiumelatte' and Villa Monastero's gardens.
Where To Eat In Bellagio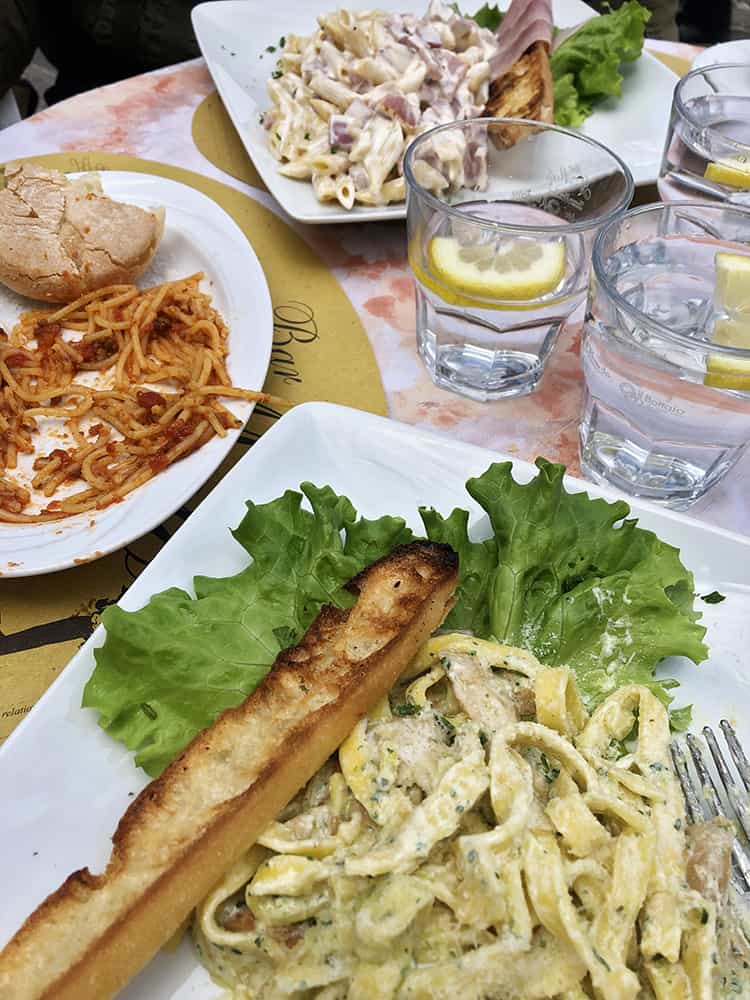 Recommended restaurants to have a meal at includes Al Prato Restaurant (not very kid-friendly, but yummy meals), Il Cavatappi, and Albergo Milano (for dinner with glorious views).
For a casual no-fuss meal with kids, our meals at Bar Il Molo were

not too bad (nothing impressive but good).

For an extra special experience, you can also enjoy a 4-course meal at a local's house (it also includes a cooking demonstration). Book the local dining experience here.
How to Get to Varenna
The easiest and most popular way to get there is by train. You can take a train to Varenna-Esino station, which is just over an hour away. Book your train tickets here.
You can also rent a car for the drive from the airport to Varenna, though this can be a bit complicated due to the winding mountain roads. It could take around 1 hour and 30 min by car.
Alternatively, you can head to Como and catch the ferry from Como to Varenna (around 60 min).
How Long To Stay For
Although it's possible to tour this town within a couple of hours, we suggest extending your stay.
A typical sojourn in Varenna ought to be at least two days, but if you want to thoroughly discover the town and its environs, it's advisable to stay for 3-4 days to avoid feeling rushed.
Where to Stay in Varenna
Varenna is the prettiest town in my opinion, so it is the perfect place for those looking for a romantic escape.
It is small in size and has LOTS of stairs to get around, so might not be the best option for families with little kids though.
Here is your easy reference guide to the most popular hotels in Varenna.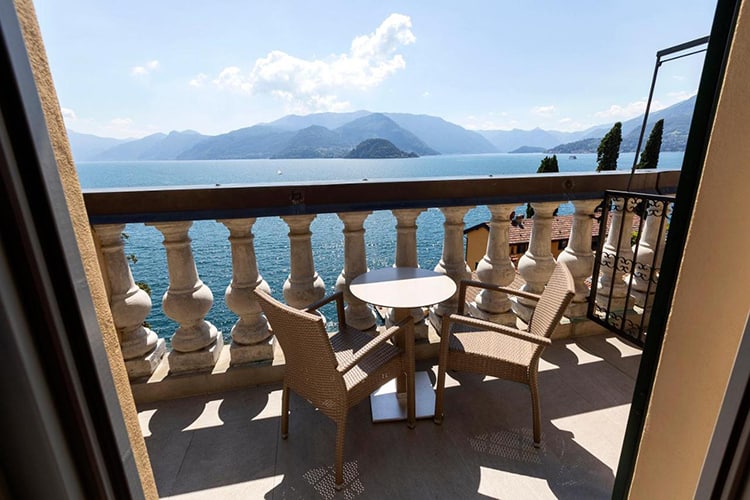 Our recommendation – if you can afford it. Hotel Royal Victoria is a beautiful 4-star luxury hotel.
The hotel also has a prime location close to the town center and the ferry port, making it easy to explore the area.
It has a swimming pool and a wellness center with a sauna and a steam bath.
Some rooms have a balcony with a view across the lake. Suitable for couples.
Overall, Hotel Royal Victoria is a highly-rated hotel and could be a great choice for your stay in Varenna.
Click here to check rates and availability at Hotel Royal Victoria
---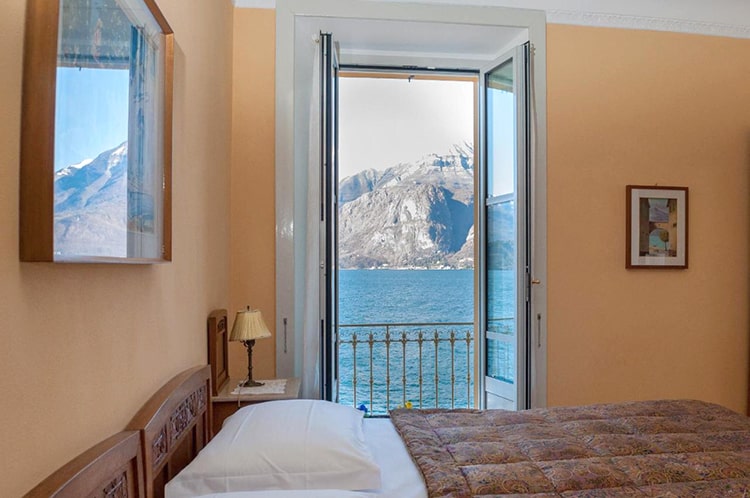 Hotel Olivedo is a cheaper alternative for those who are looking for something pretty but don't mind staying in 3-star hotels.
Some rooms have a balcony with views of the lake.
The hotel features a restaurant, a bar, and a terrace overlooking the lake.
It is also conveniently located near the ferry dock, which provides easy access to other towns on Lake Como.
Again only suitable for couples.
Click to see if there is a room available at Hotel Olivedo here.
---
3. Menaggio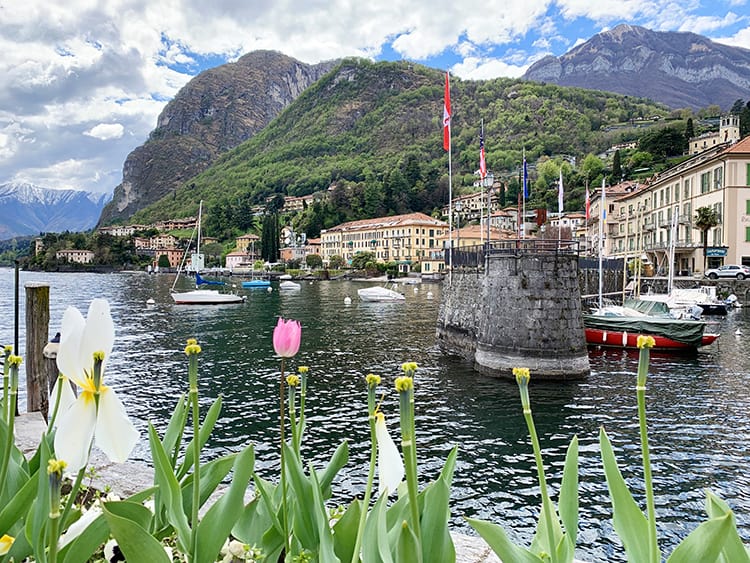 Located directly across the lake from Varenna, Mennagio is one of the largest towns on the lake and is often considered by visitors to be the most beautiful.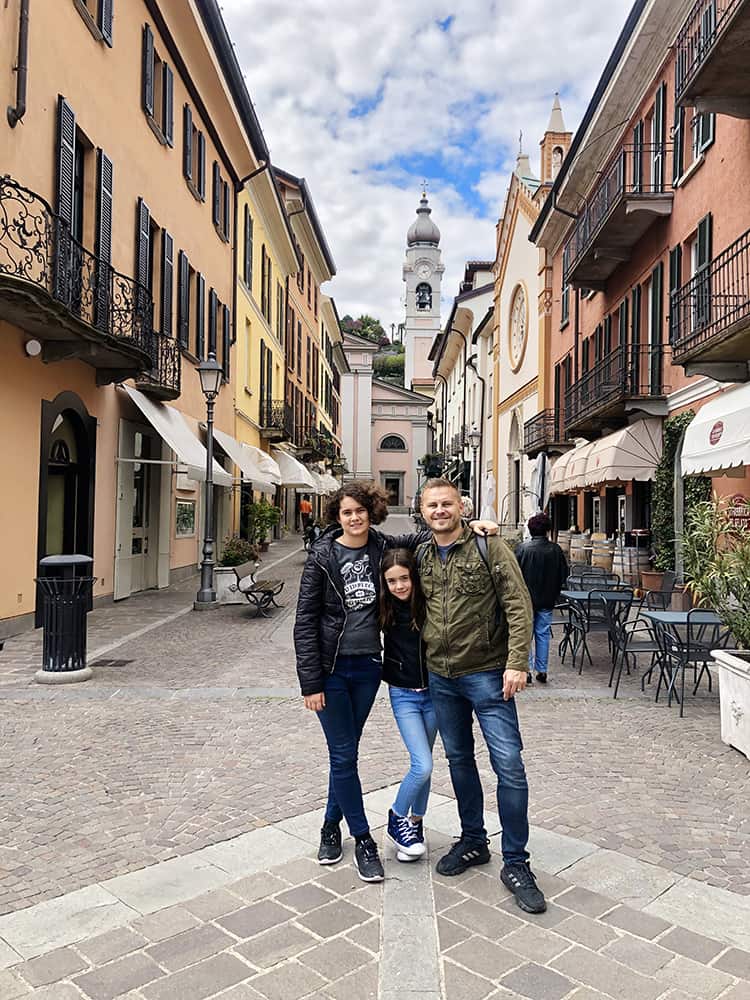 Due to its size and abundance of accommodation options, Menaggio is often used by those visiting Lake Como as a base from which to explore the surrounding towns and areas.
It is one of the best towns around Lake Como for those traveling with young kids.
Once a walled city in medieval times, Menaggio is gorgeous and soaked with history.
What To Do In Menaggio
It's well worth hiking up the steep steps to the beautiful older part of the town, where you'll find the dilapidated remains of the original city wall.
There are also some good hiking trails with incredible views that start from the nearby Breglia.
Spend time wandering through the gorgeous quaint streets, and soaking up the views on the elegant lakefront promenade that is lined with palm trees and flower beds.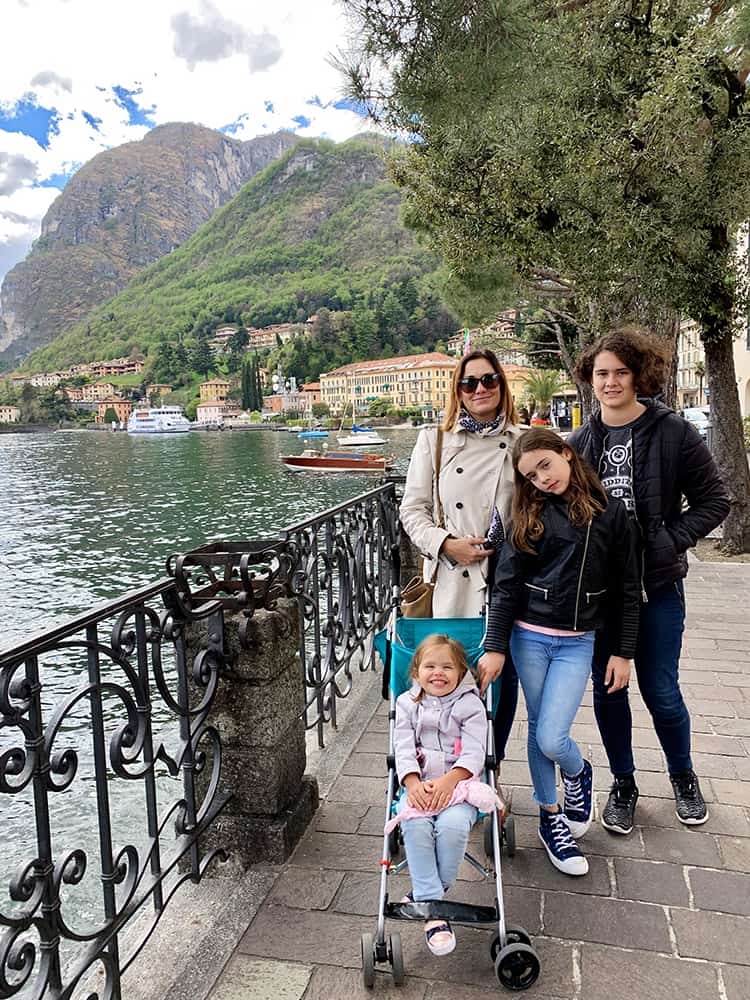 If you're looking for an area with a lively vibe during your time at the lake, Menaggio is a great option.
Piazza Garibaldi, with its 19th-century architecture, is the vibrant hub of Menaggio, filled with bars, restaurants, and cafes.
The town has a great atmosphere, and you can generally find some great live entertainment!
Where to Stay in Menaggio
Menaggio is in my opinion not the prettiest town to stay in, but it is a great option for families. You can use a stroller around the town and there is also the lido, where you can spend your days swimming with your kids as well.
Many travelers love staying in Menaggio because it is easy to visit Belaggio and Varenna from here.
Popular hotel options include:
Hotel Bellavista: The most popular hotel in Menaggio. It is lakefront and in a central position as well. It has a swimming pool which is fabulous. The hotel is 3-star and has rooms suitable for single or double occupancy. Click here to check availability at Hotel Bellavista.
Hotel Garni Corona: Another 3-star hotel in town. This one is situated with easy access to public transport, restaurants, and shops. It might not have lake views, but it is an excellent value. They have rooms for couples as well as an option for families of 4 as well. Click here to check their prices.
Hotel Adler: A cheapie with fairly basic rooms. This hotel is popular as it is affordable and has a swimming pool overlooking Lake Como and the mountains. The hotel has rooms suitable for couples, as well as a room for families of up to 5 people. Click here to check out the photos of Hotel Adler.
---
4. Lenno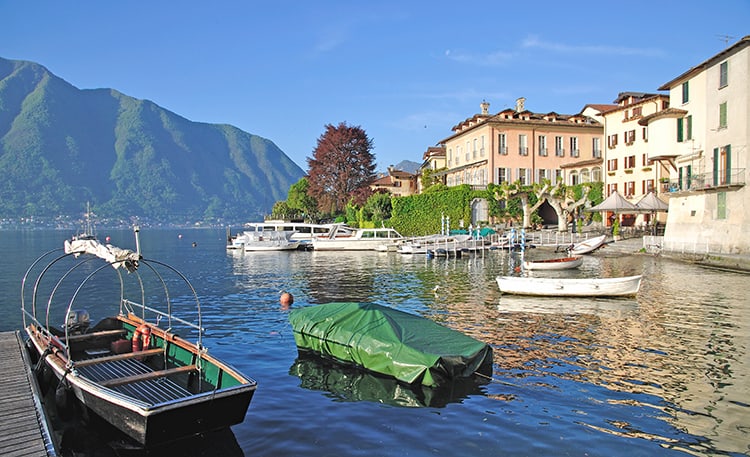 Lenno is small and quiet and is one of the lesser-visited, less touristy villages on Lake Como, inhabited predominantly by locals.
It is, however, well known for two things: primarily the Villa del Balbianello, but also its exceptional homemade olive oil.
It might be the most famous town around the lake as it was used as a shooting location for popular films.
The Villa del Balbianello, located at the tip of a small wooded peninsula, is a gorgeous 18th-century villa with stunning terraced gardens.
Its exceptional beauty has earned the villa a part in numerous feature films, such as Casino Royale and Star Wars: Episode II Attack of the Clones.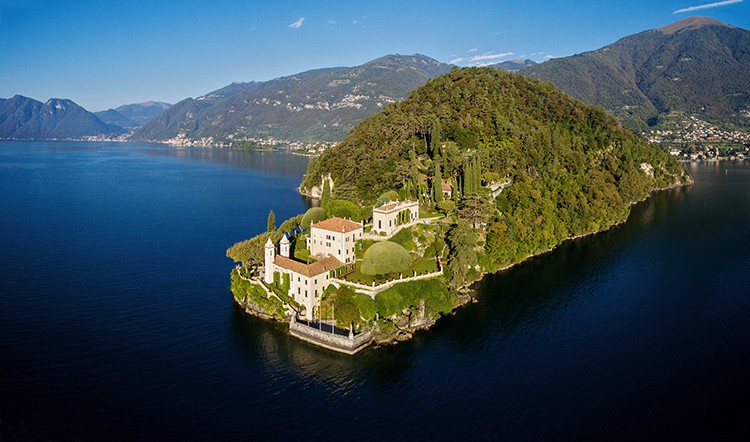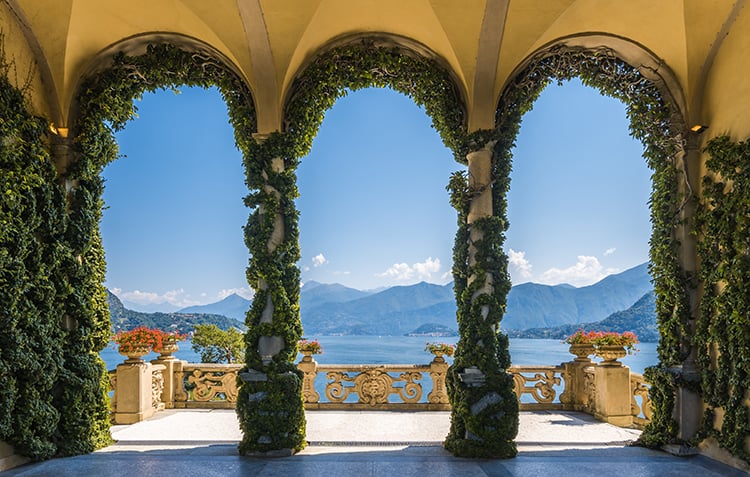 The Villa del Balbianello isn't the only thing Lenno has to offer – the town itself is beautiful and certainly worth a visit during your visit to Lake Como.
It's accessible by boat from the larger villages on the lake, so perhaps enjoy a scenic trip across the water and spend a day in this quaint and authentic town.
Be sure to pick up some olive oil to take home with you or indulge in during your visit to Lake Como.
---
5. Tremezzo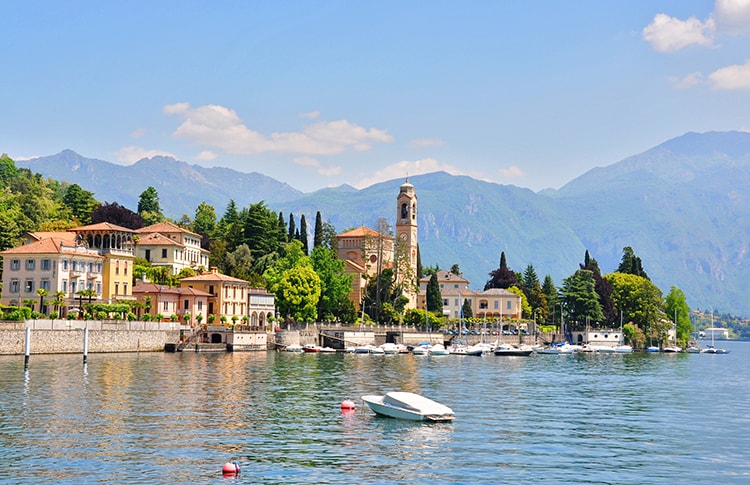 Tremezzo is another beautiful small town on Lake Como that is mostly known as a picturesque tourist resort, with elegant villas lining its streets.
The vast majority of this quaint and romantic town lies directly on the banks of Lake Como, so navigating it is simple and the sights are all grouped quite close together.
By far the largest attraction to Tremezzo is the incredible Villa Carlotta, a 17th-century neo-classical style villa surrounded by the most gorgeous gardens in the Lake Como area.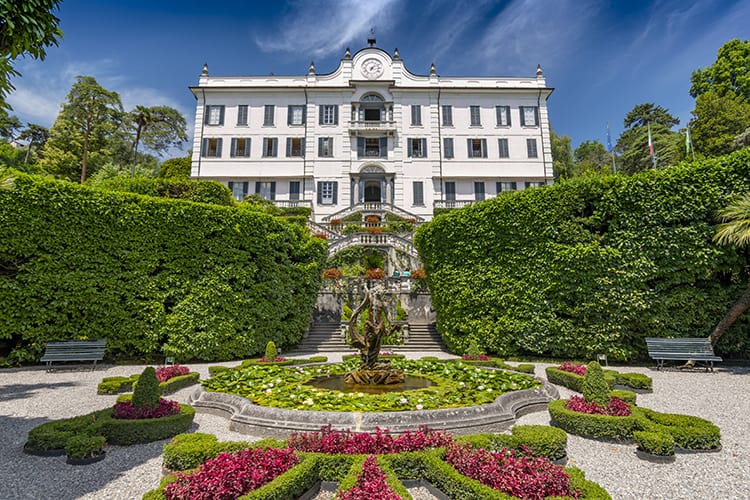 The gardens are incredibly diverse, containing over 500 plant species, including bamboo, cacti, palm trees, Japanese maples, and orchids, amongst many others. There is also a great art museum at the villa.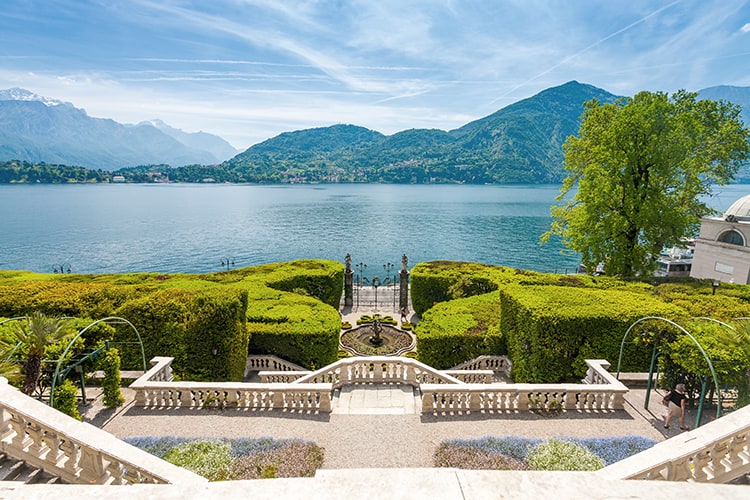 The Monte Crocione hike (eight-hour round-trip) which starts nearby offers amazing views of the lake and the Alps.
Click here to book a luxurious stay at the stunning Grand Hotel Tremezzo.
---
6. Lecco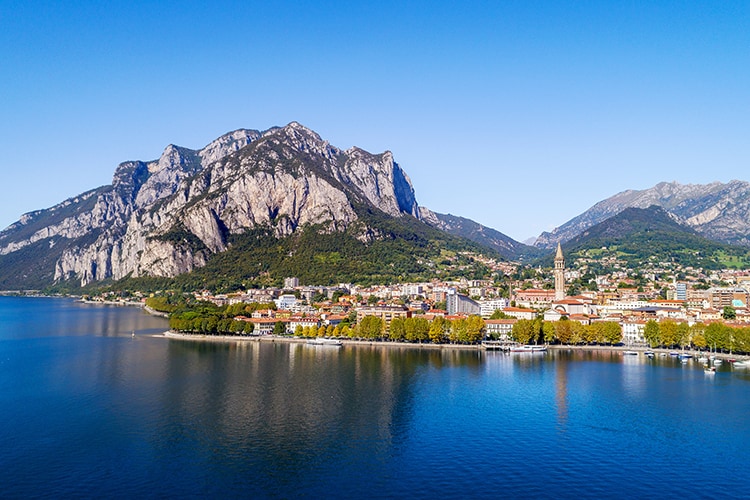 Lecco is a beautiful town in Lake Como. With its spectacular views, charming historical sites, and endless outdoor activities it's no surprise it's one of the best towns on the lake.

The scenery around Lecco is particularly stunning – lush green hillsides stretching as far as the eye can see, with dramatic snow-capped mountains hovering above them.
This provides plenty of opportunities for hiking and trekking, as well as taking a leisurely stroll or bike ride along some of Lake Como's most picturesque shoreline paths.
What to do in Lecco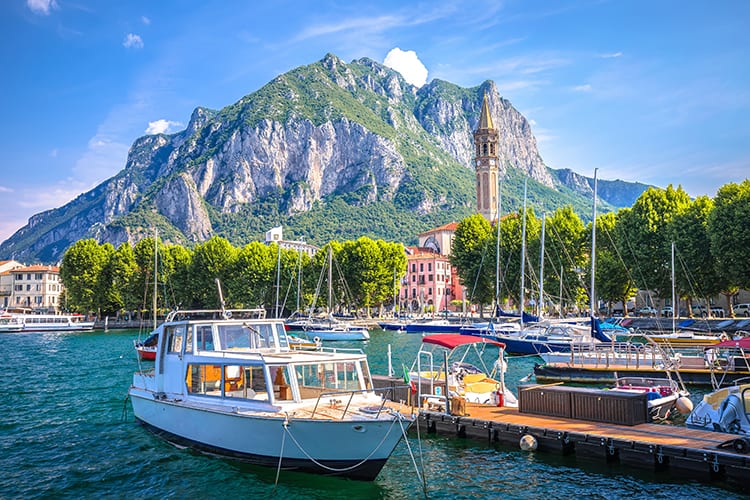 There are plenty of outdoor activities to enjoy such as hiking, biking, or swimming in the lake.
The town itself is home to a variety of cultural attractions, including the Lecco Castle, Piazza Garibaldi, and the historical Church of Sant'Antonio Abate.
It's also known for its vibrant nightlife and restaurants.
How to get to Lecco
Lecco is easily accessible via public transport, with regular bus and boat services connecting it to the nearby towns of Como, Tremezzo, and Menaggio.
From Milan, a train journey will take around an hour. Click here to purchase your train tickets.
A car trip from Milan to Lecco will take around 1 hour and 30 minutes.
From Bellagio, the ferry to Lenno will take around 10-20 minutes (depending on which ferry you take).
From Como, a ferry (depending on which one you take) will take around 25-60 minutes.
How long to stay for
If you are looking to explore the town and its attractions, a few days are usually sufficient.
For those looking to get out into nature and enjoy some of the outdoor activities, a longer stay is recommended.
Hiking along the lake or through the mountains can take several days, so plan your trip accordingly.
Where to stay in Lecco
Accommodation in Lecco is quite affordable with a few hotels available.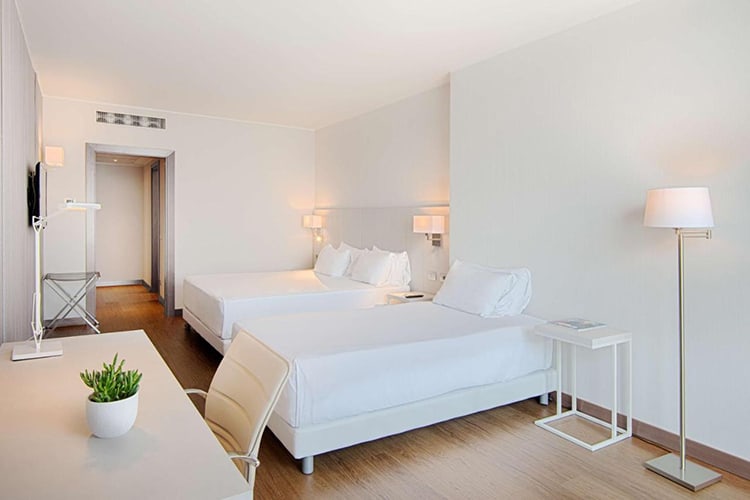 NH Lecco Pontevecchio is a modern and stylish 4-star hotel located in a strategic position in the heart of Lecco, overlooking the Adda River and the picturesque Ponte Vecchio.
The hotel also features an elegant restaurant serving local and regional cuisine, a cozy bar, a fitness room, and electric bike rental facilities.
The hotel's location is ideal for exploring the charming town of Lecco, with its historic center, shopping streets, and cultural attractions within walking distance.
Click here to check rates and availability at NH Lecco Pontevecchio
---
7. Nesso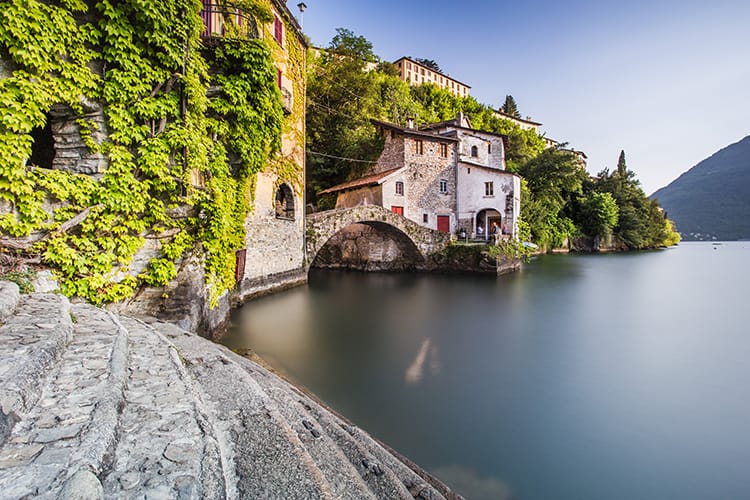 Nestled in the mountains, Nesso is an idyllic village located just 20 minutes away from Bellagio.
The town is surrounded by gorgeous countryside and is known for its beautiful lakeside walk and numerous hiking trails.
Those looking to explore the history of Nesso can visit the Church of Santa Maria della Neve and the ruins of Castel Baradello.
For me, Nesso is a great town to visit for an hour or two, but it is not a town that I want to stay in for a few nights.
How to get to Nesso
The easiest way to reach Nesso from Milan is to catch the train to Como, which takes about 1-hour.
From Como, you can catch a C30-bus which will take an additional 45 minutes. Or alternatively, you can catch the ferry – only the slow ferries stop at Nesso.
---
8. Bellano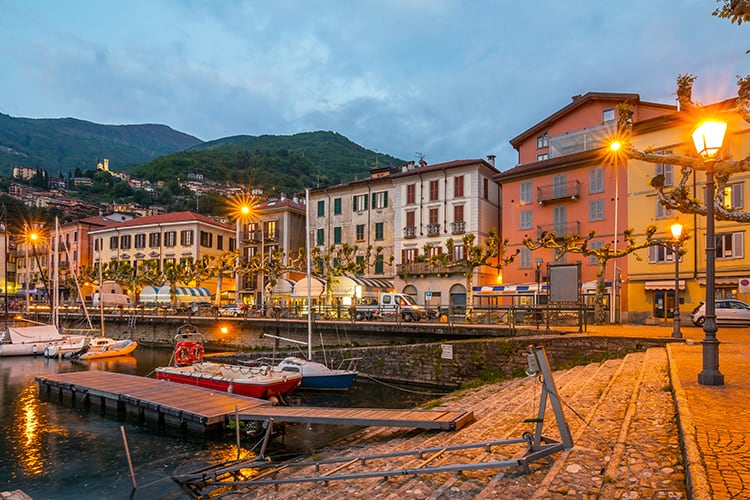 Bellano is a stunningly beautiful town on Lake Como, located in the center of the lake.
The town itself is full of quaint alleys and cobblestone streets that make walking around and exploring its unique charms a delight.
Bellano has been gaining in popularity recently as one of the premier towns on Lake Como, with its picturesque harbor waterfronts, stunning views, and delicious cuisine making it a must-visit destination.
The town itself is home to a variety of cultural attractions, including several churches and small museums.
For outdoor activities, visitors can go swimming in the lake or explore some of its many hiking trails.
---
9. Cernobbio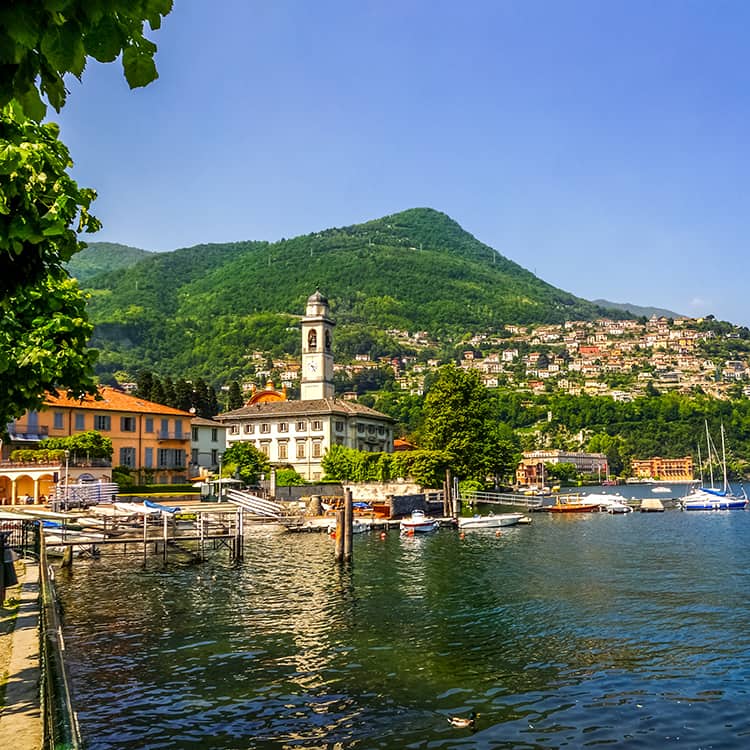 The picturesque town of Cernobbio is located just 6km from Como and is renowned for its elegance and sophistication.
It is home to one of the most luxurious hotels in Lake Como – Villa d'Este.
What To Do In Cernobbio
Cernobbio offers a variety of activities for visitors. Take a leisurely stroll along the lakeside promenade or explore one of the beautiful gardens.
For some adventure, rent a kayak and paddle out into the lake or hire a bike to explore the surrounding countryside. The area is also home to several golf courses if you're looking for something a bit different.
If you're in need of some relaxation, take some time out at one of the town's spas. Or, if you're looking to indulge, head to one of the many chic restaurants or cafes and sample some traditional Italian cuisine.
How To Get To Cernobbio
From Como, it takes around 15 minutes to reach Cernobbio by road. You could easily drive yourself, catch a taxi or save some money by taking the bus.
How Long To Stay For
Cernobbio is well worth a visit, but since it's quite small. We recommend it as a visit for the morning or afternoon, however, if you wish to base yourself here we recommend staying for no more than two days.
---
10. Como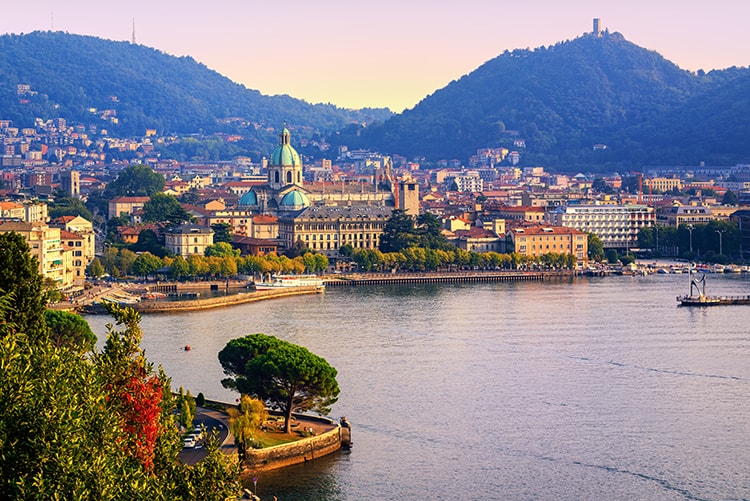 The city of Como, offers visitors a wealth of attractions and activities to enjoy.
For those looking to explore the culture and history of the area, there are several great museums and galleries to visit such as the Museo Didattico della Seta and the Casa Museo Volandia.
The city also has some excellent shopping opportunities, restaurants, cafes, bars, and nightclubs to explore.
What To Do In Como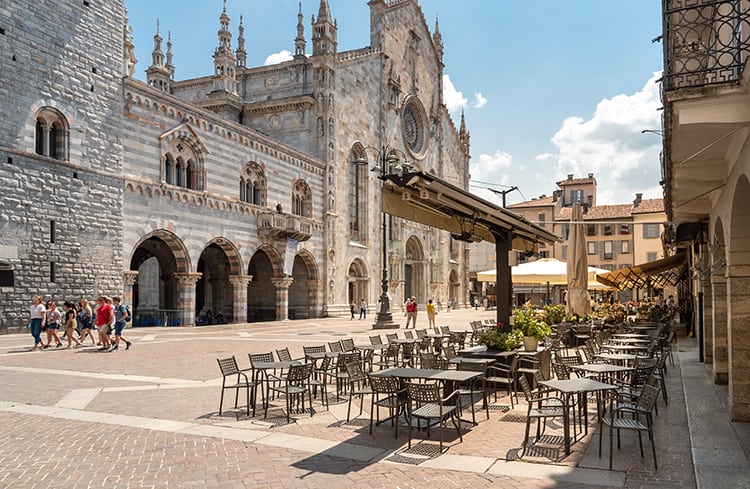 One of the best attractions in Como is the stunning Duomo di Como, which was built between 1396 and 1770 and is one of the most beautiful examples of Italian baroque architecture.
Exploring the picturesque lakefront promenade is also a must-do. Take a leisurely stroll and admire the views over the lake or take a boat trip to explore Como's many small islands.
For some adventure, rent a bike and cycle around the hills surrounding the city, or take a cable car up to Brunate for some breathtaking views.
The great thing about staying in Como is that you can also easily include some fun day trips from Lake Como to other destinations close by as well.
How To Get To Como
Getting to Como is easy – you can either drive, take a train (1 hour from Milan) or catch a bus from nearby towns and cities.
You can also easily rent a car in Como and from there drive around the lake at your own leisure.
How Long To Stay For
Como is a great destination for visitors and we recommend staying for at least 3-4 days to fully explore the area.
Where to Stay in Como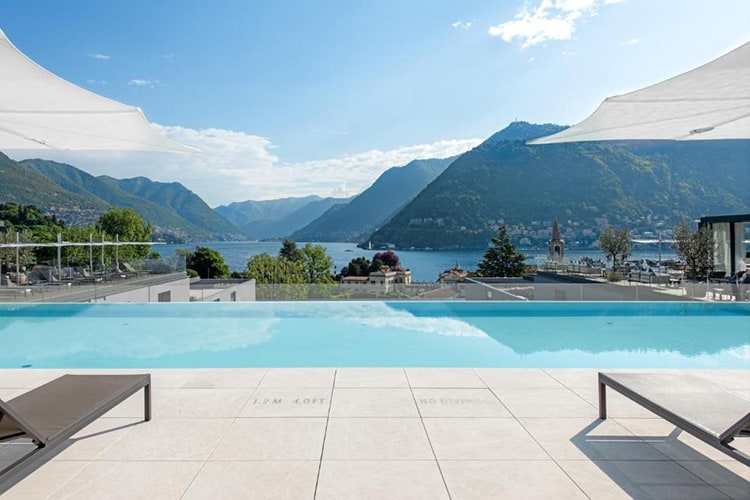 Hilton Lake Como is a stunning 4-star hotel and staying at this luxurious resort is sure to be an unforgettable experience.
Located in the beautiful Italian town of Como, the hotel overlooks the famous lake and provides breathtaking views perfect for a romantic getaway or a family vacation.
The hotel itself offers an abundance of amenities and activities to satisfy everyone's needs. Guests can also take advantage of the hotel's outdoor pool with stunning views of the lake and surrounding mountains.
Click here to check rates and availability at Hilton Lake Como
---
Best Lake Como Towns FAQs
Here are some answers to some of the most commonly asked questions about which towns to see in Lake Como and where to base yourself.
1. What is the nicest part of Lake Como?
For us, the best part of Lake Como to visit is mostly the area around the tip of the Peninsula which includes the towns of Bellagio, Varenna, and Menaggio.
2. The best towns to stay in Lake Como?
Our favorite town to base ourselves is Bellagio, it is also a great town base to visit other towns around the lake.

However, if you are after a romantic stay, I would suggest Varenna, and for families, I would suggest Menaggio.
3. Which is better Bellagio or Varenna?
Bellagio and Varenna are two of the most picturesque destinations in Italy.

Bellagio is renowned for its cobblestone streets, quaint cafes, luxurious boutiques, and a variety of outdoor activities such as hiking, biking, and boating.

Varenna is known for its stunning Villa Monastero, surrounded by lush gardens and home to some of the best seafood restaurants in Italy.

So it depends on what you are after. If I had time to see only one of the two towns, I would personally choose Bellagio.
4. Is it better to stay in Como or Bellagio?
Como is much larger than Bellagio and offers visitors a more dynamic atmosphere.

It has countless restaurants, shops, and cultural sites to explore, as well as plenty of activities like watersports, hiking, mountain biking, and boat tours.

Bellagio is much smaller and I would describe it as a romantic town Whilst it still has plenty of restaurants, shops, and cafes to explore – it doesn't compare to what is available in Como.

However, the town is adorable and the views over the lake are gorgeous it is easier to hop on a ferry to explore Varenna and Menaggio.

Personally, I prefer staying in Bellagio.
5. Which is better Como or Varenna?
Como is much larger than Varenna. The city is also famous for its shopping, dining, and nightlife. Como offers plenty to do throughout the year with festivals and events occurring regularly.

If you get bored easily and you love a variety of things to do then Como might be the right choice for you.

Varenna is much smaller and is located on the eastern shore of Lake Como. It is known for its picturesque views and lakeside walks, as well as its variety of activities.

The town is especially popular with tourists thanks to its boat rides, restaurants, and bars. If you prefer a prettier and more romantic town for some slow days, then Varenna could be the right choice for you.
---
Final Thoughts On The Best Towns To Visit In Lake Como
Lake Como has plenty to offer, and a town to suit every kind of traveler. I hope our list of the best places in to see in Lake Como has helped to narrow down your list of what to include in your itinerary.
Whilst we recommend that you spend at least 3 nights here at one of the towns around Lake Como, it is also helpful to know that you could easily visit Lake Como on a day trip from Milan or via an organized tour from Milan as well.
Now that you're equipped with a list of the best towns in Lake Como, get ready for an immersive journey filled with charming villages, picturesque promenades, and stunning views!
Next step? Here is a great guide about the best time of the year to visit Lake Como – tip: hotels and restaurants are not open all year long!