Being locals to the Sunshine Coast for many many years, we have some awesome insider knowledge about the beautiful hidden secrets of the gorgeous coastal landscape.
We count ourselves as very lucky to live in such a gorgeous part of Queensland, and we absolutely adore hanging out at one of the local Sunshine Coast beaches.
Ocean vibes, the sound of the waves, some sunshine on our faces together with a cool breeze – our magic cure to refresh and cleanse our souls. It is the easiest way to find peace and it definitely is a cheap cure to unwind after a stressful day.
In a bid to increase our fitness levels a touch, we decided to scout out various local coastal walks.  What a beautiful way to discover more of our local area!  Here is our list of our top 5 coastal Sunshine Coast walks!
5 Stunning Coastal Sunshine Coast Walks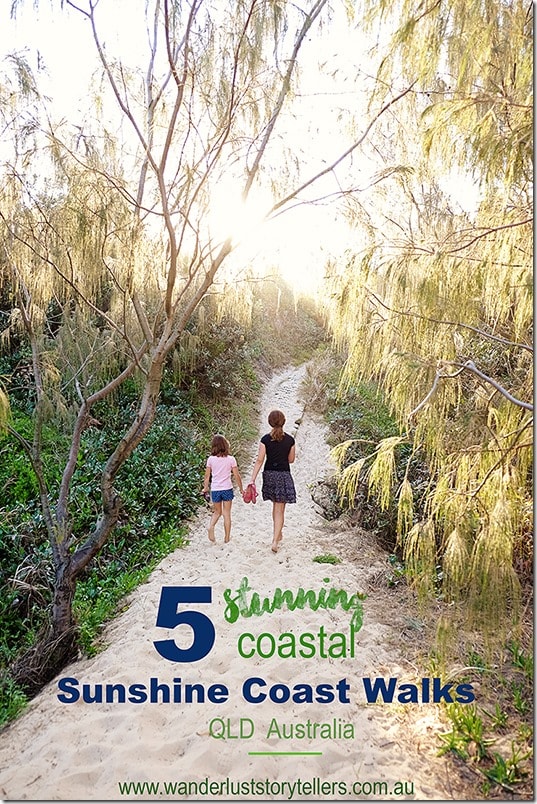 –
1.  Noosa National Park Walk
The Noosa coastal walk is one of my absolute top favourites on the Sunny Coast!  I remember 'discovering' the Noosa Headland walk way back in 2002 and ever since it is a walk that I always go back to. It happens to be one of the places I take visitors too as well! It is definitely a 'must-do' whilst in the Noosa area!
Not only is there a choice of various Noosa National Park walking tracks, but you might also spot some dolphins, whales and I have even seen some koalas having a snooze up in the trees!
The coastal Noosa National Park walk is a hot favourite for surfers, joggers as well as families!
Along this track, you will find some awesome surfing spots, throw in some gorgeous secluded beaches to swim at (our favourites are Tea Tree Bay, Winch Cove and Granite Bay) or if you are brave, you can even find an unofficial nudist beach at the further end around the point at Alexandria Bay.
The viewpoints along the track are all spectacular; you will find yourself snapping loads of photos at these – Boiling Point and Hells Gates lookouts are especially beautiful!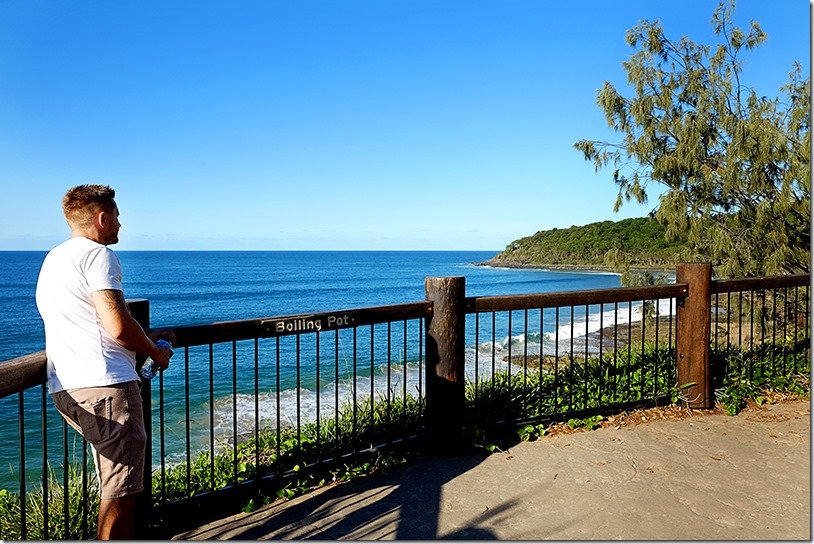 –
Where?
The Noosa Headland section of Noosa National Park is at the end of Park Road, Noosa Heads.
Noosa National Park walking track distances:
OUR FAVOURITE – Coastal Track: 5.4km One Way (2-3hours) – (The Coastal track to Dolphin Point is wheelchair and stroller accessible.)
Other Tracks:
Palm Grove Circuit:  1km Circuit (15-30min)
Tanglewood Track: 3.8km One Way (2-3 hours)
Noosa Hill Track: 2.4km One Way (1-1.5 hours)
Alexandria Bay Track: 4.6km Return (1-2 hours)
For More Information:
Head to the Department of National Parks, Sport and Racing page here!
—
2.  Point Cartwright Loop
Another favourite coastal walk is the Point Cartwright loop!
This track is so popular that it also happens to be one of the spots for our local 5km, 10km or 15km fun runs.  I love this tack because it offers so many views over our glorious coast!
Add in some parks and some beaches to have a swim at, some gorgeous cliffs and rocky pools to explore, and don't forget to visit the lighthouse at the top of the hill!!
I usually tend to start off this walk at La Balsa park.
Here you will find an easy 1.2km paved path that follows along the river where you can see various boats coming and going. Follow this path around the bend to pass by the Point Cartwright Beach.
Our kids love exploring the rocks on the beach here and we have found many interesting sea critters in the rock crevices.
Head up the steep footpath of the Point Cartwright reserve and enjoy a walk around the Lighthouse at the top.  The views from up here are truly breathtaking. With spectacular views of Mooloolaba, the Mooloolah River mouth, Mount Coolum to the north and Kawana Beach to the south.
Here you can keep following the path that winds along the coast or you might choose to return to La Balsa Park to create a 'loop'.
Where?
Located at the Northern end of Pacific Boulevard, Buddina or you can park at La Balsa Park (At the end of Harbour Drive)
–
For more Information:
Visit the Queensland Tourism site here!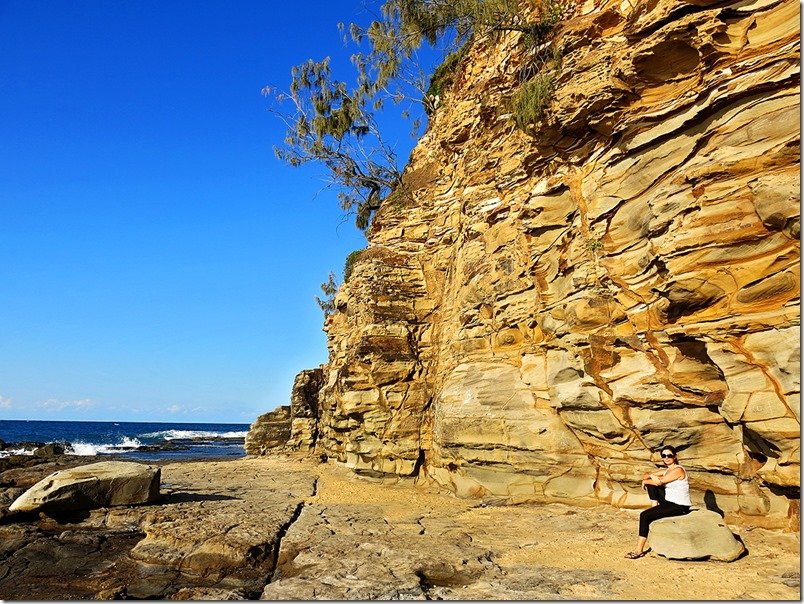 —
3.  Walk to Pincushion Island
Pincushion Island is a gorgeous little rocky island located at the mouth of the Maroochy river.
This walk is actually pretty interesting as on the one side of this island you will get views over the high-rises of Maroochydore and Alex Headlands, whilst on the other side, you will find a very quiet, wild and natural stretch of beach!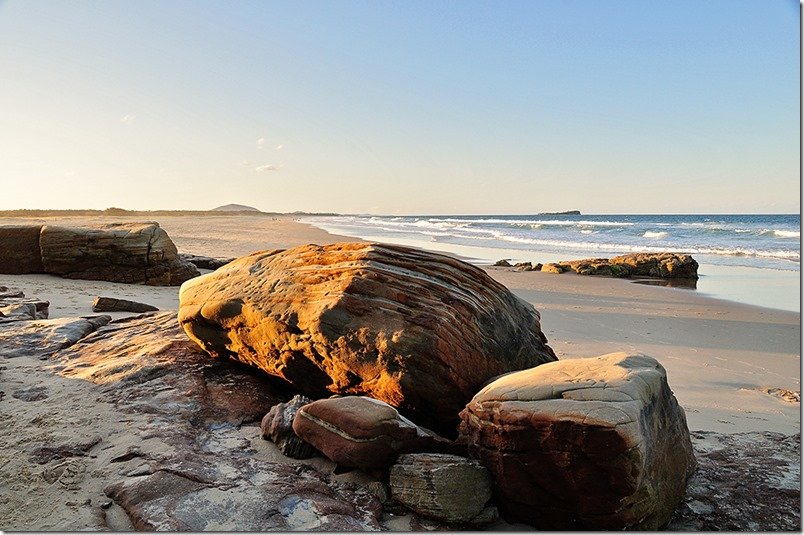 This Sunshine Coast walk is a hot favourite of our kids!  They can spend hours climbing around this island, and the walk on the beach is great exersize for me, so double bonus all around!
Where?–
Access to the Pincushion Island is from any of the pathways leading to the North Shore Beach (the Southern tip of Mudjimba).
We like to park at the end of N Shore Rd where we choose one of the sandy pathways to reach the beach. The island can be reached within 10-15 min from there, or if you are after a long walk, simply park further away.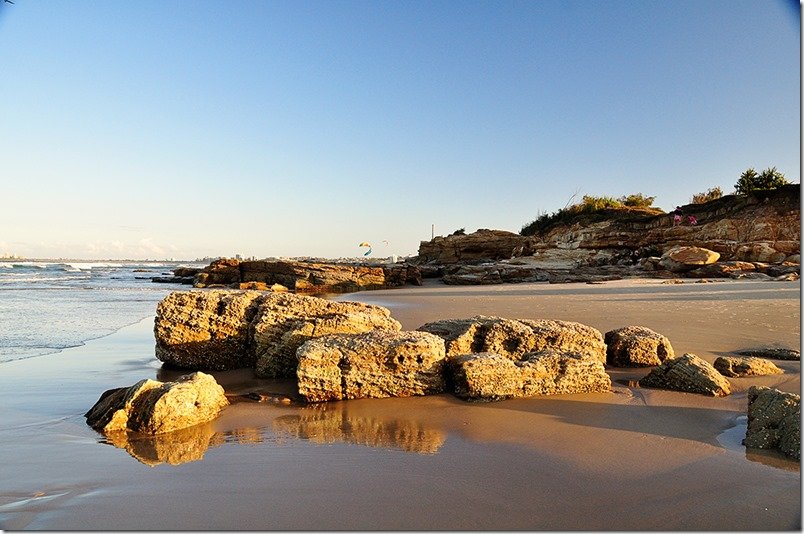 –
4.  Currimundi Lake Conservation Park
A walk through to Kathleen McArthur Conservation Park on the North side of Currimundi lake is a must whilst in the area.
We are fortunate to live around 5 min from this walk and we love heading out here in the afternoon to get some gorgeous fresh air!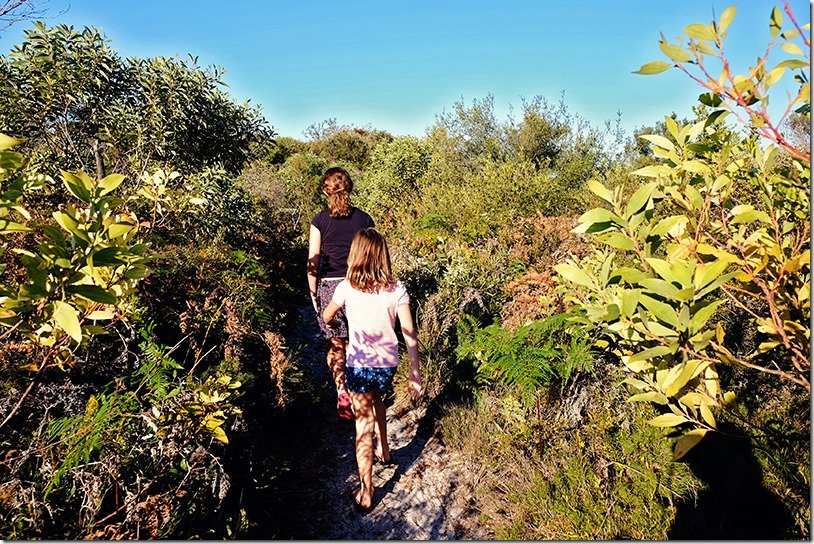 The beauty of this walk is that not many people are aware of it, so you will find yourself pretty much alone on this Sunshine Coast track where you will be able to enjoy the sounds of birds chirping away together with the sound of the approaching ocean waves crashing ahead.
The Heath track that we love here is aptly named after the Wallum heathlands plant communities.  This track is especially beautiful in the late winter and spring months when the heathland wildflowers are in bloom.
We truly love walking down this white sandy pathway, trying to spot all the various birds about!  Do yourself a favour and give this one a go!!
Where?
Park at Crummunda Park, where you can wander down the track from Coongarra Esplanade through the park to the beach.
After more Information?
Why not visit the Queensland Tourism site here.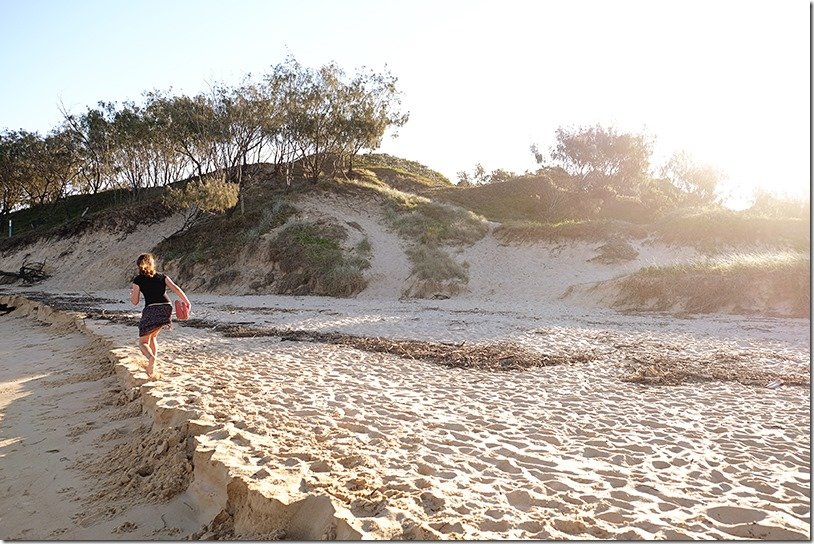 –
5.  Caloundra Coastal Boardwalk
For a short, super relaxing stroll, why not head over to Caloundra!
We love the stretch of path that makes a start in the Esplanade and makes it way all the way to Kings Beach.
This track is suitable for prams or wheelchairs as it is either paved or has a boardwalk.
We usually tend to head over at dusk in order to see the colours change in the sky. There is also a gorgeous play park halfway for the kids to run a muck on, and why not buy some fish and chips on the way back and sit down to enjoy the atmosphere!
Where?
Find a park on the Esplanade or at King's Beach, Caloundra.
Of course there are tonnes of other fabulous coastal walks on the Sunshine Coast that you could enjoy as well!  The beauty of our gorgeous coast is that there is always more and more areas left to explore!
For more posts on our beautiful Sunshine Coast:
Over to you!
Do you have any favourite coastal Sunshine Coast Walks?
If you are heading over to our Sunshine Coast, which of the walks above would you love to explore?