If you are visiting the Sunshine Coast, make sure to add 'Climbing Mt Ngungun' to your list of things you simply have to do.  This is one of the most beautiful climbs that you can do at the Glass House Mountains range and the views from the top are truly spectacular!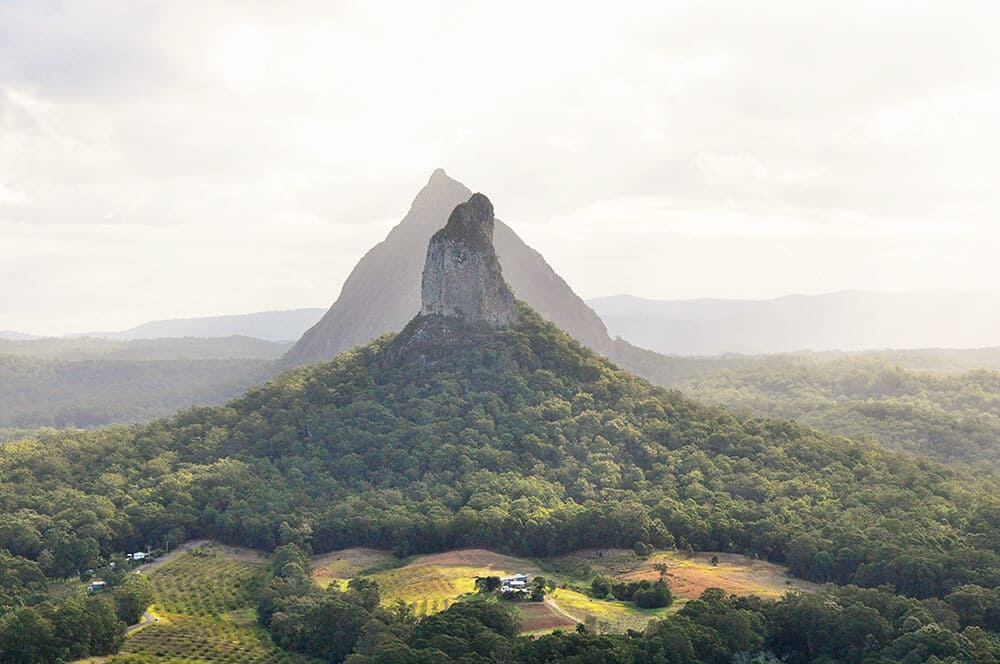 –
About the Walking Track at Mt Ngungun, Glasshouse Mountains
Mt Ngungun is a part of Glass House Mountains National Park and it towers over pine tree plantations, fields and bushlands. It is a very popular place for up-sailing , with its vertical cliffs providing heaps of fun for the adrenaline junkies.
The 2 hour (return), 2.8 km walking track starts in the open forest winding past gorgeous greenery until you pass a perfect little heart-shaped cave.
After that you will hit some rocky stairs which will guide you all the way to the summit, where you will get a breathtaking view of Mount Tibrogargan, Mount Coonowrin and Mount Beerwah.
Mt Ngungun Address
This glorious mountain is located in the Glasshouse Mountain region of the Sunshine Coast.  Follow Steve Irwin Way to the Glasshouse Mountains Township. You will need to turn left into Coonowrin Road. Then turn right into Fullertons Road, and it is in this road that you will find the car park at the base of this mountain.
Climbing Mt Ngungun | The video!
So, pack your backpack, put on some good walking shoes and head out for a beautiful climb up Mt Ngungun, it is one of our absolute favourite Glasshouse Mountains walks and highly recommend you add it to the list of 'What to do on the Sunshine Coast'.  This climb is perfect for both adults as well as families with children.  My children have completing the Mt Ngungun walk to the summit since they were around 3 years by themselves.
Tip: Check out our compression socks reviews for travel here. You might need those for longer hikes.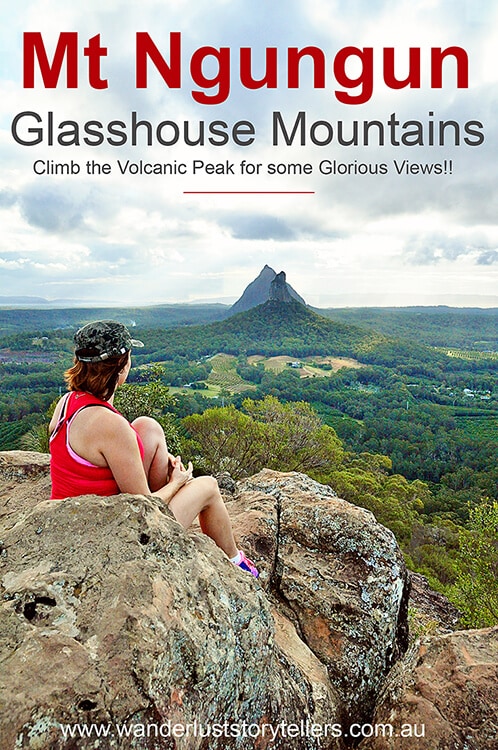 If you would like to see other amazing places with lookouts on the Sunshine Coast, click here.
For a beautiful video of our climb up Mt Coolum, click here.
For more Australian blog posts, click to view our Aussie page here!
–
How did you like our video?

Are you going to get off your couch and join us to climb Mt Ngungun?