Mount Coolum is an isolated volcanic dome situated in the Mount Coolum National Park on the Sunshine Coast in QLD Australia.
The scenery, the Mt Coolum walking track and the views from the top are beautiful! The height of Mt Coolum is 208 metres and well worth a climb when visiting the gorgeous Sunny Coast!
–
Where is Mount Coolum
Where: The entrance to Mt Coolum National Park is located on the corner of Tanah Street East and Jamahill Drive in Mount Coolum.
The view from the summit is truly glorious; a 360-degree overview over the beautiful Sunshine Coast.
One side offers views over the Sunshine Coast coastline and beaches extending from Moreton Island to Double Island Point, the cane fields and wetland areas of the Maroochy River Valley, as well as the main areas of the Coast.
The other provides you with a more 'landscape' view over the hills and valleys. I can never figure out which lookout is my favourite!
The Mount Coolum walk is one of the easiest climbs on the Sunshine Coast, making it ideal for families with kids, there are some step edges though, so don't let the kids run too far ahead of you!

When to go? Make sure to come here either early in the morning or in later in the afternoon to see the most spectacular sunrises and sunsets on the Sunshine Coast.
How long does it take to climb Mount Coolum? The Mt Coolum Walk is an 800-meter long track; it will take you about 1 hours return, although the fit joggers can run up and down the mountain in around 20min!
–
Mt Coolum Walk – The Video!
Please watch our short video of our climb as a family to the summit of Mount Coolum! We hope you enjoy our digital story! I think our 6-year-old daughter, Lily, sums up the experience pretty well haha!
Whilst you are at it, don't forget to read our post about the Top 5 Lookouts on the Sunshine Coast here! And you can also watch another video on another glorious mountain on the Sunshine Coast – Mt Ngungun here.
–
Other things to do in Coolum
Coolum Boardwalk
Down Boardwalk Bvld, you will find a picture perfect 20m boardwalk that stretches from the road to the beach.
On the return journey on this short walk, you will find yourself staring at the beauty and size of Mount Coolum in the backdrop. A truly beautiful sight!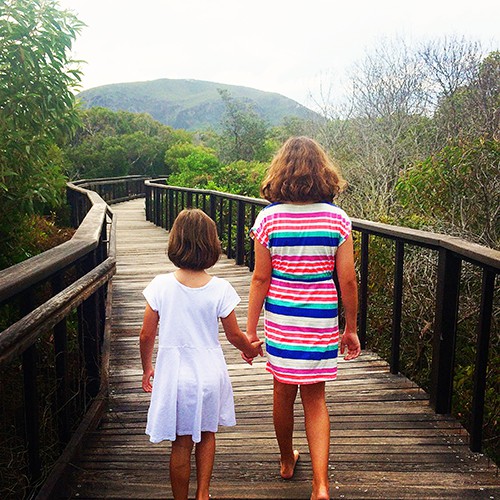 Coolum Beach
Who doesn't love hanging out at the beach all day? The perfect beach for a swim, a play or a beautiful long walk on the never-ending stretch of coastline.
There is also a fabulous kids' play park here, together with a skate park for the older ones! We love Coolum Beach!
Point Perry Coolum Beach Lookout
Also known as Wilkinson Park this lookout is a pretty good one to stop at!
There is a viewing platform and picnic shelter in the park as well. You can find this lookout from David Low Way, Coolum Beach.
Emu Mountain
Emu Mountain is a lovely easy alternative to Mt Coolum. For an easier walk, you can get beautiful views, bring binoculars during whale season and see if you can spot some whales!
Aqua Fun Park Coolum
Located in Twin Water, this water park close to Coolum will provide you with loads of fun! With the beautiful weather we generally have on the Sunshine Coast, this is a good spot almost year round.
Read more about their prices and location details on their site here.
Oz Ski Resort
Oz Ski Resort is a world class water ski facility located on a man made fresh water lake at Coolum, perfect for the active travellers and locals alike.
Find more information on their site here.
Palmer Coolum Resort Golf Course
For those who enjoy a bit of gholf on their holidays, why not head over to the Palmer Coolum Resort Golf Course.
Asante Day Spa
Say the word 'spa' on holidays and I am there!! What better time to treat yourself to some time out and luxury treatments?
Find out more about this popular spa on their website here.
Over to you, is the Sunshine Coast on your list of places to visit?

Have you done the Mt Coolum climb? What did you think?