Sunshine Coast is one of the best holiday destinations in Australia. Visited and admired by the tourists from all around the world and Australians from different states alike, this place has been my home for almost twenty years. And it never gets boring!!
Whilst there are loads of options of things to do on the Sunshine Coast, some of our favourite outings have involved scouting out the top Sunshine Coast lookouts!
Top 5 Best Sunshine Coast Lookouts | Things to do on the Sunshine Coast!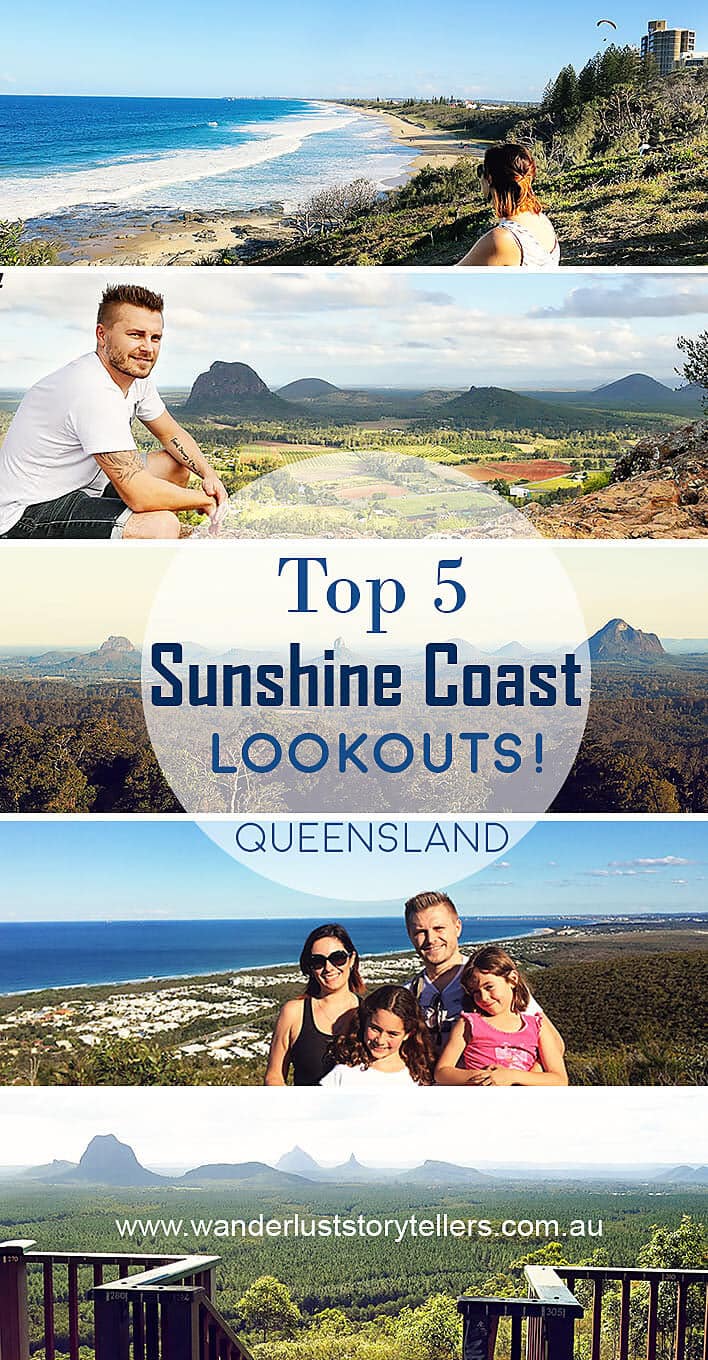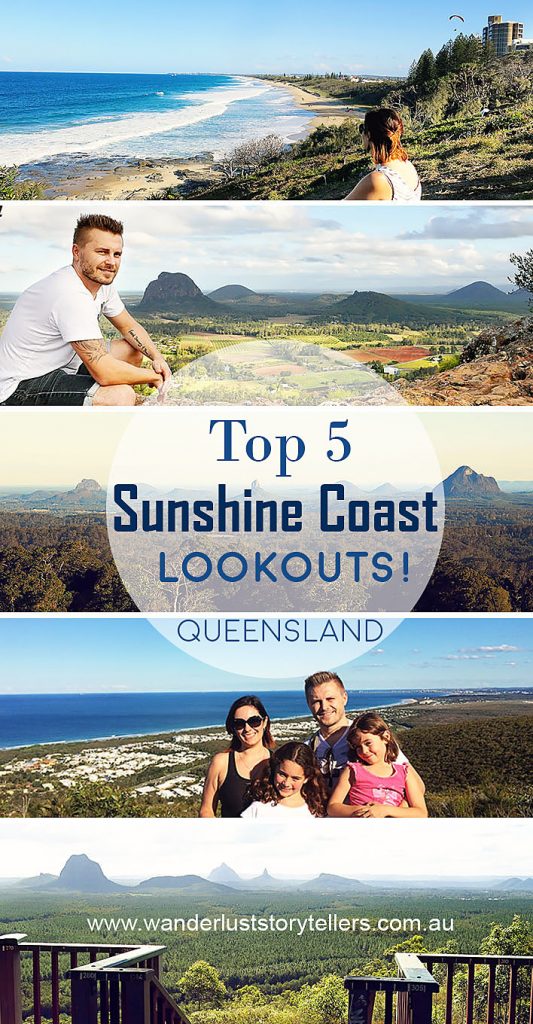 I have to say, and I think I can speak for all the locals, the Sunshine Coast's beauty is its nature. No one here wants to see millions of high-rises covering the sun on the many beautiful beaches, but to keep it green, beautiful and in its most natural state. And what a better way to see this beautiful place than from up high from our top 5 lookouts of the Sunshine Coast spots.
–
1. Point Cartwright Lighthouse Lookout
The shining beacon on top of rocky cliffs
Point Cartwright is the most out-stretched point of the Sunshine Coast, located near the mouth of Mooloolah River, in Mooloolaba. You can park your car at the car park at the end of Pacific Boulevard, right on top of the hill. A short stroll along the footpath will lead you to the Point Cartwright Lighthouse, and on top of the hill,  find yourself gazing out onto 9 km of beach that runs south all the way to Currimundi Creek mouth.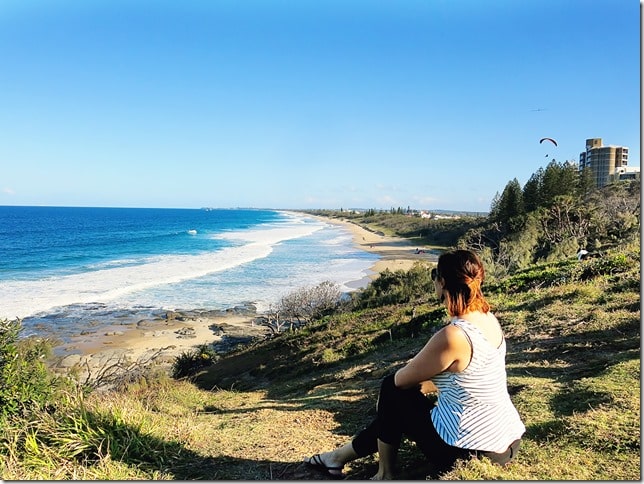 This spot is very popular for both locals and tourists. The high cliffs of this coastal headland reserve provide gorgeous views of Kawana Beach to the South and spectacular views of Mooloolaba, Mooloolah River and Mount Coolum to the North.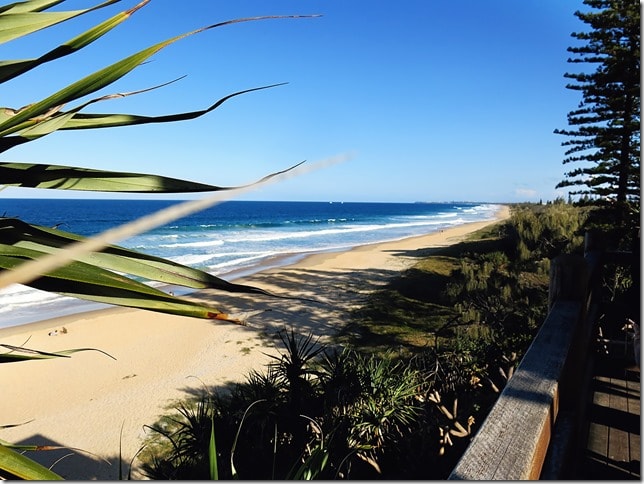 So don't hesitate to pick up some yummy food on the way here and get yourself a perfect picnic spot on top of the hill or at the La Balsa Park at the edge of the River mouth. Stretch your legs and relax to the picturesque surroundings, whilst watching your kids run around and play.
–
2. Mt Ngungun Walk and Lookout
The Volcanic Peak of Glass House Mountains
From the ocean views of Point Cartwright, about 30 minutes drive inland, to the volcanic peak of Mt Ngungun on the Glasshouse Mountains, Queensland.  You will find this mountain climb located at Fullertons Road. The 2.8 km Mt Ngugngun walk will take you about 2 hours return.  Make sure you put this one on your list of things to do on the Sunshine Coast.
The walking track starts in the open forest and winds through a ferny pathway untill you get to the little cave, where you can take a moment to rest and snap some photos. Next comes the winding rocky steps all the way to the summit, where you will get a breathtaking view of Mount Tibrogargan, Mount Coonowrin and Mount Beerwah.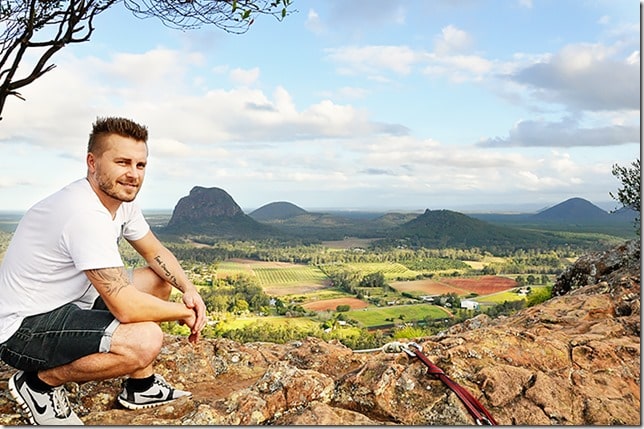 Mt Ngungun is a part of Glass House Mountains National Park and it towers over pine tree plantations, fields and bushlands. It is a very popular place for up-sailing , with its vertical cliffs providing heaps of fun for the adrenaline junkies. Spot the red strap and rope on the picture above.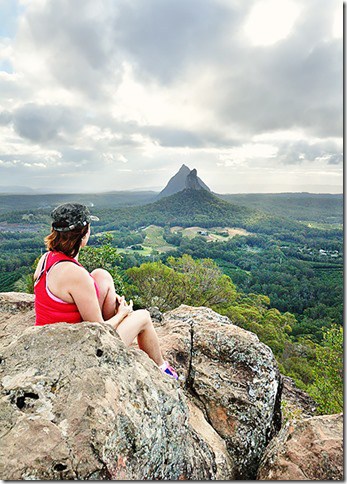 I think the pictures speak for themselves. Mt Ngungun is definitely our favourite track out of the multitude of walking tracks at the Glasshouse Mountains. It is graded as a "moderately difficult climb", so make sure to supervise your little ones.  For more information as well as a climbing Mt Ngungun video, click here.
–
3. Mary Cairncross Scenic Reserve | Maleny Lookout
The place where the time stops
I got to say that this Maleny Lookout view will be engraved in my memory forever, as this majestic scene of the full spread of the Glass House Mountains was a back-drop for our wedding ceremony a year ago. And I think we might have to take a little drive up there on the 11th of this month, on our first anniversary.  The Maleny Cairncross Scenic Reserve has a very special place in my heart. Perhaps, if you like we can share it with you as well.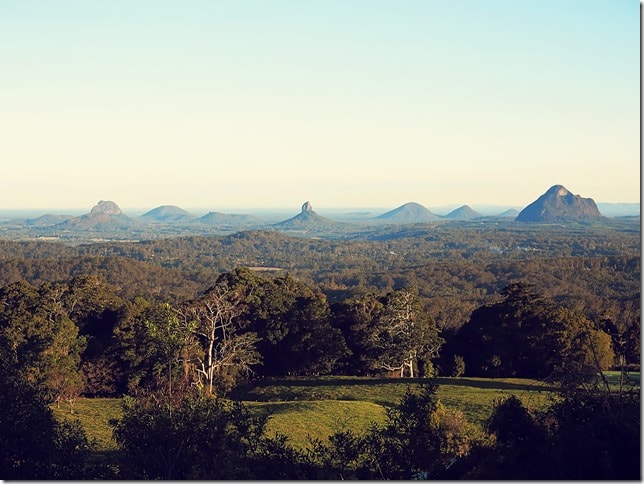 Can you spot Mt Ngungun from here?  Lily is trying to help you with this one by pointing to it.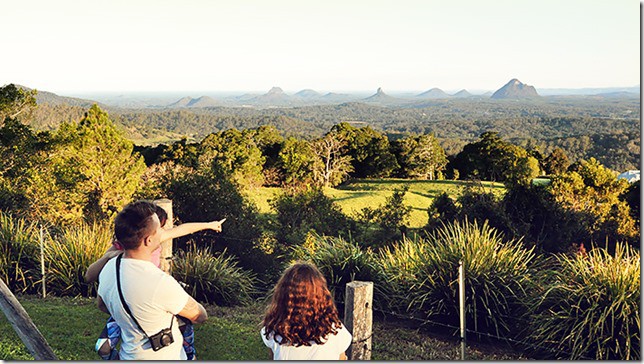 Mary Cairncross Scenic Reserve is a little bit further from the coast line and it is located on Mountain View Road, near the town of Maleny. The reserve comprises of 55 hectares of subtropical rainforest overlooking the mountains and it is a living museum of animal life and diverse plants. This view is just across from the car park, however you can also take your kids on a 2 hour return adventure through the rainforest; the walk is graded as easy. Soak up the natural beauty of the hinterland, while your kids run around and read information about various species of birds that live in these parts.
The Mary Cairncross park itself is a popular spot for relaxation, ball games, barbecuing and picnics. Eat some yummy food, while your kids play in the playground. You can definitely make a day out of this one destination.
–
4. Mt Coolum Climb and Lookout
The Ancient Volcanic Dome
As you can tell by now, all of the Sunshine Coast mountains are reminders of the post volcanic activity. There are many aboriginal stories about these lands, which are definitely worth checking out.
Mount Coolum is a green-cloaked dome stands 208 metre high above the skyline and it dates back between 25 to 26 million years. The Mount Coolum entrance is located on the corner of Tanah Street East and Jamahill Drive.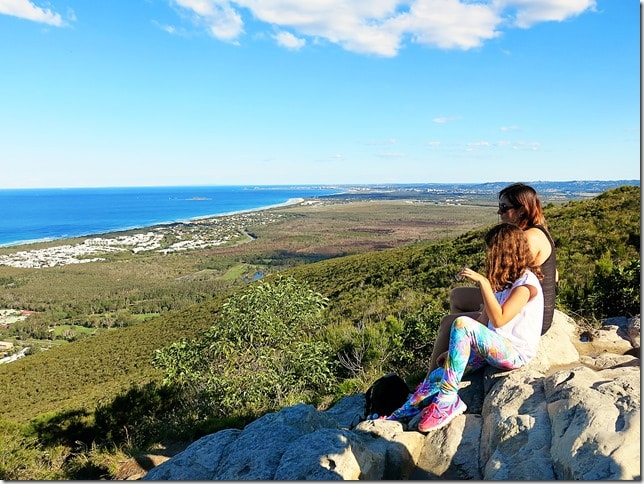 Families with kids flock to this place on the sunny days, so make sure to come here either early in the morning or in the afternoon to see the most spectacular sunsets on the Sunshine Coast. After your Mount Coolum climb, you will be rewarded with a truly magnificent 360 degree view, so take your time here and let the kids have a bit of fun.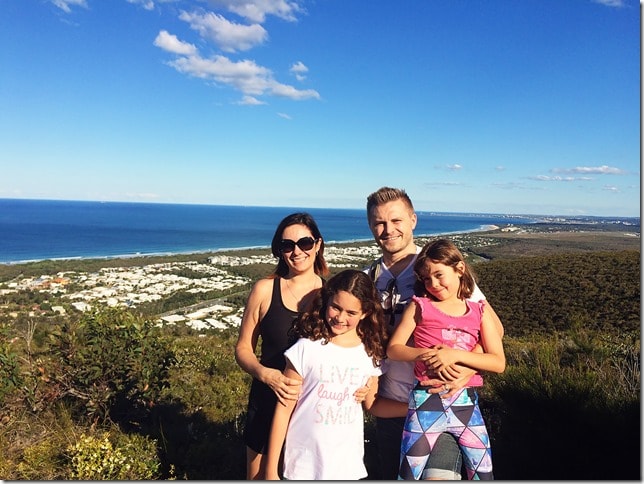 The Mt Coolum climb is one of the easiest climbs on the Sunshine Coast, but make sure to look after your kids on the way up and down. It can get a little slippery on the rocks. I know, because after a little fall, Lily insisted on me carrying her half way down. I didn't mind at all.
It is a 800 metre climb from the car park to the summit and it will take you about 1.5 hours return.  To read more about Mt Coolum and to see our sweet video of our Mt Coolum Walk, click here.
–
5. Our Favourite Glass House Mountains lookout | Wild Horse Mountain
A Stunning Gem in the Sea of Green
Wild Horse Mountain is located South of Sunshine Coast, just off the Bruce Highway at Wild Horse Road. The lookout sits only 123 metres above the see of green lands. It is a steep 700 metre walk, mainly on a paved pathway. Take your time on the way up and soon you will be rewarded by fantastic 360 degree views.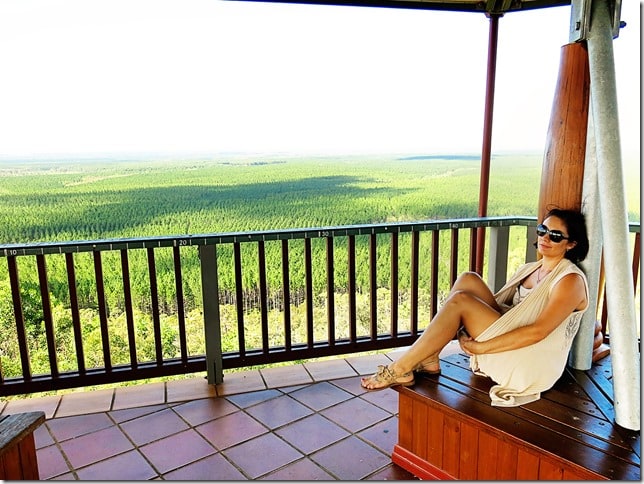 I think this one wins hands down as our favourite of the Glass House Mountains lookouts!  For such a small mountain, in comparison to others, the panorama here is breathtaking. On a clear sunny day you can see all across Pumicestone Passage, Bribie Island, Moreton Islands and even see as far as Brisbane CBD to the South.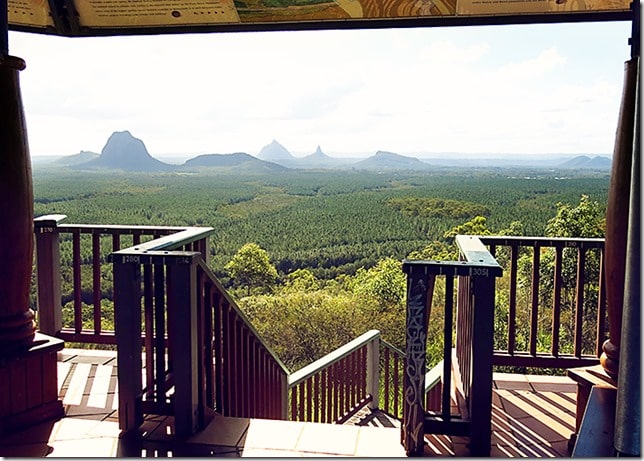 Wild Horse Mountain has its own view onto the Glass House Mountains and from the opposite side to the Mary Cairncross Scenic Reserve. Hmm, which view do you like better?
We love spending our family time in nature and taking our kids to these amazing Sunshine Coast lookouts. It gives them a much larger view of the place they live in and gives them plenty of exercise as well. Trust me, the drive back home or to your hotel will be very peaceful and quiet. haha..
–
When you pack your backpack for the mountain hikes, make sure to include:
bottle of water or two
sunscreen
sunglasses
hat
good shoes
camera
and a smile
–
For more post on Australia, why not hop over to our page all about our glorious country here.
Which lookout on our "Things to do on the Sunshine Coast" list took your attention the most?

Which of the Sunshine Coast lookouts do you think your kids would like to see first?