When planning a holiday to Sicily, you just have to spend some time visiting the small towns. While Palermo has its excitement and charms, the smaller destinations like Cefalu are where the real beauty of Sicily can be found.
Cefalu is a seaside town on the northern part of the island. With its dramatic stone cliffs, sparkling oceanside location, and amazing historic buildings, visiting this town is a must for anyone in the area. Cefalu is a destination that offers all of the top things to do in Sicily – beautiful beaches, delicious food, rich history, and vibrant culture.
Here is our complete guide to anyone visiting Cefalu, Sicily.
When to Visit Cefalu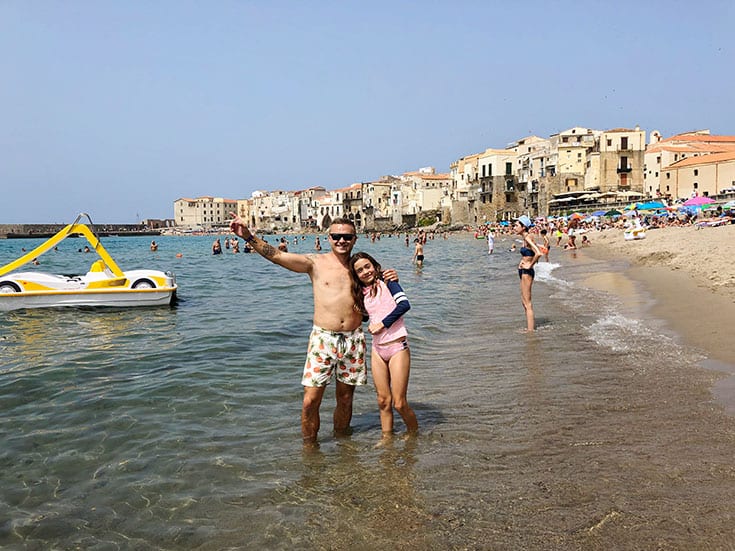 The summer months of June to August are the most popular time of year to visit Cefalu. While this may offer ideal conditions for an Italian beach holiday, it also gets seriously busy. The Cefalu streets and beaches really fill up around this time of year.
If you would prefer to miss some of the crowds, while still enjoying great weather conditions, the shoulder months would be best. These are April to May, and September to October. All of the shops and restaurants will still be in full operation during these months, while the beaches will be a lot quieter.
How to Get to Cefalu, Italy
Traveling from Palermo to Cefalu is easy to do by train and car. The trains to Cefalu run roughly every hour – this is an easy journey to do from Palermo (or other Sicilian hubs). The Palermo to Cefalu train journey will only last about 50 minutes.
If you are exploring Sicily with a car, then driving to Cefalu will also be easy. Parking might be a challenge during peak July month though.
Top 8 Things to Do in Cefalu, Sicily
Although Cefalu is a fairly small town, there are still plenty of unmissable attractions. Here are some of the best things to do here while you are visiting.
1. Visit Cefalu Cathedral
As with most Italian towns, Cefalu is built around a large and impressive central cathedral. Also referred to as the Duomo, the Cefalu Cathedral is a truly magnificent sight to behold. This building has two iconic towers rising from the front, with an eye-catching arched doorway below. This is classic Sicilian architecture at its best.
When in town, be sure to spend some time outside this cathedral, admiring its grandeur. The beauty continues inside the building, where you will find Byzantine mosaics, intricate details, and fantastic columns.
2. Lounge and Swim at Cefalu Beach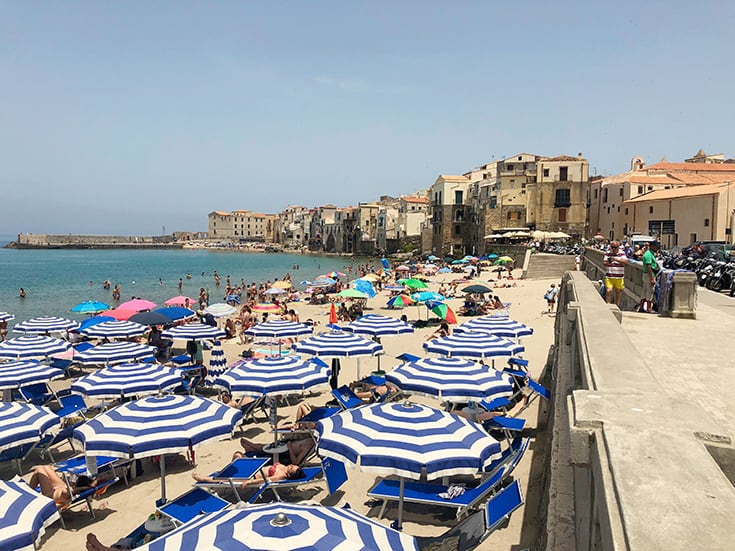 No holiday to Sicily would be complete without spending plenty of time on the beach. Luckily, Cefalu is one of the top beach destinations on this island. There are some great beaches to explore around the town. However, the main strip of Cefalu Beach, Sicily is where most people will end up.
Cefalu Beach is definitely one of the best on the island. This is a long stretch of white sandy beach, with all of the charms you would desire from the Mediterranean coastline. The beach is only a short walk from the town's main road, so it's very easy to access.
3. Stroll Through Picturesque Cefalu Streets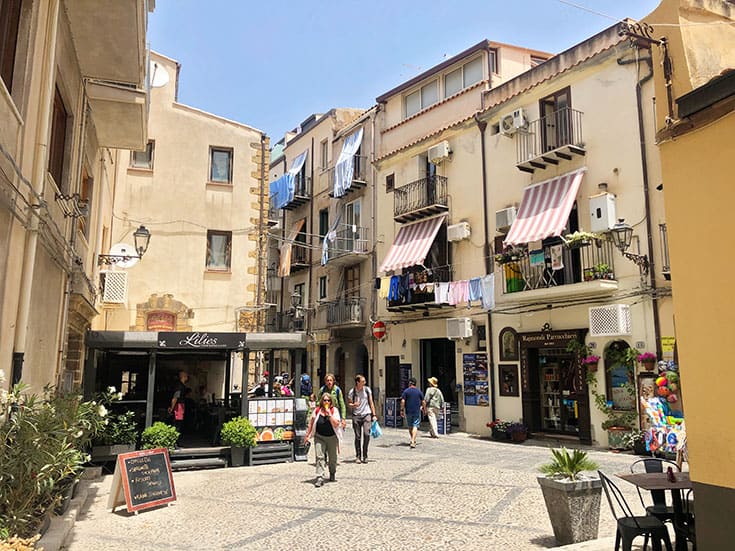 When in any old Italian town, wandering through the streets is always one of the best activities. The historic Cefalu Sicily streets are particularly beautiful. Anyone visiting the town will love exploring the winding streets through the old town.

There are plenty of lovely little shops and cafes found along the narrow cobblestone alleys and streets in Cefalu's historic center. Pay close attention to the amazing local architecture and old buildings as you walk past. Be sure to have your camera at the ready while wandering through Cefalu, as this is a seriously picture-perfect destination!
4. Relax at Piazza del Duomo
The central square of Cefalu, just outside the grand cathedral, is kind of the heart of the town. This piazza is lined with wonderful cafes, restaurants, and benches.
While exploring, make sure that you take a quick break in this square to admire your surroundings. There is the cathedral in front, steep rocky cliffs behind, and historic buildings all around you.
This is the perfect place to just sit back and enjoy a coffee – or a refreshing spritz at the end of the day.
5. Explore the Tempio di Diana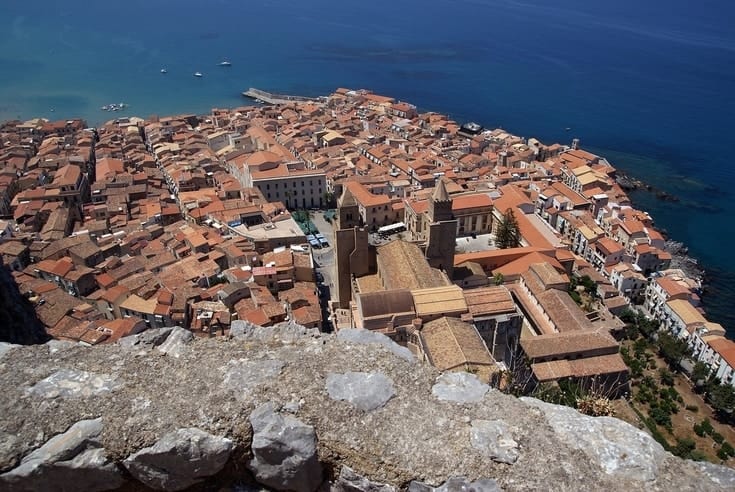 The Tempio di Diana is a Roman temple beautifully positioned above the town. This temple was built to honor the goddess Diana, and it dates all the way back to the 4th Century BC. Even if you are not too excited about Roman history, the views that you get from this place make it worth visiting.
You will have to take a small hike up to the Tempio di Diana, so it's best not to do this on a very hot summer day. The path to the temple is easy to find, with signs around the town pointing you towards it.
6. Hike up La Rocca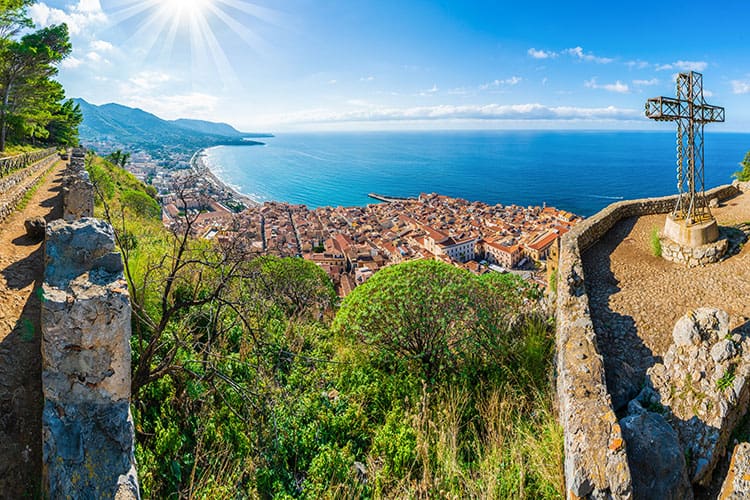 The Tempio di Diana may be an awesome viewpoint, but you will have to continue climbing if you want the ultimate vantage of Cefalu. La Rocca is a rugged mountain top that towers over the town, offering panoramic views over the Cefalu coast. There are lots of stairs that you will have to endure to get to the top, but once you are up it is certainly worth it!
Besides the views, La Rocca is famous for being the site of a Norman castle. This castle dates back to 1061, and there are only ruins remaining. Anyone that is interested in history will love visiting this famous Cefalu landmark.
7. Take a Walk along the Promenade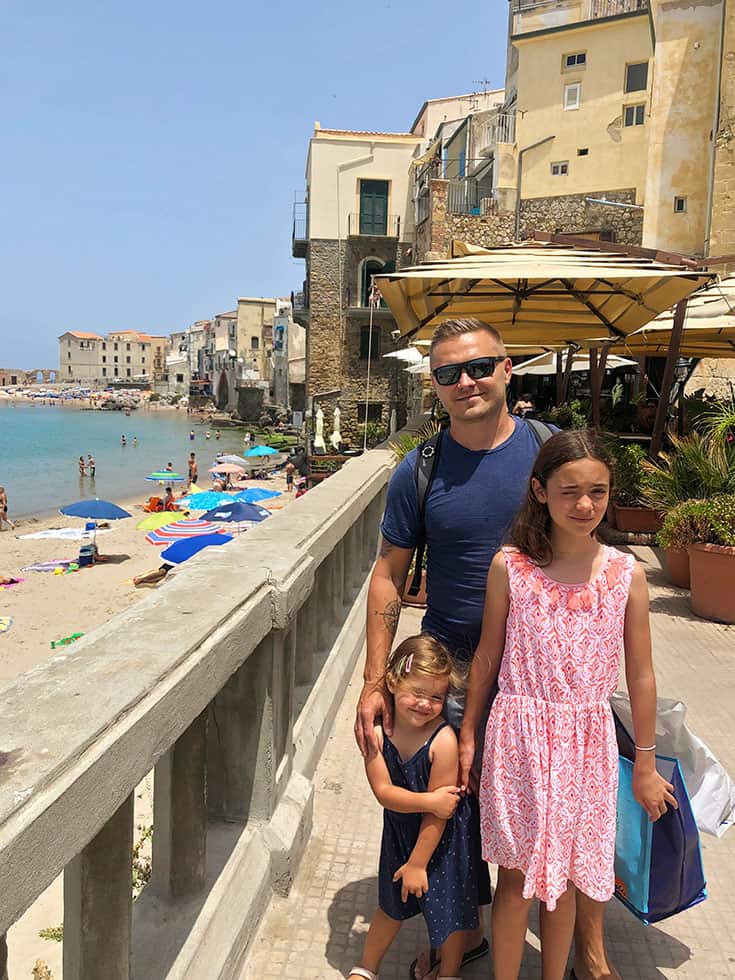 Cefalu beaches can also be enjoyed by those who don't want to get their feet sandy. The main beach has a beautiful promenade that runs along its length. This seafront promenade is the perfect place for a brisk walk or passeggiata as the locals would call it. Walk past shops and tasty food stalls on this stunning coastal path, and enjoy the laid-back atmosphere.
8. Get the Perfect Shot at the Molo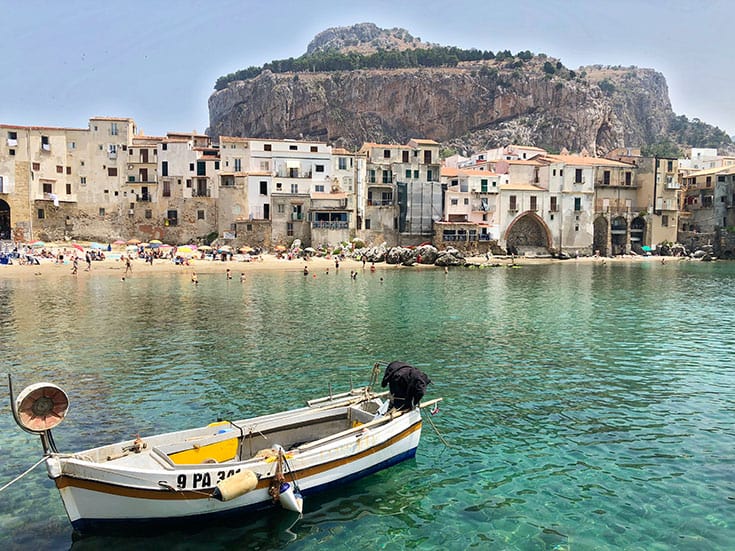 If you have seen pictures of Cefalu, you will certainly have seen the iconic shot of the town and cliffs across the still water. This is taken from a small cove called the Molo – a pretty part of the town to stop by. At the end of Via Bordonaro in the historic center lies this cove. Bring along your camera for a classic view of Cefalu.
Eating in Cefalu
No matter where you go in Italy, eating will always be a top activity. Cefalu is a wonderful destination for the hungry traveler, as there are plenty of delicious Sicilian treats on offer. Here are some of the best places to enjoy amazing food and drinks around Cefalu.
Il Normanno
A pretty little restaurant found along Via Vanni. This is the perfect place for a special dinner in Cefalu, where you can taste some specialties from the region. Il Normanno focuses on slow food – perfect for the place's cozy environment.
Ristorante Le Chat Noir
Only a short distance away from the town's 12th-century cathedral, this trattoria is a Cefalu classic. The name may be French, but the food here is as authentically Sicilian as it gets. Be sure to try some local classics – like the caponata, spaghetti with sardines, and panna cotta.
Al Porticciolo
If you are looking for a restaurant with a view, then this is the place to go. Al Porticciolo has a stunning terrace overlooking the rocky Cefalu coastline. This view is complemented by incredible local seafood, pizzas, and tasty pasta dishes. Be sure to try the cassata for something sweet.
Tentazioni Mediterranee
This is the perfect place to stop for an aperitivo while wandering through the Cefalu streets. This little shop sells all kinds of gourmet produce and delicacies. You can grab these for a picnic on the beach, or enjoy them on the tables outside.
Want to try a really authentic meal? Click here to book a special Cefalu dining experience.
Where to Stay in Cefalu
Looking for the best hotels in Cefalu? From family travel accommodation to luxurious living, here are some of the top places to stay in this town.
Hotel Kalura
★★★★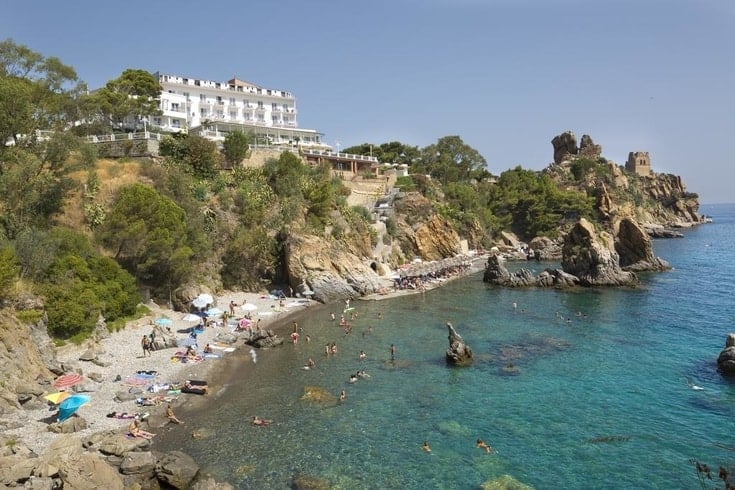 A luxurious hotel with a private beach, pool, and tennis court. Enjoy panoramic views over Caldera Bay, and plenty of activities and amenities at the hotel.
Why should you stay here?
Direct access to a private beach
Beautiful seaside location
Stylish and well-equipped
Check out the current prices for Hotel Kalura here!
Artemis Hotel
★★★★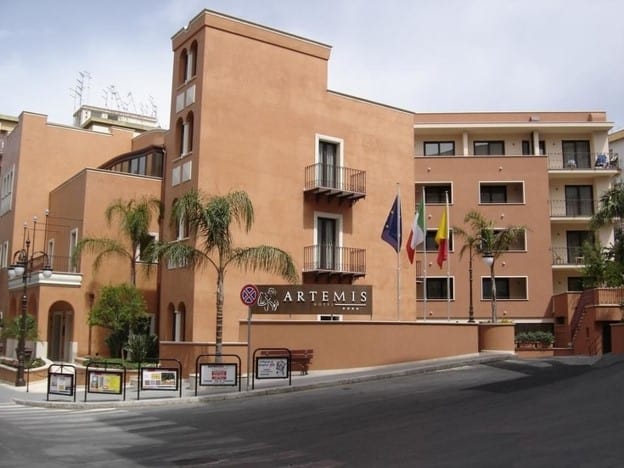 You couldn't get a better location than this. Artemis Hotel is right by the beach, central station, and the historic center.
Why should you stay here?
Clean and comfortable
Good facilities
Great location
Check out the current prices for Artemis Hotel here!
Casanova Rooms and Apartments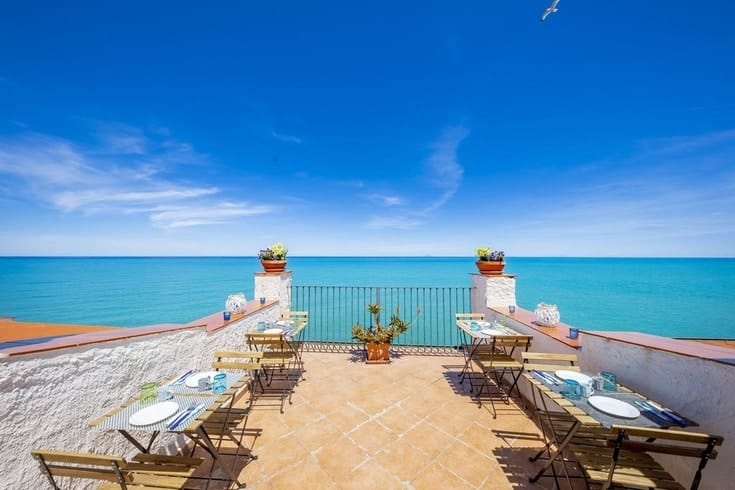 This is a great choice for groups or families, as you can rent out entire apartments. These are fully kitted out and perfectly located.
Why should you stay here?
Close to the beach
Amazing views
Well equipped rooms
Check out the current prices for Casanova Rooms and Apartments here!
Final Thoughts on Cefalu, Italy
If you plan on traveling to Sicily, then Cefalu should certainly land up on your itinerary. This town has been increasing in popularity recently thanks to its amazing beaches, buildings, and overall charm.
If you would like to experience the best of small-town Italy, then be sure to spend some time at Cefalu.