With plenty of playing, climbing, bouncing, and learning, the trampoline parks are undoubtedly one of the best places to spend a few hours over a weekend to expend some energy!
When traveling with my family and children, I try to find the best places where we can all have some fun and enjoy.
And that's the reason I'm fond of trampoline parks.
Ultimate Guide to the Best Trampoline Parks in the World
Below are the 10 best trampoline parks in the world that you can enjoy with your friends, family, and kids.
From the world's largest trampoline park to the bounciest trampoline in the world, our list has a trampoline park that is perfect for you and your family to enjoy.
1. Latitude Melbourne (BOUNCEinc Heidelberg)
Address: 590 Waterdale Rd, Heidelberg VIC 3081, Australia
If you are traveling to the dream destination of Australia and looking for a bouncy adventure to have fun with your kids, then visit Latitude Melbourne, BOUNCEinc Heidelberg in Heidelberg.
Ranging from 100+ interconnected trampolines, the Latitude Melbourne offers exciting features for both kids and adults.
The climbing challenges, giant bouncing airbags, and that huge down-rush bungee tower keep you and your kids delightful for a whole hour.
Yes, that's right, you can enjoy 60 minutes of an adrenaline boost.
So, if you are a local Australian resident with a small backyard or decided to go out and have a birthday or a reunion party, this is quite a destination for you.
A latitude ninja park with twists, turns, and catapults. It is full of activities like free runs, bouldering challenges, and wrapped walls.
2. Altitude Trampoline Park Spring-Klein
Address: 4740 Spring Cypress Rd #200, Spring, TX 77379, United States
With its nice and cool inside and super considerate staff, the world's second-best trampoline park is the Altitude Trampoline Park, that's located in Spring-Klein, Texas.
The best part is they have plenty of helpful staff supervising your kids while they are off to having fun. So you can either burn your extra calories or sit and relax while they take care of your little ninjas.
What inspired me the most is that they have a lot of energy-burning attractions like foam pits, trampolines, climbing walls, and high dive space areas.
They have APT climbing rock walls and wall-to-wall trampolines, where my kids had so much fun.
At Altitude, they also have an attraction for kids under 6 with their specified kid's court and a battle beam, and 2 long gymnastic tumble tracks to help your kids roar through winds.
And also, remember to have fun in their extreme trampoline dodgeball area.
I bet you'll burst out with waves of laughter and excitement once you are in!
3. Sky Zone Indoor Trampoline Park
Address: 29 Lecount Pl, New Rochelle, NY 10801, United States
Now let's discuss the ultimate bouncing destination in New York, the Sky Zone Indoor Trampoline Park located in New Rochelle is one of the many things to do in New York.
I'm sure you would certainly love to watch your kids enjoying their freedom to bounce and climb without fear of falling down.
The best thing here is that they have different programs to help your kids to be social, and they learn teamwork too.
Above all, they have specified sensory hours for kids with special needs. During these hours, this place is quiet, comfortable, and welcoming for those who need special care.
I highly recommend this park for parents that welcome all families and kids.
4. Air Riderz Trampoline Park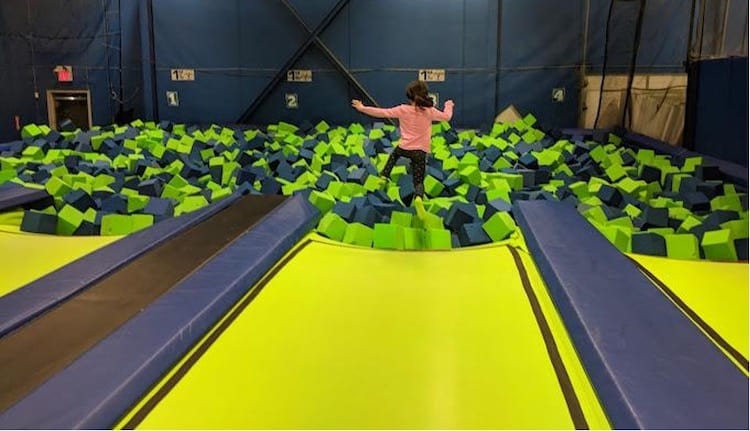 Address: 3600 Ridgeway Dr UNIT 4 & 5, Mississauga, ON L5L 0B4, Canada
Let your inner child recall its adventurous moments in the spacious play zones of Air Riderz.
Located on a vast area of 30,000 square feet it is one of the largest trampoline park in the world.
The park offers easy access to everyone, from kids to teenagers and adults.
You can test your kid's agility and lower body strength with freestyle jumping, flips, tricks, and other acrobatic skills. Or check their endurance and mobility in the ninja warrior obstacle course.
When you visit a trampoline park remember to wear non-slip comfortable socks and bring water to stay hydrated.
This is one of the places worth visiting for parents who want to relax, have complimentary snacks, and scroll on their cell phones while their little enthusiasts enjoy their jumping party.
5. Flip Out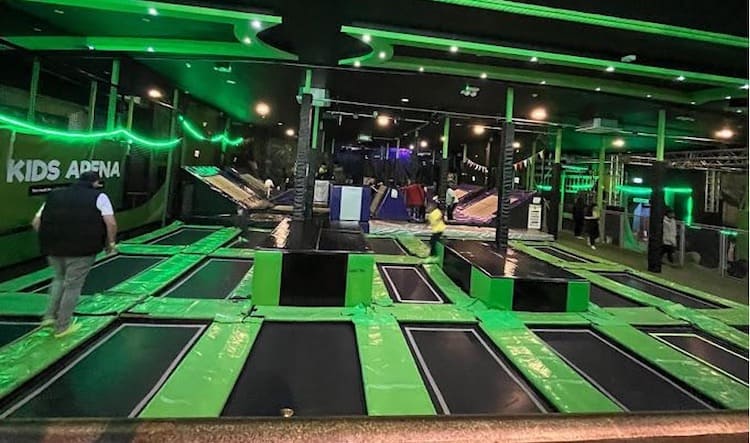 Address: 281 Barking Rd, London E6 1NZ, United Kingdom
Flip Out London is one of the largest trampoline parks in London, offering fun attractions like laser tag, trampoline sports, skill ladder, and ax throwing games.
What makes this place stand out among others is its 5-level laser tag arena zone, and you can enter the park with a package that includes a 10-guest pass.
They also have special dark caves designed for your little explorers to discover the decipher clues that help them in dodging traps and finding their way out.
For your sports enthusiasts, you will find slamball corners, stunt zones, and ninja obstacle areas, and believe me they have a wholesome adrenaline rush all the time here.
6. Trampoland Trampoline Park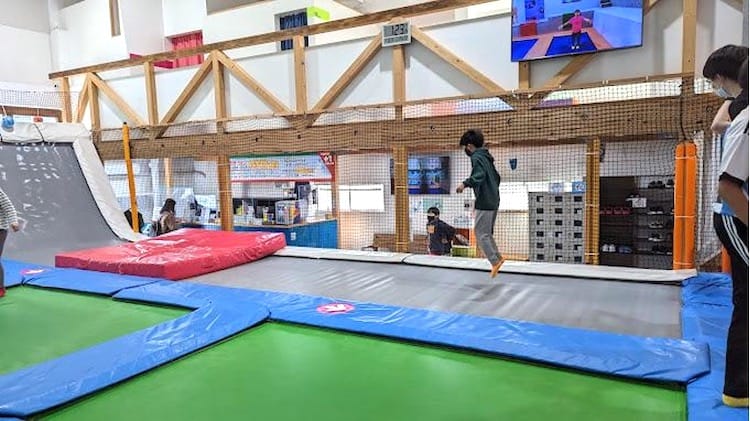 Address: 2 Chome-46-3 Itabashi, Itabashi City, Tokyo 173-0004, Japan
Located in the bustling city of Japan, Trampoland is an exciting place to visit for all trampoline enthusiasts and is perfect for first timers in Japan.
With its thrilling indoor components, this park is easily accessible for both locals and tourists.
Once you get in there, you will find a free-jumping area, basketball slam dunks, dodgeball courts, and a trampoline fitness class too.
This park is safe for kids of elementary age groups and above.
7. Maxx Arena Trampoline Park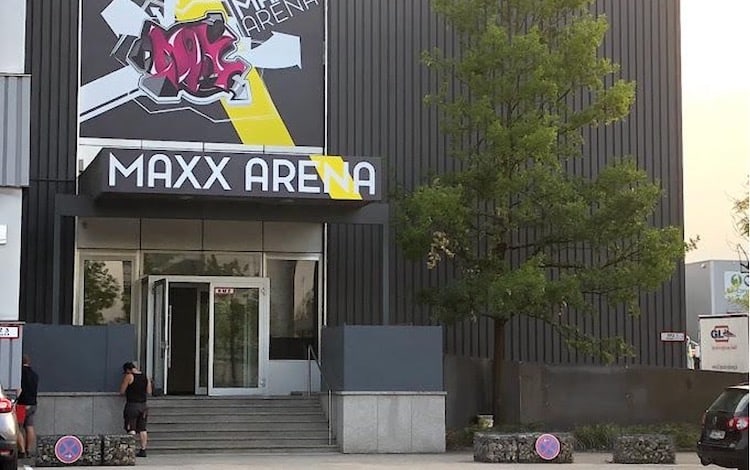 Address: Hürderstraße 4, 85551 Kirchheim bei München, Germany
If you are in love with trampolining like me and want to have fun with your friends and family then Maxx Arena München trampoline park is all you need.
It is an indoor trampoline park which is located in Kirchheim bei München (Bayern, Deutschland).
It is one of the best trampoline in the world and for good reason. It has a large free jump area with several connected trampolines, a foam pit and airbag, and a slam dunk area.
Sounds fascinating! Right.
Not only that, but it also has all sorts of games that are for solo or groups, which include basketball, cage ball, dodgeball, battle beam, and many other areas.
If you ever visit Munich in Germany, then visiting Maxx Arena Trampoline Park is a must for you.
It will create fun memories that you will not be able to forget.
8. Trampoline City
Address: 4 Rue Gallieni, 92230 Gennevilliers, France
Stated to be one of Europe's biggest trampoline parks, the Trampoline City Genneviliers delights its visitors with awesome rolls, stunts, and bouncing activities.
Located in an area of 4500 m2, this trampoline park serves as one of the best sports and fun locations in Paris.
From ninja warrior to indoor jumping course, they combine all the major fun and recreational activities.
They have a variety of programs like basket dunk, cage ball, and battle zone to give you and your kids endless moments of joy.
9. Jump Boxx Indoor Trampoline Park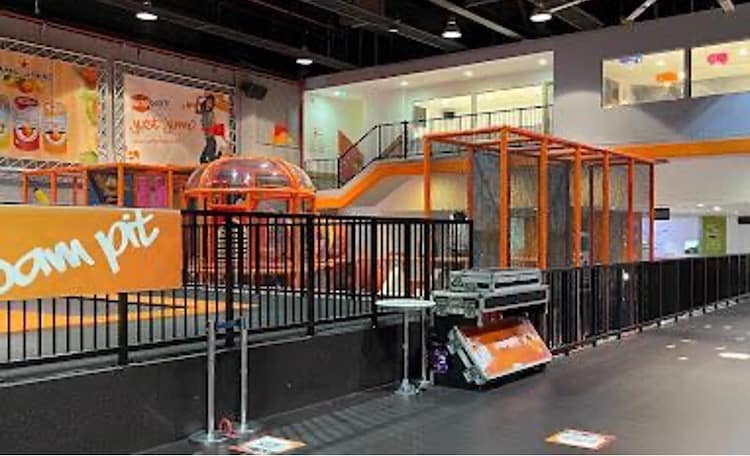 Address: 47th St, Uptown Mirdif Mall, Dubai, United Arab Emirates
This park is great for trampoline lovers and you can give it a good go at performing some of the best trampoline tricks in the world!
The one thing that I love about this park is the attentive and kind staff. I highly recommend you spend time here with your children and younger siblings.
Jump boxx indoor trampoline park is a literal trampoline utopia with amazing features such as slam dunk hoops, dodgeball courts, a free jumping arena, and a foam pit.
Like all other trampoline parks, it also has an area designated as a kids' zone, relieving you from the worries of keeping your little ones busy.
10. Gravity NZ Trampoline Park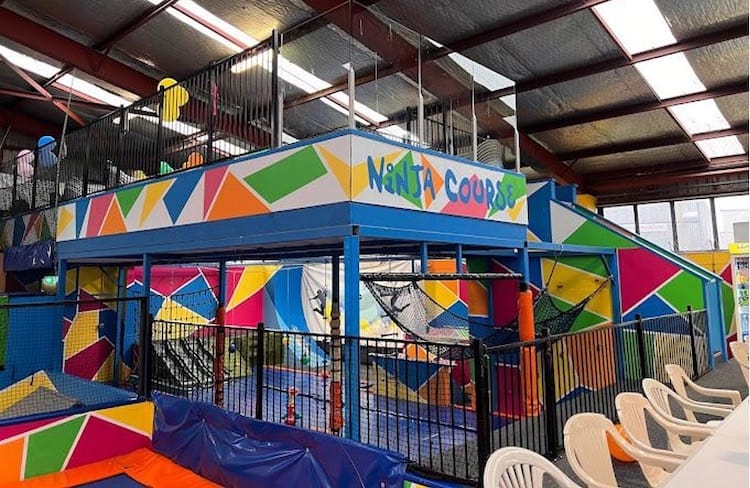 Address: 77B Morrin Road, St Johns, Auckland 1072, New Zealand
Gravity NZ trampoline park is my all-time favorite place, as I know that I won't be bored even for a second.
Working parents can do their work on laptops while keeping an eye on their children.
And if you fancy joining in the fun with your children, adults are welcome to jump in and have fun.
It is a great way to spend quality time with the whole family.
This park has so many activities to choose from and will not disappoint you.
It even has a ninja course for boys and girls. Gravity NZ trampoline park is a great place, and I guarantee you that no matter how many times you go there, you won't get tired.
Some Best Trampoline Tricks to Perform in Trampoline Parks
To showcase your skills and impress your fellow trampoline enthusiasts, mastering a variety of impressive tricks is key.
From flips and spins to creative poses, here is the list of the best trampoline tricks in the world.
Why not try to give a few a go when you are visiting the best trampoline in the world?
Straight Jump
Seat Drop
Front Flip
Back Flip
Star Jump
Pike Jump
360-Degree Twist
Double Bounce
Wall Jump
Strike a Superhero Pose whilst airborne
Airborne Push-Up
Double Front Flip
Cannonball
180-Degree Spin
Handstand Bounce
>>> Remember to prioritize your safety at all times when attempting trampoline tricks. Start with the basics, gradually progress, and never attempt tricks beyond your comfort level or without proper supervision.
FAQs for The Best Trampoline Parks
What is the largest trampoline park in the world?
Big Bounce America, Aviator is the largest trampoline park in the world.
What is the most popular trampoline park?
The most popular trampoline park is also Big Bounce America, which is the largest trampoline theme park with a 16,000-square-foot bounce house.
What is the bounciest trampoline in the world?
Skywalker Trampoline is the bounciest trampoline in the world which is made
with a heavy-duty frame and high-quality springs that are extra durable and offer a higher bounce.
What is the best trampoline in the world?
SereneLife Trampoline is the best trampoline in the world overall, as it is made with heavy-duty and waterproof material. Its thick padding prevents injury, and the tall net provides dual closure, which enhances safety.
Who invented trampoline parks?
In 1934, George Nissen and his buddy Larry Griswold constructed the first prototype of a trampoline using a canvas bed and rubber, which resulted in the invention of trampoline parks as well.
Are trampoline parks safe?
Trampoline parks are safe and fun when the necessary precautions and safety rules are followed. Bouncing in the wrong way can cause injuries and can also dislocate joints.
Final Thoughts On Best Trampoline Parks in The World
Since trampoline parks are becoming more and more common now, it is easier to find one around you.
So if you are traveling with your kids to one of the destinations mentioned above and have a free day or need to take a break from the usual tourist activities head to a trampoline park for a few hours.
Let us know if you head to a trampoline park near you!