Are you looking for a reliable Nomad eSIM review that can make your vacation planning a breeze?
Look no further! We've got you covered with all you need to know to decide if it's the right choice for you.
Traveling to a new place is super exciting, with all the sights to see, experiences to have, and memories to make.
But let's be real, one annoying thing is finding a physical SIM card for data when you land at a new destination.
Not to mention finding the right network that will work throughout your stay in a country.
This is where the eSIM comes in to save the day.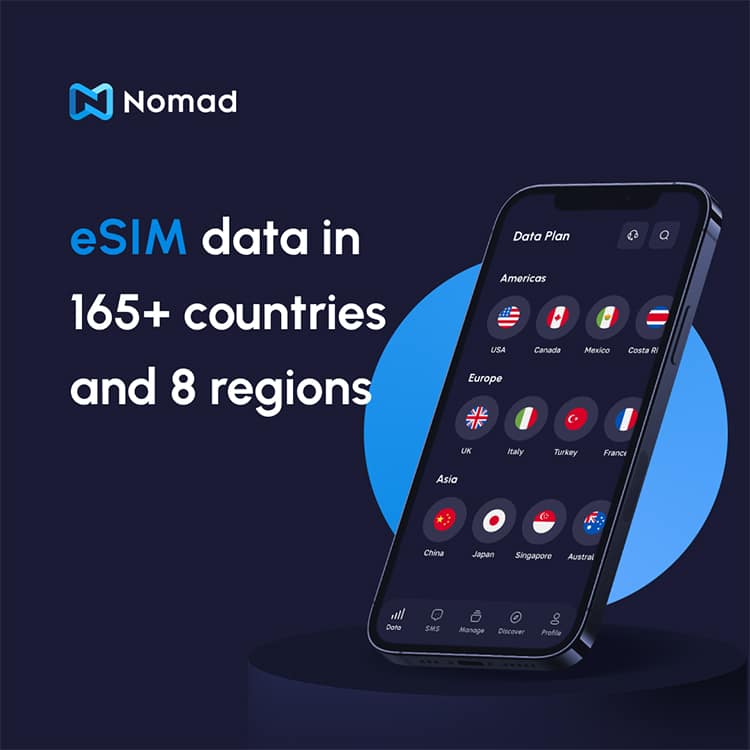 Arrive on your vacation already connected, so no time wasted searching for a SIM card, and enjoy your trip hassle-free from the start!
Nomad eSIM Review (Australia Tested)
Let's take a look at everything that you need to know for your vacation in Australia from our Nomad eSIM review:
What is an eSIM and What are the Benefits?
An eSIM is a digital SIM card, that allows digital nomads to switch between different networks and prepaid plans.
Once activated, it connects you to an available mobile network, allowing you to use data just like with a regular SIM card – without having to visit a shop for activation or buy a physical SIM card.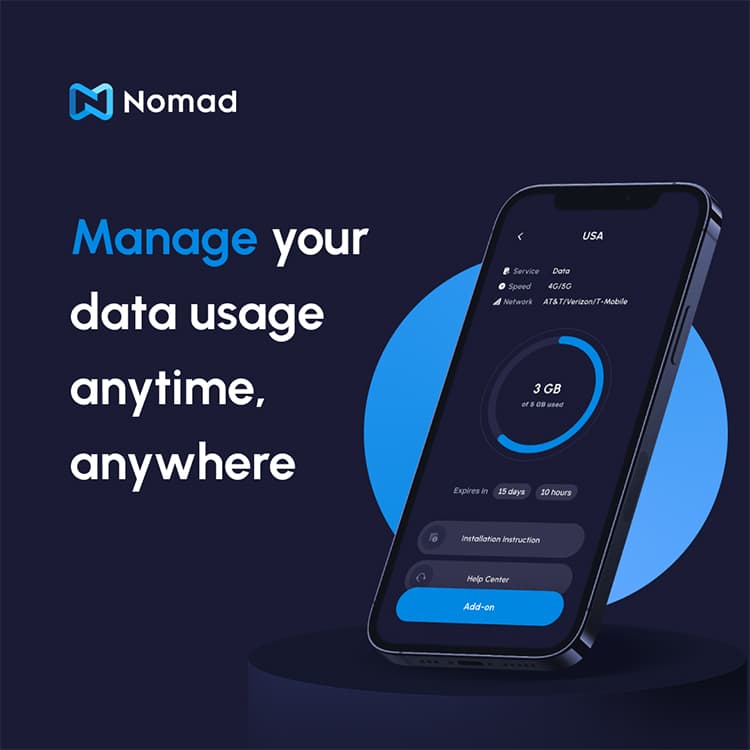 With an eSIM, you no longer have to worry about buying a local SIM card when traveling abroad since all the necessary information is carried over digitally.
It's also easy to install and activate on a device and it's compatible with a variety of smart devices including tablets, laptops, wearables, and smartphones.
What we love is that you are not tied down to any specific network or mobile operators, which makes it that much easier to travel.
How Does it Work and Where Can You Use it?
Nomad eSIM has got you covered when it comes to solving the hassles of traditional SIM cards.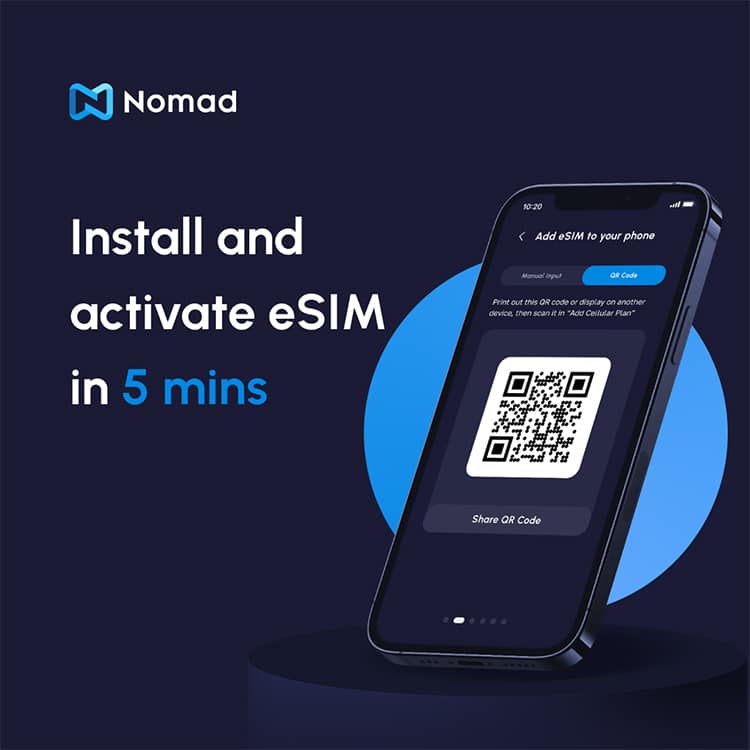 Their eSIM marketplace operates globally in over 165 different countries, offering Nomad eSIM cards for iOS, Android, and on their online Webstore.
Simply pick the plan that best suits you best and purchase it, just like we did.
During the one-time registration, the mobile app asks you to provide basic info like your name, email, and mobile phone number.
Once you are registered, managing your international data plans from any of our connected devices is a breeze.
Say goodbye to waiting for physical SIM cards, standing in lines at shopping center stores, or dealing with crazy international roaming rates!
How to Install and Activate the Nomad eSIM Plans?
Getting started with a Nomad eSIM plan is a breeze, taking no more than 5 minutes of your time.
Click the link to Nomad eSIM Australia, and see for yourself.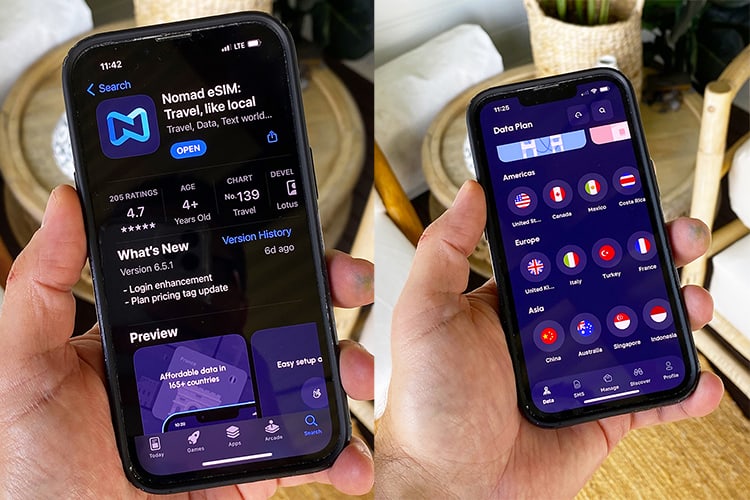 All you need to do is browse through the plans, pick the one that suits you best, and with just a single click, it's installed on your device. Easy peasy!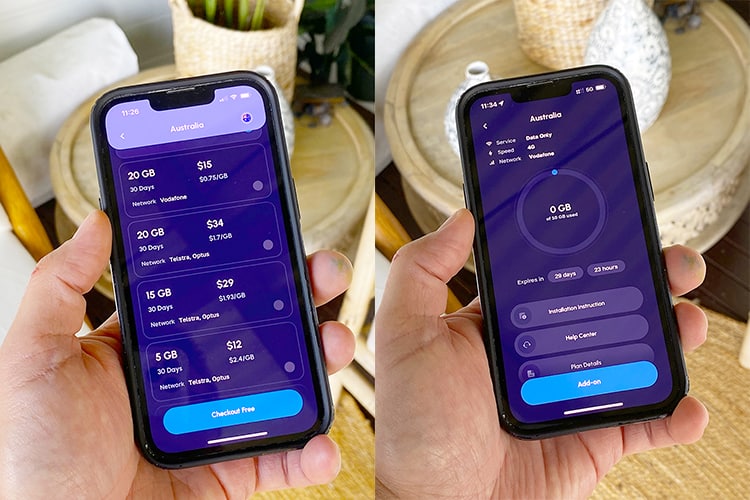 Once you've installed it, just activate the new eSIM through Nomad's user-friendly activation platform to start using it.
This simple two-step process lets you install the SIM card beforehand and activate it only when necessary, giving you an edge over regular SIM cards!
Advantages of the Nomad eSIM?
Here are the main things that we think that using a Nomad eSIM has a definite advantage here:
The Nomad eSIM offers the benefit of being able to purchase and install in advance, so you can be ready to go from the moment you arrive.
Moreover, it offers a reliable data connection for activities like streaming video, social media use, gaming, and tethering.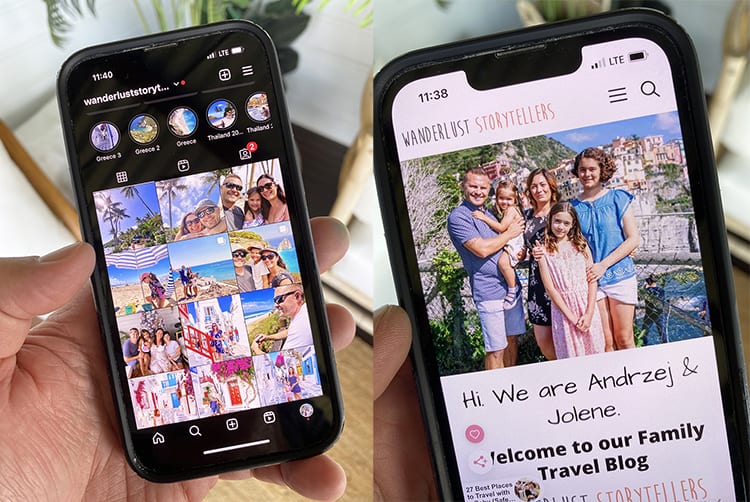 One big advantage is that there is 24/7 customer support available, meaning that any questions or issues customers have there is a customer service ready to problem solve, and they usually reply very fast.
Furthermore, there are also unlimited data plans available, so the roaming ability is no issue for countries such as Singapore, the UK, Thailand, Malaysia, South Korea, and more.
The user experience is straightforward and simple while topping up your eSIM typically is more economical compared to buying a brand-new physical SIM.
Finally, Nomad makes it easy to swap between different eSIMs (data SIMs) when using the product in multiple countries.
Disadvantages of the eSIM
The Nomad eSIM is a cool way for travelers to always stay connected on the go. However, it does have some limitations to keep in mind:
The voice and text services may be limited to certain places.
Since eSIMs don't include a local phone number (local carriers), customers may find it difficult to receive calls from locals when traveling.
Tip: When're on our travels, it's a smart move to have an extra physical SIM card handy.
This way, we're all set to make important phone calls like reaching out to hotels or booking reservations at restaurants.
(Having an eSIM from the start of the trip though, allows you to not rush to the SIM store straight away when you land.)
Why We Love the Nomad eSIM for Australia?
Travel like a local is what we like to do, and having no issues with connectivity is one of the most important things when we travel.
Here is why we love to use the Nomad eSIM Australia:
The last thing on our minds when arriving at a destination is scrambling to find an open SIM card shop.
It's all about convenience, especially when it comes to timing and reaching the hotel or next destination.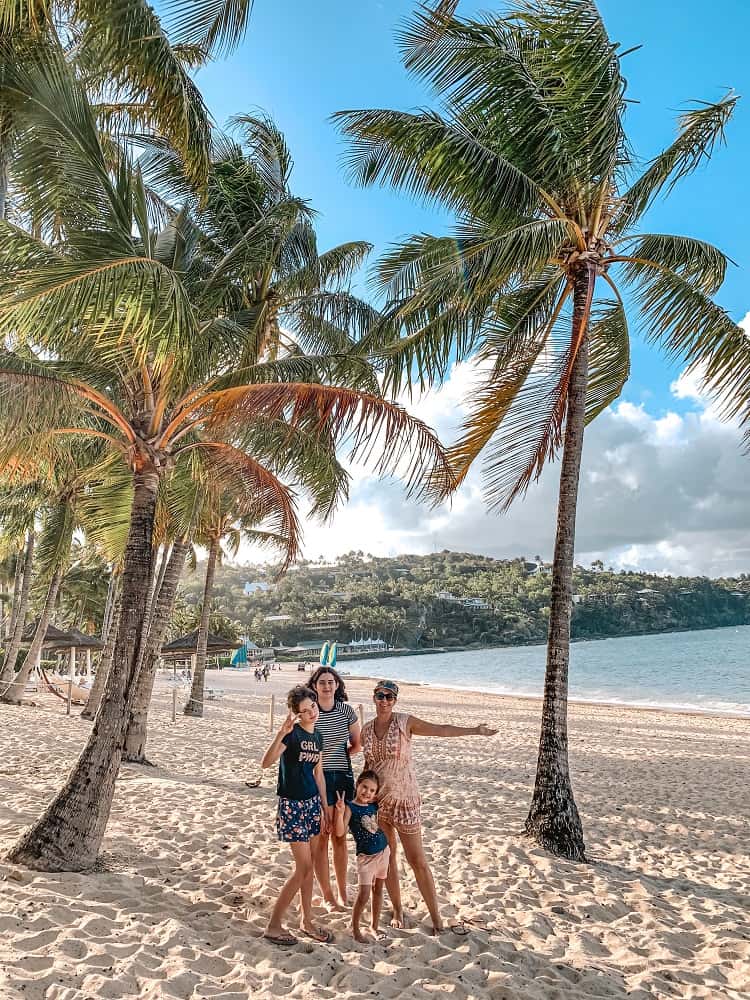 Having eSIM data plan already installed on your phone is a game changer. Just activate it and you're good to go, hassle-free.
Nomad's eSIMs extensive coverage of over 165 countries, along with the availability of regional plans, adds tremendous value in our opinion.
Furthermore, opting for a single, well-established company for future trips that has been trialed and tested seems like a perfect option and a logical choice, doesn't it?
Additionally, the service quality and data speeds remain consistently stable, which is a substantial advantage while on the road.
Let's not forget the easy installation and easy activation. Our time is precious when on a vacation, and we're definitely committed to eliminating unnecessary steps and frustrations.
Simply put, Nomad eSIM is fast, and easy, and gives you more time to concentrate on more important things such as travel.
CHECK OUT A BONUS SAVING: Use our referral code ANDR72XE and save $3 off promo for any data plan.
Frequently Asked Questions about Nomad eSIM
Here are some of the frequently asked questions about the Nomad eSIM:
Is Nomad eSIM trustworthy?
Nomad eSIM is totally a reliable provider.

They offer some of the best data plans on any eSIM provider or marketplace, including local, regional, and even different plans (global plans) for global coverage for short or long-term trips.
Can I Use WhatsApp with Nomad eSIM?
Nomad eSIM doesn't offer voice or text messages, only data.

But hey, you can always use cool apps like WhatsApp, Skype, or Telegram to make calls or send messages with your eSIM virtual SIM card.

Just keep in mind that some services might have limitations, so you might not receive verification codes or local calls from them.
Does Nomad eSIM support 5G?
Nomad eSIM does not yet support 5G speeds.

Their different data plans are expected to have 4G speed, though it is expected that 5G speeds will be available in several countries.

Even in countries with 5G coverage, network coverage, and speed may vary by location and time of day.
Can you Hotspot with Nomad eSIM?
Mobile hotspot functionality is supported by all Nomad eSIMs, allowing you to share your data connection with multiple compatible devices like tablets and laptops.

In general, this will allow for a stable internet connection even in areas without Wi-Fi access.

However, there may be some rare cases where the stability of the hotspot is influenced by your device type and the local network.
Can you Text with Nomad eSIM?
Yes, you can text with Nomad eSIM. However, the only way to do this is by using Nomad Texting App.

Nomad app allows you to send and receive messages no matter where you are in the world, as long as you have an enabled mobile device on either iOS and Android apps, as well as their website.

Final Words about the Nomad eSIM for Australia
In our opinion, Nomad eSIM is a great choice for travelers who value effortless connectivity during their vacations in Australia.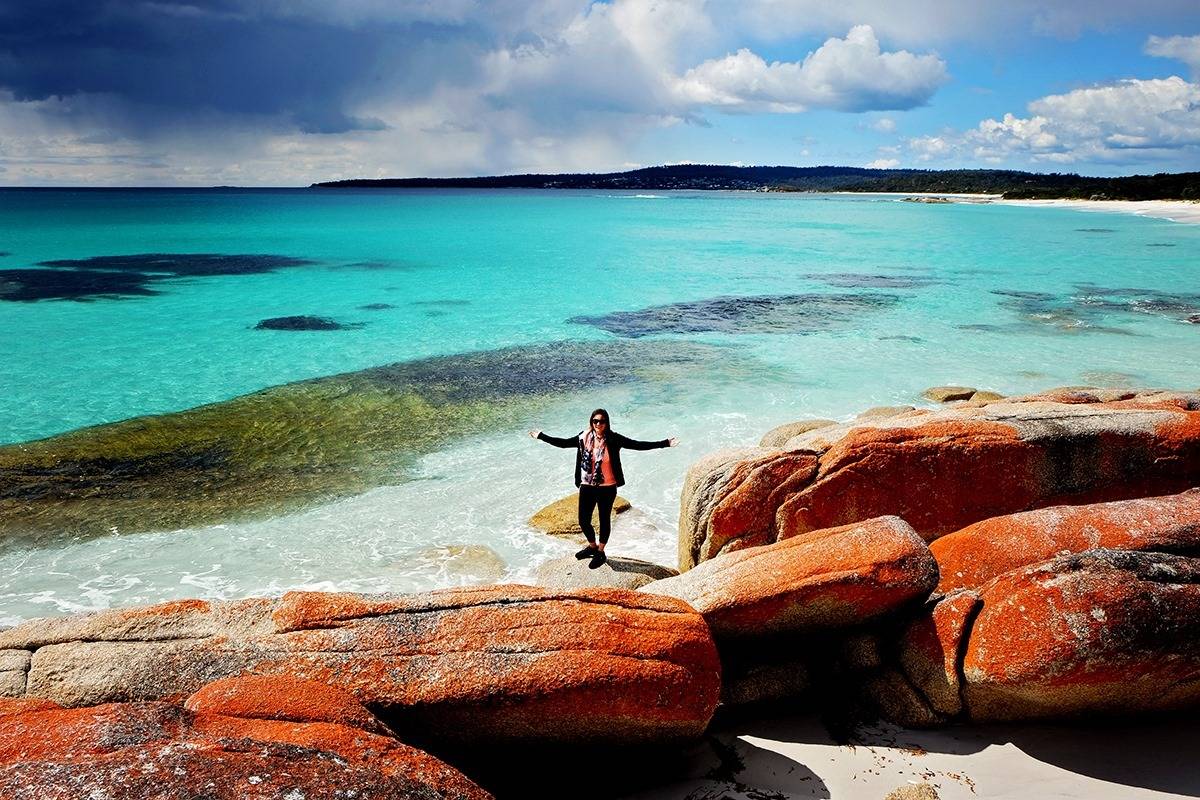 With its user-friendly interface, hassle-free data plan top-ups, a wide range of plans, and speedy, reliable speeds, it ticks all the boxes for us.
Say goodbye to the hassle of searching for and recharging physical SIM cards when you arrive on your vacation.
Whether it's a business trip to Australia or a leisurely getaway, Nomad eSIM data has got you covered to stay connected as you explore the world.
The bottom line for our Nomad review is Both Thumbs Up!
If you are still in the planning stages for your vacation to Australia, you might be interested in checking out our Australia Travel Blog, where you will find a tonne of information, including which hotels to stay at in Sydney, which islands to visit in Whitsundays and so much more.