Are you wondering if the Luxury Escapes is legitimate, and is it a safe choice for booking your next luxury vacation? We got you covered with our Luxury Escapes reviews.
OK, so you know that you want to experience a luxurious vacation, but before you book with Luxury Escapes, you have to make sure they can provide a quality experience, right?
Despite the great reviews and assurances from others, it's still hard for us not to be hesitant about spending our hard-earned money on something new that I'm not familiar with.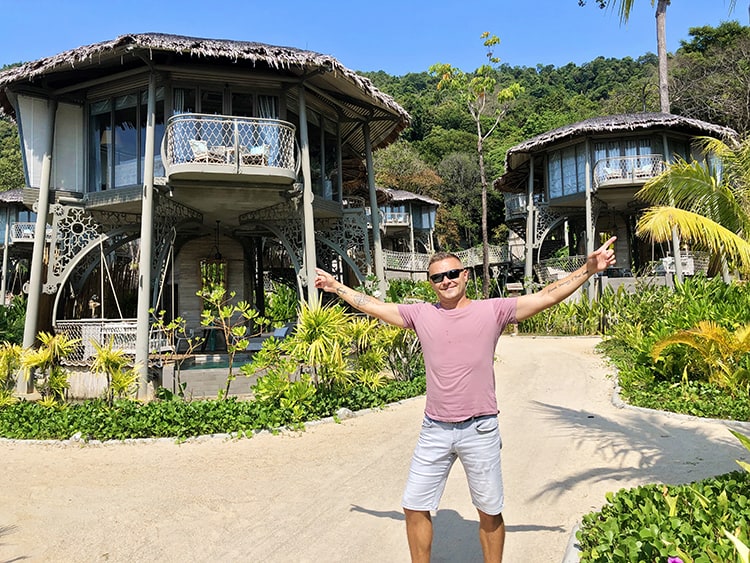 That's why we have decided to put your curiosity and hesitance to rest and tell you about our personal experiences with Luxury Escapes.
Knowing this information will help you decide if booking with Luxury Escapes is the right choice for you.
Luxury Escapes Reviews Based On Our 3 Personal Experiences
We have been on three separate vacations booked through Luxury Escapes and this is our Luxury Escapes review based on our personal experience:
1. TreeHouse Villas Koh Yao Noi Luxury Resort 2019
We went on the first Luxury Escapes trip in March 2019 to the amazing TreeHouse Villas Koh Yao Noi Luxury Resort, and we loved it!
Check out our TreeHouse Villas Koh Yao Noi Review here and watch our video here:
What we Paid with Luxury Escapes vs Booking.com
Length of Stay: 7 nights
Accommodation Type: Luxury TreeHouse Villa
Flights: not included
Price paid on Luxury Escapes: $3,049 AUD (paid in March 2019)
Comparison Price on Booking.com: $7,195 AUD (accommodation-only price for 7 days in March 2024)
Package inclusions:
All of the below inclusions were valid for two people.
Daily buffet breakfast at Roots Restaurant & Lounge
Romantic multi-course dinner for two served at Roots Restaurant & Lounge
Unique tapas dining experience for two at Roots Restaurant and Lounge or at the poolside Roots Bar
A nightly sunset cocktail for two between 5 PM and 9 PM at the Roots Lounge
Welcome bottle of sparkling wine
Two lavish 60-minute traditional Thai massages to share individually or as a couple at the open-air Serenity Spa
Scheduled return airport transfers from Phuket airport with speedboat connection from Yacht Haven Marina
Additional Perks:
We also had a daily top-up of spirits at our private villa bar which we selected at the booking time
Our Personal Experience
As it was our inaugural Luxury Escapes adventure, we were initially hesitant but decided to take a leap of faith.
And it's safe to say, we're delighted that we did.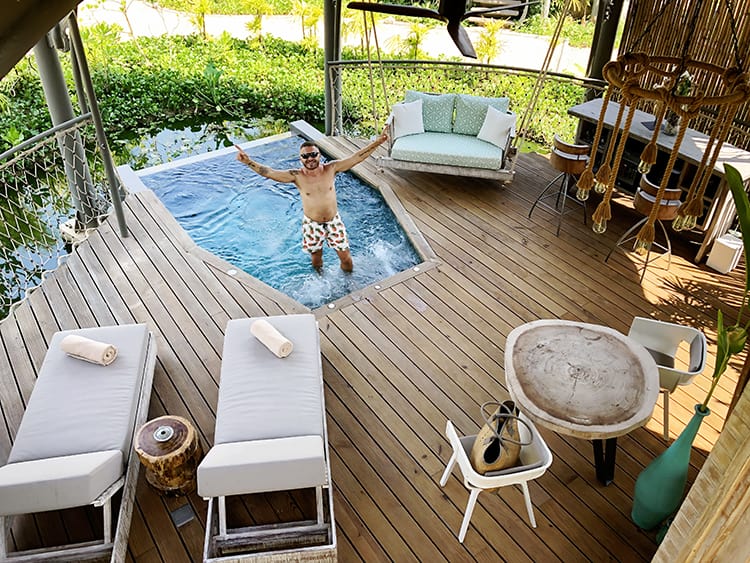 From the seamless booking experience on the convenient Luxury Escapes App to our delightful stay at the exquisite TreeHouse Villas in Thailand, Luxury Escapes exceeded all of our expectations.
The journey from Phuket to the TreeHouse Villas in Koh Yao Noi was very easy.
We were conveniently picked up from our hotel in Phuket and driven to the port, where we were then transferred by boat directly to the magnificent resort.
The arrival at the resort was nothing short of breathtaking. As we were warmly escorted to our accommodation, our faces lit up with pure joy.
TreeHouse Villas is that one luxury resort that we will always remember and talk about to no end.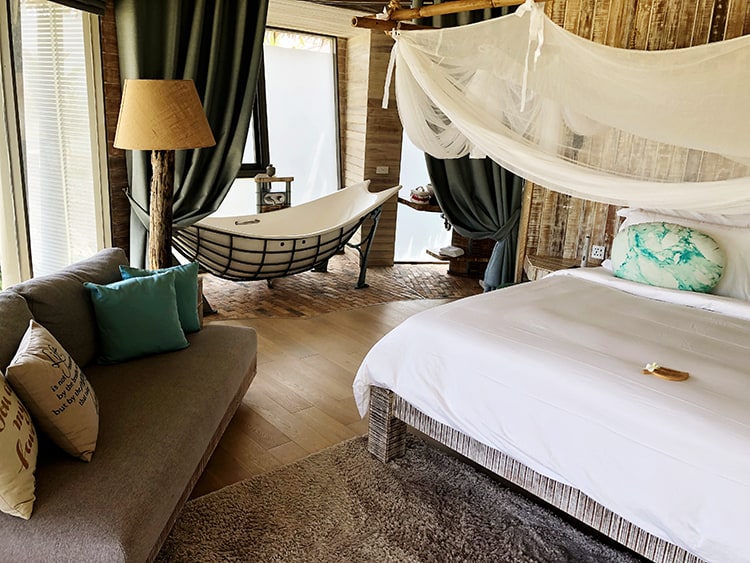 The villa was truly extraordinary, exuding opulence at every turn.
From the superbly comfortable king-size bed to the breathtaking panoramic views, every detail was meticulously designed to provide the utmost luxury.
The expansive flat-screen TV, private plunge pool, charming swing, and the delightful perk of your preferred alcoholic beverages being replenished daily, all contribute to the resounding statement of indulgence that this place embodies.
The primary restaurant offers a plethora of delectable food options accompanied by an array of exquisite cocktails. Furthermore, it boasts a spacious swimming pool for guests to relish.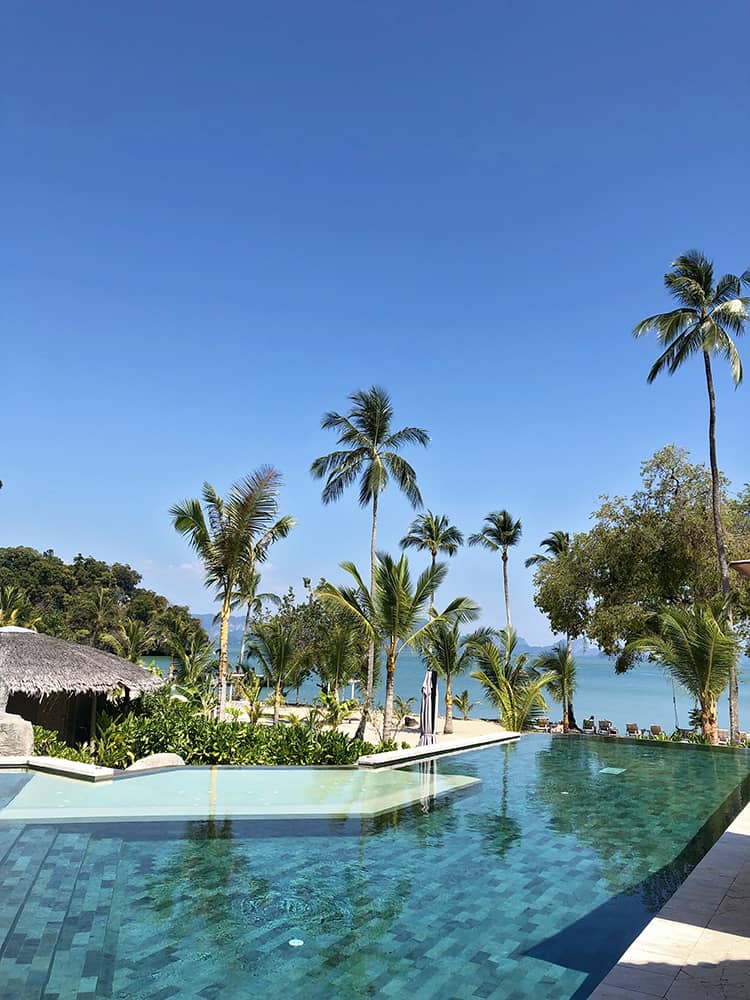 Additionally, there was an alternative option for dining – a beachfront restaurant boasting a delectable array of Thai delicacies.
Indulge in beachfront sunsets, sip on delectable cocktails, and relish extraordinary dinners right on the sandy shore.
Our TreeHouse Villas experience with Luxury Escapes has our resounding endorsement when it comes to luxury.
This was a perfect trip!
What we loved:
Here are the things that made our whole trip very happy:
Ease of booking on a Luxury Escapes App
The entire process was easy with a credit card
Best deal on luxury hotels that we've seen to date
Luxury accommodation, private villas
Private plunge pool, cute swing, and a bar
Amazing views from the ocean-view villa
Super comfortable bed
Wi-Fi, flat screen TV, workspace with a view (blogging space)
Beautiful surroundings and a stunning resort
Peace and quiet, and serenity
Great service, great experience, and great package deals
5-Star review for an enjoyable holiday!
What we disliked:
Here are the things that we were not so happy with:
Our bathtub was taking what felt like a month to fill up, so we didn't use it at all (they tried to fix it, got to add)
We did not like that we couldn't stay longer.
TIP: Kindly be aware that the availability of Luxury Escapes deals is subject to change.
While there might not currently be any deals for the TreeHouse Villas, we encourage you to regularly check the Luxury Escapes website for the latest available deals here.
---
2. Hilton Fiji Beach Resort and Spa 2022
For our second Luxury Escapes trip we went in April 2022 to the Hilton Fiji Beach Resort and Spa.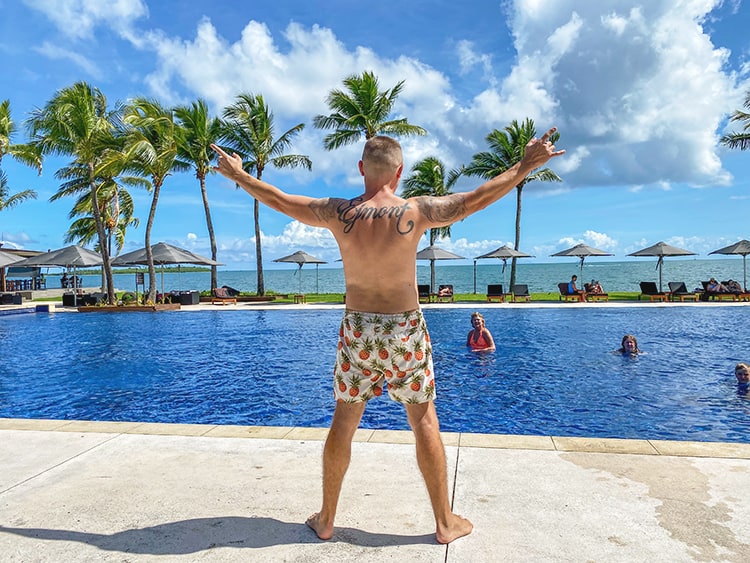 Check out our Hilton Fiji Beach Resort and Spa review here.
What we Paid with Luxury Escapes vs Booking.com
Length of Stay: 3 nights
Accommodation Type: Beach-front Upgrade
Return Flights: from Brisbane to Nadi included
Price paid on Luxury Escapes: $2,861 AUD (flights and more included in total price in April 2022)
Comparison Price on Booking.com: $2,603 AUD (accommodation-only price April 2024)
Package inclusions:
All of the below inclusions were valid for two people.
Discounted return international flights with Fiji Airways for two adults including 30kg checked luggage
Daily buffet breakfast at Nuku Restaurant or KORO restaurant (adults only)
Daily one-course lunch with one glass of local beer, house wine, or soft drink
Nightly two-course dinner with one glass of local beer, house wine, or soft drink
Nightly free-flow sunset drinks between 5 PM and 6.30 PM at Nuku Bar
Additional Perks:
We received a beach-front upgrade
During our stay, we received a welcome complimentary bottle of wine
Our Personal Experience
We were thrilled to embark on yet another journey with Luxury Escapes, given our wonderful prior experience.
This time, we opted to indulge in a memorable stay at the Hilton Fiji Beach Resort and Spa, nestled on Denarau Island in Fiji.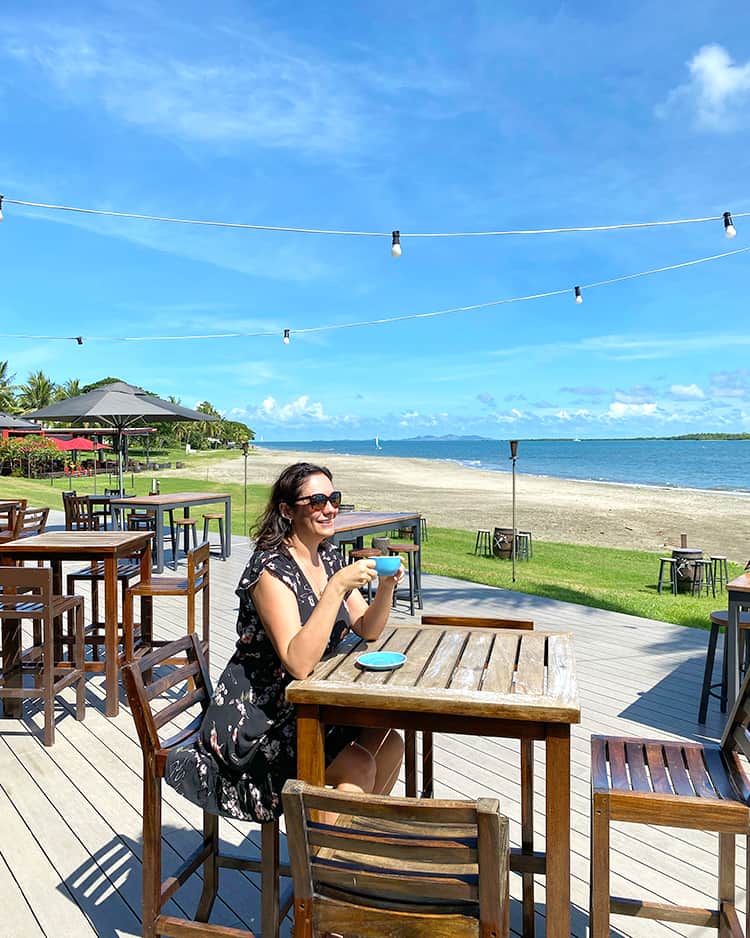 Undoubtedly, their flight and accommodation package offered a good deal and at an exceptional value. When it comes to making reservations, Luxury Escapes unquestionably has an easy-to-use system.
First, let's chat about the accommodation. Our apartment was super clean and well-kept, with all the essential amenities you'd expect from a luxurious place to stay.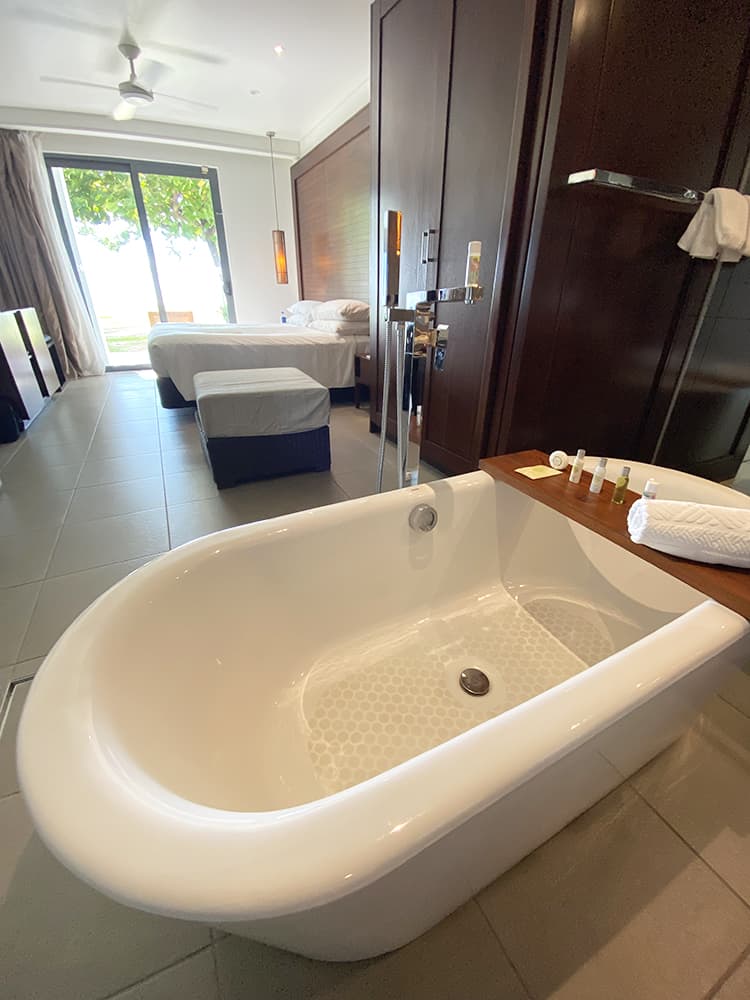 The room featured a luxurious king-size bed, a refreshing bathtub, a flat-screen TV, and Wifi (although the connection was not optimal).
The overall interior was tastefully designed, creating a delightful ambiance.
At Hilton Fiji Resort and Spa, you'll find a range of restaurants, offering a variety of dining experiences to suit your tastes.
Whether you're in the mood for a delightful meal or looking for a cozy spot to enjoy a refreshing drink, we have options to cater to your every preference.
We had a good time and enjoyed trying out the food for dinners at KORO restaurant in the adults-only section of the resort.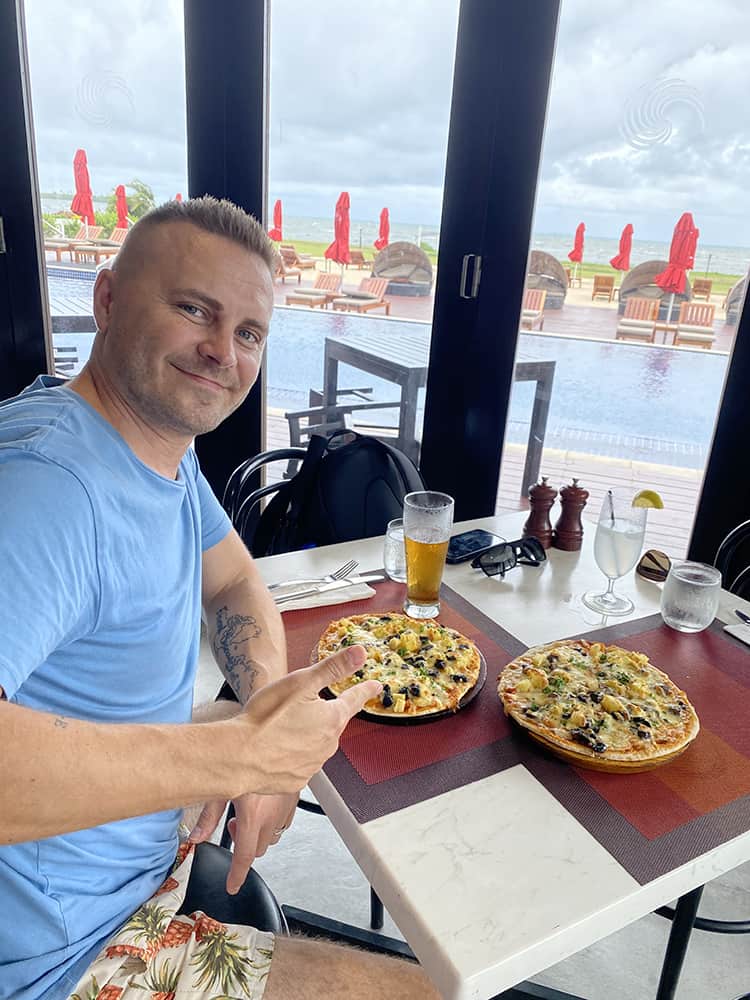 We savored delightful breakfasts and lunches at the Nuku restaurant while treating ourselves to captivating sunset drinks at the Maravu restaurant.
The expansive main pool offered ample day beds to accommodate all guests, ensuring a variety of choices.
Additionally, the captivating view of the palm trees adorning the beachfront added to our delight.
Finally, the Fijian people, and specifically the customer service here are super-friendly and we have only good memories here.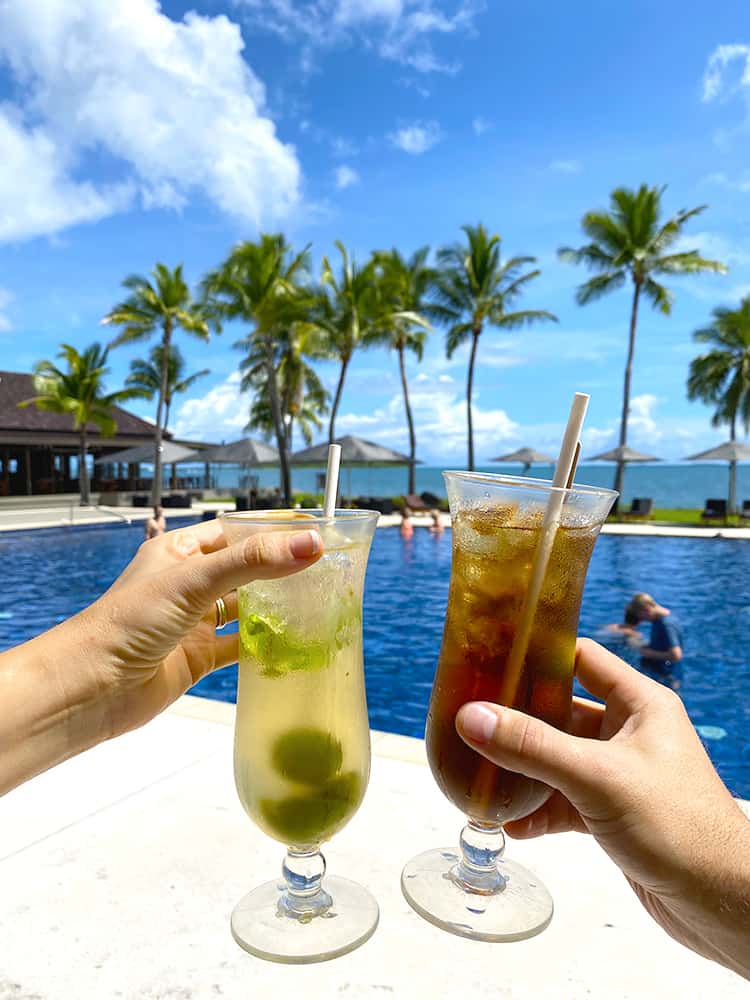 While our primary goal was relaxation during our stay, it's worth noting that the resort provided an extensive selection of activities, such as pool and poolside aerobics. We did not take part.
When it comes to luxury, however, Hilton Fiji Beach Resort and Spa, in our opinion, is lacking. And it definitely made us question if this resort should be on the Luxury Escapes list.
What we loved:
Here are the things we liked about the experience:
The package deal came at a great price and included the flights
The pool had beautiful palm trees to look at
Multiple restaurants to choose from with a good selection of delicacies
Sunset drinks at the Maravu Restaurant
Adults-only section of the resort
What we disliked:
Here are the things that we were not happy with at all:
Despite being an upgraded apartment, it wasn't truly beachfront. It stood approximately 50-80 meters away from the grassy plain's edge.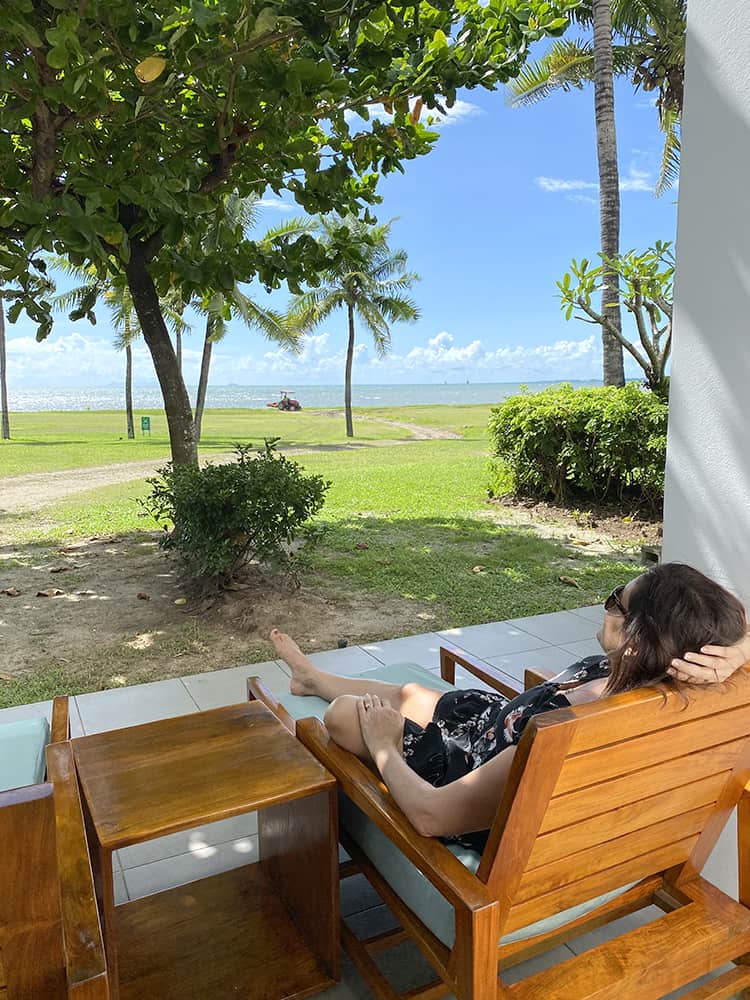 Our apartment was plagued by tractors, trucks, and cars passing just 5 meters from our balcony door, severely hindering any chance of enjoying the patio or keeping the door open.
The food at the main restaurant was pretty average.
Relaxation by the main pool was often interrupted by noisy pool and poolside activities.
The beach was uninviting.
---
3. Palm Bay Resort 2023
We went on the third Luxury Escapes trip in August 2023 to Long Island in Australia and we stayed at the Palm Bay Resort, and we loved it!
What we Paid with Luxury Escapes vs. Booking.com
Length of Stay: 4 nights
Accommodation Type: Private Bure (one-bedroom beach-front bungalow)
Return flights: from Brisbane Australia included in the Price
Price paid: $2,199.70 AUD (flights and package inclusions in total Aug 2023)
Comparison Price on Booking.com: $1,596 AUD (accommodation-only Aug 2024)
Package inclusions:
All of the below inclusions were valid for two people.
A $75 AUD credit towards meals
Daily breakfast at the Curlews Restaurant
Nightly basic drink: beer, wine, or a soft drink per adult
Complimentary daily access to resort activities, including beach equipment: kayaks, paddle boards, etc.
Additional Perks:
Our Personal Experience
So, we were looking for another luxurious and relaxing getaway, and Palm Bay Resort via Luxury Escapes did not disappoint us.
To begin with, we need to state that the resort classifies itself as a 4-star and it does deliver.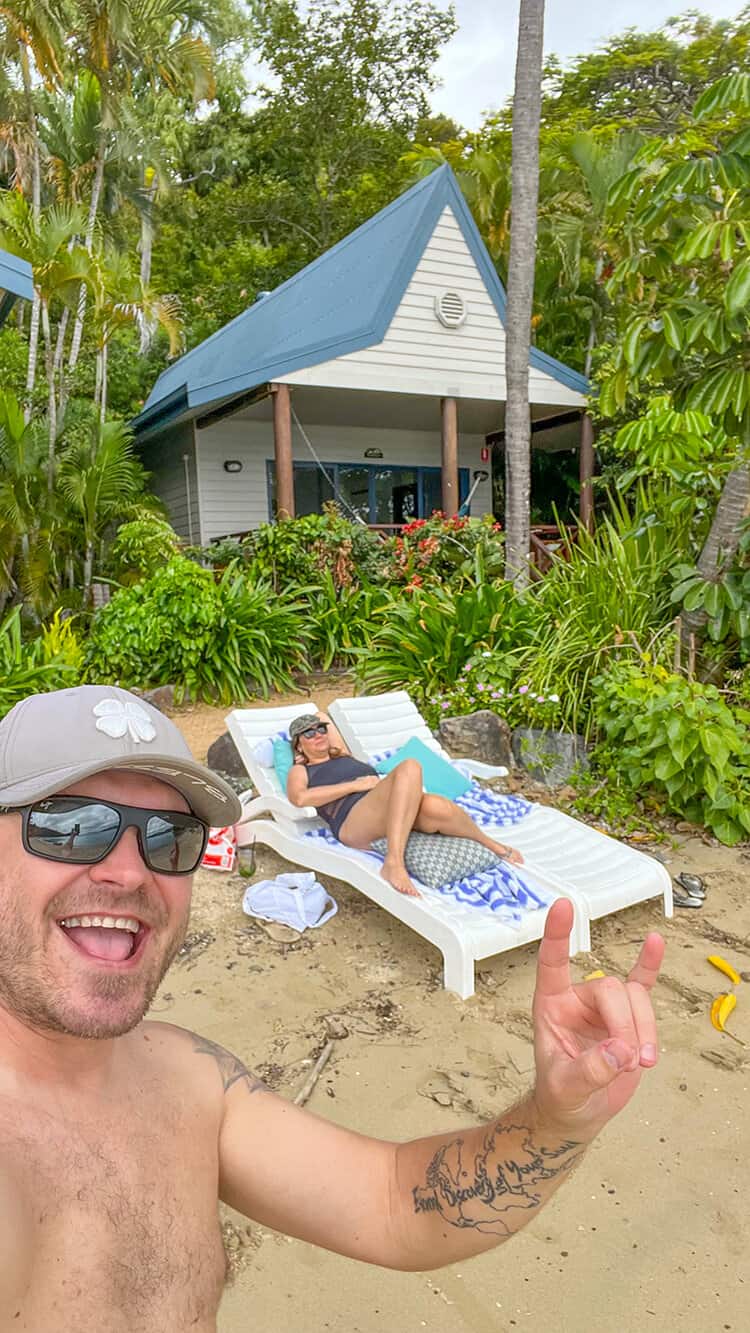 Also, the resort is currently going through an uplift, as it sustained significant damage in the cyclone.
Palm Bay Resort is located in one of Australia's most sought-after holiday destinations, Whitsunday Islands.
Despite the less luxurious boat transfer from the mainland, our arrival at the island greeted us with a picturesque bay adorned with palm trees and elegant beachfront villas.
The beach view at our villa was not as picturesque as we had anticipated from the online pictures.
Unfortunately, there were palm trees standing right in the way, obstructing the beautiful sight we had imagined.
Our villa was rather ordinary, falling short of the luxury status we expected.
Despite its spaciousness and a king-size bed, it lacked a few essential elements that we have come to anticipate from Luxury Escapes, such as a TV and a stunning bathroom.
Speaking of the bathroom, it was a complete disaster and seemed more fitting for a camper park rather than the upscale resort.
Having said that, the spacious veranda boasted a generous hammock.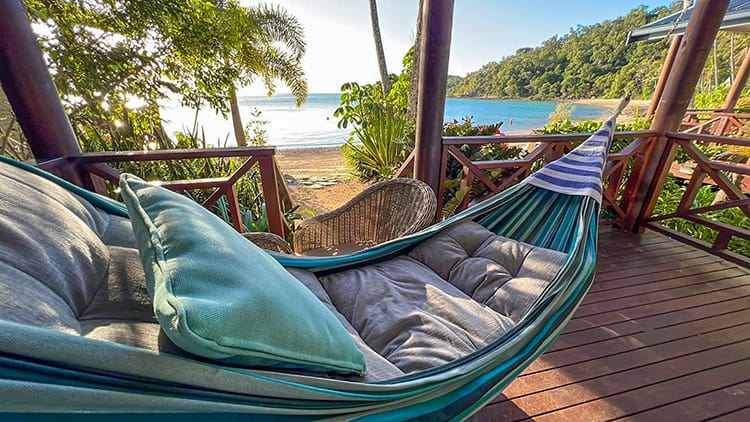 As we crafted our cozy outdoor sanctuary, we found immense pleasure in the partial vista it offered, despite the obstruction of the frontal view.
It became a haven of relaxation that we relished wholeheartedly.
Kindly take note that this exquisite island is home to a diverse array of local wildlife, including charming wallabies and curious bush turkeys.
Their playful antics under the night sky became quite evident during our delightful four-night stay.
During the day, they exhibit breathtaking beauty and bring joy to your sight.
But hey, when it's nighttime and you just want to get some peaceful rest, their noisy shenanigans can be a bit less than desirable.
At the resort, treat yourself to some amazing food at Curlews Restaurant, the only place to dine.
Experience a wide variety of delicious meals made to perfection. Just a heads up, there's no buffet breakfast available.
Even though there was a beautiful swimming pool in a scenic location, we passed on it. Instead, we opted for the beach vibes, chilling on sun loungers and unwinding in our hammock.
And for those looking for more fun, there are water activities like paddleboarding and kayaking, plus some cool forest trails to explore.
Have we mentioned the phenomenal cocktails here?
They are an absolute delight, served both at the main bar in the restaurant and at the charming sunset bar on the beach during the blissful happy hour.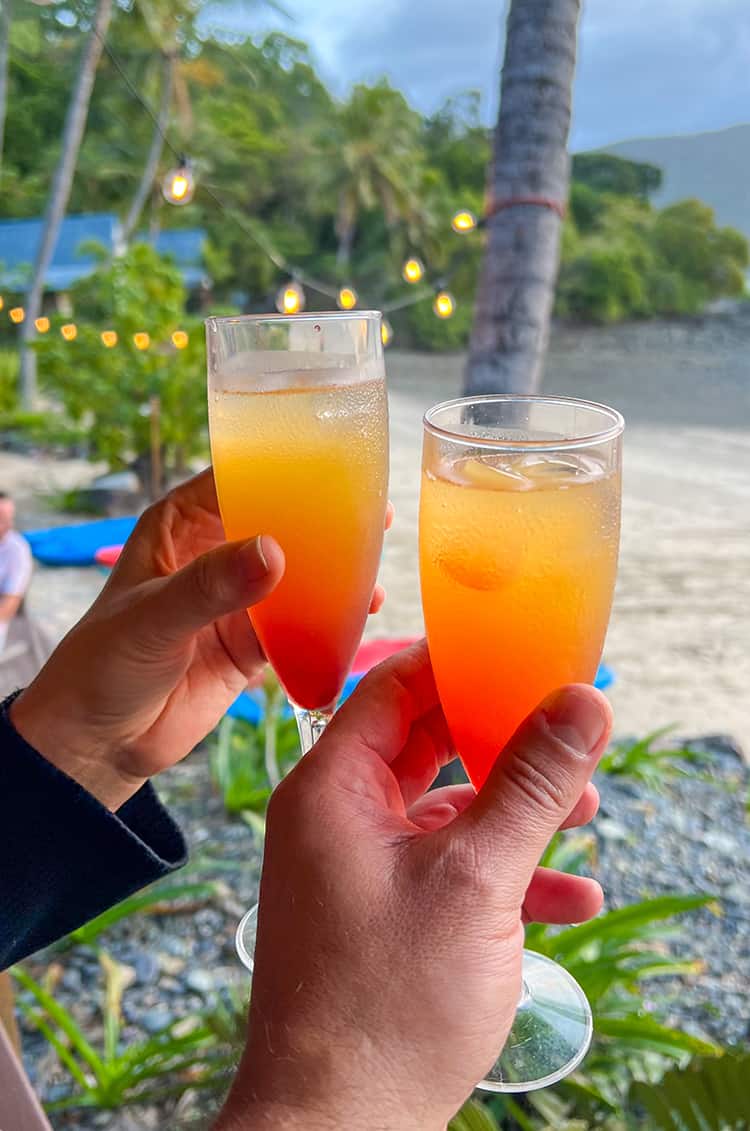 Despite being a 4-star resort with limited luxury in accommodation, our overall experience was truly unforgettable and immensely delightful.
We would easily go here a couple of times more.
TIP: Prior to finalizing your reservation, we recommend reaching out to the resort directly to confirm your villa selection for an unobstructed view and ensure that the refurbishments have been completed, minimizing any potential noise disruptions.
What we loved:
Things we loved about our Luxury Escapes experience:
Palm Bay exudes breathtaking beauty and offers a serene atmosphere, making it an ideal destination for ultimate relaxation.
The hammock at the villa was a perfect addition
The cocktails and the food were really good
Clean and tidy throughout the property
Beachfront relaxation, sunloungers (although plastic)
Nature and wildlife (wildlife during the day)
What we disliked:
Things we were not so happy with:
The fact that the resort was being refurbished should've been stated at the booking time, as there was work being done in the villa next to ours, even during the weekend
---
FAQs
Here are some of the frequently asked questions about the Luxury Escapes:
Is Luxury Escapes Legitimate?
Luxury Escapes, a reputable company, has 20+ years of experience in the travel industry and tourism industry.

They offer tailor-made, luxurious holidays to ensure an unforgettable experience.

Rest assured, Luxury Escapes provides legitimate options for your luxury escape.
Is Luxury Escapes a travel agent?
Luxury Escapes is more than just a travel agent – they offer exclusive deals and experiences both in Australia and abroad.

With their deals, you can explore some of the world's most beautiful destinations with confidence, knowing that you're getting the best travel deal available.

So if you're looking for an unforgettable holiday experience at an incredible price, Luxury Escapes is the perfect choice for you.
How does Luxury Escapes work?
Luxury Escapes is a one-stop booking platform that offers members exclusive and affordable short-term trips to luxurious locations around the globe.

With Luxury Escapes, you don't have to worry about researching flights, hotels, or activities – as a lot of the travel deals include great all-inclusive packages.

You have to love making travel plans for inclusive trips, right?
Is Luxury Escapes Legitimate: Final words
OK, so what do we really feel about the Luxury Escapes? Is it a great company? Is Luxury Escapes legit, and is it a professional company?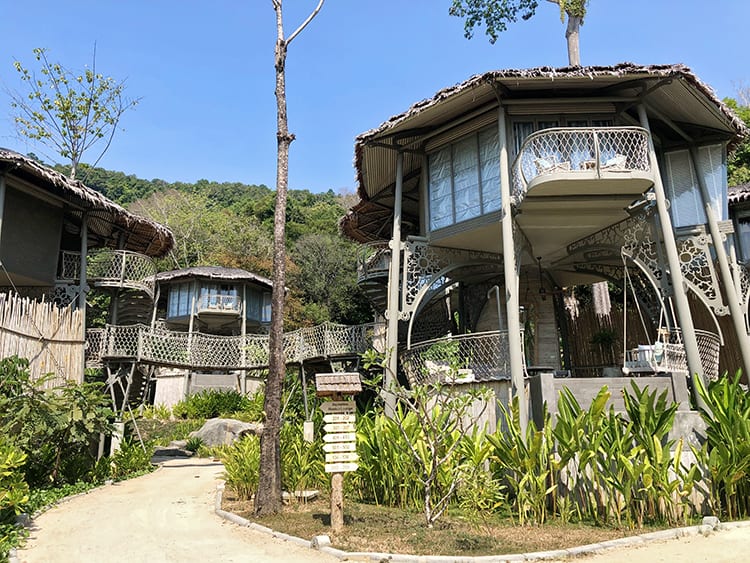 Yes, this is one of the most reputable travel companies, with great deals and travel services, and it is one of our favorites.
We love Luxury Escapes and we will definitely continue to book our getaways with them for the next trip and the next amazing experience.
Like with any accommodation booking platform, it's a good idea to do some thorough research on your intended destinations or resorts before making a reservation.
We make sure to go through a bunch of customer reviews to make sure our expectations match the actual experience, as there might be a few differences.
In light of our personal experiences, we hold Luxury Escapes in high regard as an exceptional travel platform for luxurious hotel bookings.
The exclusive offers they provide have captivated our hearts and elevated our experiences.
The question is, where are you going to go next?