If sand on your feet and salt in your hair sounds like the perfect summer, then Fiji is an ideal holiday destination for you!
In fact, its all-year-round tropical weather, a wide range of mid-priced hotels, and attractive beaches make Fiji popular among couples and families alike. We visited Denarau Island, also known as Fiji's "beating heart of tourism!"
As this was our first time, we decided to book our first stay via Luxury Escape, where we got a great deal (as always) including flights, accommodation, and a little bit more.
Our first resort whilst in Fiji, was Hilton Fiji Beach Resort & Spa, and here is our review:
Hilton Fiji Beach Resort and Spa Review
Here is our honest and detailed Hilton Fiji Beach Resort and Spa Review:
Hilton Fiji Beach Resort Accommodation – Room 3601
The most important factor in judging any hotel or resort is comfort. Hence, we believe that the rooms should feel like "home," only better!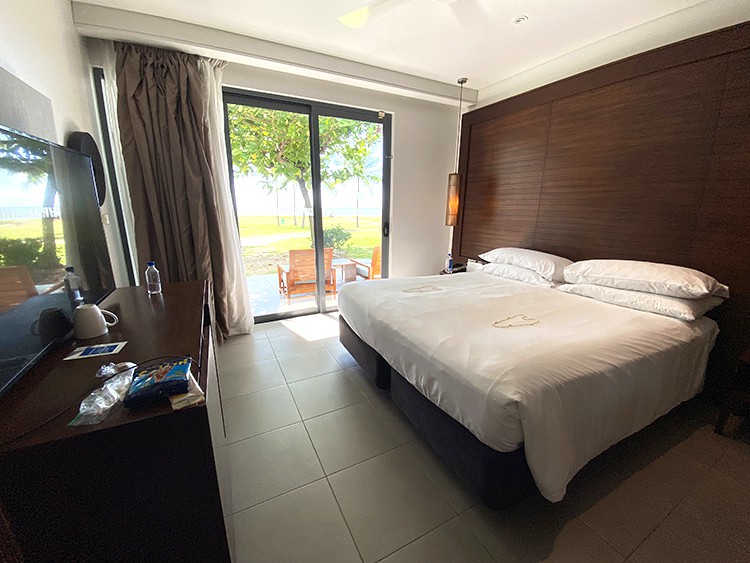 To begin with, the king-sized bed in the room was soft and felt pretty luxurious. However, the pillows were a letdown as they were quite uncomfortable.
We asked for a replacement, but even those were a letdown and smelt bad, so we just decided to put up with the original ones. Needless to say, we did not get a great sleep.
Thankfully, the bathroom did not give us a chance to complain as hot water was readily available, and the bathtub was a fancy yet functional addition.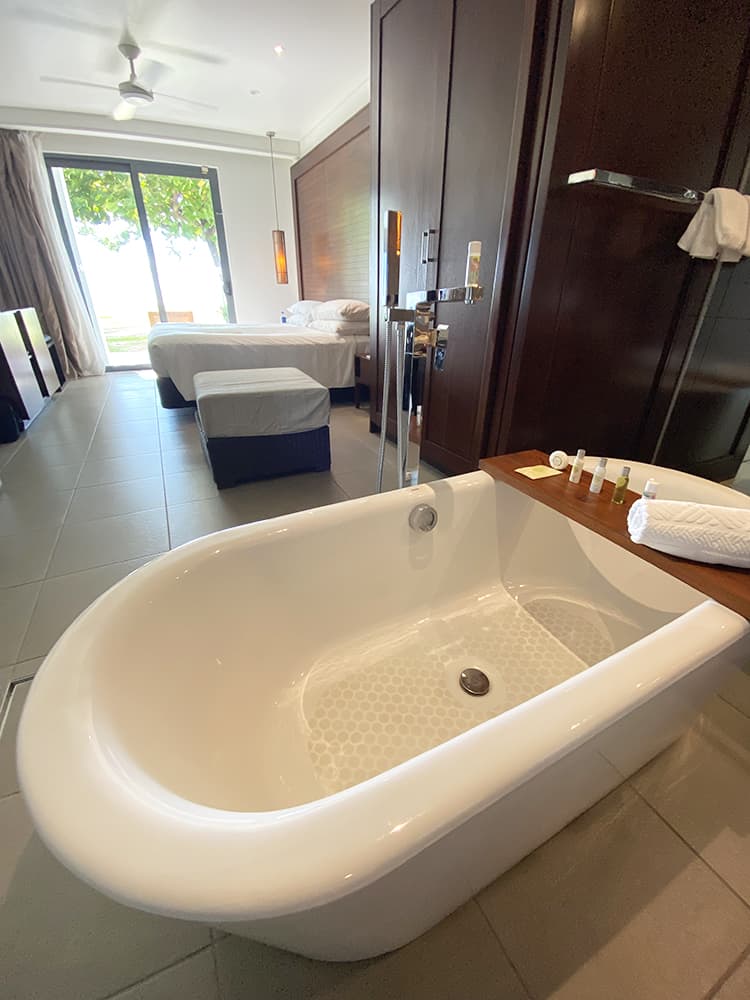 Even the air conditioning system worked optimally, and the large television kept us entertained when we didn't plan to step out. So, overall, the room was clean and well-supplied.
Coming to the most disappointing factor – the view from the room!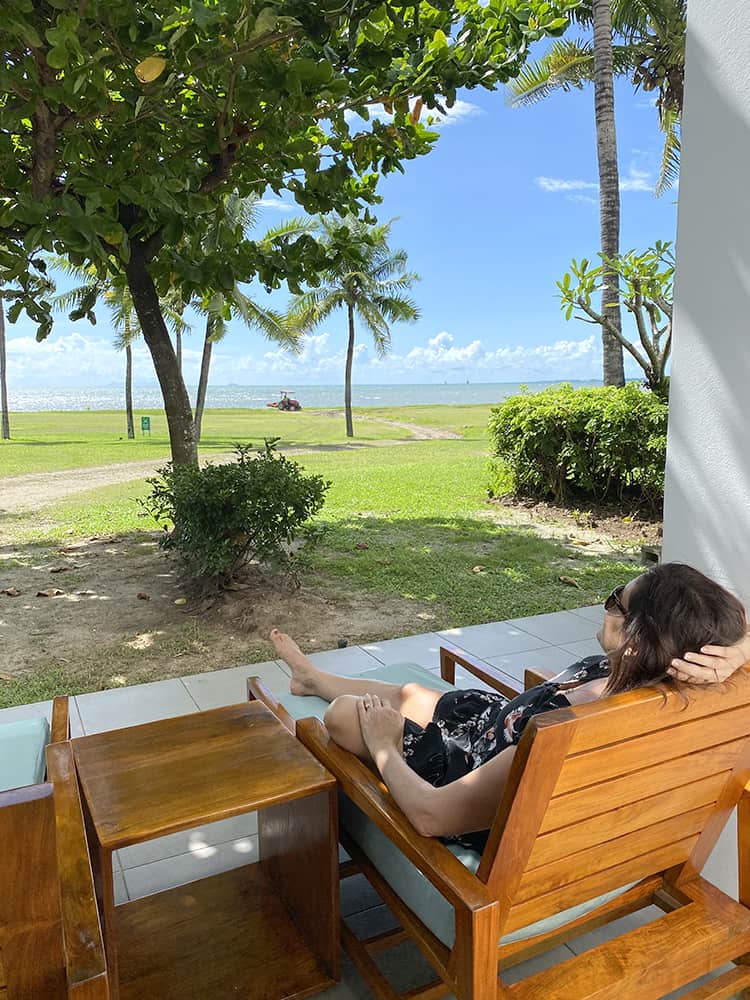 In fact, we could not just see tractors, pick-up trucks, cars, and trucks but also heard the noise as well (all 2 meters from our windows. Plus, the patio was practically useless due to constant traffic, lawn mowing, rain (no shade or roof), etc.
Another minor drawback, in our opinion, was the meager amount (two tiny bottles) of daily complimentary water.
TIP: When booking your room, we recommend that you request a room away from the 3601 so that you can avoid the traffic and noise.
Amenities
This resort spa boasts multiple amenities, including restaurants, fitness centers, meeting rooms, non-smoking rooms, and more. However, our favorites were the pools with tons of activities to choose from, specifically the main pool.
Pools
The resort is equipped with seven pools, including separate spaces for children and adults. So, you can easily sneak off to a quieter getaway to grab a drink.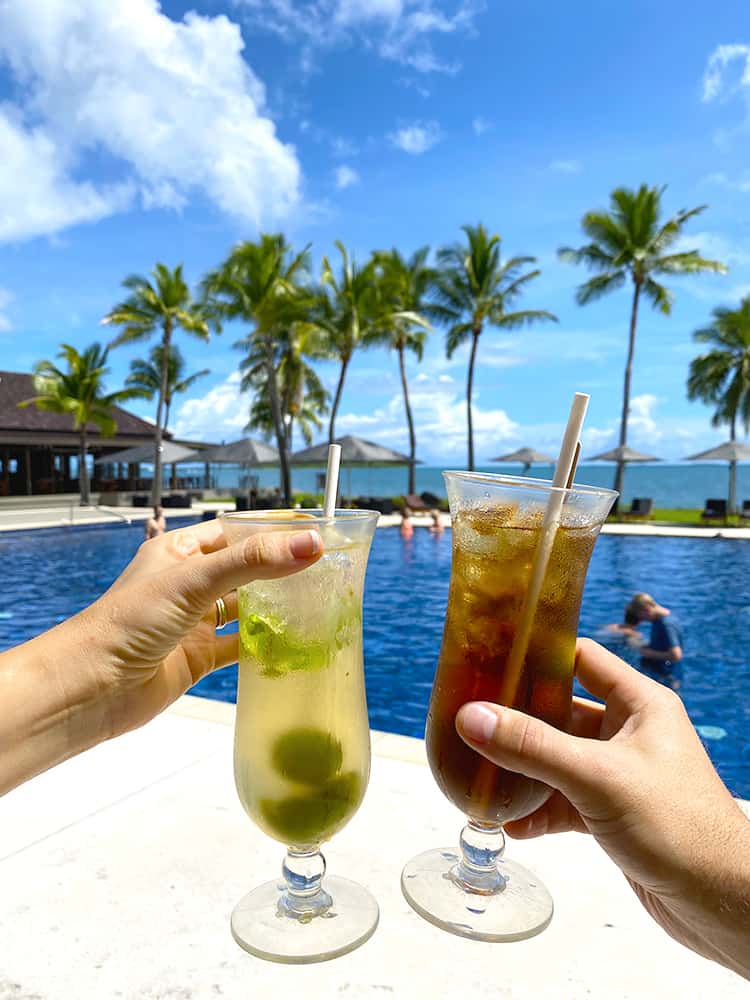 We also enjoyed a relaxing time at the poolside spa pavilion, wherein you can get a soothing (very soft rub) massage.
We personally tried a 15-minute foot massage for 30 FJD, which was very reasonable.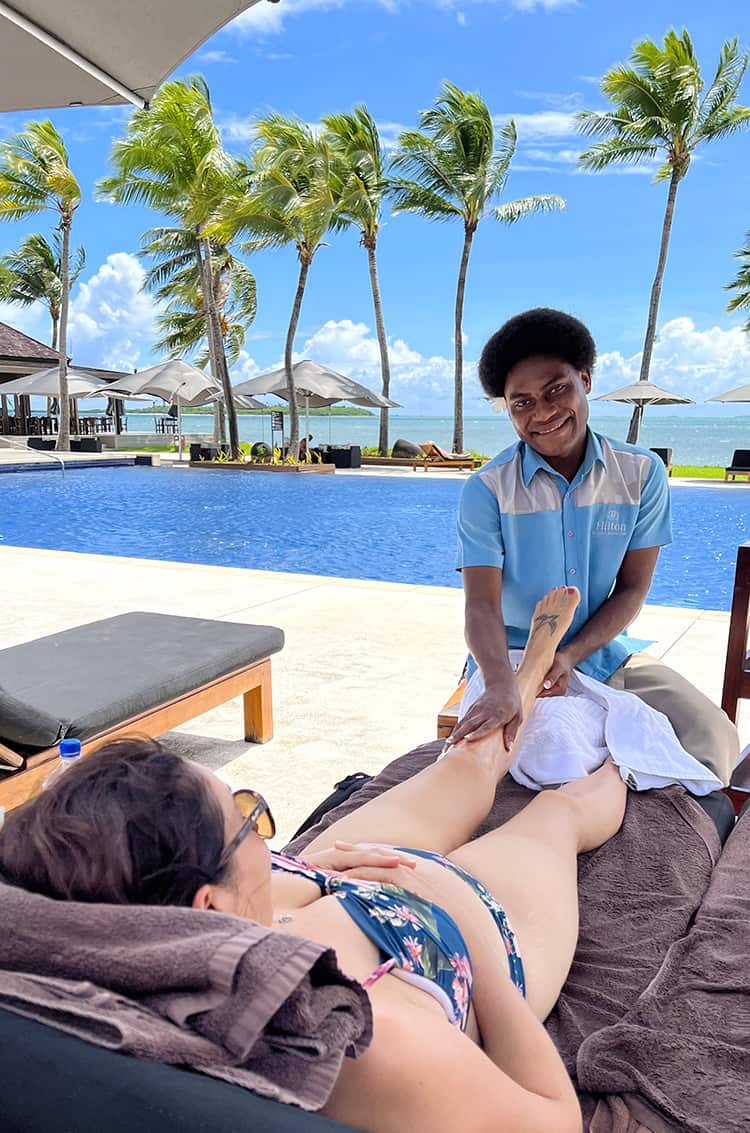 We spent most of our time by the main pool. The size of the pool and the sun loungers were really good and comfy. Also, the nice sunny few days and palm trees help greatly.
The one negative here, music played from the speakers was most of the time a bit too loud and interfered with the relaxation.
Yes, there were a tonne of activities by the pool, games and all, but more geared to entertain families, so if you are in need of peace and quiet, the adults-only pool would be our recommendation for you.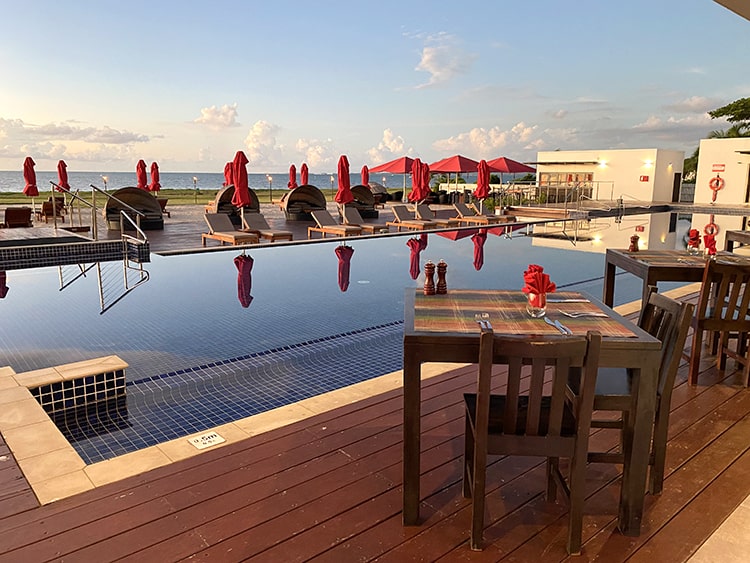 The adults-only pool was at the other end of the resort, and it was deserted when we were, there. Although the area looked inviting, we preferred the views from the sun-loungers at the main pool and put up with the noise.
Beach Activities
The resort includes waterfront restaurants, ballrooms, boardrooms, and more.
That being said, only the Nuku restaurant is relatively close to the water's edge, leaving the other two restaurants divided by the large plane of grass from Koro and a large stretch of dark sand from the Maravu restaurant.
Unfortunately, for us, the beach area wasn't inviting at all and we did not participate in any beach activities.
We did see a few paddleboards here and there.
What's For Kids And Adults
Here are a few things that we have noticed that were geared to kids and to adults:
1. Pools, Slides, And More
Please note that this time we traveled without our kids, on our annual kid-free getaway, however, we did see a few kid-friendly areas and activities at this beach resort.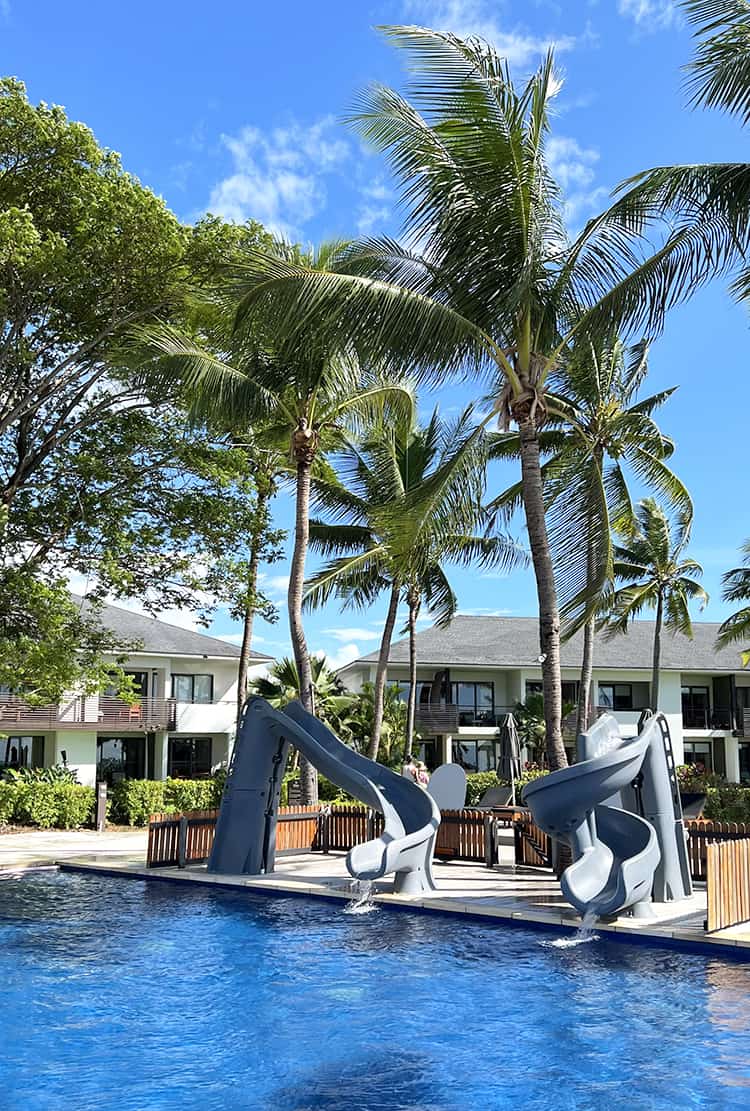 There is a shallow pool for children along with fun water slides, and a small basketball hoop at the pool edge, where we saw parents with kids trying out their skills.
Additionally, the resort boasts a Kid's Club with a playground full of toys. The sandpit is another fun addition to the area and is quite popular among children.
Some activities your children can enjoy in the club include hair braiding, face painting, cake decorating, etc. Parents will also appreciate how kids can eat free with every adult meal (main course).
Whilst at the main pool, kids could join in the daily water aerobics and a number of other kid-friendly games.
2. Adults-only Section
While the kids run around and make new friends, you can sneak into the adults-only area, which is a lot more serene yet entertaining. You can eat, drink, and relax with your partner or friends after a long walk at the beach (the large grassy area).
Since this area includes a restaurant, bar, and pool, you'll have tons to do while enjoying some soothing music!
TIP: We did enjoy the food here at Koro best. Although the portions were smaller, the flavors were definitely there.
Where To Eat
Check out the three Hilton Fiji Beach Resort restaurants:
1. Nuku Restaurant
Known for serving the signature Hilton breakfast with other gourmet dishes, we started our day here with breakfast here.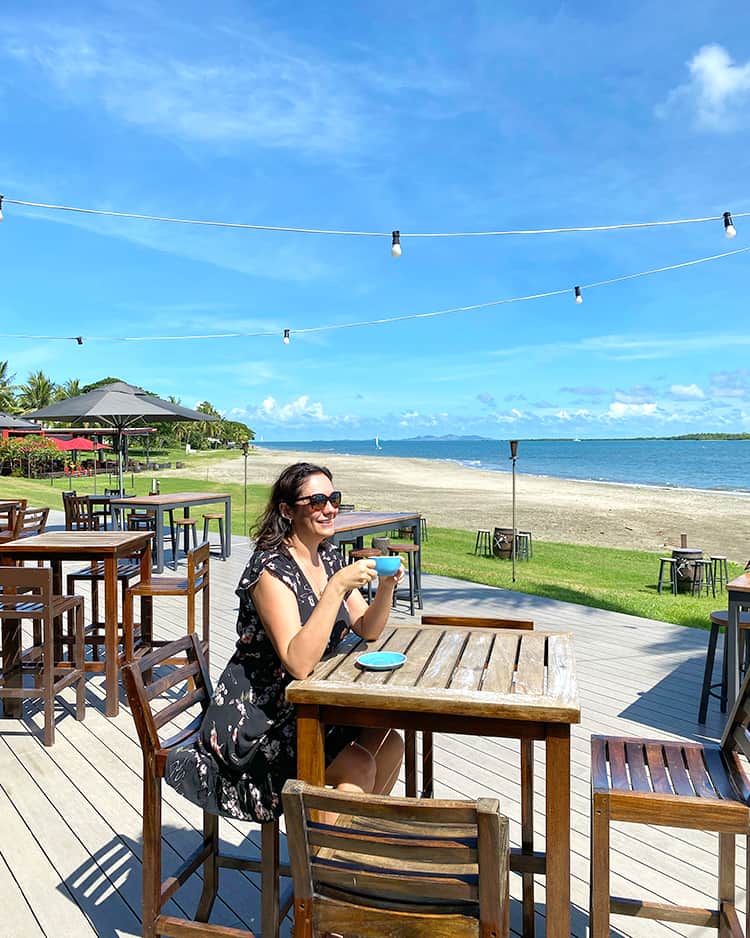 Breakfast had your buffet's usual things ready to go, as well as the hot continental breakfast to order.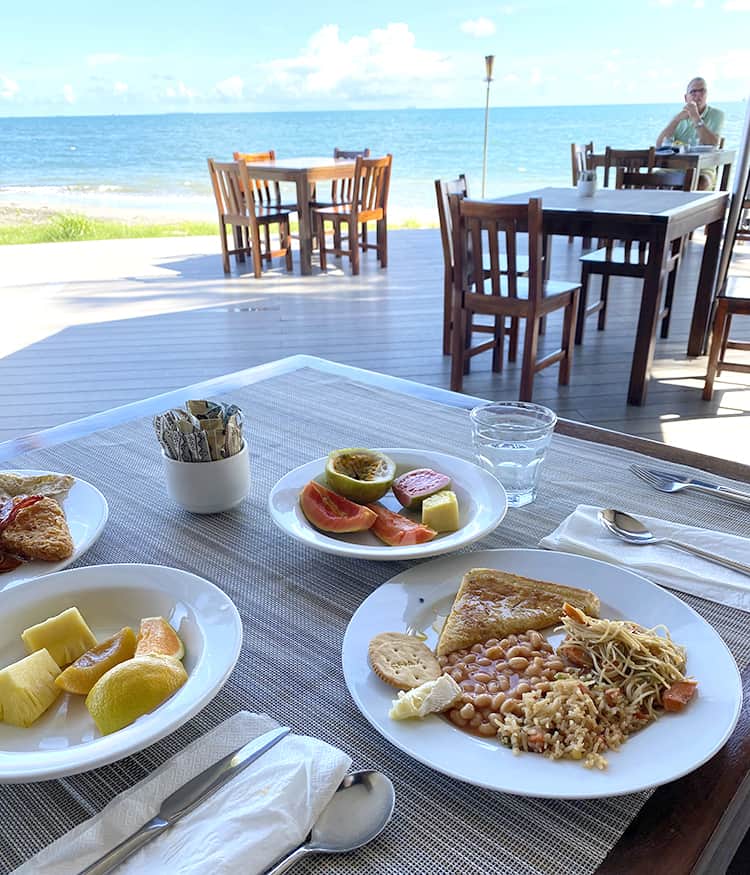 We did give it a go here for the lunch and dinner (since it was included in our Bula Bubble Package), only to be left dissatisfied. Unfortunately, the flavors were lacking and the quality of the food was questionable.
2. KORO Restaurant
KORO is a part of the adult-only area in the resort, so you can enjoy all sorts of drinks here. Unlike the previous recommendation, this restaurant served some lip-smacking Mediterranean delicacies. Vegetarians will also enjoy quite a lot of variety here.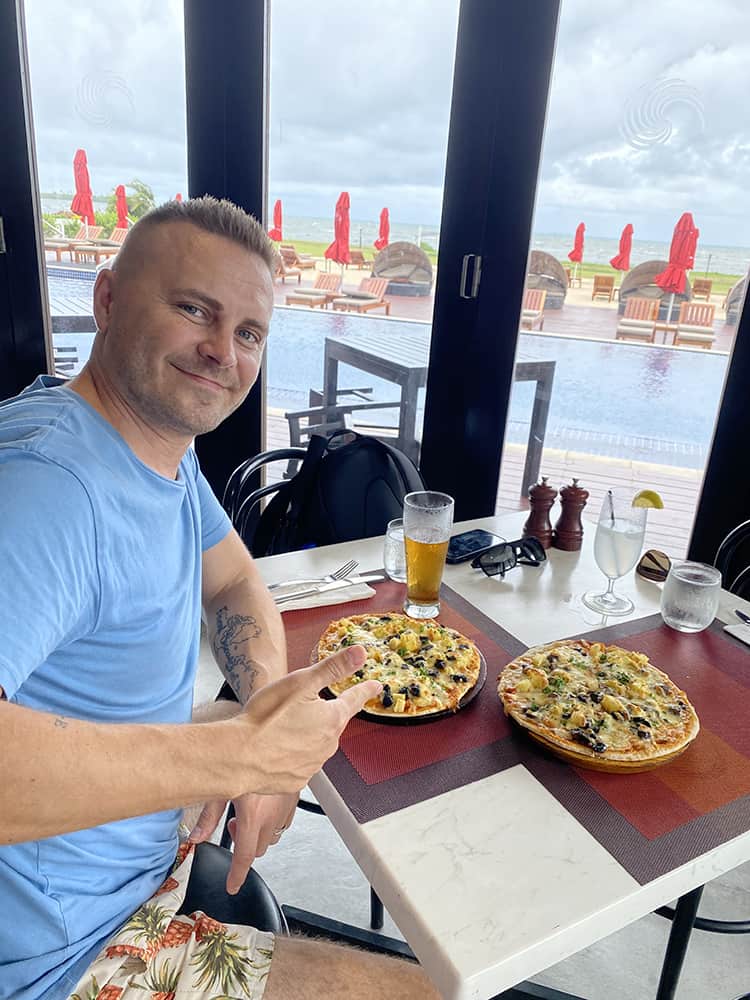 However, the plate sizes were quite small, and that was even more noticeable considering how good everything tasted!
3. Maravu Restaurant
If you want to tingle your taste buds with Teriyaki skewers or gulp it down with Tom Yum soup, this Asian restaurant is your best bet!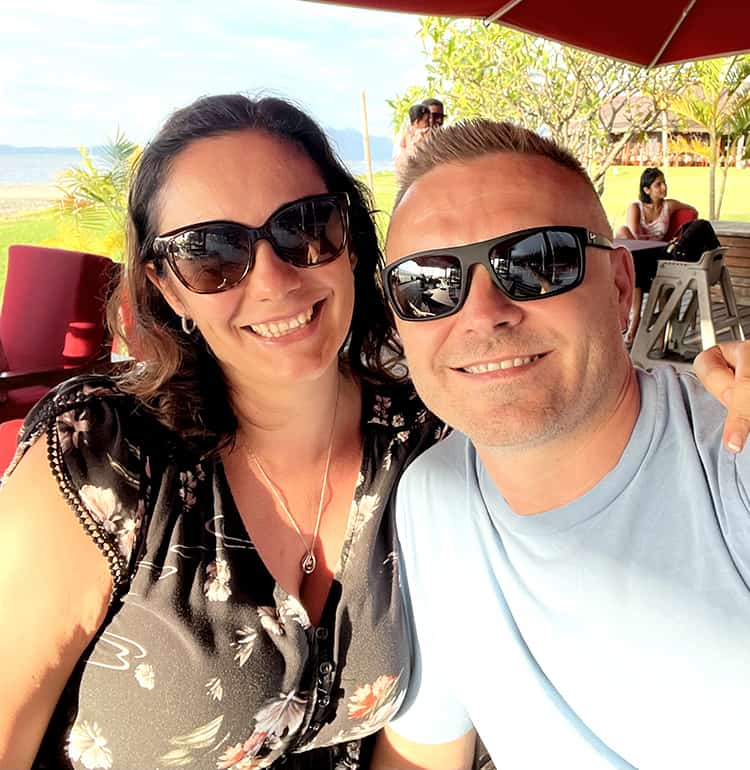 Though we didn't come here for meals (or Bula Bubble Package included only Kunu and Koro), we did enjoy some sunset drinks here.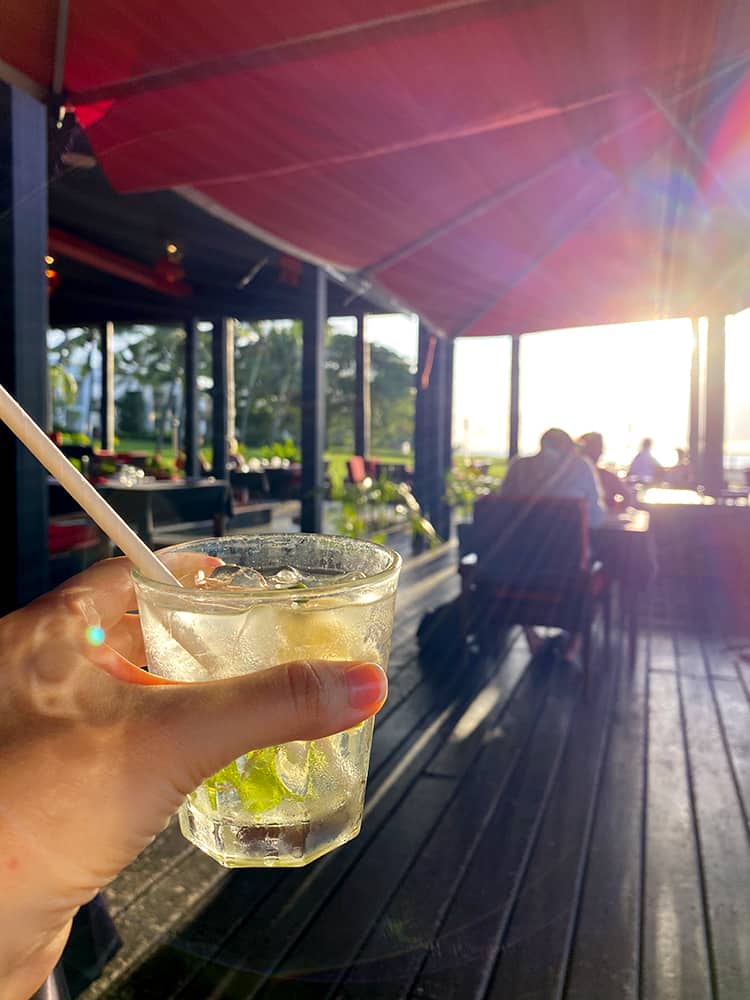 Our Likes and Dislikes
Here are the things that we liked and disliked whilst staying at the Hilton Fiji Resort and the apartment 3601:
Our Likes
Please note that these are our personal likes from our stay at the resort:
Pool areas are well done all around, from cushioned sun lounges with big umbrellas to views of the palm trees
Pool service with a smile, food, and cocktails ordered and delivered to the seat
Foot massages offered at your sun lounge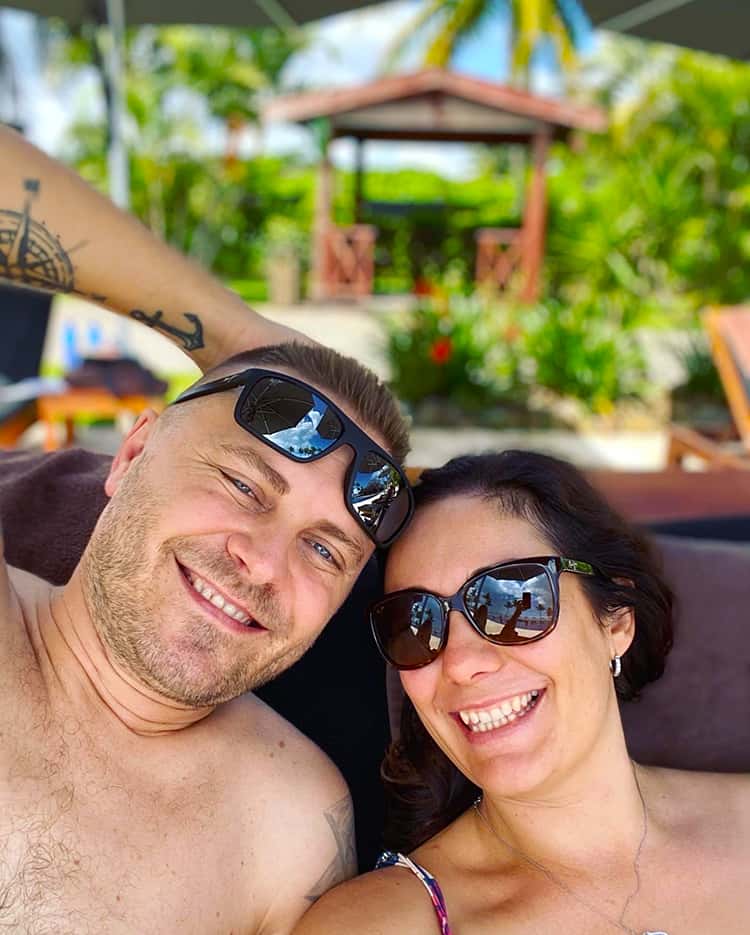 Good buffet breakfast at the Nuku restaurant, good selection for everyone
4-5 Star food at the Koro restaurant, good selection, and yummy choices… sizes of the plates could be larger
Our room 3601 was pretty good, nice bathtub, comfy king-size bed (very soft), big flat-screen TV (recommend to BYO screencast for your own Netflix), very hot water in the taps, and block-out blinds (which made it nice and dark to sleep in
Daily room service to make the room look tidy and fresh, with added touches of flowers and towels folded in animal shapes
Great and very friendly service all around (some delays at Fiji Time, but all good)
Sunset drinks at the Maravu restaurant were good (we had a 5-6:30 pm free-flow selection of drinks on the Bula Bubble Package)
Our Dislikes
Please note that these are our personal dislikes about staying at the resort:
Lunch and dinner food at Nuku was terrible and flavorless, the vegetarian burger had mashed potatoes as a patty, the curry was watery and had zero flavors (please note that we have only eaten vegetarian, so we cannot comment on the seafood and meat selections)
Our room 3601 could do with some personal touches, such as artwork and throw pillows on the bed, to make it more homely and less echoing (just a personal observation)
Our room was called beachfront, but it's probably 100m of grass before the water starts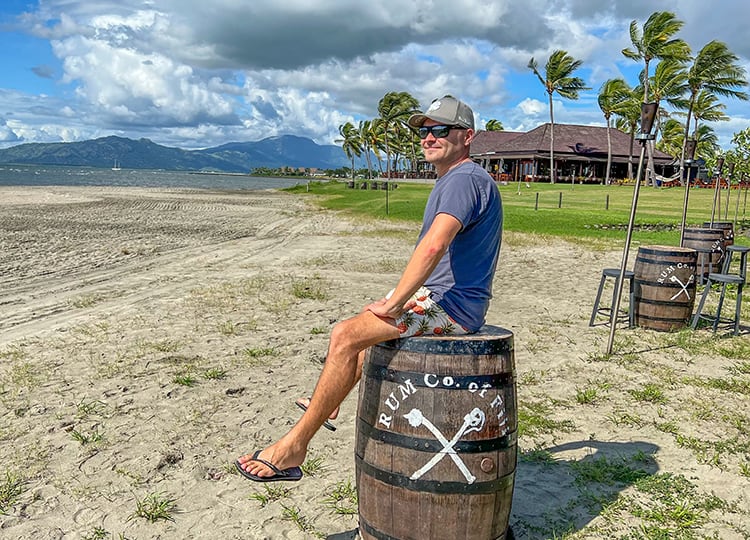 From our room, we could see a tractor-like road on which we have seen a tractor 12 times (and constantly throughout the last day from early morning), three different cars, a truck drive by three times, a pick truck 6 times (over a duration of two days, so recommend to book a room away from the tracks) and all of that about 2 meters from our sun loungers
Our rooms sun lounges had no roof protecting the patio from the sun or rain, and with all the traffic, were not usable at all
Lots of bugs and mosquitoes from dusk onwards (we were here in April, so we recommend you to do your research before you come)
Additional Tips
Here is an additional list of what we thought might help you whilst staying at the Hilton Fiji Resort and Spa:
BYO drinks from the airport (bottles of your preferred drinks), as some other people that we have seen, did, so that you don't have to buy expensive drinks
BYO water, snacks, and whatever you need… stop on the way to the resort from the airport at one of the local supermarkets and stock up.. you only get two tiny water bottles per day to the room.. rest is as you buy it and delivery to the room from restaurants is $10FIJI$ on top
BYO screencast for your Netflix from your smartphone or tablet (we brought our one which worked with iPhone no problem
Wifi was not working in 3601, but after asking the reception for help, they brought us a stand-alone router and we had all bars whilst in the room. Massive plus here.
Make sure to bring sunscreen, and lather up, as the sun is very strong
What was in Our Luxury Escape Bula Bubble Package
To help you make the most out of your Fiji trip, we recommend the Luxury Escape Bula Bubble Package (if it is still available at the time of your booking; we were here in April 2022).
With this package you get discounted round-trip flight tickets for two adults with 30 kg checked luggage (do read the fine print for details). Along with that, you can enjoy a buffet breakfast every day at Nuku Restaurant or KORO Restaurant.
The package further includes a hearty one-course lunch with a glass of soft drink, house wine, or local beer. Then call it a day with a two-course dinner and an alcoholic/non-alcoholic beverage of your choice.
You can also sip some sunset drinks between 5-6:30 PM at Nuku Bar. However, during our visit, we were shifted to Maravu, and the staff mentioned serving the drinks at Nuku only when the weather was rough.
Final Words
Although our stay at the Hilton Fiji Island Resort and Spa wasn't perfect, we did enjoy some of the aspects of the resort – mainly the pool area!
Besides the few drawbacks mentioned above, overall, the rooms were well-maintained. We also appreciate the friendly and helpful staff members.
We hope this review helps you plan your next trip to Fiji. Happy journey!
Additional Reading
If you are looking for more places to stay in Fiji, here are our recommendations: