Being frequent travellers we place importance on learning how to say thank you in different languages.  I think it is so beneficial to learn at least the basic words in the language of the country that you are visiting.
You will often find that the locals are just so much more friendly when you make the effort to speak some of their words.  They will be more eager to help and that 'thank you' in their language will leave a smile on their face.
To say thank you in other languages might be slightly challenging for those who aren't inclined to learning languages easily; but it truly is worth the effort!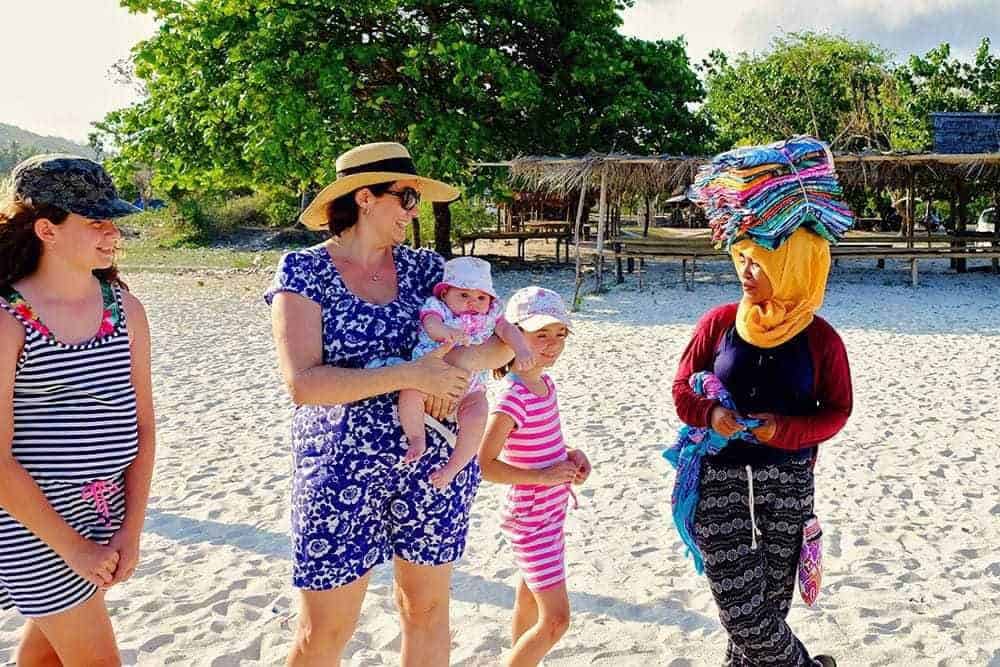 On our list, we include 65 ways to say thank you in different languages; from how to say thank you in French; how to say thank you in German; to how to say thank you in Mandarin and Korean; and more!
How to Say Thank You in Different Languages
– A list of 65 different languages and dialects –
Here is a comprehensive list of how to say thank you in many languages; in 65 different languages and dialects in fact!
AFRIKAANS – dankie
ALBANIAN – faleminderit
ARABIC – shukran
ARMENIAN – Շնորհակալություն / chnorakaloutioun
BENGALI – Dhannyabad
BOSNIAN – hvala (HVAH-lah)
BULGARIAN – благодаря / blagodaria
BURMESE – (thint ko) kyay tzu tin pa te
CATALAN – gràcies (GRAH-syuhs)
CANTONESE – M̀h'gōi
CROATIAN – hvala (HVAH-lah)
COOK ISLANDER – Kia Manuia
CZECH – děkuji (Dyekooyih)
DANISH – tak (tahg)
DUTCH – dank u
ENGLISH (ENGLAND) – Thanks awfully
ENGLISH (AUSTRALIA) – Thanks Mate!
ENGLISH (NEW ZEALAND) – Cheers
ENGLISH (USA & Canada) – Thank you
ENGLISH (USA SOUTHERN) – Thanks y'all
ESTONIAN – tänan (TA-nahn)
FIJIAN – Vinaka
FINNISH – kiitos (KEE-tohss)
FRENCH – merci
GERMAN – danke
GREEK – ευχαριστώ (ef-hah-rees-TOH)
HAITIAN – mèsi
HAWAIIAN – mahalo (ma-HA-lo)
HEBREW – .תודה  / todah (toh-DAH)
HINDI – dhanyavād / shukriya
HUNGARIAN – köszönöm (KØ-sø-nøm)
ICELANDIC – takk (tahk)
INDONESIAN – terima kasih. (tuh-REE-mah KAH-see)
IRISH – Go raibh mile maith agat ("Go – Rev – Meela – Mah – Agut")
ITALIAN – grazie (GRAHT-tsyeh)
JAPANESE – arigatô (ah-ree-GAH-toh)
KOREAN – 감사합니다 (gamsahamnida)
LATVIAN – paldies (PUHL-dyehs)
LEBANESE – choukrane
LITHUANIAN – ačiū (AH-choo)
LUXEMBOURGEOIS – merci
MACEDONIAN – Благодарам / blagodaram (blah-GOH-dah-rahm)
MALAY – terima kasih (TREE-muh KAH-seh)
MALTESE – grazzi (GRUTS-ee)
MANDARIN – Xièxiè
MONGOLIAN – Баярлалаа (bayarlalaa)
MAORI – Kiaora Koe
MYANMAR – Jae Zu Din Pa De
NEPALI – Dhan-ya-vaad
NIGERIA – Yoruba (ese) Igbo (Daalu) Hausa (na gode)
NORWEGIAN – takk
POLISH – dziękuję (Jenkoo-yen)
PORTUGUESE – obrigado [masculine]  / obrigada [feminine] (oh-bree-GAH-doo / oh-bree-GAH-dah)
ROMANIAN – mulţumesc (mool-tzoo-MESK)
RUSSIAN – спасибо (spuh-SEE-buh)
SAMOAN – Fa'afetai (fah-ah-feh-ta-e – thank you)
SCOTTISH – Cheers
SERBIAN – xвала / hvala (HVAH-lah)
SESOTHO – ke ya leboha
SLOVAK – Ďakujem (JAH-koo-yehm)
SLOVENIAN – hvala (HVAA-lah)
SOMALI – waad mahadsantahay
SPANISH – gracias (GRAH-syahs)
SWAHILI – Ahsante (ah-sahn'-teh)
SWEDISH – tack
TAHITIAN – Maururu
TAMIL – nandri
THAI – kop khun
TIBETAN – Thuk Ji Chhe
TURKISH – teşekkür ederim (teh shek uer eh der eem)
UKRAINIAN – Дякую (DYAH-koo-yoo)
VIETNAMESE – Kam ouen
WELSH – diolch (DEE-ol'ch)
YIDDISH – a dank
ZULU – ngiyabonga
Being able to say thank you in multiple languages is truly invaluable as a traveller.  In actual fact it is one of the first things we ask our taxi driver as we leave the airport upon arrival – 'How do you say hallo?', 'How do you say thank you?' and 'How do you how much?'.
Do you want to Learn a New Language?
With apps and online programs, it is easier than ever to learn a new language.  Sign up for one month and learn the basics or sign up on a month-by-month basis and become an expert!  We love Babble as they offer interactive language learning courses, download the app and learn on the go!
I hope you have found our list of of ways to say thank you in different languages interesting!
–
Grab the Infographic:

Related Post:  Learn how to say hello in different languages
–
Leave us a Comment:
Do you know of any other ways to say thank you that we might have missed?
What is your number?  How many times can you say thank you in foreign languages?
We have listed 65 ways to say thank you in various languages; I would love to know which way is your favourite?
* Wanderluststorytellers.com is a participant in the Amazon Services LLC Associates Program, an affiliate advertising program designed to provide a means for sites to earn advertising fees by advertising and linking to amazon.com and other Amazon sites.