When traveling from Danang to Hoi An, in Vietnam, there are a few options you can choose.
Those options are a private car, taxi, bus or, if you are really adventurous, you can rent a motorbike.
Whilst Uber and Grab (a local type of Uber company) are available in the area, chances are your ride won't get accepted, so it is best not to depend on one of those options.
Find below all the information on how to get from Danang to Hoi An (& Vice Versa).
Note: We have other transport guides as well, check out our guide on how to get from Hanoi to Sapa here, and a guide on how to get from Hanoi to Hoi An here.
For further detailed information on transfers, please read the info below!
How to get from Danang to Hoi An
Below you will a detailed guide on to get from Da Nang to Hoi An.
Option 1: By Bus (Most Popular Method)
There are three different ways to get from Danang to Hoi An. The first is the Hoi An Express Shuttle Bus.
This one is popular if you are arriving at the airport.
If you have been staying in Da Nang City, it would be easier to either catch the Sinh Tourist Bus or simply hop on the public bus.
Please find more info on each of these below.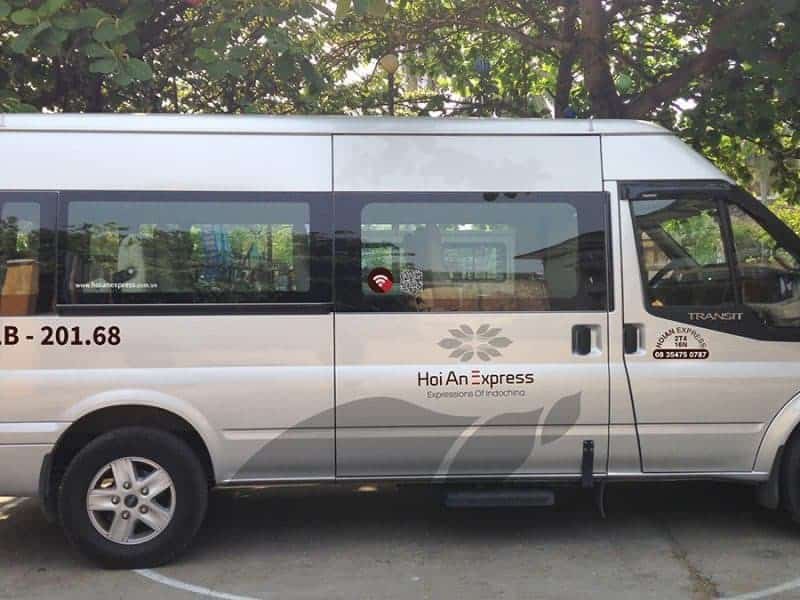 Source: Hoi An Express
Journey Time: 60 Min
Perfect For: Those who arrive at the airport
Cost involved: US $6
Click here to check prices for the Hoi An Express Shuttle Bus
The Hoi An Express bus from Danang Airport to Hoi An is one of the most popular and convenient ways to travel to Hoi An. The bus is very affordable and the drivers drive safely.
Your driver will be waiting for you at the airport upon arrival and will drop you off at your hotel (if it is located in Hoi An city center).
The bus is comfortable & air-conditioned.
They have different-sized vehicles to suit your needs or you could even choose to use their shared vans.
This is our preferred way to get from the airport to Hoi An, as well as from Hoi An to Danang.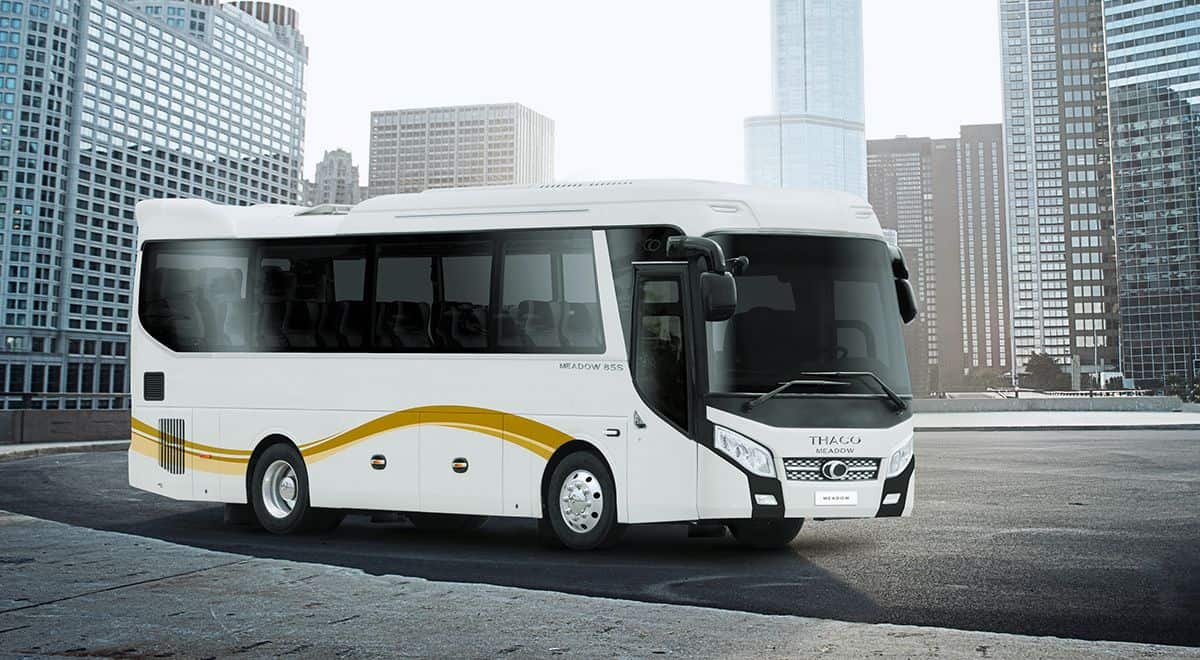 Journey Time: 45 Min Cost involved: US $3
Perfect for: Those who are already in Da Nang city
Click here to check prices for the Tourist Transfer Bus
This bus leaves from Da Nang Office 15 Thanh Luong 25. So make sure that the departure destination is close to your accommodation.
This Danang to Hoi An bus is designed for tourists and only costs a fraction more ($3) than the public bus ($1).
I wouldn't even think twice about the extra $2 to have air conditioning and a comfy seat for the 45min bus ride ahead.
Plus it has storage space for all your luggage (something that can be a pain when you go on the public bus).
3.
Public Bus
Journey Time: 70 – 80 Min
Cost involved: US $1
To encourage tourists to visit Da Nang, the government launched a direct bus from Danang to Hoi An – Bus #1 – for just 18000 VND ($1) – 30 0000 VND (with luggage).
Although the bus is the cheapest travel option, it will take a bit longer, 70 to 80 minutes to get to Hoi An.
The bus is well known as the yellow bus.
Bus services start at 5:30 in the morning and stop operating at 18:00, with a frequency of 1 bus every 20 minutes. (This depends on the season, expect the bus to operate less frequently during low or shoulder season).
For your convenience, you can use Google Maps and its schedule explorer to pinpoint the nearest bus stop near your stay and check out the Danang to Hoi An bus timetable.
The ticket for this Da Nang-Hoi An bus can be easily purchased on the bus but make sure to pay the right price: 18000 VND (1$).
If you are arriving from the airport this option will be less convenient because the nearest bus stop is around 3km away.
It can also be a pain if you have plenty of luggage for you, but this option works well for backpackers.
Option 2: Private Car Transfer
Journey Time: 45 min +
Cost involved: US $16- $80
Click here to check prices for private transfers
Next, you have the option of grabbing a private car transfer.
These are especially convenient if you are traveling from Da Nang Airport to Hoi An or vice versa (from Hoi An to Danang Airport).
Your first option is to simply inquire at your hotel to see if they can pick you up.
Once you have booked your stay in Hoi An, ask your hotel if they can arrange for a private car to pick you up.
If they can, then you will want to give them your pickup address at the airport or wherever you are staying in Da Nang.
The cost of a private car can vary, so it is a little hard to figure out an exact budget, but this is the easiest way to travel from Da Nang to Hoi An or vice versa (from Hoi An to Da Nang).
Make sure to compare the price they give you against 12GOAsia's price of only $16 USD for the vehicle. Hotels often charge more in comparison to sites online.
Click here to grab your private taxi transfer through 12GOAsia.
If you are traveling in a group or with your family, this will be the best way!
In addition, a private car pickup is available at any time whereas taxis are more difficult to find during the quiet hours of the day.
O

ption 3: Taxi
Journey Time: 30 – 45 min
Cost involved: US $15 – $23
Many locals and frequent travelers to the area consider a Da Nang to Hoi An taxi the easiest way to get to Hoi An from Da Nang.
You won't have to make any prior arrangements since you can catch a taxi from the city center or the airport.
It is important to know though that the taxi drivers drive really fast and I would even go as far as to say that they are pretty crazy drivers! Often there won't be any seat belts in them either.
For many solo travelers, this might not be a problem, but for families, I'm sure you would invest a bit more money for a safer means of transfer!
A taxi from Danang Airport to Hoi An will take you around 30 – 45 minutes and will cost you from $15 to $23 USD.
Make sure your driver is aware of where to take you to. Some of them may not be very familiar with the Hoi An area and they could end up driving in circles trying to find the destination.
There is a new service that was recently launched at the Da Nang airport – Dichungtaxi (shared Taxi).
By booking your taxi on their site, the system will send your booking information to drivers and have them pick you up.
You can share the taxi with other people heading the same way by choosing the "share" option.
If not, you can always take the "private" taxi as usual. This new service is potentially cheaper than other normal options and can also help you avoid being scammed since their pricing is fixed based on the package you select.
Shared taxis will be around 150.000 VND ($7) and the normal one will be 220.000 VND ($10).
Option 4: Motorbike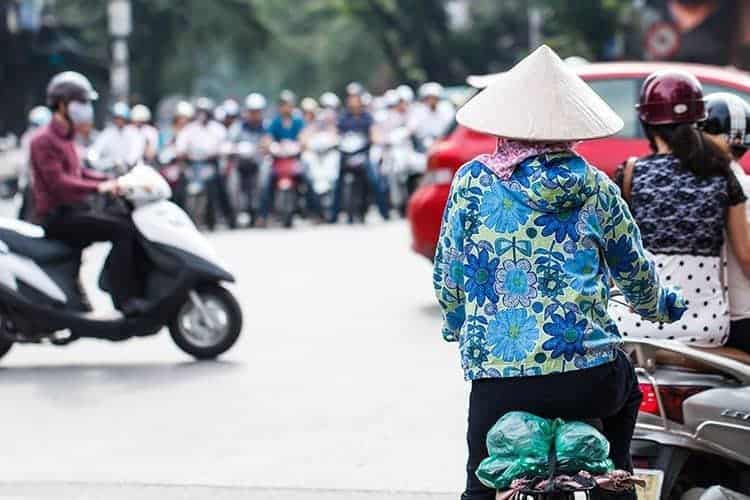 Journey Time: 35 – 45 Min
Cost involved: US $6
If you are truly the adventure type, then this last option will be perfect for you! Traveling by motorbike is the preferred option for most locals and is actually the most popular form of transportation in Vietnam.
If you choose this method, please be careful and make sure you have experience with driving a motorbike.
Traffic in Vietnam is quite different from traffic in other countries; driving requires a special set of skills like situation awareness, good reflexes, excellent balance, and guts of steel. If you do not have this set of skills, do not take the risk.
There are 2 common types of motorbikes: manual and automatic transmission.
Automatic bikes are the first choice for most travelers because they are easier to handle, especially in light of the slew of new traffic laws you must obey. Just turn the throttle and it will run.
However, if you also plan to visit other nice spots in the area including Son Tra peninsula or challenge yourself to Hai Van pass, then the manual bike will be more suitable since you can manually control the torque (force) which is essential to going uphill.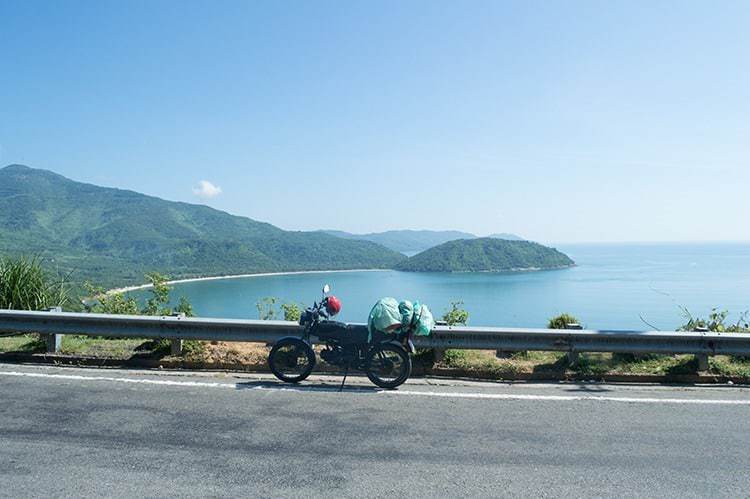 Remember to check the bike carefully: tires, horn, brakes, and lights. If you have rented a manual bike, then also check the gear pedal.
Make sure all functions are in good condition and take a photo of the shop, with contact and address, or take their business card with you in case something unexpected happens on the way and you need their assistance.
The average price for a bike rental is 130,000 – 200,000 VND ($6) per day. Some shops will give you a discount for a longer rental period.
There are a few small shops that provide bike rentals for less than 130,000 VND per day but this is because they rent older motorbikes; make sure nothing is missing or wrong with the bike if you choose this option.
You will have to leave your ID or your passport – sometimes they allow a copy – at the rental shop in order to rent a motorbike and ensure the bike's safe return.
You can either go directly to the shop to retrieve the bike or you can pay the shop extra money and they will bring it to your place.
How Far is Danang from Hoi An
Danang is around 40km from Hoi An.
Depending on your mode of transport, travel time could be anywhere from 30min to 90min.
Getting from Danang to Hoi An FAQ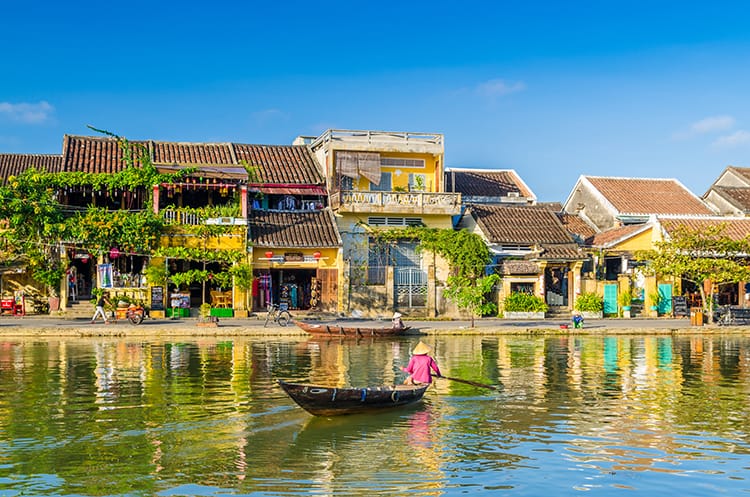 2. What is the easiest way to get from Da Nang train station to Hoi An?
The easiest way to grab a Danang to Hoi An transfer from the train station is either via private car transfer or via a taxi. 

It is pretty hard to get to the buses from the train station, so if you prefer not to catch a taxi (they are crazy drivers!) it would be best to pre-organize your transfer.

Throughout our travels in Asia, we personally found it cheapest and easiest to book our tickets and transfers through 12GOAsia.

Check prices for your private taxi transfer here.
3. What is the easiest way to transfer from Danang Airport to Hoi An?
If you are wondering how to get from Danang Airport to Hoi An, here are the easiest solutions for you. 

You could easily grab a Danang airport taxi as you leave the airport.
Taxi drivers in Vietnam are pretty fast and crazy drivers (and often there are no seat belts), so we prefer to organize our transfers with tourist companies as we know that they drive slower and more carefully.
Our recommended mode of transport from Danang to Hoi An is via the Hoi An Express Shuttle Bus.

Check prices for Hoi An Express Shuttle Bus here.
Final Thoughts on How to Get From Danang to Hoi An or Vice Versa
We hope that this guide on how to get from Danang to Hoi An has helped you plan your travel when wanting to travel from Hoi An to Danang or from Danang to Hoi An.
Let us know which method of travel you choose or have used to travel from Danang to Hoi An.