Hervey Bay is a magical place! I love it so much, that I have been there at least half a dozen times. It is a small place, quiet place. Place to unwind, to escape from the everyday routine and just relax. If you are searching for a romantic getaway or a family escape, you will find your own perfect Harvey Bay Holiday here! To find out more about what to do in Harvey Bay, click to read our post here!
Today is all about Harvey Bay Luxury Accommodation options. YES! That's right! In my opinion, the best way to see and enjoy the bay is by indulging in a stay at a hotel or a resort that has it all. Forget about cooking; forget about cleaning. When you are here, you are here to do nothing else, but relax. Focus on you for a change, treat yourself, have a good time and have no regrets. You deserve it!
–
Hervey Bay Luxury Accommodation Options for a Perfect Hervey Bay Holiday!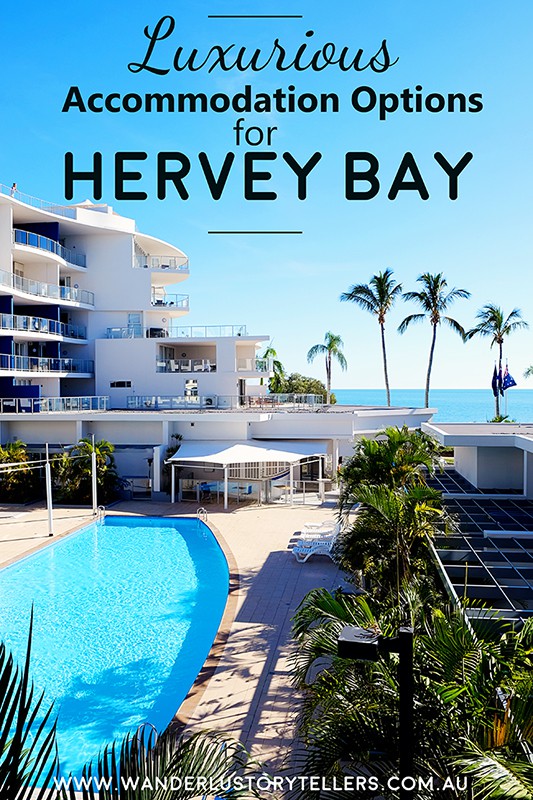 Ok, so we did all the searching for you and found the best places to stay in Hervey Bay.  All of the choices are focused on luxury in mind and within easy access to all that the bay has to offer.  All you have to do is to choose which one from the list you prefer, haha… or plan some return trips in order to try them all.  Up to you!
Quick Guide: Best Luxury Accommodation in Hervey Bay
After a quick list of the top 3 best luxury hotels in Hervey Bay, Australia? Here are the best hotels:
4-star hotel & spa and each room has a spa/jacuzzi
Views of Hervey Bay Pier
New modernized pools
Luxury apartments with private balconies or ocean view
Fitness center, sauna & tennis courts
Heated pool & outdoor spa pool, children wading pool
5-star hotel, rooms all have private balconies
Ocean views
Swimming pools
---
–
The Best Luxury Hotels in Hervey Bay.
Here is a list of the best Hervey Bay Hotels in Australia.
Oaks Hervey Bay Resort & Spa
(pictures by hotelscombined.com)
Our number one pick is this super cool Oaks Hervey Bay Resort & Spa.  Why?  Because we stayed here and we loved it!  We enjoyed our relaxation so much here, that we hardly even left the apartment.  Maybe my wife's pregnancy was the cause, maybe we just wanted to do absolutely nothing.  Does it really matter what the reason is?  Not really.  Do what you want, I say.
This Urangan Resort has got it all. When we searched for a hotel, we wanted to make sure that we booked a Hervey Bay hotel with a spa. Yes, every room has a spa/jacuzzi for a relaxing bubble bath. If you are like us, in-house dining is available. If you enjoying being a couch potato on holidays, then movies-on-demand got you covered. The view is amazing, especially at sunrise and sunset. Your room will most probably look out over the bay with a perfect gaze over to the famous Hervey Bay pier. Make sure, when you book to ask for the best views.
Oceans Resort & Spa is close to everything you need. Super comfy beds, rooms with all the bells and whistles, pools for adults and kids alike. There is a gym and a golf course. If you are travelling with little ones, babysitting services are available as well. Yup, everything you need is here. The resort is located right on the Esplanade, so you are close to all the yummy cuisine of many restaurants and boutique shops. The famous pier is just across the road, so make sure to go for a nice stroll.
Location: 569-571 Charlton Esplanade, Urangan, Australia
Star rating: 5 Stars
Room Rates: from $179AUD or $135 US p/n.
Occupancy: Singles, Couples and Family stay.
–
The Bay Apartments Hervey Bay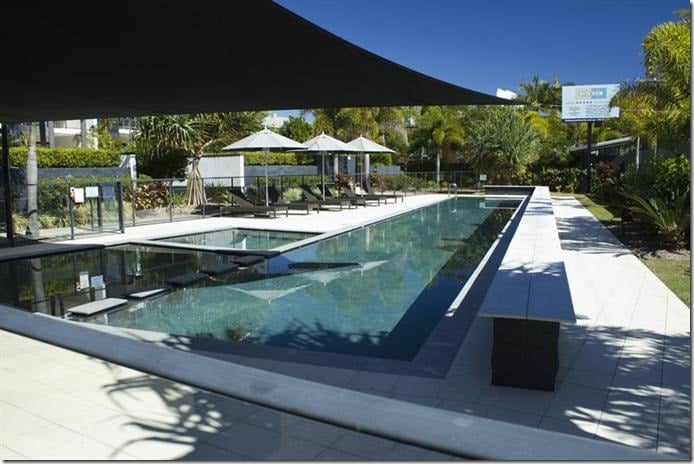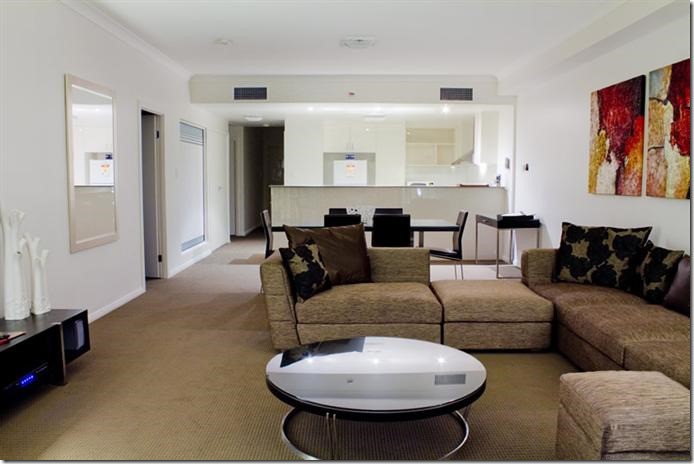 (pictures by hotelscombined.com)
The Bay Apartments Hervey Bay are located in the heart of the bay. Opposite one of the best beaches, this holiday resort is in the perfect spot if you really do not want to drive. Please note that you can easily walk to anywhere if you like, or hire one of the funky four-wheeled bicycles and go for a ride along the amazing coastline.
The Bay holiday apartments Hervey Bay are packed to the brim with all you need as well. Super comfy, spacious, modern and contemporary apartments all with bay facing balconies. Make sure to book your apartment with a personal Jacuzzi. I think that will put a cherry on top of this delightful desert of a place.
When you venture out of your cosy room, you can choose from many activities on offer. Play some tennis or jump into one of the pools. Kids have their own pool here too. You can take advantage of a resort fitness centre or if you feel like relaxing to the max, you can chillax in a sauna. Choices are plenty! Either way, I think you will be very happy if you choose this place to stay in Hervey Bay.
Location: 371 The Esplanade, Scarness, Australia
Star rating: 4.5 Stars
Room Rates: from $233AUD or $176 US p/n.
Occupancy: Singles, Couples and Family stay.
Ramada Resort Hervey Bay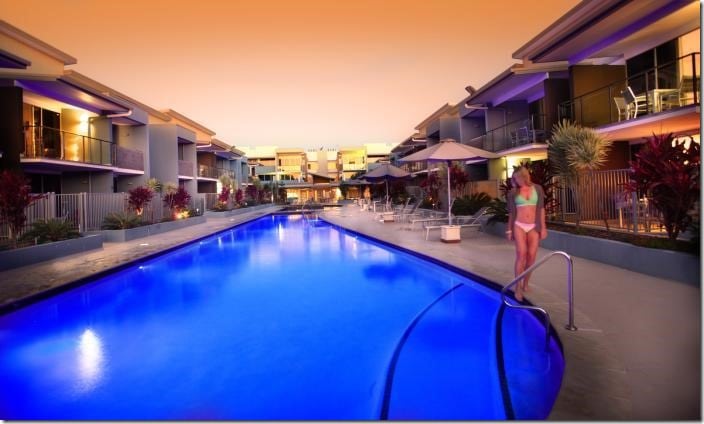 (pictures by hotelscombined.com)
Yup, this one has caught my eye too! This one offers comfortable and stylish living. I can definitely see myself sitting on one of those balconies for sure. Although this resort is a little bit more enclosed in comparison to the previous two Harvey Bay accommodation options, I think this is an easy choice if you want to be closer to the marina.
Ramada Resort Hervey Bay is located only a few steps from the marina and also has easy access to the Hervey Bay Botanical Gardens. I think you might like the beautiful gardens like we did. The rooms have ocean views, movies-on-demand, private balconies and all the bells and whistles of modern living inside. After a day full of exploring you can chill out in the resort Cafe with some snacks and more, or choose to have a few drinks in the lounge bar. Which one will you go for?
Location: 627 Charlton Esplanade, Urangan, Australia
Star rating: 5 Stars
Room Rates: from $135AUD or $102 US p/n.
Occupancy: Singles, Couples and Family stay.
–
Mantra Hervey Bay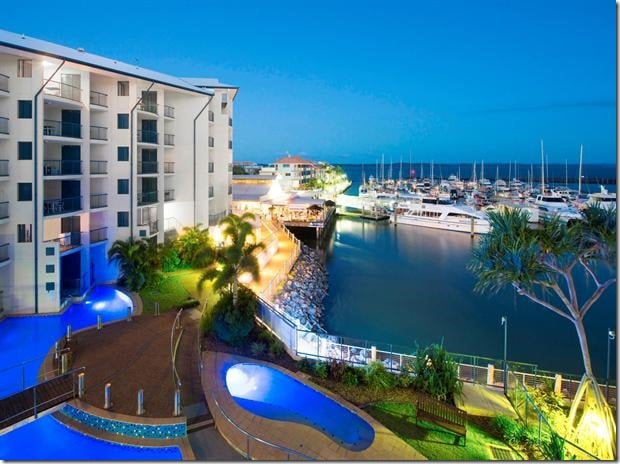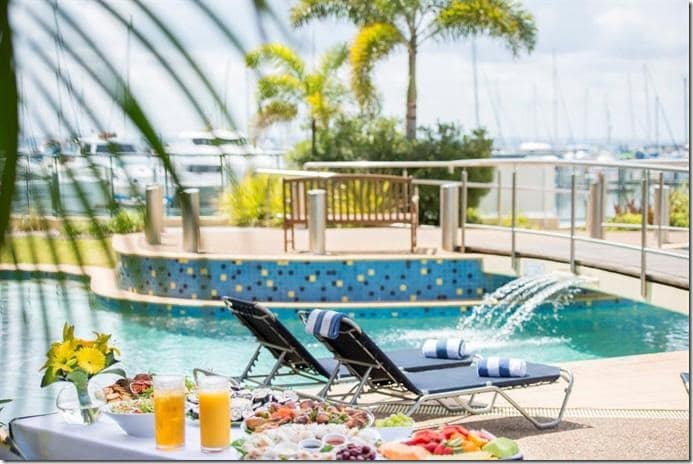 (pictures by hotelscombined.com)
I have stayed at this hotel a few times as well and I loved it! Wake up to a view over the marina and onto the biggest sand island in the world. Yes, you guessed it. It is Fraser Island. Check out our stories about this world famous island here. Got you interested? I think so.
Mantra Hervey Bay is a little older then the first three choices of our recommended best accommodation options at Hervey Bay. I reckon though, what lacks in the room decor, gets outweighed by what is on offer in the whole package. Don't get me wrong, you will have a great stay in a comfy apartment of your choice and you will love it too. All of the balconies face the ocean and have a spectacular view! If you are travelling with kids, the resort has babysitting services on offer. If you like to go for a ride along the bay, bicycle hire is available too.
Mantra is right next door to the marina, from where you can go on an adventure of a lifetime and go whale watching. Later in the day, you have an option of driving or grabbing a taxi to the town for dinner at one of the numerous restaurants on the Esplanade. Alternatively, you can stay close and go next door to the Boat House for a hearty meal with a view on the beautiful boats. Personally, I would order dinner in and enjoy the balcony with a glass of red or two. Yup, that's me done.
Location: Buccaneer Drive, Urangan, Australia
Star rating: 4 Stars
Room Rates: from $125AUD or $95 US p/n.
Occupancy: Singles, Couples and Family stay.
Over to you!
Which of these Hervey Bay Luxury Accommodation options did you click on?
–