Hervey Bay, QLD (Australia) is well renown for its tourist attractions such as the glorious whale watching tours or even for an easy hop and skip over to the World heritage listed Fraser Island itself.
You can easily spend 2-3 days in Hervey Bay itself, so if you want to incorporate some day trips from Hervey Bay, think about adding add a few more days!
If you are heading to this popular town and want to take a list with of 'things to do in Hervey Bay' to keep you busy, here is our favourite Hervey Bay activities.–
–
Where is Hervey Bay?
Hervey Bay is located just 3½ hours drive (or a 45-minute flight) north of Brisbane.
The distance from Brisbane to Hervey Bay is 290km, however, there are plenty of wonderful little pit stops you can make along the way if you do decide to tackle the drive down.
Why not take a detour through the beautiful Glasshouse Mountains on the Sunshine Coast, or drive along the coastline to see some beautiful coastal towns such as Caloundra, Mooloolaba, and Noosa.
Once in Hervey Bay, Queensland, you will be grateful to have access to a car as it will make exploration heaps easier!––
–
What To Do In Hervey Bay, QLD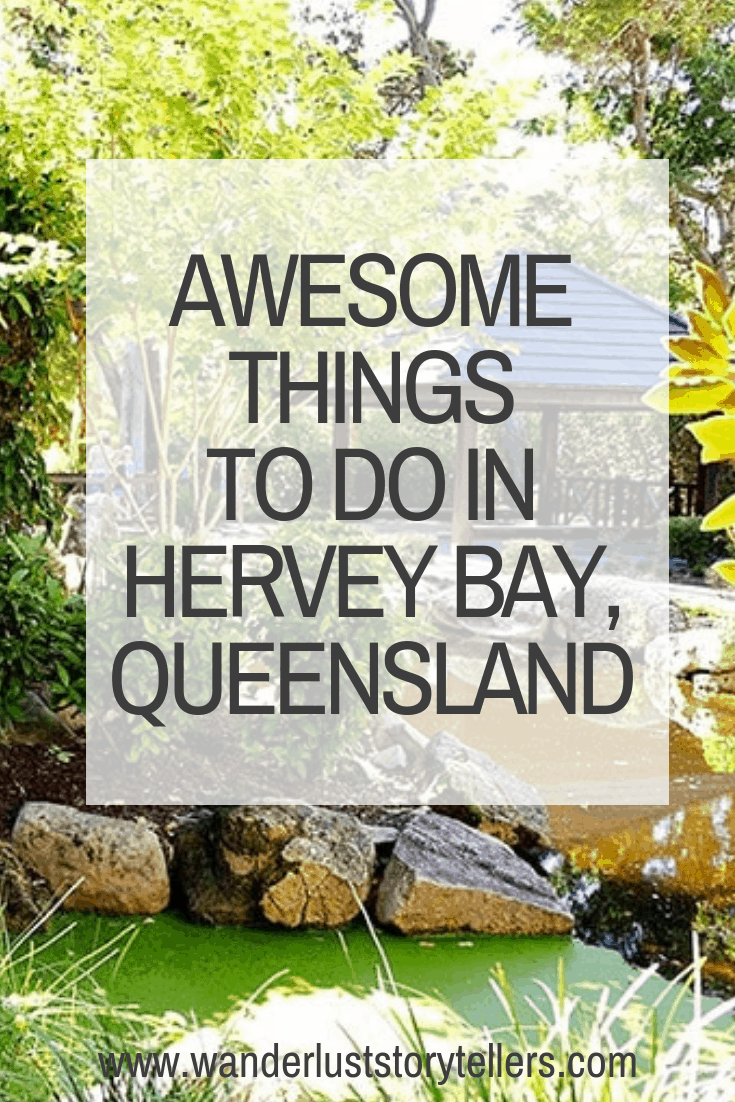 Find below our lists of what to do in Hervey Bay:
 The Top 2 Things to do in Hervey Bay
 5 Free things to do in Hervey Bay
 Some activities to splurge out on (if you have the funds)
 Things to see and do in Hervey Bay for kids
–
Most Popular Hervey Bay Attractions
Find below the top 2 best things to do in Hervey Bay.  Most people typically head to Hervey Bay to either see the whales or in order to hop over to Fraser Island.
1. Hervey Bay Whale Watching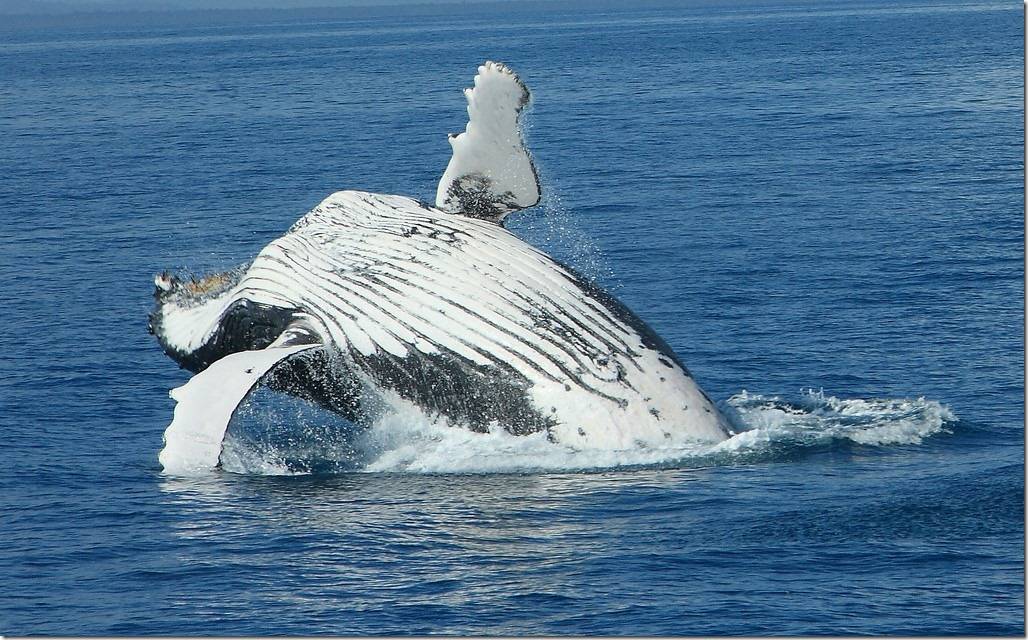 Image Credit: Michael Dawes l FLICKR
If you are wondering what to see in Hervey Bay, then Whale Watching should be at the top of your list.
Whale watching in Hervey Bay happens to be one of the top reasons why people visit this lovely destination on the Fraser Coast.  Whale Watching is seasonal and therefore you will need to time your holiday to Hervey Bay around July till October.
During the whale season, you will find loads of tour options available to choose from.   Why not enjoy a morning whale watch tour or an afternoon tour or maybe even a 3/4 day tour which includes some yummy buffet lunch!   If swimming with the whales takes your fancy, a booking on the Quick Cat II will allow you to get up close and personal with the humpback Whales.

–
2. Hervey Bay to Fraser Island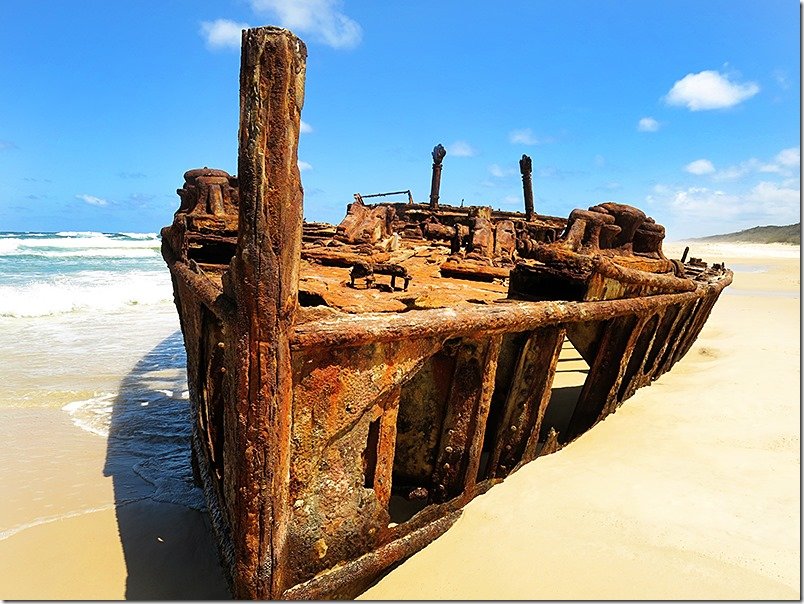 Getting to Fraser Island from Hervey Bay:  Barges and ferry services run daily from River Heads (20 minutes from Hervey Bay).  The Fraser Venture barge runs 3 return services daily from River Heads to Wanggoolba Creek; whilst the Kingfisher Bay Ferry runs three return services from River Heads to Kingfisher Bay Resort.  You can find more information and pricing on the website here.
What to do on Fraser Island:  There is so much natural beauty to explore on Fraser Island that you truly do need more than one day to explore this island in all its glory!  Read about our adventures down the 75 Mile Beach and explorations of the natural miracles of the inland tracks and lakes.
Fraser Island tours from Hervey Bay:   You have an option of taking a day trip or a multi-day trip across to the World Heritage listed Fraser Island.   If you would like to save costs, why not grab the combination Whale Watching and Fraser Island 2 day tour! Or if you would like to get off the tourist tracks, hop on this small group Remote Fraser Island day tour!
______________________
Top 5 Things to do in Hervey Bay for FREE!
After some free thing to do at Hervey Bay?  Well, we have a great selection of beaches, markets walks on piers & more for you!
1. Enjoy relaxation on one of the Hervey Bay Beaches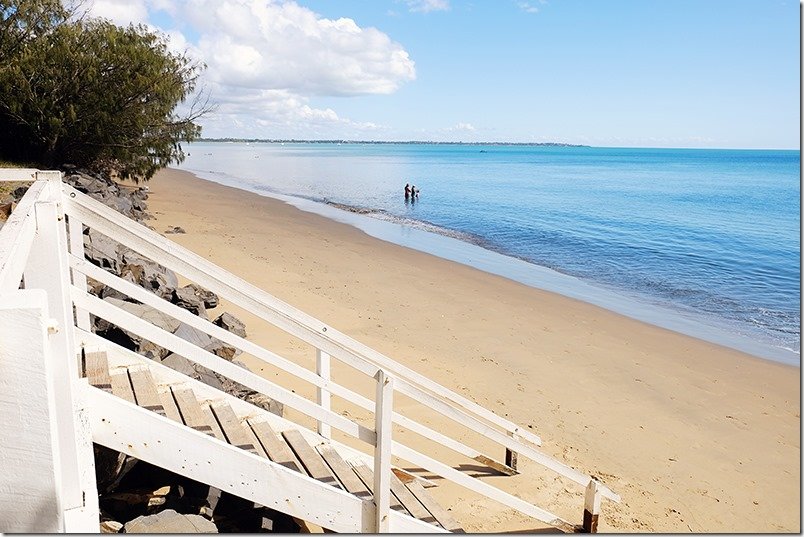 Time on the beach in Hervey Bay is a truly peaceful and relaxing experience.  The beach itself, being a bay, is a very calm and quiet one.  You will find no surf and big waves here, as the beach at Hervey Bay is protected by Fraser Island.  Rips are very rare here as well, so you will find lots of families enjoying peace, knowing their kids are safe in the waters.
Fishermen line the shores trying to catch the fish of the day, and those that enjoy water sports are out in the bay making the most of the beautiful weather.
–
2. Hervey Bay Esplanade

Walk and Cycle Trail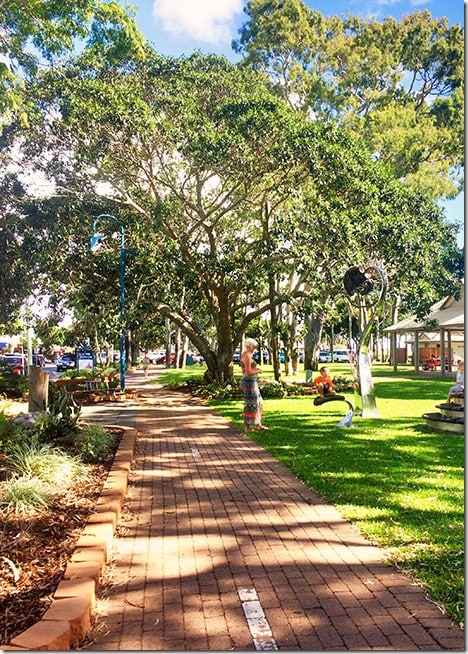 The pathway along the peaceful Hervey Bay Esplanade stretches a whopping 14km, all the way from the Urangan Harbour at the eastern end of the city until Batakers Bay in the west. This beautiful waterfront, tree-lined pathway is a popular feature of Hervey Bay.
Walkers and bikers alike enjoy a bit of daily exercise along this shared pathway. Bike hire is easy from one of the various companies lining the street.  There are plenty of amenities along the walk, loads of playground pit stops for the kids to enjoy and some delicious cafes and interesting shops lining the street on the opposite side.
  –
3. Enjoy a walk down Urangan Pier, Hervey Bay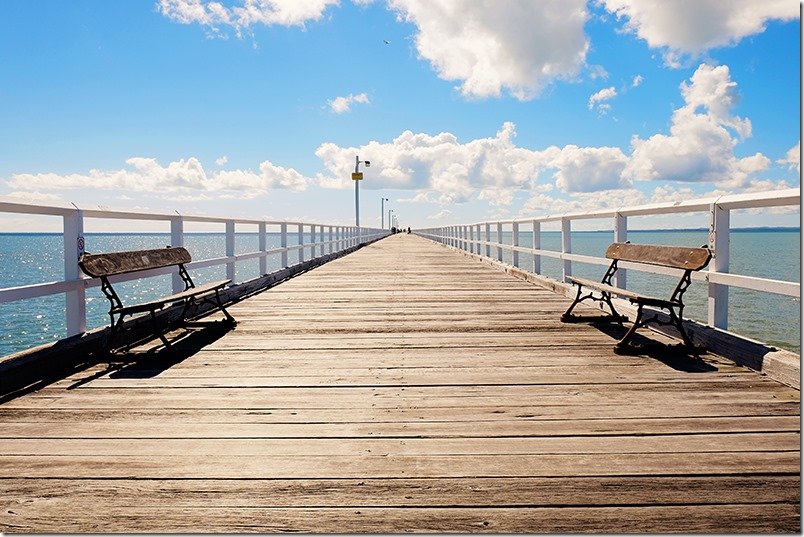 The historic Hervey Bay jetty is one of the top Hervey Bay points of interest.  Built around 1917, the Urangan pier actually used to be 1107 metres in length!
We were told by a local that boats used to stop at the end of the pier to offload their goods.  Around 1985, a section of the pier was demolished, leaving 868 metres of the pier behind.   The pier is interesting as you can see some keen fishermen and their sons trying out their hands at catching some local seafood prizes!
A walk to the end is a MUST and for those not keen on walking, some benches along the way will provide you with a peaceful spot to take it all in.  We found it interesting to see the pier at both high tides when the water surrounds the pier in its entirety as well as in low tide when the water recedes almost all the way to the entrance of the pier!  Make sure you visit this Hervey Bay Landmark!
–
4.  Enjoy a lazy afternoon at the
Hervey Bay Botanical Gardens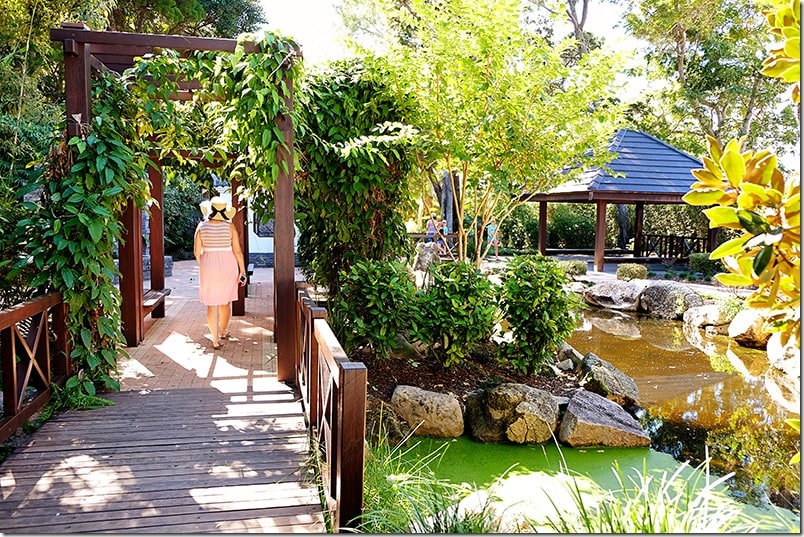 The Botanical Gardens in Hervey Bay might not be the most magnificent or largest in size compared to other botanical gardens, but it does make for a lovely relaxing, peaceful way to spend an afternoon.  There is lovely green lawns to enjoy a picnic and whilst you are there, don't forget to stop in at the pretty Chinese themed gardens.  The kids will also enjoy spotting the fish and turtles in the pond at the Hervey Bay Botanic Gardens as well.
5.  Browse the stalls at one of the Hervey Bay Markets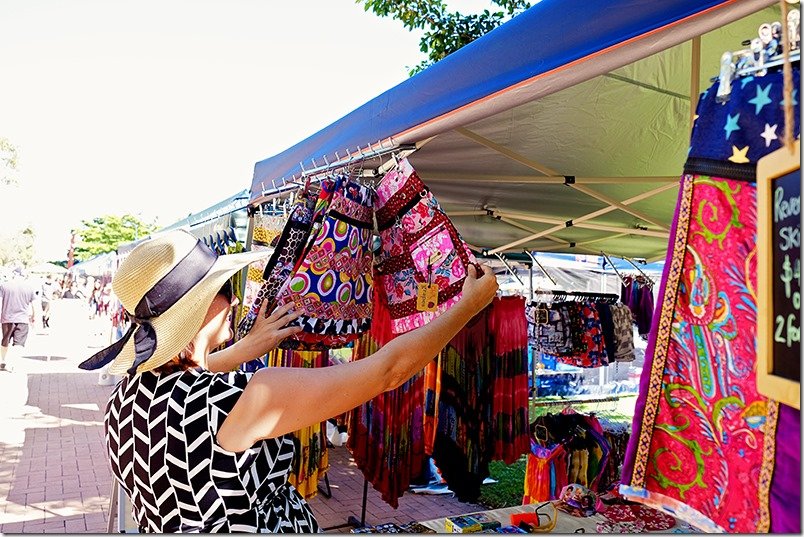 There is a choice of various types of markets in Hervey Bay, depending on the day of your stay and what you would like to see.  We enjoyed strolling around the Pier Park Family Markets and found this awesome stall that sells the most ingenious handmade skirts!  The skirts are reversible, adjustable, and zip and pouch detach so you can wear it with other clothing.  Truly, the possibilities of these skirts blew me away, but it was the gorgeous colours and pattern design combinations that I fell in love with!!  Aren't they gorgeous!?
Pier Park Family Market is on every 1st and 3rd Saturday of the month, from 7 am – 2 pm, in Pier Park
Torquay Beachside Market is every 2nd and 4th Saturday, from 8 am – 1 pm, Torquay Esplanade
Nikenbah Market is on every 1st and 3rd Sunday, from 6 am – 12 pm, Nikenbah-Dundowran Road
Creative Showcase Artisan Market is on every 3rd Sunday at the Hervey Bay Community Centre
Koala Market is on every 2nd, 4th and 5th Sunday of the month, from 6 am – 12 pm at Kruger Court
Maryborough Heritage City Markets is on every Thursday from 8 am – 1:30 pm at Adelaide and Ellena Streets
______________________
Some Unique & Fun Things to do in Hervey Bay
After some truly romantic things to do in Hervey Bay?
Champagne Sunset Sail Cruise: A sunset cruise is a perfect choice of what to do at Hervey Bay for those in-love! Enjoy 90 minutes of sailing whilst nibbling on a delicious finger food platter and some sparkling wine.
Hervey Bay Adventure Flight: Looking for something that is still romantic, but a touch more exciting than a cruise?  For my top choice of romantic attractions in Hervey Bay, why not spoil your loved one with a scenic flight over Hervey Bay.  This is definitely an experience that your partner will always remember.  Choose between 10, 30 or 60-minute flights.
After some Adventure & Adrenaline Tourist Attractions in Hervey Bay?
Hervey Bay and Fraser Island Jetski Tours: One of the best ways to enjoy a bit of Hervey Bay sightseeing is from the top of a jet ski in the ocean!  Grab a jet ski and have some fun!
Looking for some things to do around Hervey Bay?
Great Barrier Reef Day Tour from Hervey Bay: For a brilliant option of what to do around Hervey Bay, why not head out for a day at the Great Barrier Reef?  After all, you can't come all this way to Southern Queensland and not head out to one of the top destinations in Australia!
______________________
Things to do in Hervey Bay for Kids
Below you can find a list of the top 5 Hervey Bay tourist attractions that are perfect for kids! There is plenty of stuff to do in Hervey Bay for the young ones, from a water park to museums, go-karts & more!
1. Wetside Water Park Hervey Bay
The very popular Hervey Bay Water Park is a hot favourite for local families as well as families who are having a Hervey Bay holiday.  This water park is so popular because the entrance is absolutely FREE!!  Wetside Hervey Bay features fountains, interactive play equipment, water slides, surfing, tipping buckets, a giant water screen as well as a special dedicated play area for under-5s.
The site also has a coffee shop (great for us parents!), viewing decks and boardwalks as well as educational displays.  This is also one of our top recommendations of things to do in Hervey Bay when it's raining.
–
 

2. Reef World Hervey Bay
Reefworld Hervey Bay Aquarium is a very unique aquarium as it is an all-natural aquarium, using only sand filtered sea water as well as natural sunlight.  An aquarium is a perfect place for a family outing as you can participate in feeding the Green sea turtles, Sharks & large reef fish. They also have a touch tank, which I know most kids really love exploring.  You can find more information about Reef World Hervey Bay on this site here.
  –
3. 

Hervey Bay Historical Village & Museum
If you are wondering what to see in Hervey Bay which is on the more educational side, a highly recommended stop at this multi-award-winning Hervey Bay attraction is a must!  The Hervey Bay Historical Village & Museum is a great stop to learn more about the Wide Bay Area.  There you can visit over 3000 displays from the early years.
On Sundays from 1:00 pm – 3:00 pm, you can see a variety of demonstrations from woodturning, and blacksmithing to log sawing.  Entry prices are very affordable: Adults $10,  Students (14 and under) $3 and children under school age are FREE. 
  –
Popular Restaurants in Hervey Bay
Urangan Boat Harbour is home to the Boat Club where you can enjoy a scrumptious lunch!  The view over the Hervey Bay Marina simply adds to the atmosphere!
Paulo's Pizza Bar is great little pizza and pasta joint with a lovely atmosphere!  We had a delightful dinner there!
Coast Restaurant & Bar is rated as the number 1 restaurant, according to Tripadvisor.  So it might be worth it to treat yourself to dinner one night.
Eat. at Dan & Steph's is a popular little joint not only due to the fact that you will get to enjoy yummy food but also because Dan and Steph (the owners) were the winners of the 4th season of My Kitchen Rules.  Why not go and say 'hello'.
–
Luxury Hervey Bay Accommodation: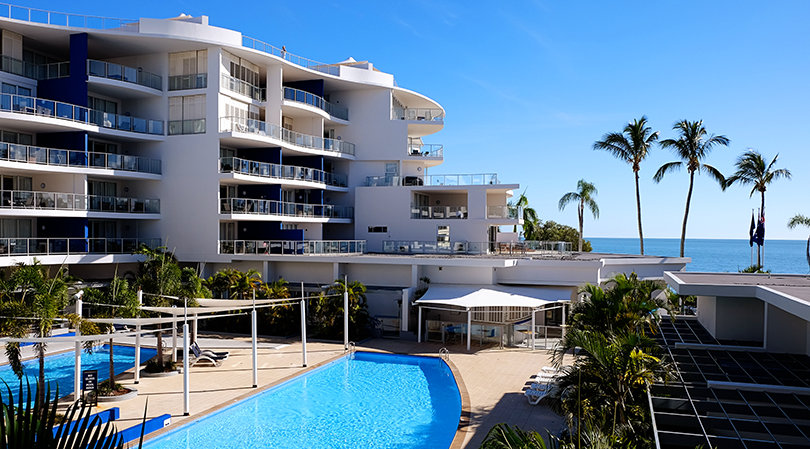 If you are still hunting for a gorgeous place to stay at whilst in Hervey Bay, we have you covered!  Forget about the hours of research and simply hop over to our carefully selected list of luxury accommodation options here.
–
Hervey Bay offers you a peaceful holiday experience.  Slow-paced laid back with beautiful scenery surrounding you!  If you have time, we truly recommend hopping over to Fraser Island for a few days as well!  Hervey Bay is a great destination for any type of traveller from Solo to Backpacker to Couples as well as Family.  You will find various Hervey Bay activities to suit each person.  We loved our little stay, and despite dragging around my 31-week pregnant belly, we loved exploring and soaking in the atmosphere.
Over to you, which of the attractions on our list of 'things to do in Hervey bay' caught your attention?
–
Please note that affiliate links are a part of this post, using our links doesn't cost you any extra and will save you time!  Thank you for supporting our website, we appreciate it!