Are you wondering what is the best way of checking an FAA-approved car seat on an airplane?
Traveling on a plane with kids is hard enough already. There is a dozen of things that you need to think about, such as what to do with the pram, how many travel suitcases you will need to take with you.
Not to mention the checking of all of these items whilst your juggling your baby on your other arm.
Well, let me take those worries away a little, by letting you know which are the best ways of checking a car seat at the airport.
Checking a Car Seat on an Airplane
When you are traveling on an airplane, there are three choices of checking in a car seat (or your travel booster seat).
There are three options for checking the car seat and you can opt to check it at the gate, on the plane or carry it on board with you.
Reading below will ease up your travel stress for how to check the car seat when you travel with a kid that's within the age range for using a car seat.
Tip: Check out our choices of best car seat for airplane here.
Checking a Car Seat on an Airplane as Luggage
The easiest way to deal with your car seat when traveling on the plane is to use the option of checking in a car seat at the airport as luggage.
And if you didn't know already, items like a car seat and travel car seat stroller are free to check in.
These also do not add up to the number of permitted suitcases that you take.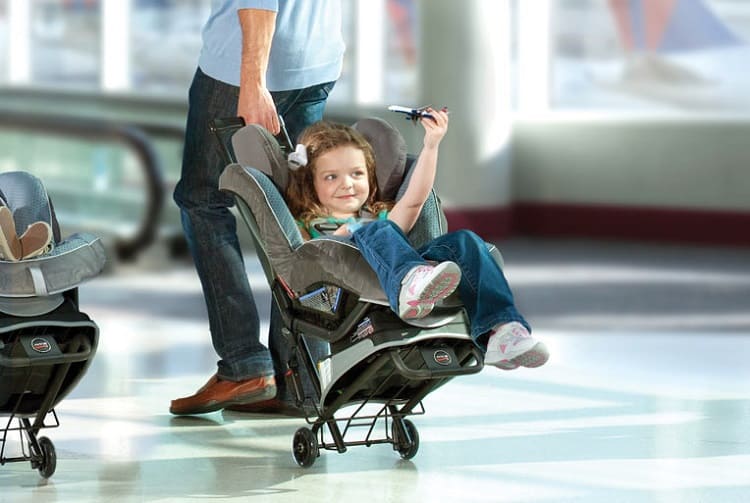 The smooth transition here and once everything is checked in, you have nothing else to worry about or tag along, apart of your kids of course!
Haha… Joking aside, this is our preferred checking in car seat option!
Checking Car Seat at the Gate
Depending on what type of car seat you are traveling with or if your child prefers to sleep in one whilst you await your departure, you can choose to check your car seat at the gate instead!
Sometimes it is an easier choice between the two. Crying babies hanging on your shoulder whilst you are navigating through the corridors to the gate is not always fun. Just saying.
Gate checking a car seat and stroller are both free and easy options.
Simply go straight to your gate and before you start boarding the plane, let the gate assistant know to gate check your car seat.
Make sure, of course, to have your car seat and stroller tagged and ready to go.
Tip: Make sure to use some sort of protective bag or a luggage strap to tie up any loose car seat straps.
This way you will minimize any potential damage to the car seat.
Car Seat on an Airplane – Carry-On
Providing that you have purchased a separate seat on the plane for your child and your kid's car seat is FAA-approved, you may be able to take the car seat on board as a carry-on.
In those cases, you will be required to purchase a ticket for the window seat for your child.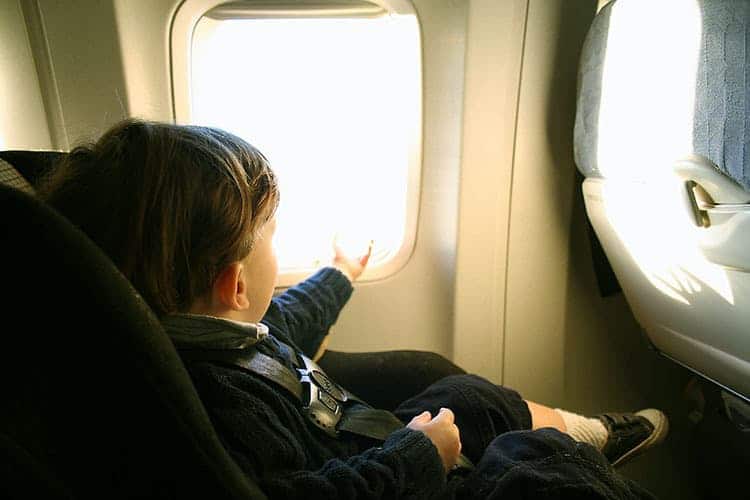 This is the only seat that the travel car seats are allowed to be installed on. It is a no-brainer here.
If you have traveled in economy class before, you will know exactly what I mean. And if you don't, then here it is.
The seats of economy class are positioned very close to one another (talking about the seat in front of you), so movement is limited.
Whether you choose to check your car seat at the gate or whether you choose to take your travel car seat on board the plane both options are simple and easy.
I know that at first, taking a car seat on the plane idea may sound like it comes straight out of a too-hard basket, but as you see in reality, it is quite the opposite.
All it takes is a few simple steps and you will soon realize for yourself that checking a car seat on an airplane is in fact easy-peasy!
And don't forget when you return from your trip to clean the car seat – especially important if the car seat will be stored in a bag (to prevent it from going moldy).
Have you got the rest of your baby travel gear items sorted? Here is our guide to the best baby travel items.

Also, just in case you travel with a 2 or 3-year-old, here is our blog on travel car seats for 2-year-olds and car seats for 3-year-olds here.
Over to you:
Which of the checking car seat on plane options above do you tend to go with when you fly?
Have you ever had any issues with checking the baby car seat at the airport?