Are you after an ocean view accommodation for your next vacation with your family at the Gold Coast, then you came to the right place! Check out our honest Peppers Soul Surfers Paradise review and see if this hotel is the one for you?
Please note that we stayed at one of the hotel apartments that is privately owned and available to rent for holiday stays. We found this via booking(dot)com. All of the hotel facilities were available for us to use as normal.
Peppers Soul Surfers Paradise is a stylish and modern beachfront hotel. It is located in the heart of the Gold Coast in the far South-East Queensland in Australia, right on the doorstep of the border of New South Wales.
How to get to Peppers Soul Surfers Paradise
Firstly, let's check out the best ways to get to the hotel from both the Brisbane and the Gold Coast Airport here:
From Brisbane Airport
Here are the best ways how to get to Surfers Paradise from Brisbane Airport:
By Car:
Whether you hire a car at the airport or get a private transfer, this is the fastest way to get from Brisbane Airport to Surfers Paradise. The trip will take you approximately 1 hour and 15 minutes.
By Bus:
If you choose to take a train, the trip will take around 2.5 hours, and it compiles approximately 20 minutes of walking and catching one train and one bus. Doable, but maybe less fun.
From Gold Coast Airport
Here are the best ways of how to get to Surfers Paradise from Gold Coast Airport:
By Car:
Whether you take a private transfer or hire a car, the distance from the airport to the hotel is only about 35 minutes, which is half the driving from the previous option.
By Bus:
This option is a little longer and it will take you around 50 minutes. You will need to take one bus and one tram, and take a little walk to the hotel as well.
Peppers Soul Surfers Paradise Review
Not sure about you, but for us, when it comes to spending a holiday close to the beach, it is of utmost importance to get an apartment with the ocean view for sure.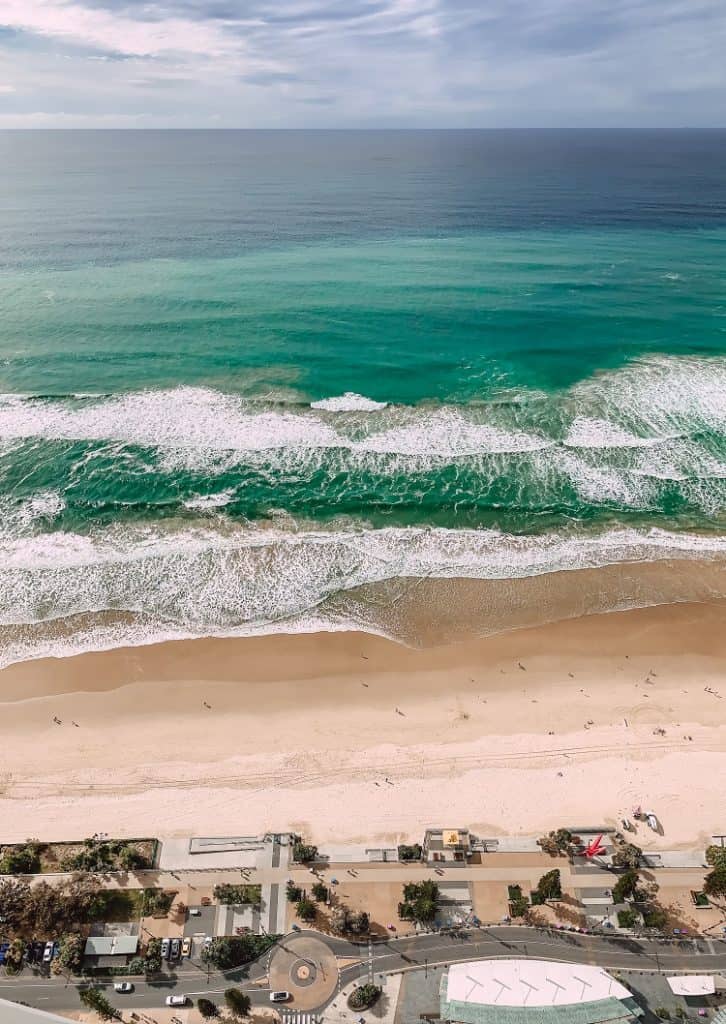 Although you can book plenty of hotel apartments with city views all the way to level 77, we opted out for the 53-floor beachfront apartment instead.
Let us tell you a bit more about it:
Book your stay at the Pepper Soul Surfers Paradise today.
Apartment No. 5304
This 3-bedroom apartment comes with all bells and whistles, and it is designed well to spread the kids around the place with plenty of room for everyone to breathe.
There are two ocean view rooms, first a Master Bedroom and second a double bed kids room. The third room is a windowless study with a fold-out couch, which is great for a teenager.
The apartment comes with a fully fitted-out kitchen, including a fridge/freezer, microwave, toaster, coffee machine, dishwasher, and more.
Master Bedroom
The Master bedroom has a good ocean view from a comfy king-size bed, comes with a good size TV and ducted air-conditioning (which runs through the whole apartment with control in the lounge room).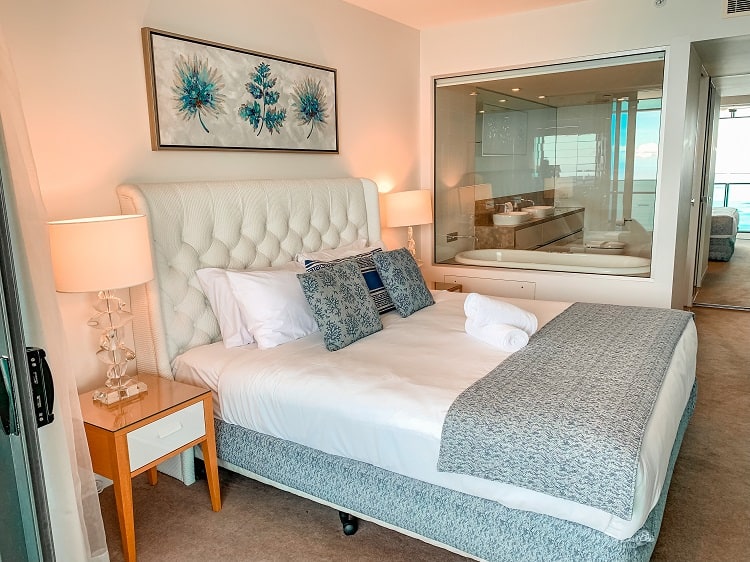 The bathroom has a decent size as well. There is a working jacuzzi bathtub (tested several times), large walk-in shower, and her's and his sinks, which is always good.
CONS: The water in the bathtub takes forever to fill. The taps on the sinks are not friendly to use very touchy. Water easily sprays everywhere when washing hands. Small downside, but annoying anyway.
Kid's Bedroom
This room comes with two comfy single beds, a good ocean view, and access to the balcony with the outdoor 4-seater dinner table.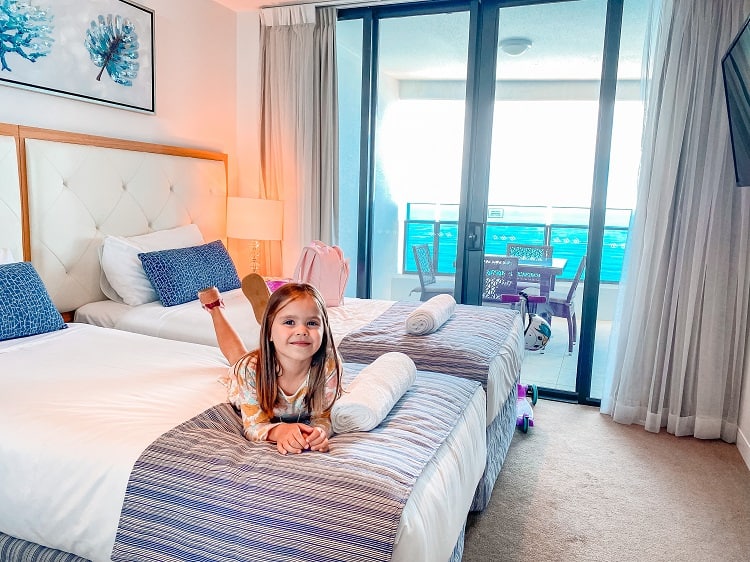 Lounge Room and Dining Area
The lounge room has enough sitting space for a family of 5, comes with a large TV, but no access to Netflix or other streaming services.
As to the dining space, there are only 4 seats and not much room to move around it otherwise. That being said, it does not affect the feel of the area.
Pros and Cons
Here are the Pros and Cons that we noticed whilst in the apartment
Pros:
Free Unlimited Wifi (in this private apartment)
Ducted air-conditioning
TV in every room
Good ocean views
Jucuzzi
Comfy beds
Bedrooms not next to each other, good for privacy
Good heated pools
Great outdoor areas
Good access to the restaurants and shops
Easy access to public transport
Cons:
Slow water floow in the bathtub
Sinks fiddly and spraying water, both in the bathrooms and when washing dishes in the kitchen
Small rubish bin
Some dishes not clean and quite grubby
No non-stick fry pans
Peppers Soul Surfers Paradise Facilities
Peppers Soul Hotel has plenty of well-thought-out facilities. Check them out here:
Pools
This hotel comes with a number of pools for the holidaymakers to enjoy. There is a large ocean view heated pool with a jacuzzi and plenty of day beds to lounge out on whilst getting a tan.
There is also a good size indoor lap pool, which is also heated. This space has a few sitting and resting areas too.
CON: This pool area is really noisy when attended by more than a few kids.
And if you feel like relaxing, there are two indoor jacuzzis and there is a sauna and a steam room as well. Please note that it takes around 15 mins for the steam room to get ready for you.
Secret Garden and More
This hotel's grounds are pretty well designed. You can stroll down to check out the Herb Garden, where (we assume) you can see a variety of herbs growing in the summer season.
The walkway takes you also to see the Secret Garden where you will find plenty of sitting, lounging, and BBQ areas, as well as a view over the shopping area.
Gym
Although we didn't use the gym on our stay, the gym seemed to be well fitted out and popular with visitors at the time we were here.
Shops, Restaurants and More
Pepper Soul Surfers Paradise is located right next to the main walking street on the popular Cavill Avenue.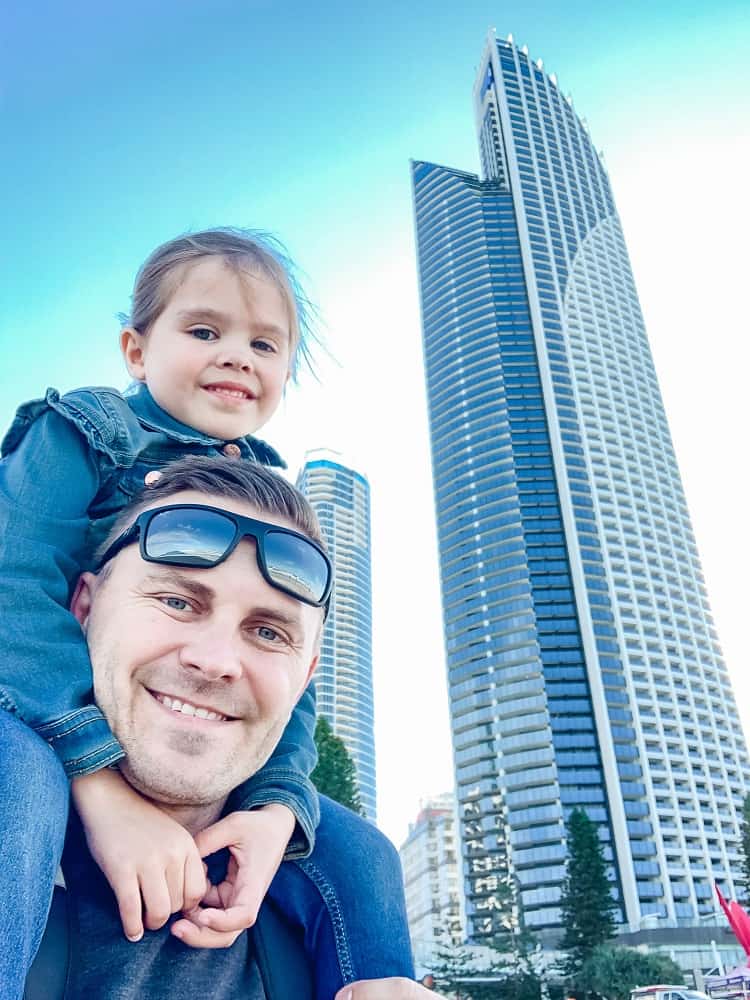 Here you will find all the usual touristy attractions, including street entertainment, souvenir and grocery stores, fast-food restaurants and ice-cream and gelateria shops as well.
And yes, if you are traveling with kids, there are plenty of things to check out too, such as Ripley's Believe it or Not, there is a virtual game store (at the shopping center on Cavill) and Safari Rides for younger kids (15-minute rides on fairy animals, electric two-seater animals on wheels).
Tip: Check out our best vegan restaurants Gold Coast options here.
Book your stay at the Pepper Soul Surfers Paradise today.
Final Words
Peppers Soul Surfers Paradise is a great all-around hotel with well-designed and family-friendly facilities.
The apartment that we stayed in was privately owned and was comfy, spacious and provided us with almost everything that we needed to cook with, relaxed with, and enjoyed our vacation with.
Thumbs up from us!
Please feel free to share your experiences from your stay at the Peppers Soul Surfers Paradise in the comments below.
Thanks and safe travels.