Even if you're a seasoned traveler, you may find it difficult to choose the right luggage that can fit all the travel essentials.
A good carry-on backpack can be the perfect answer to all your luggage troubles while traveling. But with so many available backpack options, making the right choice can be a bit confusing and even overwhelming.
Luckily, we found the Outwalk 1.0 backpack with some pretty nifty features, making it your ideal travel buddy.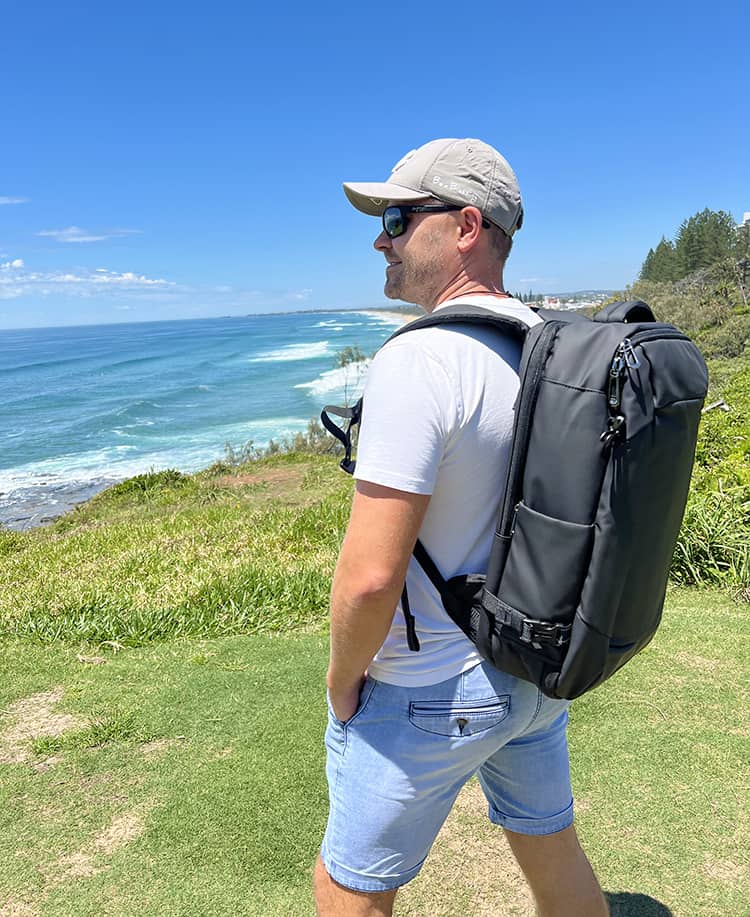 This all-in-one backpack is the perfect blend of quality and affordability. In the following, we'll highlight the features of this backpack and discuss what makes us love this product.
OUTWALK 1.0 A Stylish Travel Backpack Review
If you are looking for men's travel necessities to gift, this is a great option, as it has so many nifty features that are specifically designed for travelers.
Here are the main OUTWALK 1.0 features:
Product Features
Before we get into all the details, here are the standout features of this Outwalk 1.0 backpack.
Great carry-on travel backpack for planes
Easily attaches to roll-on luggage
Spacious laptop compartment
Lightweight and ergonomic design
Multifunctional partition design
Oxford-spun anti-splash fabric
Breathable back cushion
Odor-isolation
If you want to know more about these product features, read on!
1. Great Carry-On Travel Backpack For Planes
You might often struggle to stay within the luggage limit while traveling on planes. In the quest to fit all your travel essentials, the number or weight of your luggage can exceed the standard luggage limit while flying.
This lightweight and all-in-one Outwalk 1.0 backpack can be a great pick to avoid such problems. It has a spacious design where you can fit all your travel essentials without carrying any other luggage. You can have one backpack to carry it all on flights.
2. Easily Attaches To Roll-On Luggage
The Outwalk backpack has multiple handles and a special slot to easily attach it with your suitcase handle or roll-on luggage.
You can carry it anywhere without losing it, even if you have multiple luggage. The easy-to-carry feature makes this backpack ideal for a hassle-free travel experience.
3. Spacious Laptop Compartment
The backpack has a spacious laptop compartment and can fit up to a 17-inch laptop. It also has an accessory compartment to store the laptop charger, USB cables, headphones, and other essentials.
The laptop compartment also has a Telescopic belt for better protection of your laptop.
4. Lightweight And Ergonomic Design
The Outwalk backpack has a lightweight design that makes it easy to carry even on long travels. Its top grab handle provides a convenient grab-and-go style.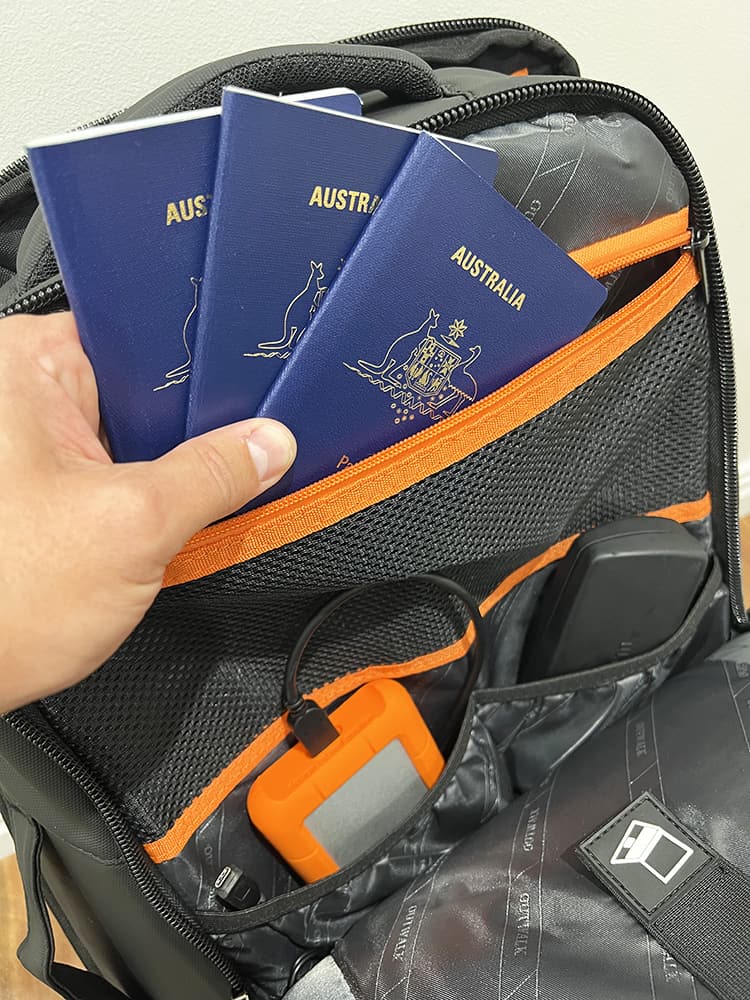 Not to mention, the ergonomic design allows easy dispersion of gravity when the bag is filled, making it super-comfy to carry on your shoulders.
5. Multifunctional Partition Design
The backpack has handy side pockets where you can neatly store your bottle, umbrella, and other travel essentials. Plus, the partition design separates fresh clothes from dirty or wet ones.
You can store daily items, like toothbrushes and personal care supplies, in these pockets that are easy to reach.
6. Oxford-Spun Anti-Splash Fabric
This backpack features an anti-splash fabric on the outside, making it waterproof.
So, you don't need to worry about the contents of your back getting soaked even when it's pouring down heavily.
7. Breathable Back Cushion
The back cushion has a honeycomb design to promote air circulation inside the backpack, which helps to keep the bag dry and avoid moisture buildup.
Hence, it can be perfect for summer travel.
8. Odor-Isolation
This Outwalk backpack comes with superior odor-isolation technology in its compartment.
One of the compartments has an airtight vacuum feature to ensure that your dirty and wet laundry doesn't end up making your clean and fresh clothes smell weird.
The compartment lock in all kinds of smell so that it doesn't spread through the entire bag. Say you're carrying some food items in a compartment; the odor isolation technology ensures that your clothes don't end up smelling like those food items.
What We Love About This Carry-On Travel Backpack
There are so many things that attracted us to this Outwalk all-in-one backpack. For instance, the multifunctional partition design allows safe storage of your everyday travel items, like charging cables and toothbrushes.
You can access these items whenever you want because the side pockets are easy to reach.
Moreover, the backpack has many compartments, offering sufficient space to store your clothes, laptops, and other travel essentials. In fact, you can carry three days' clothing in this bag while traveling.
You can also keep your dirty and fresh laundry in separate compartments without worrying about the foul odor spreading, thanks to the backpack's odor isolation technology.
The go-and-grab lightweight design also makes it easy to carry, and you can attach the backpack to your roll-on luggage or suitcase handle for hassle-free travel.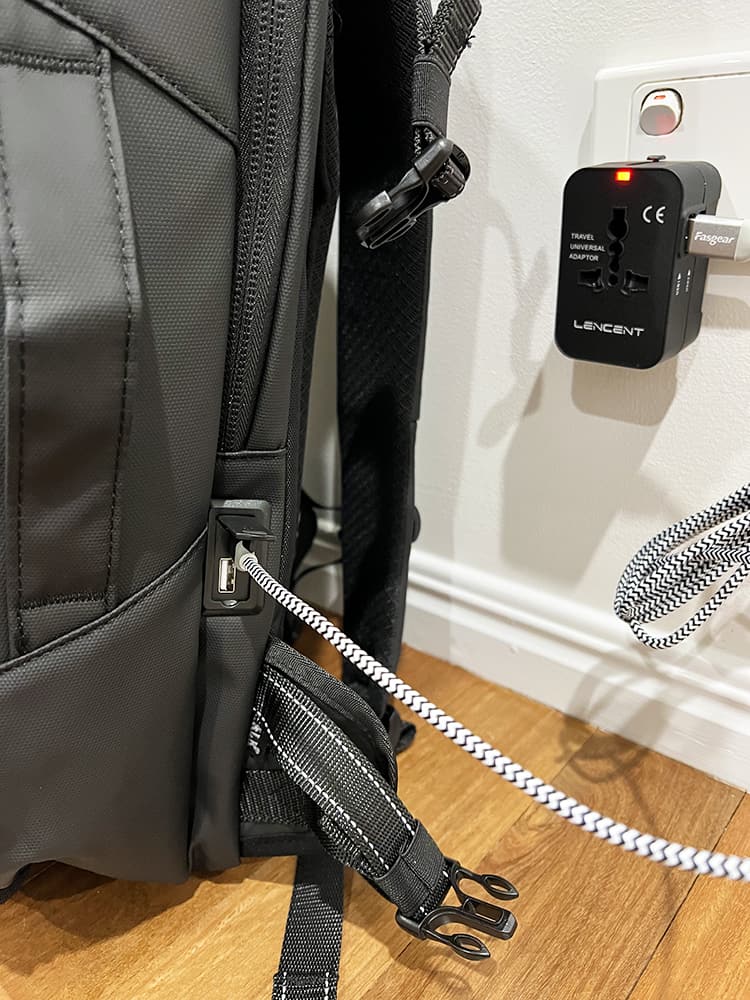 You can fit everything you need in this one backpack effortlessly. Plus, if you're traveling with kids, this all-in-one backpack helps to keep your hands free for taking care of the kids.
Where To Buy OUTWALK 1.0
The Outwalk 1.0 backpack is available at a pocket-friendly price of $180. It comes with a 90-day return policy and a 1-year warranty.
The brand also offers free shipping all across the US and Canada.
Final Words
As a brand, The Outwalk has been committed to creating travel bags offering convenience, quality, style, and comfort to all travel enthusiasts. And the Outwalk 1.0 all-in-one backpack is no different because it's designed to help people have a convenient and hassle-free travel experience.
Most travelers need help finding a bag that can fit all their travel essentials. This Outwalk backpack can be the one-stop solution to your luggage problems. It has several compartments and side pockets, allowing you to carry anything from your laptop to an umbrella.
On top of this, it's pretty affordable, so you don't need to break the bank to buy this backpack. Head to The Outwalk's website and order this backpack today!
---