Are El Clasico and Flamenco music the only things that come to your mind when you hear the word "Spain"?
Then let us tell you about the other breathtaking things about the country- its magnificent coastal cities!.
Although we're not implying that you've been living under a rock like Patrick, the starfish, it is vital that you know about these places if you expect to experience Spain in all its glory.
Because, as necessary as it is to get kissed in Italy, it is paramount to get sun-kissed on the dazzling streets of these places in Spain.
So, hold on tight because we're about to take you out on a sensory ride to these 5 amazing Spanish coastal cities that you've probably never heard of!
5 Amazing Spanish Coastal Cities
Here are our top 5 of the most amazing Spanish coastal cities to visit:
1. Alicante
Alicante or Alacant is a city on the coast of Costa Blanca in Spain and a beautiful, historic Mediterranean port.
It is an ideal destination for those who are on the lookout for an experience of a luxurious beach vacation, rather than opting for a self-help circuit schedule. It boasts of some stunning beaches like the Santa Pola, El Portet in Moraira and La Granadella in Javea.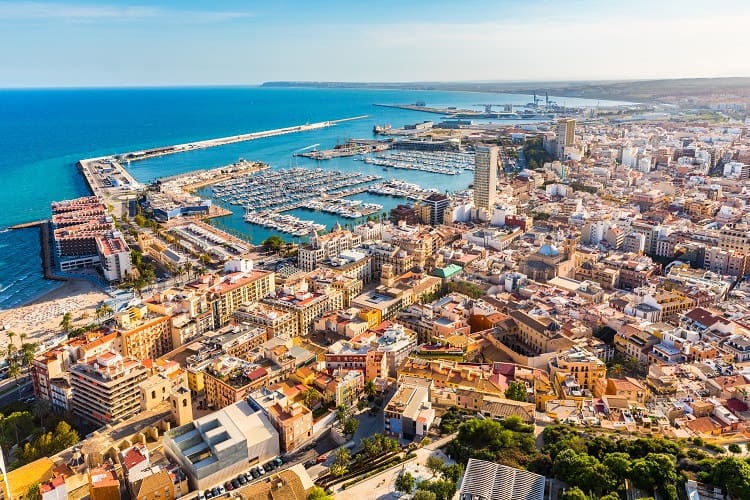 Also, you can plan an excursion out to the Island of Tabarca, or choose to enjoy nature's beauty at the Canalejas Park. Or, if you want to relish the art and culture of the place, do visit the Casa de la Cultura (cultural center) with its vast library and historical archives.
The Teatro Principal and the exhibition centers of Eusebio Sempere and Lonja del Pescado are the major centers for theatre and art exhibitions.
Tip: The best way to see this city is by taxi. You can book your Alicante taxi online.
2. Almeria
Almeria is a city in Andalusia, Spain and is located in the southeast of Spain and right on the Mediterranean Sea.
It is undeniably one of the most beautiful places to visit in Spain, especially for the exquisite village of Lucainena de las Torres, that is known for its spotless streets and charming whitewashed houses decorated with lovely potted plants.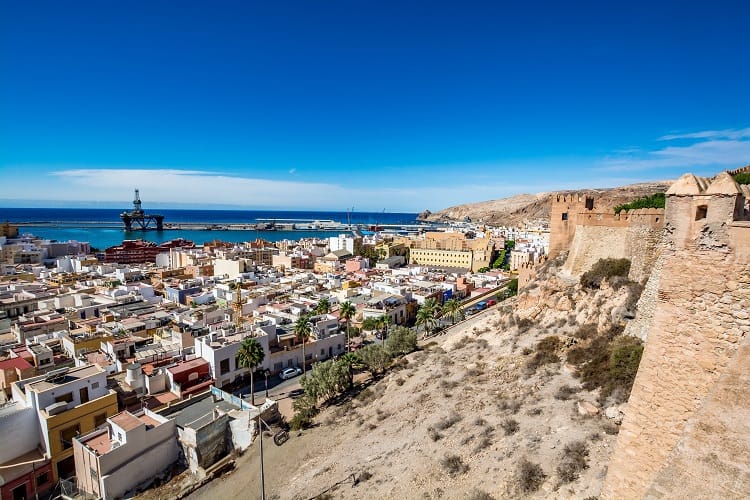 Almeria opens up the gates to 600 magnificent caves in Karst de los Sorbas for the brave-hearted. You can also visit the curious "troglodyte villages," which have houses made out of soft-rock caves.
Almeria also has some of the most stunning beaches like the Monsul Beach and Los Genoveses Beach in San Jose and also the Aguadulce and Las Negra beaches.
Tip: Best way to get around this city is by taxi. You can book your Almeria Taxi here.
3. Castellon
One of the most jewels on the crown of Spain, Castellon opens up the portals of its beautiful Mediterranean beaches, mountains and medieval villages atop hills for the wanderlusty soul.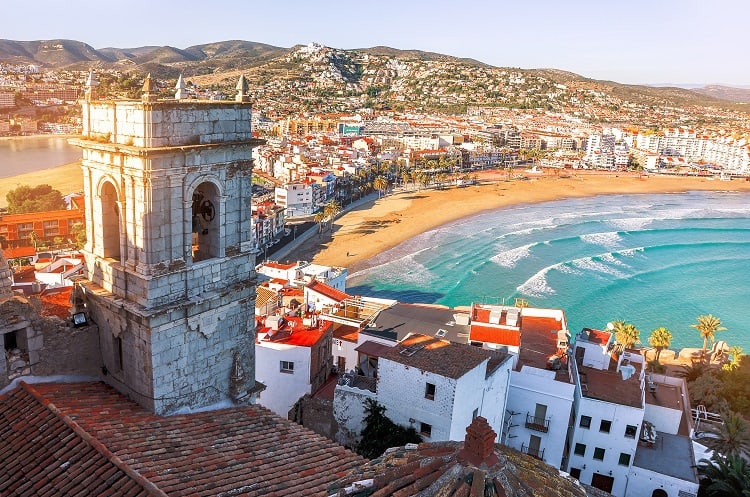 You can either bask in the beautiful sun-drenched white beaches spanning from Almira to Vinaroz or take to the steep colorful streets in the charming village of Peniscola to reach the Castle of Papa Luna, built on a small peninsula.
If we're talking about Castellon, it is imperative to mention the town of Morello that is another one of the most enchanting villages that you'll ever come across.
It is known for its spectacular landscape, intertwined with its architectural beauty that is reflected in its stone-cobbled streets leading up to the region's magnificent medieval castle.
Tip: Check out the city of Castellon in a taxi, which you can pre-book online.
4. Marbella
Marbella, on Andalusia's Costa del Sol, is one Spanish coastal city that embodies the spirit of luxury and glamour in the very pronunciation of its beautiful name.
It is one of the most sun-soaked places in Spain, famous for activities involving mega yachts and super-cars.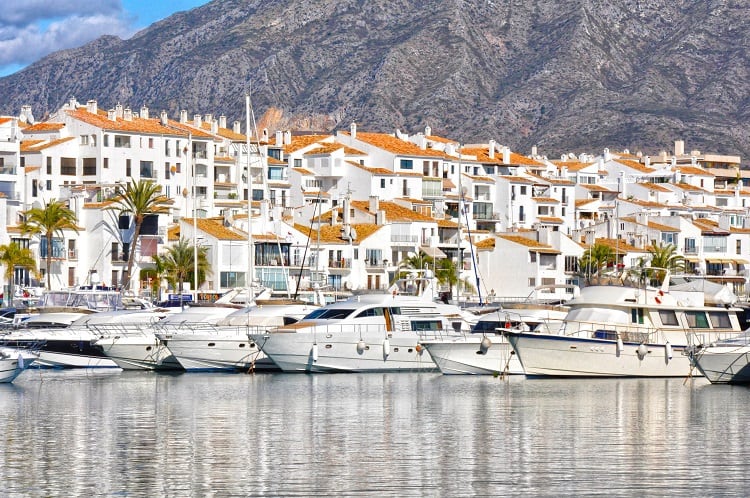 The Old Town and Orange Square in Marbella swirl languidly around the central Plaza de Los Naranjos which was named after the orange trees that outline it.
These locations are rich in historic architecture and on the Avenida del Mar, you can find a collection of sculptures by Salvador Dali on public display.
But the showstopping element of this city is its magnificent beaches such as the Playa de Rio Real and Playa del Alicate among many others. Also, the Nikki Beach presents a glimpse of the gorgeous nightlife of Marbella for you to behold and be a part of.
Tip: Check out this city from a comfort of the taxi. You can book your taxi online before you go.
5. Cadiz
The city of Cadiz is unique and beautiful in an ancient way. This is the oldest inhabited city in Spain, situated on a short strip of land in the southwest, surrounded almost entirely by the Atlantic Ocean.
You can find fantastic lighthouses and look-out towers scattered across the city-scape which itself is built around its port- the lifeline for its locals or gaditanos, for uncountable numbers of years.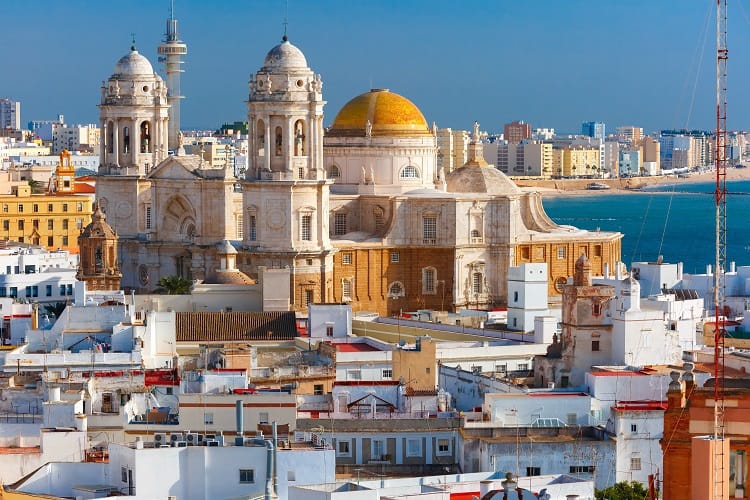 Cadiz has four of the most beautiful beaches that there is in Spain, namely, the Tarifa, Bolonia, Playa de la Caleta and the Zahara de los Atunes. Tarifa is famous for its scenic beauty and is a popular kite-surfing destination.
And, at Bolonia, you will find yourself admiring the ruins of an old Roman city and wondering if the most of the beach is actually a countryside!
Final words
We hope you liked our travel guide on some of the most spectacular Spanish coastal cities.
Because life is so much more than just Ole! and tomatoes in Spain!
Till next time!