For couples looking for a postcard-perfect travel destination, look no further than Cave Algarve. A destination honeymoon in Portugal is a dream for most newlyweds, and for good reason.
Portugal is the oldest European country holding the same borders since 1139, making it one of the most tempting European honeymoon destinations, and developing its culture ever since.
Throughout Portugal, you'll find architecture, nightlife, fine cuisine, pride in great wine, and – especially in the Algarve region which lies at the southernmost point of the country – breathtaking coastal waters.
How To Have The Time Of Your Life In Algarve
 There are many reasons why people will argue that Portugal is amongst the best honeymoon places in the world.
Food is a way of life in the Algarve region. You'll find dozens of "authentic" meals at any restaurant, but if you consider yourself a foodie do yourself a favor and consult a local.
That's actually one of the best attractions in Algarve – the people! Locals mostly speak English and, perhaps due to the easy way of life full of enjoyment, are almost always in a good mood and ready to engage.
You'll find many honeymooners and local lovebirds of all ages throughout the streets and beaches. If you're looking for a little solo time as a new couple, you'll have tons of quiet opportunities. If you're looking for a group activity, you'll find it very easy to make friends.
Portugal may not receive the same fan care as Napa or Southern France when it comes to wine. But, rest assured, they hold their own. The Algarve region hosts the best wineries. It'd actually be pretty easy to justify planning an East to West tour and spend your entire honeymoon hoping from winery to winery until you hit the gorgeous coast.
Nightlife in Algarve is very approachable, but they do things a little differently. Rather than drinking their faces off until they stumble into a cab, the Portuguese take it slow.
Dinner usually starts much later – around 9 pm – and clubs begin filling up at 11 and keep going until the sun comes up. Like their Spanish neighbors, music is ingrained into society. Expect some club bangers, but also be prepared for formal dancing and unique Fado music. We recommend sampling some of this and brushing up on your footwork before you depart.
During your travels from border to coast, you'll encounter roads, buildings, and lifestyle dripping with old world charm. Make sure not to plan "quick stops" along your route, you'll regret not taking the time to soak everything in. If you are in a rush, one absolute "must" is the beaches.
Most Beautiful Beaches To Visit in Algarve
The coastline is hands down the best reason to choose Algarve honeymoons as your destination. Gorgeous cliffs, ideal sand, and comfortable climate can be found throughout. Here are our top choices:
1. Praia de Dona Ana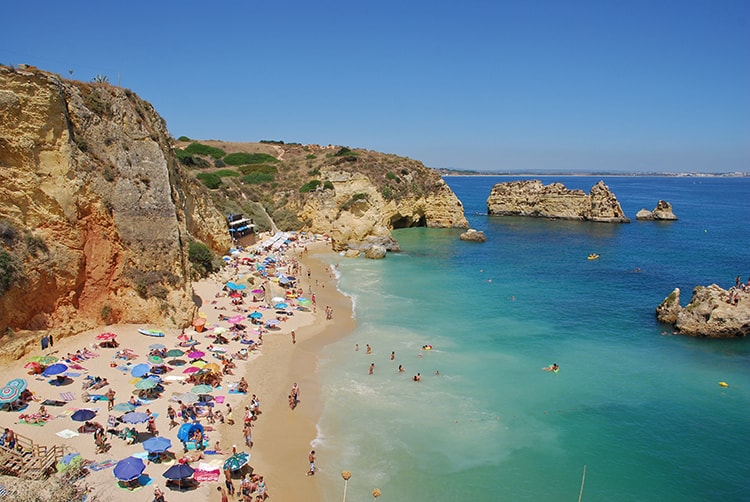 This rocky coastline is picture-perfect and, because of the terrain, virtually windless. The view and sun-soaking opportunity is only half the attraction. Like many other Algarve beaches, high cliffs require a little bit of a hike via a wooden staircase. Bring your sense of adventure and your flats!
2. Praia do Camilo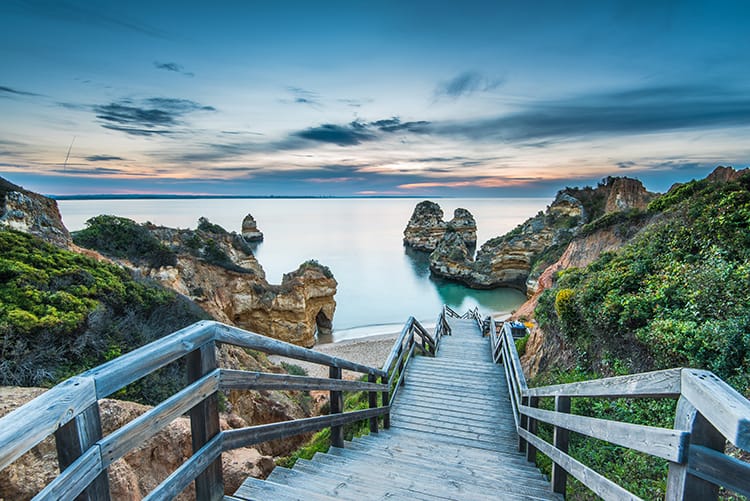 This is our recommendation for honeymooners looking for a little quiet time together. This tiny beach is almost uninhabited year-round, making it feel as if it's your personal slice of heaven.
3. Praia da Falesia
Although this is a wildly popular destination, because of its size you'll always find a space of your own. Golden sand, tons of transport, and proximity to the bustle of the city make this the perfect beach to start your adventure.
If you're considered with dry heat and the gouging costs of the high season, avoid the late summer hustle of July and August. This goes for beaches as well as accommodations.
Where to Stay In Algarve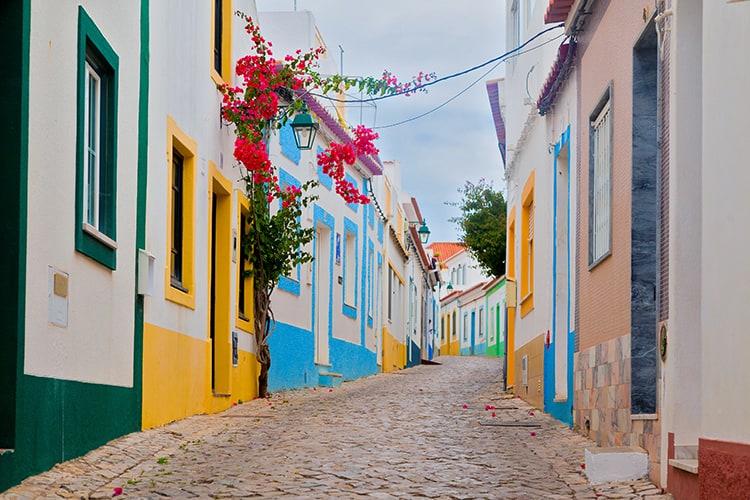 If you're planning on following our travel guide – adventuring from East to West along the coast – Faro is the perfect place to plan your first stay. The best places to stay near Faro Portugal offer the old world charm we mentioned earlier, something you just kind find anywhere else on earth.
Appreciate the small stone-pathed paths – again, wear your flats – and find yourself in bustling shopping centers or relaxing plazas. Plan a picnic in the Ria Formosa natural park with a chance to interact with local wildlife. As expected, beaches, dining, and nightlife are all flawless.
Lagos is the next must-see. This is one of Portugal's finest cities. Spend your days hiking or visiting waterparks. Rest up in the afternoon and plan your wild night out at plenty of fine restaurants and clubs.
Last but not least is the blossoming Burgau area. It may not be exotic some other locations, but it's definitely one of the best places to stay in Algarve for couples. This is where coast meets wine country. What used to be a simple fishing region is now thriving with tourism. Portugal honeymoon resorts, nightlife, and fine dining have been introduced to cater to the crowds, but since it's relatively newly discovered, crowds are small and small-town vibes are still abundant.
Although it's impossible to note everything that Algarve has to offer, our recommended tour of the region gives you a little bit of everything. Before you set off on your honeymoon in Portugal adventure we have one final piece of advice: pack as many cameras as you can. You're going to need them!