Poseidon Expeditions is a leading operator of polar expeditions in the cruise industry. Since 1999, we've offered voyages to the Arctic, Antarctica, and the North Pole that combines the spirit of adventure with a generous measure of onboard comfort and well-being.
Guided by our experienced team of expedition specialists, you can take advantage of activities like kayaking, camping, and hiking that will create memories to last a lifetime. We'll take you to the most popular polar destinations.
See These 5 Destinations On Poseidon Expeditions Antarctica Cruises
Antarctica – the White Continent – is a magical place of ice, towering snow-covered mountains, and millions of penguins. As the least visited of the seven continents, it's a natural place to begin checking off your polar bucket list.
1. Antarctic Peninsula – The Land of Penguins and Icebergs
The Antarctic Peninsula and the South Shetland Islands serve as your gateway to "meet and greet" the unique inhabitants of this beautiful, remote land.
Poseidon will take you to out-of-the-way spots where you'll see up-close Chinstrap, Gentoo, and Adélie penguins building nests, breeding, and raising their furry young chicks during the short Austral summer.
You can sit for a moment to enjoy the scene and there's a good chance that one of these curious creatures will approach you for a closer look!
The Antarctic waters, too, are home to marine animals like leopard, crabeater, and Weddell seals; as well as humpback and other species of whales.
Their schedule is flexible, perhaps pausing alongside a pod of whales feeding at the surface of the frigid waters.
Explore this region on Poseidon's Classic Antarctica cruises, which depart from Ushuaia, Argentina.
There's ample time for orientation and anticipation as you sail past the tip of South America and across the Drake Passage, a rite of initiation for all true Antarctic explorers!
In the spacious lounge, enjoy enlightening presentations by marine biologists, ornithologists, polar historians, and specialists. Outside on the deck, brace yourself against the winds and watch for the Antarctic Convergence and albatross soaring overhead.
Optional activities include kayaking and overnight camping on the White Continent itself, rewarding ways to engage completely with the nature that surrounds you.
On Zodiac cruises, pass by dazzling icebergs and towering glacier faces that will mesmerize you.
2. East Greenland – Arctic Sights and Northern Lights
Onboard Poseidon's East Greenland expedition cruises, you'll explore one of the largest fjord systems in the world, Scoresby Sund. This geographic marvel features long and narrow water channels surrounded by towering, cathedral-like mountains and glaciers.
Pass alongside majestic icebergs, traveling deeper and deeper into the remote wilderness, where musk oxen and Arctic hare populate pristine tundra landscape.
These voyages begin and end in Reykjavík, Iceland – the "Land of Fire and Ice" – and are offered late in the summer Arctic season for a very good reason: the Aurora Borealis.
Clear, dark nights and a perfect latitude showcase the fantastical Northern Lights. Calm waters, the mountainous background, and the Sea Spirit's expansive open decks combine to make for the best, most picturesque setting to see Mother Nature's extraordinary light show.
The journey will also take you to the Westfjords and the picturesque fishing port of Isafjordur, an iconic example of the rich cultural heritage of northwest Iceland.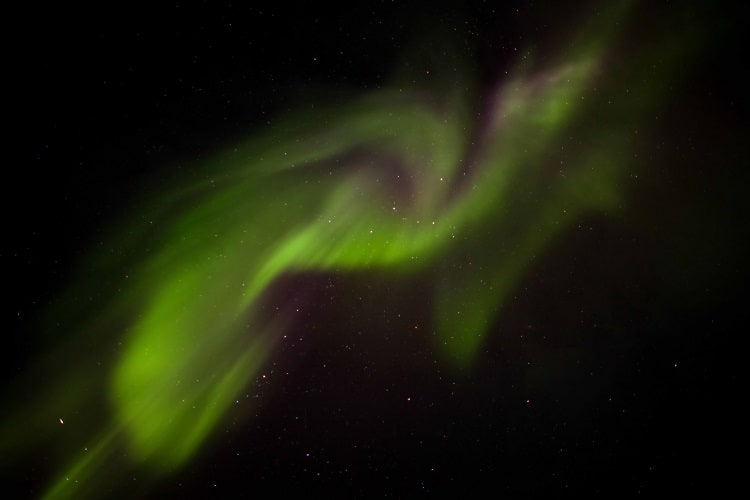 Furthermore, there's western Iceland's Snaefellsnes Peninsula, which is framed by the Kirkjufell mountain and glacier-capped Snaefellsjokull Volcano. And the seabirds and whales in the surrounding waters will keep you company while you explore the landscape.
Throughout your journey, there are opportunities to go ashore for hiking and photography of the flora, fauna, and geological formations.
Poseidon's expert guides share their knowledge about Iceland and Greenland with guests, both ashore and during informative presentations aboard the Sea Spirit.
3. Franz Josef Land Archipelago – The Unexplored Frontier
Nature lovers will find something new on this expedition cruise to the Franz Josef Land Archipelago.
Poseidon guests have the exclusive opportunity to depart directly from nearby Svalbard, saving several sea days of travel to this remote wilderness in the Russian High Arctic.
Comprised of more than 190 islands and islets, Franz Josef Land Archipelago is now a nature sanctuary, forming an integral part of the Russian Arctic National Park.
Its unique geology includes flat-topped mountains, scree slopes, and steep cliffs. Wildlife to be seen includes walrus, polar bears, bowhead whales, and millions of seabirds, breeding and raising their young on rocky cliffs.
Twenty-four hours of daylight means you can observe the wildlife and mesmerizing Arctic landscapes to your heart's content!

Go ashore aboard our nimble Zodiac landing craft in places like Cape Flora, Cape Tegetthoff, and Bell Island, following in the footsteps of legendary polar explorers of the Heroic Era of polar exploration.
The monuments, memorials, and remnants of these early expeditions are nothing but a testimony to the rich history of the region.
4. Crossing the Arctic Circle, Jan Mayen & Spitsbergen – From the Scottish Highlands to the High Arctic
This voyage is a unique, hybrid trip that encompasses some of the most interesting coastal features and islands of Scotland with a turn into the Arctic and visits to the Faroe Islands, remote Jan Mayen, and Svalbard.
Begin your journey in history-rich Edinburgh, a cultural mecca of the United Kingdom. You'll soon be in the more remote territory with a day exploring the Orkney Islands' Neolithic ruins and charming town of Kirkwall.
On to the Shetland Islands, where verdant grasslands and spectacular cliffs make it a birdwatcher's paradise.
Your expedition ship then heads north to pause in the unspoiled Faroe Island and the capital city of Kirkjubøur, with its Danish and Viking history to enjoy.
Before reaching your final destination of Svalbard – where you'll have three days to search for polar bears, walrus, whales, seals, and sea birds along its icy shores – the Sea Spirit will visit the isolated island of Jan Mayen.
It's famous as a migratory breeding ground for thousands of seabirds and for the glaciated Beerenberg volcano. Weather permitting, we'll go ashore.
Final Words
We hope this post has fired your polar imagination, and you've already started planning that dream holiday to the Arctic or Antarctic!
Rest assured that Poseidon Expedition strikes the right balance between comfort and adventure, with a knowledgeable expedition staff that looks forward to sharing their many years of experience in the polar regions with you.
With optional activities like hiking, camping (Antarctica), kayaking, and photo workshops, you can be as active as you wish!
To learn more about Poseidon Expeditions, navigate your way over their informative website, full of details on their polar adventures, their experienced expedition staff, and the hundreds of positive reviews from past travelers.