A lot of people who are interested in a more sustainable way of living are also trying alternative education methods, for example, homeschooling, forest kindergartens, unschooling which are only some of the variety of emerging educational trends.
Another option that is on the rise now is worldschooling which is also known by different names like travel schooling, road schooling, adventuring.
What Is Worldschooling?
Worldschooling is the latest buzzword in an alternative education. In the simplest form, it's a combination of education and travel. This revolutionary approach to education means immersive learning when children are educated by letting them experience different cultures, history, and traditions first-hand.
In Bali the kids enjoyed attending a cultural dance lesson, a lesson in the art of painting on eggs, as well as learning to cook a few traditional Balinese dishes.
Some people define it as a homeschooling and argue that it's more about self-directed learning from the world around you and it doesn't necessarily have to involve travel.
More families than ever in different countries are educating their children this way by traveling the world long-term. They do it by working remotely, by taking a "family gap year", by long-term housesitting, or by running an online business.
Worldschooling parents come from all walks of life but they all see the world as their home and believe that they can learn from different cultures and traditions.
Here Katie and Lily are enjoying a class on tea culture in Japan.
There are many ways to worldschool that allow families to immerse themselves in new life experiences and spend more time together. Every worldschooling family has a different approach.
Some think that children learn best through their own experiences (unschooling) others insist on formal lessons (homeschooling) but all the worldschooling families believe that travel is an essential part of a well-rounded and well-educated person.
New Technologies That Make Worldschooling Possible
Worldschooling movement is on the rise in different countries due to new digital technologies that lead to the growth of remote work. These days, parents can travel the world and work at the same time.
The majority of families who travel the world full-time commonly use homeschooling approach to educate their children. This option is very convenient for families on the road because it is flexible. Worldschooling families who use this approach value living outside the box and adventures but they also would like to structure their children's education while they travel long-term.
Of course, not all parents have the necessary knowledge and skills to teach their kids some more difficult subjects like math, science or foreign languages. But they can use online educational tools like Lynda and Khan Academy and hire a tutor on online tutoring services.
Tutors at Preply can help both kids and parent learn English subjects and new languages and skills. Families can also use language learning apps like Duolingo or Memrise to learn languages on the go in small chunks anytime and anywhere. Online tools and tutoring services can help parents prepare their kids to go to university.
Some parents combine structured homeschooling methods with unschooling. They use the structured approach to teach their children at least the basic skills of arithmetic, reading, and writing when their children are young. Other parents help their children master certain skills of their choice.
World Un-Schoolers
Unschooling approach is based on the belief that children have an inborn curiosity to pursue the unknown that makes them capable of learning naturally from the world around them so they should be given a freedom to pursue their own interests.
This method becomes powerful when it is combined with traveling the world. Children are inspired to explore the world and learn from experiences rather than from textbooks led by their natural curiosity.
Travel transforms the world into a limitless classroom and children can learn about places, history, culture, current world events in a much deeper way than within the four walls of a classroom.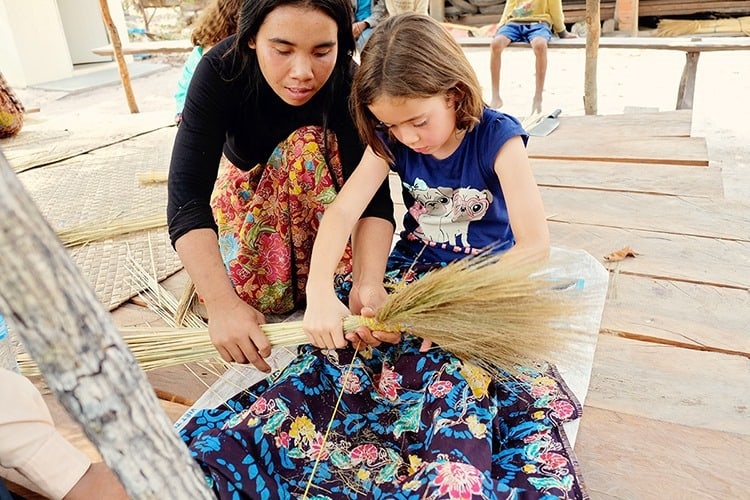 Lily learning how to make a broom with the help of the locals in Cambodia.
No matter which approach parents choose for educating their children, travel adds a priceless element to all of them.