Gili Trawangan Island, Indonesia…  Even just a name strikes me and gets my imagination going.  Soft sandy beaches, cocktails whilst basking in the sun and no car noises to be heard.  Is it relaxation that I thought of first, or did I imagine a hammock somewhere between the trees right on the beach?  I don't know…  What I do know, that as soon as we landed on this amazing island shore, we knew that we are going to have a great time!
Are you wondering what to do in Gili Trawangan Island?  Do you love tropical islands where everyone is happy?  Do you love fantastic food and relaxation with bands playing at the beach restaurants?  Do you love relaxation to the max and away from the hustle and bustle of cities?  Well, you have arrived to the perfect island in Indonesia, Gili T!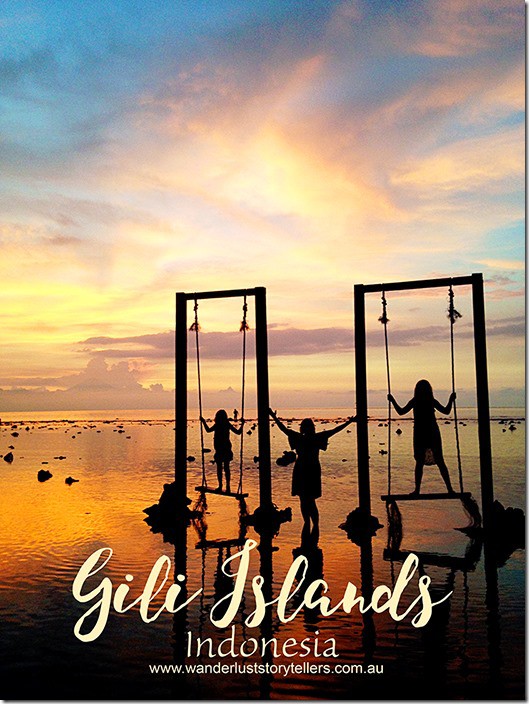 ––
_______________________________________
For more information about our Indonesian trip and for awesome photos:
The Absolute Best Things to do in Lombok Island, Indonesia!
Lombok Accommodation: The Sensational Luxurious Jeeva Klui Resort, Senggigi
5 Beautiful & Interesting Things to Do & See in South Bali
_______________________________________
–
What to do in Gili Trawangan Island, Indonesia
–
Riding in the Cidomo horse carriage to Travel Gili Trawangan
The only way of transport on this island is via a Cidomo horse carriage; apart from bicycles and obviously on foot.  I guess it really depends where you stay on the island.  If you get a hotel in town, close to the port, than you probably can carry the luggage yourself.  But if you are like us, you will probably want to stay a bit away from all the action in a more quiet part of the island.  That way you and your kids can get a bit of sleep; if you know what I mean.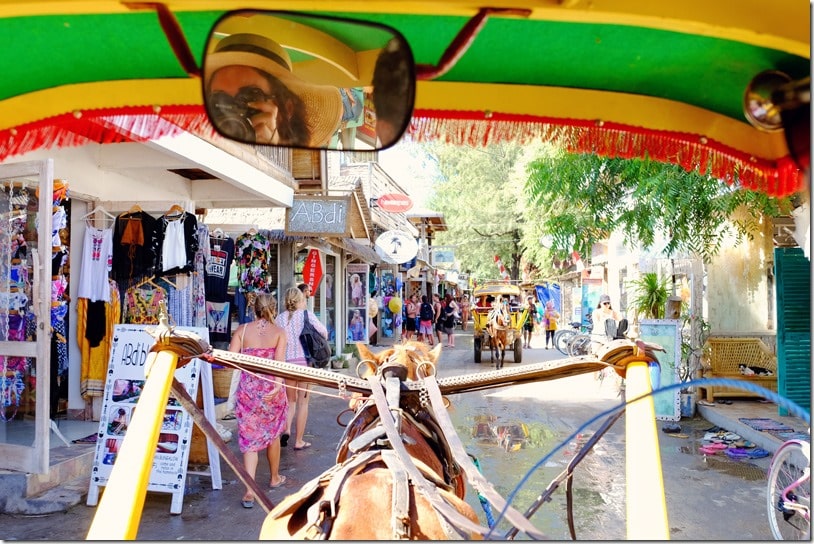 So you have chosen to ride in a horse carriage, right.  Haha… Now, that is a one bumpy ride I tell you.  Our cart was filled to the brim with our family of five and all of the luggage.  So you can imagine how nicely cramped we got.  Well, it was this or getting two carts.  That is totally up to you.
Even though it was a crazy bumpy ride and my head was tilted to the side to avoid my neck from breaking when hitting the roof, the ride was awesome!  First we went passed all the shops and restaurants on the narrow, dusty main street of the town and then down the side road into the heart of the island.  We stayed at a resort located in the North part of the Island.  The only way to get there was to go through the sandy trails of the bushlands of the Gili T.
Bumpy as, but super interesting.  On the way to our resort we got to see how the locals live, plenty of coconut palm trees and we went passed a few backpackers covered in sweat.  Well, it may be a 15-20 walk from one side to the other, but to do it with 3 younger kids and in the Indonesian heat?  Do I really have to answer that?  150,000 Rupiah is really not that much for a one way trip to town in a Cidomo.
–
Discovering the Fascinating Gili Trawangan Beaches
What can I say.  What sort of beach attracts you? Do you like to chill out at a bar with a view on the turquoise crystal clear water whilst your feet touch the soft white sand?  Do you like to relax on bean bags with a cocktail or stretch your legs on a hammock in a perfect beach-front setting?
Do you want to stroll down the shelly shore and find your perfect shell souvenir?  Or would you like to chill for a perfect sunset in a swing with your feet in the warm ocean waters?  I think you might have to stay here a while and really absorb the beauty of the Gili T beaches!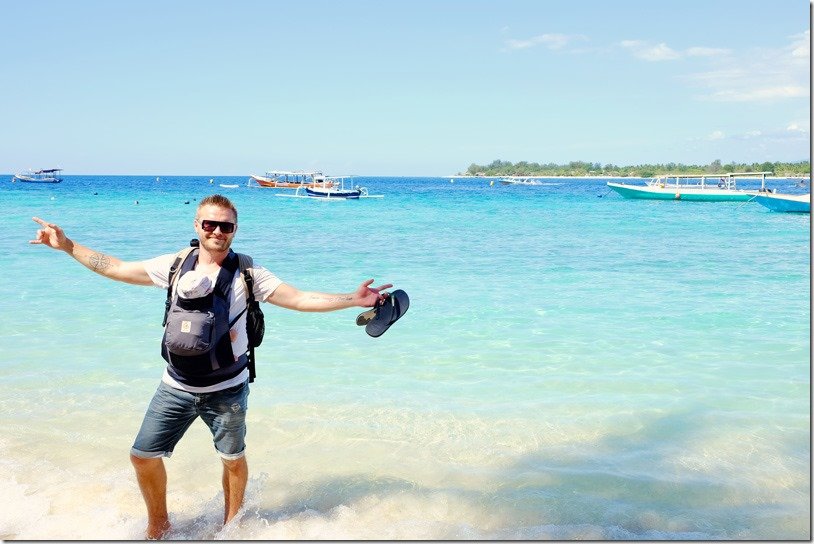 We decided to stay in the North part of the island, away from the business of the town and closer to the world famous beach swings.  Find your own spot or you can follow in our footsteps and book into the Oceano Jambuluwuk Resort.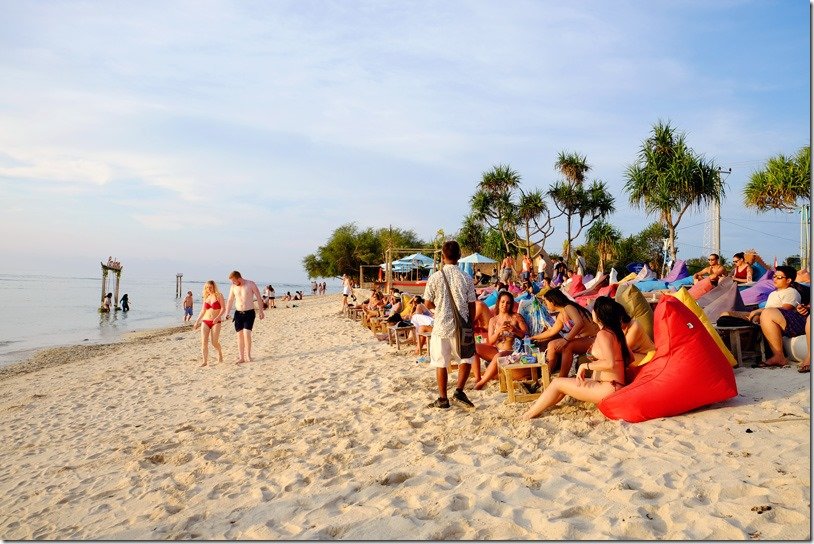 Gili T beaches are amazing!  You can easily spend a few days on this island just exploring the beaches and chillaxing at the bars to cool music.  Relaxation and bliss is guaranteed here!
Tip: Cocktails at the beachfront bars will cost you between 90,000 to 120,000 Rupiah ($9-$12AUS).  Balinese style massage sting you about 165,000 Rupiah ($16.5AUS).  1L water at the convenience store will only cost -you about $10,000 ($1AUS).
–
Snorkelling in Gili Trawangan
Snorkelling in Gili T is next to none.  You can choose to go on a glass bottom boat and venture out a bit further from the beach to check out the deeper water scuba-diving or you can simply grab the snorkelling gear and walk down to the water directly from the resort you are staying at.
For a 24 hour hire of flippers and a mask you fork out only about 35,000 Rupiah.  Make sure to get yourself a pair of shoes to walk on coral.  Otherwise it may take you a while to walk through the shallow water corals.
When we were snorkeling with our kids, we saw amazing variety of colourful fish swimming in and out of massive crevasses in underwater rocky wonderland.  Truly stunning place and a super cool way to spend your time with the loved ones!
Tips: 
Sunscreen is necessary when in the hot Indonesian sun.  Bring your own or cough-up 165,000 Rupiah ($16.5AUS) for a small tube of cream.
–
Visit the other Gili Islands
Island hopping was on our list right from the start.  We couldn't wait to hire a glass bottom boat and take our little family on to all three Gilies.  Although that was the plan, on every trip there are hiccups!
Lily wasn't feeling well on the day we wanted to go on a snorkelling and sightseeing adventure to Gili Meno and Gili Air.  Instead we spent the day closer to our resort by a very relaxing pool.  A few refreshments from the pool bar helped to ease the day.  Haha…
–
Related Post:  Read more about the things to do on Gili Air.
–
The Most Amazing Sunsets at Gili T
What can I say?  There are numerous sunset viewing spots on Gili T.  Why?  Because they are truly spectacular!
We have seen amazing sunsets in our lives.  Whether it was Phuket in Thailand, Koh Rong Samloem in Cambodia, Venice in Italy or Sunshine Coast in Australia, the sunsets are gorgeous!  However here, on Gili T beach the sunsets are even more captivating and enchanting!
Line up to take a sunset photo at the world famous swings, followed by the chill out sesh at one of many awesome beachfront restaurants!
Tip:  Sunset swings are located on the West side of the island.  The line up for a sunset swing photo can be long, so make sure to get there a little earlier.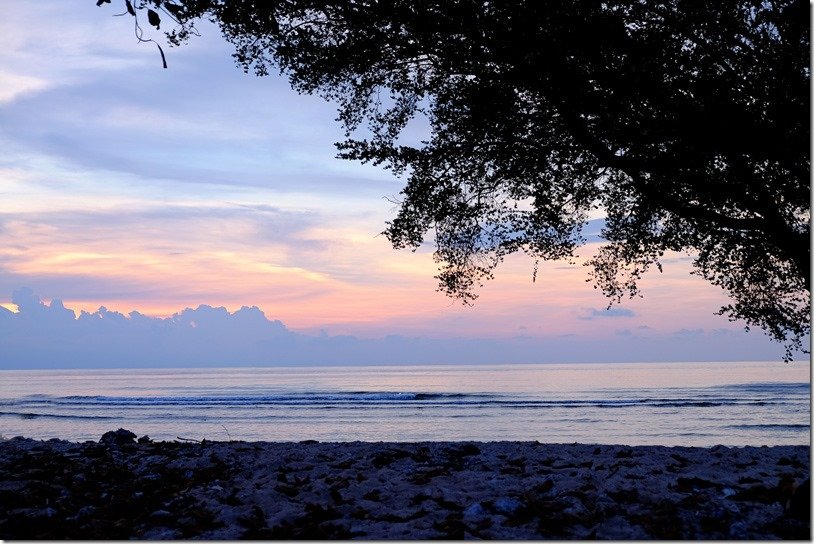 –
I loved chilling out at Gili Trawangan!  Chilling out on the swings and hammocks, indulging in some awesome Balinese and international cuisine at many restaurants.  Walking down the sandy beach roads and exploring the shoreline. Snorkelling, island hopping and so much more!  Yup, I love Gili T!  Magical, blissful and relaxing!
–
Over to you:
Which of the things to do on Gili Trawangan caught your eye?
What are you waiting for, book your ticket to Gili Islands now!
For more stories from our travels to Indonesia, click here!