– GUEST POST –
by Antoine from Traveling Life
Trinidad and Tobago is an island country in the Caribbean; located off the coast of Venezuela. They are not the most touristy islands in the Caribbean – the country's economy does not rely on tourism for its wealth – but the sister islands are well worth the visit.

Trinidad is home to the world's hottest pepper and largest brain coral, with neighbouring Tobago boasting the Western Hemisphere's oldest rainforest reserve. Visitors to the sister islands can enjoy nature, fun carnivals and a unique culture that is still relatively untouched by mass tourism.
But one of the most popular reasons to visit Trinidad is its population of sea turtles and ample opportunities to volunteer to help them.
Leatherback Sea Turtles
Leatherback sea turtles are commonly found in Trinidad. They are deep sea divers; their leathery skin gives them the ability to be able to descend to depths of 4,200 feet and stay down for up to 85 minutes. Because of their skin, they have the ability to withstand water pressure and they can grow up to seven foot long, weigh more than 2,000 pounds and live for up to 45 years.
The turtles are fascinating creatures; with their own innate GPS, they travel to the beach that they were born on to lay eggs. During the nesting months, the giant reptiles heave themselves onto the shore, dig nests in the sand and lay their eggs, then cover them and return to the sea. Two months later the eggs hatch and baby turtles progress to the open sea. Those that survive begin the cycle again!
But leatherback sea turtles are having serious problems. Becoming tangled in fishermen's nets, choking on or getting strangled in plastic or other ocean debris, loss of habitat and light pollution means that the once common population is now endangered; with only 1 in 1000 leatherback hatchlings making it to adulthood.
And sea turtles are worth saving. They are integral to both the coastal and marine ecosystems. The nutrients from their unhatched eggs are needed for vegetation on sand dunes; which strengthens the coastal ecosystem. Sea turtles themselves eat sea grass which keeps it healthy (just as normal grass needs to be mowed, sea grass should be kept short!). The well-being of sea grass is essential for the survival of many marine species and subsequently, the whole ecosystem.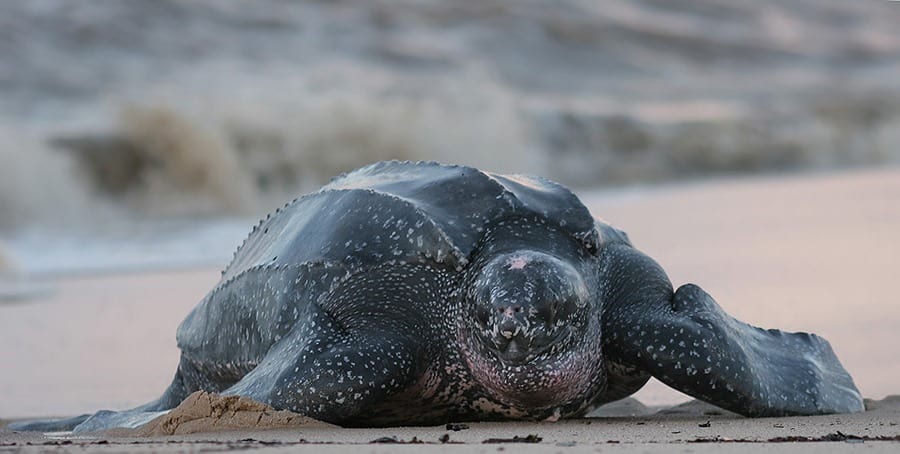 As much as we try to prevent it, we are seriously endangering the world's population of leatherback sea turtles. So how can we turn this around and try to curb the declining numbers of sea turtles?
How to Help the Leatherback Sea Turtles
There's lots of volunteering options to help the leatherback sea turtles all over the world, with some of the most extensive in Trinidad and Tobago. Grand Riviere is the second largest leatherback nesting site in the world and is an important place for other turtles, like the Hawksbill and Green Turtles. Matura is another Trinidad beach which is dedicated to the conservation and protection of the leatherbacks, and volunteering with leatherback sea turtles will likely see you working on either one of these beaches. Other significant Trinidad nesting sites are Maracas, Tyrico, Las Cuevas and Blanchisseuse.
Various Trinidad organisations patrol the protected beaches to keep track of and aid the sea turtles during hatching season. These organisations have several permanent workers; but during peak hatching season, volunteer help is important to ensure that the sea turtles overcome as many of their survival obstacles as possible.
The sea turtles typically nest during 11pm and 4am, so volunteering will generally involve night shifts. Volunteering duties typically consist of tagging leatherbacks, monitoring health conditions and ensuring access to the beach. You might also have to aid turtles by removing debris from around them and their body which is could prevent survival; for example, I once had to remove a rope from around a large sea turtle's flipper. It was a success, but this made me realise how much of the sea turtle's lives are at risk.
Volunteering with leatherback sea turtles in Trinidad can also take the form of patrolling the beach in the mornings to count the turtle nests or working behind the scenes; writing for their website, working on the statistics of hatching sea turtles or thinking of innovative new ideas to help conserve their natural habitat. Volunteers may also be requested to speak to the local community about the importance of preserving sea turtles' habitats.
Saving sea turtles is a mentality that you can take with you after your time in Trinidad. Although you may only be volunteering for a short while – some programmes run for under two weeks – raising awareness about the plight of sea turtles is just as important. Try to educate people at home and away about the importance of not littering beaches and how the destruction of turtle's habitats must be stopped. Who knows, you might inspire someone else to volunteer with sea turtles too!
Things to do in Trinidad Outside of Volunteering
Port of Spain – the capital of Trinidad and Tobago, Port of Spain is a unique city. Visitors to Port of Spain love to admire the Victorian and Georgian mansions, with Christopher Columbus Square, Red House and many colonial homes being some of the best spots to visit.
Caroni Bird Sanctuary – the bird sanctuary is home to the Scarlet Ibis, amongst many other bird types and some snakes. With walking safaris and boat trips, visiting the sanctuary is fairly accessible and a Trinidad highlight for many tourists.
Maracas Bay – this beach is located on the North Coast of Trinidad, and is the epitome of a tropical beach away from tourist areas. With scenic palm trees and rugged waves, it's no wonder why the bay is continuously a local favourite. For adventurous eaters, there is also the chance to sample shark fritters, a local speciality.
Buccoo Reef – this reef is home to tropical fish and beautiful colourful coral. There are many glass bottomed boat tours, as well as diving and snorkelling trips; and it's a fantastic, fairly unspoiled, reef to admire.
Mount Saint Benedict Monastery – a focal point of religious worship for the island, the monastery is peaceful and quiet with amazing architecture. Its vantage point on the top of a hill means that there are fantastic views of the island from the summit.
Alternatively, take the 2.5 hour ferry to Tobago, and enjoy picturesque waterfalls, beautiful beaches and so much more! Although they are sister islands, Trinidad and Tobago are in fact very different and both have unique things to offer visitors.
___________________________________
More about Antoine
Traveling Life
Antoine is a Canadian traveler on a mission to visit as many places in the world as possible and find the most interesting, overlooked and authentic experiences in each location. He currently lives in the Cayman Islands but spends a great deal of time travelling around all 6 continents. Follow his adventures on www.travelinglife.com.
___________________________________