There's nothing like a great family holiday – making memories that will last a lifetime and be talked about for years to come. Remembering holiday time spent with our families growing up.
Of course, it's not always easy to have a perfect family holiday. There are many logistics to think about to make sure there is more time relaxing and having fun, and less time worrying about practicalities.
That's why a villa makes a great choice for the perfect family escape.
What to look out for in a Perfect Holiday Villa!
The Convenience of a Villa
Your first thought when planning your vacation is usually where to stay. A resort may seem like an easy solution – however, there are many benefits of deciding on a villa stay instead.
A villa gives your family a lot of private, personal space. You don't need to worry about the kids making too much noise or dressing up for dinners in the restaurant, you can simply relax and have fun together. A villa is a real "home away from home", where you can feel as at ease and comfortable as you would in your own home.
Most villas are fully staffed, which makes them extremely convenient and relaxing. You will get to know the small team of staff who are on hand to assist with things like cleaning and cooking, so you won't need to worry about a thing. You can even have a nanny to help with the little ones.
Plus, villas have amazing features such as pools and green spaces – which you have all to yourself! It's like your own personal kid's club… and there's never any lines!
Villa Types
Another great thing about staying in a luxury villa is that there are lots of choices for what kind of villa to rent. There are many unique and personalized options, with a common choice being whether to rent a beachfront villa or one nestled a little further away.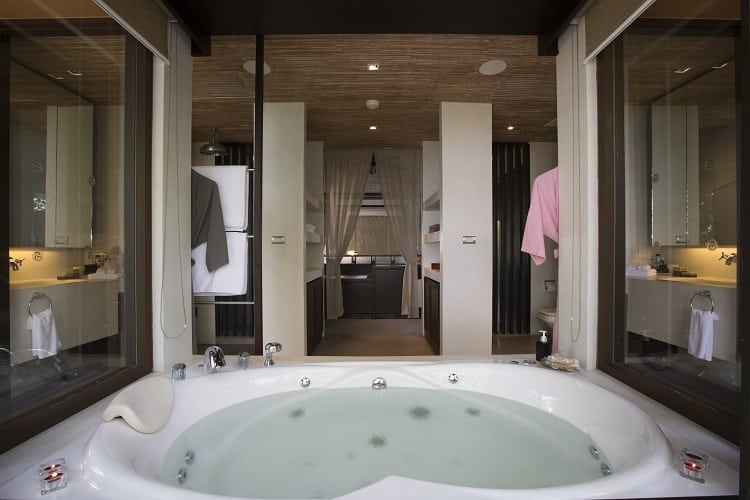 Beachfront villas are, of course, a spectacular choice, with the sand just a few meters away. It's ideal for those who love the beach – older children, in particular, will love the facilities such as kayaks, jet skis and stand up paddle boards. It's certainly a thrill to have the beach on your doorstep.
Of course, garden villas are also a great choice. Often they are larger than beachfront villas, giving your family additional space for lots of fun. You may even like to consider a villa where there are separate living spaces, which are ideal to give teenagers a sense of independence and privacy.
Facilities
One of the best things about villas is how many facilities they offer. The kids (and the adults!) will certainly never be bored, with so much to do at the villa. Swimming pools always impress, while additional facilities like cinema rooms, fitness, game rooms, and pool tables are normal.
There's also plenty for adults to enjoy while the children are off making the most of all of the fun stuff to do! Parents might like to enjoy an indulgent massage or a spa treatment in the comfort of the villa. Or, a nanny can look after the kids while you head out for a romantic date.
Excursions
Although it might be hard to draw yourself away from the beautiful villa, the staff will delight in helping to arrange excursions and day trips. Simply let them know what you'd like to do and it can all be arranged – most villas have comfortable minivans on standby so your family can easily enjoy all of the fun attractions nearby!
Thailand: The Ideal Villa Setting
If you are looking for an ideal place for a villa holiday, then look no further than sunny, tropical Thailand!
The friendly and warm country enjoys beautiful weather all year round, and the beaches in places such as Koh Samui and Phuket are stunning. Out of the two islands, the Phuket villas seem to be the most popular choice, with the island being far easier to travel to.
It's not just beautiful beaches to visit. Thailand also offers incredible cuisine, with world-class restaurants on both islands. Thai culture is kind and hospitable, with many beautiful Wats to visit so children can learn about another culture.
Plus, there are so many fun attractions for the whole family to enjoy, including water parks, safari parks, and zoos. Older children may even like to try snorkeling or diving either on Koh Samui or Phuket or on one of the nearby islands that make for a great day trip! It's no wonder that Thailand is one of the premier destinations for families in Asia.